<! MP3 03/20/09, 12/09/10 > <! update 00/00/00 - sort out Drag The River > <! outside 00/00/00 > <! pix 00/00/00 > <! icons 12/09/10 > <! UPDATES: 00/00/00 > <! add a James Luther Dickinson page? >
---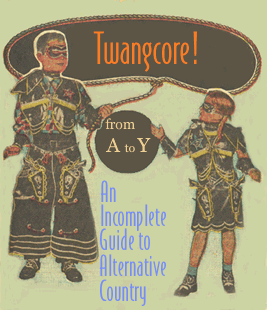 This page is part of an opinionated overview of "alt.country" music, with record reviews by me, DJ Joe Sixpack... Naturally, it's a work in progress, and quite incomplete, so your comments and suggestions are welcome.
This the third page covering the letter "D"
---
A | B | C | D / D-2 / D-3 | E | F | G | H | I | J | K | L | M | N | O | P | Q | R | S | T | U | V | W | X, Y & Z | Comps | Other Country Styles
---
Deke Dickerson - see Dave & Deke
Jim Dickinson - see artist profile
Dick Smith "Swill" (Clayhead, 2000)


Dick Smith "Smoke Damage" (Clayhead, 2002)



These Illinois boys work the same general territory as smartass, latter-day jugband cowpunks such as the Gourds or Dirtball, but somehow I found this album more engaging than other, similar efforts. They take a few liberties while plunking the banjo or twanging the dobro, adding nuance and variety to their repertoire. Although addicted to novelty songs and appearing "weird," Dick Smith seems to have a center to their songwriting, particularly on tunes such as "Box O' Bones" and the Steve Earle-ish "Trouble Bound." Maybe a few too many gratuitous cuss words and songs about the outlaw life (sorry, I don't buy it), but overall this is worth checking out. And if you're drawn to the so-called "insurgent" joke-a-billy sound to begin with, then these guys are definitely for you!
Dick Smith "Woozy" (Clayhead, 2005)


Amber Digby "Here Come The Teardrops" (Heart Of Texas, 2004)


Amber Digby "Music From The Honky Tonks" (Heart Of Texas, 2007)


Amber Digby & Justin Trevino "Keeping Up Appearances" (Heart Of Texas, 2010)

Johnny Dilks And His Visitacion Valley Boys "Acres Of Heartache" (HighTone, 1999)



A strong debut from this San Francisco Bay Area honkytonker. The most obvious comparison is with Wayne Hancock, whose Hank Williams-y whine is nearly identical, though Hancock is a more powerful and consistent singer. Thematically, Dilks is prone to novelty songs, and he zaps off some doozies, such as the hilarious barfight anthem, "Comin' On Thru," which opens the record. Almost all the tracks are Dilks originals, and range from good old-fashioned romp'n'stomps to softer, Louvins/Everly style weepers. The latter style would work better if Dilks had lined up more sympathetic harmony singers, but all in all, this is a top-notch album. Check it out.

Dime Box "Five And Dime Waltz" (Avebury Records, 2008)



Independently-produced, pleasantly twangy, bluegrassy folk-rock-twang from Los Angeles... This all-gal five-piece ensemble wrote all but one of the songs on here, and their pride of ownership comes through loud and clear... They sing with pleasure and harmonize with joy, sort of like a 'grassier version of the Emmylou Harris/Dolly Parton/Linda Ronstadt Trio of yesteryear... The musicianship is solid, although you can hear the rough patches as well -- this doesn't sound like a big-budget Nashville album where every tic and quirk has been smoothed out in the studio... In short, this is real music made by real people: twangfans who cherish old-school folkies like the Any Old Time Stringband, Sally Van Meter or Laurie Lewis might wanna check these gals out as well. Nice to hear a little twang still coming out of SoCal. (For more information, check out www.aveburyrecords.com )

Dirtball "Hillbilly Soul" (Fundamental, 1996)


This Richmond, VA ensemble has an admirable breadth, mixing acoustic swing, hillbilly picking and dirty blues riffs with a pleasantly offhand insouciance. While lyrics flirt with the same-old white trash stereotypes of the "insurgent country" crowd, and the enforced goofiness of similarly eclectic bands such as The Gourds or Asylum Street Spankers, there's something pleasantly unassuming and welcomely unprofessional about their delivery. A sloppy freshness, if you will, that keeps this album from falling into an easy pigeonhole, and keeps things distinctive. Worth checking out!
Dirtball "Turn Up The Barn" (2000)


The Ditchdiggers "Cow Patty Bingo" (Ditchdigger Music, 1998)


The Ditchdiggers "Light And Salvation" (Ditchdigger Music, 1999)



Cowpunk and cowbilly, with a surf-y drag on some songs. Good, if you like the style.
Ditch Witch "Everywhere Nowhere" (Grass, 1995)


Ditch Witch "Starvation Box" (Grass, 1996)


Sorta-billy. A softened, slightly twangy version of the post-Nirvana, half-grunge, half-Green Day sound that was so prevalent in rock music at the time. Other than a little dobro action and an acoustic guitar on a song or two, I wouldn't necessarily class this as "alt-country," though there are some folks who do. Sounds like just another rock band to me, though.
The Dixons "Still Your Fool" (Cow Island, 2008)



Dr. Hook And The Medicine Show "The Essential..." (Sony Legacy, 2003)



A super-shaggy hippie-billy bar-band from the backwoods of New Jersey, Dr. Hook crossed funky boogie rock with tounge-in-cheek country riffs, while also acting as a front for the sometimes-twisted musical output of erstwhile children's book author and frequent Playboy contributor, Shel Silverstein. All but three of the songs on here are Silverstein originals, including the still-outrageous "Freakin' At The Freaker's Ball," the big hits "Cover Of The Rolling Stone," "Only Sixteen" and "Queen Of The Silver Dollar," as well as the faux "just say no" anthem, "Makin' It Natural," and the occasional for-real tearjerker, like "Things I Didn't Say." These guys seldom played things straight, though (yeah, I know that was the whole point...) and their unruly, eclectic, stoned-out, satirical approach may not hold up that well over the years. Still, it's a nice example of how experiemental the rock scene could be in the Woodstock-ish era.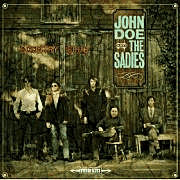 John Doe & The Sadies "Country Club" (Yep Roc, 2009)



The velvet-voiced punk icon, John Doe of X, teams up with the ultra-versatile Sadies for a heartfelt tribute to classic country songwriters such as Bobby Bare, Johnny Cash Waylon Jennings, Kris Kristofferson, Roger Miller, Mel Tillis and others. I love that this record isn't played for laughs -- there's no hint of indie-snob condescension towards these Nashville hitmakers, and the musicianship is consistently first-rate, played with conviction and depth. This is a nice lesson for all them alt-country rocker-types out there... This music doesn't have to be treated as a joke. In fact, it's usually much better when you don't, and John Doe really gets that.


<! who's the female singer? >
John Doe "Keeper" (Yep Roc, 2011)



The Domino Kings "Lonesome Highway" (DK Tunes, 1999)


The long shadow of Johnny Cash hangs low over this slap-bass heavy, independent-as-hell, rockabilly-tinged alt-country outing. It's pretty ragged-sounding, but has its moments... The vocals are a little iffy, and the production is kinda threadbare, but they have the right attitude and a real feel for the music. Their later albums are better, but this might be worth tracking down for a spin or two.

The Domino Kings "Life & 20" (Slewfoot, 2001)


These fellas really shored up their sound on this album, firming up the instrumental end and writing music stronger, catchier songs that should keep your from the album's start to the finish. Clever lyrics, catchy choruses and pretty solid playing mark this album as one worth checking out. The vocals aren't that strong, but I think on this disc they're pretty effective. This is a band that can make a good claim to tout its imperfections as indie marks of honor: these ain't Nashville purty boys, just regular guys making music they believe in.
The Domino Kings "The Back Of Your Mind" (Slewfoot, 2002)

The Domino Kings "Some Kind Of Sign" (HighTone, 2005)


Casey Donahew "Lost Days" (Almost Country, 2006)


Casey Donahew "Casey Donahew Band" (Almost Country, 2006)


Casey Donahew "Live-Raw-Real In The Ville" (Almost Country, 2008)


Casey Donahew "Moving On" (Almost Country, 2009)


Casey Donahew "Double Wide Dream" (Almost Country, 2011)


Casey Donahew "Standoff" (Almost Country, 2013)



(Produced by Casey Donahew)
A romping, rocking set of electrified bar-band country -- a little too clangy and rock'n'roll for me, but good stuff nonetheless... Donahew is one of the new generation of "red dirt" Panhandle twangsters who are breathing new life into country music -- the vitality and kickass attitude of the '70s outlaws is back, and Donahew's sharp wit puts him at the lead to the pack. My favorite tracks off here are a pair of Brad Paisley-style novelty songs, "Loser" (which lampoons the neo-redneck crowd) and the album's hilarious closer, "Go To Hell," which is one of the best angry, vindictive drunken breakup songs ever recorded. Fun stuff!
Drag The River "Hobo's Demos" (Upland, 2000)


Drag The River "Live At The Starlight" (Mars Motors, 2002)


Drag The River "Closed" (Upland, 2002)


Drag The River "Hey Buddies..." (Suburban Home, 2004)


Drag The River "Chicken Demos" (Suburban Home, 2004)


Drag The River/The Dents "Found All The Parts" (Suburban Home, 2007)



Four songs, covered twice, back-to-back, by two different bands... Hmmmmm.... Sounds interesting!


<! Drag the River is an alt-country band hailing from Fort Collins, Colorado, United States. The band formed in 1996 when members Chad Price and Jon Snodgrass recorded 20 or so songs which were released as demos in 2000. All the members of the band come from a punk rock background. Price and ex-member Karl Alvarez have both been active in ALL since the 1990s. In 2002 J.J. Nobody of The Nobodys joined the band. Later, in 2004 Casey Prestwood of Hot Rod Circuit and Dave Barker of Pinhead Circus joined and picked up the steel & lead guitar, and drums respectively. The band released the full length album called "It's Crazy" on June 6, 2006. The band took a brief hiatus in 2007, released "you can't live this way." in 2008 and continues to play shows as a duo (Price & Snodgrass) and often as a full band. Discography * Hobo's Demos (2000) * Closed (2002) * Live at the Starlight (2002) * At the Green Door LP (2003) * Chicken Demo's (2004) * Hey Buddies... (2004) * Live at the Starlight/at the Green Door (double cd repress) (2000) * ...A Way with Women 7 inch (2006) * A Shame - Beautiful and Damned 7 inch (Space mix) (2006) * It's Crazy (2006) * Gabba Gabba Hey Buddies...LP (2007) * Found All The Parts (Split with the Dents) (2007) * You Can't Live This Way (2008) * Bad At Breaking Up (2009) >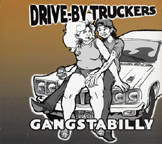 The Drive-By Truckers "Gangstabilly" (Soul Dump, 1998)



(Produced by Alan Baker, Andy LeMaster & Drive-By Truckers)
Hah, hah, hah. Over the years, The Drive-By Truckers have acquired a large, loyal following, but even with my begrudging realization that they do have talent, I just can't get into it. Personally, I prefer country music that takes itself and its traditions seriously, and an album like this one, their debut, all full of teasing, hick-stereotype novelty tunes such as "Wife Beater," "Late For Church," and "Panties In Your Purse" is just lame and irritating, in my opinion. The grungy, purposefully sloppy pickin' and plunkin' is mirrored by the lazy, lame-o lyrics on songs such as "Demonic Possession" and Patterson Hood's raspy, bad-boy vocals. Okay, sure, great-grandpa Hasil Adkins would have been proud of these fellows, but who cares? I mean seriously: after the first couple of times you see them drunk at a bar and think they're a real hoot, would you really care enough to come back and listen to a record like this for fun? Does it really have that much to offer? Yeah, they're clever and they inject some vitality and raw, punkish force into a sometimes too-genteel genre, but who has time to listen to this stuff more than once? Not me. I'll take my twang straight-up instead.
The Drive-By Truckers "Alabama Ass-Whuppin' " (Terminus, 1999)


The Drive-By Truckers "Pizza Deliverance" (Soul Dump, 2000)



(Produced by Earl Hicks & Drive-By Truckers)
Same old crap. Songs full of booze and shotguns, trailer homes, prescription pills, poontang and police. Just a bunch more white-trash stereotypes, with better than usual musicianship. The fact that they can play their instruments (or don't believe that they have to mishandle their instruments in order to "sound country") doesn't quite redeem the paucity of their lyrics. Begrudgingly, I'll admit this is one of their better albums and probably the one most worth hanging onto, but the whole can't-take-country-seriously vibe is just something I've never been able to get into. If other people want to treat it like a joke, that's their business, but I think it gets tiresome really, really fast.

The Drive-By Truckers "Southern Rock Opera" (Lost Highway, 2002)



This really is not my kind of music... A twangcore/white trash stereotypes outfit that's gone for an even louder, more balls-out southern-fried sound, these guys lack the subtlety and songwriting skill that I personally look for in my hick music. This is, apparently, a song-cycle about Lynryd Skynyrd and the '70s glory days of Southern rock... It would help, though, if the Truckers could play half as well as their idols. Still, if you dig bands that are all about attitude, and little else, then this might be just your speed.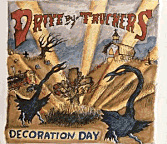 The Drive-By Truckers "Decoration Day" (Lost Highway, 2003)



These guys really do nothing for me. Nada. Zip, Zilch. Zero. They're really more of a rock band than anything else, and to the extent they are hick-centric, they keep treading back over the same old tiresome white-trash stereotypes and "made ya look!" attention-getting ploys. To be fair, this disc is much more cohesive and accomplished than their previous disc, with lots of grimy Neil Young-ish fuzz and a bit of Marshall Tucker on the side. The vocals are irritating and overly contrived, so I guess that's where I tune out. Kooky, though, how baldly their song "Marry Me" rips off the Eagles hit, "Already Gone..." It's almost note for note: were they hoping for a lawsuit that would elevate their name into the news, or something?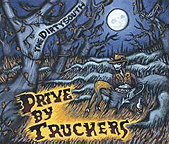 Drive By Truckers "The Dirty South" (New West, 2004)



Well, I still think these guys suck, overall, but I will reluctantly admit that this album shows a remarkable improvement from their previous clunky, ugly-sounding outings. The lyrics aren't as stereotype-laden and the guitars actually seem to be carrying a melody, rather than trying to cleave the listener's ears off. Could they be learning to --gasp! -- use subtlety in their music? Shocking! Anyway, I am forced to admit that they might be listenable, after all. Their other albums still mostly don't do much for me, though.
Drive By Truckers "Dirty South - Live At The 40 Watt" (DVD) (New West, 2005)

Drive By Truckers "A Blessing And A Curse" (New West, 2006)


Drive By Truckers "Brighter Than Creation's Dark" (New West, 2008)


Drive-By Truckers "The Fine Print -- A Collection Of Oddities & Rarities: 2003-2008" (New West, 2009)


Drive-By Truckers "Live From Austin Texas" (CD/DVD) (New West, 2009)

Drive-By Truckers "Go-Go Boots" (ATO, 2011)



Raunchy, swampy, rootsy, jam-bandy, though now with an increasingly prominent dose of indie-pop. Are they still considered alt-country? Do I care? Nah... not really, not so much. These guys never really grabbed my imagination.
Drive By Truckers "Ugly Buildings, Whores & Politicians -- Greatest Hits: 1998-2009" (New West, 2011)


Drive By Truckers "English Oceans" (ATO, 2014)



The Duhks "Your Daughters And Your Sons" (Sugarhill, 2002/2006)



A much-welcome reissue of the 2002 debut album by this fine, young neo-bluegrass band. In addition to some lively, smile-inducing truegrass pickin', there's a heavy dose of Celtic music in the mix, as well as a modern Americana folk/pop feel. Fans of artists such as Dar Williams, Be Good Tanyas and Jolie Holland may find a kindred spirit in singer Jessica Havey, who gives a sultry, modern twist to several songs. And folks who dug good, ole John Hartford might also like this band: they have a similar joyous, freewheeling style, clearly having fun with each song they play. And, yes, the title track is a cover of that old Dick Gaughan folk song... Like I said, this is a class act! (Oh, yeah... by the way, their name is pronounced "ducks," like the little critters that go "quack, quack.") Recommended.
The Duhks "The Duhks" (Sugar Hill, 2005)


The Duhks "Migrations" (Sugar Hill, 2006)



(Produced by Tim O'Brien & Gary Paczosa)
Yeesh. From a lively, innovative Celtic/'grass crossover band, the Duhks has transformed themselves into a dreadfully self-important contemporary folk band, showily diverse and overstuffed with lofty lyrical ideals. The Celtic tinge still provides some savings grace, but most of the songs on here I found utterly insufferable. I guess the mellower Be Good Tanyas/Jolie Holland moments are okay, but the bluesy soul-folk growling slips all too easily into Odetta-ish territory, and it just doesn't sound right. I'm sure there's a big chunk of their fan base that will love this evolution, but I found very little on here I'd want to come back to, especially the tracks with Jessee Havey's pulled-out-a-plum, aren't-I-the-greatest, hey-look-at-me vocals on 'em... Sorry, but it drove me buggy!
The Duhks "Live At Merlefest, NC 4/24/09" (FestivaLink.net, 2007)

The Duhks "Live At The Backdoor Theater -- Nederland, CO: 4/29/08" (FestivaLink.net, 2007)

The Duhks "Fast Paced World" (Sugar Hill, 2008)


Jakob Dylan "Women And Country" (Sony, 2010)



(Produced by T Bone Burnett)



<! w/ Neko Case and Kelly Hogan singing harmonies >

---
Alt.Country Albums - Letter "E"
---