This page is part of an opinionated overview of "alt.country" music, with record reviews by me, Joe Sixpack... Naturally, it's a work in progress, and quite incomplete, so your comments and suggestions are welcome.
Frazey Ford "Obidiah" (Nettwerk, 2010)



A solo album from one of the Be Good Tanyas gals...


<! Guy Forsyth The Guy Forsyth Band "High Temperature" (Lizard Discs, 1994) B000024EDD (live album) The Guy Forsyth Band "Needle Gun" (Antone's, 1995) B00000DOKZ B00C0QK4TO Guy Forsyth "Can You Live Without" (Antone's, 1999) B00000I8TA B00C0NHDX2 Guy Forsyth "Steak" (Antone's, 2000) B00004Y9Y2 B00BVSRBQG Guy Forsyth "Love Songs: For And Against" (33rd Street/Small And Nimble, 2005) B000A2H6SM Guy Forsyth "Unrepentant Schizophrenic Americana" (Semaphore/Small And Nimble, 2007) B001ORZDSW - 2-CD live set Guy Forsyth "Calico Girl" (Semaphore/Small And Nimble, 2008) B001ANKU2E Guy Forsyth "Live At Gruene Hall" (Semaphore/Small And Nimble, 2010) B00D9TQX82 - MP3 Guy Forsyth "The Freedom To Fail" (Blue Corn Music, 2012) B008M9DGXE B0090OWRI0 Guy Forsyth "Red Dress" (Semaphore/Small And Nimble, 2014) B00KHFX55A July 29 The Guy Forsyth Band "Pleaser" (Semaphore/Small And Nimble, 2014) B00KHFX44M July 29 ...some others, including a duo with Carolyn Wonderland >


Radney Foster - see artist discography



Kevin Fowler "Beer, Bait & Ammo" (Self-Released, 2000)


A great set of rollicking, uptempo outlaw honkytonk, with sassy, snappy guitar licks worthy of all those fine old Dwight Yoakam albums... Fowler's a young Texas indiebilly who got a leg-up in the music world through Sammy Kershaw's swell rendition of this album's title track, "Beer, Bait & Ammo" -- as fine a tongue-in-cheek good ole boy anthem as has ever been recorded. There are several tracks of equal caliber on this album, including "Hellbent For A Heartache," "J.O.B.," "100% Texas" and the wistful loser ballad, "Drinkin' Days." Nice stuff, with plenty of boozy pedal steel and pop-a-top sentiments. If you're looking for real, honest, independently produced hard country, check this guy out!
Kevin Fowler "High On The Hog" (Self-released, 2002)


With a solid, fat honkytonk backbeat and plenty of twang to open the album, Fowler makes his mark as an indiebilly traditionalist, and follows it up with song after song of well-crafted, unruly originals. His voice ain't the strongest I've ever heard, but his songs more than make up for it... Besides, this is one of those records that lets you know that, yes indeed, real people are still out there making real music. Nice pickin', and nice contributions from fellow Texans such as Clay Blaker (who cowrites one song) and Willie Nelson, who sings harmony and plunks his geetar on one tune ("All The Tequila In Tijuana"). Oh, and there's a goofy countrified cover of the old Queen song, "Fat Bottomed Girls," which could be punchier, but still gets the point across. Again, Fowler isn't a great singer, but he's got lots of spunk, and writes some swell country stuff; if you're into the independent country scene, then you'll wanna check this guy out.
Kevin Fowler "Loose, Loud & Crazy" (Equity, 2004)


Rough-edged and fully steeped in the independent spirit of Texas outlaw country, songwriter Kevin Fowler (whose "Beer, Bait & Ammo" has become a modern day comedic country anthem) makes the leap from microscopic Lone Star labels to a maverick would-be major. Kudos to Clint Black for signing Fowler up on his newly-launched Equity label, and for giving raw-boned, goofball novelty honkytonk new life in today's super-sanitized Country charts... Having heard Fowler's last couple of albums, I was psyched and more than a little surprised to see him popping up on the Billboard Top 40... But imagine how much more amazed I was to get the album and hear that Fowler hadn't changed a thing about his sound... No slick keyboards or cheesy power ballads here, just a fine, fun set of dopey drinking songs and love-a-loser lyrics. If anything, he might be trying a little too hard to be hard-country and "outlaw," but hey, I ain't complaining. I'm just glad to hear some real twang coming out of Nashville. If you like George Strait, Waylon Jennings or Ed Burleson, you're gonna love Kevin Fowler.


<! 04/13: B0015FQMEM MP3 link kaput >
Kevin Fowler "Bring It On" (Equity, 2007)



Hell, yeah. An indie/outlaw true believer, Texas-based Kevin Fowler has made quite a few high-class, high-test, high alcohol content, honkytonk twang albums... Here, he's getting more comfortable with a bigger, fuller production sound, but the sh*t-kicking spirit is still there, and he's still funnier than hell. Sure, themes like "Long Line Of Losers" (about all the drunks and ne'er-do-wells in his family) have been done before, but does 'em well, and he sings rowdy songs with more conviction than just about anyone in Nashville today. This disc is a delight for folks who still love country music with grit in it, a buncha rough-and-tumble novelty tunes about drinkin' too much and blowin' off work, making lots of mistakes, and having a good old time. Fans of Dierks Bentley will find a kindred spirit here: Fowler has a similar youthfulness and sincerity, although he also has the advantage of not being a branded, Top 40 commodity, so he doesn't have to add any sappy, sensitive-guy love songs or dumb fake-nostalgia-for-middle-America odes... It's just one sleepy-eyed, single finger salute after another, with plenty of catchy melodies and chunky rhythm riffs to propel us along. Songs titles like "Cheaper to Keep Her," "What's Your Point" and "I Pulled A Hank Last Night" are all self-explanatory, and Fowler lives up to their promise of no-nonsense fun. But hey, don't just take my word for it: George Jones himself sings a killer duet on "Me And The Boys," and if that ain't a feather in Fowler's cap, I don't know what is. If you're looking for a country record that'll be fun to listen to, this is it.
Kevin Fowler "Chippin' Away" (Average Joe's Entertainment, 2011)



(Produced by David Lee Murphey & Ken Tondre)
Awesome album! Kevin Fowler is one of those Texas-indie red-dirt dudes who's been knocking on Nashville's door for a while now; he's a great songwriter who's sold several tunes that have done pretty well, he's also a lively, heartfelt performer with a strong following, but somehow the Tobys and Kennys keep crowding him out. So, here comes Average Joe's, a new indie label created largely to market Fowler's music, and thank god it's here, and the record is out. This is another strong set of hard-hitting, playfully raunchy modern-day hard country, some honest, ball-scratching dude music that doesn't have the same, lame fake feel as the phony redneck novelty songs recorded by those Top 40 hat-act dudes that dominate the Country charts. Fowler sounds like the real deal: I'm pretty sure I was there hanging out drinking some beer with him that one day when he couldn't fix his carburetor and kicked that dent in the side of his truck. You know what I'm saying. Fowler's songs are well-crafted, they're funny and they ring true. This record was made to crank up loud and sing along to... but only after you pop a top and kick back with some friends, and make sure your wives aren't listening. Keep 'em coming, Kevin.
Michael Fracasso "Love & Trust" (Dejadisc, 1994)

Michael Fracasso "When I Lived In The Wild" (Bohemia Beat, 1995)

Michael Fracasso "World In A Drop Of Water" (Bohemia Beat, 1998)

Michael Fracasso "Back To Oklahoma: Live At The Blue Door" (India, 2001)



Michael Fracasso "A Pocketful Of Rain" (Lone Star, 2004)



A Midwesterner who hit the NYC folk circuit in the 1980s, then headed for Austin when the Americana scene started to hit its stride, Fracasso's work is evenly spaced between fragile acoustic folk-Americana and jangly indiepop, music with an interesting, distinctive charm to it... Fracasso has a thin voice, and a notable comfortability with his own limitations, drawing from the traditions laid down by twee power-poppers and Panhandle poets of years gone by. Not all of the songs hold up, but if you're willing to get on his wavelength, Fracasso is an artist whose work can be quite rewarding. (For more info, check out www.michaelfracasso.com.)
Michael Fracasso "Retrospective" (Texas Music Group, 2004)
Michael Fracasso "Red Dog Blues" (Little Fuji, 2007)


Paula Frazer "Indoor Universe" (Birdman, 2001)


Paula Frazer "A Place Where I Know -- 4-Track Songs: 1994-2002" (Birdman, 2003)


Paula Frazer "Leave The Sad Things Behind" (Birdman, 2005)


Paula Frazer "Live At The Ace Of Spades" (EP) (Birdman, 2006)

Paula Frazer & Tarnation "Now It's Time" (Birdman, 2007)






<! freak mountain ramblers - reader rec.: "the drummer and bass player are from the holy modal rounders..." >

Freakwater "Freakwater" (Amoeba, 1991)
This Chicago-based outfit is definitely an acquired taste, perhaps not recommended for the casual listener, but required listening for the alt-country scholar. Raspy, ragged and difficult, Freakwater draws liberally on indie-rock and twangcore traditions -- one of the female singers, Janet Beveridge Bean, is also in the revered spacerock band, Eleventh Dream Day; later on, a guy from Uncle Tupelo joined the lineup. Underneath all their abrasiveness, Freakwater hits on some convincingly old-fashioned hillbilly vibes, like a sort of booze-fueled version of the Carter Family. Album reviews to follow.


<! Freakwater is an American alternative country band from Kentucky. In 1989, Catherine Irwin and Janet Beveridge Bean (of rock band Eleventh Dream Day) founded the band, and they have been supported by several musicians since then, including members of Califone (2005 Thinking of You tour). Bassist David Wayne Gay is another long-time member of the band. They release their records on Chicago's Thrill Jockey label. >

Freakwater "Dancing Under Water" (Thrill Jockey, 1991)


Freakwater "Feels Like The Third Time" (Thrill Jockey, 1994)


Freakwater "Old Paint" (Thrill Jockey, 1995)



Freakwater "Springtime" (Thrill Jockey, 1998)


Freakwater "Endtime" (Thrill Jockey, 1999)


Freakwater "Thinking Of You" (Thrill Jockey, 2005)


Andy Friedman "Taken Man" (City Salvage, 2006)


Andy Friedman "Live At The Bowery Poetry Club" (City Salvage, 2006)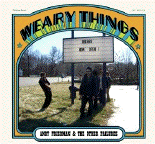 Andy Friedman & The Other Failures "Weary Things" (City Salvage Records, 2009)



(Produced by Paul Curreri)
With a shout-out to "all you young moaners, wherever you are," Brooklyn-based folkie-wiseguy Andy Friedman kicks this disc off with the mega-mopey "I Miss Being Broken, Lowdown And Alone," which lazily lampoons the rock and country addictions to self-pity and remorse. While playfully wallowing in roots-cloaked misery Friedman also indulges in a bit of wordy, uber-underachiever cleverness, the sort of stuff that used to pigeonhole brainy young singer-songwriters as Dylan wannabees... He reminds me here of folks such as Terry Allen, Steve Forbert and Andy White, with a heavy dose of the world-weary slit-your-wrist-ishness of dark-folk patriarch Leonard Cohen. Although it often seems like he's laying it on kinda thick, several songs resonate, such as on the spooky "Pilot Light," "Idaho" or the rambling, rueful "Freddy's Backroom," an eight-minute long homage to a local watering hole that begins not with chest-thumping about living the vida loca, but rather how now, after years of youthful partying and sleeping in late, the singer now gets woken up at dawn by his kid poking him in the eye and saying "wake up daddy!" Like his fleeting youth, Friedman's favorite bar is being replaced as well, torn down to make way for a parking lot. (The whistful closing chorus recalls John Hartford's "They're Gonna Tear Down The Grand Old Opry" -- feel free to make the segue when planning your next alt-country playlist...) Ultimately this is a rewarding record, rambling and discursive, verbally ostentatious but emotionally honest, and soulful enough to echo around for a while in the loneliest of hearts... Worth checking out.
Frog Holler "Adams Hotel Road" (Record Cellar, 1999)


Frog Holler "Railings" (Record Cellar, 2003)


Frog Holler "Idiots" (Zo Bird, 2001)


Frog Holler "The High, Highs & The Low, Lows" (EP) (Zo Bird, 2004)



Well, while I thought the songwriting was uniformly interesting and engaging, I found the crash-banging overemphasis on rock-style electric guitars to be kind of unfortunate. Most of the songs on this 7-song EP slide into prolonged, overly shrill solos that kind of suck the life out of the songs themselves. Of course, that's just my perspective... I've never been much into the whole roots-rock sound, so if you're more into Drive By Truckers or Steve Earle's grungier side, then this might be for you. As I say, though, the songs are all pretty good, with above-average lyrics and unique conceptual twists... just wish I didn't have to turn the volume down or skip past those guitar solos so often.
Frog Holler "Haywire" (Zo Bird, 2006)



The first half of this album is a solid, satisfying mix of true-blue twang and reverbalicious, melodic guitar rock, with wisps of the Feelies, Teen Fan Club and Big Star amid the gruff, twangy vocals and plunky acoustic picking... These guys had kind of lost me for a while, when they went pretty much all-rock, but this disc is a very accomplished piece of work, and their inner twang is definitely back in the mix. There are a couple of moments where they still ditch the country vibe and go off on some guitar-hero tangent, but once I force myself to remember that I like good indie rock, too, then I don't really mind so much. This is a disc you can listen to from start to finish, without any need to flinch or cringe... and these days, that's kind of a rare thing! I'm impressed: these guys have evolved into a really fine band. And this is a mighty fine record... check it out!
Frog Holler "Believe It Or Not" (Zo Bird, 2009)


Steven Fromholz - see artist discography
Edith Frost "Calling Over Time" (Drag City, 1997)



I'm not sure why the indie-altie crowd keeps insisting Edith Frost is an Americana artist... it's as if no previous rock musician had ever thrown an acoustic lick into their work before, and the Chicago scenesters are so baffled by her, they just don't know what to make of it. Well, anyway, even though I'd place her pretty firmly in the nebulous confines of the "lo-fi" indierock category, Frost's love of good, old-fashioned hillbilly music does give her some cred as an alt.hick, at least by proxy... So what the heck? I'll review her here as well! Sounding an awful lot like Barbara Manning, but with less of a pop-driven edge, Frost crafts a delicate set of odd, introspective, meandering lo-fi tunes, amid arty accompaniment from numerous Chicago-scene stalwarts. It's a bit rarified, but has its allure... This probably isn't as "alt-country" as you may have been lead to believe, but Frost certainly does know her way around the byways and backwoods of American hick music... (Check out her website, for insights into her wide-ranging musical tastes -- as well as her playful sense of cyber-community activism...)
Edith Frost "Telescopic" (Drag City, 1998)



Delving simultaneously, paradoxically, more into rock and more into Americana, Frost's similarities to Barbara Manning become more pronounced, as do her differences. She's generally slower, and -- if possible -- a bit mopier (although this album opens with an uptempo, fuzz-drenched psychedelic number that suggest an afternoon or two spent listening to Tall Dwarfs albums...) The album really starts to open up on "Pony Song" and "Too Happy," with oddly catchy refrains... This is probably too subdued and micro-cultural for most rock fans, but for the thoughtful, brainy crowd (...how I envy them!) it may hold some nice surprises.
Edith Frost "Wonder Wonder" (Drag City, 2001)



Her most ornate and richly realized album to date... I really don't get why some of the indie-critical elite persist in describing her as "country," when she's so clearly coming from an alt-rock / art-rock background, especially on this disc, which is packed with shimmering keyboards and theremin-alicious wooglie tones galore... Well, whatever. If I were to recommend one of her records to anyone, I think this would be it: it's got the most interesting ear candy and the most alluring lyrics of the lot. Check it out!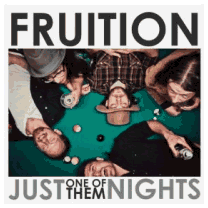 Fruition "Just One Of Them Nights" (fruition.com, 2013)



(Produced by Calvin Turnbull) <! Engineered by >
This was certainly one of the major bolts-from-the-blue from the indie/Americana scene this year, an unassuming and thoroughly enchanting record that spans a wide range of styles and evokes the best of contemporary alt-twang. The album pens with "Git Along," a toe-tapping Woody-Guthrie-by-way-of-Steve-Earle acoustic stomp which is instantly contrasted by the languid, sultry "Whippoorwill," one of several evocative gems by singer Mimi Naja, who taps into the genre-melting femme-folk blues-twang of artists such as Jolie Holland and Be Good Tanyas... This song, along with the album's closer, "Gotta Get Back Home," are two of the most haunting songs in a collection of winners, melodies and words that edge back into your mind for days on end. And I'm not dissing the other songs, tunes by the boys in the band, Jay Cobb Anderson and Kellen Asebroek, strong material such as the wistful, lilting "The Broken Hearted" and the spiritual metaphors of "Come On, Get In," as well as their ode to America's last great alterna-ville, "Portland Bound." This is a sweet and seductive album, also gloriously obscure, the kind of off-the-radar gem that will be a private favorite for a few lucky fans -- and could be a springboard to greater things to come. I liked this one a lot.
Robbie Fulks - see artist discography
---
Alt.Country Albums - Letter "G"
---