<! MP3 04/03/09, 12/10/10 > <! outside 00/00/00 > <! pix 00/00/00 > <! icons 12/10/10 > <! UPDATES: 04/03/09 > <! Israel Nash Gripka "Antebellum" >
---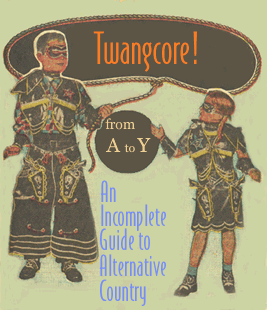 This page is part of an opinionated overview of "alt.country" music, with record reviews by me, Joe Sixpack... Naturally, it's a work in progress, and quite incomplete, so your comments and suggestions are welcome.
This is the third page covering the letter "G"
---
A | B | C | D | E | F | G / G-2 / G-3 | H | I | J | K | L | M | N | O | P | Q | R | S | T | U | V | W | X, Y & Z | Comps | Other Country Styles
---
Gob Iron "Death Songs For The Living" (Sony, 2006)



A side project from Son Volt frontman, Jay Farrar, along with Anders Parker of the band Varnaline... They tackle folk and bluegrass oldies, with a dark, modern twist...

Golden Delicious "Old School" (Cavity Search, 1997)



Smart-ass, bluegrassy, alt-a-billy which is somewhere in the same league with the Bad Livers and Asylum Street Spankers, though with less solid musicianship and an iffy sound mix. They mix a clattersome old-time stringband sound with post-punkish insouciance, reviving some old songs, and plowing their way through new ones with semi-competent banjo plunking and fiddle sawing alongside an aggressive rhythmic drive that's all forward momentum, very little melody... The level of songcraft is not very high, and the band seems unable to hit a subtle note on any of the songs, but they do seem to have had fun making the record. If that makes enough of a difference for you, you might get a kick out of this album, though I gotta say this seems like another on of those bands that would be more fun to see live at a local dive, that to listen to on your stereo. I wasn't overly impressed.

Golden Delicious "Live At The Laurelthirst" (Cavity Search, 1999)



Well, recording a live set wasn't the solution to how to win me over... The sound mix is still weak, and the band seems have taken the concert setting as their cue to become even clunkier and more forceful, and to exaggerate their "hick" twang even that much more. I mean, I want to like these folks more than I do -- they seem to have a fair grounding in the old-time country repertoire (copping tunes from the Carter Family, et. al.) but I just don't care much for the sloppy-as-we-wanna-be brand of musicmaking...

Golden Smog "On Golden Smog" (EP) (Rykodisc, 1992/96)



A just-for-fun, 5-song one-off EP with some fellers from several Midwestern altie bands -- the Jayhawks, The Replacements, Soul Asylum -- that turned into an ongoing alt-country in-joke. They crack themselves up by covering oldies by Bad Company (Shooting Star") and the Rolling Stones ("Backstreet Girl"), Thin Lizzy and Three Dog Night, and by making up silly, hyphenated aliases for themselves to half-heartedly mask their identities. This is okay, enjoyable in a lighthearted way, though nothing to worry too much over if you can track it down.

Golden Smog "Down By The Old Mainstream" (Rykodisc, 1995)



As an avowed Wilco hater, I found myself surprised at how listenable I found this album, a semi-allstar side-project which features members of the Jayhawks, Soul Asylum and Chris Mars of the Replacements, as well as the much-reviled Jeff Tweedy, of Wilco (all performing under goofy aliases...) Listening back, I realize that Tweedy's contributions, particularly the songs "He's A Dick" and "Pecan Pie," are gaping holes in an otherwise catchy, low-key country-rock album. There are plenty of groovy guitars and Big Starry melodic riffs, which mostly mask the sheen of self-absorption and narscissism that characterize the Wilco-licious auteur. Worth checking out, even if I can't help sounding snarky about it... For more info, check out this guy's GeoCities page which demystifies the whole fake-name thing, and gives what I assume is a pretty good summary of the band's "career..."

Golden Smog "Weird Tales" (Rykodisc, 1998)



A full-on embrace of the jangly psychedelic pop of the Byrds, Hollies, et al, -- swirly pop worthy of the '80s Paisley Underground -- fun stuff, if you're into it. As far as the country elements go, they're more often than not "baked into" the mix, rather than overtly prominent.... Some of it sure sounds purty; while some tracks are a bit on the loud'n'wanky rock side for me...
Golden Smog "Another Fine Day" (Lost Highway, 2006)



I haven't heard this one yet, but I heard it was pretty much a straight rock record, so I'm not that likely to track it down anytime soon. If I do, though, I'll let ya know how it sounds.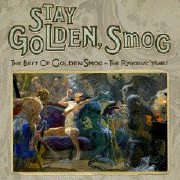 Golden Smog "Stay Golden, Smog: The Best Of The Rykodisc Years" (Rhino, 2008)



(Produced by Brian Paulson & Golden Smog)
This loose-knit agglomeration of indie-rock/twangcore all-stars was sort like a fantasy football team for the Americana scene: from 1992-1998 the band included Gary Louris (of the Jayhawks) and Wilco's Jeff Tweedy, along with members of Soul Asylum, The Replacements, Run Westy Run, and even the venerable Jody Stephens (the drummer of seminal '70s band Big Star) as well as numerous other jam-session pals. They released three albums packed with melodic rock-twang gems, the best of which is gathered here on this well-programmed, sweetly rollicking and entirely captivating collection. This disc still has the free-flowing feel of the original records, but is more concise and feels less self-indulgent -- it's a solid set of mellow country-rock and power-pop, with a very high listenability factor. The liner notes keep up the tradition of listing various bandmembers by the fanciful pseudonyms (which were created in part to get around contractual obligations with their "day job" bands on other labels...) but fans will recognize Tweedy, et. al. crooning drowsy masterpieces such as "If I Only Had A Car" and "Jennifer Save Me", bouncy ditties like "Until You Came Along" and novelty twang tunes such as "He's A Dick" and "Pecan Pie." It's a strong summation of a semi-legendary, goofball band, giving Golden Smog the cohesion and tangibility of other, better-known icons of the 1990s alt-country scene. Definitely worth picking up, especially if you missed them the first time around!
Joe Goldmark -- see artist discography
The Good Luck Thrift Store Outfit "Good Luck Thrift Store Outfit" (Heckabad, 2005)

The Good Luck Thrift Store Outfit "The Ghost Of Good Manners" (Heckabad, 2009)


The Good Luck Thrift Store Outfit "Old Excuses" (Heckabad, 2013)

Kevin Gordon "Cadillac Jack's #1 Son" (Shanachie, 1996)



Roots-rocker Kevin Gordon debut album has one perfect track, "Pauline," a ruefully transcendent story-song about adolescent longing that recalls some of Dave Alvin's best acoustic-based work. There are a couple of other nice tunes, but that one was truly extraordinary, with a mournful chorus that is to die for... Several of these songs were originally self released on an EP that you might still find out there... the two versions are pretty much the same. Nice album; worth checking out.
Kevin Gordon "Illinois 5 AM" (1998)

Kevin Gordon "Down To The Well" (Shanachie, 2000)



Four years later, the results are still promising, but mixed. The album kicks off with the title track, a nice Lucinda Williams duet, and continues along with several chugging, upbeat rockers along the line of old Rockpile or Dire Straits. For the most part, though, I'd have to say I think Gordon overplays his strengths as a songwriter, aiming for a Springsteen-like "common man" approach that sounds forced and overly deliberate. Still, he's got a knack for hitting a groove, and I suspect that plenty of folks will enjoy this record a lot. I still have trouble with the stagey nature of the songwriting and exaggerated, self-conscious gruffness of his vocals, but maybe that's just my worry. "Time For The Sun Rise" is the most natural-sounding track on the album, sliding into a sort of Leon Redbone-y easiness; with tracks like that in evidence I'd like to see Gordon relax a bit and try to find his own voice.
Kevin Gordon "O Come Look At The Burning" (Crowville, 2005)

Kevin Gordon "Salvage And Drift, v.1" (Crowville, 2010)

Kevin Gordon "Gloryland" (Crowville, 2011)



(Produced by Joe V. McMahan)
Generally speaking, I am not a big fan of sage profundity in country/Americana music -- it just doesn't do as much for me as plain, old, hummable twang. But for folks who like the style, fans of Greg Brown or modern Dylan, this is a pretty strong offering, with tightly crafted, well-produced material, combining folkie elements with rock and electric blues. This album is more rock-oriented than Gordon's earlier albums, but clearly he's very into it, singing with all the feeling and passion he can summon. I think most longtime fans will be into it.

Andy Gorwell "Uprooted" (Cavalier, 2001)



Kasey Chambers, look out! This alt.country Aussie has a major Wilco/Jeff Tweedy, Beggar's Banquet-era Stones jones, but is a real good way. The style is familiar, derivative even, but completely pleasant, with smooth, sweet guitar picking throughout. Gorwell's whole band is pretty on the ball, but his dobro playing and the pedal steel work by Ed Bates are particularly strong. The songwriting is a little predictable -- filled with American-styled nostalgic themes, songs about trains and diesels and the like -- but not in an unpleasant way. It's nice to hear such solid, good old, for-real hard country music coming out of Oceania, it's certainly better than a lot of likeminded bands here in the States. Apparently this is Gorwell's second album; with this kind of success so far, I'd say this fella is an artist to keep an eye on.
Andy Gorwell "City Walls" (AG Music, 2007)



Go To Blazes "Any Time... Anywhere" (East Side Digital, 1994)


They're kind of twangy, but mostly in an early-'70s Stones/Faces kinda way... Indeed, on songs like "Between The Eyes" they so deftly take their cues and cop their licks from Mick and the boys that it's hard to see them as truly twangcore rather than rockers with a little twang... Overall, this album is too loud for me, but if you like the Black Crowes, or Humble Pie, this might have a similar appeal.


<! several other albums - really a rock band?? >

The Gourds "Stadium Blitzer" (Munich, 1997)



I've often been puzzled by my own lack of affection for the Gourds... I've met and interviewed the band, and thought they were nice guys, certainly representative of the mellow folks down in the Texas Americana scene... But their records never quite did it for me, with their odd, self-consciously mix of REM and The Band. Stadium Blitzer is a good case in point -- the disc seems overly clever and image-conscious. The Dan Hicks-y nods towards string band jazz are nice, but the exaggerated drawls, and a few of the musical hooks are just a little too much for me. In an odd way, for all their deliberate mellowness, The Gourds seems like a band that can't quite relax enough and trust in the power of their own music... It's like they're always trying too hard, to add some little thing that will make their songs stand out -- artsy lyrics, catchy hooks, gruff vocals, yodeling off-key, etc. -- that their work has a sort of a too-many-cooks feel to it. It might just be me, though. I can see how plenty of other folks would really like this album. Six of one, half dozen of the other, but after hanging on to it for several years, I finally let my copy of this album go.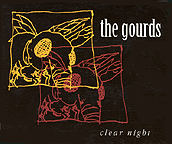 The Gourds "Clear Night" (Munich, 1996)
On the other hand, I kept this earlier EP... Even though they try too hard to be all profound in their lyrics, this disc seems more down to earth and straightforward musically. It's pretty good, or at least solid and enjoyable in an unassuming and pleasant kinda way.
The Gourds "Dem's Good Beeble" (Munich, 1996)


The Gourds "Ghosts Of Hallelujah" (Munich, 1999)



The Gourds "Bolsa De Agua" (Munich, 2000)



This album is way too affected, though. The drawling vocals are so affected and exaggerated that I literally can't tell what they're saying or what any of the songs are about. It's probably a shortcoming of mine, but I like my music to be easier to enjoy than that... And yeah, I guess these guys hit a certain groove musically, but this late in the game, it's become a little too goofy for me, in sort of a sub-Grateful Dead-ish groove band kinda way. It's okay, but didn't Mungo Jerry and the Lovin' Spoonful do this jugband-rock thing a long while back? (But "Pickles" sure is a catchy tune...)

The Gourds "Shinebox" (Munich/Sugar Hill, 2001)



File this one under, "God, that Joe Sixpack guy really has no sense of humor, does he?" Okay, so they do a bluegrass-y twangcore cover of a Snoop Dogg song ("Gin And Juice") ...Do I care? No. Actually, I do not. Again, this is all okay, in a lighthearted, jug-bandish kinda way, but it doesn't completely grab me. Sorry!

The Gourds "Cow Fish Fowl Or Pig" (Munich/Sugar Hill, 2002)



Listening to this album, I think I've finally put my finger on what, exactly, it is that I don't like about the Gourds, and why. It leaps out at you with the opening tune, "My Name Is Jorge": the trouble with the Gourds is that they are simply too glib. They're obviously talented musicians, capable of creating an irresistibly perky bounce, but with a few random exceptions, their music lacks substance or emotional resonance -- it's mostly just a cobbling together of various clever affectations, each of which is designed to draw attention to itself, and when properly combined, produce a cute, catchy country bubblegum narcosis. Yet the songs themselves, the lyrics buried underneath the bouncy melodies and the Band-ish hillbilly vocals, are insubstantive and fluffy, parades of weird-sounding words, goofy catchphrases, strange references and seeming non sequitors. It's easy to get why their playfulness and humor, combined with their instrumental aplomb, draw people in... It's music that's easy to fall into, and it's not as if the songs are completely formless or bland -- the Gourds are "quirky" and "nutty" as can be, so they get "interesting artist" points without really having to do much at all. If you're already inclined to be on their wavelength, then they can be a lot of fun, like an alt.country They Might Be Giants. But their techniques are repetitive, and I'm sure there must be more than a few people out there like myself who, once having been drawn in, start to feel a little resentful that there's not more really going on behind the the twangy dog-and-pony show. And plenty of others who find them just plain pretentious and irritating. If you like the Gourds already, then you'll love this album; it's one of their best to date. But if you've been waiting for them to do something different, then this disc ain't gonna surprise you much.
The Gourds "Growin' A Beard -- The Soundtrack" (Asypr Media, 2003)


The Gourds "Blood Of The Ram" (Eleven Thirty, 2004)



What's most striking about this album is its musical solidity, the power of the playing and the catchiness of the tunes. I have taken the Gourds to task before for writing songs that are really just about nothing (see the reviews above), but when they open an album sounding so much like Los Lobos, and follow up with rhythm work that's almost as tight as the Meters, it's hard to fault them for a little thing like how dumb their songs are. Clearly, the Gourds are a party band, and maybe it's not for a crabby old fart like me to judge them "yea" or "nay..." Either you're on their wavelength or you aren't; though I still weary of their collective addiction to novelty songs and non sequitors, I can also see how it'd be fun to stomp your feet at one of their shows with a couple of cold ones in ya. This is probably their best album to date, likely to please fans and roots music grinches alike.
The Gourds "Live At Bluebird Theater: 6/18/03" (eMusicLive, 2004)

The Gourds "Heavy Ornamentals" (Eleven Thirty, 2006)


The Gourds "Noble Creatures" (Yep Roc, 2007)


The Gourds "Haymaker!" (Yep Roc, 2009)


The Gourds "Old Mad Joy" (Vanguard, 2011)



(Produced by Larry Campbell)

Jon Dee Graham "Escape From Monster Island" (Freedom, 1997)


Jon Dee Graham "Summerland" (New West, 1999)



Roots-rockin' singer-songwriter stuff, with a redeeming melodic bent. The urgent, sinister-sounding, Tom Waits-y, half-whispered/half-growled vocals seem too mannered, and put me off, but I have to say, most of these songs held my attention from beginning to end. Similarly, the lyrics tend to be a bit oversculpted, but if you1re looking for something intelligent and substantive, Graham has a lot to offer. Listening to this album from beginning to end might be a bit of a chore, but one song at a time, in a wider mix of music, it can be really rewarding. (Also check out his old band, The True Believers, which had an album out on the Ryko label...)
Jon Dee Graham "Hooray For The Moon" (New West, 2001)



Again, although the grumbling, rumbling, Tom Waits-y vocals wore thin kinda quickly, this album also had some real surprises. When the band kicked in with a truly wild, rowdy version of "Volver," my ears pricked up; this was followed up by "Waiting For A Sign," an amorphous space-rock ballad that sounds completely different from the rest of the album. Then things shifted back to more familiar bar-band prophet material... Some of this stuff seems kind of generic to me, but this album probably won't disappoint fans of the style. Definitely worth checking out.
Jon Dee Graham "The Great Battle" (New West, 2004)



Gruff, grizzled, singer-songwriter roots-rocker ruminations, with clear echoes of Joe Ely, Warren Zevon and Bruce Cockburn... I can't say that I personally go for this style myself -- it1s just too much effort for me as a listener -- but I do recognize the subtlety and depth that Graham's bringing to bear, and would flag this disc as one of the better records of it's kind, and possibly his best record to date. If, unlike me, you like the whole roadhouse poet genre, then this is an album you really oughta check out.
Jon Dee Graham "Full" (Freedom, 2006)


Jon Dee Graham "Swept Away" (Freedom, 2008)





<! also a documentary DVD >

Jon Dee Graham/Various Artists "Big Sweet Life" (Freedom, 2008)






<! formerly in the True Believers, with Alejandro Escovedo # FULL - 2006 (Freedom) # Big Sweet Life: The Songs of Jon Dee Graham - 2005 (Freedom) # First Bear On The Moon - 2005 (Freedom) # The Great Battle - 2004 (New West) # Hooray For The Moon - 2002 (New West) # Summerland - 1999 (New West) # Escape From Monster Island - 1997 (Freedom) >

The Grahams "Riverman's Daughter" (Walrus Records, 2012)



(Produced by Malcolm Burns)
The band's namesakes are Alyssa Graham and Doug Graham, with Ms. Graham taking most of the lead vocals... She's best known as a jazz stylist, though on this disc their sound is mostly what I'd tag as contemporary folk-pop... Musically diverse, although with a distinct soft-rock backdrop, and not quite my cup of java. Still, lots of high-power Americana types backing them up, including James Luther Dickinson on guitar, Colin Linden playing dobro, Steve Fishell on dobro and pedal steel and the album's producer Malcolm Burns on piano and bass... Burns is known for his work with Emmylou Harris and Patty Griffin; here he applies his lush alt-country arrangements to Ms. Graham's vocals, in a departure from the jazz and rock territory she usually explores.
Gravel Spreaders "Metal Hee-Haw" (Hot In The Hole, 2012)


The Great Recession Orchestra "Have You Ever Even Heard Of Milton Brown?" (NewTex Records, 2010)



An amiable album of rootsy, bluesy swing, covering the work of the legendary Milton Brown, who is credited as one of the inventors of western swing. Here's a whole passle of great old tunes , given kind of a swank, glossy modern makeover, but delivered with confident affection... Fun stuff!


<! 144 x 144 >
Huke Green "Rustic Poet" (Cinder Shack Records, 2011)



(Produced by Huke Green & Cristi Green)
Gravel-voiced and forlorn, Texas songwriter Huke Green falls roughly in the more low-key end of the Steve Earle/Townes Van Zandt style... These slow, sad songs with loping meters and low-key picking have a striking feel, though they are all pretty similar-sounding... If you enjoy Richard Bucker-esque downer-billy, this is a nice indie release that you might wanna check out. Also kinda reminds me of Sam Baker, both in texture and tone... His farmer ballad, "Prayin' For Rain," is a real gem.

The Greencards "Weather And Water" (Dualtone, 2005)



This scrappy, eclectic band seems tailormade to horn in on a bit of Alison Krauss's territory, offering a similarly mellow, accessible mixture of Americana-folk and bluegrass picking... But instead of Krauss's increasing tilt towards mainstream pop, the Greencards have a noteworthy streak of Celtic trad, with a bounce and a lilt that keeps things lively. Their musicmaking still seems too effortful -- you always feel them working their way from Point-A to Point-B to Point-C, and they seldom hint at those magic leaps to X ,Y, Z and beyond that make the best musicians so special. But despite the workmanlike feel to their work, they are clearly a band that's on the way up and that will find a loyal audience whose energy and enthusiasm match that of the band. Worth checking out, particularly if you are a fan of Alison Krauss, Bela Fleck, and the slicker side of the contemporary bluegrass scene.

The Greencards "Viridian" (Dualtone, 2007)



A lovely, pretty-sounding set with contemporary folk overtones, ala Be Good Tanyas, along with some satisfying, straight-ahead bluegrass, and a bit of Celtic coloring thrown in for good measure. Bassist Carol Young has the strongest presence, adding fine vocals to some of the more less bluegrass-y tunes, although the guys kick in on vocals as well, and all the bandmembers contribute strong original material. You can draw comparisons to other contemporary style-stretchers: some of the gruffer male vocals evoke Dan Tyminski's work with Union Station, and there's a little bit of Nickel Creek in the folk-pop elements as well, although much to their credit, the Greencards are far less stagey and self-important than those chartmakers, and less anchored to the "adult pop" market. There's still a sense of spontaneity and joyful fun here that will be instantly appealing, and the group's diversity and mastery of styles makes this feel like a nice freeform folk radio show. This is a band that a lot of fans are going to latch onto over the next few years.
The Greencards "Fascination" (Sugar Hill, 2009)



I am probably not the right person to ask about this record. When I first heard it, I was inclined to say something favorable, about how they were being creative, and expanding the boundaries of their genre, etc. etc. But when I came back to it, I just had to admit it was impossibly pretentious and musically forced. Distinctive and attention-getting, yes, but also quite forced. It's just too lofty and overdone, really, too self-consciously poetic and artful, and too naked a bid to stake out turf on the same "adult-alt" folk-pop terrain as Alison Krauss and Nickel Creek. Admittedly, I suppose if you are a fan of that genre, this would be welcome -- I found it cluttered and loud; it made me uneasy listening to it. Towards the end, I had an epiphany, as on one song the male-female harmonies kicked in and I realized that, on that track, they sounded a bit like Fleetwood Mac, and I realized that they probably meant to. The trouble is, they moved straight past Rumours right into the Stevie Nicks solo years... Just not my cup of tea, I guess.
Greencards "Sweetheart Of The Sun" (Darling Street, 2013)


Pat Green -- see artist discography
Grievous Angels "Angels And Inbreds (EP)" (Bloodshot, 1996)


Grievous Angels "New City Of Sin" (Bloodshot, 1997)



Grievous Angels "Miles On The Rail" (Bloodshot, 1998)



A raucous, kerplunky, cowpunky affair, featuring lots of nifty licks by guitar whiz Jon Rauhouse... I think they're actually a better band than they let on, and while this album is musically a little grating, the songwriting is fairly clever, and the melodies work just fine. I'd be surprised to find myself going back to this record to listen to it for fun, but it'd fit into a radio set just fine, and for those so inclined, it's an energetic, accomplished twangcore set. Worth checking out!


<! http://en.wikipedia.org/wiki/Grievous_Angels Canadian band * Toute la Gang (1989) * One Job Town (1990) * Watershed (1993) * Waiting for the Cage (1996) * 22 Trailer Park (1999) * Hanging Songs (2003) >

Jeff Griffith "If It Ain't One Thing, It's Another" (Arrowhead, 2007)






<! covers Moe Bandy, Gary Stewart >

Nanci Griffith - see artist discography



Wylie Gustafson - see artist discography




Sarah Lee Guthrie & Johnny Irion "Entirely Live" (Route 8 Records, 2004)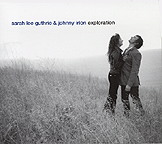 Sarah Lee Guthrie & Johnny Irion "Exploration" (New West, 2005)



This earnest folkie duo cranks up the volume on a surprisingly sizzling, electrified album, with some for-real, heavy, funky rock grooves capturing center stage on most tracks. This disc is an amazing leap from their previous work, which I had classed in the I'm-rootin'-for-ya, even-though-this-is-kinda-choppy department... The lulls and gaps they showed before are almost entirely absent here, and most of these songs will really pull you in. They do go overboard on the loud lead guitar riffs and banging drums, but for the most part, this is a very solid record. If you like Buddy & Julie Miller, Gillian Welch, or the revamped Flatlanders, you might want to check this out! (And, yes, she is Arlo's daughter... If I was her daddy, I'd be pretty proud...)
Sarah Lee Guthrie & Johnny Irion "Folksong" (Route 8 Records, 2009)


Sarah Lee Guthrie & Johnny Irion "Bright Examples" (Rocket Science, 2011)

Sarah Lee Guthrie & Johnny Irion "Wassaic Way" (Route 8, 2013)


---
Alt.Country Albums - Letter "H"
---