<! MP3 07/15/09 > <! update 07/15/09 > <! outside 00/00/00 > <! pix 00/00/00 > <! icons 12/11/10 > <! UPDATES: 00/00/00 > <! 10/11/11: Claire Holley added to Fillies - also Alt? >
---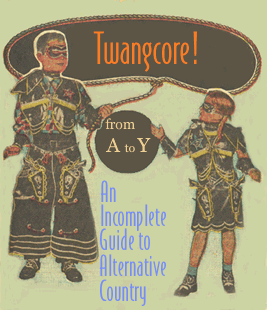 This page is part of an opinionated overview of "alt.country" music, with record reviews by me, Joe Sixpack... Naturally, it's a work in progress, and quite incomplete, so your comments and suggestions are welcome.
This is the third page covering the letter "H"
---
A | B | C | D | E | F | G | H-1 / 2 / 3 / 4 | I | J | K | L | M | N | O | P | Q | R | S | T | U | V | W | X, Y & Z | Comps | Other Country Styles
---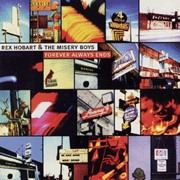 Rex Hobart & The Misery Boys "Forever Always Ends" (Bloodshot, 1999)



This guy so totally, completely rocks! Two things drew me to Midwesterner Rex Hobart's debut album, Forever Always Ends... His wry, tounge-in-cheek overstatements of traditional country "hard luck" themes -- going to your ex-lover's wedding, etc. -- were handled as skillfully as on Dwight Yoakam's A Long Way Home album, and with nearly as much musical panache. Also, Hobart's genre satire is helped tremendously by the fact that his band kicks ass, playing hard country music at a level far above your average rockers-gone-hick twangcore crew. The simple, bright production and Hobart's adenoidal voice bring to mind numerous freewheeling, laissez faire hippie-billy bands from the '70s, particularly folks who were well off the radar, such as Greezy Wheels, Robb Strandlund, or Deadly Earnest. However, Hobart's output is way more consistent than any of those no-hit wonders -- if the truth be told, there isn't a bad song on this album. Thematically, it's a little repetitive (one big, "I can't win, and boy do I know it..." country self-parody...), but the music is super-solid, and so are his normal-guy, nebbish vocals, and his lyrics are uniformly hilarious and witty. If you're among the ranks of those disappointed by Robbie Fulks' last few albums, give this guy a try -- he's not as bluesy, but he's just as brash.


<! Members of Rex Hobart's Misery Boys (or a member) were in the Homestead Grays in Lawrence, Kansas back in the 80's. And while the Grays were not a hardcore band by any means (they were rooted in Americana) they released on Lawrence's Fresh Sounds, Inc. label. The same that released a few hardcore bands, the Embarrassment, and the Micronotz. The Grays were in that scene of bands and throughout travels and shows, likely crossed paths with Ian MacKaye at some point. Also, Rex Hobart is Scott Hobart of the band Giant's Chair >

Rex Hobart & The Misery Boys "The Spectacular Sadness Of..." (Bloodshot, 2000)



Hobart doesn't disappoint on this follow-up, although he does come a bit closer to overplaying his hand lyrically; the balancing act is made more precarious by his embrace of Glen Campbell-derived folk-countrypolitan stylings, as opposed to the bottle-busting, galloping honkytonk of his last album. By slowing the music down, he gives the listener more time to weigh the relative merits of sincerity vs. wit in lyrics like "I'm Not Drunk Enough To Say I Love You" and "The One And Lonely You"... Still, these Misery Boys take their picking and plunking very seriously, and just the sound of that pedal steel alone is worth the price of admission. This is one of the best country bands in America today! Check 'em out.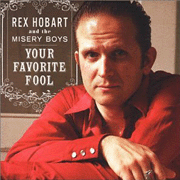 Rex Hobart & The Misery Boys "Your Favorite Fool" (Bloodshot, 2002)



Rex Hobart is one of the most seriously underrated country artists around today, and this may be his single best album to date. This is solid, well-crafted honkytonk music like they used to make in the late 1950s, with instrumental and vocal performances that are all simply top-rate. Hobart is too indie for the Nashville studions, and probably too serious and too straightforward a musician to be embraced by the irony-addicted alt-country hipster crowd... which is a real shame, 'cause he is really, really talented. (I played a bunch of these songs on the Spinner.com Americana channel and they got terrible ratings from the listeners, so there's some sort of disconnect between what people read about in No Depression and what they like to hear on the radio... Of course, I left all the songs on there anyway, 'cause I was right and they were wrong...) Kudos to Bloodshot Records for giving this guy a chance to grow... all of his albums are good, this one is the best.

Rex Hobart & The Misery Boys "Empty House" (Bloodshot, 2005)



Man, the Misery Boys have sure been working overtime to live up to their name... It's been a few years since their last record came out, and I guess Rex Hobart has spent the time plumbing the depths of bitterness and abject desolation. This disc opens with four songs that document with painful clarity the death of a romance, each tune ratcheting upwards from bickering and recrimination to outright hatred and hostility. (Hobart's cover of Johnny Paycheck's "It Won't Be Long (And I'll Be Hating You)" is an album highlight...) It's a pretty gruelling progression, and if you're like me, by the time you get through that introduction, you'll want to call Hobart and ask if you can buy him a beer. From there, the lovers go splitsville and our hero -- still addressing all the lyrics to his ex -- bottoms out, singing of barside binges and late-night self-loathing -- Lefty Frizzell's "I Never Go Around Mirrors," writ large. The album's real payoff comes on "The Tear I Left Behind," where he suggests they try maybe just a little bit of fooling around, just for old time's sake. Ouch. Some people never learn. Musically, this album isn't as catchy or melodic as his past two, but the picking is pretty solid, even if the lyrics hijack the show. If you enjoy those old, exaggerated, gloom'n'doom tunes by Johnny Paycheck sang in the 1960s, you might find a kindred spirit here with Hobart & Co... But seriously, Rex... You okay, dude? Can I buy a beer or something?

Louise Hoffsten "Knackebrod Blues" (Memphis International, 2002)


For decades, the blues have become so tame and tradition-bound that hearing a new artist come along and make the style sound rough and dirty again is almost like a divine revelation: Oh, so you mean modern blues don't have to be so goddamn boring?? Wow!! So let's welcome Louise Hoffsten, a slight, plain-featured blonde whose tiny voice expands to fill in the spaces left by her a remarkably muscular electric combo. Knackebrod Blues may be the most dynamic, energizing blues album of the last ten years. More remarkable still is that Hoffsten is actually from Sweden, and that her previous albums were more in a quiet, offkilter indierock-ish mode... Here she brings a sexy, slightly trashy, jagged-edged Joan Jett-like feel to these songs that is at once electrifying and alluring. Recommended!
Kelly Hogan "The Whistle Only Dogs Can Hear" (Long Play, 1996)

Kelly Hogan & The Pine Valley Cosmonauts "Beneath The Country Underdog" (Bloodshot, 2000)

Kelly Hogan "Because It Feels Good" (Bloodshot, 2001)



This didn't blow me away... Hogan mellows down into a crooning mode. I think she's aiming for an alt-y Patsy Cline vibe, but winds up being a bit more Vonda Shepard. I suppose if I had a more intense interest in irony and postmodern, satirical blah-blah-blah, this would have more appeal, but I'm still just looking for a strong melody to sing along to... Just not country enough for me.
Hog Mawl "Hank Williams Jr. High" (Broken White, 2001)



I was pretty surprised by this album... I had low expectations, based mostly on the band name and album title, but figured, what the heck... I'll check it out... Instead of the twangcore slopfest I'd anticipated, this is actually a pretty sincere effort to write and play real hard country honkytonk. Songwriter Cliff Murphy has a good ear for his material -- several songs are close to top-notch, held back mainly by the amatuer musicianship, and the occassional loosely-strung lyric. But where most of today's raised-on-rock twangcore bands simply play louder and sloppier to compensate for their lack of country chops, Hog Mawl -- much to their credit -- stick it out and try to play the stuff they way it really should be played. The album's opener, "If You Don't Love Me (I'm Leavin')" could have been a '40s classic, and other tracks, such as "Who Do You Dream Of?" are similarly well-written. "Jasper," an updated version of a Porter Wagoner-style small-town-tale, is also pretty good, and could be better with a few little tweaks. Mostly, this band just needs to stick with it, and get much tighter musically than they are now -- if they can stick it out, they could become one of the best country bands of this decade.

Derek Hoke "Goodbye Rock 'N' Roll" (Electric Western, 2010)



(Produced by Dexter Green)
On the title track Derek Hoke, smitten by the twangy charms of country music, sings to rock'n'roll as though it were an abandoned lover, being thrown over for the slinky sensuality of a pedal steel guitar. Now, of course, rock-vs-country is a false dichotomy, but it's a clever premise for a novelty song, and it sounds sweet when Hoke and his band twang it out. He follows up with the equally rewarding, equally countrified "Finer Things In Life," which extols the virtues of longneck beers and rusty old trucks. But rock is a hard lover to dump: sneaking in behind Hoke's Hank Williams-y honkytonk comes the gentle power-pop of "Hot On The Heels Of Love," striking a delicate balance that is sustained through rest of the album. I'm reminded of the eclectic approach of '70s-era country-folksters such as Jonathan Edwards and J. D. Souther, which is to say that this guy has deep roots in both styles and he makes the most of mixing them together. A nice record with many hummable, toe-tappable melodies... Worth checking out!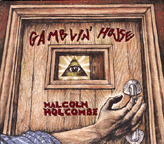 Malcolm Holcombe "Gamblin' House" (Echo Mountain, 2008)



Fans of Guy Clark might also enjoy this fellow... The Clark comparison is particularly strong on tracks like the album's opener, "My Ol' Radio," where the debt would almost be embarrassing if the song didn't sound so darn good. Over the course of the album, Holcombe may overplay his hand a bit with the don't-I-sound-gruff-and-world-weary schtick, but the record's acoustic folkie/bluesy vibe is quite pleasant and makes up for a lot of the weary-old-soul mannerisms. Worth checking out!
Gal Holiday "...The Honky Tonk Revue" (Honky Tonk Revue Music, 2006)



The debut album from an awesome retro-honkytonker from New Orleans...
Gal Holiday & The Honky Tonk Revue "Set Two" (HTRP Music, 2010)



Includes "Jones On The Jukebox," one to add to your list of George Jones tribute songs, as well as a and a version of "Sixpack To Go," which I always appreciate.
Gal Holiday & The Honky Tonk Revue "Last To Leave" (HTRP Music, 2014)



(Produced by Gal Holiday & Misha Kachkachishvili)

Jolie Holland "Catalpa" (Self-Released, 2003)



This is one of the most distinctive, defiantly genre-bending albums to come down the pike in quite some time... Generally speaking, it's in the "Americana" realm, but with odd, insistent jags of torchy jazz, blues and indefinable world music influences. It's not surprising since Holland, who has become a fixture on the Northern California/SF Bay Area scene, was a founding member of the equally eclectic Be Good Tanyas, and carries much of their searching moodiness with her. There's also an art-school diary aspect to this disc, with elusive impenetrable lyrics that are matched by the amorphousness of the music. This album certainly has a unique feel to it... whether she'll be able to sustain the mystique, or sharpen her focus, remains to be seen, but for now Holland has struck a remarkable balance between the pretentious and the sublime... If you're looking for something substantive and off the beaten track, this disc is certainly worth checking out.
Jolie Holland "Escondida" (Anti, 2004)



Less nebulous and more rooted in jazz and blues than her previous, self-released album... Holland seems to be staking out some turf in the same general neighborhood as Tom Waits and Norah Jones... Sounds pretty nice, with a few songs that sort of float about, and others that glisten like gems. It's pretentious, sure, alluring at times, irritating at others. On the whole, I'm sure folks will find her a refreshing new voice on the Americana/indie scene, although now I'm starting to feel more like I've got her number down -- seems like she could go either way, and push into more challenging terrain, or she could just keep wowing the rubes with odd, offbeat noodly ditties whose laid-back "weirdness" is their main selling point.
Jolie Holland "Springtime Can Kill You" (Anti, 2006)


Jolie Holland "The Living And The Dead" (Anti, 2008)


Jolie Holland "Pint Of Blood" (Signature Sounds, 2011)


The Hollyfelds "Saratoga" (Self-Released, 2008)



(Produced by Ric Hordinski)
A fine set of ragged-edged, buoyant DIY-billy, with a bouncy rock backbeat behind a mostly-acoustic band and twin gal-harmony vocals. Singers Eryn Hoerig and Kate Grigsby split the songwriting chores equally, and each taps into the misery-and-drinkin' country tradition, singing novelty lyrics with a rough, modern edge. I have to confess, I'm not really fond of their vocals, but fans of Freakwater and Lone Justice will recognize kindred spirits in this clattersome quintet, and open-minded listeners will find this low-budget offering full of plenty of pleasant surprises. Highlights include Hoerig's hangover ballad, "I'm Gonna Feel Tonight Tomorrow" and the more poetic "Stars At Night." There's an abundance of songs about broken hearts and late-night, lonely drinking, and yet they avoid the forced feel of many of their alt-twang contemporaries. The Hollyfelds sing and play with a conviction and sincerity that's refreshing to hear. Worth checking out...! (Available through the band's website: www.thehollyfelds.com )
The Hollyfelds "Black Heart Blue" (Thirty Tigers, 2009)



A nice, bouncy five-song EP, with twin female vocals and lots and lots of high-energy twang. This retro-riffic Denver-based band has a deep allegiance to the rockabilly and hillbilly hard country of the past, with propulsive rhythm that's matched by the enthusiasm of singers and pickers alike... In the future, they may slow down a little and shoot for more emotional resonance, but for folks who like passion and power -- and lots of twang -- this'll be a pretty fun outing. Nice mix of original material with a well-chosen cover of Hank Cochran's "She's Got You" (best known from Patsy Cline's fab, classic original...)
Honky Tonk Disciples "Honky Tonk Disciples" (EP) (Self-released, 2005)


An OK 5-song honky-tonk EP from an indie band out of Louisiana... The main creative force here seems to be songwriter Michael Howes, who wrote all these songs. Decent picking and singing; they have since renamed themselves The Way-Goners.
Honky Tonk Disciples "Kickin' Up Dust" (Self-released, 2006)



This full-length album includes three of the five songs from the EP above...

Adam Hood "Different Groove" (Saguaro Road, 2009)



(Produced by Pete Anderson)
Good retro-honkytonk with a pinch of roadhouse roots-rock in the mix. The album opens with a flurry of catchy country tunes, full of strong hooks and catchy choruses: if you like 'em there are several acoustic versions added as bonus tracks at the album's end. In the middle, the record loses a little steam, but not much, and the opening salvo is pretty impressive. Definitely worth checking out, particularly if you enjoy the clean, punchy production by Dwight Yoakam's old main man, Pete Anderson.

Patterson Hood "Killers And Stars" (New West, 2004)



A self-produced, lo-fi kitchen-recording solo album from one of the honchos in the Drive-By Truckers. Solo acoustic, he's every bit as boring and pretentious as when he's plugged in and grungy. He's just not a very interesting songwriter, and when he goes all navel-gazey, he loses what little novelty the Truckers garner when they go all Southern rock and wow the rubes. I'll pass on this one.
Patterson Hood "Murdering Oscar (And Other Love Songs)" (Ruth Street, 2009)



Horse Opera "Sounds Of The Desert" (Telewreck, 2011)


(Produced by Jimmy Deveney & Ben Sparks)
A swell set of satisfying DIY twang from Austin, TX... Lots of original songs written in the classic honkytonk-novelty tradition, with solid, unassuming real-country accompaniment -- twangy guitar, thumping drums, loping bass and Bakersfield-y pedal steel. Your basic lo-fi indiebilly retro... nice stuff!
J-Bird Hosch & The Kountry Kays "Cat O' Nine Tails" (Dirty Bird Music, 1999)

I gotta say, that as far as the current local scene goes, these folks rank pretty high as far as the picking and twanging goes! Driving, upbeat material with themes both timeless and contemporary. Hosch has a wildly exaggerated Minnie Pearl-ish drawl, but it works pretty well for her material. The songwriting is strong, too -- where she could've quite easily fallen prey to the temptations of kitsch and stereotype, instead J-Bird keeps things pretty straight-ahead and above board. Definitely worth checking out.

Hot Club Of Cowtown "Swingin' Stampede" (Hightone, 1998)



A sweet three-piece swing stringband which draws evenly on Tin Pan Alley and western swing standards (Gershwin, Bob Wills and the usual suspects). Their approach to the standards is brisk and bouncy, with nods towards Django Rinehardt, Chet Atkins and Wills himself, as well as Depression-era outfits like the Prairie Ramblers. The lead singers - guitarist Whit Smith and fiddle player Elana Fremerman - are limited as vocalists -- but they nonchalantly shrug it off, with the sort of just-plain-folks, come-and-hear-us-play-at-the-cafe attitude which reminds us that you don't have to be a rock god to make good music. For an extra dose of authenticity country/swing veteran Johnny Gimble pitches in on several tunes. Sweet, swinging, and fun to listen to. They're also pretty awesome live.

Hot Club Of Cowtown "Tall Tales" (Hightone, 1999)



(Produced by Dave Stuckey)
Their debut was so sharp and so accomplished, it was hard to envision them topping themselves (and not mucking it up) but ... surprise! This album is a real stunner. One big, BIG reason is that this time the trio had Dave Stuckey of the Dave and Deke Combo in tow as the album's producer. Dave has perfect pitch when it comes to reclaiming old-time western swing and hillbilly material, and as a producer he is so faultlessly sympathetic to the goals and passions of the Hot Club, that this album is one of the best of it's kind you're likely to hear. He also adds a punchy, slightly manic energy that is a nice balance to the band's somewhat cool natural demeanor. HIGHLY recommended!

Hot Club Of Cowtown "Dev'lish Mary" (Hightone, 2000)



(Produced by Lloyd Maines)
Once again, amazingly enough, they seem to just get better and better... In the final balance, I do prefer Dave Stuckey's sublimnal rowdiness as producer of the last album, but Texas fixture Lloyd Maines keeps things on a cool, even keel at the helm of this disc. More great old-time acoustic swing, with novelty songs and sweet licks galore. Need I say it? Recommended!

Hot Club Of Cowtown "Ghost Train" (Hightone, 2002)



Whether bold or foolhardy, these innovative Austinites have penned a slew of new acoustic swing tunes with a heavier-than-usual dose of Tin Pan Alley jazziness, much of it almost Brechtian in its thickness and lyrical density. I gotta say, even though it makes me feel smallminded to admit it, most of this doesn't really work for me -- it feels belaboured and the band sounds overly-conscious of its own efforts. Besides lacking the spontaneous-sounding bounce of earlier efforts, it also feels like each of the bandmembers are trying to prove themselves as individuals, with Elana Fremerman and Whit Smith competing to sound more "original" than each other, rather than working as an ensemble. Dave Stuckey (of Dave & Deke fame) cowrote a few tunes, although this time they asked Gurf Morlix to produce the album. Still, ya gotta give 'em credit for trying something new, and for pushing themselves as artists... I just wish they could sound a little more relaxed about it. Worth checking out, though!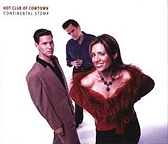 Hot Club Of Cowtown "Continental Stomp" (Hightone, 2003)



A sweet live set, featuring this retrorific swing trio at a hometown venue, Austin's Continental Club, in May of 2003. They get a little risque with a version of the old Light Crust Doughboys ditty, "Here Pussy Pussy Pussy" (on a hidden bonus track), but otherwise this is pretty much par for the course for these folks -- old standards and western tunes from the 1930s and '40s, and plenty of bouncy fiddling and smooth geetar work. It's nice, classy stuff, and a nice chance to hear how they sound in front of a crowd.

Hot Club Of Cowtown/Whit Smith's Hot Jazz Caravan "Four Dead Batteries" (Soundtrack) (Hightone, 2005)



I don't know anything about the movie this soundtrack is from, but the music sure is sweet! An album full of music from one of the finest western swing/stringband revival bands, the now-defunct Hot Club Of Cowtown, with five new tracks from HCCT co-founder Whit Smith's new group. It's fine stuff from start to finish, a very listenable, very pleasant set, roaming through various acoustic jazz, blues and country styles, with a healthy dose of classic western swing tunes. This is a well-programmed album, and a fine testament to the Hot Club's freewheeling, joyful style. Recommended!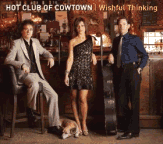 The Hot Club Of Cowtown "Wishful Thinking" (Gold Strike, 2009)



After totally calling it quits and foreversville a few years back, the Hot Club of Cowtown are back together... And thank goodness! One of the all-time great bands of the contemporary Americana scene... and pretty dazzling live, if you get the chance. Welcome back!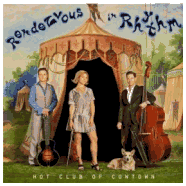 Hot Club Of Cowtown "Rendezvous In Rhythm" (Proper, 2012)



(Produced by Lloyd Maines)
Reunited and still swinging, the three-member Hot Club Of Cowtown stick strictly to jazz oldies on this one, setting the country stuff aside. Oh, sure, there's still some twang in their delivery, but the repertoire is all gypsy jazz and old swing standards -- "Crazy Rhythm," "Avalon," "Melancholy Baby" -- in a style that fans of Django Rinehardt or Joe Venuti can enjoy. Violinist Elana James (nee Fremerman) takes center stage with her melodic leads, though guitarist Whit Smith and bassist Jake Irwin are solid throughout, providing the kind of subtle-yet-dazzling accompaniment heard with old-time artists such as Hugh and Karl Farr, and get in plenty of hot licks themselves. A few fans may miss the country roots, but they'll still have fun with this scintillating set.
Randy Howard "The Best Of Randy Howard" (Utopian Records, 2004)


Danielle Howle "Thank You, Mark" (Valley Entertainment, 2006)



I first discovered Danielle Howle at a live show (a Kill Rock Stars showcase that also featured Elliot Smith) and was not terribly impressed. I thought her set was both raspy and self-indulgent, and was glad when the next act came onstage. That impression remains with her recorded work, although the feel of this album is calmer and more measured than her live act, it's still over-written and shambolic, unfocussed and hard to focus on... I prefer more tightly-crafted songs, and while I appreciate that Howle might be working out of a Southern literary tradition that affords more latitude for introspection and digression, I'm just not that into it. Includes a bluesy duet with Darius Rucker that may be of interest to some... But overall, I feel I have other music I'd rather hear instead.
---
Alt.Country Albums - More Letter "H"
---