<! MP3 07/03/09, 12/13/10 > <! outside 00/00/00 > <! pix 00/00/00 > <! icons 12/13/10 > <! updates: 12/13/10 - new Kirchen page >
---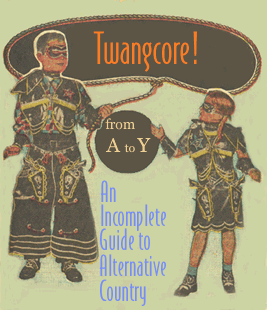 This page is part of an opinionated overview of "alt.country" music, with record reviews by me, Joe Sixpack... Naturally, it's a work in progress, and quite incomplete, so your comments and suggestions are welcome.
This is the second page covering the letter "K"
---
A | B | C | D | E | F | G | H | I | J | K / K-2 | L | M | N | O | P | Q | R | S | T | U | V | W | X, Y & Z | Comps | Other Country Styles |
---
Chad Kichula "The Whale's Back" (Self-Released, 2013)





<! other albums? >
King Country "Five Star Dive Bar" (Sun Country Records, 2003)


(Produced by Bill Warner)
The opening track had a Top Forty-wannabee feel that put me off, but deeper into the album, this album revealed more varied texture, and several nice songs. Lead singer Frank Sullivan has an Okie-ish drawl that reminded me a lot of Larry Hosford, and when he sang the title track, "Five Star Dive Bar," he earned himself a new fan. Other highlights include "Night Off The Town" (to stay home and snuggle), "Carolina Woman" and "1973 Buick Skylark," where a family man looks back at a youthful partnership spent moving from city to city and job to job, until the day they were settled down enough to have a yard sale and look back at all those old memories. The end of the album gets a little drippy and sentimental, but there was enough twang on here to catch my attention... A nice honest album from a regular guy with a few tunes to sing.
Jerry King & The Rivertown Ramblers "A Date With..." (El Toro, 2007)


Jerry King & The Rivertown Ramblers "Ocala Baby" (El Toro, 2010)


Jill King "Jillbilly" (Blue Diamond, 2003)


Rootsy, uptempo country with uneven vocals but plenty of spirit. The lead track, "98.6 Degrees And Falling" is a magnificent collaboration between songwriters Harlan Howard and Matraca Berg, a heavy Texas shuffle with a catchy chorus, with King nailing the tune from start to finish. This blast of true-country talent sets the bar pretty high, and the rest of the album seldom rises to the same heights. Still, the wordy stabs at contemplative commercial country aside, this is a solid, substantive debut, and one which should put King on the map in the alt-country/Americana camp, and might even land her a berth in Nashville as well. Other highlights include the rowdy drinkin'-at-the-bar anthem, "Down & Out," and the folkier feeling "Down The Fields To Hay" and "Three Months, Two Weeks, One Day." King has a real ear for good, old-fashioned material, stuff along the lines of Buck Owens backing Tanya Tucker... and where I come from, that's pretty high praise. Definitely worth checking out!
Jill King "Somebody New" (Blue Diamond, 2008)






<! mellower >
Jill King "Rain On Fire" (Foundher Records, 2010)



(Produced by Michael Flanders) <! prod. for Garrison Star >
Setting aside the indiebilly persona of her previous records, Jill King delves deep into the more pop-oriented sounds of "adult-alternative" music and the modern-day Nashville scene, with a set of songs that might be suited for Patti Griffin or some of the more introspective chart-topping divas such as Martina McBride, Sara Evans et. al. If you cherished the twang-tunes of her debut album, Jillbilly, the resolutely pop sound of this record may come as a little bit of a shock. But Ms. King has been plugging away in the underbelly of Nashville for a while now, and it seems she's ready to identify more opening with the Top 40 scene. I prefer the twang, myself, but certainly wish this gal all the luck in the world with the poppy stuff, too... She's plenty talented and deserves a break as much as anybody working in Music City these days. If you like the more elegaic, lovelorn pop-ballad side of Nashville, you might wanna check this out.
King Wilkie "King Wilkie Presents: The Wilkie Family Singers" (Casa Nueva, 2009)



(Produced by Reid Burgess & Steve Lewis)
An enchanting mix of styles, casually mixing alt-twang, boozy jug-band singalongs and art-song indierock. The first couple of tracks set the template, opening with an episodic country-harmony ditty ("Moon And Sun") that recalls the hippie-era hillbilly forays of the Byrds, a tune that gives way to "Goodbye Rose," a sweet song that sounds, for all the world, like an outtake from John Cale's Paris 1919 album; there's a hint of The Band in there as well. Numerous high-power guess appear, including Peter Rowan, Abigail Washburn, Robyn Hitchcock and John McEuen. To be totally fair, I guess it'd be more accurate to class this as a rock album than as a twang set, but either way it's quite nice. Creative and catchy, this record is packed with oddly appealing tunes. Definitely worth checking out.


<! also some bluegrass albums... add here as well? >
Eric Kinsey "...And His Tip Top Daddles" (Hep Cat, 2000)

Dave Kirby "I Got Here As Fast As I Could" (Self-Released, 2006)



FYI - this is a different Dave Kirby than the legendary session guitarist/songwriter who dies in 2004. No problem, though: since it's no fuss, no muss on these independently-released sessions - a nice balance of commercial and "outlaw" sensibilities, with plenty of uncomplicated, twangy guitar work. It's only seven songs, but nice stuff nonetheless. Standout tracks include "Outlaws Make the World Go Round" and "Three Chords and a Bad Memory," which close the album.
Bill Kirchen - see artist discography
Kit & The Branded Men "Kit & The Branded Men" (2011)






<! Christina "Kit" Lopez - SF Bay Area >

Cheri Knight "The Knitter" (East Side Digital, 1996)

Cheri Knight "The Northeast Kingdom" (E-Squared, 1998)

Chris Knight "Chris Knight" (MCA Nashville, 1998)


Chris Knight "A Pretty Good Guy" (Dualtone, 2001)



(Produced by Dan Baird)

Chris Knight "The Jealous Kind" (Dualtone, 2003)



(Produced by Dan Baird & Joe Hardy)
More rambling, open-ended outlaw/alty tunes, songs about heists and heartaches, run-down towns and moody men... all sung in a low, mumbling growl. The subject material is a little forced, the songs run on kinda bit long, but the playing is crisp and Knight has a compelling delivery. If you're in the mood for it, this is a mighty fine album.
Chris Knight "Enough Rope" (Drifter's Church, 2006)



(Produced by Gary Nicholson & Ray Kennedy) <! mastered by Kennedy >
A pretty groovy, gritty, growly-voiced roots-Americana record, in the Robert Earl Keen/Dave Alvin school of tough-guy poetry. This album sports song after song about broken dreams and flashes of anger at the death of the American dream. Rivers are poisoned, jobs lost, lives lived poorly, small towns ground down by the tides of time, while the folks left behind drink heavily and party hardy, but seem to get little comfort from it. The more hammered they get, the madder they become, and the more powerless and frustrated they feel. It's bleak, but the anger and the something's-gotta-be-done vibe contain a kernel of hope. Plus, the music is rock-solid. The lyrics may be a bit two-by-fourish (hold still while I hit you over the head), but the melodies will hold your attention and make these characters come alive. This is possibly Knight's strongest album to date, and considering the roll he's been on the last few years, that's quite a compliment. Definitely worth checking out.
Chris Knight "The Trailer Tapes" (Drifter's Church, 2007)



(Produced by Joe Hayden & Frank Liddell)
Songwriter Chris Knight hit the ground running when he came to Nashville, penning several Top 40 hits for folks such as Montgomery Gentry and Gary Allan. Knight took a stab at recording fame himself, initially on a major-label contract, and then as an indie artist with a Steve Earle-ish, alt-country sheen. Before he made his debut, however, Knight holed himself up in a trailer and made a passel of home recordings, which have been the subject of great interest and longing among his fans. Now, ten years later, the complete "trailer tapes" have been officially released, and folks can hear the ideas he was tinkering around with at the time. The first couple of songs are modern-day murder ballads, lyrics about small-town frustrations boiling over into cold rage -- they are sharply-drawn, insightful character studies, although (for me, personally) they also carry a taint of sensationalism, much like Richard Buckner's concept album, The Hill. (Okay, sure, random violence and murder are an undeniable part of the American landscape, but how often do we have to have artists continue to enshrine it in our popular culture? And when they do, how much of it is a "legitmate" artistic exploration, and how much of it is because they just think it's a "cool" topic?) Anyway, these raw early recordings, chiseled out with choppy acoustic guitar and craggy, insistent vocals, show Knight at his roughest and rawest, an intense new songsmith working out the foundations of his art. Well-crafted, if a bit bleak, this will be of interest to newcomers and fans alike.
Chris Knight "Trailer II" (Thirty Tigers, 2009)



The second volume of home tape demos that songwriter Chris Knight cut while living in a doublewide trailer in Kentucky. Fans will be psyched to hear stripped-down acoustic versions of some songs that Knight later recorded in full studio versions...

The Knitters "Poor Little Critter On The Road" (Slash, 1985)



LA's punk rock Pavarotti, John Doe of X, led the alterna-country charge with this low-key hick music hoedown... It's got its cowpunky, WTS moments, but mostly there's a soulful, sincere affection for the music. Besides, with Dave Alvin in tow, it's hard not to have some truly great moments. This is one of the earliest and best explorations of country music to come from the punky side of the street... There's a big contrast to be made between this album and its rowdy cowpunk contemporaries. A lot of folks love this album - me, too, though I'll admit it isn't as earthshaking as we might want to member...

The Knitters "The Modern Sounds Of The Knitters" (Rounder, 2005)



Mixing traditional material with twanged-out originals, Dave Alvin and the majority of X revive the Knitters, after a mere twenty year hiatus. Twangcore fans will be delighted, though some may grumble that Joe Doe and Exene Cervenka's weird, raspy harmonies are better supported by loud electric rock than by exaggerated hillbilly posturing. I found that this record grew on me with repeat listens, and while it starts out rough, their country bona fides come out more and more towards album's end. But, hey, I'm a crabby old fart... I imagine most alt-country fans will enjoy this just fine.
Roger Knox & The Pine Valley Cosmonauts "Stranger In My Land" (Bloodshot, 2013)


Leo Kottke - see artist discography
Kris Kristofferson - see artist discography
Dayna Kurtz & Mamie Minch "For The Love Of Hazel: Songs For Hazel Dickens" (Kismet, 2010)



A 7" set from a Brooylyn-based acoustic duo, recorded in honor of folk-bluegrass legend Hazel Dickens. It's a curious tribute: these songs weren't all recorded by Dickens (although a couple of her own compositions are included) and the bluesy vibe seems to have more in common with Tracy Nelson or Odetta than with Hazel & Alice... But, hey, maybe I'm just being nitpicky... Kurtz and Minch seem to be having fun, and namechecking Ms. Dickens is pretty cool, whichever way you slice it. (For more info check out www.myspace.com/kismetrecords)
---
Alt.Country Albums -Letter "L"
---