<! MP3 07/04/09 > <! update 07/04/09 > <! outside 00/00/00 > <! pix 00/00/00 > <! icons 12/13/10 >
---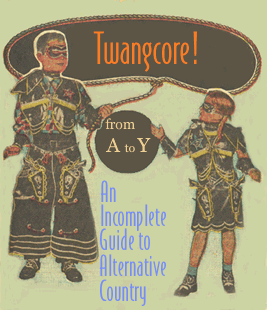 This page is part of an opinionated overview of "alt.country" music, with record reviews by me, Joe Sixpack... Naturally, it's a work in progress, and quite incomplete, so your comments and suggestions are welcome.
This is the second page covering the letter "M"
---
A | B | C | D | E | F | G | H | I | J | K | L | M / M-2 / M-3 | N | O | P | Q | R | S | T | U | V | W | X, Y & Z | Comps | Other Country Styles
---
Amy McCarley "Amy McCarley" (Self-released, 2011)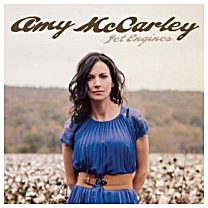 Amy McCarley "Jet Engines" (Self-released, 2014)



(Produced by Kenny Vaughn & George Bradfute)
At first, indiebilly auteur Amy McCarley might be a little hard to get into... She has a very atypical voice -- muddy, rugged, a bit brusque -- that defies conventional thinking about female singers. Also, her lyrical and melodic approach is notably downcast and depressing -- on her previous album it was hard to avoid comparisons to Lucinda Williams, both because of her rough, conversational delivery and because she seemed like another alt-country bummer-queen. That record also had an unfinished feel, very DIY production values, although here she finds much stronger framing, courtesy of producer-guitarist Kenny Vaughn, whose day job is anchoring Marty Stuart's band, the Fabulous Superlatives. The musical boost helps a lot: McCarley emerges as a powerful, laconic songwriter in the style of Guy Clark, and as a swampy Southern singer, almost in the tradition of Tony Joe White. This is a powerful, uncompromised set of hardcore country lo-fi -- difficult, rough-egged stuff that might appeal to fans of those old Freakwater albums, not easily categorized or digested, but quite rewarding if you give it the time.


<! second album >
Antsy McClain "Time-Sweetened Lies" (DPR, 2005)



Antsy McClain & The Trailer Park Troubadours "Trailercana" (DPR, 2007)



Twang-ish novelty songs that purport to pander to white trash stereotypes (take the band name, for example...) but actually harken back to the goofball pop culture glibness of early Warren Zevon and old Jimmy Buffett. The prominence of a tootling horn section recalls the early 1970s when R&B-based boogie rock flirted with hippie twang, a style that was hard to get into back then and is still a tough sell today. A lot of folks seem to be diggin' Antsy's schtick, but I'm not totally feeling the love over here in Sixpackville. Some songs are just way too obvious and seem to have been done before, for example the panderdelic "I Was Just Flipped Off By A Silver Haired Old Lady With A 'Honk If You Love Jesus' Bumpersticker" certainly brings to mind Buffett's "God Don't Own A Car" and the Gold Coast Singers' "Plastic Jesus"; Cheech'n'Chong-ish stoner humor is reprised on "Prozac Made Me Stay," and "Joan Of Arkansas" is one in a long line of faux-heroic burn-the-trailer-down ballads. That being said, there are some standout tracks: "Dysfunktional," with the singer taking advantage of a mentally ill party girl,will raise a rueful smile; "I Wanna Live In A Billboard" is a perky send-up of consumer culture, and other songs have some zippy lines here and there, and "I Married Up" is almost tight enough to be a rednecky hit for Travis Tritt or someone like that. Without doubt there are legions of people who will love this album and no short supply of freeform radio DJs who will play it to death, although I find it way too on-the-nose and overly obvious for it to have a long shelf life... Folks who really dig Red Meat, Jimmy Buffett or the Austin Lounge Lizards will want to check this out.
Antsy McClain "Heroes Last Forever: The Sun Studio Sessions" (DPR, 2011)


(Produced by Antsy McClain)

Wes McGhee - see artist discography

The McGillicuddy Sisters "Hillbilly Hi-Jinx" (Lucky Ron, 2006)


Scrappy, old-school hillbilly music of the late-1940s variety, hearkening back to the glory days of folks like Webb Pierce, Kenny Roberts and -- more than anything else, the great Rose Maddox. The gals in this band (and not all the "sisters" are gals) clearly have a major Rose Maddox fixation, which is understandable since Maddox was one of the greatest hillbilly stars of the 20th Century, as well as one of the strongest female voices in country music history... Now, I gotta say upfront that this clattersome Ottawa-based ensemble are hardly top-flight talent, but they certainly have good taste in country music and their hearts are in the right place... If you like listening to way-off-the-radar recordings by bands with a super-indie, jes-plain-folks orientation, this might be a disc you'd like to check out. (For more information, check out the band's website at www.mcgillicuddysisters.com )
Beth McKee "I'm That Way" (Solo2, 2009)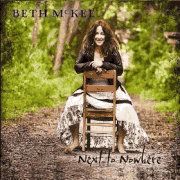 Beth McKee "Next To Nowhere" (Swampgirl, 2011)



(Produced by Mark Mason & Tony Battalgia)
Excellent! Exactly the sort of beautifully eclectic blues-Americana blend you'd expect from modern-day New Orleans... Singer-pianist Beth McKee hints at a rich variety of inspirations, with wisps of Bonnie Raitt, Tracy Nelson, Lou Ann Barton, Doug Sahm and Delbert McClinton, a loose, funky, sweetly soulful mix on an album packed with strong original material. If you're looking for the young blood that's reinvigorating American roots music, check out this album: this gal's the real deal!
Maria McKee - see artist discography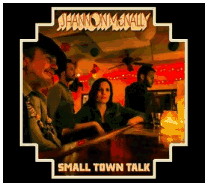 Shannon McNally "Small Town Talk: The Songs Of Bobby Charles" (Sacred Sumac, 2013)



(Produced by Shannon McNally & Mac Rebennack)
A funky, soulful tribute to Louisiana pop legend Bobby Charles, who penned classics of the early rock'n'roll era such as "See You Later, Alligator" and "Walking To New Orleans," and went on to mine the depths of various styles of roots music. Ms. McNally skips past the rock-oldies hits and taps deep into the Bobby Charles songbook, drawing particularly on his laid-back self-titled 1972 masterpiece. She has a strong patron with the album's co-producer, New Orleans luminary Mac (Dr. John) Rebennack, who was one of Charles' contemporaries and frequent collaborator. The Dr. John touch immediately roots this album in the world of New Orleans funk and soul, and McNally's raw, bluesy vocal style, reminiscent of young Bonnie Raitt, makes for an interesting counterpoint. Charles, who passed away in 2010, was also paid tribute on Beth McKee's I'm That Way, which covers more of the rock stuff, and makes a nice compliment to this album.
Chuck Mead "Journeyman's Wager" (Thirty Tigers, 2009)



Solo stuff from a founding member of BR-549... I haven't heard it yet, but I'm sure it's worth having on your radar...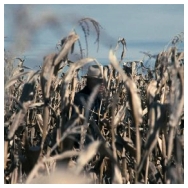 Chuck Mead "Free State Serenade" (Plowboy, 2014)



(Produced by Joe Pisapia)
A native of Lawrence, Kansas, ex-BR549er Chuck Mead delves into his heartland roots, singing songs that refer to local landmarks such as the Neosho Valley, the Wakarusa River, various remote counties, and to the infamous raids of Confederate terrorist William Quantrill, who burned most of Lawrence to the ground in 1863. The album shifts between historical and contemporary settings, in a storytelling roots-rock mode that recalls Joe Ely at his best. Among the musicians joining Mead's Grassy Knoll Boys on this album are his old bandmate from BR549, Don Herron, along with Critter Fuqua of Old Crow Medicine Show -- an able, amiable crew of seasoned twangsters who give just the right vibe to Mead's personal tour through his old stomping grounds... This is a strong, focussed album with an intriguingly personal feel. Even if you're not from Kansas, you might wanna give her a spin!


<! Mead co-founded three-time GRAMMY nominated alternative country band, BR549, who have released seven full-length LPs and won a Country Music Association Award since the early 1990 s. He also acts as Music Director for the hit Broad¬way show, Million Dollar Quartet, currently touring through¬out North America to rave reviews. Mead has released two solo albums, Journeyman s Wager , and Back At The Quon¬set Hut , with his band The Grassy Knoll Boys. Free State Serenade was co-produced with Joe Pisapia (kd Lang, Ben Folds Five) and features BR5-49 s Don Herron and Old Crow Medicine Show s Critter Fuqua. >

Meat Purveyors "Sweet In The Pants" (Bloodshot, 1997)



Of all the would-be indiebillies who professed to take the punk rock DIY ethos into the alt-country realm, these scraggly Austinites are some of the best to deliver on the premise... The music is far from technically perfect, the sound mix is iffy at best, but there's plenty of pizzazz in the performances, and a nice song selection, with the band clearly opting to play music they like, rather than stuff they think sounds funny, or stereotypically "hick." This isn't the kind of album I would put on just to listen to at home, but I certainly appreciate it as a document of a lively, engaging, energetic band. Good stuff.

Meat Purveyors "More Songs About Buildings And Cows" (Bloodshot, 1999)



A nice set of scrappy acoustic urban indiebilly, with fast-paced, 'grassish breakdowns and, um, somewhat unconventional vocals. (Oh, alright -- she really can't sing that well... There, I've said it!! Are you happy now??) All in all, it's very coffeehouse-ish and open mic night-y, but in a very good, down-to-earth DIY way -- sort of like Freakwater, but with less of a "difficult listening" edge. Nice mix of original material and well chosen cover tunes... This is perhaps their strongest album... Definitely worth checking out.

The Meat Purveyors "All Relationships Are Doomed To Fail" (Bloodshot, 2002)



Hmmm, I dunno... I mean, yeah, with concerted effort I can tell that these folks have some good songwriting chops... a little too WTS-y for me, but often some clever turns of phrase. Yet the music is so clattersome and hurried, and their vocals so raggedy and uneven, that my predominant experience as a listener is one of irritation. As I've said elsewhere, the "I'm not singing in tune on purpose, because I'm so punk!" ethos doesn't translate well between the worlds of electric rock and acoustic country. I guess the raspy charm of their earlier albums didn't hold up for me through oh, so many albums.

The Meat Purveyors "Pain By Numbers" (Bloodshot, 2004)



These scrappy Austin alties are back, with another loose, lively and comparatively clunky set of original tunes and well-chosen covers. You really have to be on this band's wavelength to get into their albums; folks who want country musicians who "sound right" (ie. in tune and able to keep the beat) are probably better off avoiding this disc, while fans who like bands who are all plucky and punky and DIY and all that jazz will be heartened to hear that the Purvs have not "sold out" or anything... They're still as clattersome and shrill and full of piss'n'vinegar as ever, and they still sound like a slightly kinder, gentler Freakwater. They cover Fleetwood Mac and Johnny Paycheck with equal aplomb, and bend country conventions to their own devices; their winsome cover of the old Ronnie Milsap hit, "Daydreams About Night Things," is an album highlight. Personally, I can't imagine myself listening to this album more than once, although there are several songs on here that have involving, interesting lyrics. It's just the musical end of things that leave me a little underwhelmed; I like records that are pleasant to listen to, and pure 'tude doesn't do as much for me as it used to.
The Meat Purveyors "Someday Soon Things Will Be Much Worse!" (Bloodshot, 2006)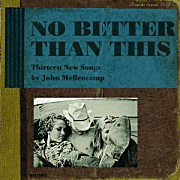 John Mellencamp "No Better Than This" (Rounder, 2010)



(Produced by T Bone Burnett)
I got nothing against the guy, but John Mellencamp -- and mainstream '80s rock in general -- were never that high on my cultural radar, so I find the man's recent re-creation of his image as a ragged, indie-ish, roots-music folk troubadour to be kinda fascinating. This album has a chunky, clunky vibe, aided by producer T Bone Burnett and a crew of cohorts that includes the ever-angular guitarist Marc Ribot, recording in mono, no less, with vintage instruments and old-school analog recording gear. They try really hard to rough up the sound, and they succeed admirably. Some of the lyrics are still too prophetic and profound for me (I generally don't go for that kind of thing) but the sonics are compelling and cool. Plus, recent interviews have given me a newfound appreciation of Mellencamp as a soulful, thoughtful middle-aged dude... I think fans and skeptics alike might really dig this scrappy new incarnation... Definitely worth checking out!
Tift Merritt "Bramble Rose" (Lost Highway, 2002)



(See also: Two Dollar Pistols)
Tift Merritt "Tambourine" (Lost Highway, 2004)



Following the lead of Whiskeytown's Caitlin Cary, Tift Merritt, the twangy, steel-tipped shell casing fired out of the Two Dollar Pistols, has set her country roots aside and gone for a new soul diva sound. She's much better off sticking to the hillbilly stuff. Really, you gotta have great vocal chops to really sing R&B, and while her voice works okay in an alt-country context, it was slightly torturous here. Bigwig producer dude George Drakoulias (known for his work with the Jayhawks and Black Crowes) builds a sound that's simply too big for Merritt's voice, and the gap is too painfully apparent. But, judging from what I've read elsewhere, mine may be the minority opinion, so take what I say with a grain of salt. Still... I dunno...
Tift Merritt "Home Is Loud" (RCAM, 2005)





<! We love Tift Merritt so much, that we commissioned her to record a live CD for us to sell to fans of real music! Anyone that has ever heard Tifts music knows how special she is, so get this limited edition 9-song live CD (recorded June 4, 2005 in North Carolina) before its gone! Track List:1 Write My Ticket Home 2 Your Love Made a U Turn 3 Ain't Looking Closely 4 Laid A Highway 5 Supposed to Make You Happy 6 Neighborhood 7 Tambourine 8 Shadow In the Way 9 When I Crossover >

Tift Merritt "Live From Austin, TX" (DVD) (New West, 2007)

Tift Merritt "Another Country" (Fantasy, 2008)


Tift Merritt "Buckingham Solo" (Fantasy, 2009)



A stripped-down live set recorded in Buckingham, England, back in November, 2008...
Tift Merritt "See You On The Moon" (Concord/Fantasy, 2010)



(Produced by Tucker Martine)
Nice stuff. Yes, there is some twang in there, but on pop-soul songs like the album's opener, "Mixtape," it's pretty clear that Ms. Merritt has come a long way since her early days in the twangcore scene. Here we have a denser, arguably richer artistry, more of a confessional/impressionistic pop-folk vibe in line with the "adult alternative" brand, a record which should appeal to fans of Cowboy Junkies and other rock-Americana crossovers. Along for the ride are guest musicians including Bill Frisell's frequent collaborator Eyvind Kang, pedal steel player Greg Leisz and Yim Yanes, of the band My Morning Jacket, who sings harmony on the haunting "Feel Of The World." All in all, a rich, mature work that many will find compelling. (Due out: June 1, 2010)
Audrey Auld Mezera "Texas" (Restless Records, 2005)


Audrey Auld Mezera & Nina Gerber "In The House: Live In '05" (Restless Records, 2006)






<! A live album recorded in Sebastopol, California >

Audrey Auld Mezera "Lost Men And Angry Girls" (Restless Records, 2006)



Top-flight contemporary folk from this Australian-born singer-songwriter. Mezera, who's settled in Northern California, is a protege of guitarist Nina Gerber, although this diverse album finds her pleasantly free of the coffeehouse limitations of the earnest-folkie/open mic night crowd. She dips into topically oriented material (the antiwar "We Cry"), but she isn't bound to it, and wends her way through smoky blues (on Bonnie Parker's "Morphine"), soft-shuffle honkytonk country and even a nod towards the Irish pubs. Mezera's humorous side gives us two standout tracks, the alt-country homage, "Looking For Luckenbach" -- which name-drops Jerry Jeff and his outlaw compatriots -- and "Self-Help Helped Me," an affectionate, insiderish skewering of the self-help/New Age scene with lyrics worth of Todd Snider of John Prine. The labor songs about coal miners ring a little less true, but throughout the album, Mezera's fluid, girlish voice is consistently compelling, and the musical backing is a delight. Fans of Be Good Tanyas, Jolie Holland or early Dar Williams will probably really dig this, too. Recommended!
---
Alt.Country Albums - More Letter "M"
---