<! MI-MZ > <! MP3 07/05/09 > <! outside 00/00/00 > <! pix 00/00/00 > <! icons 12/13/10 > <! updates: 07/05/09 - My Morning Jacket needs update, MP3s > <! Miss Lonely Hearts "Into The Wolves Den" (xxxxxxxxxx, 2010) B003JELEKE - MP3 Buckner-esque? Miss Lonely Hearts "Crying Bottle Blues" (xxxxxxxxxx, 2012) B007UTAFY0 - MP3 Misisipi Mike Wolf "The Cold Hard Facts Of Mike" (xxxxxxxxxxx, 2009) B001UXJNZO B001VKRDGW Misisipi Mike Wolf "Margaret I Miss You" (Earball Pleasing Music, 2012) B006ZO7XG4 - MP3 >
---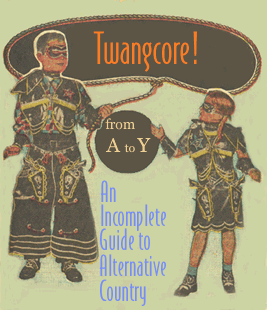 This page is part of an opinionated overview of "alt.country" music, with record reviews by me, Joe Sixpack... Naturally, it's a work in progress, and quite incomplete, so your comments and suggestions are welcome.
This is the third page covering the letter "M"
---
A | B | C | D | E | F | G | H | I | J | K | L | M / M-2 / M-3 | N | O | P | Q | R | S | T | U | V | W | X, Y & Z | Comps | Other Country Styles
---

Micky And The Motorcars "Naive" (Smith Entertainment, 2008)



Nice, tuneful, melodic roots-rock Americana from Austin, Texas... Brothers Micky and Gary Braun anchor this light-toned rock group, with Micky's semi-gravelly vocals framed by mild, jangle-twang guitars. All the songs sound the same, and none of the lyrics really stood out (to me, at least) but the effect is very pleasant. It's a nice, melodic sound, listenable and familiar, easy to settle into, although not particularly dynamic or challenging. Good for the style!
Midnight River Choir "Fresh Air" (Rambling Gypsy, 2014)


(Produced by Marty Byrom)
Although there are a couple of acoustic twang/Americana tunes on here, most of the album is loud, electric modern alt-blues/jam band type stuff... Not quite my cup of tea, though I'm sure it will resonate with fans of the style.
Buddy & Julie Miller - see artist discography
John Miller "Popping Pills" (Shoeshine/Spit and Polish, 2002)



On his solo "debut," Scottish honkytonker singer John Miller, of the Glaswegian band Radio Sweethearts wrote all the songs and delivers them with a simplicity and conviction that infuses each tune with a compelling sweetness and honesty that makes this disc hard to resist. This is particularly true on high-class weepers such as "We Don't Care Anymore" and "Once Too Often Now," that reveal Miller as both a knowledgable devotee of American country, and as a master of the style. His understated delivery, thankfully shorn of the empty brazenness and rowdy affectations that plague the alt.country scene here in the States, may cause his music to fall under the radar of more trendy twang fans, but hey, that's their loss. If you're looking for a well-written, finely crafted, soulful country music album that helps bring the genre forward, then guess what? You should own this album. Miller has a gorgeous voice and golden pen, and wields them both with admirable skill and restraint.
John Miller & His Country Casuals "One Excuse Too Many" (Shoeshine/Spit and Polish, 2007)


(Produced by David Scott & John Miller)

Rhett Miller "Mythologies" (Carpe Diem, 1994)


A rock-oriented early album from a founding member of the Old '97s...
Rhett Miller "The Instigator" (Elektra, 2002)



The second solo album by the lead singer of the Old '97s... As with that band's last few albums, there is precious little twang on much of this album; the first few tracks are pure, glib power-pop, with strong hints of Nick Lowe and the like. Of course, I mean that as a compliment, and Miller dazzles with the opener, "Our Love," a clever, delightful tune that is followed by the propulsive, Teen Fanclubbish "This Is What I Do." On a few tracks in, though, the wordplay and bright, easy melodies devolve into mere hookmaking, and Rhett seems to lose his focus -- "Come Around" and "Things That Disappear" are mere musical cotton candy; "Four Eyed Girl" feels like simplistic, cutesy filler. More evocative songs like "World Inside The World" lend a little depth to the album, but mostly Miller just skates along the surface, like a popsmith mostly just going through the motions. It's nice, but not great -- country-oriented fans will find a few cowpunky and quiet folk moments, but mostly this is a fairly vaccuous rock record.
Rhett Miller "Mythologies" (The Believer, 2006)


Rhett Miller "Rhett Miller" (Shout Factory, 2009)



(Produced by Salim Nourallah)
Mostly, this is straight-up, lovelorn indierock, with glib wordplay delivered in a fairly laid-back, mellow style... It's kind of interesting the level of restraint he shows on some songs that with a little more ooomph would have been fairly conventional power-pop but here have a more acoustic feel. Miller's country influences are heard only late in the album and are super-submerged, as on the vaguely Eagles-y/SoCal-ish chiming guitars of "I Need To Know Where I Stand" or more overtly on the novelty song "Another Girlfriend," which has a nice melody and some audible twang, but which I couldn't get into because of the weirdly languid sexual bragadoccio -- it's about a guy turning down some woman's advances because he already has two girlfriends, and two is enough. (It's probably just a songwriting exercise, but it was still a little creepy...) This album is very low-key and subtle, but the songs will sneak up on you -- nothing blew me away, but some songs did echo around in my head a bit. But if you're a twangfan, there's very little here to latch onto.
Scott Miller & The Commonwealth "Thus Always To Tyrants" (Sugar Hill, 2001)



(Produced by R.S. Field)
The mix of intense alt-twang and jangly Willy Nile/Tom Petty-ish roots rock isn't quite my bag, but Miller does it well. For more rock-oriented Americana fans, this could be a lot of fun. Thus always to twangsters!
Scott Miller & The Commonwealth "For Crying Out Loud" (F.A.Y. Recordings, 2009)



(Produced by Michael Webb)
Try as I might, I've just never been able to connect with this guy. Yeah, he's well-meaning and enthusiastic and rootsy and all, but his music is a little too bar-band rock-oriented for me, reminding me of the J. Geils Band as much as anything else... It's also a little too emphatic and slightly frantic; Miller falls into the emotional/artistic range that I perceive as subtle or graceful... So even though I can appreciate the good intentions and the range of musical interests -- from acoustic-strummy to clattering and electric -- it just doesn't do much for me. The one song on here that I could see myself going back to is a duet with Patty Griffin, "I'm Right Here, My Love" (a pretty-sounding song about comforting a dying lover). Otherwise, not so much. Which isn't do say others of you out there might not dig this guy a lot... But it's just not my cup of tea.
Download picks:

I'm Right Here, My Love
Miss Leslie "Honky Tonk Revival" (Zero Label, 2005)


Miss Leslie "Honky Tonk Happy Hour: Live At The Continental Club" (Zero Label, 2006)


Miss Leslie "Between The Whiskey And The Wine" (Zero Label, 2008)



(Produced by Ricky Davis & Tommy Detamore)
God bless Texas. On her third album, Miss Leslie cranks up the volume and belts out some great hardcore boozin' tunes, the kind of stuff that would make George Jones and Johnny Paycheck proud. One hard-drinkin' honkytonk tune after another comes barreling out, with Miss Leslie's throaty vocals buoyed by a robust, rootsy country backing that includes Dave Biller on guitar and Ricky Davis playing some mighty sweet pedal steel. Leslie's husky vocal style might sound odd to some listeners, although fans of Melba Montgomery and Connie Smith may recognize a kindred spirit here. (She also claims allegiance to Merle Haggard's old pal, Leona Williams, but since I'm not that familiar with her work, I can't really make the comparison myself...) Anyway, if you like independent, old-school country -- and sassy, stompy songs about booze-soaked, tear-stained sad stories -- then this is a disc well worth checking out.
Miss Leslie "Wrong Is What I Do Best" (Zero Label, 2010)



The Modern Eldorados "The Rockmart Demos" (EP) (Self-released, 2007)



A fun, swingin' 4-song set mixing retro-billy and loping, twangy honky-tonk... Includes three original songs and a cover of an old David Houston song, "One If For Him, Two If For Me," which is a good showcase for lead singer Tyron Lyle's croony, Orbison-esque vocals. A strong debut from an indie band out of Mobile, Alabama... (PS - yeah, I know this is a few years old, but they just sent me a copy, and I got nothing against old stuff!) Definitely worth a spin!
The Mollys "Hat Trick" (Apolkalips Now, 1997)



(Produced by The Mollys)
This Tucson, Arizona band cannily mixes Celtic and indie/alt/Americana influences, with accordion, tin whistles, snare drums and mandolin in support of a rough-hewn acoustic rock sensibility. The raspy female vox by lead singers Nancy McCallion and Catherine Zavala remind me of old-timers such as Concrete Blonde's Johnette Napolitano, or Maria McKee, with musical accompaniment that's fluid and wildly diverse. Deftly shifting from Irish reels to Cajun waltzes and polkadelic Tex-Mex ranchero rhythms, the band crosses a lot of borders -- the only time I felt pulled out of the album was on straight-up Celt/Brit tracks, such as their cover of "All Around My Hat," which aims for a Pogues-ish punkiness, but falls a little flat. Overall, though, this is an energetic, enthusuastic album, and definitely worth a spin for musical eclecti-holics.
Kevin Montgomery "2:30 AM" (Syren, 2004)



(Produced by Kevin Montgomery & Robert Reynolds) <! Reynolds, of the Mavericks >
This acoustic-y album opens up with an uptempo twang tune, "Tennessee Girl," but swiftly settles into softer stuff, pop-laced singer-songwritery material that's reminiscent of James Taylor or Greg Brown, with more than just a hint of melodic power-pop on a lot of the songs. Heartfelt, but not quite as "country" as that first track might imply. Includes a few remakes from his earlier albums, when he was signed to a major label as a pop singer... Trisha Yearwood and Lee Ann Womack add some vocal harmonies, but mostly this is a soft-rock confessional songwriter kinda album.


<! Moonshine Bandits - several albums; looks dumb >
Moonshine Hangover "Mulberry Squeezins" (MSH, 2003)



Bouncy, alt-y cowpunk and honkytonk tunes, tempered with a bit of melodic Southern rock. Not entralling or terribly unique, but fun to listen to, and more musical than many similar efforts. These Portland, Oregonians have musical chops that belie their supposed devotion to the stale, drinkin'-druggin' white trash stereotypes that clutter the alt-hick scene. Worth checking out, and worth keeping an eye on. (For more info, here's the band's website...)
Moonshine Hangover "Thicket" (MSH, 2005)


Moonshine Hangover "Resplandor" (Drunkard's Dream, 2007)


Allison Moorer - see artist discography
Doug Moreland "Ten Beers From Now" (Big Hat, 1999)

Doug Moreland "Toast To Life" (Big Hat, 1999)



A fun, rambunctious, wildly youthful set of country-swing and novelty honky-honk tunes, all written or co-written by fiddler and lead singer Doug Moreland... He's got a wicked sense of humor, gleeful and unselfconsciously goofy... and man, can he make that fiddle sing! The piano work by Clayton Ryder is pretty sweet, too, and "everything else" player John Wheeler keeps the record chugging along. Great stuff, with some pretty funny tunes. Recommended, for sure.
Doug Moreland "Live: Number Tres" (Big Hat, 2000)

Doug Moreland "# Fore!" (Big Hat, 2002)



A live album... Includes an early version of "The Beer Song."
Doug Moreland "Everybody Knows My Name" (Big Hat, 2004)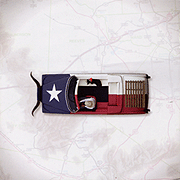 Doug Moreland "Doug Moreland " (Big Hat, 2006)



Wow... this disc possibly tops my list for best country record of '06, kicking off with some uptempo western swing originals, and moving into silkier, subtler songs, like the Jim Lauderdale-ish "Dallas," and even an elegant little waltz like "Forever In Your Arms." Moreland, who is recapping his career with great songs old and new, gets a little rowdier further in, and closes the disc with "The Beer Song," a hyperactive, hops-soaked send-up of Hank Snow's old tongue-twister, "I've Been Everywhere." Of course, the boozy novelty song is the one that folks love live, but the rest of the record is really what blew me away... It's well-crafted, heartfelt, literate, emotionally resonant and often achingly beautiful, even on coy novelty songs like "Houston (We've Got A Problem)." I actually had to put this record back on the shelf for a few weeks, just so I could take it down and play it again later, and make sure it still sounded as good as I thought it was the first few times I heard it... And it does. One of the more consistently listenable, rewarding records I've heard in a long, long time. Fans of, oh say, Doug Sahm or old Asleep At The Wheel will wanna check this one out. Highly recommended.
John Moreland "In The Throes" (Last Chance, 2013)


Moody, rootsy singer-songwriter roots-rock, along the lines of artists like Dave Alvin or Chris Knight... Moreland has a raspy, Springsteen-ish voice and a magnetic presence that holds your attention. The songs are all kind of a downer, in a Lucinda Williams-ish way, but there's no shortage of gloom junkies out there, and if that's the case, this album might be just right for you.

The Morells "Think About It" (HighTone, 2005)



A good-natured mix of '50s/'60s retro-rock and twang. The album opens with a couple of covers (of Chuck Berry's "Nadine" and "Girls Don't Worry My Mind," from the Delmore Brothers catalog) and moves into some nice original tunes... This band has been together in one form or another for over twenty years, and have a loose, easygoing vibe that feels similar to old NRBQ albums... They aren't the most high-power ensemble, but they've got a nice little groove that y'all Americana fans might like!

Gurf Morlix "Toad Of Titicaca" (Catamount, 2000)



Texas-based alt-country singer-guitarist Morlix, perhaps best known for his work as a producer, exudes great likeability here on his solo debut, even if the record is pretty choppy, and the songs don't always have that certain magical memorability... It's a nice, loose-limbed, alt-y outing, and his love of many styles of roots music is clearly evident, but it has the feel of a musical lark, more than a cohesive album -- although this may be fun-loving, dorky and joyful, I'm not sure I'd consider it a keeper. It's certainly worth checking out, though... If you 're into the indie-country orbit, chances are you might like this much more than my crabby review would imply.

Gurf Morlix "Fishin' In The Muddy" (Catamount, 2002)



A guitar-playin' pal of Lucinda Williams, Robert Earl Keen and others, Austin-based producer and alt.country icon Gurf Morlix has a strong rocker streak, which works pretty well on this groovy solo album. There are several odd, oddly compelling songs on here -- the first few songs are really catchy -- and plenty of sly roots-rocking riffs to enjoy. On a couple of tracks, Morlix indulges in lighthearted, guylike stupidity -- the penile, puerile "Big Eye" for example, is a mere throwaway -- but mostly this is a pretty solid album. Now I finally get what everyone else sees in this guy. Definitely worth checking out.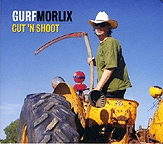 Gurf Morlix "Cut 'N' Shoot" (Blue Corn Music, 2004)



A fine album by this Austin insider... It's funny that a fellow who's as well connected and professionally accomplished as Morlix would put out such a rickety album -- his voice is a little shaky, and the production is fairly muted -- but there's no denying his real country roots, as the spirit of Hank Williams wafts through the opening tracks, supplanted later on by an offhand, Gary P. Nunn-ish casual approach. Morlix takes the forms and lyrical conventions of old-fashioned country heartsongs and gives them a playful, goofy, hippiedelic tweak. It's not surprising to see him cowriting a tune or two with Jim Lauderdale, who also has an off-center sensibility -- their "Where There's Smoke" is an album highlight, along with the giddy "Yesterday She Didn't" and the doleful "Lost Without You..." Although many of these renditions are a little sluggish, you can easily imagine other artists taking the same songs and polishing them into gems; folks who prefer the whole "real folks making real music" approach will appreciate Gurf's purposefully unprofessional delivery, although I have to admit listening to this album all in one sitting is a little bit taxing. I like the songs, but the delivery is a little off. Fans of Ricky Barnes and Rex Hobart should dig this set as well.
Gurf Morlix "Diamonds To Dust" (Blue Corn Music, 2007)


Gurf Morlix "Birth To Boneyard" (2008)






<! an all-instrumental album? >

Gurf Morlix "Last Exit To Happyland" (Rootball, 2009)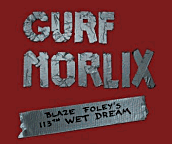 Gurf Morlix "Blaze Foley's 113th Wet Dream" (Rootball, 2011)



(Produced by Gurf Morlix)
A beautiful, glorious bummer. Producer/guitarist Gurf Morlix pays tribute to the late Blaze Foley, a tragic Texas indiebilly icon, a best known for composing "If I Could Only Fly," a song that has been recorded all the way from the indiest of the indie, up into the Top 40 charts by artists such as Merle Haggard and Joe Nichols. By all accounts, Foley was a singular, eccentric presence on the Austin scene -- tight friends with Townes Van Zandt and many others, he refused to work a day job and had no fixed address. Foley was a mainstay of Austin's music community until his untimely death in 1989, when he was shot and killed by the son of a friend, in the middle of a domestic dispute, and in the years since there have been several tribute albums featuring his sad, haunting, beautiful songs. This new record is particularly striking, since it is the work of one singer, and Morlix pours himself into the poetic sorrow that was Foley's mainstay... These songs are crushingly sad, but uplifting in a curious way, the artifacts of a guy who accepted life's losses, and yet celebrated the sunrise and the people around him. Some days you win, some days you lose. Morlix nails it on every song, from the John Prine-ish "Clay Pigeons" to the puckish title track and the stark resignation of "Cold Cold World," the album's closer. What's most surprising about this record is the sweetness that comes through: on paper, Foley's life sounds like a downer, but on wax, his music emerges as a blessing. This is a mighty fine, mighty powerful record -- highly recommended!
Morrison-Williams "Morrison-Williams" (Palo Duro, 2005)



That's not Jim and Hank, but rather Shayne Morrison and Clint Williams, two Texas fellas who were previously in the band Perfect Stranger, which had a Top Ten hit with "You Have The Right To Remain Silent," back in 1995... Morrison was a founding member of that band, while Williams joined a few years later, and their creative partnership has continued over the years. I always kinda liked Perfect Stranger -- the band never seemed too stuffy or pretentious -- but I have to admit I found this album to be a little grating. Too much reliance on tin-toned, heroic electric guitar leads, and too much of a rock'n'roll feel for me... Then again, maybe it's just 'cause I was listening to the record before I'd had my morning cup of coffee... Anyway, even though this disc didn't wow me, I think that longtime fans of Perfect Stranger will not be disappointed... It's got the same classic country-rock sound as their albums, just a bit less of a twangy country feel, which is proabably just fine for some of y'all... Worth checking out if you liked these guys the first time around.


<! Cory Morrow "Texas Time Travelin' " (Write On, 1997) can't find on Amazon - just a song? >

Cory Morrow "The Cory Morrow Band" (Write On, 1997)


Cory Morrow "The Man That I Have Been" (Write On, 1998)


Cory Morrow & Pat Green "Songs We Wish We'd Written" (Greenhorse, 2000)


(Produced by Lloyd Maines)
A swell set of outlaw ballads and alt-country anthems, from Waylon's "Are You Sure Hank Done It This Way" to John Prine's "Paradise," with some stuff by Steve Fromholtz, Townes Van Zandt... heck, they even cover "Stuck In The Middle With You," by Steeler's Wheel, and keep it almost as fun as the original. Green shows his roots, and they run pretty deep. This is a nice indie effort by a fella sort of in the Nashville orbit, and his still-indie pal...

Cory Morrow "Double Exposure: Live" (Write On Records, 2000)



(Produced by Lloyd Maines)
This 2-CD set -- one disc acoustic, one plugged-in -- provides a fine portrait of this Houston-born Texas indiebilly songsmith, who wrote all but a handful of the songs on this set. The acoustic side is really nice and the electric disc, though initially a little harder to get into, also proves quite rewarding, with some nice, loping honkytonk mixed in with the rattling roots-rock. He leads the crowd in a chant of "Nashville Sucks! Nashville Sucks!" and then makes a pretty good case for why Texas music might be a little more fun. A straightforward, no-frills look at one of the Lone Star State's current crop of amazing musicians... Recommended!
Cory Morrow "The Cory Morrow Band" (Write On, 2001)


Cory Morrow "Outside The Lines" (Write On, 2002)


Cory Morrow "Nothing Left To Hide" (Smith Music Group, 2005)


Cory Morrow "Outside The Lines" (Write On, 2002)


Cory Morrow "Nothing Left to Hide" (Smith Music/Write On, 2005)


Cory Morrow "Ten Years" (Sustain/Write On, 2007)


Cory Morrow "Live In Austin, TX" (New West, 2007)


Cory Morrow "Vagrants & Kings" (Sustain/Write On, 2008)









Geoff Muldaur - see artist discography


<! Muleskinner Jones > <! Kacey Musgraves >


Heather Myles - see artist discography




My Morning Jacket "The Tennessee Fire" (Darla, 1999)


An interesting intersection of jangly, '60s-ish rock and doleful, slow twangcore from this highly-touted Louisville band. There's a slightly delicious, REM-ish "what the hell are these songs about" incoherence to much of this music, but also a rather plodding, momentumless quality to most of the songs... It's mostly an interesting effort, though, and some songs might grow on you. If you like Lambchop or Beta Band and bands like that, these guys fit right in. Not sure I'd need to listen to them that often, but they're okay.
My Morning Jacket "...Does Christmas Fiasco Style" (EP) (Darla, 2000)



It's a spaced-out, solipsistic Christmas... Seasons greetings as sung coming off a three-day bender... Your choice of harmful mind-altering substances. Very pretty-sounding music, though!
My Morning Jacket "At Dawn" (Darla, 2001)


Sure, a 2-CD set may be, well... okay, it is completely self-indulgent... but that's kind of the whole point and the real beauty of this music. Besides, songwriter Jim James really hits his stride here, and this is quite a lovely record... Way more rock than country, it's a reverb-washed, dreamy set which strikes a perfect balance between psychedelic rock and neo-twang. It works. Now I finally get where this band's mystique comes from. Definitely worth checking out.
My Morning Jacket "It Still Moves" (RCA-Ato, 2003)



Oh, no! They've sold out...!! (I haven't actually heard this album yet; I just felt like saying, "Oh, no! They've sold out...!!" It seemed like it would make me sound cooler if I did.) [Oh, okay... I've finally heard the album, and here is my review: "There are some lovely-sounding songs on here, and a few that are pretty damn irritating, like the Stones-y "Dancefloors." Program your listening around the variable styles of music, and you might just find a record here you can fall in love with..." 'Nuff said.]
My Morning Jacket "Chocolate And Ice" (EP) (Badman, 2002)


My Morning Jacket "Run Thru" (BMG, 2003)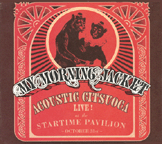 My Morning Jacket "Acoustic Citsuoca: Live! At The Startime Pavillion" (RCA-Ato, 2004)


They seem kinda trapped in the "profound rock star" trap... which is a all very well and fine, except that I find it hard to focus on his mumble-mouthed lyrics, so I'm not really sure there's a "there" there. Also, the live vibe isn't doing much for me on here... This EP's alright, but it doesn't really grab me.
---
Alt.Country Albums - Letter "N"
---