<! MP3 07/07/09 > <! outside 00/00/00 > <! pix 00/00/00 > <! icons 12/14/10 > <! UPDATES: 07/07/09 - Steve Riley own page? 12/10/13 - added Markus Rill, created Steve Riley page >
---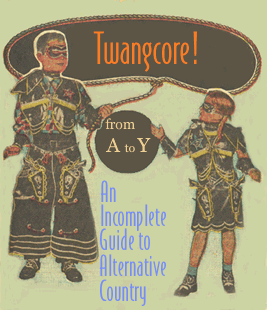 This page is part of an opinionated overview of "alt.country" music, with record reviews by me, Joe Sixpack... Naturally, it's a work in progress, and quite incomplete, so your comments and suggestions are welcome.
This is the third page covering the letter "R"
---
A | B | C | D | E | F | G | H | I | J | K | L | M | N | O | P | Q | R / R-2 / R-3 / R-4 | S | T | U | V | W | X, Y & Z | Comps | Other Country Styles
---
Kim Richey -- see artist profile
Jonathan Richman "Jonathan Goes Country" (Rounder, 1989)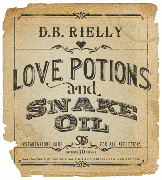 D. B. Rielly "Love Potions And Snake Oil" (Shut Up And Play, 2009)


Nice self-produced indie-Americana -- cajun dance tunes, willowy, wavy love songs, piano ballads and twang, with a healthy hint of indiepop in the rafters... Rielly (a pseudonym? all the songs are credited to someone else...) plays accordion, piano and guitar, and has a pleasantly imperfect, personable voice, sounding emotionally direct and honest. Plus the songs are all really good. This is one of those odd little gem records that float up your way when you least expect it. Definitely worth checking out if you're into real-deal DIY open-mic night Americana. (PS - since this only seems to be available on MP3 through Amazon, try this tune on for size: "I Got A Girlfriend" You can also get the CD directly from his website at www.dbrielly.com )
D. B. Rielly "Cross My Heart + Hope To Die" (Shut Up & Play!, 2013)



A remarkably varied and resonant country-meets-folk set, dipping into contemplative acoustic meanderings and gritty twang with equal ease. In a hipsterdelic world, Rielly proclaims his independence by boldly kicking the album off with a solid, earnest cover of Bob Seger's "Turn The Page," which he follows with an impressive sweep of original material. Evoking Dwight Yoakam and Greg Brown with equal ease, Rielly also asserts his own personality with one skillfully crafted song after another, in electric blues, cajun accordions and a hint of bluegrass twang. Besides, I'm a big sucker for material culture and dig that wooden box that the disc is stored in... Listeners in search of top-flight contemporary Americana music will find this to be a very rewarding album.
Amy Rigby " 'Til The Wheels Fall Off" (Signature Sounds, 2003)



A longtime fixture on the New York indie-altie/power-pop scene, songwriter Amy Rigby has given the world another little gem with this fine, episodic album. It's not an entirely cohesive work, as she shifts from somewhat dense, introspective rock songs to folkie acoustic numbers and back again... Not that I have a problem with artists who won't limit themselves to one style of music, it's just that the the transitions aren't always that smooth. Nonetheless, in this case the parts are more than the sum of the whole, and a handful of songs on here made this one of my favorite records of 2003. The blisteringly hilarious novelty song, "Are We Ever Gonna Have Sex Again?" made me laugh out loud when I first heard it: it's the all-too-familiar tale of the modern-day couple whose erotic life has been curtailed both by busy schedules and everyday routine; the tart, too-true lyrics and Rigby's dead-on delivery make this an instant classic. Other favorites include the opening track, "Why Do I," a power-pop exploration of the neurotic impulse towards self-sabotage, and "Don't Ever Change," a touching embrace of normalcy and imperfection in those we love, and in acceptance of the quirky flaws of the world at large. As with the other two songs, it's Rigby's wry, gentle, deft observations that make this tune such a winner. Overall, this album shows its greatest appeal in its sense of maturity and un-corny wisdom; it's nice to see that as Baby Boom indie-rockers age and mellow out that they can still make such great music.
Billy Lee Riley "Blue Collar Blues" (HighTone, 1992)



Veteran rockabilly hero Billy Lee Riley has been around for many a long decade, and like many of the first generation of original American rockers, his career has had its ups and downs. Still, get the guy in front of a microphone, and he can still really tear it up, as heard on this lovingly produced "comeback" album, where Riley gets the full HighTone treatment. You can hear the age in his voice, but he still rocks pretty hard, dipping into rockabilly, blues and a bit of Tony Joe White-ish swamp rock, all with a deep, soulful delivery. Not bad!
Billy Lee Riley "Hillbilly Rockin' Man" (Reba Records, 2003)


Some old-timers, no matter how old they get, still have that little something that makes them great... 'Fifties rockabilly pioneer Billy Lee Riley is still going strong at the tender age of 70(!), with voice in fine form, and a slew of well-written, soulful songs. Only on a couple of tracks does he sound a bit subdued; on the whole, though, this is a nice solid album, tilting towards the country end of the spectrum, but with enough of a rockabilly kick to keep the young'uns happy, too.
Steve Riley -- see artist profile
Markus Rill "Gunslinger's Tales" (1997)
Hailing from Frankfurt, Germany, European singer-songwriter Markus Rill initially paid allegiance to Texas poet Townes Van Zandt, but proved himself a master of several styles of modern "Americana," mastering the country accent and drawl of the North American folkie-twangsters. I've only heard his later records, but I imagine his early albums are worth a spin as well...
Markus Rill "The Devil And The Open Road" (1999) <! Moby Disk?? >

Markus Rill & The Gunslingers "Nowhere Begins" (Line Music, 2001)


(Produced by Markus Rill)

Markus Rill "Hobo Dream" (2004) <! Universal?? >

Markus Rill "The Hobo Companion" (2004)

Markus Rill "The Price Of Sin" (Blue Rose, 2006)


(Produced by Markus Rill & George Bradfute)
A well-produced album, drenched in the country-meets-folk ethos of the modern Americana scene... While the growling, sub-Tom Waits rasp and dense lyrical style of singer-songwriter Greg Brown dominates this album, there's also a rougher edge reminiscent of Steve Earle, best heard in "Me And Bonnie Parker," an interesting historical ballad looking at the semi-mythic Bonnie & Clyde crime spree through the lens of Bonnie's first lover, Roy Thorton, who watches helplessly as she is swept away by the thrills of crime and passion. Overall, this isn't really my kind of music, though Rill's command of American-style roots music is impressive and completely effective. It's the style that I struggle with, rather than the performance -- tightly-crafted songs that strain towards philosophical profundity and poetic heights, as opposed to the simpler, singalong twang that I prefer. But if you enjoy contemporary, 21st Century singer-songwriter stuff, you might wanna give this guy a whirl -- he's really got the style down pat.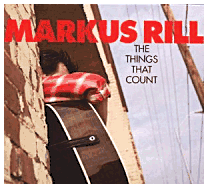 Markus Rill "The Things That Count" (Blue Rose, 2007)


(Produced by Richard McLaurin)
With mandlin, pedal steel, and acoustic guitars prominent in the mix, there's still plenty of twang in here, but more of a tilt towards contemporary adult-alt folk, ala Greg Brown and his legions of followers. It's not really my cup of tea, but it's good for the style. As with his earlier albums, the more folk-ish among you might want to check this out.
Markus Rill "Wild, Blue And True" (Blue Rose, 2011)


Markus Rill & The Troublemakers "My Rocket Ship" (Blue Rose, 2013)


Jason Ringenberg "All Over Creation" (Yep Roc, 2002)



Jason Ringenberg "Empire Builders" (Yep Roc, 2004)



Poetic and political, this disc explores various aspects of America's social life -- racism in the military, our new adventures into overseas intervention, South-will-rise-again-ism, and the blemished history of the US government's dealings with the Native American nations... There's also a love song or two on here and a tribute to surf-garage guitar god Link Wray. Craftwise, this is an impressive set for songwriter Ringenberg, who penned all but two of these tunes (one of the covers is a particularly loopy version of Merle Haggard's "Rainbow Stew," the other is a song by banjoist Jim Roll, who guests on a different track. A lot of this album's appeal has to do with Ringenberg's particular personality; folks who've been following his career over the years will probably find this enchanting, nonfans may be a little mystified by the appeal of this gangly-voiced oddball. The musical end is consistently strong throughout, but this disc certainly won't be for everybody. This isn't an album I would listen to for fun, but it was consistently engaging, and is certainly worth checking out.

The Riptones "World Renowned" (Ruby Records, 1996)



An amiable mix of thump-thumping rockabilly and trucker-billy country. These guys don't totally tear it up, but they still sound pretty nice.. Fans of Dave & Deke or The Derailers would enjoy this disc. That being said, these guys seem pretty likeable, but the record is pretty poorly produced -- the sound is thin, and it feels like they rushed through a lot of the songs. I suspect they were a lot more fun live. One of those "they're hearts were in the right place" efforts... Notable also for the high proportion of original songs, some of which are pretty good. I liked "Feelin' Fine..." just wish it were better produced.

The Riptones "Extra Sauce" (Bloodshot, 1997)



Well, the good news is that, with the move to the Bloodshot label, the sound quality on this one is much better, and the opening number, "Out All Night," is a catchy, rockabilly-tinged toe-tapper, a song that holds out great promise for the rest of the album... I was disappointed, though, by the rapid descent into dumb, white-trashy novelty songs... The picking on this album is pretty cool, but the musicianship doesn't quite make up for the lack of depth. I mean, this is okay... it's just not very moving or meaningful. But in terms of the actual music, this is more solid than many other twangcore releases.

The Riptones "Cowboy's Inn" (Bloodshot, 1999)



Singer Jeb Bonansinga took over as primary songwriter on this album (his brother Tod seems to have quit the band) and the results are less than stellar... They got more rockabilly, and more novelty-oriented, and more stripped down (which is understandable, since the band got smaller...) Also, a lot less interesting. These tunes seem more like cardboard cut-outs, rather than full-fledged songs. They can still pick pretty well, but methinks the party is over. At least for those of who give a hoot about whether the songs are any good.

The Riptones "Buckshot" (Bloodshot, 2000)



More of the same. Since I'm probably not gonna see them play in a bar somewhere, I really find it hard to care. If the truth be told, I just find this to be a bit dreary, even with all the fancy chicken-pickin'... There's plenty worse out there, it's true... but also plenty that's better.
The Riptones "Slant Six" (The Orchard, 2003)


The Riptones "Stash" (Sparkletone, 2008)

The Rivergods "Time Has Come" (Blue Donut Records, 2002)


(Produced by Ben Parent & Jim Carpenter)
More of a generic rock record than an "Americana" thing. There are rootsy elements in here -- steel guitar, etc. -- but this is too rock'n'roll/jam band-meets-folkie warblers for me. Especially the big electric guitar solos. Not into it.
Eddie Rivers "Plain Talkin' Man" (Bismeaux, 2013)


A solo set from the masterful pedal steel player for Asleep At The Wheel... There are some familiar-sounding vocal numbers along with several groovy instrumentals... Fans of the classic Wheel sound, and of fancy steel playing will wanna check this one out.
---
Alt.Country Albums - More Letter "R"
---