<! MP3 07/07/09 > <! outside 00/00/00 > <! pix 00/00/00 > <! icons 12/13/10 > <! updates: 07/07/09 - Josh Rouse - preview for twanginess? Tom Russell own page? 11/03/11 - added Tom Russell page - it still needs a bio 06/05/13 - need to backfill Carrie Rodriguez - and add her to Fillies > <! Leo Rondeau "Down At The End Of The Bar" Leo Rondeau "Bangs, Bullets And The Turtle Mountains" >
---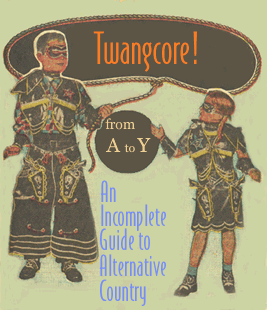 This page is part of an opinionated overview of "alt.country" music, with record reviews by me, Joe Sixpack... Naturally, it's a work in progress, and quite incomplete, so your comments and suggestions are welcome.
This is the fourth page covering the letter "R"
---
A | B | C | D | E | F | G | H | I | J | K | L | M | N | O | P | Q | R / R-2 / R-3 / R-4 | S | T | U | V | W | X, Y & Z | Comps | Other Country Styles
---

The Road Hammers "The Road Hammers" (Airstrip, 2005)


(Produced by Jason McCoy & Scott Baggett)
These gnarly Canadian gearjammers show a lot of promise, at least from the will-they-make-it-in-Nashville? point of view... This loud, live-wire set of modern-day trucker songs (with some well-chosen cover tunes) has a rough, muscular, rockin' edge to it that may appeal to fans of Confederate Railroad or Travis Tritt's early stuff; they also prove themselves unafraid to try out a few cheesy ballads, and to submerge themselves into pure formula, the kind of formula that can spell big commercial success. This current album has some liabilities and it probably won't take them to the top, but it might get the band's foot in the door -- the drawbacks are mostly, I think, due to the production, which is a little too edgy and jarring (although Southern rock/blues-rock-oriented fans may be drawn to it...) Even though this isn't my kind of country, I think these guys are a band worth keeping your eyes on... They're almost a "red dirt" band, and twangy enough that some altie/Americana types might be drawn to them, and definitely commercial enough that a major label will probably pick them up soon. In the meantime, cover tunes like "Girl On The Billboard," "East Bound And Down" and even Lowell George's "Willin' " are pretty enjoyable, and also tell us a lot about this band's roots. Worth checking out.
The Road Hammers "Blood Sweat & Steel" (Montage, 2008)


The Road Hammers "Road Hammers II" (Open Road, 2009)





<! 1. Homegrown Listen 2. Gettin' Screwed Listen 3. I Don't Know When to Quit Listen 4. Cowboy 'Til I Die Listen 5. Workin' Hard at Lovin' You Listen 6. I've Got the Scars to Prove It Listen 7. Thank God I'm a Country Boy Listen 8. Freewheelin' Listen 9. No Time for Long Goodbyes Listen 10. Goodbye Dust Listen 11. Girl Who Loves to Truck Listen > <! reissued 2008 on Dualtone? >

Robinella & The CC Stringband "Robinella & The CC Stringband" (Big Gulley Records, 2000)

Robinella & The CC Stringband "No Saint, No Prize" (Big Gulley Records, 2001)


Robinella & The CC Stringband "Robinella & The CC Stringband" (Columbia, 2003)



I honestly, simply, don't get the attraction. I mean, there's nothing wrong with this set of laid-back, acoustic-based, jazz-tinged Americana crooning... But I can't figure out how it wound up being released on a major label and all... Singer Robinella Contreras is adequate, but not arresting; it's like hearing a confident, if somewhat blase, local gal singing at open mic night, working with a band that's into mixing standards in with the hillbilly stuff. Not amazing, but nice enough. My guess is, they're hoping to tap into the Norah Jones fan base... and who knows? It just might work.
Robinella "Solace For The Lonely" (Dualtone, 2006)


Robinella "FestivaLink Presents: Robinella At MerleFest -- 4/27/07" (Festivalink.net, 2007)

Nell Robinson "In Loango" (Red Level Recordings, 2009)


Nell Robinson "On The Brooklyn Bridge" (Nell Robinson Music, 2011)



(Produced by Nell Robinson & Jim Nunally)
A city gal with country roots, Nell Robinson grew up in Alabama, but made it to the San Francisco Bay Area, where she's hooked up with a number of talented folks on the local bluegrass scene, including mandolin player John Reischman, fiddler Gregory Spatz and newgrass gal Laurie Lewis (who co-wrote one of the songs on this album...) This album pays tribute to Robinson's roots, with a mix of original songs and soulful standards as well as short spoken bits with her family members recalling the old days in the family's rural home. Worth noting is charming fact that Robinson only started singing in public recently ("I sang by myself in the car for 30 years, and ventured out to sing in public at age 45," she notes cheerfully...) and released this album at the brisk young age of fifty. She has the voice and soul of a much younger person, as heard on several bouncy, banjo-led tunes, and taps into the old-school sound of Depression-era Southern music with great authenticity and charm... If you enjoy DIY bluegrass and old-timey tunes, give this one a spin!
Nell Robinson & Jim Nunally "House And Garden" (Nell Robinson Music, 2013)

Bruce Robison - see artist discography
Charlie Robison - see artist discography
The Roches - solo, duo & trio
Rockhouse Ramblers "Bar Time" (Hayden's Ferry, 2000)


Rockhouse Ramblers "Torch This Town" (Hayden's Ferry, 2002)


Amiable, independently produced rockabilly/honkytonk with plenty of spunk and a few rough edges. The songwriting, which is spread evenly among the bandmembers, is generally pretty clever, and shows a strong command of the style. The singing, however, is occasionally awkward, frequently hitting the wrong beat and throwing the band off its rhythm. It's a distraction, but not a fatal flaw, as the music -- equal parts Buck Owens, Gene VIncent and Buck Owens -- is pretty engaging. I thought this album was charming, and look forward to the next.
Carrie Rodriguez "Give Me All You Got" (Ninth Street Opus, 2013)



(Produced by Lee Townsend)

Jim Roll "Ready To Hang" (One Man Clapping, 1998)


Jim Roll "Lunette" (New West, 1999)



An odd and alluring intersection between spacy, ear-candy indiepop and plangent twangcore, this album has a nice melodic core to it; a few songs are a little difficult or loosely constructed, but others are quite nice, the kind of stuff that'll get your toe tapping and your head bobbing along, keeping time to some song that makes no sense, but sounds mighty fine. Fans of Richard Buckner, Jay Ferrar, Jeff Tweedy and the like will find this a pleasant listen... Among the many colaboratorson here are multi-instrumentalist Drew Glackin and drummer-producer Walter Salas-Humara, who anchor the band, and guest stars like John Dee Graham and Gurf Morlix, who play on several tunes. After a while the lyrical obliqueness may wear thin, and for more country-leaning listeners the sometimes-trippy production may lead you fairly far afield, but on the whole, this is a nice record, with more emphasis on melody and listenability than many contemporary records. Worth checking out!

Jim Roll "Inhabiting The Ball" (The Telegraph Company, 2002)



Hmmmm. Roll kinda of loses me on this one. Much of this album goes too far afield into the rock end of the spectrum for me, with spacy, meaningless songs and the twangy elements getting pretty much lost in the mix... But there are also moments of unexpected beauty, like the soft, acoustic "You," that'll make you sit up and take notice. Most of the material on here sounds like someone just making sounds and filling space in yet another self-indulgent 4-trackish lo-fi non-sequitor album... and it doesn't reach me emotionally at all. Oh, well.

Dexter Romweber "Blues That Defy My Soul" (Yep Roc, 2004)



He sure has uglied up his sound quite a bit... Here, ex-Flat Duo Jet-setter Dexter Romweber plows through a rapid-fire set of rockabilly-surf-garage rock... I dunno; seems like he's trying too hard to prove how alt-y he can be... It seems more slapdash than raw and rebellious to me, though... But then again, maybe I just ain't raw and rebellious enough to appreciate it.
Leo Rondeau "Bangs, Bullets And The Turtle Mountains" (Self-released, 2007)


Leo Rondeau "Down At The End Of The Bar" (Self-released, 2009)



(Produced by Leo Rondeau)
If a voice could be described as "lanky," that would fit Mr. Rondeau, whose rambling, discursive, exaggeratedly Texan musical style will remind many of the late, great Townes Van Zandt... There are some fine songs on here, as well as a lot of material that might be hard to get a handle on, at least at first listen. There are a slew of accusatory broken-romance tunes, with Rondeau's narrator wryly passing judgment on nebulous ex-lovers, a couple of these are fun, particularly the tart "You Ain't For Me." The whole album has a laidback, off-kilter feel, with little interest in a hummable chorus or propulsive melody -- this fella ain't headed for Nashville, and clearly he doesn't want to be. But the angularity and indefinable feel of the songs create a distinctiveness that's hard to find and a precious commodity these days. If you like your Americana on the unpredictable side, you might wanna give this guy a spin.
Caitlin Rose "The Stand-In" (ATO, 2013)


Rosehill "White Lines And Stars" (Cypress Creek, 2010)



(Produced by Jay Clementi & Radney Foster)
A re-release of an records that's a couple of years old... but still sounds fine. These rock-friendly Texans are proteges of Americana icon Radney Foster, who produced two of their albums, and plays acoustic guitar with the band. They're probably properly considered part of the "red dirt" scene, but the opening tracks on this album certainly have a strong commercial feel - the core duo of Blake Myers and Mitch McBain combine a bar-band grit with pop-country savvy; you could definitely see these guys going big.
Rosehill "Crooked Thoughts" (Tenacity, 2012)



(Produced by Jay Clementi & Radney Foster)



<! other ROSEHILL? >

Josh Rouse "Home" (Rykodisc, 2000)



Not that I have anything against this sort of drifty-dreamy, lightly orchestral folk-pop mellowness, but honestly, this album doesn't do much for me. You'd be better off listening to some old Freedy Johnston, or looking around for one of those out-of-print Vulgar Boatmen LPs... Freedy's a far better lyricist, and the Boatmen were a lot dreamier and more direct. Still, this is not without its charms, and I can see why Rouse is currently an "Americana" darling... If nothing else, it's easy on the ears, though equally unchallenging to the brain.


<! 03/09: no MP3 > <! Josh Rouse "Dressed Up Like Nebraska" (Slow River Records, 1998) B000006CBY B001RXE2SK Josh Rouse & Kurt Wagner "Chester" (EP) (Slow River Records, 1999) B00001OH61 B001RYQTQ2 with Lambchop's Kurt Wagner Josh Rouse "Home" (Slow River Records, 2000) Josh Rouse "Bedroom Classics, Vol. 1" (Bedroom Classics, 2001) Josh Rouse "Under Cold Blue Stars" (Slow River Records, 2002) B00005UOWM B001RXK8EC Josh Rouse "1972" (Rykodisc, 2003) B0000AM6K2 B001RZ843W Josh Rouse "The Smooth Sounds of Josh Rouse" (Rykodisc, 2004) Josh Rouse "Nashville" (Rykodisc, 2005) B00070FV3Y B001RZC4II Josh Rouse "Bedroom Classics, Vol. 2" (Bedroom Classics, 2005) B000FGU414 B000S5AZ2A Josh Rouse "Subtítulo" (Nettwerk Records, 2006) B000EHQ850 B000QZZ0CM Josh Rouse "KCRW.com Presents... Josh Rouse Live With Guitar & Strings" (Bedroom Classics, 2006) She's Spanish, I'm American "She's Spanish, I'm American" (EP) (Bedroom Classics, 2007) B000N0WCOY B000S5CE6U (w/ Paz Suay) Josh Rouse "Country Mouse City House" (Bedroom Classics, 2007) B000ROAL3U B000TPXL7K Josh Rouse "Live Shepherds Bush Empire December 7th 2007" (Bedroom Classics, 2008) Josh Rouse "KCRW Morning Becomes Eclectic April 20, 2006 Outtakes" (Bedroom Classics, 2008) Josh Rouse "Bedroom Classics, Vol. 3" (Bedroom Classics, 2008) Josh Rouse "The Best of the Rykodisc Years" (Rykodisc/Rhino, 2008) B001D53BRA B001F5HZ52 2-CD >

The Royal Deuces "Introducing The Royal Deuces" (Polzak Productions, 2007)

The Royal Deuces "Heck Of A Catch" (Polzak Productions)

Jimmy Roy's 5 Star Hillbillies "5 Star Hop" (Fury, 1993)



An amiable, easygoing set by these Canadian hillbilly bop enthusiasts, onetime rockabilly fans who went back a few years further to the style's musical roots, much along the line of Big Sandy & The Fly-Rite Boys or the Dave & Deke Combo. Musically, this set doesn't completely catch fire, but the two dozen songs are all pretty nice, especially considering that almost all of them are original compositions by steel guitarist Jimmy Roy and lead singer Cam Wagner. These recordings date back to 1989-93; bandleader Jimmy Roy later went on to work with Ray Condo, as well as with Big Sandy and his band.
Kev Russell's Junker "Buttermilk & Rifles" (Sugar Hill, 2002)



An oddball solo outing by one of the fellas from the Gourds. Yeah, sure, he's trying a little too hard to be all weird and stuff, but his songs are still catchy. In a weird kinda way. The first track that really got my attention here was "(Somebody Get Me A Flower) I'm A Robot," which has a strong refrain... Turns out it's also the only song I can remember, even after this album was stuck in my CD player for several days. If you dig weird, goofy, outsider-arty type stuff, then this record can be pretty fun, and fans of the Gourds will probably not be disappointed. But ultimately I'm not sure how much "there" is really there.
Tom Russell - see artist discography
Rusty Truck "Broken Promises" (Terra, 2003)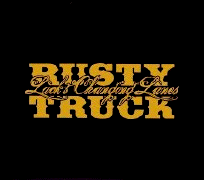 Rusty Truck "Luck's Changing Lanes" (Rykodisc, 2008)



(Produced by Mark Seliger & Nick Brophy)
In shorthand, this album could be considered the Americana music equivalent to "Almost Famous": Mark Seliger was the head photographer at Rolling Stone magazine between 1992-2002, and in the course of that decade he made an awful lot of groovy famous people, several of whom help him here on his recording debut. The ever-eclectic T Bone Burnett, Sheryl Crow, Jakob Dylan, Lenny Kravitz, Willie Nelson, Marc Ribot and Gillian Welch are among the luminaries enlisted to accompany Seliger on a giddy country-rock romp, sounding for all the world like the Jayhawks in their twangy prime. The opening song, "Every Time" features some of the most ridiculously overwritten poetic-profound lyrics ever put to wax, and yet it's also got a killer pop hook that kept me coming back to the song again and again. The rest of the album follows apace -- the songs are quite catchy and while some of the songs have a spiral-notebook feel to them, the retro-acoustic rock vibe is so nice, you hardly notice. In addition to contemporary alt.country, there are also healthy nods towards '70s bands such as Poco, Pure Prairie League and the Eagles, as well as more rock-pop outfits such as Fleetwood Mac (Sheryl Crow's harmony vocals on "Cold Ground" evoke Stevie Nicks so thoroughly that I wondered if some prankster had slipped a copy of Rumours into the CD carousel... If you like the classic rock sound of '70s AOR, as well as light, melodic twang, this is definitely worth checking out. This two-disc edition is an expanded version of a 2003 album, Broken Promises, with an additional disc's worth of video material added for good measure. It's music that has aged well -- and five years from now will sound equally as sweet.

Ruthie And The Wranglers "Wrangler City" (Lasso, 1996)


Romping rockabilly and rhythm-heavy honky-tonk from this CD-area band. Ruth Logsdon is in the same vocal range as Dee Lannon and Rosie Flores -- not quite a diva, but able to project enthusiasm and love of the style. She has a few other records out, although this is the only one I've heard... It's definitely worth checking out if you can track down a copy; plus, bar band guitar god Bill Kirchen pitches in on a few tunes!

Ruthie And The Wranglers "Life's Savings" (Lasso, 1998)


With plenty of Sun Records-y reverb and hiccuppy vocals, Ruthie and her pals keep the rockabilly vibe going strong, while covers of old country classics like "A Dime At A Time" and "Fist City" help balance things out in favor of the country crowd. The most notorious song on here would be Logsdon's own "He's A Honky Tonk Man," a spoof of Johnny Horton's old hit wherein, yeah, he's all man, but not for long: the cowpoke is looking for a sex change! Yee-haw, little buddy.
Ruthie And The Wranglers "Live At Chick Hall's Surf Club" (Lasso, 2000)

Ruthie And The Wranglers "Sometime" (Lasso, 2003)


Ruthie And The Wranglers "Americana Express" (Lasso, 2009)


---
Alt.Country Albums - Letter "S"
---