<! MP3 07/08/09 > <! outside 00/00/00 > <! pix 00/00/00 > <! icons 12/14/10 > <! updates: 07/08/09 - expand Michelle Shocked; give Shaver own page; Sheffield; Shea > <! ADD SOON: Cary Ann Hearst & Michael Trent "Shovels & Rope" (Our House, 2008) B005FYCGJE B001U9TEDO Shovels & Rope "O' Be Joyful" (Dualtone, 2012) B008645Y9E B008LQMTZE > <! Becky Schlegel - check Fillies/Bluegrass for possible artist page >
---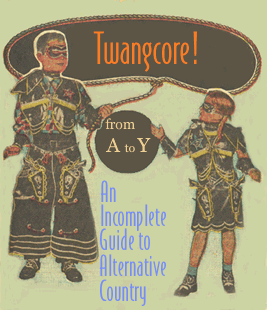 This page is part of an opinionated overview of "alt.country" music, with record reviews by me, Joe Sixpack... Naturally, it's a work in progress, and quite incomplete, so your comments and suggestions are welcome.
This is the second page covering the letter "S"
---
A | B | C | D | E | F | G | H | I | J | K | L | M | N | O | P | Q | R | S-1 / 2 / 3 / 4 | T | U | V | W | X, Y & Z | Comps | Other Country Styles
---

Jenny Scheinman "Jenny Scheinman" (Koch, 2008)



(Produced by Tony Scherr)
An interesting album from Ms. Scheinman, who is best known as a violinist, playing with noodlejazz-meister Bill Frisell over the last few years. Here she emerges as a singer of acoustic folk-blues and jazzy standards, in much the same mould as Jolie Holland, Be Good Tanyas and various likeminded compatriots such as Madeline Peyroux, et. al. Like Gillian Welch or Suzy Roche, Scheinman has a singular vocal presence, a plaintive voice that pierces the veil and leaps out of the mix -- it's not conventionally pretty, and her phrasing seems a bit rugged and rough, but she carries a lot of musical history and self-awareness with her, and she pulls you in with her calm, subtle authority. Although she goes to great lengths to keep things simple and stripped down, one of the most alluring tracks is the more poppish "Skinny Man," which has a nice melodic groove to it, and some steel guitar that brings to mind those great old Bonnie Raitt records. This is an album where the rough edges have been purposefully left in, and it should appeal to folks who like music made by real people. Clearly, Scheinman and her pals are capable of smoothing everything out and making it all sound perfect... it's kind of nice to hear someone who chooses not to, though, and as a result this disc has lots of quiet magical moments. Definitely worth checking out!


<! with Bill Frisell on "Rebecca's Song" >

Jenny Scheinman "Crossing The Field" (Koch, 2008)



An instrumental companion disc that highlights Scheinman's compositional and virtuosic sides. Haven't heard it, but I bet it's groovy.


<! Becky Schlegel - check Fillies/Bluegrass for possible artist page >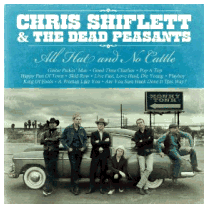 Chris Shiflett & The Dead Peasants "All Hat And No Cattle" (Side One Dummy, 2013)



(Produced by Chris Shiflett & The Dead Peasants)
Now here is a band that knows how to make me happy: start out with a ton of twang, add on an irresistible hard-country beat, crank up the volume, and keep it coming. Mr. Shiflett, a member of the uber-famous Foo Fighters, may be a rocker, but there's no sense here that he's just slumming as he plows into this high-octane set of classic honkytonk songs from the 1950s, '60s and '70s. I like my country music pure and hard, and this is quite simply the best, most satisfying collection of true twang tunes I've heard all year long. From start to finish, this is a really fun record, made to be played loud. Includes a rich, resonant version of Jim Ed Brown's hit, "Pop A Top," Faron Young's "Live Fast, Love Hard, Die Young," the rollicking "Guitar Pickin' Man" and soul-searing weepers like "King Of Fools." This, my friends, is music to drink beer by. Closing things out with a version of Waylon's "Are You Sure Hank Done It This Way?" Shiflett and his band answer their own question: Hell, yeah!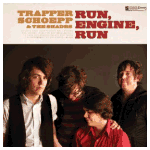 Trapper Schoepp & The Shades "Run, Engine, Run" (Side One Dummy, 2012)



(Produced by Trapper Schoepp & The Shades)
Solid indie-rock twang, along the lines of Whiskeytown, Ryan Adams, or the Old 97s. Tight, bright rock guitars with a nice dose of playful twang... The lyrics are a little too twenty-something and let-me-tell-you-how-life-really-is for an old fart like me, but the playing is solid throughout. I guess Schoepp started out as more of a generic indie-rock guy, but I gotta say, I think alt-country suits him well, and his band has a great sound. I look forward to hearing more from these folks!
Darrell Scott "Aloha From Nashville" (Sugar Hill, 1997)


Darrell Scott "Family Tree" (Sugar Hill, 1999)


Darrell Scott & Tim O'Brien "Real Time" (Howdy Skies, 2000)



Wow...!! What a great record. Songwriter Scott really brings out O'Brien's serious side, and it pays off handsomely in this old-timey oriented set, with plenty of gospel material, modern heartsongs and compelling vcal harmonies. On "House Of Gold," they do an a capella duet that'll give you goosepimples, then follow it up with a lovely, heartfelt version of O'Brien's "More Love," a song which was recorded a few years later by the Dixie Chicks. This is easily my favorite of the Tim O'Brien albums I've heard to date... Recommended!
Darrell Scott "Theatre Of The Unheard" (Full Light, 2003)



Songwriter Darrell Scott has had a fair run recently as a Nashville composer, providing hits for the Dixie Chicks, Sara Evans and Brad Paisley, to name a few. This is his first album on his own independent label, and while there's some striking material, there's also a slight air of self-indulgence as well (the average song length is about five minutes...) I liked the first couple of tracks a lot -- "East Of Gary" and "Uncle Lloyd" both explore the unglamourous side of the American working class ethos, and both are notable for their lack of Merle Haggard-ish "working man" posturing (a tedious trend in modern country). Scott handles the material with subtlety and skill, and both songs hit me the right way. Not sure why I wasn't really that taken by the rest of the album... I guess it went down an overly crafted Greg Brown-ish folkie path or something -- the songs were too lofty, the picking got too glitzy, I'm not sure exactly what it was. Scott's voice is really nice, but his songs are best when he reins them in a bit. Still, this is definitely an album worth checking out -- Scott has a lot to offer fans of intelligently written Americana, so take my criticism with a grain of salt.
Darrell Scott, Danny Thompson & Kenny Malone "Live In NC" (Full Light, 2005)



Nashville songwriter Darrell Scott gets funky and jam-bandish on this live set, cut with the once-ubiquitous Brit-folk bassist Danny Thompson. The bluesiness and groove-orientation is somewhat unlike Scott's earlier, more acoustic Americana outings. There are whiffs of emotive troubadours such as Loudon Wainwright and Greg Brown as well as jamsters like Dave Matthews... It's a bit too effort-ful for me, but I imagine many another roots music fan will like this just fine. Keep in mind there's a lot of stylistic variety here, so if a tune or two doesn't grab you, keep listening, since other songs further down the line might hit you the right way.
Darrell Scott "The Invisible Man" (Full Light, 2006)



Mr. Scott sure has a lot on his mind... but it doesn't always translate well as compelling, listenable music. This is an ambitious self-produced album, but it's wildly cluttered and frenetic, an aggressive stylistic mish-mash packed with lofty lyrics and herky-jerky rhythmic changes, and precious few moments of simplicity or subtle beauty. His songwriting is very ernest and deals with serious subjects -- poverty and global inequality, opportunities lost in life, general spiritual unrest -- but the presentation is forced and unwieldy. I'm sure some folks who feel that "Americana music" is in need of some sort of artistic legitimation will welcome such a hefty effort, but others of us probably just wish he'd been able to pursue these goals more skillfully.
Darrell Scott "A Crooked Road" (Full Lights, 2010)



A 2-CD set...
Darrell Scott "Long Ride Home" (Full Light, 2012)


Tim O'Brien & Darrell Scott "We're Usually A Lot Better Than This" (Full Light, 2012)



Live recordings from 2005 and 2006...
Wayne Scott "This Weary Way" (Full Light, 2005)



If you love records with grizzled old men dispensing gruff-yet-tender reflections on the parade of life before them -- road-weary songs from fellas like, oh, say, Johnny Cash or Guy Clark -- then this record is for you. Guy Clark, in fact, is one this record, both as a guest performer and as a co-songwriter, and his influence is keenly felt, echoing in the windswept, dusty, autobiographical feel of many of Scott's songs. The father of Nashville songwriter and indie recording artist Darrell Scott, the elder Mr. Scott has been part of the off-the-radar country scene for decades, playing in honkytonk bars and touring to small venues for years, but this record, made when he was all of 71 years old, is his first album. It's a doozy, too, with a nice mournful, poetic feel that all y'all fans of Robert Earl Keen or Kris Kristofferson will probably love. For me, the standout track was "Sundays With My Son," a very Clark-like weeper about an absentee dad whose big regrets include writing songs instead of playing with his kids... But hey, when the songs turn out this nice, I think the world will understand. This album is definitely worth checking out!
Chris Scruggs "Honky Tonkin' Lifestyle"


The first album (I think!) from multi-instrumentalist Chris Scruggs, the grandson of Earl Scruggs, son of Gary Scruggs and country singer Gail Davies, and erstwhile member of the BR-549 band.


<! Song Tracks: 1. Two Door Ford 2. Hold My Baby 3. Sober Up and Think 4. Ain't Got Time 5. Country Star 6. Alibi 7. He Will Never Fill My Shoes 8. Talk of the Town 9. Honky Tonkin' Lifestyle 10. Really Ain't Gotta Care >

Chris Scruggs "Tennessee" (2008)
Covers of classic 1940s/'50s country tunes... Available through Chris Scruggs' website.




Chris Scruggs "Anthem" (Cogent Records, 2009)





<! 1. Josephine 2. It Ain't Right 3. Running From The Graveyard 4. Troubled Times 5. A Victim's Song 6. The Open Road The Open Sky 7. Sing Your Tune 8. Where The Wind Might Blow 9. Old Souls Like You And Me 10. Windows 11. Open Letter 12. Change Your Made Up Mind Produced by Chris Scruggs. All songs written by Chris Scruggs except for "The Open Road The Open Sky" written by Ron Davies. >
Chris Sears "Empty Space" (Electric Cactus, 2002)
Decent but underwhelming indiebilly country from San Antonio, Texas... The arrangements are kind of standard-issue; there's some okay pedal steel but nothing too dazzling. Sears also has a modest voice -- at times he reminds me, perhaps, of Dick Feller. A lot of bitter breakup songs here, as well as a few cover tunes ("Ramblin' Man," "Pick Me Up On Your Way Down" and a countryfied cover of the Beatles' "I've Just Seen A Face...") The best, or perhaps the most bizarre, original is "Another Man's Having The Fun," a song about a schnooky guy who foots the bill for his girlfriend's boob job, then has her dump him right away. It's a weird concept, and a weird song -- Dr. Demento fans, are you paying attention?
The Secret Sisters "The Secret Sisters" (Universal-Republic, 2010)



(Produced by Dave Cobb)

The Secret Sisters "Put Your Needle Down" (Universal-Republic, 2014)


David Serby "I Just Don't Go Home" (Harbor Grove, 2006)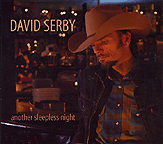 David Serby "Another Sleepless Night" (Harbor Grove, 2007)


A strong offering from Southern California alt-honkytonker David Serby, who bursts forth with some first-class, true-blue twang... Tunes like "The Most Reckless Thing," "Nobody Here By That Name" kick off the album, full of energy and a hunger to be heard -- Serby's definitely giving it his all, and the results are pretty impressive. It really starts to gel on the novelty-oriented "It Ain't A Party (Until Something Breaks)," where Serby shows that he's earned the right to wear that big felt hat over that Merle Haggard jawline... In the second half of the album, there's also a hefty dose of Dave Alvin-ish, Blasters-y blues -- I'm less into that style, but he does it well. Folks who like hardcore, lean-boned twang really ought to check this one out. (Check out www.davidserby.com for more info. )
David Serby "Honkytonk And Vine" (Harbor Grove, 2009)



Great record, the third one from this indiebilly hard country rocker from Los Angeles. The album opens on an explosive, rollicking note with "Get It In Gear," a propulsive retro-rock tune worthy of the Blasters or Rockpile in their heydays. Steel-drenched hillbilly twang takes over for the rest of the record, with a bit of Tex-Mex accordion thrown in as well. Each style and each song leaps out at you, in an album packed with concise, masterful gems. Serby seems to be laying claim to the spirit of roots revival that swelled up in L.A. in the 1980s -- nice to hear a new artist taking up the torch and getting it all so right. Word to the wise: this is a great cruising record; take it on your next road trip and turn the volume up high.




The Shants "Beautiful Was The Night" (2011)
Well-crafted, alluring alt-twang from Oakland, California... Some songs drift into drone-rock territory, but most of the record seems in tune with the doleful, Gothic, slow-twang of Richard Buckner and Will Oldham. The Shants build their sound around spooky, sad pedal steel with sparse acoustic backing... If that sounds intriguing, definitely give these folks a try... there's some really nice stuff! (For more info, check out their website, http://theshants.tumblr.com. )


<! Beautiful was the Night, the bandŐs debut full length album, is a haunted love letter to singer Skip AllumsŐ home state of Louisiana. The album was recorded in Oakland at Rec Center and Tones On Tail Studios by Eliot Curtis, with some vocal harmonies from Brianna Lea Pruett & Quinn DeVeaux, violin by Howie Cockrill, and horns by Ralph Carney (Tom Waits, Elvis Costello, Black Keys) as well as the Blue Bone Express. The album was funded in part by The ShantsŐ fans, via Kickstarter. Beautiful was the Night will be available September 2011. > <! also an earlier EP? no ASINs as of 08/11 > <! http://theshants.tumblr.com >

Maia Sharp "Hardly Glamour" (Ares, 1997)


Maia Sharp "Maia Sharp" (Concord, 2002)



Ooooohhhhhh... I get it....! Maia Sharp is Randy Sharp's daughter...! I remember Randy from when I lived in Fresno and he was a big-fish-in-a-small-pond songwriter-producer who was moving out of town to hit it big in Nashville, or something like that... Ahhhh... I see. That explains a lot. Apparently she's had songs recorded by the Dixie Chicks and others, though her own stuff has been kind of off the radar, saleswise. This is apparently her second album; haven't heard it yet, but when I do, I'll give you an update.
Maia Sharp "Fine Upstanding Citizen" (Koch, 2005)



This gal has gotten some good press pegging her as a breakout "Americana" artist, but I'm not buying it... There are some acoustic moments on this disc, but mostly it's pretty rock-oriented, the kind of stuff that gets a big boost when it's included on the soundtrack to some teen-oriented show on broadcast TV, and is in the same general turf as Patty Griffin, Kim Richey or Lisa Loeb. Her voice kinda bugs me, though, and the arrangements are a intrusively loud and formulaic... Doesn't do much for me, though I can see how it would make plenty of other folks hop up for joy... If the rockin' singer-songwriter thing does it for you, you might want to check this out.
Maia Sharp "Eve And The Red Delicious" (Crooked Crown, 2006)


Maia Sharp "Echo" (Crooked Crown, 2009)



The twang component seems pretty minimal, but it certainly qualifies as "adult alternative," and there's some crossover between the two. Seems more of a Mary-Chapin Carpenter or Aimee Mann kinda thing, although when she pumps up the arrangements on a tune or two, things get kind of Martina McBride-ish. I'm not really sure I should be tracking her work here, though.
Billy Joe Shaver - see artist discography
Rick Shea "The Buffalo Show" (BMP, 1996)

Rick Shea "Shaky Ground" (Burnside, 2000)

Rick Shea "Sawbones" (Burnside, 2000)


Rick Shea & Brantley Kearns "Trouble And Me" (Tres Pescadores, 2002)



A delicious, acoustic-based set of well chosen old-timey and old-school country tunes, ranging from dimly-recalled gems such as Jim Ringer's "Rachel," Mary McCaslin's "San Bernadino Waltz," Harlan Howard's "Trouble and Me," and the gentle hobo anthem "Loafer's Glory." Fiddler Brantley Kearns has one of those great, gruff, grizzled-sounding voices that I love to hear, calling to mind folks like Larry Hosford and U. Utah Phillips. This is an excellent, thoroughly enjoyable album, one that would be easy to miss out on, since indie artists have such a tough time with distribution these days. Dave Alvin, whose band both these guys play in, produced this disc, with a light, unobstrusive touch. Fans of the relaxed style of old 1970s-era alt.country will appreciate this disc: I say snap it up while you still have the chance!

Rick Shea & Patty Booker "Our Shangri-La" (Tres Pescadores, 2003)



(Produced by Rick Shea)
A fun set of hillbillied-out duets that mostly mine a novelty-oriented "You're The Reason Our Kids Are Ugly" terrain, very similar to Melba Montgomery's comedic duets with George Jones and Charlie Louvin or some of the funnier Loretta Lynn-Conway Twitty duets. Booker and Shea come close to lapsing into trailer-park stereotypes, but manage to keep things real, and inject a genuine sense of country pathos into their stories of broken love and underfunded romance. Definitely worth checking out.
Rick Shea "Sweet Bernardine" (Tres Pescadores, 2013)



Bill Sheffield "Journal On A Shelf" (American Roots, 2006)



A robust, rolling acoustic blues set, in the tradition of John Hammond, Leon Redbone and Dave Van Ronk... Sheffield plays with self-assurance, good humor and warmth, and also displays considerable strength as a songwriter, penning all but a couple of these songs. Some are clever reworkings of old, raunchy blues themes, like "Black Bottom," while others are more folkie/confessional and poetic. Of the other tunes, a cover of Tom Waits' "Invitation To The Blues" is well-suited to Sheffield's low, growling vocals... This is a nice record, with rock-solid guitar work and admirable soulfulness and authenticity. Worth checking out!


<! 07/09: other Sheffield albums listed; I didn't research them yet >

The Sh*tkickers "Noon's Moonlight" (Big Bender, 2006)



(Produced by James Lott)
This San Jose, California twangcore outfit specializes in predictable drinkin'-and-degeneratin' themes, with song after song with titles like, "Bartles & Jaymes," "Beer 'N' Bacon," "I Need A Bottle," "Rat Farts," etc. The material's nothing new, and the musicianship isn't eye-opening, either... Still, even though the concepts are kinda trite, they do have some funny moments and interesting turns of phrase... I guess if novelty songs are all you're ever gonna do, you'll get a few laughs eventually. Still, I'm not that interested in rockers and hipsters who want to pretend to be lowlifes 'cause they think it's cool or funny - there's only so far you can go with that schtick, and after a while I just get tired of listening to songs that I can't connect to emotionally. These guys are a little funnier and more engaging than numerous bands with similar inclinations, but there's still not much "there" there.

Michelle Shocked "Texas Campfire Takes" (Mighty Sound, 1987/2003)


Well, okay, so maybe she's not exactly an officially sanctioned, bona-fide "alt.country" artist... But then again, why quibble about labels? Shocked was certainly there when the current "Americana" boom was just getting underway, and I've always thought of her as having a strong, positive influence on its growth. This is an interesting set of informal, live performances by this intelligent, unassuming alt-folkie, made at the start of her career, when she was making the rounds of various "women's music" gatherings. Shocked was particularly cool, though, for opting to emulate Woody Guthrie rather than lesbian folk icons such as Tret Fure or Holly Near, who often tended to be a bit dreary and un-fun. These solo acoustic recording aren't completely electrifying, but they are a nice, unpretentious look at her early work. It's especially charming when you hear some truck whiz by on the freeway while she's crooning out a tune... now, that's authenticity!! The new 2-CD edition expands greatly on the original, single-disc set, and has been re-released on Shocked's own Mighty Sound label.
Michelle Shocked "Short Sharp Shocked" (Polygram/Mighty Sound, 1988)

Michelle Shocked "Captain Swing" (Polygram/Mighty Sound, 1989)



Michelle Shocked/Various Artists "Arkansas Traveler" (Mighty Sound, 1991/2004)



An expanded, updated reissue of Shocked's 1991 guest-fest extravaganza. She sure scored as far as the cast of thousands she was able to assemble for this far-reaching project... Roots music luminaries such as The Band, Alison Krauss, Taj Mahal, Doc Watson, Dan Crary and Norman Blake join old-timers like Pops Staples and Jimmy Driftwood (wow... he was still around??), as well as rock bands like The String Cheese Incident, Hothouse Flowers and Uncle Tupelo... Quite a lineup! The album never really catches fire as far as my ears go, though... Dunno exactly why; their hearts all seemed to be in the right place, but there's not a lot of snap, crackle or pop to the songs themselves.


<! Michelle Shocked "The Texas Campfire Tapes" (1986) Michelle Shocked "Short Sharp Shocked" (1988) Michelle Shocked "Captain Swing" (1989) Michelle Shocked "Arkansas Traveler" (1992) Michelle Shocked "Kind Hearted Woman" (1994, with label release (on Private Music) in 1996) Michelle Shocked "Artists Make Lousy Slaves" (with Fiachna O'Braonain, 1996) sold only at performances, now issued as CDRs and MP3s at michelleshocked.com Michelle Shocked "Good News" (1998) sold only at performances, now issued as CDRs and MP3s at michelleshocked.com Michelle Shocked "Deep Natural" (2001) Michelle Shocked "Dub Natural " (2001) sold only at performances, later issued as a bonus disc with "Deep Natural" Michelle Shocked "Threesome" triple album includes: o Don't Ask Don't Tell (2005) o Mexican Standoff (2005) o Got No Strings (2005) Michelle Shocked "ToHeavenURide" (2007) Live Gospel cd Michelle Shocked "Soul Of My Soul" (2009) Mighty Sound re-released two-CD versions of her Mercury releases - The Texas Campfire Tapes (April 22, 2003), Short Sharp Shocked (September 23, 2003), Captain Swing (March 16, 2004) and Arkansas Traveler (September 14, 2004). >

The Shut-Ins "Sing Songs Of Pain And Joy" (Shut-Ins Records, 2003)

The Shut-Ins "A Very Shut-Ins Christmas" (2005)

---
Alt.Country Albums - More Letter "S"
---