<! MP3 10/04/08 > <! update 00/00/00 > <! outside 00/00/00 > <! pix 00/00/00 > <! icons 12/14/10 >
---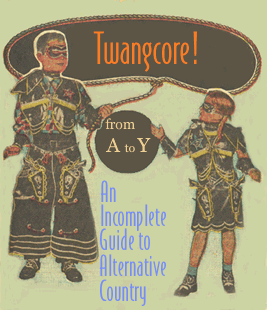 This page is part of an opinionated overview of "alt.country" music, with record reviews by me, Joe Sixpack... Naturally, it's a work in progress, and quite incomplete, so your comments and suggestions are welcome.
This is the fourth page covering the letter "S"
---
A | B | C | D | E | F | G | H | I | J | K | L | M | N | O | P | Q | R | S-1 / 2 / 3 / 4 | T | U | V | W | X, Y & Z | Comps | Other Country Styles
---

Some Velvet Evening "No Law Against Talking" (Hole-Key, 2011)



(Produced by John Holkeboer)
Detroit-area retro-traditionalists John Holk and Carrie Shepard stretch back -- way back -- for their country roots, singing winsome romantic duets in the style of classic acts like Carl Butler & Pearl or the Mosbys, matching brisk, light, melody-oriented acoustic accompaniment with smooth, rich twang. The duo's modern-day lyrics are a little more carnal and less demure than their historical models, but they play the music with respect and affection, albeit with a little wink-wink, nudge-nudge in the delivery. To get a sense of where they're coming from, check out some of the videos on their website, like the one for Shooting The Breeze, which mimics the on-purpose-corny "barnyard" stages of old-school country TV shows like Town Hall Party. Fun stuff!
Son Volt - see artist discography
The South Austin Jug Band "Pickin' & Grinnin' " (?)

The South Austin Jug Band "The South Austin Jug Band" (Blue Corn, 2004)



A fine set of funky, raggedy, jam-oriented blues-&-twang from some young'uns on the Austin scene... An enjoyable set filled with original material and heartfelt performances, lively acoustic music with real drive to it, and more earthiness and substance than many likeminded contemporary bands such as the Old Crow Medicine Show, et. al. Songwriter James Hyland, who put out a couple of fine albums on his own a few years back, is a guiding force in this band, but they definitely have the feel of a group of equals, each adding their enthusiasm and skill... If you like folks like Doug Sahm or the Yonder Mountain String Band, you might wanna check this disc out... It's tasty!
The South Austin Jug Band "Dark And Weary World" (Blue Corn, 2005)



Another great outing from this dynamic, delightfully eclectic altie-ensemble, seamlessly mixing bluegrass, honkytonk and stringband jazz in a distinctive and delightfully personal style. James Hyland continues to shine, both as a vocalist and songwriter, penning gems such as the fog-blown, evocative road song, "Dark And Weary World," a Steve Earle-ish number that opens the album and sets a very high bar. The rest of the album holds up its end as well, propelled by some of the most lively, enthusiastic picking you're likely to hear for a while, along with a wealth of original material. Bassist Will Dupuy contributes several songs on a more novelty-oriented variety, including "Karma" and "Coon Ass," each with a captivating melodic bounce. On the musical end, fiddler-mandolinist Dennis Ludiker emerges as a guiding force, providing both power and restraint, from the Celtic-flavored, Grismanesque "Overdrivin' The Mic" to the sweet, swinging version of Gershwin's "Lady Be Good." Another well-chosen cover is Bruce Robison's "She Don't Care About Me," revived from a long-lost Kelly Willis EP of years gone by... All in all, the SAJB remain one of the most dynamic, cohesive acoustic swingbilly bands around... and this is another mighty fine album. Recommended!
South Austin Jug Band "Strange Invitation" (SAJB/self-released, 2008)



(Produced by the South Austin Jug Band)
Another nice album from these Texas lads, although you may be surprised at the brash, funky blast of acoustic soul-rock that opens the album on the song "Come To Me." The song is sexy and mellow but far less twangy than the band's earlier stuff. The rest of the album has more of a rock-oriented sheen as well, although the twang is still in there, too. The group's jam-band tendencies have coalesced into a firmer, more directed core, with several songs devoted to showing off various member's picking skills: it almost sounds like an old David Grisman record at times. The songs are both more focussed and more languid, highlighting singer James Hyland's strengths as an intimate, gauzy crooner... He's also become a little self-conscious as a songwriter, though, with lyrics about life on the road and casual hookups in local bars; the themes feel a little forced, although Hyland's delivery is consistently compelling and keep listeners entranced. I still find this group to be one of the most intriguing, promising groups in the contemporary Americana scene and look forward to their future efforts. Album highlights include "Dive Bar" and their canny acoustic cover of Beck's classic "Jack Ass."


<! "Dive Bar" B0016O82MC "Jack Ass" B0016O4S8E >
Southern Culture On The Skids "Mojo Box" (Yep Roc, 2004)



A fine, fun album full of bouncy, hook-heavy retro-rock -- surfabilly, Southern soul, and a smattering of tongue-in-cheek country. The lead track, "Smiley Yeah Yeah Yeah," lets you know where their heads are at on this one: it's a melody-heavy party record that doesn't take itself too seriously, and just lets the good times roll. The de-emphasis on white trash stereotypes and renewed attention to musicianship is most welcome, as far as I'm concerned. Recommended!
Eddie Spaghetti "The Value Of Nothing" (Bloodshot, 2013)



A twangy set from bassist/vocalist Eddie Spaghetti, of the rock band the Supersuckers... Apparently alt-country stalwart Jesse Dayton is a collaborator on this one as well...
Split Lip Rayfield "Split Lip Rayfield" (Bloodshot, 1998)


Split Lip Rayfield "In The Mud" (Bloodshot, 1999)



Split Lip Rayfield "Never Make It Home" (Bloodshot, 2001)



Even as a dutiful former son of Lawrence, KS, I didn't have high hopes for this hometown outfit... I guess the dopey bandname kind of put me off. Turns out they're a pretty decent, old-time-ish stringband, along the lines of the early Red Clay Ramblers albums, and their album is surprisingly good. Their material is almost all original, and balances rambunctiousness with a certain fresh approach... Sure, it's a little cluttered and a little forced in the hick schtick department, but far less so than I would have imagined. If you're looking for something new and original in this field, then check these guys out. This isn't the kind of album that sends me into the stratosphere, but I am really curious to find out where they go from here.

Split Lip Rayfield "Should Have Seen It Coming" (Bloodshot, 2004)



(Produced by Mike West & Split Lip Rayfield)
One of the finest acoustic twangcore albums of recent vintage... Now, I may be a little biased since these fellas are from my old hometown of Lawrence, Kansas, but really I thought this was an impressive set of tunes. Building from a bluegrassish base of banjo and mandolin, the Rayfield quartet use a scrappy sound to mask their abundant talent (check out that mandolin solo at the end of the title track... that boy can really play!), and leave listeners to concentrate on the lyrics, which turn out to be pretty darn good. Songwriters Wayne Gottstein and Kirk Rundstrom both tilt towards novelty material, but they manage to keep themselves above the lowest-common hick joke standards of the altabilly scene, and on occasion they craft a truly resonant tune or two. Some of the novelty songs are still tossoffs ("C'Mon Get Your Gun," et al) but the performances reveal an intelligence and affection for the style that puts these guys a notch or two above their contemporaries, and indeed, on the album's closer, "Just Like A Gillian Welch Song," they ably lampoon one of the giants of the genre. This may not be a purty-sounding record but it's still purty good.
Split Lip Rayfield "Should Have Seen It Coming" (Bloodshot, 2004)



(Produced by Mike West & Split Lip Rayfield)
Ooops... this one sat on my shelf for so long, looks like I reviewed it twice! Anyway, here's review #2: This is one fine, slam-bang twangcore/speedgrass set, from one of the finest bands currently on the Bloodshot roster. These Kansas fellers bring an injection of new life into the bluegrass scene, giving the stringband sound a punky little goose without sacrificing much in terms of the music -- they write some fine songs and pick pretty well (they're not dazzling, but they ain't bad...) Mainly, it's the songwriting that impresses me. This is an album full of original material, mostly split between guitarist Kirk Rundstrom and mandolin picker Wayne Gottstine, each of whom has his quirks and strengths. Gottstine's "Hundred Dollar Bill," which kicks the album off, is a really nice piece of country songwriting, while I had to check the liner notes to make sure that Rundstrom's "Used To Be" wasn't actually an old Merle Haggard song I'd somehow forgotten about... Seriously, it's that good. There are some lamentable moments that traffick in white trash stereotypes -- "Redneck Tailgate Dream" is thematically dull, and "C'Mon Get Your Gun" isn't much better -- but even these songs are delivered with more skill and depth than is the norm among many twangcore bands. All in all, this is a fine album, definitely worth checking out!
Squirrel Nut Zippers "Hot!" (Mammoth Recordings, 1996)



(Produced by Brian Paulson & Mike Napolitano)

Squirrel Nut Zippers "Sold Out" (EP) (Mammoth Recordings, 1997)



(Produced by Brian Mosher)
A live EP including one track recorded with the Latin dance band Bio Ritmo...


<! Squirrel Nut Zippers "xxxxxxxxxxxxxxxx" (Mammoth Recordings, xxxxxxx) Squirrel Nut Zippers "xxxxxxxxxxxxxxxx" (Mammoth Recordings, xxxxxxx) Squirrel Nut Zippers "xxxxxxxxxxxxxxxx" (Mammoth Recordings, xxxxxxx) Squirrel Nut Zippers "xxxxxxxxxxxxxxxx" (Mammoth Recordings, xxxxxxx) Squirrel Nut Zippers "xxxxxxxxxxxxxxxx" (Mammoth Recordings, xxxxxxx) Squirrel Nut Zippers "xxxxxxxxxxxxxxxx" (Mammoth Recordings, xxxxxxx) >

The Stairwell Sisters "Recording No. 2: Feet All Over The Floor" (Yodel-Ay-Hee, 2005)


The second album by this SF-Bay Area fivesome is a fine set of squeaky, raspy old-time music with plenty of fiddle, banjo and twang... The songs are a nice mix of older material from the public domain and a half dozen originals written by the band members... These gals -- Lisa Berman on guitar, Martha Hawthorne on bass, Evie Landin on banjo, Stephanie Prausnitz sawing on the fiddle and Sue Sandlin on guitar -- hail from several other local bands and have a nice, relaxed feel as a band. Their new material fits right into the classic old-timey vibe -- if you like your stringband music "crooked" and uncompromised, like, say, Jim & Jennie or the Crooked Jades, this is a fine record to check out... MIghty nice!
Max Stalling "Wide Afternoon" (Blind Nello, 2000)


Max Stalling "Comfort In The Curves" (Blind Nello, 1999)


Max Stalling "One Of The Ways" (Blind Nello, 2002)


Max Stalling "Sell Out: Live At Dan's Silverleaf" (Blind Nello, 2006)



Max Stalling "Topaz City" (Blind Nello, 2007)



(Produced by R. S. Field)
Folks who love their country music full of pedal steel and slinky, slurred guitars, smoky vocals and well-crafted lyrics should go ga-ga over this latest album by indie-oriented Texan songwriter Max Stalling. The set opens with a pair of mellow, novelty-ish tunes -- "If Only The Good Die Young" and "Never Need To Fall In Love Again" -- that recall the glory years of the 1970s when commercial country and the indie scene intersected: clever yet earthy, they would have fit in nicely on an old Johnny Duncan album, or something by Don Williams. Stalling himself has a laid-back vocal style that falls midway between Merle Haggard and George Strait, and he's easily as soulful and compelling as either of those country icons. Every song on here is an original and every one is a gem -- Stalling is a country singer who apparently can do no wrong. It's the kind of record that I can listen to for weeks on end, and plan to keep around for years to come... You owe it to yourself to check this one out!
Starline Rhythm Boys "Honky Tonk Livin' " (Cow Island, 2002)


Starline Rhythm Boys "Better Luck Is A Barroom Away" (Cow Island, 2001)


Starline Rhythm Boys "Red's Place" (Cow Island, 2007)


Starline Rhythm Boys "Live At Charlie O's World Famous" (Cow Island, 2008)

Starline Rhythm Boys "Green Mountain Style" (LP) (Cow Island, 2008)


A best-of set that draws on their first three albums...


<! Starline Rhythm Boys >
Tammy Faye Starlite "Used Country Female" (Diesel Only, 2003)



A rock-heavy twangcore concept album about a sex-drenched country evangelical gal who likes nooky and drugs as much as she likes going down on her knees to praise the Lord. It opens with a foul-mouthed, sacreligious parody of Rick Springfield's "Surrender," and amplifies the theme with numerous songs such as "Misguided Magdalene," "Highway 69," and the menstrual-themed "Ride The Cotton Pony," as well as cover tunes like the Jules Styne showtune, "I Knew Jesus (Before He Was A Star)" that seem to fit into the album's theme. I think they're aiming for a profane, "Rocky Horror"-ish shock value, and for rebellious listeners recently in the thrall of a Christian education, the transgressive mix of religious and sexual themes may provide a great cathartic thrill. However, if you were already paying attention to the punk and Goth rock revolution of the late '70s and early '80s, you'll probably find all of this pretty old-hat: Wayne County or Diamanda Galas approached a lot of the same issues with much greater artistic impact. For those of us not caught up in Catholic or Evangelical theology, it's all one big shoulder shrug. Also: this isnŐt as "country" as one might hope; Tammy and her boys seem to have been having fun, but it doesn't mean a lot to me. I did enjoy her version of Marshall Chapman's "Don't Make Me Pregnant," the only performance that really stands on its own, outside of the context of the album.
Tammy Faye Starlite "On My Knees" (EP) (American Blonde, 1999)

The Star Room Boys "Why Do Lonely Men And Woman Want To Break Each Other's Hearts?" (Checkered Past, 1999)

The Star Room Boys "This World Just Won't Leave You Alone" (Slewfoot, 2002)



(produced by David Barbe & The Star Room Boys)
Bummed-out, traditionalist honky-tonk with pretty good lyrics and strong musicianship. The production is a little thin, but in a good way, as if to say, "hey, we're just real folks who can't afford a big budget... take it or leave it, dude." Songwriter Dave Marr seems to take his craft pretty ernestly; he coasts near the kind of broadly drawn, miserable-ole-me bathos that folks like Rex Hobart take all the way into camp, but I think Marr is serious about his down-in-the-mouth lyrics. At any rate, his John Anderson-y growly vocals are nice, and the band is pretty sharp. Nice to hear a twangy new band that doesn't mire itself in white trash stereotypes... for once!
(Stewart Mann And...) The Statesboro Revue "Stewart Mann And The Statesboro Revue" (2007)

The Statesboro Revue "Different Kind Of Light" (Shalley/Z Records, 2009)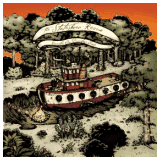 The Statesboro Revue "Ramble On Privilege Creek" (Thirty Tigers, 2013)



(Produced by The Statesboro Revue)
Twangy jam-band country soul from this Texas-based band... Lead singer Stewart Mann has kind of a Rod Stewart/Faces thing going on, buoyed by soulful organ and plenty of guitar... Early on there's a heavy Allman Brothers southern rock vibe, but they get looser and more soul-oriented as the album goes on. It's not quite my cup of tea, but it's done well, and I imagine fans of the Black Crowes could really get into this. And of course, I'll bet they're fun live.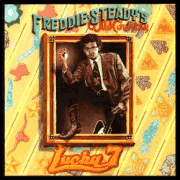 Freddy Steady's Wild Country "Lucky 7" (Amazing Records, 1987)



(Produced by Wes McGhee)
Singer-drummer Freddy Krc, aka Freddy Steady, leads an Austin-based alt-twang band packed with British ex-pats such as steel player B. J. Cole, fiddler Bob Loveday, guitarist Wes McGhee, Geraint Watkins on accordion, and Rory McLeod blowing harp, a group gathered under the name the Wild Countrymen. Krc was a Lone Star native who led the power-pop/garage band The Explosives in the 1970s (and a bunch of other bands since then) and has worked extensively as a session player for a variety of headliners... This was his first country-oriented solo album, a friendly affair with healthy undercurrents of power-pop and bluesy, boozy bar-band rock... He's one of those gangly-voiced but cheerfully DIY indie artists -- maybe these aren't the most electrifying performances ever, but I don't think that was the point... This is a nice, unpretentious album documenting the laid-back, good-time sound of the late-'80s Austin twang sound, in this case with a pretty interesting cast of characters. Worth checking out, for sure. (Note: the CD reissue includes four bonus tracks not on the original LP.)
Freddy Steady's Wild Country "Ten Dollar Gun" (Steady Boy, 2008)


The Steel Drivers "Reckless" (Rounder, 2010)



Well, hot diggety! Here, at last, is something new under the sun. Bluegrass crossovers have taken a few, very well-defined forms over the last few years: the poetic "progressive" folk-fusions of the early 1970s, the spacegrass jazz of David Grisman and his followers, the flowery adult pop of Alison Krauss, and most recently the occasional banjo twinkle on a Nashville single or two. But these guys have come up with something new, a real mix of hardcore bluegrass and greasy, Southern roots music. Backed by a powerful but subtle band, lead singer Chris Stapleton pushes the boundary with gritty, impassioned vocals that bring Travis Tritt to mind, just without the swagger, or Danny Barnes without the hipster irony. The band runs a gamut of styles: there's the rompy-stompy rowdy side with "Guitars, Whiskey, Guns And Knives," and "Good Corn Liquor," as well as some straightforward high lonesome truegrass, as well as the yearning, rueful old-geezer ballad, "Where Rainbows Never Die." The album's brightest gem, though -- and a real surprise given what seems like a redneck-y tilt to the record -- is the stunning "Can You Run," an evocative historical ballad sung in the first person from the point of view of a Southern slave planning his escape during the chaos of the Civil War. Not just his escape, but his return to the South, coming back as a Union soldier to reclaim his freedom and his pride. The song is perfectly crafted and completely haunting: I had it ringing 'round in my head for several weeks. Unfortunately, Mr. Stapleton is said to have left the band after this album was completed, but if this record is a indication of what he (and they) are capable of, I'm sure there's more good stuff to come. Anyway, if you're looking for something that really puts a new twist on a traditional sound, you'll definitely want to check this one out.

The Stone River Boys "Love On The Dial" (Memphis, 2010)



(Produced by Dave Gonzales)
Sort of an all-star Americana set, with Dave Gonzales of the Hacienda Brothers, along with songwriter Mike Barfield and superpicker Dave Biller, as well as fellow Hacienda bro Hank Maninger, Scott Esbeck of Los Straitjackets, and a bunch of their pals, on a wide-ranging, good-natured set. These are some of the same guys who worked on the final Hacienda Brothers album, after the passing away of Chris Gaffney. To be honest, I didn't care much for the vocals, but the songwriting and musicianship are top-notch. Particularly striking are songs like "Can I Change My Mind" and "Lover's Prison," which have the delicious feel of off-the-radar commercial country novelty songs of the early 1970s, a feeling that is greatly enhanced by the liberal use of the baritone guitar, that goofy, rumbling bass-like twang that was such a big part of country radio in the Billy Sherrill era. Clearly these fellas had a lot of fun making this record, and you might have fun with it, too!
Mark Stuart & The Bastard Sons "Bend In The Road" (Dualtone, 2009)



Dave Stuckey & The Rhythm Gang "Get A Load Of This" (HighTone, 2000)



I always suspected that Dave was the brains behind the late, great Dave & Deke Combo, and that Deke just had the looks... Now, with the release of Dave's first solo album, my suspicions are confirmed. This is a flat-out awesome ton of fun -- Dave Stuckey playing upbeat western swingabilly along with a passel of hot-shot pickers from Austin and surrounding environs. Among the musicians pitching in on here are the picker's pickers, Biller & Wakefield, Whit Smith and Elana Fremerman of the Hot Club of Cowtown, and several other Gang members of equal note. The best part, though, is Dave himself. Half the songs on here are his originals, but they're so true to the style that you'd easily believe they were written back in the '40s and '50s, along with the oldies by Boudeleux Bryant, Benny Goodman and Harold Hensley. Stuckey is a for-real scholar of authentic, old-time, smirk-while-you're-singin' countrybilly music, and he stands heads above many other would-be retro-novelty singers, in his depth of knowledge, his excellent comic timing and feel for the material. (Plus, as a big Decca Records fan, I really dig the album art!) If you dug the Combo, you gotta check this album out.
Trent Summar & The New Row Mob "Trent Summar & The New Row Mob" (VFR, 2000)

Trent Summar & The New Row Mob "Live At 12th & Porter" (DCN, 2003)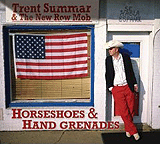 Trent Summar & The New Row Mob "Horseshoes And Hand Grenades" (Palo Duro, 2006)



Yeahhhhhh!! Let's hear it for the dark underbelly of Nashville! Songwriter Trent Summar is doin' fine for himself as a Music City songsmith (you might recognize his Steve Earle-styled rebel anthem, "Guys Like Me," from its earlier incarnation on a Gary Allan album...) but he's also one helluva alt-ish hard country artist all on his own. This is a flat-out awesome, smokin' set of hard-edged, cheerfully rowdy, rollicking material, from the twangy title track, to the power-chord, Southern Rock heaviness of "She Knows What To Do," kind of the guys-eye view of the Gretchen Wilson schtick. One song stands out as a potential Top 40 smash: "Supposed To Do" is a mournful, shimmering ballad about all the things that add up, in their little way, to a broken heart: the truck that took her away, etc., and while I could easily see any number of Nashville stars taking this one on, Summar's own vocals are perfect on this tune... In a just world, a song like this should sail to the top. Other highlights include "Really Never Loved Her Anyway" (another fine novelty song) and "Girl From Tennessee," which extols the virtures of the local gals, and is a fine tune, despite strong thematic (and structural) similarities to Willis Alan Ramsey's "Northest Texas Women..." The only weak note on the entire album is Summar's cowpunky rave-up on his cover of the George Jones oldie, "He Stopped Loving Her Today," but one dubious tune stacked up against ten winners ain't a bad ratio. This disc is highly recommended.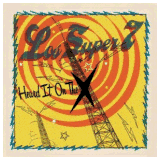 Los Super Seven "Heard It On The X" (Telarc, 2005)


In its original incarnation, Los Super Seven presented a gleeful pastiche of Latin American musical styles, spanning the Americas, North and South, and exemplified the wide range of cultural expression Latino culture has wrought. In this third disc, the amorphous Super Siete project has considerably narrowed its focus, honing in on the roadhouse blues of the Southwestern United States, and even more specifically on the Texas roots-rock sound. The guys from Los Lobos have bowed out (for now), but Joe Ely, Freddy Fender and Rick Trevino are holdovers from the first album, joined by Rodney Crowell, John Hiatt and Lyle Lovett, alt-country old-timers who have little chance to demonstrate their well-documented affinity for Tex-Mex music, as this disc tends towards the thumpy and muscular end of the musical spectrum. I, for one, miss the old band's emphasis on softer, bolero-style music, as well the more distinctly Latin touch that seems to have been set aside this time around... I'm sure this album will find an enthusiastic and welcoming reception among the more blues-and-rock oriented wing of the Americana audience, though others may find it a bit heavy-handed.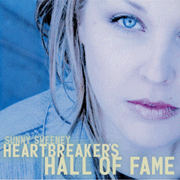 Sunny Sweeney "Heartbreaker's Hall Of Fame" (Self-Released, 2006)



God bless Texas! That little state has got more real country music in its little finger than the rest of the country has in its collective craw. Newcomer Sunny Sweeney is the latest example of the Lone Star State's amazing ability to produce the sort of super-twangy, super-indie honkytonk that makes folks like me look forward to tapping our toes and drinking our beers for year to come. Possessed of a squeaky little rasp that seems equal parts Tanya Tucker and Iris Dement, Sweeney sings with true conviction and pure delight, infusing each song with sincere emotion and a swinging sense of fun. Her band twangs along at a rapid-fire clip, slathering on sweet fiddle, pedal steel and bouncy guitar -- all pure catnip for the hard-country crowd. The song selection can't be beat, either, ranging from several great Sweeney originals to a pair of Jim Lauderdale tunes, a cover of Lacy J. Dalton's ode to Nashville, "16th Avenue," and a version of Iris Dement's "Mama's Opry" that's so achingly sincere, you'll find it hard to believe Sweeney didn't write it herself. Lauderdale makes an appearance himself, singing a fine duet on Keith Sykes' "Lavender Blue," while fiddler Bobby Flores -- a longtime indie-Texas stalwart -- helps anchor the band. All in all, a really nice record and a kickass debut that should set Sweeney on the path to win a much wider audience. Recommended! (See her website for more info: www.sunnysweeney.com )
Swingin' Doors "Unhinged" (Self-released, 1995)
City slickers from San Francisco's Mission District doing their darnest to keep it country. Not that this disc is even remotely still in print, but it does have one great song, the alcohol-infused "So Pretty, So Fast", which has a pleasantly singable spin on the whole "The Girls All Get Prettier At Closing Time" theme. Perhaps, someday when we assemble the perfect Bay Area twang collection, we can put that song in the set.
Jesse Sykes & The Sweet Hereafter "Reckess Burning" (Self-Released, 2002)

Jesse Sykes & The Sweet Hereafter "Oh, My Sweet Girl" (Barsuk, 2004)


On her debut album, Seattle's Jesse Sykes proved herself an able reinterpreter of the folk-country tradition, crafting unusual, alluring acoustic-based numbers that nodded towards an indie-rock background, but held their own on the playing field of acousto-crossover music. On her second record, Sykes delves more explicitly into rock music, with leisurely, deliberate electric guitar lines that snake through her allusive lyrics, and some of the most beautiful vocals and baffling lyrics you're likely to hear for some time. Sykes has set herself squarely in the firmament of mature, mysterious artists such as Beth Orton and Elliott Smith, singers whose melodies and songwriting will echo seductively in your mind, even if their allusive interior monologues prove impentrable to the outside world. This is an album filled with one gorgeous song after another. The meandering words draw you in, even if their meaning slips away faster than your apprehension, and Sykes herself has taken on a new gravitas as a singer, echoing the soulful depth of England's June Tabor or the incandescence of Sinead O'Connor. Sorry if I'm being too effusive, but this is a record that will stick with you for years to come, a disc you have to live with and love, an album that will change its appearance each time you listen to it, like a plain-looking river rock that becomes opalescent when wet. And, yes, the country elements are still in there -- seems like everybody in indieland loves the pedal steel these days; albums like this represent the highwater mark of its appropriation. This is a really nice record, well worth checking out.
Jesse Sykes & The Sweet Hereafter "Like, Love, Lust & the Open Halls Of The Soul" (Barsuk, 2007)

Keith Sykes "Let It Roll" (Fat Pete, 2006)



A songwriter's songwriter, Keith Sykes straps on an electric geetar and fires it up with a full band, getting into a big, Muscle Shoals-y, roots-soul groove. I found that the muscularity of the arrangements frequently pulled me away from the lyrics, which was unfortunate, since Sykes's sly, Rodney Crowell-ish vocals sound pretty swell. But folks who are into the rock-tinged work of alt-twangsters such as Robert Earl Keen, Radney Foster and Gurf Morlix will find a kindred spirit here. For those of us who like simpler stuff, his stripped-down version of Richard Leigh's sly barroom ballad, "What Are We Waiting For," will be an album highlight. Nice to hear a '70s old-timer still kickin' up some dust and causing a ruckus.


<! several other Sykes records on MP3 >

---
Alt.Country Albums - Letter "T"
---