<! MP3 07/16/09 > <! update 07/16/09 -- did Ween do more alt-twang stuff? > <! outside 00/00/00 > <! pix 00/00/00 > <! icons 12/13/10 >
---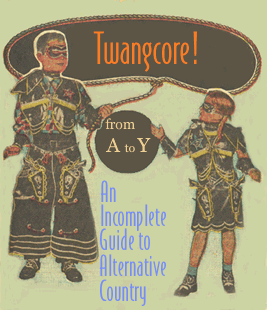 This page is part of an opinionated overview of "alt.country" music, with record reviews by me, Joe Sixpack... Naturally, it's a work in progress, and quite incomplete, so your comments and suggestions are welcome.
This is the second page covering the letter "W"
---
A | B | C | D | E | F | G | H | I | J | K | L | M | N | O | P | Q | R | S | T | U | V | W-1 / 2 / 3 | X, Y & Z | Comps | Other Country Styles
---
Ben Weaver "El Camino Blues" (30/30 Industries, 1999)

Ben Weaver "Hollerin' At A Woodpecker" (30/30 Industries, 2002)


Ben Weaver "Living In The Ground" (30/30 Industries, 2003)


Ben Weaver "Stories Under Nails" (Fugawee Bird, 2004)



Yawn. Big yawn. Someone somewhere -- oh, wait, it was MOJO magazine -- tagged this guy as a "hillbilly Leonard Cohen..." I guess everyone's entitled to their own opinion, but maybe them pasty-faced fellers over at MOJO should stick to reviewing wanky Britpop next-big-things, and leave assessments of twangy Yanks to us folks on this side of the Atlantic. 'Cause this disc is stone cold boring. It's a guy who can't sing, can't really play the banjo, and who writes painfully lame, painfully tame, incredibly flat, obvious lyrics. This is one of the most torpid, pointless records I've ever heard. It's really bad. You can skip it. Trust me.
Ben Weaver "Blueslivinghollerin" (2005)

Ben Weaver "Paper Sky" (Fugawee Bird, 2007)


Ben Weaver "The Ax In The Oak" (Bloodshot, 2008)


Randy Weeks "Madeline" (Hightone, 2000)



(Produced by Randy Weeks)
A bluesy, rootsy rock-Americana set with a singer whose voice seems suited to the power-pop genre -- earnest and emotive but a bit reedy, not your usual tough-guy growl. The songs are nice, maybe not as twangy as I'd expect from the Hightone label, but classy, well-crafted stuff. Worth checking out, though a little more in the rock-pop field.
Randy Weeks "Sold Out At The Cinema" (2004)

Randy Weeks "Sugarfinger" (Rat House, 2006)



Randy Weeks "Going My Way" (Certifiable Records, 2009)



(Produced by Will Sexton)
I was kind of surprised to see this one listed as a "rock" record, since I'd had it in my "country" pile for a while... Sure, Weeks' earlier albums had been root-rocky and rough, but I hadn't expected such an indiepoppish outing this time around. There's twang here, and rootsy blues riffs, too, but some of the best songs are closer to off-the-radar, indie lo-fi guys like Frank Bango and Michael Shelley, little wry, smartass songs of love and disaffection with echoes of the great power-pop bands. I hadn't expected it, but I dug some songs, particularly "That's What I'd Do" and the twangy "The One Who Wore My Ring." Worth checking out if you like your Americana a bit more on the bar-band side of things.


<! downloads? "That's What I'd Do" "The One Who Wore My Ring" >

Ween "12 Golden Country Greats" (Elektra, 1996)



The high-concept, uber-eclectic indie rock band known as Ween goes slumming in Nashville, paying the old-school elite of Music City's studio musicians to back them up on a crude, crass, genuinely grotty send-up of commercial country and cowpunk conventions. Buddy Spicher, Pete Wade, Hargus Robbins, Charlie McCoy and even the Jordannaires are on hand to deliver rock-solid (if possibly unsuspecting) accompaniment. While I do like Gene and Dean Ween's regular weirdo rock records, and I can appreciate the meta-joke of this album's creation, I gotta confess I wasn't that into the end result. I mean, yeah, it's kind of outrageous and scandalously funny the first time you hear it, but these musical poo-poo jokes don't really hold up... Or at least I can't see myself humming along to them for years and years to come. But if you just want to mock country music and shock yourself by listening to such wicked music... well, go for it, dude!
Mark Wehner "All Those Friends Of Mine" (Slap Happy, 1999)


Mark Wehner "That's The Way That It Goes" (Hayden's Ferry, 2003)


Don't be fooled by the butt-ugly artwork; this disc actually has a few nice, alluring tunes on it, lacing acoustic instrumentation with a folkie-honkytonk vibe. This understated album won't knock down any walls in Nashville, but it has a gentleness and individuality about it that I found appealing. A real guy making the record he wanted to make, with Shaver-esque, growly vocals and low-key arrangements. The title track and "Remember I Love You" were particularly nice.
Gillian Welch - see artist discography
Kevin Welch - see artist discography
Corinne West "Bound For The Living" (Make Records, 2003)


Corinne West "Second Sight" (Make Records, 2007)



(Produced by Mike Marshall)
An intriguing mix of bluegrass and adult-alt/folk-pop sensibilities... Hailing from the San Francisco Bay Area, Corinne West has a tinge of Natalie Merchant and Kate Bush about her, and while her pop-folk mysticism dominates the second half of the album, the twangier stuff is pretty fun at the start, particularly for folks that are into 'grassy music with lyrics that stretch beyond the genre's traditional themes. She's certainly got a wealth of high-power talent backing her up: Darol Anger, Jerry Douglas, Tony Furtado, Mike Marshall and Tony Phillips are among the newgrass heavyweights on this album, making for some pretty compelling melodic passages. Although bluegrass traditionalists won't find much here to dig into, fans of Nickel Creek and its various spinoffs might really get into it... There's a freshness that might draw them in, and it's certainly not the same-old same-old, lyrically. Worth checking out!
Corinne West "The Promise" (Make Records, 2009)


Mike West "Interstate 10" (Binky Records, 1997)

Mike West "Econoline" (Binky Records, 1997)

Mike West "Redneck Riviera" (Binky Records, 1997)

Mike West "Race That Train" (Binky Records, 1999)

Mike West "16 Easy Songs For Drill And Banjo" (Binky Records, 1999)

Mike West "Home" (Binky Records, 2001)

Mike West "New South" (Squirrel Records, 2002)


Getting increasingly tweaky and off-kilter, West takes the conventions of country, folk & bluegrass, stands them on their head, and asks them to recite the Pledge Of Allegiance in Latvian. I'm speaking metaphorically, of course -- there's actually no Latvian involved in this kooky all-American outing -- but hopefully the metaphor will help give an impression of just how weird, and how compelling his music can be. The opening track, "Dixie," lays out the parameters of this album... In it, a barroom singer relates the tale of how he threw a drink at a local patron who wanted to hear the old Confederate anthem -- West is a Southern boy, but he holds no truck with all that rebel flag redneck crap. Then, in song after song, he spins out the oddest story-song lyrics this side of Terry Allen or John Hartford; his deft character sketches, oddball delivery and unexpectedly catchy melodies should all hold your attention. This is an innovative, engaging and thought-provoking album... one of the most interesting new country rekkids I've heard in a long while!
Mike West "The Man Who Could Fall Backwards" (Binky Records, 2003)

Mike West "Oddities And Rarities" (Binky Records, 2003)

Mike West "Cornbread & Caviar" (Heartland, 2005)


Mike West "Ordinary Man" (Cowtown, 2005)


Mike West "Cowtown Playboy" (Cowtown, 2005)


---
Alt.Country Albums - More Letter "W"
---