<! MP3 07/16/09 > <! update 07/16/09 - break out Joy Lynn White, Wilco discographies; expand Webb Wilder; Jesse Winchester > <! outside 00/00/00 > <! pix 00/00/00 > <! icons 12/13/10 >
---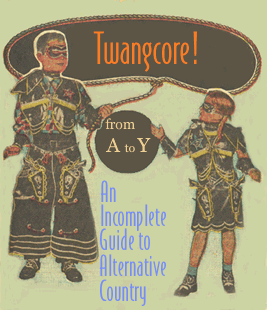 This page is part of an opinionated overview of "alt.country" music, with record reviews by me, Joe Sixpack... Naturally, it's a work in progress, and quite incomplete, so your comments and suggestions are welcome.
This is the third page covering the letter "W"
---
A | B | C | D | E | F | G | H | I | J | K | L | M | N | O | P | Q | R | S | T | U | V | W-1 / 2 / 3 | X, Y & Z | Comps | Other Country Styles
---
The Whiskey Gentry "Holly Grove" (Rambling Gypsy, 2013)



(Produced by Jason Morrow & John Keane)
Easily one of the most satisfying, twangiest alt-country albums of recent vintage... This Atlanta-based band centers around the husband-wife duo of Jason Morrow and Lauren Staley, who wrote a bunch of great original material for this album, augmented by some excellent cover tunes, including a bluegrass-baroque cover of Procol Harum's "Whiter Shade Of Pale," and a pleasantly rowdy rendition of Peter Rowan's outlaw classic "Lonesome LA Cowboy." Although the band is rock solid in a variety of styles, lead singer Lauren Staley really steals the show, projecting the same sort of soulful, rough-cut, modern-yet-rural authenicity as Natalie Maines or Maria McKee in their wilder days. The album opens with galloping, melodic alt-country honkytonk but also encompasses bluegrass and even a bit of Pogues-y Celtic twang. One of the sharpest and most appealing indie country records you're likely to hear this year -- highly recommeded!





Whiskeytown - see artist discography


<! "American Reality" by Jeff White kinda lame folk, pithced as Americana twangcore Not the same as the bluegrass artist. B001LX4J0M B001LJV9X6 >
Joy Lynn White "One More Time" (Thortch Recordings, 2005)



(Produced by Kyle Lehning & Joy Lynn White)
It took me a while to warm up to this record... White's tactical retreat from would-be Top 40 success has left her sounding pretty snarly and rugged... So if you still groove out on old Lone Justice albums or early solo work by Maria McKee, this album's really gonna stir and excite you. White also has a surprising amount of Patti Smith in her and after a while that's what drew my attention, getting me past the roots-rock power chords and crunchy, bluesy guitar riffs (which, frankly, don't appeal to me that much...) and into the songs themselves. There's at least one real masterpiece on here, Phil Lee's soul-searing "Just Some Girl," which explores the "no humans involved" phenomenon, where anonymous young women wind up dead and unmourned, their deaths uninvestigated because the cops figure they were "just" prostitutes or whatever, and nobody's going to care that they're dead. Well, the song has a bit lighter touch than what I just wrote, but it touches on the same subject matter, and it packs a real wallop... It's also one of the most musically subtle songs, and as such highlights White's strengths much better than the louder, brasher songs that surround it. Similarly, "Girls With Apartments In Nashville" is a softer meditation on tough times trying to make it big in Music City... White also has fun with a chunky cover of Allan Toussaint's "A Certain Boy" (delivered with gusto with vocal assist from fellow alterna-gal Amy Rigby...) Even though this album is a little too abrasive for me, I'm sure many Americana lovers will dig it. Definitely worth checking out!
Shannon Whitworth "No Expectations" (Self-Released, 2007)

Shannon Whitworth "Water Bound" (Thirty Tigers, 2010)


Shannon Whitworth & Barrett Smith "Bring It On Home" (Self-Released, 2012)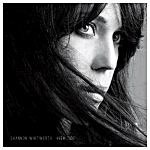 Shannon Whitworth "High Tide" (Self-Released, 2013)



(Produced by Seth Kauffman)
Delicate, windswept twang, with a strong indie sensibility; this is the fourth solo album by songwriter Shannon Whitworth, also familiar as a member of the North Carolina indie-grass band, The Biscuit Burners... Paula Frazier's work comes to mind, although I find Whitworth's vocals (and songwriting) more straightforward and more compelling... These are low-key, pop-tinged songs, combining the slowcore drift of Cowboy Junkies with a hint of the simple melodic drive of indiepop's Camera Obscura. She gets a little glum, but if any of those artist touchpoints pique you're interest, you'll definitely want to give Whitworth a whirl.


<! Shannon Whitworth "No Expectations" (Self-Released, 2007) B000UTOPHK Shannon Whitworth "Water Bound" (Thirty Tigers, 2010) B003TY2RVE B003YNE37G Shannon Whitworth & Barrett Smith "Bring It On Home" (Self-Released, 2012) B009I71R9E B008UUQXYY Shannon Whitworth "High Tide" (Self-Released, 2013) >


Cody Widner - see "Real Hicks" section





Rusty Wier - see artist discography




Wilco "A.M." (Warner, 1995)



The first record made by alt.country icon Jeff Tweedy, following the implosion of his previous band, the legendary Uncle Tupelo. It's an okay album. It's cool that they recruited veteran Texas indie-picker Lloyd Maines to play pedal steel -- I dig that guy's sound!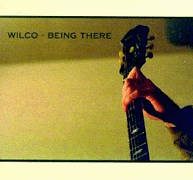 Wilco "Being There" (Reprise, 1996)



This was the record that made me loath Wilco. Or rather, seeing Wilco perform when this record came out was what made me loathe the band. I thought that singer Jeff Tweedy was too, too insufferably full of himself, radiating an overweening, obnoxiously egotistical self-love, and that his sense of his own importance (a sentiment eagerly reflected by his syncophantic audience) was way out of proportion to his marginally original accomplishments. To tell you the truth, I just couldn't stand it. Couldn't this guy just get over himself and his rock-star pretensions? My feet hurt, the club was too stuffy, Tweedy was only a few feet away, grinning like the Cheshire Cat on ecstasy, swaggering about, pretending he was the second coming of Gram Parsons (or maybe Glen Frey), and I thought, "Oh, to hell with it. Someone else will be a lot happier standing where I am right now," and I left after about five songs. Sure, I could see the appeal -- I knew why people adored the band, but I could see it wasn't gonna work for me. Anyway, fast forward a few years, and here I am updating this stupid website, and I've finally gotten to the point where I can't avoid it anymore: I must sit down and reevaluate this album. So here's what I think: basically, I was right back then, and this double-disc outing was a pretty unnecessary over-display of Tweedy's not-unmixed talents, an act of hubris that nonetheless has its moments of grace. I suppose, though, that now I'm less willing to use these discs as lemonade coasters, and the album will remain on my shelves for the foreseeable future. The same things that caught my ear in '96 pique my interest now -- the simpler country-sounding songs are nice and easy on the ears, the blatant tribute/swipe of Jackson Browne's "The Loadout" ("Red Eyed And Blue") is a pleasant surprise, even if songs about being a rock star are still kinda boring to listen to... But then the album starts to irritate me in the same places, and for exactly the same reasons. The more elaborate rock songs are too mannered and too sterile-sounding. Sure, the band's got chops, but I personally enjoy hearing at least a few technical imperfections from time to time. On a whole, the record sounds too perfect and too controlled, and as a double album, too obviously an excuse to flaunt the band's command of style and substance. It's too clever by half, and too self-congratulatory a work of art; there are some nice songs on here, but Tweedy draws too much attention to what he's doing for anyone to really have any fun listening to it. I know that most of you will vehemently disagree, but that's what I think.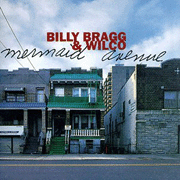 Wilco & Billy Bragg "Mermaid Avenue" (Elektra, 1998)



Dang. Wilco were such an easy band to say mean things about... So then why did they have to go off and make a brilliant record like this, that I can't help enjoying? A thoroughly fascinating album, and a unique creative endeavor -- British leftie folk-popster Billy Bragg pioneered this project, enlisting the aid of Jeff Tweedy and Wilco to bring to life some of the hundreds of unfinished or unrecorded songs left behind by folk legend Woody Guthrie. "Mermaid Avenue" refers to the address of Guthrie's longtime residence, where many of these lyrics were composed... What's amazing about this album is how clearly Guthrie's personality comes through -- these aren't his hits; nothing's recognizable here other than Guthrie's sense of humor, his playfulness and ability to engage his listeners. The other big surprise is how ably these young'uns tackle the challenge. From Billy Bragg, I expect nothing but brilliance, sincerity and reverance for the work of the master -- what's most heartening, though, is that Wilco -- a band I absolutely loathe -- shine on these albums. Part of it may be the novelty of hearing Jeff Tweedy subsume his immense, messianic ego in the service of another man's art. Regardless, the band show their chops on here, adding an easy-going grace to the songs -- they strike just the right tone of affability and whimsy to match these oddball ditties. Natalie Merchant also sings on a couple of tunes and is quite appealling in a duet with Bragg. Highly recommended!

Wilco "Summer Teeth" (Reprise, 1999)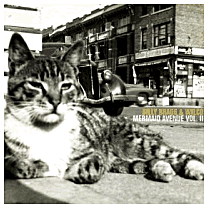 Wilco & Billy Bragg "Mermaid Avenue, v.2" (Elektra, 2000)



If anything, this second album in this series of "lost" works by the great folk hero, Woody Guthrie, is even better than the first. The most amazing thing is how it makes Wilco -- a band I loathe -- sound absolutely great. On two tracks, they prove themselves to be one of the chopsiest bands around: "Airline To Heaven," which opens the album, is one of the most irresistable songs I've heard in ages, featuring a gleefully mindless steel riff that will echo in your head for hours; on "Secret Of The Sea", Wilco perfectly captures Guthrie's oddball mysticism and wrap it into an appropriately Byrds-y vibe, thereby completing the great Guthrie/Dylan/Byrds/everybody-else folk-rock circle. As for Billy, he tackles the stern, straight leftie-political stuff, matching Guthrie castoffs such as "All You Fascists" with a humorlessness of his own. (Pity he didn't also take on some of the warmer, more whimsical material -- I always prefer Bragg when he cracks a smile...) Natalie Merchant returns for another children's ditty, and acoustic blues avatar Corey Harris joins the crew with a nice Josh White-style civil rights anthem, "Against The Law"... Nothing to complain about here -- a fab follow-up to the first Mermaid album!
Wilco/Jeff Tweedy "Chelsea Walls" (Soundtrack) (Rykodisc, 2002)


Wilco "Yankee Hotel Foxtrot" (Nonesuch, 2002)



By all accounts, this disc is a big, flying, rock-tinged "f**k you" to Wilco's old label, Reprise Records, which graciously let bandleader Jeff Tweedy tote his tapes to another wing of the Time-Warner empire, following the flagging sales of their previous multi-disc opuses. Fans may be baffled by the album's oddball production style, but by pruning out the exaggerated twangs and off-key affectations of the alt.country scene in favor of odd, electronic filigrees and eclectic, indie-rock angularities, Tweedy forces the issue of his own creative growth. By cutting his ties with the tropes of the twangcore scene, Tweedy makes it easier for us to concentrate on his songwriting, rather than the exasperatingly self-referential theatrics of demonstrating his command of the country-rock legacy of Gram Parsons, Poco and the Eagles, et al. In some ways, this disc echoes the preening vainglory of past earlier efforts, yet Tweedy deserves credit for moving beyond his status as a hipster-hick Jack Horner into a more direct, effective style of expression. I'm not sure how the faithful will take this album, but I thought it was pretty interesting. It ain't country, but it ain't bad.
Wilco "A Ghost Is Born" (Nonesuch, 2004)


Wilco "Kicking Television: Live In Chicago" (Nonesuch, 2005)


Wilco "Sky Blue Sky" (Nonesuch, 2007)


Wilco "Wilco (The Album)" (Nonesuch, 2009)



(Produced by Wilco & Jim Scott)

Wilco "The Whole Love" (Anti/Epitaph, 2011)


Webb Wilder & The Beatnecks "It Came From Nashville" (Landslide, 1987/2004)



(Produced by R. S. Field)
In the years before "Americana" became a commoditized, identifiable genre, Mississippi native Webb Wilder came out with an odd, audacious album of cowbilly rock tunes that packed a happy, confident feel with a flip attitude and a mile-wide smirk. Kind of like a kinder, gentler Jason & The Scorchers, or a less-dazzling Blasters, these guys were among the '80s roots-rock vanguard, helping pave the way for the "insurgent country" scene that would follow. The 2004 reissue of their first album includes a slew of "new" live tunes which fit in well with the live material that was already on the original LP. This isn't really my kinda alt-country, but it's certainly a noteworthy early album...


<! >

Webb Wilder "Hybrid Vigor" (Island, 1989) <! (Produced by R. S. Field) >


Webb Wilder "Doo Dad" (Zoo/Praxis/BMG, 1991) <! (Produced by R. S. Field) >


Webb Wilder "Town And Country" (Watermelon, 1995) <! (Produced by R.S. Field, George Bradfute, Webb & the Nashvegans) >

Webb Wilder "Acres Of Suede" (Watermelon, 1996) <! (Produced by R.S. Field & Scott Baggett) >

Webb Wilder "About Time" (Landslide, 2005) <! (Produced by R. S. Field) >


Webb Wilder "Born To Be Wilder" (Landslide, 2006) <! (Produced by R. S. Field) >


Webb Wilder "More Like Me" (Blind Pig, 2009)


Webb Wilder "Scattered, Smothered And Covered" (Varese Sarabande, 2005) <! (Various Producers) >


A best-of collection gathered from Wilder's three albums on the Watermelon label...
The Wilders "The Wilders" (1999)

The Wilders "On The Wings Of A Dove" (Free Dirt, 2002)


The Wilders "Spring A Leak" (Free Dirt, 2003)



The Wilders "Throw Down" (Rural Grit, 2006)



(Produced by Dirk Powell)
Listen, folks, this is the single best dang twang disc I've heard in a long, long time... At least it's the most striking -- the album opens with a blistering, foot-stomping breakdown called "Hawk's Got A Chicken And Flew In The Woods," featuring lively fiddling by Betse Ellis, then tromps along into "Honky Tonk Habit," one of the catchiest alt-country honkytonk tunes I've heard in years. This is only one of several great original songs written by the band, including the haunting post-Katrina lament, "After The Levee's Gone." Make no mistake about it: this Kansas City crew is one talented bunch of pickers... and they write some fine original songs, as well. Their sound is primarily bluegrass-based, but they are also genuinely tapped into old-school honkytonk, suggesting a much welcome blend of bluesy, Jimmy Martin-style truegrass and happy-sounding heartbreak, ala Hank Thompson or Johnny Horton. When I first put it on, this album knocked my socks off, instantly catching my attention and kept my toes tapping from start to finish. The disc was produced by old-timey superstar Dirk Powell, who adds breathless praise of his own in the liner notes... And, hey, if the Wilders are good enough for Dirk Powell, they're sure as heck good enough for me!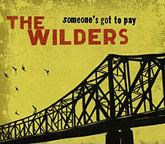 The Wilders "Someone's Got To Pay" (Free Dirt, 2008)



(Produced by The Wilders, Brendan Moreland & Dirk Powell)
WOW. This Kansas City quartet is, quite frankly, one of the most diverse, most convincing and most gratifying bands in alt-country today. I was impressed by earlier albums, but I'm totally floored by this one. It's a concept album, but it feels like a potpourri: the album opens with a clompy cowpunk tune, ala the Waco Brothers, et. al., which didn't do much for me, but then they effortlessly switch directions and lay down a sizzling, fling-ding square-dancing reel (one of several that bookend this excellent album) and stomp merrily along into an impressive mix of alt-twang, bluegrass, good old fashioned honky-tonk and some brooding, Richard Buckner-style Goth-a-billy ("Sitting On A Jury"). Highlights include "Hey Little Darlin' ", one of the finest singalong melodies I've heard in many a moon, the kind of song you'll want to play over and over until it really settles into your brain. The Wilders are an exemplary roots music band: every style they tackle, they play perfectly, hitting exactly the right emotional tone while exuding a completely authentic vibe. Obviously these folks are well-steeped in country and hillbilly lore, and while a lot of rockers-gone-twang strike poses that ring false, the Wilders absolutely do not. The only style they play here that gets short shrift is a series of piano-led instrumentals that evoke a mix of Old West saloons and Sam, the pianist from Casablanca -- these interludes are brief but tantalizing, and suggest another level of musical depth that the band might want to explore sometime. Meanwhile, twangfans will want to check this disc out -- it's one of the best country records I've heard in a long time.
Wild Ponies "Things That Used To Shine" (Ditch Dog Records, 2013)



(Produced by Ray Kennedy)
The husband-wife duo of Doug and Telisha Williams previously recorded under their own names, but the Wild Ponies moniker adds an evocative edge to their work...
Walt Wilkins "Fire, Honey And Angels" (Dead Reckoning, 2000)

Walt Wilkins "Rivertown" (Southwest, 2002)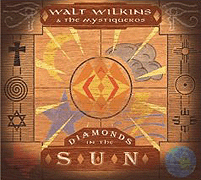 Walt Wilkins "Mustang Island" (Highway 29)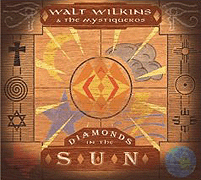 Walt Wilkins & The Mystiqueros "Diamonds In The Sun" (Palo Duro, 2007)



(Produced by Lloyd Maines)
A great set by Texas indie-twangster Walt Wilkins, a Lone Star local who made a name for himself as a Nashville songwriter, mainly through recordings by Ty Herndon and fellow Texan Pat Green... Here, Wilkins and his remarkably fluid band work in a variety of styles -- their loping cover of "Honky Tonk Road" is an album highlight, recalling the finer moments of early outlaw singers such as Rusty Weir and Gary P. Nunn, not to mention the loose-limbed ironies of Robert Earl Keen and Guy Clark... There's also a Poco-esque country-rock boogie vibe that comes out on songs such as "Diamonds In The Sun" and "You Can't Outdrink The Truth," as well as a deep, dark vein of good old, beer-soaked honkytonk... Anyone know how to pitch a song to George Jones? Because "All These Memories" would fit quite nicely into his set list... The Mystiqueros also trot their way through a brisk version of the Band's "Shape I'm In," and pay homage to Hank. Sr... All in all, these fellas make their mark as yet another fabulously talented Texas band whose records will delight indie-oriented fans for years to come... Nice record, definitely worth picking up!
Walt Wilkins "Hopewell" (Palo Duro, 2007)


Doug & Telisha Williams "Rope Around My Heart" (No Evil, 2006)



Spirited, pleasant folk-country with plenty of twang and a good sense of the music's roots... Ms. Williams sings pretty much in Iris Dement's range, which comes in handy on their version of Dement's "Our Town"; almost all the other songs are originals, including several swell ones, such as the album's opener, "Bar Room Story," and the bluesy "Bad Attitude," a novelty song with, well, a bit of a bad attitude. This is a nice effort, a little ragged at times and about as indie as you can get, packed with sincerity and earnestness, and some nice contributions from friends such as Kenny Malone and Darrell Scott. The Williamses have a similar vibe to other husband-wife duos such as Robin & Linda Williams or Holly & Barry Tashian, though with a little more of a rough edge, due in part to stylistic choice as well (one imagines) to budget constraints... If you like either of those acts, you might wanna check these folks out as well. (For more info, check out the band's website at www.dandtw.com. )
Hank Williams III/Hank Williams, Jr./Hank Williams "Three Hanks: Men With Broken Hearts'" (Curb, 1996)


Hank Williams III "Risin' Outlaw'" (Curb, 1999)



By sheer virtue of his willingness to embrace the dopier side of old-fashioned hard country, on songs like "Lonesome For You," "If The Shoe Fits" and "What Did Love ever Do To You," Shelton Williams (aka Hank Jr.Jr.) places himself outside the pale of the current Nashville mainstream, which markets high-falutin' pop constructs to an audience that places itself "beyond" the country's hillbilly roots. This is a surprisingly strong album, packed with good-natured, catchy tunes and raggedy, breakneck performances by his scrappy-sounding band. Admittedly, Jr.Jr. doesn't have a great voice, but he's got the right spirit, and he carries the message of each song quite well. His uncanny vocal likeness to Wayne Hancock is acknowledged in his covers of "Thunderstorms & Neon Signs," and two other tunes, and a shout-out in the liner notes. And, hey -- anyone who covers Terry Fell's "You're The Reason" is alright by me. I think pappy and grandpappy should be proud.
Hank Williams III "Lovesick, Broke & Drifting" (Curb, 2002)

Hank Williams III "Straight To Hell" (Curb, 2006)


Hank Williams III "Straight To Hell (Clean Version)" (Curb, 2006)


Hank Williams III "Damn Right, Rebel Proud" (Curb, 2008)


Hank Williams III "Long Gone Daddy" (Curb, 2012)


Keller Williams & The Traveling McCourys "Pick" (KW/Sci-Fidelity, 2012)



Quirky, clever folkie singer-songwriter stuff, with bluegrassy backing by the Traveling McCourys, sort of like Greg Brown with more fancy picking... Williams is a little too self-consciously clever for me, but fans of Sam Bush or Tim O'Brien might like this a lot...
Lucinda Williams - see artist discography
Victoria Williams - see artist discography
Kelly Willis - see artist discography
Jesse Winchester - see artist discography

Halden Wofford "...And The Hi-Beams" (Self-released, 2003)


Colorado cowpoke Halden Wofford joins the likes of Ray Condo, Big Sandy and Dave & Deke, blending old-fashioned hillbilly boogie, swingin' rockabilly and tasty honky-tonk rhythms, in a tasty indie-country blend. All the songs on here are originals, written by either Wofford, or guitarist Kevin Yost, though many sound like they were written way back in the '50s and learned off a scratchy old 78. Good stuff, with an authentic backwoods vibe.

Halden Wofford & The Hi-Beams "Midnight Rodeo" (Hi-Beams, 2007)



(Produced by John Macy)
A very cool set of pedal steel-drenched indie-twang, picking up where '70s bands like Greezy Wheels, Commander Cody and Asleep At The Wheel left off, with a passel of oddball original songs and some mighty fine freewheeling rock-tinged pickin'. The pedal steel playing of Bret Billings is particularly sweet and perfectly underscores bandleader Wofford's goofball vocal style. Wofford is a novelty-oriented country singer and throws himself into it wholeheartedly... Highlights include the faux-redneck novelty song, "Hippie In My House," which has a nice talking-blues kind of vibe. Fun stuff from indieville.
Halden Wofford & The Hi-Beams "Sinners & Saints" (Hi-Beams, 2010)


Halden Wofford & The Hi-Beams "Live At Hodi's" (Hi-Beams, 2012)


Halden Wofford & The Hi-Beams "Rocky Mountain Honky Tonk" (Hi-Beams, 2013)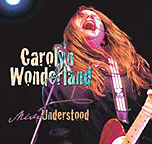 Carolyn Wonderland "Miss Understood" (Bismeaux, 2007)



(Produced by Ray Benson)
A really nice surprise here, with a powerful blast of raw, soulful blues from this throaty, rough-hewn Texas powerhouse. A Houstonite who used to front the Imperial Monkeys roots-blues band, Wonderland has made Austin her home for a while now, and is one of the finest blues singers in the area. The slashing steel guitar on this album's opening track should be enough to get your attention, and once you get to the mournful "Bad Girl Blues," a couple of songs later, this gal will have you in the palm of her hands. Sidestepping the smae-old raspy-Janis and sassy-mama Koko Taylor stereotypes, Wonderland taps into the more soulful tradition of gals such as Tracy Nelson, Marcia Ball and Lou Ann Barton. Asleep At The Wheel's Ray Benson produced this disc, and although he sneaks a teensy bit of twang in on a tune or two, he mostly plays to Wonderland's strengths and keeps it bluesy and brash. Her instincts aren't always right (a jarring rap interlude on "I Found The Lions" is just horrible, but it doesn't last long...) but raw power like this doesn't come around often and this is definitely an artist to keep our eyes on! <! February 5, 2008 >
The Wood Brothers "Ways Not To Lose" (Blue Note, 2006)



Funky twang from Chris Wood (of Martin, Medeski & Wood fame) and his brother, guitarist Oliver Wood, joined here by drummer Kenny Wollesen for a tweaky, idiosyncratic set that combines blues, Pops Staples-style reverby gospel and disjointed urban Americana-folk... Most songs are odd, discursive rambles, although they also distinguish themselves on oldies such as "Angel Band," where they summon some of the quiet power of real, old-fashioned country gospel. This should make quite a splash with the alt-country faithful... Definitely worth checking out.
Brian Wright "House On Fire" (Sugar Hill, 2011)



(Produced by Mike Vizcarra & Brian Wright)
More rock than twang, but with definite country and bluegrass components... And it's weirdo rock, for sure, with similarities to oddball artists such as Danny Barnes and the Bad Livers or Kev Russell and the Gourds, Beck, Devendra Banhart and various lo-fi types, as well as traces of Neil Young, Dylan and the Beatles, and various long-forgotten '70s freak-folk obscuros. None of the many musicians on here are familiar to me, which has an appeal in and of itself... This isn't a record I could really kick back and relax to, but it is consistently engaging and worth checking out if you're looking for something new and new-sounding.
The Wyatts "The Wyatts" (Self-released, 2005)



(Produced by Tim David Kelly)
An Arizona band with a mixture of twang and bouncy power-pop... I'm not sure I totally buy into the country side of their act, though to their credit they don't play up any egregious hick stereotypes... Mostly a bunch of songs about drinking at local dives and mooning over the barmaids; stuff like that. This didn't rock my world, but it's okay -- some songs could be more concise, but some of it's nice in an early-1970s Stones-do-country kinda way.
Wylie & The Wild West Show - see artist discography
---
Alt.Country Albums - Letters "X, "Y" & "Z""
---