<! MP3 08/19/12 > <! outside 00/00/00 > <! pix 00/00/00 > <! icons 12/15/10 > <! UPDATES: 09/30/13 - inst. >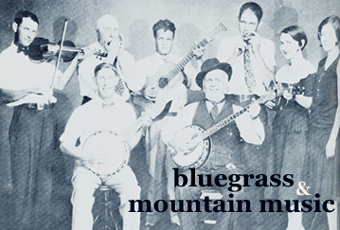 ---
Hi, there... This page is part of the Slipcue guide to various bluegrass artists, which is part of a much larger Hick Music website. This "guide" is not meant to be comprehensive or authoritative, just a quick look at a few records I've heard recently, as wella s some old favorites. Comments or corrections are invited... and recommendations are always welcome!
This is the second page covering the letter "B"
---
A | B / B-2 / B-3 / B-4 / B-5 | C | D | E | F | G | H | I | J | K | L | M | N | O | P | Q | R | S | T | U | V | W | X, Y & Z | Comps | Other Country Styles
---
Bearfoot Bluegrass "Only Time Knows" (2002)



A mostly-female bluegrass/newgrass band from Alaska... Later they shortened their name to just plain old "Bearfoot."
Bearfoot Bluegrass "Back Home" (Glacier, 2004)


Bearfoot "Follow Me" (Glacier, 2005)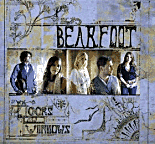 Bearfoot "Doors And Windows" (Compass, 2009)



This Alaskan ensemble has beautiful mix of luminous bluegrass and tender, confessional neo-folk, all delivered with an impeccable sense of melody and timing. The female vocals intertwine while bouncing around to the well-placed fiddle and mandolin... A sly dobro slips in and out, underscoring the playful, allusive lyrics. This is, in short, one of the sweetest and most listenable Americana-folk albums of the decade, taking deeply traditional sounds and giving them an original-sounding, soulful modernization. Very distinctive, and very nice. Highly recommended!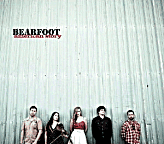 Bearfoot "American Story" (Compass, 2011)



(Produced by Brent Tuitt)
There's been a big shakeup in the decade-old Bearfoot bluegrass band, since the release of their mesmerizing 2009 album, Doors And Windows... Three of the five current members are new, including singer Nora Jane Struthers, who bears an uncanny likeness to Sarah Jarosz, both in her vocal tone and in the open-ended, poetic structure of her songs. One this album, the reconstituted band holds a likeness to Alison Krauss and Union Station, less stylistically then organizationally: the Struthers-led songs are balanced by more rugged, boyish bluegrass with more of a traditionalist feel, much the same way Dan Tyminski and Ron Block balance Krauss's modernist muse. I didn't find this album as alluring as their last, but there's plenty here to keep old fans happy and gather new ones in as well. Definitely worth a spin.
Delia Bell -- see artist discography
Wayne Benson "An Instrumental Anthology" (Pinecastle, 2003)



A very pleasant all-instrumental set, fronted by the young mandolin player from the popular band, IIIrd Tyme Out. Nice, bouncy sense of melody, with plenty of sweet, playful riffs. Occasionally drifts into David Grisman-y dawg-grass homage, but still, that's sort of to be expected, what with him being a mandolinist and all. Nice stuff!
Byron Berline -- see artist discography

Alan Bibey "In The Blue Room" (Sugarhill, 2000)



A rock-solid tradgrass set, well produced and packed with talent. Bibey's constant cohorts, such as Terry Baucomb and Tony Rice pitch in, though Bibey sets some time aside to just plain show off on the mandolin, notably on instrumental numbers such as the short, jazzy "Wild Fiddler's Rag," and the more sugary "Lee's Reel" and "Stumptowne." A few choice vocal numbers, too, with plenty of liveliness and pluck. A real class act.


<! Big Country Bluegrass "4th Time Around" (xxxxxxxxxxx, xxxxxxxxx) Big Country Bluegrass "Big Country Bluegrass" (xxxxxxxxxxx, xxxxxxxxx) Big Country Bluegrass "Up In The High Country" (xxxxxxxxxxx, xxxxxxxxx) Big Country Bluegrass "Life's Highway" (xxxxxxxxxxx, xxxxxxxxx) Big Country Bluegrass "Tomorrow I'll Be Gone" (xxxxxxxxxxx, xxxxxxxxx) Big Country Bluegrass "My Old Virginia Home" (xxxxxxxxxxx, xxxxxxxxx) Big Country Bluegrass "The Real Deal" (xxxxxxxxxxx, xxxxxxxxx) Big Country Bluegrass "Gospel Time" (xxxxxxxxxxx, xxxxxxxxx) n A Crowd Of A Thousand; Hold Me Closer, Jesus; He Took Your Place; You Better Get Ready; Happiness Is; The Man In The Middle; Church In The Wildwood; Are You Lost In Sin; Where Could I Go; His Name Is Jesus; A Few More Seasons; God's Grace; Sweet Hour Of Prayer Big Country Bluegrass "Waiting At The Homeplace" (xxxxxxxxxxx, xxxxxxxxx) Big Country Bluegrass "On Fire" (xxxxxxxxxxx, xxxxxxxxx) Big Country Bluegrass "Twenty Years Of Grass" (xxxxxxxxxxx, xxxxxxxxx) Big Country Bluegrass "Open For Business" (xxxxxxxxxxx, xxxxxxxxx) >

Big Country Bluegrass "The Boys In Hats And Ties" (Rebel, 2010)



A swell high-lonesome set, dedicated to the golden age of classic bluegrass music -- the era in which Bill Monroe, the Stanley Brothers, Flatt & Scruggs and others toured the country, duded up "in hats and ties" and brought drag-racing twang to the world. This low-key, high intensity ensemble mixes passion for the music with a pleasantly grizzled feel -- you can hear the age in their voices, complimented by the wisdom it brings, and as older players often, do they really reach into the emotional depths of each song. If you like your bluegrass gritty and true, this album might just do the trick for you!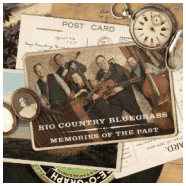 Big Country Bluegrass "Memories Of The Past" (Rebel, 2013)



(Produced by Tommy Sells & Big Country Bluegrass)
A great set of rock-solid, true-blue, old-school bluegrass, with hot picking, tight vocal harmonies and great material. Tommy and Teresa Sells are the core of this long-lived Virginia ensemble, joined here by lead singer Eddie Gill and banjoist Lynwood Lunsford, who all certainly pull their weight... and then some. This mostly-secular set has the kind of sizzle and sincerity we look for in traditionally oriented truegrass, the immediacy and simplicity that can still give you a little tingle when you hear it done right... like on this record! Give her a spin, and you'll see what I mean.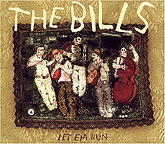 The Bills "Let 'Em Run" (Red House, 2005)



This Canadian quintet gives eclectic music a good name, spinning off from a basic bluegrassy sound into more modern terrain as well as French-Canadian and classical-tinged material. The clunky classical-inspired stuff that opens the album and bookends a few passages is the only weak spot -- it sounds like it was just plunked down in the middle of an otherwise winsome album -- but I guess you can't fault such a talented ensemble for trying to tell us that they are "classy" players, too. Overall, this is a very lively, playful set -- more than anything, it reminds me of old, early New Grass Revival records, which is fairly high praise in my book! Worth checking out.
The Biscuit Burners "Fiery Mountain Music" (Indidog, 2004)





<! also alt-country? also Fillies? > <! band included Shannon Whitworth >

The Biscuit Burners "A Mountain Apart" (Indidog, 2005)


The Biscuit Burners "Take Me Home" (Indidog, 2008)


---
Bluegrass Albums - More Letter "B"
---