<! BR-BZ > <! MP3 08/26/09, 12/15/10, 08/19/12 > <! update 00/00/00 - need to expand Jethro Burns entries > <! outside 00/00/00 > <! pix 00/00/00 > <! icons 12/15/10 > <! UPDATES: 10/04/13 - inst., new Sam Bush page, link > <! Buckhorn Mountain Boys? http://gregharness.com/the-buckhorn-mountain-boys Boise-based bluegrass band Bristol Mountain Bluegrass - several albums > <! Louisa Branscomb: http://www.louisabranscomb.com/about-louisa/discography Boot Hill, Steel Rails, (hallmark release of now classic Steel Rails) Boot Hill, Blue Ridge Memories Boot Hill Fly, Soul, Away (#2 Bluegrass Gospel Album, 1978) Gypsy Heart Gypsy Heart Louisa Branscomb, Songs of the Whimplewood (2004 Parents Seal of Excellence)) Louisa Branscomb, Time to Write a Song Louisa Branscomb, Fool's Gold Mark Newton "Follow Me Back to the Fold: A Tribute to Women in Bluegrass" (vocals, co-producer) Daughters of Bluegrass "Back to the Well" (vocals; songwriter) Daughters of Bluegrass "Pick it Like a Girl" (vocals) Dede Vogt "Reckless Angels" (banjo) Christy Snow "No Doubts, No Fears" (banjo) >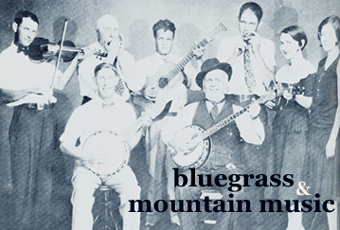 ---
Hi, there... This page is part of the Slipcue guide to various bluegrass artists, which is part of a much larger Hick Music website. This "guide" is not meant to be comprehensive or authoritative, just a quick look at a few records I've heard recently, as well as some old favorites. Comments or corrections are invited... and recommendations are always welcome!
This is the fifth page covering the letter "B"
---
A | B / B-2 / B-3 / B-4 / B-5 | C | D | E | F | G | H | I | J | K | L | M | N | O | P | Q | R | S | T | U | V | W | X, Y & Z | Comps | Other Country Styles
---
Dale Ann Bradley -- see artist discography
Brand New Strings "Stay Tuned" (Rural Rhythm, 2010)


Brand New Strings "Stay Tuned" (Rural Rhythm, 2012)



(Produced by Preston Schmidt)
A nice, short set of mostly-original, country-tinged bluegrass. Songwriters Mike Ramsey and Randall Massengill trade off on lead vocals, each with a firm grasp of high lonesome-style singing, backed with solid picking from a band of talented newcomers. The Osborne Brothers will come to mind, particularly on jaunty tunes like "Mustang Minnie," with a smidge of Jimmy Martin in there as well (and even a Jimmy Martin namecheck on "The Guitar.") A nice followup to their 2010 debut, "No Strings Attached."

Chris Brashear "Wanderlust" (Copper Creek, 1999)



(Produced by Jody Stecher)
Well-crafted, low-key bluegrass heart songs, produced by Jody Stecher, who also plays and sings throughout, as well as Laurie Lewis plunking away on the bass. A nice, unassuming country-tinged set, similar to the sweet stuff Ricky Skaggs' recorded in the early '80s. Recommended.
Chris Brashear & Peter McLaughlin "Canyoneers" (Copper Creek, 2003)






<! bandmates in the Frog Valley Trio and the Perfect Strangers > <! also on Dog Boy? >
Chris Brashear "So Long Arizona" (Dog Boy Records, 2007)



The Bray Brothers & Red Cravens "419 West Main" (Rounder, 1971)



Old-fashioned truegrass tunes from this self-taught family act from Illinois... Although the three Bray brothers -- Francis, Harley and Nate -- hailed from the industrial North, in the early 1950s they taught themselves to play bluegrass, learning their repertoire straight off of 78s by Bill Monroe, Flatt & Scruggs and other golden age greats. Along with guitarist Red Cravens, they formed a regional band that really came of age in 1960, but after a few years slogging it out at a semi-professional level, they called more or less it quits in '63. This album gathers some of their best recordings, from old tapes made for a local radio station, WHOW, over a period of several years. It's nice stuff, fluid and melodic and full of lively, enthusiastic playing... Recommended!

The Bray Brothers & Red Cravens "Prairie Bluegrass" (Rounder, 1976/2000)



A fine follow-up to the old Rounder album, 419 West Main, with another couple dozen or so songs from the Bray Brothers' early '60s radio shows, as well as a two songs released as a single back in 1963, just before the original band broke up. Even though the group's warm, friendly stage patter was a canned imitation of the professional acts they admired, it still gives a nice sense of how bluegrass and country sounded in concert, back in the goodle days. Speaking of the goodle days, a young John Hartford pops up to play fiddle on one of these tracks... He befriended them early in his own career, and helped assemble the first Bray Brothers album, using their old home tapes as source material... This is a another nice record, filled with simple, appealing, melodic truegrass... Nice stuff!
Breakfast Special "Breakfast Special" (Rounder, 1977)





<! With its top-notch musicianship , its fantastic stew of American roots music influences, and pleasurably skewed rock/bluegrass sound, Breakfast Special was a band ahead of its time, creating music that still sounds fresh and forward-looking, some 25 years later. More than anything, Richard Crooks, Kenny Kosek, Roger Mason, Stacy Phillips, Andy Statman, Jim Tolles and Tony Trischka made music that's enjoyable on many levels, walking a line between audacious experimentation and clear reverence for their traditional sources. Originally released in 1977. >
Gary Brewer "Jimmy Martin Songs For Dinner" (Stretchgrass, 1999)



A fine, heartfelt, and entirely satisfying tribute to Mr. Jimmy Martin and his country-bluegrass style. Guitarist/singer Brewer -- backed here by an all-star cast, including Bobby Hicks, Doyle Lawson, Art Stamper, and former Jimmy Martin protege J.D. Crowe -- has a rich, deep, bluesy voice, and a real nice appreciation for the material. A dozen classic compositions, including the goofy title track, which was written by Tom T. Hall... This is true-blue bluegrass at its independently produced best! This disc can be found through Gary Brewer's website, along with more info about his band.
Kate Brislin & Jody Stecher "A Song That Will Linger" (Rounder, 1988)


Kate Brislin & Jody Stecher "Blue Lightning" (Rounder, 1991)


Kate Brislin & Jody Stecher "Our Town" (Rounder, 1992)


Kate Brislin & Jody Stecher "Stay Awhile" (Rounder, 1995)


Kate Brislin & Katy Moffatt "Sleepless Nights" (Rounder, 1996)


Kate Brislin & Jody Stecher "Heart Songs: The Old Time Country Songs Of Utah Phillips" (Rounder, 1997)



Kate Brislin & Jody Stecher "Songs Of The Carter Family" (Appleseed, 2000)



This Bay Area duo has long been a potent force in the old-timey revival scene, and here they capture the plaintive emotional longing of the Carter Family sound, although their take on things may be a bit softer and less desolate (and/or rowdy) than the Carters themselves. Still, this is pretty sweet and certainly loyal to the material. Nice stuff.
Dan Brock & Louise Brock "Kentucky Songbag" (Donerail Records, 1968) (LP)


(Produced by Dan Brock)
A slightly odd album, but it's one of the earliest examples of J. D. Crowe working as a bandleader, with Bobby Sloane and Doyle Lawson backing him up... Apparently singer Dan Brock was also the founder of the Donerail label, which was affiliated with the Lexington-based Lemco label, which produced some cool independent 'grass albums in the late '60s... At the bottom of the liner notes for this disc, Crowe's first album, Bluegrass Holiday is also listed for sale, with Brock as the guy you send four bucks to, to have it sent to you postpaid(!) (Those were the days!) Anyway, this is a sprightly set of fairly staid folksong performances by Dan and Louise Brock, who cite the esteemed John Jacob Niles as their main inspiration... Their vocals are pretty "folk scene" sounding, and the fact that they were backed up by the core members of what would become one of the greatest bluegrass bands in the world seems to have been almost a coincidence. The two styles mesh well, though the Kentucky Mountain Boys (as they were called then) keep mostly in the background, with Crowe's (or Lawson's) banjo being the most prominent instrument in the mix. They get to stretch out instrumentally on a couple of tracks on Side Two, but for the most part this is kind of a work for hire album. Nice set of Kentucky-related folklore, though, with a mix of standards and oldies from popular song (Stephen Foster, et. al.), gospel, and a few contemporary tunes like "Coal Tattoo." Definitely worth a spin!
David Bromberg -- see artist discography
Alison Brown -- see artist discography
Dewey Brown "Traditional Fiddle -- With Dr. Ralph Stanley And The Clinch Mountain Boys" (Dewbug, 2006)


Hylo Brown "...And The Timberliners: 1954-1960" (Bear Family, 1992)


Absolutely killer! Brown is an under-remembered but nonetheless awesome melodic bluegrasser, sort of along the lines of early Mac Wiseman, but with a harder, more driving instrumental edge. A slam-bang 2-CD set of prime material from the mid-to-late '50s, with a great mix of old-timey and original material. Around the same time these recordings came out, Brown was also serving a stint a with Flatt & Scruggs, developing the showmanship he took into his own work as a bandleader with the Timberliners. He also wrote several great country songs, including "Lost To A Stranger" and the novelty hit, "The Grand Ole Opry Song." This is about as good (and as sweet) as 'Fifties truegrass gets... Recommended!
Hylo Brown "Lovesick And Sorrow: 16 Greatest Starday Recordings" (King/Starday, 2003)



After his stint with Capitol, Hylo Brown moved to the Starday label, where he recorded the four albums this collection draws from, 1961's Bluegrass Balladeer, Bluegrass Goes To College, Hylo Brown Meets The Lonesome Pine Fiddlers from 1962 and Sing Me A Bluegrass Song from '63. Each album is represented by four songs; some of the material seems kind of by the numbers -- this was the period when Nashville was trying to coopt the '60s folk scene, and sometimes they just trotted their way through the material -- but some of it is quite sweet. This isn't as sublime a set as his earlier Capitol material, but it'll grow on you, sure enough. Not electrifying, but still pretty solid.
Hylo Brown "In Concert" (Copper Creek, 1996)






<! "This live concert recording from 1959 was recorded at The New River Ranch in Rising Sun, Maryland. It is especially welcome since there is so little vintage material available from the redoubtable Hylo Brown, so nicknamed because his natural vocal range in his prime extended from a warm, rich baritone at bottom to a sweet, high tenor on top; he often sang falsetto as well. Brown recorded an album's worth of classic bluegrass material for Capitol in the early fifties, played bass for Flatt and Scruggs during the late fifties, and led his own Timberliners, featured here, after that for a time, including a stint as a sort of second unit to Flatt and Scruggs for Martha White Mills. This recording features Hylo's legendary voice and guitar along with an excellent band featuring Jim Smoak on banjo, Tater Tate on fiddle and Jay Bailey on bass in a program of oldtime bluegrass bound to please aficionados of the traditional repertoire." > <! PARTIAL: Hylo Brown "Hylo Brown" (Capitol, 1959) Hylo Brown "Bluegrass Balladeer" (Starday, 1962) Hylo Brown "Bluegrass Goes To College" (Starday, 1963) Hylo Brown "Sing Me A Bluegrass Song" (Starday, 1963) Hylo Brown "Hylo Brown and The Timberliners" (Rural Rhythm, 1966) Hylo Brown "Sings Folk Songs Of Rural America" (Rural Rhythm, 1967) Hylo Brown "Legends & Tall Tales" (Rural Rhythm, 1967) Hylo Brown "Sings Country Gospel Songs" (Rural Rhythm, 1967) Hylo Brown "Hylo Brown And The Blue Ridge Mountain Boys" (Rural Rhythm, 1968) Hylo Brown "Sings The Blues" (Rural Rhythm, 1968) Hylo Brown "America's Favorite Balladeer" (Rural Rhythm, 1968) Hylo Brown "Hylo Brown & The Timberliners, 1954-1960" (Bear Family, 1992) Hylo Brown "20 Old-Time Favorites" (Rural Rhythm, 1997) (Re-Issue of "Hylo Brown and the Blue Ridge Mountain Boys") >
Hylo Brown "Sings Blue Grass With 5-String Banjo" (Diplomat, 1964) (LP)


A nice, relaxed, no-muss, no-fuss set with kind of a folk-scene feel. Actually, these tracks come from sessions cut a couple of years earlier for the Starday label and were released (and re-released) an a variety of Starday, Gusto and Guest Star albums over the years. Still, it's a good collection, and has a cohesive feel. Most of the songs are traditional maountain music, though there's one standout track of more modern vintage, the slightly kooky novelty song, "Busy, Busy Man," which features cool dobro work, possibly from Shot Jackson, who was in the Starday orbit at the time. Worth a spin!


<! Hylo Brown (Josh Graves/Shot Jackson [dobro], Curtis McPeak/Joe Drumright [banjo], Junior Huskey [bass], Chubby Wise [fiddle]. Producer: Tommy Hill) >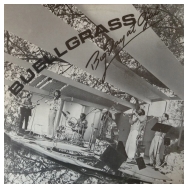 Buellgrass "Big Day At Ojai" (K2B2, 1983) (LP)


(Produced by Buell Neidlinger & Marty Krystall)
When David Grisman and his crew set their sights on forging a jazz-bluegrass crossover, they beelined to a relatively obvious choice of repertoire, the melodic, lead-oriented, highly simpatico 1930's gypsy jazz of Django Rinehardt and Stephane Grappelli... Grisman's "dawgjazz" set the tenor and pace for the space-grass of the era, but on this sweet, swinging live performance, bassist Buell Neidlinger taps into potentially more challenging jazz founts, the music of Charlie Parker and Thelonious Monk, as well as the smooth swing of Mercer and Duke Ellington. His sextet includes Andy Statman on mandolin (and clarinet!) as well as fiddler Richard Greene and distinctly un-Appalachian contributions from saxophonist Marty Krystall and Peter Ivers on harmonica. It's a nice blend; the performances are smooth but heartfelt, and the recording quality from this 1981 live show is quite good. The shadow of Grisman still looms large, as heard on Statman's Grisman-esque solo in the sprightly version of Hoagy Carmichael's "Stardust" which kicks the album off... But Beull and company go elsewhere, paying homage to the age of jazz standards with some concise, elegant musicianship, including a dash of klezmer when Statman plays clarinet. Acoustic swing fans will definitely want to check this out.
Buellgrass "All Strung Out: Adventures In Buellgrass" (K2B2, 1996)


This is a CD reissue of the Big Day At Ojai album reviewed above...


<! West Coast native Buell Neidlinger is joined by some excellent musicians here on an album that delves into some more modern sounds with generally good results. We can t think of another record that contains material as diverse as DeFord Bailey, Bill Monroe and Thelonious Monk, but the fact that it works is a tribute to the material itself as well as some imaginative picking by the artists, who include fiddlers Richard Greene, Darol Anger and Robert Bowlin. The disc features 3 or 4 cuts each by hitherto obscure groups named the Muffinlickers, The Ratchet Brothers, The Stringlickers, and Buellgrass-1982. The one constant is Neidlinger, who plays either cello or bass on all the tunes. Most traditional of these combos is the Ratchet Brothers, a trio that includes Robert Bowlin and Danny Barnes their tracks include a solid and pretty straight version of Bill Monroe s LEFT ON THE STREET. Greene & Anger s twin fiddles join with Neidlinger s interesting cello work for a quite successful version of OLD DANGERFIELD and the bluesy NEW ORLEANS TO MISSISSIPPI, and Greene s fiddling is also heard on a nice version of DANNY BOY as well as tunes from Jazz giants Ornette Coleman and Thelonious Monk. Ruthie Dornfeld and Paul Elliot (Stringlickers) put forth some very nice sounds on HORSESHOE BEND (an old Stripling Brothers tune) and EVENING PRAYER BLUES (from DeFord Bailey) these all aided by the cello of Neidlinger as well. --County Sales Bassist/cellist and producer Buell Neidlinger goes beyond being eclectic with All Strung Out: Adventures in Buellgrass, melding instrumental interpretations of little-known bluegrass gems by Bill Montoe and new acoustic reworkings of jazz pieces by Thelonious Monk and Ornette Coleman. Culled from more than 20 years of recordings,this 13-track compendium showcases Neidlinger s playing in a variety of settings. His innovative bass playing is heard on tracks recorded in 1982 with Buellgrass, featuring Andy Statman (mandolin), Richard greene (violin), and Peter Erskine (drums). His cello is featured on pieces recorded in 1996 with the Muffinlickers, featuring Greene and Darol Anger on violins, and in 2005 with the Stringlickers, featuring Ruthie Dornfeld and Paul Elliot on violinis. On either instrument, Neidlinger s mastery is evident. --C.H. - Dirty Linen No. 135 April/May 2005 >
Buellgrass "Across The Tracks" (K2B2, 1983)


(Produced by Buell Neidlinger & Marty Krystall)
This is a CD reissue of the Big Day At Ojai album reviewed above...
Luke & Jenny Anne Bulla "Luke & Jenny Anne Bulla" (Rounder, 1992)



There have been a lot of youthful prodigies in the bluegrass world -- Ricky Skaggs, Mark O'Connor, Chris Thile, et. al. -- but these fiddle-playing siblings rank pretty high up there. Jenny Anne was ten years old(!) and Luke was eleven when these recordings here made, and man, talk about talent to spare! A dazzling debut by two preteens who grew up steeped in the sweet'n'rugged Texas fiddling style... Nice stuff!


<! These remarkable young fiddle players (Luke was 11, Jenny Anne 10 at the time of this recording) have mastered the intricacies of "Texas" style contest fiddling as well as players much older. Accompanied by their father, Brad Bulla, on guitar, Jim Wood on tenor guitar, Tom Adams on banjo, Butch Baldassari on mandolin, and Mark Schatz on bass, Luke and Jenny Anne work their way through a program of standards including Sally Anne/ Brilliancy/ Tom And Jerry and Grey Eagle (very nicely done by Jenny Anne.) Two more cuts worthy of note are the twin fiddle standard Tallahassee/ Dusty Miller and a chop stretching Milk Cow Blues/ Lady Be Good medley. All in all, a fine example of contest style fiddling regardless of the performers' age. Nice liner notes by Mark O'Connor. > <! they've made a *bunch* of "Fiddle For Kids" videos >

Becky Buller & Valerie Smith "Here's A Little Song" (Bell Buckle, 2008)


Jethro Burns "The Puritan Sessions" (Freeland, 1998)

Jethro Burns "Swing Low Sweet Mandolin" (Acoustic Disc, 1995)


Jethro Burns "Bye Bye Blues" (Acoustic Disc, 1997)


Jethro Burns & Tiny Moore "Back To Back" (Acoustic Disc, 2005)



(Produced by David Grisman)



<! "Back To Back" presents music that resulted from an historic 1979 summit of two superb jazz mandolinists, Tiny Moore and Jethro Burns. Both were 59 years old at the time and full of maturity and vitality in their playing. This 2004 release includes a second disc of previously unreleased alternate takes and a bonus track ("Maiden's Prayer"). At the session, Moore and Burns were accompanied by some stellar musicians -- Eldon Shamblin (guitar), Ray Brown (bass) and Shelly Manne (drums). Producer David Grisman also plays on three tunes (Moonlight Waltz, Tiny's Rag, Maiden's Prayer), and the third mandolin imparts a powerful intensity particularly on the slower tunes. >
Pat Burton "We've Been Waiting For This" (Flying Fish, 1974)


(Produced by Michael Melford)
This was one of the earliest releases on the Flying Fish label, an eclectic, freewheeling doozy of a bluegrass-indiebilly album featuring singer-guitarist Pat Burton and a bunch of his pals. These included fiddler Vassar Clements, mandolinist Michael Melford, two of the surviving Bray Brothers -- Harley Bray on banjo and Francis Bray on bass -- and alt-twang ringleader John Hartford singing and playing a little bit of everything as well. Burton had been hanging around with and playing bands with these guys for years, since the mid-1950s, and is probably best remembered for his work with Hartford, particularly on the Slumberin' On The Cumberland album, and he shows a lot of the same self-effacing, good-natured sense of humor and genre-busting musical virtuosity. The album kicks off with the half-rueful "Hit Song," a novelty song that speaks for the legions of talented living room pickers who will never hit the bigtime, as well as "Ode To Country Music," which further elaborates Burton's love of good, old-fashioned twang. He wrote half the songs on here, including "Jane Russell No.3" and "Jane Russell No.11," and on the rest of the record dips liberally into old-timey music and traditional country, with some sweet tunes by the likes of Bradley Kincaid, Hank Snow, Lester Flatt and Hank Thompson. Clements gets a chance to shine on a cover of Thompson's "The Older The Violin, The Sweeter The Music," and Burton ends the album with some truly fine gospel singing with a gospel that included Harley and Shela Bray, on a nice version of "Heaven's Light Is Shining." Apparently this was the only album Burton released under his own name, although he got equal billing with Hartford and Martin on the Cumberland album, and he jammed with a lot of artists over the years. If you see this one, pick it up -- it's pretty fun!


<! FF# 005 > <! I believe he passed away at some point, but couldn't find out when after looking online for about a half hour in 2014 >
Pat Burton/John Hartford/Benny Martin "Slumberin' On The Cumberland" (Flying Fish, 1979) (LP)





<! (JohnHartford [vcl/banjo/fiddle], Pat Burton [vcl/gt], Benny Martin [vcl/fiddle/ukulele],Sam Bush [mandolin],Buddy Emmons [steel], Roy Huskey Jr. [double bass], Henry Strzelecki [el bass], Larrie Londin [drums], Hargus "Pig" Robbins [piano]) >
Buzz Busby "Going Home" (King/Starday, 2003)



A delicious collection of all the studio recordings mandolinist-bandleader Buzz Busby made for the Starday label in the late 1950s. It is some mighty sweet stuff, with creative picking framed by interesting acoustic dynamics, an unusual sonic space carved out on tunes like the "Buzz's Ramble," a bright, fast-paced instrumental with a teeny echo thrown on to accent the inventive melodic and tempo twists that Busby seemed to favor. Pretty damn fast, too. Notable sidemen include Charlie Waller and Bill Emerson of the Country Gentlemen, who have no trouble keeping up with the blistering, jaw-dropping pace Busby would set whenever he felt like it... Bluegrass musicianship simply doesn't get better than this. If you like Golden Age truegrass by the likes of Mac Wiseman and Jimmy Martin, then this disc is an absolute must for you to pick up. It's a winner!!
Sam Bush -- see artist discography
Robert Byrd "U.S. Senator Robert Byrd: Mountain Fiddler" (Rebel, 1978/2010)



(Produced by Barry Poss)
A much-welcome reissue of Sen. Robert Byrd's 1978 bluegrass album, a fine set of authentic West Virginia Americana... And, yes, it's that Robert Byrd, the eminent, recently departed Senate leader who gradually shifted his politics from ardent segregationism to support of various civil rights measures, and who ended his career as the longest-serving member of the United States Congress. Byrd was an avid amateur fiddler, and liked to break out the bow at political rallies and social functions. This album was, admittedly, a bit of a vanity project, but it's still pretty fun. The Senator's style is pretty ragged, more old-timey than bluegrass, although he finds strong and sympathetic backing from guitarist Doyle Lawson and his cohort, James Bailey and Spider Gilliam. It's an engaging, vivacious performance, and certainly an interesting historical footnote. And way better than any of those songs that Orrin Hatch wrote, that's for sure.
---
Bluegrass Albums - Letter "C"
---