<! MEA-MZZ > <! MP3 09/10/09 > <! update 09/10/09 > <! outside 00/00/00 > <! pix 00/00/00 > <! icons 12/16/10 > <! JAMES MONROE albums > <! MISTY RIVER - also in H.Fillies > <! ALAN MUNDE Lee Moore "Sings Radio Favorites Of Country Music" (Rural Rhythm) c. 1963 Leon Morris & The Bluegrass Associates "Places And Friends I Once Knew" (Country Records, 1979) (LP) Leon Morris "Walkin' Home To Pittsburg" (Musical Markets, Inc, xxxx) (LP) B00C47UEHQ (Produced by Leon Morris & Marvin Myrtle) - Mike Auldridge plays dobro, Bob Wilkerson banjo - bluegrass, I guess - Morris was a guitar picker The Mountain Four "West Virginia Bluegrass Gospel" (Carpenter's Records, 1974) (LP) (Produced by Bill Carpenter) - recorded December, 1973 Leon Morris & Bluegrass Associates "Places And Friends I Once Knew" (Country Records, 1979) (LP) B00AG8HHPC - the associates include Mike Auldridge and Larry Stephenson (mandolin) - from Canada - several originals, including the title track and "I'm Wondering If You're Ever Coming Back" > <! Middle Spunk Creek Boys "Middle Spunk Creek Boys" (xxxxxx, xxxxxx) (LP) INcludes covers such as "Faded Love," "Glendale Train," Peter Rowan's "Midnight Moonlight" and some originals by bandmember Rudy Darling. Other members: Jerry Flynn, Alan Struthers, Al Jesperson Bill Millsaps "The Good Things Outweigh The Bad" (Antieram, 1980) (LP) - with John Hartford, Kenny Baker, Josh Graves, Rick Campbell and Roy Huskey, Jr. - died in 2009: "...William Roland "Bill" Millsaps, age 60 of the Cochrans Creek Community of Robbinsville, passed away Monday, January 26, 2009. He was a native of Graham County and the son of William Arthur Millsaps of Robbinsville, and the late Erma Jean Turbeville Millsaps. In addition to his mother, he was preceded in death by his grandparents, Ed and Fannie Rogers Turbeville and Jeff and Ida Shope Millsaps all of Robbinsville. For many years Bill was the leader of the Snowbird Mountain Boys bluegrass band, writing and recording many songs. He was also instrumental in compiling data for the Graham County Heritage Book and was editor of the Native Mountaineer Newspaper for three years. His greatest pleasure was teaching fiddle and mandolin music to the children enrolled in the Stecoah Valley Center after school program." Mountain Valley String Band "First Ride" (xxxxxxx, xxxxxx) - Arkansas band - recorded in Hot Springs - won an award in 1981, per liner notes - Roger Ennis (g, v), Nancy Ennis (fiddle), Ken Stroker (mandolin), R. L. Garrett (bass), Don Knowles (banjo) - no ASIN 01/13/15 >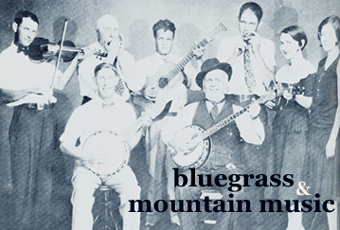 ---
Hi, there... This page is part of the Slipcue guide to various bluegrass artists, which is part of a much larger Hick Music website. This "guide" is not meant to be comprehensive or authoritative, just a quick look at a few records I've heard recently, as well as some old favorites. Comments or corrections are invited... and recommendations are always welcome!
This is the second page covering the letter "M"
---
A | B | C | D | E | F | G | H | I | J | K | L | M / M-2 | N | O | P | Q | R | S | T | U | V | W | X, Y & Z | Comps | Other Country Styles
---
Michael Melford "Mandolin Fantasy" (Flying Fish, 1976) (LP)





<! with Douglas Dillard, Rodney Dillard, Buddy Emmons, John Hartford, Roy Huskey, Buddy Spicher >
Jim Mills "Bound To Ride" (Sugar Hill, 1998)






<! On this noteworthy debut, Mills showcases the sparkling banjo playing that he's honed during stints with Doyle Lawson and Ricky Skaggs (who sings lead on the breakneck title track). This is straightforward, hard-charging bluegrass that's more concerned with powerful picking than with innovation. Mills coaxes the goods from stalwarts such as Stuart Duncan (who improves everything he touches), Jerry Douglas, Tim Stafford, and Adam Steffey while proving that he's right at home in such fast company. Mills's own banjo style is steeped in tradition, often featuring distinctive bends and slurs that add considerable character to the sound. Standout instrumentals such as J.D. Crowe's "Bear Tracks," Don Stover's "Rockwood Deer Chase," and Ralph Stanley's "Big Tilda" lead this train down the line. >
Jim Mills "My Dixie Home" (Sugar Hill, 2002)



A straightforward, melodic, all-traditional album by Ricky Skaggs' banjo picker, with nice vocal contributions from Skaggs (on the title track), Tim O'Brien, Dan Tyminski and Paul Brewster. It's nice to hear Mills lift himself out of Skaggs' oft-times, overly slick crossover style and simply bang out a pure-sounding truegrass album. This doesn't send shivers down my spine the way an old Stanley Brothers song might, but it's still pretty darn good.
Jim Mills "Hide Head Blues" (Sugar Hill, 2005)


Bruce Molsky & Bob Carlin "Take Me As I Am" (1990)


Bruce Molsky "Lost Boy" (Rounder, 1996)



Bruce Molsky "... & Big Hoedown" (Rounder, 1997)



Fiddler and banjo picker Bruce Molsky may be the preeminent old-time musician of his generation -- he's certainly one of the most highly regarded, and his fab albums on Rounder will show you why. Working here with a fiesty trio, Molsky perfectly captures the raspy, bouncy playfulness of old-timey music. His song selection is all first rate, and the record is captivating from beginning to end. Highly recommended.

Bruce Molsky "Poor Man's Troubles" (Rounder, 2000)



Another wonderful album. Here Molsky takes some of the twang out, replacing it with a sorrowful drone, akin to some of Norman Blake's best stuff. The song selection is uniformly great, and the playing -- with high-powered assistance by the likes of Darol Anger, Martin Hayes and Dudley Connell -- is first-rate. Smooth, captivatingly melodic and accessible, but undeniably and richly authentic. Recommended!

Bruce Molsky/Michael Doucet/Darol Anger/Rushad Eggleston "Fiddlers 4" (Compass, 2002)



Molsky's old-timey fiddling rubs up against the eclectic bowings of cajun music legend Michael Doucet, spacegrasser Darol Anger and classical wunderkind Rushad Eggleston... It's a pretty classy crossover operation, which glides from style to style. The sugary excesses of newgrass fusion and the raspy clatter of the old-timey are both toned down a bit, and this disc is nice and listenable from beginning to end. A fiddle fan's dream.

Bruce Molsky "Contented Must Be" (Rounder, 2004)



Traveling from triumph to triumph, Molsky has come out with yet another that fans must laud as the best one ever. This time around the talented multi-instrumentalist mainly sticks to the fiddle (for twelve songs out of seventeen), and plunks and picks some mighty fine banjo and guitar on the other five tracks. The material is all old-time stuff gathered by folklorists of years gone by, and able acoustic accompaniment is provided by Darol Anger, Dudley Connell and others, including Irish-American icon Mick Moloney (veteran of numerous top-flight Celtic bands.) Retaining the antiquated rasp of authentic American mountain music, while introducing a compelling melodic sweetness, Molsky has once again set the standard for the genre. Highly recommended!
Bruce Molsky "Soon Be Time" (Compass, 2006)



Fiddler/guitarist/banjo plunker Bruce Molsky is one of Americana's finest "old-timey" musicians, fully in command of the style's history and repertoire, and gifted with an immensely charismatic presence... On this disc, his sound has notably softened, moving away from the uncompromising traditionalism that so many favor in the old time scene into a more fluid, tranquil tone. There's a lot more "give" to his performance, and thus a lot more soul. From start to finish, this is a lovely album, one that will compel repeat auditions. The material ranges from backwoods standards learned from elders such as Ed Haley, Sam McGee and Tommy Jarrell to Scandanavian and Slavic folk, and a bit of the Delta blues... There's only one Molsky original on here, and yet he manages to make all these tunes utterly his own. Another mighty fine album.
Bill Monroe -- see artist discography
The Monroe Brothers -- see artist discography
Monroe Crossing "Across The Blue Mountains" (Monroe Crossing, 2001)






Monroe Crossing "Then Sings My Soul" (Monroe Crossing, 2002)
(Available through the band's website)


<! 12/10: still no ASIN >

Monroe Crossing "The Green Mossy Ground" (Monroe Crossing, 2003)


Monroe Crossing "On The Road" (Monroe Crossing, 2004)


Monroe Crossing "Somebody Like You" (Monroe Crossing, 2005)

Monroe Crossing "The Happy Holidays" (Monroe Crossing, 2005)


Monroe Crossing "Into The Fire" (Monroe Crossing, 2006)


<! all-gospel >

Monroe Crossing "Live From Silver Dollar City" (Monroe Crossing, 2007)


(Produced by Monroe Crossing)
A nice, laid-back live album from this down-home Minnesota bluegrass crew... This is a jes'-plain-folks, back-porch kind of affair, perfect for fans that like the way acoustic instruments sound, but tune out when it all sounds a bit too slick. Monroe Crossing have put out a bunch of albums on their own, but they're still pretty much those neighbors of yours who got a little carried away with the whole festival thing, and started doing the bluegrass band full-time. You go to all their shows and hoot and holler, both because it's fun and also because you like seeing normal folks like yourself up there onstage. I like the repertoire: these folks tilt towards the Jimmy Martin wing of old-school bluegrass, mixing country tunes like "Crazy," "Oh Lonesome Me" and Dolly Parton's "Jolene" in, along with truegrass oldies from Jim & Jesse, Jimmy Martin and -- of course -- good ol' Bill Monroe. There's a smidge of gospel and, by my count, just one original tune, "The Atlanta Church," written by bassist Mark Anderson. Monroe Crossing aren't super-hotshot pickers or an ultra-professional all-star juggernaut, but that's a big part of their appeal: they are enthusiastic and full of pep, and about as down to earth as a bluegrass band can get. If that's the kind of music you like to hear, this album will be a breath of fresh air.
Moonglow "Moonglow" (Zephyr Records, 2008)


A bluegrass/western swing mashup, with covers of Depression-era jazz standards, western swing oldies and various sentimental oldies, ranging from "The Sheik Of Araby," "Embraceable You," and Honeysuckle Rose" to more country-oriented material such as "Miles Of Texas" and Bill Boyd's "Wahoo." The main trio includes guitarist Jerry Ashford, bassist Beth McNamara and mandolin picker Joe Ross (who is also an avid bluegrass fan and music journalist) as well as fiddler Tim Crouch, who is an able accompanist, along with some steel guitar from Todd Clinesmith. There have been more electrifying string-swing ensembles, but these Oregonians certainly have their hearts in the right place, as attested to by all the Gershwin-y goodness within... Worth a spin, if you're a fan of oldies from the prewar era.
Russell Moore & IIIrd Tyme Out "Russell Moore & IIIrd Tyme Out" (Rural Rhythm, 2009)


Russell Moore & IIIrd Tyme Out "Prime Tyme" (Rural Rhythm, 2011)



(Produced by Russell Moore & IIIrd Tyme Out)
A beautiful set of tradition-oriented, contemporary bluegrass, featuring lead vocals by Russell Moore -- who gets top billing now, I guess, since he is the only founding member currently in the band. These guys have a lot of great music and great records already under their belts, and this disc will surely stand out as a highlight in their discography. Great stuff from beginning to end, and with a wide variety of styles, and several standout tracks. "Whipporwill" features an evocative, persistent refrain that echoed around in my head for days, while "Dusty" has the feel of the best early-'70s progressive 'grass. Plenty of straight-ahead picking, as well, including a nice cover of the "Sugarfoot Rag," and a number of songs dedicated to working-class families: the ennobling "Old Kentucky Farmers," the more pointed "Hooverville," and the gospel-tinged "What's The World Coming To," which closes the album. This is a melodically strong, harmonically rich truegrass collection, perfect for repeat listens for years to come. Recommended!
The Morgan Brothers "Mixing It Up Good" (Appleton Records, 1974) (LP)
(Produced by The Morgan Brothers)
Things were not what they seemed with the so-called Morgan Brothers, who were not Morgans, nor all three related. The trio hailed from Appleton, Wisconsin (near Oshkosh), where brothers Don Stiernberg and John Stiernberg (mandolin picker and banjo plunker, respectively) owned a music store... While at Ripon College, John met guitarist John Parrott, who was a transplant from New York. They formed a trio and delved into bluegrass music, though with an eclectic range seen in this scrappy set of traditional bluegrass tunes (stuff by Jim Eanes, Jimmy Martin and the Easter Brothers) augmented by a bunch of 'grassed-up cover tunes, songs by Dan Hicks, Bob Dylan, Hank Williams, folkie Eric von Schmidt, Kurt Weill(!) and the Rolling Stones. If you're up for an evening with a twangy "Mack The Knife" alongside "As Tears Go By," this Midwestern trio might be for you. The one original song on here is called "Blue Missouri Sky," written by John Parrott, though he wasn't a Midwesterner. The band had a musical philosophy they called "pro grass," which meant they indulged in a diverse range of styles, but didn't necessarily bent non-bluegrass material into traditional-sounding styles -- just using the acoustic instruments was enough; they also prided themselves on not taking on made-up Southern accents or singing all twangy, but keeping their own Northern intonations.


<! date per listing, not visual > <! The Milwaukee Sentinel - Jan 14, 1977 article - later expanded to a quartet with bass player Charlie Malec >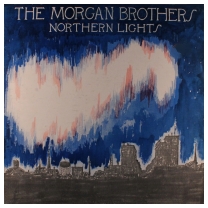 The Morgan Brothers "Northern Lights" (Blue Ridge Productions, 1976) (LP)

Lynn Morris -- see artist discography

Mountain Heart "Mountain Heart" (Doobie Shea, 1999)


Dan Tyminski co-produced this nice, fairly traditional set, which is packed with solid, (if slightly too-perfect) picking, soft-edged heartsongs, and a few slower, goopier crossover ballads. For the most part they play things pretty straight, and though it never really catches fire, for modern stuff this ain't bad. A bit on the safe side.
Mountain Heart "The Journey" (Doobie Shea, 2001)


Mountain Heart "No Other Way" (Skaggs Family, 2002)



(Produced by Ricky Skaggs)
I guess I'm just not all that wild about the perfectionist-modernist aesthetic that Ricky Skaggs envisions as the future of bluegrass... This Skaggs-produced album is okay -- inoffensive, really -- but it's just too sleek and streamlined for me, too flawlessly produced and studio-sounding. I suspect a lot of in-studio tweaking and multi-tracking went on behind the scenes, and while I realize this is the way all records are made these days, I still think it ususally doesn't feel right for mountain music. I'm sure that most anyone who likes Alison Krauss and Bela Fleck will enjoy this disc a lot; it didn't move me, though.

Mountain Heart "Force Of Nature" (Skaggs Family, 2004)



High-concept modern bluegrass with the picking kept on the mellow side, and lyrics up in the clouds. Includes several topical tunes, such as the domestic violence song, "Another Day," which takes the same violent revenge fantasy direction as the Dixie Chicks hit, "Goodbye, Earl," and the forlorn "Life She's Chosen," a somewhat condescending song about a woman who's become a housewife, rather than having a "real" career. Mostly, these guys are still too cerebral for me, although the musical end isn't as goopy as these things sometimes can be. Nice, straightforward gospel tune at the end of the disc, though!
Mountain Heart "Wide Open" (Skaggs Family, 2006)


Mountain Heart "FestivaLink Presents: Mountain Heart At Grey Fox 7/15/06" (FestivaLink, 2006)


Mountain Heart "Road That Never Ends: The Live Album" (Rural Route, 2007)



(Produced by Jim Van Cleve)
This dynamic modern bluegrass band has a new lineup and, to a degree, a new direction. Recorded live at The Ark, in Ann Arbor, this concert album captures the band going full-tilt boogie with some of their new -- or at least more pronounced -- crossover influences. The biggest change, really is with the new lead vocalist, Josh Shilling, who also plays piano and guitar, and who favors a rather showy, blues-and-soul-inflected style. I can't say I'm really wild about him. Shilling's over-emotive, white-boy Southern soul approach edges uncomfortably towards Michael Bolton territory, or actually more like old Joe Stampley records, or -- better yet -- good ole Travis Tritt. There will doubtless be many 'grass fans who will welcome the shift in tone -- some folks are eager for change and innovation in the genre, while others will see it as an intrusion. I guess I tilt more towards the latter, although I think it's the specific mix in question that bugs me, rather than the idea of fusion itself: I don't like that kind of singing in Pop music, so why should I want it in my twang? Still, if you're open-minded, and looking for something new in the bluegrass world, you might wanna check this out -- Mountain Heart are still one of the most energetic and immediate bands working in modern bluegrass, and their musicianship is still top-flight. That alone will put this on the radar for 'grass fans around the globe.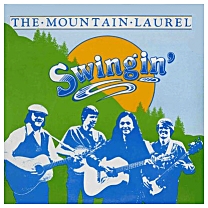 Mountain Laurel "Swingin' " (Rasputin Records, 1984) (LP)


(Produced by Calvin Zon & Peter Bonta)
This energetic quartet from Washington, DC featured lead singer Laurel Blaydes who a little too folkie a vocalist for me, with a Joan Baez-y feel, though she did write several originals for this album, including the honkytonk-themed "Barstool (I Liked Me Better The Way I Was Before I Met You)" one of several songs with a country feel. They also cover Billy Edd Wheeler's "Coal Tattoo" and, taking a cue from Asleep At The Wheel, a version of Louis Jordan's "Ain't Nobody Here But Us Chickens." They do try to do the string-swing thing, though there's a little too much propulsiveness and a little less bounce to make it work all the way. Still, if you like they style, you might wann check these folks out.


<! - Bonta listed as engineer, Zon was their manager - from Washington DC - banjo: Keith Arneson, guitar by Gerry Rothschild, Scott Andersen on bass >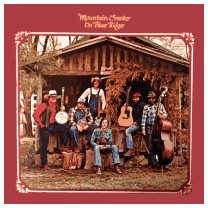 Mountain Smoke "On Blue Ridge" (Smoke Records, 1975) (LP)


(Produced by Jim Hurst & Dave Hemphill)
A decent progressive bluegrass band from Oklahoma City, OK... They are probably best remembered as an early band for future country star Vince Gill, who is credited as playing banjo, dobro and guitar, as well as singing harmony vocals (...and possibly lead on a couple of tunes? I think that's him on "Rocky Road Blues," but there aren't song-by-song credits to verify that guess...) These guys were okay, though not dazzling, and at this point were working pretty strictly in the bluegrass style -- their second record (which is reviewed in my hippie country section, but not here) had more of an outlaw country vibe. The closest thing here is a cover of Arlo Guthrie's stoner anthem, "Comin' Into Los Angeles"; otherwise, it's mostly a Country Gentlemen/Seldom Scene 'grass sound. Worth a spin, though, especially if you're a Vince Gill fan. Love that cover photo of him in longjohns and overalls!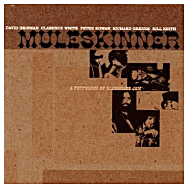 Muleskinner "Muleskinner: A Potpourri Of Bluegrass Jam" (Warner/Sierra, 1973)


For some reason, I've misplaced my beat-up old copy of the Muleskinner LP. As I recall, though, in my senile haze, it's pretty similar to the Old & In The Way album reviewed below... A spirited, but somewhat raggedy acoustic album, recorded by what was meant to be a pickup band for a Bill Monroe gig on a local TV station. Maybe this isn't the most stellar bluegrass you'll ever hear, but it's certainly not the worst. The players were all top-flight traditionalists: David Grisman, Peter Rowan, flatpicker Clarence White, banjoist Bill Keith, and fiddler Richard Greene, who'd once been in Bill Monroe's band along with Peter Rowan. This is worth tracking down, just to check out what these guys were up to at the start of the decade, and also because it has an early example of Grisman working out his vision on a new acoustic music, on his original composition, "Opus 57," which later became a staple of his famed Quintet. A classic of the '70s bluegrass scene. (Addendum: hey, it looks like someone finally reissued the Muleskinner album on CD! Thanks to the folks at Runt Records for making this disc available again!)
Muleskinner "Muleskinner Live -- Original Television Soundtrack" (Rural Rhythm, 1998)

Joe Mullins & The Radio Ramblers "Rambler's Call" (Rebel, 2010)



(Produced by Joe Mullins & Evan McGregor)
Crisp, sharp-edged, traditionally oriented bluegrass from a band fronted by banjoist Joe Mullins, formerly of the band Longview. This has a similar feel to the classic Rice-Skaggs duo and those great old Bluegrass Album Band albums...Driving melodies, a propulsive rhythm section and plenty of keening harmonies, along with a rock-solid song selection. If you like old-fashioned, no frills truegrass, you'll definitely want to check this one out!
Joe Mullins "Hymns From The Hills" (Rebel, 2011)



(Produced by Joe Mullins & Evan McGregor)
A rock-solid set of high-lonesome bluegrass gospel with some modern songwriter-y moments and Southern Gospel touches... Overall, I'd peg Mullins as a true keeper of the flame, as far as traditional, soulful mountain music goes. I liked his secular stuff as well, and thought he an his band really soared on this album. If you like to get all Jesus-y with your bluegrass, definitely give this one a whirl. Guest artists include truegrass gospel purists Doyle Lawson and Paul Williams, as well as Larry Sparks, Rhonda Vincent and the venerable Ralph Stanley... That's my kinda party!
Joe Mullins & The Radio Ramblers "They're Playing My Song" (Rebel, 2012)



(Produced by Joe Mullins & The Radio Ramblers)
A solid, swing set of no-nonsense twangy, traditional bluegrass from one of the most dynamic and dedicated bands around... The picking is beautiful, the vocals are full of soul and the sound production is sweet. Banjo plunker and lead singer Joe Mullins has been around for a while: he was the bands Traditional Grass and Longview before setting out as a bandleader, and he certainly has the confidence and clarity of a veteran performer. This album is a strong set of songs drawing from contemporary bluegrassers such as Becky Buller and Dave Evans, as well as a few originals from various Radio Ramblers and some well-chosen oldies from folks such as the Delmore Brothers, Bill Anderson and a medley of tunes from the Osborne Brothers. Great stuff!


<! Ohioan > <! "Some Kind Of War" B009I9TKJ6 - MP3 >
Joe Mullins & Junior Sisk "Hall Of Fame Bluegrass" (Rebel, 2013)



(Produced by Joe Mullins & Junior Sisk)
More zippy, high-lonesome bluegrass with dynamic picking, great vocal harmonies and a strong mix of secular and gospel material. These two guys -- each of them a bandleader in his own right -- have a strong sympatico feel and raise the duo to a lofty height. There's plenty of high-class traditional bluegrass out there these days, and these guys are making some of the best!
Conor Mulroy "Salinger" (Melmac Records, 2009)



(Produced by Conor Mulroy & Jeff Yurek)
Mandolinist/guitarist Conor Mulroy takes as his starting point the grass-classical explorations of folks such as Mike Marshall, Edgar Meyer and Chris Thile, stretching his ideas out into longer suites that are broken down into movements and parts, with long passages of bluegrass instrumentation placed into a more formal musical mold, with a hint of Celtic folk in there as well. This album (his first?) has two longer pieces, "Salinger" and "Sleeping Indian" and a shorter tune at the end, "The Conductor's Dispatch," with Mulroy on mandolin and nylon-stringed classical guitar, joined by fiddler Tristan Clarridge, bassist Corey DiMario and guitarist John McCann, who adds some Tony Rice-derived licks on a few solos. The length of these compositions can give the impression that they are a bit static, but for listeners who are into more of a contemplative,
Conor Mulroy "The Glass Ocean" (Melmac Records, 2010)

Conor Mulroy "The Unwinding Path" (Melmac Records, 2011)

Conor Mulroy "Foxfire" (Melmac Records, 2012)



(Produced by Conor Mulroy & Alex Prieto)
As with his earlier work, this album elaborates at length on a general theme -- the title piece, "Foxfire," has twm movements made up of thirteen parts, preceeded by three shorter compositions of a similar feel. Mulroy seems looser and more fluid on this set, with the melodic lilt of of Celtic music taking a more prominent role. The static, repetitive style remains: he's not quite "a bluegrass Philip Glass," but a comparison to Glass's minimalism might give a hint of the direction Mulroy has taken. He also hosts a slightly larger ensemble -- now a quintet --with bassist DiMario and fiddler Clarridge joined by a new guitarist and even a marimba player added into the mix. It's not your garden variety bluegrass, though an intriguing set for listeners who are into a more trance-y, more challenging style, as opposed to the three-minute popular song format of standard, classic 'grass.
Alan Munde -- see artist discography
Michael Martin Murphey "Buckaroo Blue Grass" (Rural Rhythm, 2009)


(Produced by Ryan Murphey)
Although we all remember weatherbeaten Michael Martin Murphey for his 1970s Top 40/AOR heyday ("...she went and called him Wiiiiiiiiiiiilldfiiiiiiiire...") and for his involvement in the early '70s Texas "outlaw" scene, he also had roots in the bluegrass world -- in addition to his association with the Monkees, he also pitched songs to Lester Flatt & Earl Scruggs, and over the years he's used a bunch of high-power bluegrass players as sidemen on his albums. So it's no big surprise, and a bit of a treat, to find him doing bouncy acoustic remakes of some of his old songs, many of which hold up remarkably well after all these years. "What Am I Doing Hanging 'Round" sounds great, and the other songs are sure to provoke smiles of recognition and nostalgia as well... Among the musicians pitching in on this understated album are mandolinists Sam Bush and Ronnie McCoury, dobro whiz Rob Ickes, fiddler Andy Leftwich and even Rhonda Vincent on harmony vocals. Murphey's voice doesn't soar up as high as it used to, but he sings with feeling and conviction -- if you're a fan, or if you just like good, simple folk-Americana, this album's a fine choice.


<! Michael's bluegrass credentials date back to when he was chosen at a young age to sing lead with Earl Scruggs Band.(? unable to verify) >

Mutual Admiration Society "M.A.S." (Sugar Hill, 2004)



A cloying collaboration between the members of Nickel Creek (Sara & Sean Watkins, Chris Thile) and Glen Phillips of Toad The Wet Sprocket fame. Soft, nebulous acoustic meanderings... Didn't really grab me. Appropriately named, though.
---
Bluegrass Albums - Letter "N"
---