<! MP3 09/15/09 > <! pix 00/00/00 > <! icons 12/16/10 > <! links 12/30/11 > <! updates: 09/15/09 12/16/10 - started a Jean Ritchie page > <! Buddy Rose "Down Home Pickin" Here's a really great bluegrass banjo album by a really great not-so-well-known banjo picker, Buddy Rose. To my knowledge, Rose played with Carl Sauceman and Carl Story at the time this album was recorded. I don't have any personnel for this album at all. If anyone knows anything about it, please let me know. It was likely recorded in Salem, VA, because it is on the Dominion label which was Jack Mullins' label and they were based in Salem. >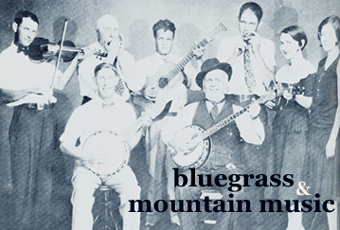 ---
Hi, there... This page is part of the Slipcue guide to various bluegrass artists, which is part of a much larger Hick Music website. This "guide" is not meant to be comprehensive or authoritative, just a quick look at a few records I've heard recently, as well as some old favorites. Comments or corrections are invited... and recommendations are always welcome!
This is the second page covering the letter "R"
---
A | B | C | D | E | F | G | H | I | J | K | L | M | N | O | P | Q | R / R-2 | S | T | U | V | W | X, Y & Z | Comps | Other Country Styles
---

Rice, Rice, Hillman & Pedersen "Out Of The Woodwork" (Rounder, 1997)



An acoustic-music supergroup featuring brothers Tony and Larry Rice, along with Chris Hillman (of the Byrds & Desert Rose Band) and Herb Pedersen (Dillards, Desert Rose and a bazillion other country-newgrass-rock projects...) This is a pretty nice record, in which their collective love for and appreciation of old-fashioned country music and harmony singing is made manifestly clear. The song selection is quite nice, and the picking is sprightly, lively and clean... There's more than a whiff of the consummate musicianship of the Bluegrass Album Band records on here, just with a more contemporary feel, with more modern and more country-oriented songs given the deluxe all-star treatment. Features several Chris Hillman compositions, and a few by Larry Rice (which are a bit strained and overly-crafted, in comparison). Overall, this is a very nice record, well worth checking out.

Rice, Rice, Hillman & Pedersen "Rice, Rice, Hillman & Pedersen" (Rounder, 1999)



Hmmmm. I'm not gonna make many friends saying this, but I really can't say as this disc did that much for me... There's too much of a precious, genteel, overly-crafted feel to it, somehow... Larry Rice has never really appealed to me as a singer, and Hillman doesn't quite leap to the fore in quite the way we wish he would. Everyone on this band obviously knows their stuff, and this is a nice record, with plenty of nice songs; it just doesn't seem to have much sizzle. This sorta starts out bright and pure, then gets bogged down in folkie prissiness... Oh, well.

Rice, Rice, Hillman & Pedersen "Running Wild" (Rounder, 2001)



Larry and Tony Rice team up with Byrds/Dillards vets Chris Hillman and Herb Pedersen for a pleasantly low-key set of country-bluegrass ballads. Overall, I'd reluctantly have to admit that this lacks ooompf, but it is a nice reminder of the pioneering crossover work that Hillman and his various crews did in the '70s to help widen the palatte of modern-day hick music fans. A pair of EZ dino-rock covers ("Things We Said Today" and CCNY's "4 +20") are alternately charming and a bit iffy. One interesting is Larry Rice's "The Mystery That Won't Go Away," a CNN-era update of the old topical ballads that once filled traditional music... Only this time, instead of the sinking of the Lusitania or some train crash, it's about the murder of Jon-Benet Ramsay. Worth checking out; they really seem to be hitting their stride on this one...
The Rice Brothers "The Rice Brothers" (Rounder, 1989)


Four brothers, all bluegrass pros: guitar god Tony Rice, older sibling Larry on mandolin, Wyatt Rice on second guitar and brother Ron holding down the bass... Lots of mighty fine, traditional truegrass here!
The Rice Brothers "The Rice Brothers" (Rounder, 1994)






<! Larry Rice, a renowned mandolin player, began his bluegrass career by playing in his father's band, the Golden State Boys. He later formed his own band (the Haphazards) with brothers Tony and Ronnie. In the '70s, he co-founded the New South, with J.D. Crowe, Doyle Lawson, Red Allen and Bobby Slone. After leaving the band in 1976 (Ricky Skaggs replaced him), Rice toured with Dickey Betts. His first solo album, Hurricanes and Daydreams (1985), was followed by Time Machine. Notions and Novelties appeared in 1996. Larry Rice "Mr. Poverty" (King, 1976) (LP) B0040EGQNM Larry Rice "Hurricanes And Daydreams" (Rebel, 1985) (LP) B004WQAN2I Larry Rice "Time Machine" (Rebel, 1987) (LP) B004V1XIVM Larry Rice & Wyatt Rice "Larry And Wyatt Rice" (Rebel, 1993) B00000E9VT B004U41RBS Larry Rice "Artesia" (Rebel, 1994) B000000266 Larry Rice "Notions And Novelties" (Rebel, 1996) B00000029P B001EC7A5Q Larry Rice "Clouds Over Carolina" (Rebel, 2005) B0009WPL9E B001D4E882 >
Larry Rice "Mr. Poverty" (King, 1976) (LP)


This was actually an early edition of the New South band, with mandolinist Larry Rice joined by his younger brothers Tony on guitar, along with J. D. Crowe, Ricky Skaggs and the rest of the New South crew...


<! 1976 Lemco Studios, Lexington, KY - Larry Rice (Tony Rice [vcl/gt/bass], J.D.Crowe [vcl/banjo], Ricky Skaggs [vcl/mandoline/fiddle], Jerry Douglas [dobro], Bobby Slone [bass]. Producer: Tony Rice) >

Larry Rice "Hurricanes And Daydreams" (Rebel, 1985) (LP)

Larry Rice "Time Machine" (Rebel, 1987) (LP)

Larry Rice & Wyatt Rice "Larry And Wyatt Rice" (Rebel, 1993)


Larry Rice "Artesia" (Rebel, 1994)

Larry Rice "Notions And Novelties" (Rebel, 1996)


Larry Rice "Clouds Over Carolina" (Rebel, 2005)


Larry Rice "If You Only Knew..." (Rebel, 2014)



This best-of set draws on five albums recorded my mandolinist Larry Rice, Tony Rice's older brother and a bluegrass stalwart who sadly passed away in 2006. Larry Rice played in a number of bands, and frequently collaborated with his brothers, including on several tracks collected here. It would be difficult not to compare him to his brother, a superpicker and stylistic innovator who set the bar for a generation of bluegrass flatpickers, but the reissue of this material is a nice way to evaluate Larry Rice on his own terms... There is of course a strong family resemblance, in vocal tone and phrasing and in the sweet sentimental mode they gravitate towards. Larry Rice stuck closer to traditional songs and progressive, poetical ballads, not going in for jazz-grass with the same fervor as Tony, and this album is a great collection of beautiful, eloquent vocal numbers -- very nice and very listenable, the kind of album I could listen to again and again for years to come. Several tracks, from his 1987 album, Time Machine, also feature harmonies from Sharon White, and she blends perfectly with Rice's ragged-edged vocals... By all means, pick this one up: it's a delightful collection of a top-notch artist whose work is still cherished by old fans, and waits for new fans to come.
Tony Rice -- see artist discography
Wyatt Rice "New Market Gap" (Rounder, 1989)


Wyatt Rice & Santa Cruz "Picture In A Tear" (Rounder, 1996)






<! The brother of Tony Rice, guitarist Wyatt Rice played in his brother's bluegrass band before forming his own group in the late '80s. The Wyatt Rice band has since recorded two albums in two different incarnations. The first version of the group was a sextet featuring violinist Rickie Simpkins and mandolinist Ray Legere; they released New Market Gap in 1989. By the mid-'90s, the group had become a quintet, and this lineup released Picture in a Tear in 1996. >

Brandon Rickman "Young Man, Old Soul" (Rural Rhythm, 2009)



A nice solo album from the lead singer of bluegrass music's Lonesome River Band... The album title is a pretty good description of Rickman's sound; he's one of those young guys that has a great, gruff-sounding old-coot type of voice. On this disc he tries to distinguish himself from the LRB by picking a more poetic, introspective style, which at times edges into the slower, nostalgia-drenched more ballad-y side of contemporary Top Forty country (particularly on "I Take The Backroads" and "Wide Spot On The Road"). There's not a lot of full-tilt-boogie bluegrass super-picking here, but really, that's okay -- we can hear plenty of that everywhere else. For me the best (and most traditional-sounding) tracks were a trio of gospel songs, including a Jerry Salley original, "Wearing Her Knees Out Over Me," about a mom who spends years praying for her errant son, and "Let Me Walk Lord, By Your Side," an old Carter Stanley song. Bluegrass songwriter Larry Cordle sings harmony on most of this album (although none of his songs are covered) while most of the other musicians are fairly unknown to me (which I find refreshing, considering how wide the bluegrass talent pool is, and how few people get a chance to record...) One standout performance is a duet vocal by Val Storey, on "Rest For His Workers," another one of those gospel tunes I mentioned... A nice record, worth checking out if you're looking for new voices and new approaches in a genre that seems awfully conventional at times.
Leslie Riddle "Step By Step" (Rounder, 1993)



Speaking of the Carter Family, here is a lovely disc that a pal of theirs, guitarist/folklorist Lesley Riddle, made during the waning days of the '60s folk revival. Riddle was a local African-American performer who shared (and sought out) many songs for A.P. Carter to add to the group's early repertoire -- in fact, you could almost say he was to the Carter Family what George Martin was to the Beatles, acting as a musical mentor to both A.P. and Sara Carter. This disc shows that Riddle shared their gift for delicate lyrical expression, and emotional resonance. This disc is getting harder to find, but is well worth the search.
Don Rigsby "A Vision" (Sugar Hill, 1998)



Sweet, solid bluegrass gospel from one of the remarkably talented members of the Lonesome River Band. This album occasionally drifts into sugary southern gospel-ish territory, but mostly keeps things real. A slew of superpicker pals help out, including J.D. Crowe, Ben Isaacs, Ricky Skaggs, et al. Ralph Stanley takes the lead vocals on a nice version of "Rose Among The Thorns." For those open to gospel material, this is a mighty fine album.
Don Rigsby & Dudley Connell "Meet Me By The Moonlight" (Sugar Hill, 1999)


Don Rigsby "Empty Old Mailbox" (Sugar Hill, 2000)


Don Rigsby & Dudley Connell "Another Saturday Night" (Sugar Hill, 2001)


Don Rigsby "The Midnight Call" (Sugar Hill, 2003)



Don Rigsby & Midnight Call "Hillbilly Heartache" (Rebel, 2006)



I always greet the arrival of a new Don Rigsby album with anticipation: he's one of the finest, most soulful modern bluegrassers around, he plays a slick, note-perfect style, but it never feels sterile or by-the-numbers. Partly it's due to the infusion of new, original material, as well as the always-rich mix of top-flight musicianship and fine harmony vocals. This disc offers more of the same, a swell set of progressive, country-tinged 'grass, with a nice gospel tune or two and an upbeat feel throughout. Worth checking out!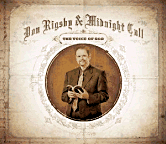 Don Rigsby & Midnight Call "The Voice Of God" (Rebel, 2010)



(Produced by Don Rigsby)
A top-flight bluegrass gospel set, with solid picking, sweet high harmonies, and a tremendous song selection. Rigsby hits all the right notes, both literally and figuratively, with a hefty dose of traditional material and standards by the likes of Albert Brumley, but better still he spotlights powerful new material from a troop of great contemporary songwriters, with fine songs such as "Charged With Being A Christian" by Paul Craft, Skip Ewing's modern-themed "The Gospel According To Luke," Phil Wiggins' "Forgiveness" and a few tunes he wrote himself, including "I Am An Orphan Child," which he co-wrote with Gillian Welch. One highlight is Tom T. Hall's "Then Y'ain't," a pithy, pointed calling-out of anyone who uses religion to say they're better, or smarter, or more holy than anyone else: if you do that, then you ain't got it right. A much-welcome message in these times when religious intolerance seems to divide the world, rather than spirituality unite it; balanced by Rigsby's abiding and undeniable faith, it comes through loud and clear. If you like sanctified twang, this is a really strong record.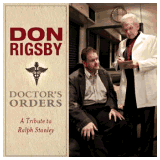 Don Rigsby "Doctor's Orders" (Rebel, 2013)



(Produced by Don Rigsby)
A truegrass tribute album with songs written by, for and about bluegrass patriarch Dr. Ralph Stanley... The lead track, "The Mountain Doctor," is a direct homage to Stanley and his music, and Dr. Ralph is among several guest performers, singing tenor on "Home In The Mountains," along with Ricky Skaggs, who harmonizes on baritone. Skaggs is one of several alumni of Stanley's Clinch Mountain Boys who perform here, including Larry Sparks, Charlie Sizemore and Stanley's longtime guitarist, James Alan Shelton, who plays on most of the tracks. In the liner notes, Rigsby recounts with awe the time he saw a Ralph Stanley show on his sixth birthday in 1974 and got to meet Stanley, Skaggs and Keith Whitley, who was in the band at the time... And, as it has been for many of us, seeing Stanley play was a mystical experience... Nice that all these years later he gets a chance to repay the favor.

Ron Rigsby "Banjo On The Run" (RRRainbow Records, 2004)


The banjo-plunking brother of truegrass singer Don Rigsby, this fella sure has some tasty licks up his sleeve. He dips into some inventive melodic runs, stuff that stays just this side of new acoustic spacegrass... Mostly it's pretty traditionally oriented, just with a bright, innovative feel that sets him apart from the pack. Also includes a few vocal tunes, which edge into more folk-oriented Americana terrain... This disc is a real treat, worth checking out, particularly if you like sweet, hot banjo playing. (For more info, check out his website at www.ronrigsby.com.)


<! 08/10: Amazon has this listed as a book(!) B000GG0030 >

Jean Ritchie/Various Artists "Field Trip" (Greenhays, 1954)


A fascinating album in which one of America's supreme folkloric artists drew close the connections between American old-time music and its British and Celtic roots. Travelling through England, Ireland and Scotland on a Fulbright scholarship, Ritchie collected many wonderful performances from the locals, of well-known songs such as "Pretty Polly," "The Cuckoo's Nest" and "Barbara Allen," then contrasted the Old World versions to the ones she learned as a child in Appalachia. This is a great record, which still holds its charm, all these decades later. Recommended!

Jean Ritchie "Ballads From Her Appalachian Family Tradition" (Smithsonian Folkways, 1961)



The great 19th Century American scholar James Francis Child was a bit premature when he proclaimed the British and Irish ballad tradition moribund and fit for a bit of academic taxidermy. The Harvard professor's miscalculation is ably demonstrated in this set of songs that Appalachian folk phenomenon Jean Ritchie learned as a child and committed to to record during the opening days of the Kennedy administration, over a half century after Child concluded his songcatching efforts. All the songs here are versions of tunes gathered in Child's monumental, multi-volume English And Scottish Popular Ballads, but sung in the local variant forms that Ritchie learned from her Kentucky kith and kin. And, man! What great performances. Ritchie sings these old murder ballads and morbid epics with a simplicity and authoritativeness that cuts past the centuries and makes the old tales live again. This is realy storytelling and folklore at its best -- the horrific nature of these old songs, in which sisters kill sisters and jealous, cuckholded husbands hack down their rivals is made magnetic in her chillingly matter-of-fact presentation. These are some of the finest, most engrossing versions of "Little Musgrave," "The Unquiet Grave," "Barbary Allen" and other classics that you will ever hear. A riveting record -- highly recommended!


<! * Traditional Songs of Her Kentucky Mountain Home (1952) * Kentucky Mountains Songs (1954) * Field Trip (1954) * Courting Songs (1954) * Shivaree (1955) * The Singing Family of the Cumberlands (1955) * Children's Songs & Games from the Southern Mountains (1956) * Songs from Kentucky (1956) * American Folk Tales and Songs (1956) * Saturday Night and Sunday Too (1956) * The Ritchie Family of Kentucky (1958) * Riddle Me This (1959) (with Oscar Brand) * Carols for All Seasons (1959) * British Traditional Ballads, Vol 1 (1961) * British Traditional Ballads, Vol 2 (1961) * Ballads (2003; vol 1 and 2 above, issued on a single CD) * Ballads from Her Appalachian Family Tradition (1961) * Precious Memories (1962) * The Appalachian Dulcimer: An Instructional Record (1963) * Jean Ritchie and Doc Watson Live at Folk City (1963) * Time For Singing (1966) * Marching Across the Green Grass & Other American Children's Game Songs (1968) * Clear Waters Remembered (1974) * Jean Ritchie At Home (1974) * None But One (1977) * Christmas Revels. Wassail! Wassail! (1982) * O Love Is Teasin' (1985) * Kentucky Christmas, Old and New (1987) * The Most Dulcimer (1992) * Mountain Born (1995) * High Hills and Mountains (1996) * Childhood Songs (1997) * Legends Of Old time Music (2002, DVD) >

Roane County Ramblers "Complete Recordings: 1928-1929" (County, 2004)



In the 1920s, during the early, hazy days of the country music business, scrappy stringbands like Roane County, Tennessee's Roane County Ramblers dotted the landscape, playing a driving style of acoustic music that was the transition between the old-timey music of the Antebellum South and the more modern "bluegrass" style that would arise over a decade later. The Ramblers were one of the most musically accomplished of these groups, featuring the sleek, nuanced fiddling work of Jimmy McCarroll, a mine worker and mill worker who wrote several well-known breakdowns, notably "Hometown Blues," with a tune that was covered by numerous other artists and morphed over the years into Bill Monroe's "Heavy Traffic Ahead." While just writing the song was enough to put him on the map, his performance style was also pretty striking -- bluegrass fans and fiddling enthusiasts in particular will enjoy this collection for its richness and textural depth, as well as for the phenomenally clean sound quality... Kudos to the County label for another fine reissue!




Robert & Claudene "Lamp Lighting Time" (Davis Unlimited, 1975) (LP)
(Produced by Steve Davis & Robert E. Nobley)
This is my favorite old-timey albums, a battered but beloved memento of the days when dollar albums still only cost a quarter (or five for a dollar, if you were lucky...!) The husband-and-wife team of Robert and Claudene Nobley were just plain folks from Roanoke, Alabama who loved all kinds of old-timey music, and regularly went to feastivals and shows with Steve Davis, the guy who started the Davis Unlimited label. Thank goodness he stuck them in front of a microphone, because the Nobelys are just so heartfelt, soulful and sincere singing these old tunes, with simple, no-muss/no fuss guitar picking and autohapr strumming. Their harmonies are plainspoken but effective, and they really bring these old songs to life, tunes like "Poor Willie," "Katie Dear," All The Good Times Are Passed And Gone" and, of course, "Lamp Lighting Time," which is an album highlight. If you love those old records by the Blue Sky Boys, Delmore Brothers and Louvin Brothers, you might want to track this one down as well.


<! no ASIN 02/03/15 >

Rockcastle River Company "From Maine To Texas With..." (Rockcastle, 1976)





<! From Maine to Texas with The Rockcastle River Company is 1970s upbeat country music, similar to the works of John Denver. >

Rock County "Rock County" (Rebel, 2002)



Veteran truegrass players culled from several elite bands (Longview, Lonesome Standard Time and the The Reno Brothers), these guys pound out one of the many great sets of true, hard bluegrass being produced these days. What more can you say? This is a fine album that barrels along at a fairly fast clip, packed with plenty of well-written songs, harmony vocals and powerhouse picking.

Rock County "Rock Solid" (Rebel, 2003)



...Which, indeed, they are. Propulsive picking and good-natured vocals, with one good song after another. These fellas are candidates of choice for the traditionalists who like to hear a little bit of a rough edge left amid all the sooper-dooper pickin'. Nice record!
Jim Rooney -- see artist discography
Ivan Rosenberg "The Lost Coast" (Gate Music, 2001)


Nice, low-key bluegrass album featuring Rosenberg's able, soulful dobro (er, resophonic guitar...) work, as well as assist from a bunch of pals, including Ben Winship and sweet-sounding, Rhonda Vincent-y vocals by Julie Elkins. Not dazzling or flashy, but sweet and very heartfelt... mostly instrumental, but the vocal tracks are equally enjoyable.
Ivan Rosenberg "Ashes And Coals" (Self-Released, 2005)

Ivan Rosenberg "Clawhammer And Dobro" (Slosh-Tone, 2006)

Peter Rowan - see artist discography

The Roys "Lonesome Whistle" (Rural Rhythm, 2011)



(Produced by The Roys & Andy Leftwich)
A sweet, resolutely weepy set from the brother-sister duo of Elaine and Lee Roy, with fine bluegrass-y picking and unrepentant sentimentalism worthy of Porter Wagoner and Randy Travis. There's a strong vocal and stylistic similarity between Lee Roy and Ricky Skaggs -- making it entirely appropriate for Mr. Skaggs and The Whites to contribute vocals to the glowing religious song, "That's What Makes It Love," one of several spiritual numbers on here that should appeal to the Southern Gospel and Christian country crowd. There are also songs about coal miners, fallen soldiers, saintly mothers and small town virtues... All in all, it's a solid record which should appeal to fans of Rory & Joey or other rootsy neotraditionalists... Not too gooey, but certainly wearing their hearts on their sleeves; recommended if you go for earnest, sentimental, harmony-rich country roots.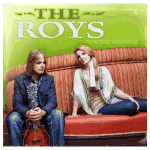 The Roys "New Day Dawning" (Rural Rhythm, 2012)



(Produced by Andy Leftwich & The Roys)
Sweet, melodic contemporary bluegrass with a brace of new songs written by Lee and Elaine Roys, a husband-wife duo who are in Ricky Skaggs' orbit, and have a lot in common with him musically. The songs here all feature contemplative lyrics that mix religion and cultural nostalgia -- memories of mom and dad, grandma and grandpa's farm, stuff like that. If you're a fan of Alison Krauss, or of Ricky Skaggs' style of spiritual bluegrass, you'll probably really like this as well. Solid accompaniment by fiddler Andy Leftwich, dobro player Randy Kohrs, and other talented modern musicians.
The Roys "Gypsy Runaway Train" (Rural Rhythm, 2013)


Rustical Quality String Band "RQSB: Rustical Quality String Band" (Red Dog Records, 1983) (LP)
(Produced by Paul Bertalan & Tom Hesketh)
A good-natured, folkie mix of bluegrass, old-timey and jug-band music from this long-lived local group out of Pennsylvania. Lead vocalist Tim Craven started this band in the late 'Seventies, after being in the more straight-up bluegrass band, Whetstone Run, and has kept the RQSB together in one form or another for several decades, in addition to his own Craven Family Band, formed with his wife and kids. This album draws on a bunch of old-fashioned twangy sources -- mountain music ala Clark Kessinger, Clayton McMichen, and Jean Redpath; old Irish stuff; Bill Boyd's western swing and old acoustic blues. I'm not sure if they made any other albums, but this one's kinda sweet, in a folk-scene kinda way.
Tom Rozum & Laurie Lewis "The Oak And The Laurel" (Rounder, 1995)



A beautiful record, with an easygoing spirit that makes it one of Laurie Lewis's rootsiest, least strained records. Teamed up with mandolinist Tom Rozum, another longtime veteran of the Bay Area bluegrass scene, Lewis hits a sublime groove, zipping off a couple of Carter Family gems, a sweet Everly Brothers cover ("So Sad"), a melancholy Mark Simos song ("Sleepy Eyes"), one by the Louvin Brothers, and a much-welcome Don Stover tune, to top things off. These two have a really nice chemistry together -- smooth, close harmonies and tasteful arrangements that sidestep the ofttimes-baroque goopiness of other folk-newgrass crossovers, instead zeroing in on the heartsong traditions that make the softer side of the truegrass scene so nice. An elegant album -- highly recommended!
Tom Rozum "Jubilee" (Signature Sounds/Dog Boy Records, 1998)



A nice, relaxed set of acoustic swing and sweetened old-timey stringband music, with equal debts to the Carter Family and Karl & Harty... It's sort of like hearing a kinder, gentler Dan Hicks. Rozum's longtime musical partner Laurie Lewis plays on about half the tracks, along with a heavyweight set of Northern California newgrass superpickers -- Darol Anger, Rob Ickes, Mike Marshall, Todd Phillips, et al. -- and the results are pretty darn nice. If you like the sweeter, more sincere side of the acoustic music scent, this is a fine, understated, masterfully produced album. Recommended!
Tom Rozum & Laurie Lewis "Winter's Grace" (Dog Boy/Signature Sounds, 1999)



A nice, understated acoustic holiday set, which -- appropriately enough -- drifts into sorts goopy, Berkeleyesque folkie territory. ("The Earth Moves In Mysterious Ways," for example...) Nina Gerber, Todd Phillips, Mike Marshall and other Bay Area folk scene stalwarts pitch in on this refreshingly original set... The instrumental numbers are really nice, and overall this has a pleasantly heartfelt vibe. Worth checking out, especially if you want a little break from Bing and Sting during the holiday season... (PS - if you like country Christmas records, I review a whole bunch of them on my hillbilly holiday page...)
Tom Rozum & Laurie Lewis "Guest House" (HighTone, 2004)



Recommended! Another nice, understated oldtime-ish album by these SF Bay Area acoustic music vets... The picking is solid, but resolutely unflashy, steering listeners towards the lyrics and the subtle harmony vocals. This is possibly the best of the Lewis-Rozum collaborations, with their musical inclinations in a perfect synch that mirrors that of their voices -- her low tones, meeting his high. The album opens on a note of controversy, with a cautionary tale about urban rage and gun-related violence ("Poor Boy Willie," which cleverly transposes a Woody Guthrie-style story-song into the modern day... it sounds nice, but one wonders how many of their Birkenstock-clad, ponytailed, urban folkie listeners will find their behavior modified by the song...) A second social commentary song scores better: "Just A Lie," which takes aim at those nostalgic for "the good old days," has a more compact structure, and a much sharper bite. In between, there's a lovely set of heartfelt, folkie truegrass, with Lewis and Rozum both singing their little hearts out. Extra points for covering Jim Ringer's timeless outlaw ballad, "Tramps And Hawkers."
---
Bluegrass Albums - Letter "S"
---