<! SK - SS > <! MP3 09/17/09 > <! update 09/17/09 - need to finish Larry Sparks, Special Consensus > <! outside 00/00/00 > <! pix 00/00/00 > <! icons 00/00/00 > <! Smith Brothers Bluegrass Orchestra "Oldgrass, Newgrass, Bluegrass" (CMH, xxxxx) >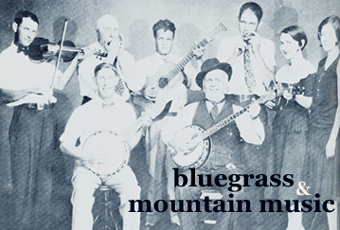 ---
Hi, there... This page is part of the Slipcue guide to various bluegrass artists, which is part of a much larger Hick Music website. This "guide" is not meant to be comprehensive or authoritative, just a quick look at a few records I've heard recently, as well as some old favorites. Comments or corrections are invited... and recommendations are always welcome!
This is the second page covering the letter "S"
---
A | B | C | D | E | F | G | H | I | J | K | L | M | N | O | P | Q | R | S / S-2 / S-3 | T | U | V | W | X, Y & Z | Comps | Other Country Styles
---
Ricky Skaggs -- see artist discography
Shannon Slaughter "The Sideman Steps Out" (Self-Released, 2011)






<! stints with Larry Stephenson (1992-95), Melonie Cannon (2004-05), Lonesome River Band (2005-07), and Lou Reid (2007-present) >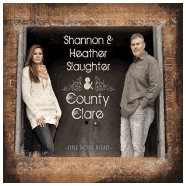 Shannon & Heather Slaughter "County Clare" (Elite Circuit, 2013)



(Produced by Wes Easter, Shannon Slaughter & Heather Slaughter)
The second "solo" album by guitarist Shannon Slaughter, joined this time by his wife Heather and their band, County Clare. Its modern bluegrass with a traditional feel and contemporary themes... Perhaps the most notable track on here is also the most controversial, the anti-abortion weeper, "They Never Got The Chance," in which the lost accomplishments of unborn babies are mourned, as are the choices of naive almost-mothers who were too quick to pull the plug. Heather Slaughter tries really hard to sound evenhanded and thoughtful on this one -- even grudgingly inserting a line about how the folks at the clinics give some, meagre advice to these women before performing the procedure -- but in its essence this is a condescending and judgmental narrative, sure to stir the emotions of right-to-life listeners, but unlikely to persuade others. There are also interesting cover tunes, such as a version of "If I Were A Carpenter" and Rodney Crowell's "Even Cowgirls Get The Blues," along with a mix of secular and gospel material, including a bunch of original tunes from the Slaughters and their band. These guys were okay, though I found the abortion song to be kind of a turn-off.
Sleepy Man Banjo Boys "America's Music: Classic American Bluegrass" (Self-Released, 2011)

Sleepy Man Banjo Boys "The Farthest Horizon" (Self-Released, 2012)


(Produced by Chris Mizzone)
Sweet, joyful bluegrass from a family band featuring several teen and pre-teen brothers -- Johnny Mizzone (banjo), Robbie Mizzone (fiddle) and Tommy Mizzone (guitar), along with their uncle Chris Mizzone on mandolin, and non-Mizzone bandmembers Sal Ciaravino on bass and singer Ashley Lilly. Judging from this record, I'd say they've been having a lot of fun at family gatherings over the years, because this is a very accomplished, lively group -- the guitar has a heavy Tony Rice influence, while the banjo has a classic Earl Scruggs sound and the fiddle has a nice, subtle old-timey rasp. The album is mostly instrumental, and thet's where the band's strengths lie, as amply heard on tunes like "Jonny's Tune." I have seen the future of bluegrass, and it's looking mighty Mizzone!

Slipstream "Waterbound" (2004)



Pleasant-sounding progressive bluegrass from the Colorado trio of Brad Murphey (guitar), Paul Waitinas (bass) and Rich Zimmerman (mandolin & vocals), an easygoing group with echoes of New Grass Revival, Tony Rice and Norman Blake... The band's name is kind of misleading (guess no one told them about the Spacemen 3 psychedelic rock spinoff by the same name...) and the album art also doesn't immediately telegraph "roots music"... But if you look closely, you'll see that the guest musicians include Rushad Eggleston, Norm Pikelny, Ben Winship and other up-and-coming newgrass young'uns, so if you're in the know, that'll tip you off to the twangy nature of this release. This was pretty enjoyable... Worth checking out if you're in a 'grassy state of mind... Doubtless to be seen at a few festivals as well...

Josh Sloane "Josh Sloane & Coaltown" (Rural Rhythm, 2011)



(Produced by Josh Sloane)
A rugged, mid-tempo mix of bluegrass and gruff country ballads... Kentuckian Josh Sloane has a heavy, honky-tonkish voice and the picking isn't full of the usual drag-racing bluegrass breakdowns... Instead, Sloane keeps a mellow, mournful vibe throughout, with a country-tinged sound that might appeal to fans of Jamey Johnson. Other than fiddler Gerald Evans, I didn't recognize any of the musicians backing him up... No complaints from me, though: I'm always happy to see new talent come up, and while this disc isn't packed with blistering solos, it's certainly solid and worth a spin. If you're on the lookout for new bluegrass talent, you might wanna check this guy out.

Luke Smathers String Band "Mountain Swing" (June Appal, 1977) (LP)


A delightful all-acoustic album of lively, uptempo bluegrass and old-timey music, mixed with Depression-era swing and jazz. The Luke Smathers band originally formed in 1930 and played professionally in and around North Carolina up until the early '40s... This later edition of the group featured one new feller along with the lanky old-timers, a young David Holt plunking banjo and paying his dues as an earnest folkie... Anyway, it's great stuff: if you want to hear the real deal, track this album down. It's pretty cool.
Fiddlin' Arthur Smith "...And His Dixieliners" (County, 2002)


Fiddlin' Arthur Smith "Give Me Old Time Music" (BACM, 2005)

Emma Smith "Memories" (Old Homestead, 1991)

Hobart Smith "Hobart Smith Of Saltville, Virginia" (Folk-Legacy, 1964) (LP) <! date? >

Hobart Smith "Blue Ridge Legacy" (Rounder, 2001)






<! part of Alan Lomax series >

Hobart Smith "In Sacred Trust: The 1963 Fleming Brown Tapes" (Smithsonian-Folkways, 2005)

Kenny Smith "Studebaker" (Sugar Hill, 1997)


The Kenny & Amanda Smith Band "Slowly But Surely" (Farm Boy, 2001)

The Kenny & Amanda Smith Band "House Down The Block" (Rebel, 2003)



A nice, solid truegrassy set, with several original songs written by the Smiths and lots of well-chosen material from the likes of Becky Buller, Buck Owens, Tim Stafford and even a tune from western swing singer Tommy Duncan. The Smith's predilection for country songs doesn't get in the way of their pickin', though, and this is a pretty fast-paced album, with solid guitar work by Kenny Smith and banjo plunkin' by Steve Huber (along with Smith, a veteran of the Lonesome River Band...) The Smith Band's sound isn't super-flashy, but it is impressive in a not-too-perfect, not-too-slick, still-got-our-roots-intact kinda way. None of these songs really leapt out at me, but the album as a whole was quite good. Worth checking out!
The Kenny & Amanda Smith Band "Always Never Enough" (Rebel, 2005)


Kenny & Amanda Smith "Tell Someone" (Rebel, 2006)



A fine all-gospel bluegrass set with sweet vocals and soulful but understated picking; the singing takes the front seat here, and all voices are raised in praise. A couple of tunes are too intense for me, but mostly this is the kind of sweet bluegrass gospel that I really like. Nice song selection, and plenty of heartfelt emotion to back it up. If you like the genre, you'll love this album.
Kenny & Amanda Smith "Live And Learn" (Rebel, 2008)



(Produced by Kenny & Amanda Smith)
The husband-wife team of Kenny and Amanda Smith have honed their sound to perfection, presenting high-power contemporary bluegrass with strong traditional roots and an eye fixed firmly on the future. . Amanda Smith's voice has never sounded sweeter, as she delves into a series of songs both old and new, from the chilling Appalachian murder ballad, "Cruel Willie" and some bluesy barnbusters to gentler, more contemplative contemporary folk-grass, such as the softly inspirational "Do The Best You Can" and "You're Gonna See Me Shine." Sound familiar? Yeah, it'll also ring a bell if you pick up this fine new album, which contains numerous glittering gems -- it's the Alison Krauss formula, with Smith's dulcet tones easily matching those of Ms. Krauss, and musicianship that's also on a par with the better-known Union Station band. If anything, when the Smiths stick to the rootsy stuff, they play in a more rugged, raucous style than the AKUSers, who sometimes sound a bit too formal and controlled. On the folk-tinged tunes, though, the similarity is quite powerful, and the songs are as well: if you like modern bluegrass leavened with thoughtful, intelligent folk overtones, then this is an album you'll want to check out. There are several on here that I've come back to time and time again, and I'm sure I'll continue to do so for years to come. Recommended!
Paul Smith & Friends "Devil Eat The Groundhog" (Rounder, 1999)



A sweet, very down-to-earth stringband session, with a Kentucky old-timer who used to work a lot with fiddler Kenny Baker, and who has very deep, very local, musical roots. This is fine, uncomplicated stuff that hits the right emotional note each and every time. Recommended!
Valerie Smith "Patchwork Heart" (Rebel, 1998)


Valerie Smith "Turtle Wings" (Rebel, 2000)


Valerie Smith & Liberty Pike "No Summer Storm" (Rebel, 2002)



A yummy treat for those who wish gals like Alison Krauss could just "keep it real" a little bit more... Missouri native Valerie Smith covers some ornate, poetically written, poppish material -- along with plenty of good, old-fashioned stompy-style bluegrass -- but she does it with an untamed rural edge. Her vocals are still admirably rough-hewn, although it's clear she knows the lay of the land in modern bluegrass-landia and could easily smooth everything out and be more crossover-y... The title track is one of those slightly-overwritten grassipolitan tunes that seem to be so popular with the big-spending, big city crowd, but the picking is pretty straightforward, and doesn't get all flowery. A pretty solid album by a pretty solid band.
Valerie Smith & Liberty Pike "That's What Love Can Do" (Bell Buckle, 2005)


Valerie Smith & Liberty Pike "Wash Away Your Troubles" (Bell Buckle, 2006)


Valerie Smith & Becky Buller "FestivaLink Presents Valerie Smith & Liberty Pike At Wintergrass: 2/24/07" (FestivaLink, 2007)

Valerie Smith & Becky Buller "Here's A Little Song" (Bell Buckle, 2008)



Jim Smoak & The Louisiana Honeydrippers "Bayou Bluegrass" (Arhoolie, 1972/2002)



Blistering old-fashioned bluegrass from this sharp Louisiana combo. In the 1950s, hotshot banjo plunker Jim Smoak was a longtime member of Bill Monroe's Blue Grass Boys, and later on part of Hylo Brown's band. In the early '60s he formed his own band, the Honeydrippers, which he headed up until 1972, when this album originally came out. In addition to Smoak's hot, old-fashioned five-string banjo playing, the group had a great fiddler and a tireless rhythm section. Fans of the lively, rougher end of old-school bluegrass will want to check this one out. Pardon the pun, but... it smokes!
Jim Smoak "Moonshine Sonata" (Blue River, 1979)


Jim Smoak & The Louisiana Honeydrippers "Carolina Boy" (Copper Creek, 2004)



Smoak, as an old man, has slowed down a bit, but in that way that master musicians have when they revisit familiar old music, and play it with utmost calm... Michael Cleveland accompanies on fiddle, along with several less well-known players. The young'uns backing him here are often a little too perky and singalongish, but Smoak himself is totally cool... And when he just settles back to play the banjo, it sure sounds sweet.
The Smoky Mountain Travelers "Live On Stage In Gatlinburg" (LP)





<! looks older > <! AM: "Label: Album Country of America" >
The Smoky Mountain Travelers "Smoky Mountain Pickin' " (Traveler Records) (LP)


An all-instrumental set...


<! label name per AM listing >
The Smoky Mountain Travelers "Smoky Mountain Memories" (LP)
A nice, independently produced quintet from Gatlinsburg, Tennessee... Particularly strong is the flashy banjo work by Randy Watson, as well as Carl E. Strump's mandolin picking, and fiddler Dorothy Curtis, who gets in some sweet licks... Not sure if any of these folks wound up in other bands, but this is a nice, humble DIY offering. The repertoire is pretty much straight-up old-school traditional bluegrass, with a cover of "Blue Eyes Crying In The Rain" being a brief excursion into country territory. Unfortunately, this album has pretty limited liner notes, so there's no indication if any of the songs were written by the bandmember; there's also no label or producer info, and no release date, though judging from the look of things, I'd guess this came out sometime in the early 1980s.


<! > <! vocals are just okay >

Southern Rail "Drive By Night" (Turqouise, 1991)

Southern Rail "Roadwork" (Turqouise, 1992)

Southern Rail "Carolina Lightning" (Turqouise, 1993)

Southern Rail "Glory Train" (Pinecastle, 1995)



An all-gospel bluegrass set...
Southern Rail "Wasting My Time" (Pinecastle, 1998)


Southern Rail "Coal Tattoo" (Railway, 2002)



Good modern bluegrass, with a friendly, broadsmiled feel similar to Charlie Waller and the Country Gentlemen. This is the eighth album by this long-lived Massachusetts-based ensemble, and has a nice not-too-perfect feel to it, along with great song selection, mostly tending towards melodic story songs and vocal harmony numbers. Recommended! Visit the band's website for more information.
Southern Rail "Live At The Linden Tree" (2008)


The Spark Gap Wonder Boys "Cluck Old Hen" (Rounder, 1970) (LP)


I mostly picked this up as a historical curio (...was this really the second album Rounder ever put out? Golly.), but was pleased to find that the New England-based SGWBs were as able and agile an old-timey band as any that came before or after, rollicking through an impressive repertoire of Depression-era oldies, with plenty of zippy, accomplished picking and fun, grumpy old-man vocals. They also let their hippie side drag, peppering a few tunes with contemporary pop culture references, such as a shout-out to underground cartoon character Snappy Sammy Smoot, during the comic patter in "Lee Highway Blues." It's a shame this disc is long out of print, because it really is one of the best, most stylistically varied albums of its kind. If you see it used, snap it up.

Larry Sparks "John Deere Tractor" (Rebel, 1980)



Throughout the '70s, bluegrass was being updated and experimented with, most notably by young'uns who were bringing story-oriented country and folk influences into the style. Guitarist Larry Sparks was always one of the best at this new style -- he could expand on the old canon, but always sounded rootsy enough that his stuff sounded traditional even when it was something brand new. John Deere Tractor is considered by many fans to be be Sparks's best album, and if you pick it up, you'll soon know why... the title track is a great example of the modernized style I was talking about, but all the old stuff from Flatt & Scruggs and Kitty Wells is mighty fine, too. Great from start to finish... recommended!
Larry Sparks "Christmas In The Hills" (Rebel, 1997)



A nice, understated acoustic holiday set from this '70s bluegrass old-timer. Nice! (By the way - if you like country Christmas records, I review a whole bunch of them on my hillbilly holiday page... )

Larry Sparks "Special Delivery" (Rebel, 2000)



Any new album by truegrasser Larry Sparks is cause for celebration. Since the 1960s, when he played with Ralph Stanley and the Clinch Mountain Boys, Sparks has been a bluegrass traditionalist's fondest dream -- old-guard enough to carry the torch, but not dogmatically wed to an idealized "classic" style. Although he never went newgrass, Sparks has always sounded modern. Perhaps it's the ease of his delivery, the naturallness with which he sings and plays guitar thathas marked Sparks as a special artist, a cut above the rest. Here, on tunes like "The Undelivered Message" and "Ghost Stories," he tackles the sort of remember-the-South Civil War/rural life nostalgia that frequently sounds schmaltzy or leaden in other people's hand, and... no surprise... makes it sound convincing and sincere. On older material such as "San Antonio Rose" or Jimmie Davis's "Be Nobody's Darlin' But Mine," Sparks absolutely shines. The simplicity of his approach and the honesty of his vocals are an unbeatable combination. Special Delivery, indeed! Another great album - highly recommended!

Larry Sparks "The Coldest Part Of Winter" (Rebel, 2003)



(Produced by Larry Sparks)
Wow. Sparks really never lets up... the guy just keeps getting better and better! Although this album gets its main magic from Spark's ability to convey a story through his vocals, the picking is pretty dazzling as well, starting with the banjo-mandolin-fiddle drag race in "Leavin' Me," and never falters from then on. This is an album that never hits a false note: the band is restrained when needed, fiery when the moment strikes, and Sparks is rock solid throughout. Not a bad song on here!


<! Five songs written by Marshall Warwick, three by David Norris, one by Scott Napier (the band's mandolin player) and one by Sparks himself, a gospel song called "Lord, Show Me The Way" Michael Cleveland guest fiddler >

Larry Sparks "40" (Rebel, 2005)



Singer-guitarist Larry Sparks is a bluegrass insider's favorite artist, a low-key performer who'll blow away any attentive listener with his calm, firm, soulful delivery, pure, simple approach and top-notch repertoire. The title of this album refers to the four decades Sparks has spent making music... He got his big career boost in the late '60s when Ralph Stanley tapped him to become the new lead singer of the Clinch Mountain Boys, following the death of Carter Stanley, and since then Sparks's name has been a hallmark of quality and purity in the bluegrass scene. Here, Sparks again follows in Dr. Ralph's footsteps, recording an all-star guestfest with the likes of Larry Cordle, Vince Gill, Tom T. Hall, Carl Jackson, Alison Krauss, Ricky Skaggs, Rhonda Vincent and Paul Williams join in on rich, soulful versions of many of Sparks's favorite old songs. A few newer Nashville stars like Kevin Denney, Andy Griggs and Rebecca Lynn Howard also pitch in, as well as Southern Gospel vocal stars, The Isaacs, and -- of course -- Ralph Stanley himself. It's an excellent record, with each and every song reaching the right emotional height, and Sparks's voice in fine form, as resonant and heartfelt as ever. Highly recommended.

Larry Sparks "Let Him Lead You" (Rebel, 2011)



A great collection of gospel record by bluegrass singer Larry Sparks, drawn from several albums recorded between 1976-96. Sparks recorded secular material as well, but he really threw himself into these gospel songs, and had strong backing from his crew of pickers, most of whom are less well-known (although Ricky Skaggs pops up on a tune or two..) (Available online through the Rebel Records website.) <! By the way, you can also find these songs and many other listed individually in my new a href= "../../countrystyles/gospel_MP3s/artists_A_01.html" Country Gospel MP3 guide... Hallelujah! >


<! Larry Sparks "Ramblin' Guitar" (Pine Tree, 1970) Larry Sparks "New Gospel Songs" (Pine Tree, 1971) Larry Sparks "Bluegrass Old And New" (Old Homestead, 1972) Unsure - partial info from Sparks' site: Larry Sparks "Green Pastures In The Sky" (Old Homestead, XXXX) Larry Sparks "The Lonesome Sounds" (Old Homestead, 1974) Larry Sparks "Where The Sweet Waters Flow" (Old Homestead, XXXX) Larry Sparks "Thank You Lord" (Old Homestead, 1976) Larry Sparks "Where The Dim Lights Are The Dimmest" (Old Homestead, 1982) Larry Sparks "Ramblin' Bluegrass" (Starday, 1972) Larry Sparks "Sings Hank Williams" (Rebel, 1977) Larry Sparks "John Deere Tractor" (Rebel, 1980) Larry Sparks "Dark Hollow" (Rebel, 1981) Larry Sparks "The Best Of" (Rebel, 1982) Larry Sparks "The Testing Times" (Rebel, 1982) Larry Sparks "Blue Sparks" (Rebel, 1983) Larry Sparks "Lonesome Guitar" (Rebel, 1984) Larry Sparks "Gonna Be Movin' " (Rebel, 1986) Larry Sparks "Silver Reflections" (Rebel, 1988) Larry Sparks "Classic Bluegrass" (Rebel, 1989) Larry Sparks "Travelin' " (Rebel, 1992) Larry Sparks "The Rock I Stand On" (Rebel, 1994) Larry Sparks "Blue Mountain Memories" (Rebel, 1996) Larry Sparks "Special Delivery" (Rebel, 2000) Larry Sparks "The Coldest Part Of Winter" (Rebel, 2003) Larry Sparks "40" (Rebel, 2005) Larry Sparks "The Last Suit You Wear" (McCoury, 2007) Larry Sparks "Kentucky Banjo" (Gusto, 2008) Larry Sparks "I Don't Regret A Mile" (Sparks, 2008) >

Scottie Sparks "Scottie Sparks" (Doobie Shea, 1999)


Nice, newly-minted bluegrass heartsongs, with straightforward picking and sweet, sweet fiddling by Aubrie Haynie. Also on board are Dan Tyminski on mandolin and Craig Smith on banjo. A welcome inclusion of several original songs into the bluegrass canon, including a nice trio written by one Gerald Williamson (who I've never heard of, but I sure like his style). Sparks -- no relation to Larry Sparks, by the way -- has since gone on to join the Lost & Found band, as their guitar player.

The Special Consensus "A Hole In My Heart" (Turquoise, 1989) (LP)


Alt.country icon Robbie Fulks apprenticed with this long-lived local Chicago country-grass band. He gets writer's credit on a couple of songs: "She Hurts For A Living," which is a classic, ever-clever Fulks novelty song, and on an instrumental tune, "Purple Curtains," co-written with banjo plunker (and bandleader) Greg Cahill. Good picking, and a nice light-hearted, relaxed approach overall. Pity that "She Hurts For A Living" seems to have been dropped out of the Fulks canon; it could certainly be recycled for his country fans.

The Special Consensus "Hey, Y'All" (Turquoise, 1991)


Another amiable, progressive 'grass set, with a pronounced countryish bent, from this stalwart Chicago quartet.. This edition includes bass and vocals by future honkytonk hero, Dallas Wayne (who has a few albums listed in my Alt.Country section as well...) Not dazzling or jaw-dropping, but nice & fun. Includes, among other things, covers of the hard country classic, "14 Carat Mind" and the Elvis oldie, "Viva, Las Vegas."


<! 130x 130 >

The Special Consensus "Green Rolling Hills" (Turquoise, 1993)


The Special Consensus "Strong Enough To Bend" (Pinecastle, 1996)



(Produced by Mark Schatz)
Starting over, all over again, bandleader Greg Cahill adds several new players to his constantly-shifting roster: SF-bred mandolinist Colby Maddox and bassist Diana Phillips and guitarist Bobby Burns, and Aubrie Haynie sitting in on fiddle. Burns and Phillips split the lead vocals, and I gotta say that overall, I found them to be a bit underwhelming, although I suspect the newness of the group has something to do with the relative lack of spark. Nice song selection, though, including Keiran Kane's "Gonna Walk That Line," "I Wonder" (from the Asleep At The Wheel songbook) and a swinging version of the Bob Wills oldie, "The Devil Ain't Lazy." Real DIY stuff from the Windy City.
The Special Consensus "Our Little Town" (Pinecastle, 1998)


The Special Consensus "25th Anniversary" (Pinecastle, 2000)


Special Consensus "Route 10" (Pinecastle, 2002)



For several years, this long-lived Midwestern bluegrass outfit has had a strong "progressive" streak, that it, they've pursued slick, musically complex material and developed an affection for songs that are About Something (please note capital letters). That tendency is still present here, although fans who also like more straight-ahead, old-fashioned pickin' and plunkin' will find this album a nice return to form. I still find a couple of the songs to be a bit much, but overall this is a pretty strong album. Folks who appreciate more modernized 'grass should get a kick out of this disc.

Special Consensus "Everything's Alright" (Pinecastle, 2005)



Another top-flight set of melodic, propulsive, 100% heartfelt heartsong-y truegrass. This Chicago-based bluegrass band, anchored by its longtime leader, banjoist Greg Cahill, has been pickin' its heart out since the late 1970s, but only recently have they really started to get their props in the bluegrass world. The picking on this disc is particularly hot... Cahill's banjo and the zippy mandolin work by Ron Spears particularly stand out, although Justin Carbone's Tony Rice-tinged flatpicking is also nice, and the bass playing by Tres Nugent helps anchor a pretty solid sound. Their harmony numbers are vocal standouts, and while there are a few tracks where the solo vocals sound a little ragged, they also have an earnest, real-people charm to 'em... Frankly, I'd rather hear someone sing it "wrong" and have it feel right than hear someone playing all perfect, but sound all stuff and overly-professional. I think you scrappy truegrass fans out there will agree: this is a fine, fun album, well worth checking out! (Also check out the band's website: http://www.specialc.com.)

Special Consensus "The Trail Of Aching Hearts" (Pinecastle, 2007)



Another rock-solid bluegrass record from this long-lived Chicago ensemble. Old-timer Greg Cahill plunks a mighty banjo, but stays in the background for the vocals, letting the young-uns throw on all the harmonies and high notes... This disc -- the band's thirteenth album in 30+ years -- is one of their tightest, smoothest sets to date. It's also packed with great material, mostly well-chosen cover songs from folks such as Charlie Louvin, Hank Snow and Marty Robbins... Mandolinist Ron Spears contributes two new songs, including the gospel number, "Lift Your Voice In Prayer" and the secular "I'd Like To Wander Back To The Old Home," which sounds like something Mac Wiseman would have recorded in the early 'Fifties... Just to show of some hot licks, there are a couple of instrumental tunes, including a zippy Cahill original and a sweet version of "Blue Skies." All in all, another nice album from this low-key Midwestern powerhouse.
Special Consensus "Signs" (Pinecastle, 2009)






<! Special Consensus "Blue Northerns" (Acoustic Revival, 1983) Special Consensus "Freight Train Boogie" (Turquoise, 1986) Special Consensus "A Hole in My Heart" (Turquoise, 1989) Special Consensus "Hey Y'all" (Turquoise, 1991) Special Consensus "Green Rolling Hills" (Turquoise, 1993) Special Consensus "Our Little Town Pinecastle PRC 1083 (1998) CD Special Consensus "Roads & Rails Shy Town Records STR-CD-1001 (1995) Out of Print Special Consensus "Route 10 Pinecastle Records CD PRC 1123 (2002) CD Special Consensus "Special Consensus 25th Anniversary Pinecastle Records PRC-1101 (2000) CD Special Consensus "Special Consensus Bluegrass Tin Ear Records TE 33002 (1979) Out of Print Special Consensus "Strong Enough To Bend" (Pinecastle, 1996) Special Consensus "25 Years with Special Consensus Pinecastle Records PRC V 106 (2000) VHS Special Consensus "4 banjo instructional videos (Greg Cahill) Musician's Workshop (1995 & 2000) DVD VHS THE SPECIAL CONSENSUS is a four person acoustic bluegrass band that began performing in the Midwest in the spring of 1975. The first band album was released in 1979 when the band began touring on a national basis. In 1984, The Special Consensus initiated the Traditional American Music (TAM) Program in schools across the country and began appearing on cable television and National Public Radio shows. The band has since appeared on The Nashville Network "Fire On The Mountain" show, toured for three seasons as 4/5 of the cast in the musical Cotton Patch Gospel (music and lyrics by Harry Chapin), and released fifteen additional recordings. The Northern Indiana Bluegrass Association sponsored a video production of the TAM Program and copies were sent to schools around the world by the Nashville-based International Bluegrass Music Association (IBMA). In 2000, Pinecastle Records released the first band performance video, filmed for Iowa Public Television's "Old Time Country Music" show, and The Special Consensus 25th Anniversary recording to mark this milestone year for the band. The band has been featured in cover stories of the renowned bluegrass publication Bluegrass Unlimited in 1998, 2005 and 2010 and several of the band recordings have received Highlight Reviews and appeared on the National Bluegrass Survey chart in that publication. In November 2003, The Special Consensus received a standing ovation after the first band performance on the Grand Ole Opry at Nashville's historic Ryman Auditorium. International tours have brought The Special Consensus to the United Kingdom, Canada, Europe, Ireland and South America. In 1993, the band performed the first of many concerts with a symphony orchestra, complete with orchestral arrangements of songs from the band repertoire. The fifteenth band recording "35″ was released in 2010 by Compass Records in celebration of the 35th anniversary of the formation of the band as a professional touring and recording entity. The sixteenth and most recent band recording, "Scratch Gravel Road," was released by Compass Records in March 2012 and was nominated for the Best Bluegrass Album GRAMMY Award. The song "Monroe's Doctrine" from that recording was nominated for the IBMA Recorded Event of the Year award in 2012. Band Members: (2013) Dustin Benson: guitar, lead, tenor, baritone and bass vocals Greg Cahill: banjo, baritone and tenor harmony vocals Dan Eubanks: bass, lead, baritone and bass vocals Rick Faris: mandolin, lead, baritone, tenor and high baritone vocals >

Spectrum "Opening Roll" (Rounder, 1980) (LP)


Despite the pretentious name and futuristic band logo (I'll scan the cover some day...) these guys were actually a pretty straightforward, zip-bang-zoom truegrass band. Up-and-comer Bela Fleck's banjo work rips through these tunes, while mandolinist Jimmy Gaudreau adds a sweetness and authority to the proceedings. The other guys aren't slouches, either -- bassist Mark Schatz came over with Fleck from the ashes of Tasty Licks, while guitarist Glenn Lawson was one of Gaudreau's cohorts in J.D. Crowe's New South. The repertoire includes country and pop -- oldies from Paul Anka, The Everly Brothers, Merle Haggard, Paul Simon and Bob Wills -- but all played with pure twang and sizzle. Worth checking out, if you can track it down!
Spectrum "Too Hot For Words" (Rounder, 1982) (LP)

Spectrum "Live In Japan" (Rounder, 1983) (LP)

Buddy Spicher -- see artist profile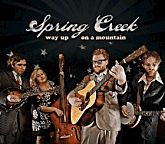 Spring Creek "Way Up On A Mountain" (Rebel, 2009)



(Produced by Jeff White)
Sweet, mellow bluegrass with a traditional sound, but little apparent interest in the whole super-picker, drag-race aspects of the genre. Now, I like sweet, sentimental material and I also like records where you can hear some just-plain-folks-ishness in the performances; there are plenty of bands that play everything perfectly, so it's nice to hear someone who plays it with a bit of individuality and personal style. This Colorado crew's got plenty of both, as this nice, unassuming set demonstrates -- it's a nice, relaxed set where the songs are given room to breathe, where you can fall in love with the tune rather than be dazzled by technique. Not that these guys are any slouches in the musical department, it's just that they focus more on the feeling in the lyrics, and let the picking speak for itself. This is the sort of record I find fun to sing along to... Really nice!
Blaine Sprouse & Kenny Baker "Indian Springs" (Rounder, 1989)



Gorgeous twin fiddles from young'un Blaine Sprouse and old-timer Kenny Baker, who are both completely tapped into the tradition. A very sweet set with rich melodies and an excellent repertoire. Recommended!
Blaine Sprouse "Brilliancy" (Rounder, 1990) (LP)

Blaine Sprouse "Appalachian Mountain Fiddler" (Cumberland, 2009)


The Scottsville Squirrel Barkers "Blue Grass Favorites" (Crown Records, 1962)


I have this odd fascination with '50s/'60s fly-by-night cheapie labels like Crown and Spin-O-Rama, where anonymous session players typically would cover current country hits, sometimes even with "soundalike" singers semi-pretending to be the original artists. It's usually pretty hard to know who played on these records, but this particular album has a pretty clear provenance: it's a real record by one of Chris Hillman's first bands, a straight-up bluegrass set with Hillman on mandolin, along with Ed Douglass, Larry Murray, guitarist Gary Carr and Kenny Wertz on banjo. It was a California band packed with talented players who would be at the core of the wildly eclectic SoCal country-rock scene: Byrds, here we come!
---
Bluegrass Albums - More Letter "S"
---