<! MP3 09/23/09 > <! update 09/23/09 - most need to be expanded, esp Mac Wiseman > <! outside 00/00/00 > <! pix 00/00/00 > <! icons 12/16/10 >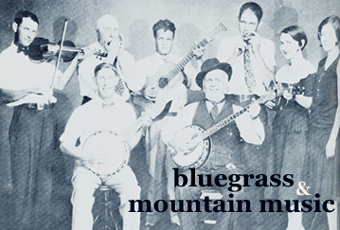 ---
Hi, there... This page is part of the Slipcue guide to various bluegrass artists, which is part of a much larger Hick Music website. This "guide" is not meant to be comprehensive or authoritative, just a quick look at a few records I've heard recently, as well as some old favorites. Comments or corrections are invited... and recommendations are always welcome!
This is the third page covering the letter "W"
---
A | B | C | D | E | F | G | H | I | J | K | L | M | N | O | P | Q | R | S | T | U | V | W / W-2 / W-3 | X, Y & Z | Comps | Other Country Styles
---

Marshall Wilborn "Root 5: Bass & Banjo" (Pinecastle, 1999)


Atypical, whimsical instrumentals featuring bass player Marshall Wilborn and a slew of banjo pickin' buddies, including Lynn Morris, Tom Adams and Pete Wernick, as well as Tony Furtado playing dobro on one tune. Just by their nature, these instrumental duets sound a bit different than your standard-issue four- or five-piece bluegrass bands... However it's also not quite all out-there or slick as the stuff by the space-grass crowd.
Wild & Blue "Heirloom" (Pinecastle, 1993)


Wild & Blue "Come On In And Make Yourself At Home" (Pinecastle, 1994)






<! Comprising David Harvey (mandolin and guitar), his wife Jill (rhythm guitar) and her sister Jan Snider (bass), Wild and blue made just two albums and some Christmas songs before returning to the obscurity from which they never really emerged. On this album, the guest musicians are Jim Britton (banjo), Bobby Hicks (fiddle) and Gene Wootton (dobro). Kenny Malone plays drums on two tracks (River of tears, You were only fooling). Mark Howard plays guitar on two tracks (Mountain memories, You must come in at the door) >

The Wilders "The Wilders" (1999)




The Wilders "On The Wings Of A Dove" (Free Dirt, 2002)


The Wilders "Spring A Leak" (Free Dirt, 2003)



The Wilders "Throw Down" (Rural Grit, 2006)



Listen up, folks, this is the single best dang twang disc I've heard all year... At least it's the most striking -- the album opens with a blistering, foot-stomping breakdown called "Hawk's Got A Chicken And Flew In The Woods," featuring lively fiddling by Betse Ellis, then tromps along into "Honky Tonk Habit," one of the catchiest alt-country honkytonk tunes I've heard in years. This is only one of several great original songs written by the band, including the haunting post-Katrina lament, "After The Levee's Gone." Make no mistake about it: this Kansas City crew is one talented bunch of pickers... and they write some fine original songs, as well. Their sound is primarily bluegrass-based, but they are also genuinely tapped into old-school honkytonk, suggesting a much welcome blend of bluesy, Jimmy Martin-style truegrass and happy-sounding heartbreak, ala Hank Thompson or Johnny Horton. When I first put it on, this album knocked my socks off, instantly catching my attention and kept my toes tapping from start to finish. The disc was produced by old-timey superstar Dirk Powell, who adds breathless praise of his own in the liner notes... And, hey, if the Wilders are good enough for Dirk Powell, they're sure as heck good enough for me! (Note: this disc is available directly from the band... Check out their website at www.wilderscountry.com )
The Wilders "Someone's Got To Pay" (Free Dirt, 2008)


Wildfire "Where Roads Divide" (Pinecastle, 2003)



Progessive bluegrass with a vengance. These fellas play pretty straightahead, bouncy melodic style, but they also have room for tunes by commercial country artists such as Deryl Dodd, Keith Urban, and even Nashville old-timers like Bill Anderson (who they cover twice!) The band is best on truegrass sizzlers like Don Reno's "I'm Afraid My Darlin's Gone" and Jimmy Martin's "Last Song," but really, other than a couple of slower tunes, this disc has it all, with a very pleasant momentum & plenty of drive. Worth a spin!

Wildfire "Rattle Of The Chains" (Pinecastle, 2005)



Lively, heartfelt, slick yet soulful modern bluegrass, featuring fine lively vocals and some fine slide guitar and dobro pickin' from Phil Ledbetter. This set is more straightforwardly 'grassy and less blues-tinged than Ledbetter's solo albums, though it shares a lot of his heartfelt, earnest enthusiasm... Nice stuff...! If you like traditionally oriented super-professional super-groups like Blue Highway and Kentucky Thunder, you might want to check this disc out.
Wildwood Valley Boys "When I Get Back To Georgia" (Rebel, 1999)



Wildwood Valley Boys "I'm A Believer" (Rebel, 2000)



An okay-sounding bluegrass gospel album, with some nice harmonies, but kind of muted, low-key picking behind them. Check out their secular stuff a couple of years later & you'll hear an amazing upturn in the musical side of their sound!

Wildwood Valley Boys "Back Country Road" (Rebel, 2002)



Quite simply, a stunning traditionalist bluegrass album, with a strong penchant for country-ish heartsongs. The picking, singing and song selection are all fabulous; every song on here really leaps out and draws you in. Highly recommended... One of my favorite bluegrass albums of 2002!

Wildwood Valley Boys "Songs From The Wildwood Valley" (Rebel, 2003)



They seem to be slowing things back down a little bit, with a greater emphasis on the vocals and lyrics, and a little less stress on the hot pickin'. As a result, a few of the songs seem a bit too serious, though on balance, it's still a pretty groovy disc, and another strong release. Not as much variety from track to track, though, so it might be best listened to in small doses, along with all the other topnotch truegrass discs that folks are banging out these days.
(Tony Holt And The) Wildwood Valley Boys "Daylight's Burnin' " (Rebel, 2006)








Jeanette Williams "Dreams Come True" (Flying Cloud, 1994)



<! Jeanette's debut solo release >

Jeanette Williams & Johnny Williams "Johnny & Jeanette Williams" (Major Bluegrass, 1996)





Jeanette Williams & Clearwater "Blue Ridge Mountain Sun" (Mid-Knight, 1997)




Jeanette Williams "Cherry Blossoms In The Springtime" (Doobie Shea, 1999)


Very lovely stuff, with some of the sweetest, most upbeat melodies bluegrass has to offer. Dan Tyminski co-produced this album, which includes contributions by many of the late '90s "usual suspects" (such as Tyminski, Rob Ickes, Ben Isaacs and Aubrie Haynie). On a few numbers this bluegrass Wrecking Crew begins, not too surprisingly, to drift into sugary Alison Krauss-ish territory, but Williams seems to have a pretty clear sense of how she wants her music to sound, and the bouncy melodic drive is seldom lost for long. Really nice record... highly recommended!
Jeanette Williams Band "Too Blue" (Bell Buckle, 2002)



Back in the old days, they used to write songs about a dearly beloved mother died and gone to heaven... Here, singer Jeanette Williams updates the old formula with a sombre, powerful song about a parent diminished by Alzheimer's disease, unable to remember her own children as they visit her in the hospital. "I Ought To Know You" opens this disc, but is only one of several striking tunes on here, all delivered in a straightforward, traditionalist bluegrass style. Joining the Williams ensemble is guest fiddler Becky Buller, moonlighting from Valerie Smith's Liberty Pike band. Good stuff -- heartfelt and definitely worth checking out!
Jeanette Williams Band "Get In The Boat" (Bell Buckle, 2003)



A nice, heartfelt bluegrass gospel album. May be too Jesus-y for more secular-minded 'grass fans, but there are several nice slow numbers that stand out, particularly "When The Harvest Has Come" and "Come Morning," which both have an old-fashioned brush arbor feel to them.
Jeanette Williams "Thank You For Caring" (Blue Circle, 2008)


(Produced by Jeanette Williams, Wesley Easer & Johnny Williams)
Her continuing presence as one of the true independents on the bluegrass scene makes Williams a special performer... She's a strong bluegrass performer, and when the band is cooking behind her, Williams has a nice, lively presence. On this latest outing, however, she edges out into more of a contemporary folk territory than before, with less of a mountain music feel, an a bit more of the poetic-contemplative mood. Likewise, the gospel tunes are less oriented towards high lonesome harmonies or backwoods testifying, and sound more like folk-tinged Southern Gospel. I suppose in that sense there's a little something for everyone here -- I like the faster, twangier truegrass tunes, but I also wish there were more of them on here.


<! Johnny Williams >
Paul Williams & The Victory Trio "Old Ways & Old Paths" (Rebel, 1999)



Another fine, fine bluegrass gospel offering by this soulful old-timer. I think what I like best about this album is ho understated it is: the picking isn't flashy, and the harmonies are just as sweet as they need to be, not a bit more. Williams and his band really know how to deliver their message and then just get out of the way. If you like the picking on the old Bluegrass Album Band records, this'll be a real treat as well.
Paul Williams & Cliff Waldron "Higher Ground" (Rebel, 2001)



Like Williams, bluegrass revivalist Cliff Waldron abandoned the secular stage after he got religion, and later came back to the music, although as a way to spread the holy word. This is a nice pairing, with a somewhat delicate brush-arbor feel to it. Williams tends to goose things up a bit with his band, and it does feel like he's holding back a bit here... Still, if you like truegrass gospel, this is another fine album from the Williams camp. Worth checking out.
Paul Williams & The Victory Trio "Hard Working Pilgrim" (Rebel, 2001)



Gospel picker Paul Williams consistently blows my mind with pretty much every album he puts out. Sure, maybe the Jesus stuff isn't for everyone, but nobody has better, higher, twangier vocal harmonies than Williams and his pals, and the picking is always first rate as well, particularly his mandolin work. As always, this record rocks from start to finish... If you want some sweet sounding, authentic bluegrass, then this album should fit the bill. Recommended!
Paul Williams & The Victory Trio "I'll Meet You In The Gloryland" (Rebel, 2002)



Another fine bluegrass gospel album by this veteran picker... This isn't the most electrifying of his albums, but it's still rock-solid truegrass. Why his band is called the Victory Trio when there are at least four of them is outside of my range of expertise, though. You'll have to ask Williams that one yourself...
Paul Williams & The Victory Trio "The Real Christmas Story" (Rebel, 2002)

Paul Williams & The Victory Trio "Living On The Hallelujah Side" (Rebel, 2003)



I'd have to say that this album has less to offer the secular bluegrass fan than other Williams efforts -- somehow the religious message seems more forceful and the music less of a balance than on his earlier albums. These guys are still a class act, with swell harmonies and sweet picking, but I think this disc may be more for true believers. I also have to take exception to Paul Humphrey's patriotic anthem, "Liberty And Justice For All," which posits that "strong faith in God" is one of the things our country was founded on, and that anyone who doesn't share William's faith is a traitor who should leave the country. Actually, my mom was an American historian, who specialized in the separation of Church and State, and I can tell you without fear of contradiction that freedom from religious persecution -- including freedom from State-sponsored religion -- was a key part of the founding of the U.S. of A, not the other way around. Characterizing those who "won't uphold God's values" (whatever that means) as "freedom thieves" and "God haters" is corrosive, ill-reasoned, unfair, and deeply, deeply offensive. Yeah, sure, the song is clever and catchy, but it's also destructive and divisive, and the exact opposite of the "love thy neighbor" message in the song's first verse. I like Williams's music and respect both his beliefs and his band, but I truly think he should be ashamed for recording such an arrogant and hate-filled tune. Oh, well. We all make mistakes.
Paul Williams & The Victory Trio "I'll Be No Stranger There" (Rebel, 2004)


Paul Williams & The Victory Trio "When The Morning Comes" (Rebel, 2005)


Paul Williams & The Victory Trio "Where No One Stands Alone" (Rebel, 2007)


Paul Williams & The Victory Trio "What A Journey" (Rebel, 2008)



(Produced by Paul Williams)
One of the greatest bluegrass gospel performers alive, old-timer Paul Williams shows -- once again -- that he's got plenty of gas left in the tank. A veteran of the Lonesome Pine Fiddlers and Jimmy Martin's band, and a contemporary of Bill Monroe and the Stanley Brothers, Williams has devoted himself to religious material since the early 1960s, and formed the Victory Trio in 1995 as an outlet for his gospel music. Williams retains the crisp, blues-inflected style of the Jimmy Martin band, giving his music great drive and bounce -- he also has complete mastery of bluegrass quartet harmonies and jubilee vocals, projecting a musical (and spiritual) authority that is wonder to hear. Although he's brought in new, younger vocal talent to beef up the band, with Dan Moneyhun singing lead on several songs, Williams probably doesn't really need the help: on spine-tingling songs such as "Sinner Don't Wait" and "I'll Be Young Again," Williams' makes real the prospect of the great hereafter, and may make even the most secular of bluegrass fans start doing a little adding and subtracting, wondering if they'll make it through the Pearly Gates after all. Good stuff, with plenty of great picking to back it up.


<! http://www.rebelrecords.com/artist.php?page_id=15 >
Paul Williams & The Victory Trio "Satisfied" (Rebel, 2011)



(Produced by Paul Williams)
Another superlative gospel set from bluegrass old-timer Paul Williams. This is the real deal, rock-hard, fundamentalist Jesus music, with soulful delivery and sharp musicianship. Like Ralph Stanley, Williams is an elderly performer whose passion for the music and the material allows his aged voice to soar and to muster more soulfulness and genuine emotion than performers who are many decades younger. He also has a very talented band, who play with economy and grace, and provide beautiful harmonies, particularly on the quartet tunes. If you like bluegrass gospel -- or even if you don't -- the feeling in these performances is compelling, and well worth checking out. Recommended!
Paul Williams & The Victory Trio "Going To Stay In The Old-Time Way" (Rebel, 2012)



Another sweet collection of traditionally-oriented bluegrass gospel from Paul Williams, an old-timer who is perhaps the finest practitioner of this style, other than Dr. Ralph Stanley and Doyle Lawson. A veteran of the golden age of bluegrass, Williams was in Jimmy Martin's classic 1950s band, and as this album demonstrates, he is one of the most vigorous performers left from that generation of bluegrass pioneers. Even taking into account a little technical fiddling around (there's an album credit for "vocal tuning") Williams has a remarkably robust voice, and in song after song he nails what makes this genre so appealing -- the yearning, the emotion, the mix of assurance and humility. As on earlier albums, he includes a mix of older traditional songs and newer material that expands the genre, including several songs by Paul Humphrey, each of which is a gem. If you enjoy either Christian country or just plain old sweet harmony vocals, you'll want to check this album out. Another winner from a bluegrass legend.
Robin & Linda Williams - see artist discography
The Vern Williams Band & Rose Maddox "This Is Rose Maddox" (Arhoolie, 1980/2007)



In the early 1980s Rose Maddox, a founding member of the West Coast country scene, an artist who in the 'Forties had pioneered the rollicking riotousness of rockabilly and helped define the bouncy, buoyant sound of California country, was still plugging away and playing local gigs up and down the state... After many years away from the studio she teamed up with the highly regarded Vern Williams bluegrass band for a couple of records that put her back on the map. This first album, a mostly-secular set packed with golden oldies such as "Dark As A Dungeon," "Ashes Of Love," "Silver Threads And Golden Needles" and "Single Girl," is a real doozy. The picking is fine but it's the authority and conviction with which Maddox sings that really makes this set hum. She is a masterful stylist, bringing each song to life so that listeners are completely drawn it. She had a great set of pipes, too -- a powerful performer in her fifth decade of country musicmaking. For some bluegrass fans -- and folks who dig her crazy-sounding old stuff -- this may be a bit low-key, but others will be entranced. Definitely worth checking out.
Vern Williams "Bluegrass From The Gold Country" (Rounder, 1981)



An extraordinary set of songs from one of California's best-beloved bands of the late '70s and early '80s. An Arkansas native, bandleader Williams moved West in the early '60s, where he formed a powerful duet with singer Ray Park. When the Vern & Ray duo ran its course, Williams gathered together a troop of talented young pickers, including banjo plunker Keith Little, fiddler Ed Neff, bassist Kevin Thompson and his son, Delbert Williams, on guitar. Their sound was high, tight and very traditional, leaning towards sentimental, nostalgic material, including a brace of Stephen Foster tunes. It's all quite good -- the group's tight, keening harmonies, and laid-back, ensemble style are particularly appealing. This disc combines 22 tracks taken from two sessions from 1980 and '81, when the group had over five years professional experience under its belt, and is the only record the band released in the band's 12-year career, other than two fine LPs made in support of country legend Rose Maddox. It's quite a legacy, and a fine album to have on hand when you just wanna hear some fine, rousing, pure old-fashioned bluegrass. Recommended!
Vern Williams "Traditional Bluegrass" (Arhoolie, 2004)



A great set of live performances from the Vern Williams band in its prime, including several live broadcasts on Berkeley, California's radical-left public radio station, KPFA, which has a long history of helping musical artists (even if the folks who run the station don't seem to realize it...) This is some nice, no frills, no nonsense truegrass music, West Coast style... Recommended!
Tony Williamson "All For Naught" (Mandolin Central, 1999)

Tony & Gary Williamson "My Rocky River Home" (Mandolin Central, 1999)

Tony & Gary Williamson "Let Us Cross Over The River" (Doobie Shea, 2000)


An understated, heartfelt gospel album, deeply rooted in the old brother duo style of the Blue Sky Boys, et al.... The picking here isn't top-flight, so it doesn't mask the religious content as well as other bluegrass outings might (a warning for those of a more secular bent...) But if you like, say, Doc Watson, this has a similar vibe, and is rather sweet and sincere. Definitely worth checking out.
Tony Williamson "Across The Grain" (Plucked String, 2000)

Tony Williamson "Still Light Of The Evening" (Wild Child, 2001)

Tony Williamson "Sessions At McBain Mill" (Bonfire, 2003)


Tony Williamson "Winter Wonderland" (Copper Creek, 1999)


A delicate holiday set, basically solo mandolin versions of Christmas classics, with minimal accompaniment by guitarist Michael Thompson. Perfect for having on in the background while you trim the tree and sip some eggnog.


<! GIF available >
Windy Hill "Let's Go To The Fair" (2011)


Windy Hill "Lonesome Garbage Man" (2013)



(Produced by Bart Thurbur & Myles Boisen)
Rock solid modern truegrass from a SF Bay Area quartet (and a few extra guests) who really know their stuff. The album opens with a blistering instrumental ("Pinecone Banjo") showcasing the considerable picking talents of banjoist Ryan Breen, who anchors the band but gets a lot of powerful backup by the other fellas as well, notably fiddler Paul Shelasky who adds a sly, old-timey style into the mix. Then they slip into some vocal numbers where the band reveals an unruly, slightly awkward sensibility -- refreshing, actually, in this era of too-perfect slick professionalism. Honestly, the rough edges give these guys a distinctive sound, and harkens back to the Cheap Suit Serenaders' wilfull imperfectionism... which I definitely mean as a compliment. In addition to the picking talent, this album is notable for the wealth of original material, all of quite high calibre. Heartsongs such as "Just To See Who's In My Place" and "You Cheated Three Times" sound like they are straight out of the golden-era, 1950s playbook, but were in fact written by guitarist Thomas Willie, with guitarist Henry Warde and banjoist Breen contributing other gems. It's hard to overstate just how good this album is... Trust me: if you like old school bluegrass, you gotta check these guys out.
Mac Wiseman -- see artist discography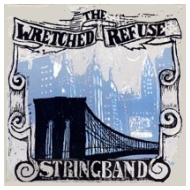 The Wretched Refuse Stringband "The Wretched Refuse Stringband" (Beet Records, 1978) (LP)


(Produced by Richard Schulberg)
This East Coast/NYC old timey/bluegrass ensemble was a loose-knit agglomeration of a lot of major talent, notably banjo whiz Tony Trischka and mandolin picker Andy Statman, as well as fiddlers Alan Kaufman, Johnny Wetz and Richard Schulberg, who all have a grand and glorious time sawing away on these rough-cut melodies. The plunking, heavy rhythms of old-time music predominate, with Trischka playing in a more rhythmic (and less modern, progressive) style than in his better-known bluegrass performances. Banjoists Andy Cahan and Marty Cutler chime in as well -- and a couple of tracks feature vocals, though mostly this is an all-instrumental, foot stomping affair. The liner notes are super-goofy (a tune entitled "Those Wheels Of Karma" is described thusly: "The oldest old-timey tune known (on this planet). The words were transcribed from an ancient parchment discovered in the Middle East: chemical analysis showed it to be part of a larger document carried from the Orient in the third millennia B.C.," gently mocking the competitive push for "authenicity" among the more-traditional-than-thou crowd...) but the giddiness of the writing reflects the joyful performances more than any avant garde, progressive musical leanings... This is a solid old-timey set from start to finish, and a delight for fans of the New Lost City Ramblers, et. al.
---
Bluegrass Albums - Letters "X, Y & Z"
---