<! MP3 00/00/00 > <! update 00/00/00 > <! outside 00/00/00 > <! pix 00/00/00 > <! icons 00/00/00 >
---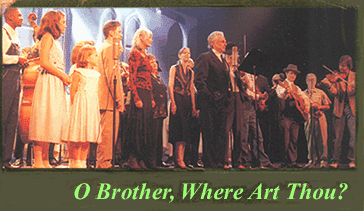 When I saw O Brother, Where Art Thou, I thought it was a real hoot. Even better yet was the year-long series of indignant letters to the editor in Bluegrass Unlimited magazine, with acoustic music loyalists up in arms over the supposedly negative portrayals of hillbillies and hicks. Regardless, the film's soundtrack hit the top of the Billboard charts, won a Grammy for Best Album Of The Year (yay.) and thrust bluegrass into the limelight of American popular culture. Good thing, too, since the old scrape and twang had been losing its popular appeal since the days of Deliverance, The Beverly Hillbillies and Hee Haw.
Personally, I don't care much about the controversy or hoopla surrounding the film -- I just think think it's all good stuff, and the more Ralph Stanley records that get sold, the better. Besides, I'm always glad to have the chance to hear and talk about bluegrass and old-timey music with a wider circle of friends. So, friends, here's my humble take on the the whole phenomenon...
---
Films
---
"O Brother, Where Art Thou?" (Touchstone Pictures, 2000)



Like I said, I think this movie is a hoot. First off, I was so glad it wasn't just another pitched-for-the-credulous-hipster-masses, Cohen Brothers gross-out flick. Yay. They actually put all that talent to some better use than trying to oooohhh! freak out the bourgeoisie. It's a funny, absurdist, slapstick film with plenty of great mountain music sandwiched in between the scenes. Okay, sure, I had a problem when they had Ralph Stanley's voice come out of the Klan leader's hood during the lynching scene -- I don't think old Ralph deserved that -- but, honestly, any of the folks who got their knickers up in a bunch about the "appropriateness," etc., of this film desperately need to develop a sense of humor. Fab soundtrack, and great cinematography -- love the use of all those pumpkiny autumnal tones with the orange and yellow filters... Even though I don't quite buy the supposed Homeric parallel, kudos for the tip towards Sullivan's Travels, my favorite Preston Sturges film.
"Down From The Mountain" (Artisan Entertainment, 2001)



Perhaps the single best thing about O Brother's commercial success was that it made a major concert tour -- and this documentary of the tour -- possible. Besides being one of the most successful films to ever capture the complex emotional interactions between musicians on stage, this is also an enduring testament to the talent and perseverence of the late, great, John Hartford, who emceed the show and performed eloquently with various musicians, despite ongoing health problems that were, literally, killing him at the time. I gotta confess, I cried almost every time he came on screen. An absolutely beautiful, subtle, humorous and affectionate film, co-produced by the venerable D. A. Pennebaker. If you liked the O Brother album, this concert film will blow you away.

"Sullivan's Travels" (1942)



In case you missed the reference... the title of O Brother comes from this classic dark comedy, probably the greatest film made by Frank Capra's evil twin, Preston Sturges. Although released in 1942, Sullivan's Travels was filmed before the USA entered World War II, and is very much still anchored in the politics of the Depression and the New Deal -- its hero is a Hollywood filmmaker who has tired of making fluffy entertainment, and yearns to make a grand, Wellsian artistic statement. He has a concept for a movie called... you guessed it... O Brother Where Art Thou? which will tell the tale of everyman, the downtrodden, etc., etc. The trouble is, Sullivan doesn't have any firsthand experience with troubles and woes, so he decides to pose as a hobo and see what the big world outside is really like. Joel McCrea is great as the persnicketty, idealistic director, and Veronica Lake is at her hotsy-totsy best as his romantic interest, and stand-in conscience. This was the first Sturges film I ever saw, and it made me an absolute convert. Highly recommended.
---
Discography
---
(Here's my original review from when the soundtrack first came out...)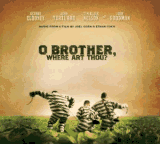 Various Artists "O, BROTHER WHERE ART THOU?" (Soundtrack) (Mercury-Nashville, 2000)



The promo sticker on the shrinkwrap calls this "THE ULTIMATE AMERICAN ROOTS MUSIC COLLECTION", which is a pretty lofty claim, considering all the competition. Still, this is one of the best traditionally-oriented acoustic music albums to come down the pike in a long, long while, and it's every bit as well-conceived, well-constructed and thoroughly enjoyable as the movie itself. Some of the best folks imaginable are on here, including humble keepers of the flame such as the Whites, the Cox Family, John Hartford and Norman Blake, along with celebrity young'uns such as newgrass idol Alison Krauss and neotrad superdiva Emmylou Harris. The pacing of the album is flawless and many of the film's thematic conceits come through with great charm, such as the morphing together of western swing impressario W. Lee O'Daniel and Louisiana governor Jimmie Davis (at one time a raunchy blues singer, who later went countrypolitan gospel and swept into office with "You Are My Sunshine" as his theme song...) along with the pseudo-Carter Family band that pops up in several scenes. In particular, it's great how the album presents homespun hillbilly gospel music, without stooping to condescend or mock the genre's unpretentious, pie-in-the-sky yearnings. (Although in the film, it's a bit disconcerting having Ralph Stanley's voice come out of the mouth of the fully-robed Ku Klux Klan grandmaster... an unfortunate slight which such a gentle old feller like Ralph really does not deserve...) Also included is hobo folklorist Harry McClintock's classic track, "Big Rock Candy Mountain", which apparently is a commentary on the tall tales that lecherous old tramps would tell to young boys and girls to get them to take up life on the road. Every thing about this album is good news, and it definitely deserves all the attention it's gotten so far. Preston Sturges would be proud.
Various Artists "DOWN FROM THE MOUNTAIN" (Mercury/Lost Highway, 2001)


A live concert follow-up to the enormously successful O Brother soundtrack, with all the same artists -- Emmylou, Alison Krauss, Chris Thomas King, et al -- sawing away on stage. Gillian Welch steals the show with a couple of tunes off her current album, and the late John Hartford plays one tune and is properly lauded in the liner notes. Holly Hunter -- who was the one major flaw in the original Coen Brothers film -- acts as emcee. Nice, lowkey acoustic material -- not as arresting as the first album, but nothing to complain about, either.
Various Artists "O SISTER...A WOMEN'S BLUEGRASS COLLECTION" (Rounder, 2001)


Bandwagon much? Rounder cashes in on the O Brother phenomenon with a fem-centric collection packed with goodies by Alison Krauss, Rhonda Vincent, Claire Lynch, Hazel Dickens, Suzanne Thomas, Lynn Morris and others. Sticks to the more traditional end of the spectrum, and keeps the momentum up throughout. Most of these gals are worth checking out on their own, but this makes a perfect introduction to their music. Nothing to complain about here, other than the naked opportunism.
The Peasall Sisters "First Offering" (Varese Sarabande, 2002)


Yeah, these little moppets were super-adorable in O Brother, and even in the Down From The Mountain documentary... But their cuteness doesn't quite translate on this gussied-up, gospel-heavy full-length album. Obviously, this trio of angelic siblings is being groomed for a big media exposure, but at least for now the magic isn't quite kicking in. Their little-kids voices aren't always in tune, and the smoothed-out, soft-newgrass arrangements are a bit too slick and family-values-y for me. The Southern Gospel crowd might like this, but I thought it was irritating.
---
Related Slipcue Pages
---
As it so happens, many of the artists whose music appears in O Brother are longtime favorites of mine, and my website also includes several discographies that should be of interest, if you liked the stuff you've heard so far.
I also have special sections for bluegrass and old-timey music... Although the bluegrass page is, admittedly, a bit on the short side so far. Just haven't had time yet to really do it up right... But that Old-Timey page rocks!
---
Links
---
There are like a billion online reviews of this movie... and who knows how long any of them will be up there? Tell you what... why don't you go to Google see what comes up... (And if my page is up there, let me know... )
---