<! MP3 06/10/09, 05/05/10 > <! outside 06/25/10 - BB > <! pix 00/00/00 > <! icons 12/21/10 > <! updates: 06/10/09 - need separate Terri Clark page 09/15/11 - new Terri Clark posted > <! The Chalker Sisters "Not Bad For Girls" (Mar-C Records, xxxxx) (LP) - bluegrass Chisai Childs http://www.cassville-democrat.com/story/1481633.html : "... Friday, November 28, 2008 By Charlie Steward In August of this year, Branson producer and longtime entertainer, Chisai Childs and her husband, Mark Allen, moved to Barry County and purchased the Roaring River Theater. The couple brought with them The Best of Branson Band and began having their "Dinner & A Show" evenings immediately. Childs has been involved in the entertainment business since she was 15 years old when she was named The Most Talented Teenager in America. She began traveling worldwide with Bob Hope, performing in Hope's famous USO shows. Childs' pedigree in the entertainment industry is very impressive. She has been on Hee Haw, The Grand Ole Opry and The Ralph Emery Show in addition to hosting and producing her own television show, "Chisai and the Ozarks" that aired in Springfield in the 1980s. Childs was an inaugural inductee in the Branson Music Hall of Fame. Childs is a very entertaining performer on the stage, but her work behind the scenes is amazing. In another country music publication, Childs is credited with giving the following entertainers their starts in the entertainment industry: Shoji Tabuchi, Doug Gabriel, Jess Hudson, Michael and Kelly Jackson, The Texans, Buddy Green, Terry McBride, Lori Locke, George Giddens, Fred Carpenter, John Paul Cody, Linda Davis, Cliff Wagner, David Evans, Shauna Smith, Sami and David Straub, Bill and Randy Brooks, the late BoxCar Willie, Buck Trent, Johnny Long, Bill Holden, Jack Robertson, Susan Hudson, Scott Reiley, Joe Tinoco, Lonnie Smith, Craig White, Rick Inman, Randy Hardison, Dennis Parsons, Steve Tennehill, Kenny Walker, Kimberly Dawn, Dean Church, Shane Vorhaban, David Milligan, Greg Bailey, Jerry Dykes, David Houseman, Ava Barber and many others. The cast of Childs' Best of Branson Band features Susan Hudson Carman, who was awarded Miss Country Music America by Tammy Wynette. Hudson Carman is a regular performer in Branson during the week, but on the weekends, she can be seen and heard at Barry County's Roaring River Theater. Her powerful voice is a must hear, and she adds her own brand of humor that makes her truly an entertainment jewel. Childs' husband, Mark Allen, is a singer-songwriter who has landed songs on the Country Music's charts. He was recently signed to a recording contract with Driftwood Records, which was owned by the world famous Jimmy Driftwood." >
---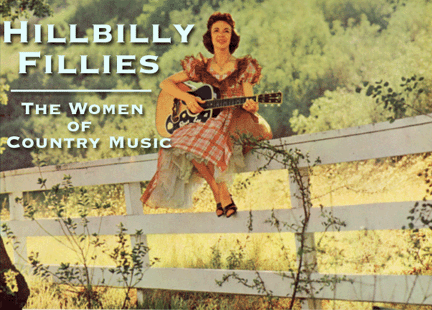 Welcome to my overview of women in country music, with reviews ranging from folk and bluegrass to honkytonk, rockabilly and Nashville pop. This is the second page covering the letter "C."
---
A | B | C-1 / C-2 / C-3 | D | E | F | G | H | I | J | K | L | M | N | O | P | Q | R | S | T | U | V | W | X, Y & Z | Comps
---
Kasey Chambers - see artist discography
Carol Channing & Webb Pierce "C&W" (Plantation, 1977)

Get it? C&W... like "Carol & Webb"? Clever, eh? Anyway, this is a really, really weird collaboration, and it's no coincidence that one of these tracks made it onto a volume of Rhino Records' Golden Throats compilations (which collect horrific vocal performances...) Channing sounds like a psychotic understudy for Eartha Kitt's Catwoman role on the Batman TV series. She really sounds bizarre, in typical Channing fashion. What inspired this collaboration may remain a mystery for generations to come, but this LP will doubtless keep its novelty status for an equally long period. Doesn't hold up musically, but it is an interesting footnote to Webb's legacy.
Carol Channing "...And Her Country Friends" (Plantation, 1978)

With Hank Locklin, Jimmy C. Newman, Rita Remington, Gordon Terry and Rufus Thibodeaux...
The Chapin Sisters "A Date With The Everly Brothers" (Lake Bottom, 2013)






<! a bit more pop/adult-alt than Americana, but still... >

Cee Cee Chapman "Twist Of Fate" (Curb, 1989)

Cee Cee Chapman "Cee Cee Chapman" (Curb/Capitol, 1990)

Marshall Chapman - see artist discography
Charlee "Standing In Your Shoes" (Amerama, 1978) (LP)


(Produced by Henry Strzelecki)
Although this pop/countrypolitan oriented album didn't really make much of a dent chartwise, it is noteworthy as a change of pace for bassist Henry Strzelecki, one of the most ubiquitous session players of the era. Here, Strzelecki steps into the producer's booth and also contributes several songs for the fledgling artist to perform: "Hand Me My Guitar (So Long Song)," "I Hate Me (For Hurting You)" and the title track, "Standing In Your Shoes." Much of the album's sound is shaped by arranger Bill Pursell, who adds strings and whatnot into the mix...
Carol Chase "Sexy Songs" (Casablanca, 1980) (LP)

Carol Chase "Blue Highway" (2005)






<! unable to locate: Carol Chase "The Chase Is On" (xxxxxxxxxxxxx, xxxxxxx) hung out with the Skynyrd crowd? >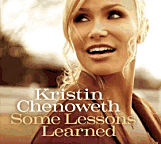 Kristin Chenoweth "Some Lessons Learned" (Sony Masterworks, 2011)



(Produced by Bob Ezrin)
Not counting appearances on Broadway cast recordings, this is actress Kristin Chenoweth's fourth studio album -- previous records showed her dabbling in jazz-standards, adult-contemporary and Christmas music -- but now it's time for a little twang. Cynics could be forgiven for suggesting that Chenoweth is slumming on this Top-40 styled country album, but ya know what? It kind of works. She aims for a modern Nashville vibe, with tinny, bombastic arrangements and plenty of formulaic schmaltz: self-empowerment songs, a weeper about daughters and daddies, one about God, a few raunchy/sassy songs and a fun novelty song about Dolly Parton ("What Would Dolly Do?," an album highlight...) Chenoweth starts out throwing her high-pitched voice into a kind of teenager-ish register, zeroing in on the Taylor Swift wannabee territory, but after she mentions Ms. Parton, she eases into a more natural-sounding Dolly vibe, and it's these songs that have the most resonance. Several songs are recycled from other artist's catalogs (Carrie Underwood, et. al.) but she puts her own stamp on them -- indeed, if she didn't have the baggage of her Hollywood career to distract potential fans, Chenoweth could probably make a serious stab at a Top Country career. And who knows? She just might. Definitely worth checking out if you're into mainstream Nashville stuff.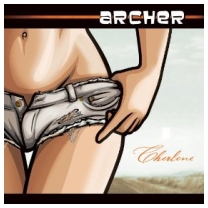 Cherlene "Songs From Archer" (2014)


Odd choice on the album graphics: both the front and back covers feature mildly porn-ish cartoons of a nubile, barely clad midsection bursting out of the teeniest-tiniest cutoffs imaginable, and this sleazy, redneck iconography leads you to expect a crass, unsubtle set of yee-haw, white-trash stereotypes which really doesn't match up with the soft-edged, melodic material on this album. Cherlene -- aka Jessy Lynn Martens -- is the musical voice of the Archer TV series, and she mixes twang and contemporary folk, even sounding like Amy Rigby on several songs. There are tunes where she tries on some Gretchen Wilson-esque tough-gal 'tude, and though this doesn't really ring true, it also doesn't really get in the way of enjoying this album. I've never seen Archer, so I don't get any of the inside jokes, but the music itself is fine... There's not a lot of heft to Ms. Martens voice, or the backing band, but they hit an understated groove that has a fairly unique feel in today's musical landscape, and thankfully doesn't echo any of the lavish overproduction or phony bluster of contemproary Nashville, while avoiding similar cliches from the pop and folk spectrum. Worth a spin.
Brandy Clark "12 Stories" (Slate Creek, 2013)


Terri Clark - see artist discography
Patsy Cline - see artist discography
---
Hillbilly Fillies - More Letter "C"
---