<! MP3 05/05/10, 06/25/10 > <! update 06/25/10 > <! outside 06/25/10 - BB > <! pix 00/00/00 > <! icons 12/21/10 > <! Brenda Cole "Country Lover" (Melody Dawn Records, 1987) (LP) (Produced by Brenda Cole) - Glen D. Hardin on piano - would-be mainstream - about half originals - w/ covers of "These Boots Are Made For Walkin'," "Stand By Your Man" and "You Gave Me A Mountain" Agnes "Sis" Cunningham "Sundown: Sis Cunningham Sings Her Own" (Folkways, 1976) (LP) - FH 5319 - folk, I guess > <! Susan Cowsill >
---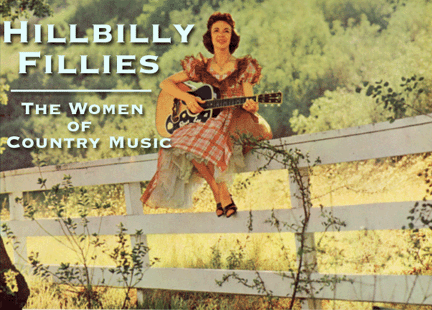 Welcome to my overview of women in country music, with reviews ranging from folk and bluegrass to honkytonk, rockabilly and Nashville pop. This is the third page covering the letter "C."
---
A | B | C-1 / C-2 / C-3 | D | E | F | G | H | I | J | K | L | M | N | O | P | Q | R | S | T | U | V | W | X, Y & Z | Comps
---
Anita Cochran "Back To You" (Warner Brothers, 1997)



(Produced by Jim Ed Norman & Anita Cochran)
A singer, songwriter and guitarist, the Michigan-born filly hit it big with a tacky power ballad, then kind of faded from sight when her other singles failed to connect. This disc opens nicely enough, with the rollicking, upbeat "I Could Love A Man Like That," but swiftly slides into formulaic soft stuff, including a daddy song, and a truly heinous duet with Steve Wariner ("What If I Said," a horrible "soul" ballad which of course was a huge hit...) The hit-the-high-note caterwauling on that song alone should be enough to chase you away, but the rest of the album is pretty overcooked as well... I like Cochran's voice, and her guitar picking is impressive (she plays lead on the whole album...) but the gooey production style is a drag. There are a couple of tunes she wrote on here that are worth mentoning: the uptempo raveup of "Girls Like Fast Cars" is kind of fun, in a gimmicky gal-power kinda way, and the acoustic "Back To You" evokes memories of Rosanne Cash. So it's not a total loss, I guess... Three "okay" songs on one's debut album ain't a bad ratio, though for the most part this album doesn't do much for me.
Anita Cochran "Anita" (Warner Brothers, 2000)


Tammy Cochran "Tammy Cochran" (Epic, 2000)



A strong debut by a promising new artist -- someone who could offer an alterative to the prefab pop of Shania Twain and Faith Hill... The opening tracks -- "I Cry," "If You Can" and "So What" -- reveal a fairly rugged female artist capable of delivering complex material with great emotional clarity... Cochran's vocal tone is tough and rural, and while I like there to be some rough edges in my country, at first I found the contrast between her and the modern production to be a little offputting... Then she drew me in with her ability to live inside her lyrics, as well as the quality of the songwriting. She's got a lot in common with Terri Clark or Tanya Tucker, in that she's kind of gritty, but still tilts towards the mainstream. Suddenly, though the album goes off the rail with some glossy ballads, and she loses the momentum that her more rootsy delivery had built up early on, building up to the album's super-sappy centerpiece, a religiously-themed song called "Angels In Waiting," about the pain of losing loved ones too early in live... Nonetheless, this record is pretty good, at least for Y2K Nashville; definitely worth checking out, especially if you prefer the fiddle and pedal steel to the drum machine and synth.
Tammy Cochran "Life Happened" (Epic, 2002)



(Produced by Billy Joe Walker, Jr.)
A disappointment. Predictably, Cochran's follow-up album was much glossier, and packed full of pre-fab gal-power ballads. In a mirror image of her first album, the opening songs are terrible, and the harder, better numbers come into play later on. Mostly, though, this is too full of self-helpy, Oprah-esque, post-feminist, self-affirmation anthems (I Used To Be That Woman," etc.) which I guess is all very well and fine, but did every female singer in Nashville have to sing the same sort of stuff? It's so stereotyped and dreary. Still, this features a few nice real country tunes, including a version of "If You Can" (which was also on her debut), re-released as a single the second time around. Too pop for me, but still better than most.
Tammy Cochran "Where I Am" (Shanachie, 2007)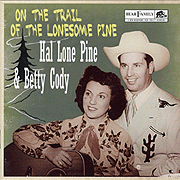 Betty Cody & Hal Lone Pine "On The Trail Of The Lonesome Pine" (Bear Family, 2006)


Fine, sentimental heartsongs and loopy novelty tunes from the early 1950s... Harold Breau (aka Hal Lone Pine) originally hailed from Maine, while his singing partner Betty Cody was French-Canadian Quebecois. This husband-wife duo made a good showing as second-stringers in both countries, and while this disc probably won't blow you away, it's very charming stuff, typical of its time, a fine example of the workmanlike recordings of country's less rowdy artists in the rollicking honkytonk/hillbilly boogie era. The Breaus found their greatest success up in Canada, largely due to the popularity of the regionally-oriented novelty recitation, "Prince Edward Island Is Heaven To Me," a masterpiece of pure, shameless corn. It was followed by "Appleblossom Time In Annapolis Valley," which also sang gthe praises of Nova Scotia. They also sang romantic weepers and smoothed-out honkytonk tunes -- although Lone Pine, in particular, wasn't that strong a vocalist, he sounded amiable and robust, and these tracks are all quite charming. Listening to these old tunes, you can hear that Betty Cody was arguably the better singer of the two -- the folks at the record labels thought so, too, and tried to promote her as a solo artist, although she mainly worked as part of the family road show. She dropped out of show biz when the demands of touring came into conflict with her role as a mother, and when her marriage to Lone Pine fell apart... One interesting footnote: their son, Lenny Breau, was a true musical prodigy and after a brief apprenticeship in the family band, he later emerged as one of he most highly regarded jazz guitarists of the post-bop era. (I don't think he's featured on any of these tracks, but his first teacher, Ray Couture, was a longtime member of the band...) These recordings are a fine legacy of two little-known artists who two sounded quite good together... If you're a devotee of old-school, 1950s country, by all means, check this one out!
Betty Cody "The Successful Hillbilly Era Of Betty Cody: 1952-1954" (Binge Disc, 2005)





<! 1. Pale Moon 2. Tom-Tom Yodel* 3. Keep Your Promise, Willie Thomas 4. Phonograph Record 5. Keep Your Shirt on John 6. Don't Stop - I Like It!* 7. O Mama Come Home 8. You Broke My Heart in 15 Million Pieces 9. You Can't Feel the Way I Do 10. Please Throw Away the Glass 11. Kiss That Made a Fool of Me 12. Letter I Should Never Have Mailed 13. Of All the Songs We Ever Sang 14. Dear Sister 15. Can You Live With Yourself? 16. Don't Believe Everything That You Read About Love 17. I Found Out More Than You Ever Knew 18. Jealous Love 19. I'm Talkin', Start Walkin'* 20. Tear Down the Mountains 21. I Really Want You to Know 22. Heart to Heart Talk (Let's Talk It Over) 23. How to Get Married 24. Always a Bridesmaid 25. You Want More of Me (Than I Can Give You) 26. Columbus Stockade Blues 27. In Sunny Tennessee 28. I Hate Myself for Loving You So Much >
Kellie Coffey "When You Lie Next To Me" (BNA, 2002)



(Produced by Dan Huff)
Tearing a page or two out of the Dixie Chicks fakebook, Coffey slathers her opening track not only with tinny, treble-heavy, lushly layered, Echoplexed pop production, but also with a rolling, rhythmic banjo, and husky-then-shrill vocals that batter away at the lofty, dense lyrics. The Spanish guitars kick in on the following song, the drum machines aren't far behind, and there's arty versifying everywhere you turn. It's a bit much -- overwrought and overproduced -- and yet I still find myself looking to her as a hopeful new contender. If she could shed some of the soul-diva pretentiousness and settle into a more traditional country vibe, Coffey could be kinda fun. Probably ain't gonna happen, though; she seems like a pretty modern gal. Which I'm sure is fine for her, but kind of a drag for fans of real, old-fashioned country.
Kellie Coffey "Walk On" (Duet Records, 2007)



(Produced by Wayne Kirkpatrick)
Although she made a big splash as a critic's darling with her 2002 debut, When You Lie Next To Me, Kellie Coffey languished in the middle rungs of the Top 40, and apparently got the boot for her troubles. Like many modern Nashvillers, she's sidestepped the major labels and gone indie, and thus her new record plays directly to her fans -- in this case to folks who prefer chick-centric emotional songs about relationships, heartbreak and dreams. Given the recent rash of redneck-gal rowdiness at the top of the charts, these soul-soaked femme-ballads seem a little dated, but it's solid work throughout, and if you like the style (or were a Coffey fan to begin with) then you'll definitely dig this album. Some songs are a bit much: Trina Harmon's "I Would Die For That" deals with infertility, which is a powerful subject, but the singlemindedly depressive focus of the song's narrator (and the tinge of peevish jealousy towards her friends) makes the song difficult to latch onto. Other songs, like "I Had A Dream" and the goofy satire of modern life, "Bandwagon," are more solid and less self-pitying. Almost all the songs were co-written with producer Wayne Kirkpatrick (of the band Little Big Town) and he adds a firm if formulaic hand to the sound... If you liked the Y2K-era soul-twang sound of Sara Evans, Trisha Yearwood, et al., you'll probably dig this one, too.
Kellie Coffey "Why I'm Alive" (2009)



A 6-song EP...
Brenda Cole "Country Lover" (Melody Dawn Records, 1987) (LP)

Patsy Cole "Patsy Cole" (Tra-Star, 1989)
A minor leaguer with a trio of independently-released singles 'way out in the Back Forty. I can't locate her album on Amazon, but this old video is pretty funny!
Shirley Collie/Various Artists "Classic Country Duets" (Capitol)


Her run in the sun was brief, with only a few singles and well-regarded duets released back around 1961. But outside of a few compilation albums (such as this one) good luck finding any of her work. Here, at least, you can hear her Top Ten hit, "Willingly," a duet with her then-husband, Willie Nelson.
Lorrie Collins - see artist discography
Jessi Colter - see artist discography
Amie Comeaux "Movin' Out" (Polydor, 1994)


A teenaged recording artists from Louisiana, Comeaux died in a 1997 auto accident at age 21, before the release of her second album. This disc, which has a relatively rootsy, robust, uptempo "young country" feel... It only made a tiny ripple in the charts, but she certainly showed a lot of vitality in her performances. Who knows what might have been?
Amie Comeaux "Very Special Angel" (Polydor, 1998) <! label? >


This posthumously released album has a slower, more ballad-y feel...Also, the production sounds a bit thin -- doubtless it would have been fuller if she had lived to see the album's release. The title track, which closes the album, is a tribute song from a host of fellow country singers.
Amie Comeaux "Memories Left Behind" (Beaujo, 2006)

The Concrete Cowboy Band "The Concrete Cowboy Band" (Pickwick-Excelsior, 1981) (LP)


(Produced by Steve Vining & Ed Keeley)
You wouldn't think it to look at it, but this is quite a good album... It's an offering by the Pickwick label, of all people, gathering together a bunch of high-powered "usual suspect" superpickers such as Hal Rugg, Mark Casstevens and Buddy Spicher to work their way through a set of western swing and honkytonk oldies, punctuated by some tasty newer tunes, such as Bobby Borchers' "Texas When I Die," "Country Is The Closest Thing To Heaven (You Can Hear)" and "Thank God I'm A Country Gal" (a gender-flipped version of the John Denver hit...) as well as "Concrete Cowboys," one of two songs written by producers Ed Keeley and Steve Vining. Fronting the band are two fine female singers, Donna Hazard and Nancy Walker, who for whatever reasons were not showcased as the stars of the band (there are no photos of any of the musicians) but who bring a lot of ooomph to the recordings. The production is slick, but the music is soulful... This album only yielded one super-minor hit, way in the Back Forty (and Hazard enjoyed similar success with several singles released around the same time...) Fans of Dawn Sears and the Time Jumpers, perhaps, might really enjoy this one!
Elizabeth Cook - see artist profile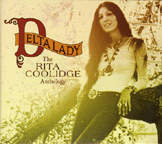 Rita Coolidge "Delta Lady: The Rita Coolidge Anthology" (Hip-O, 2004)



The silky-voiced '70s singer Rita Coolidge grew up along with the decade she made her mark in... Her early albums were soul-drenched, sub-country crossovers, influenced by the similarly eclectic efforts of her pals on the LA studio scene such as Leon Russell or Delaney & Bonnie, whose albums she had sung on before landing a contract of her own, and, of course, her hubby, Kris Kristofferson, who she often duetted with. Sort of a less-rugged Bonnie Raitt, or a sexier Maria Muldaur, by decade's end, Coolidge had really popped out, leaning heavily towards Maureen McGovern/Anne Murray-style slow songs and (more memorably) a disco-roots crossover sort of like Boz Scaggs (another pal of hers...) It was these disco-era recordings that really put her on the map, though she also more or less left the uncatagorizable country-soul stuff alone after that. This 2-CD set is an ultimate fan's wet dream, gathering 41 of her golden oldies from her hitmaking years on the A&M label. A little too goopy for me, but a nice document of her work.
The Coon Creek Girls "Lily May, Rosie & Susie" (County, 2000)






<! Lily Mae Ledford "The Coon Creek Girls Early Radio Favorites" (Old Homestead) (LP) B0047POSMK Lily Mae Ledford album, or CCG? >


Wilma Lee & Stoney Cooper - see artist discography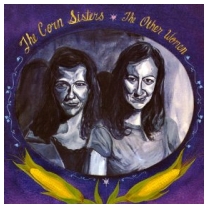 The Corn Sisters "The Other Woman" (Mint, 2001)



Pacific Northwest lo-fi collides with alt.country DIY as Neko Case and Canadian rocker Carolyn Marks joins forces for a rowdy live performance at a Seattle venue... They play the hick schtick a little bit broadly for my tastes: echoing some aspects of her Maow days, this disc is full of exaggerated accents, clattering Loretta Lynn covers and various white trash stereotypes... Still, their performance is undeniably high-energy and the crowd seems into it. This is actually an older performance, from a gig in 1998, and in many ways it's mainly Mark's show -- most of the original material is hers, only one song is by Case. Not my cup of tea, but it's got a scrappy DIY vibe that may resonate with the cowpunk crowd.
Helen Cornelius & Jim Ed Brown "Anthology" (Renaissance, 2000)


A much-sought after collection of duets recorded for RCA in the late '70s by this unlikely but highly successful duo. Their harmonies are interesting -- Helen Cornelius had a trilling, slightly shrill voice that seems grating at first; it's what happens to Brown's voice when in tandem with hers that's kind of cool. Brown started his career as part of a family harmony trio, then took off on a solo career that built him up as a Jim Reeves-style baritone. Here, his voice softens and recedes, taking more of a supportive role in relation to her more piercing tones. It's a nice combination: you may initially cringe at the glitzy production style, but by the end of this album, chances are you'll slip into their wavelength and be a fan. If nothing else, this is a great time capsule of the disco-tinged country crossovers of the 'Seventies, packed with numerous steamy, swinger-themed cheatin' songs, such as "Saying Hello, Saying I Love You, Saying Goodbye," "Lying In Love With You" and Helen's remarkable solo number, "Whatcha Doin' After Midnight, Baby." Slick, but sweet. Also includes a few solo tunes by Jim Ed, who was in fine countrypolitan form. (Also see my Jim Ed Brown discography.)
Helen Cornelius "Helen Cornelius" (ABC-Dot, 1975) (LP)





<! Is this the '75 track list, or the 1985? dont bother to knock/mama he's crazy/love is too close to be too far away/time of my life/he thinks hearts were made to break/give me one more chance/you dont bring me flowers/i dont want to have to marry you/old friends/god bless the usa >

Helen Cornelius & Jim Ed Brown "I Don't Want To Have To Marry You" (RCA, 1976) (LP)

Helen Cornelius & Jim Ed Brown "Born Believer" (RCA, 1977) (LP)

Helen Cornelius & Jim Ed Brown "I'll Never Be Free" (RCA, 1978) (LP)

Helen Cornelius & Jim Ed Brown "You Don't Bring Me Flowers" (RCA, 1979) (LP)

Helen Cornelius & Jim Ed Brown "One Man, One Woman" (RCA, 1980) (LP)

Helen Cornelius "Helen Cornelius" (MCA, 1985)

Carolina Cotton - see artist discography
Court Yard Hounds "Court Yard Hounds" (Columbia, 2010)



(Produced by Martie Maguire, Emily Robison & Jim Scott)
A "solo" release from Dixie Chicks fiddler and guitarist, sisters Martie Maguire and Emily Robison (both nee Erwin...) This kind of picks up where their gentle, evocative acoustic tunes on recent Dixie Chicks albums left off, although if the truth be told, there seems to be something missing in this set, some sort of spark or artistic balance... This album seems kind of self-indulgent and unfocussed; deeply personal perhaps but not deeply engaging (at least not for me...) One thing that's missing are the pop-twang hooks that haul you in on the Chicks albums -- these songs seem more gooey and meandering, more in Sarah MacLachlan territory, if you know what I mean. I'm sure some fans will happy with this new incarnatio; but hopefully something new with Natalie is also in the works.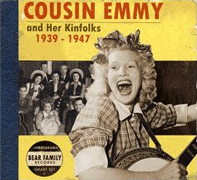 Cousin Emmy "Cousin Emmy & Her Kinfolks: 1939-1947" (Bear Family, 2007)


Folks who are interested in the early history of women in country music may want to check this one out... Cousin Emmy was a colorful performer who sang old-timey and sentimental songs, and who wrote one of the best-known songs in the bluegrass canon, "Ruby (Are You Mad At Your Man)," which is included here in a live, on-air version. The bulk of this disc comes from old radio airchecks, although tracks from a long-lost album are included as well. Minnie Pearl, eat your heart out!
The Cox Family "Everybody's Reaching Out For Someone" (Rounder, 1993)



Slick as they are, the Coxes are also quite soulful. This is a nice, solid set of country-drenched bluegrass vocal tunes, with a harmony style reminiscent of the Judds, or (by implication) the Dolly Parton/Emmylou Harris/Linda Ronstadt "Trio" albums. Good song selection, a nice mix of sacred and secular material, oldies by folks such as Bill Clifton, Jim & Jesse, and fine originals written by Sidney and Suzanne Cox. Recommended!
The Cox Family "I Know Who Holds Tomorrow" (Rounder, 1994)


The Cox Family "Beyond The City" (Rounder, 1995)



The title refers to a trip out to the country, as in "country music," with the Coxes recording several obscure oldies originally waxed by the folks the like of Webb Pierce, Tanya Tucker and Ronnie Milsap, as well as a few originals by papa Sidney Cox. Ron Block, Rob Ickes, Dan Tyminski and others from the Union Station axis join producer Alison Krauss to give the disc a sleek, full sound. Overall, I found this to be a bit sleepy -- guess I prefer when they're more 'grassy -- but it's still pretty rich and packed with plenty o' sweet harmonies. Also includes a nice, demo-y version of "Broken Engagement" that an early Cox Family line-up recorded back in 1974(!) with a nice slice of twang to it. It's very cool to hear what they sounded 'way back then...!
The Cox Family "Just When We're Thinking It's Over" (Rounder, 1996)



Samantha Crain & The Midnight Shivers "Songs In The Night" (Ramseur, 2008)



(Produced by Danny Kadar)
This one's best suited for the indie-rock/folk-freak crowd, although there is an undeniable element of twang, 'billy and blues in there as well. Not quite my cup of tea: the music is original and compelling, but I can't get past Crain's vocals, which seem a bit too mannered and slurry, reminiscent of the whole Be Good Tanyas/Jolie Holland vortex. Interesting as they are, I find it hard to concentrate on the lyrics, and the overall effect is mildly frustrating. Of course, artsier music fans might go ga-ga over this one -- I think Crain is a unique and compelling artist and, at the tender age of twenty-two, she'll continue to have a lot to offer the indie scene. Worth checking out.
Lea Anne Creswell "Lea Anne Sings Hank Cochran And..." (2008)

Melodie Crittenden "Melodie Crittenden" (Asylum, 1998)



(Produced by Byron Gallimore & Stephony Smith)
Forceful and formulaic country-pop with slick, tight, somewhat trite arrangements. Crittenden is an okay vocalist, I suppose, but she sure spent a lot of effort trying to sing all raspy and blues-ed out, like Sheryl Crow... This was apparently her only bid at mainstream country; afterwards she joined the Christian pop band Selah (who don't sound very country at all...) and also recorded an album of children's songs on an indie label... This features a couple of inspirational songs, "Broken Road" (which apparently was featured on a the teen drama Dawson's Creek), and the more overtly Christian-themed "With His Arms Wide Open," which closes the album. Nothing here did that well on the charts, though, which might help explain the career shift. This is okay, if you go for slick, modern Nashville stuff -- it sounds just like all the Faith Hill-y, Shanialicious stuff that was out there already...
Melodie Crittenden "Dream With Me Tonight" (Compendia, 2001)



An album of children's songs...
Bobby Cryner "Bobby Cryner" (Epic, 1993)



(Produced by Doug Johnson & Carl Jackson)
A surprisingly distinctive album. A rootsy set, with low, bluesy vocals from this intriguing West Coast songwriter... Her timbre and sultry style may remind you of K.T. Oslin or Wynona Judd, but Cryner has a lot more twang and doesn't go into the same kind of phony-baloney white-girl soul. She shows her California roots in a duet with Dwight Yoakam (on a Buck Owens song!) and she's completely comfortable with producer Carl Jackson's melodic-acoustic touches. Cryner didn't make it as a solo artist, but as a songwriter she had some success, with songs recorded by folks such as Suzy Bogguss, Lee Ann Womack. Most notably, Trisha Yearwood, took her song "Real Live Woman" into the Top 20, though you might find that Cryner, like many country composers, does her own stuff the best. These stripped-down, rural-sounding sessions stand out from the usual Nashville fare -- definitely one worth checking out!
Bobby Cryner "Girl Of Your Dreams" (MCA, 1996)



(Produced by Tony Brown)
See, I would have thought that Tony Brown and Bobbie Cryner would be a great match, since she was so bluesy and he has such a good ear for bright, bouncy twang. But this is a pretty lush, glammed-up record, at least compared to her first album... This time around, she really does sound Wynona-ed out, which I personally don't think is a good thing. I guess they were trying to get her onto the charts by making her sound like everyone else, but it was an unfortunate move. Fans of the more polished, slick 'Nineties Nashville pop sound might get into this, but for twangfans it was a letdown. It is kind of cool that they had her cover "Son Of A Preacher Man," because of her obvious vocal similarities to Dusty Springfield, but the arrangements aren't very satisfying. Oh, well.

Catie Curtis "Hello, Stranger" (Compass, 2009)



(Produced by Garry West)
A nice folkie outing, with bluegrass-flavored backing courtesy of Alison Brown and her crew... Todd Phillips, Darrell Scott, Stuart Duncan and others trade licks while Curtis sings in her warm, crystaline voice. The set list is full of cover tunes, friendly readings of songs by Richard Thompson, John Martyn, Cat Stevens, and others. One highlight is Don White's "Let's Be Sixteen Again," where a pair of parents plan to steal their kid's car and go for a joyride -- and let their teens be the ones to worry for once! There's also a nice duet with Mary Gauthier, on the Carter Family oldie, "Hello Stranger. The mix of earnest folkie topical songs and bluegrass twang is pretty nice, a welcome change from the acoustic guitar-meets-light pop arrangements that have dominated the scene for the last few decades. Give it a spin!
---
Hillbilly Fillies - Letter "D"
---