<! MP3 05/05/10 > <! update 06/25/10 > <! outside 06/25/10 - BB > <! pix 00/00/00 > <! icons 12/21/10 >
---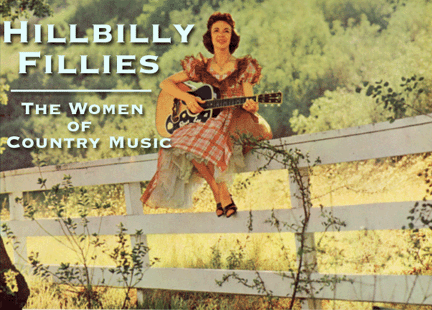 Welcome to my overview of women in country music, with reviews ranging from folk and bluegrass to honkytonk, rockabilly and Nashville pop. This is the first page covering the letter "D."
---
A | B | C | D / D-2 / D-3 | E | F | G | H | I | J | K | L | M | N | O | P | Q | R | S | T | U | V | W | X, Y & Z | Comps
---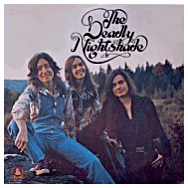 The Deadly Nightshade "The Deadly Nightshade" (RCA-Phantom, 1975) (LP)


I dutifully wondered about The Deadly Nightshade for years -- decades, actually -- wondering if they were really country at all, and whether they were perhaps as good as they sounded on paper. One of the first all-woman rock bands to score a major-label contract, they had a distinctly feminist political stance, which was sometimes reflected in their lyrics... I gotta say it, though: their vocals as well as the overall vibe of this album is pretty iffy. I just don't think they were that good, or at least not that fun to listen to. Historically important, sure, but music I'd come back to for listening pleasure? Not so much.
The Deadly Nightshade "F&W" (RCA-Phantom, 1976) (LP)


(Produced by Joel Diamond & Charlie Calello)

Angel Dean & Sue Garner "Pot Liquor" (Diesel Only, 2004)



An interesting, modernized reworking of Carter Family-style harmonies and old-fashioned country murder ballads, along with some moody lo-fi instrospection. Sounds a lot like Freakwater, with maybe less of a rough edge, and while the subject matter tends to be bleak, it suits the music well. Later in the album, they get into some uncommercial "pop" stuff with weird harmonies and aesthetic choices that reminded me quite a bit of the Roches. Nice stuff, though it might fit more into the "rock" side of the alt-y equation.
Honi Deaton "What Should Have Been" (Chateau Music, 2003)


Honi Deaton & Dream "Promise To A Soldier" (Chateau Music, 2005)


Heartfelt independent bluegrass, with several 'grassed-up cover tunes -- "Walkin' After Midnight," "Send Me The Pillow That You Dream On" and Patsy Montana's classic "Cowboy's Sweetheart" -- along with a slew of first-rate original tunes. Deaton's greatest strength is as a songwriter, particularly as a gospel composer... Songs such as "I'm Callin' Jesus," "Here I Am Lord" and "Glory, Glory" have the ring of classics, indeed, I was surprised to find out they were new songs written by Deaton in recent years. Her band, Dream, has gotten much tighter as well, and the picking is pretty solid, taking off at a pretty fast clip and keeping the pace through the length of the album. Definitely worth a spin!


<! re-load GIF online >

Honi Deaton "Chasin' Dreams" (C & L Entertainment, 2007)


Honi Deaton "The Other Side" (C & L Entertainment, 2009)


Ruby Dee & The Snakehandlers "North Of Bakersfield" (Dionysus, 2006)


A nice blast of honkytonk twang and retrobilly from the hip habitats of the Pacific Northwest... Ruby Dee and her Seattle-based rock'n'roll pals kick out the jams and deliver on of the most high-energy albums this side of Neko Case's old albums, or even an old Janis Martin platter or two. The songs all start to sound the same by the end of the album, but the first impressions are pretty strong and last a long time. A strong set of all-original material, too... Bet these folks are a lot of fun live!
Ruby Dee & The Snakehandlers "Miles From Home" (Dionysus, 2008)



(Produced by Conrad Uno & Jorge Harada)
Raspy, raucous, freewheeling and fiesty indiebilly from up in the Pacific Northwest. This gal obviously has a major jones for 'Fifties-era Wanda Jackson (I'm with you there!) as well as a deep background in modern DIY indiephonics... It's a little chaotic for me at times, but on the more straightforward retrobilly tunes, this is a lot of fun. Bet they're fun live!
Penny DeHaven "Penny DeHaven" (United Artists, 1972) (LP)





<! United Artists UAS-6821 Penny De Haven: Down In The Boondocks; Don't Change On Me; Gone; It's As Easy As Singing; Mama, Have All The Good Guys Gone?; Mama Lou; Another Day Of Loving; I Feel Fine; The First Love; Awful Lotta Lovin'; That's Just The Way I Am; Big City Men >

Penny DeHaven "Penny DeHaven" (Main Street, 1984) (LP)


A later album by singer-actress Penny DeHaven... She recorded for a variety of labels, starting in the mid-1960s, and is probably best known for her duets with Del Reeves ("Land Mark Tavern" was a Top 20 hit, back in 1970...)


<! http://en.wikipedia.org/wiki/Penny_DeHaven http://www.cmt.com/artists/az/dehaven_penny/artist.jhtml http://countrydiscography.blogspot.com/2009/09/penny-de-haven.html >

Dehlia Low "Dehlia Low" (2008)



A bluegrass/old timey band from North Carolina, featuring two female lead singers, fiddler Anya Hinkle and guitarist Stacy Claude... ("Dehlia Low" is the band's name, not the name of a person in the band...)


<! Stacy Claude (m?) >



Dehlia Low "Ravens & Crows" (Rebel, 2011)



(Produced by Travis Brook & Dehlia Low)

Grey DeLisle "The Small Time" (2000)

Grey DeLisle "Home Wrecker" (Hummin'bird, 2003)



Grey DeLisle "The Graceful Ghost" (Sugar Hill, 2004)



Wow... talk about a shift of direction! After self-releasing a pair of semi-dismal rockabilly-retro albums, LA-based singer-songwriter Grey DeLisle has apparently found her metier, slowing things down and penning a brace of Carter Family/Dolly Parton-styled acoustic, old-timey ballads, material that fits her somewhat shaky voice much better than the uptempo bluesiness of the 'billy scene. Before this disc came out, she was firmly planted on my "danger sign" list -- now I'm kind of curious to see where she goes from here. Admittedly, this disc is still gimmicky and bandwagonesque in a different kind of way, but it has an atmospheric feel that works for me. Definitely worth checking out... Fans of Be Good Tanyas and Jolie Holland will probably like this as well.

Grey Delisle "Iron Flowers" (Sugar Hill, 2005)



Hmmm. I guess my love-hate relationship to Ms. Delisle is back on again... Her first albums of tepid, wannabee rockabilly retro soured me to her early on, but her last record, the moody, eerily moving Graceful Ghost, was a surprisingly strong album that really made me think twice. Here, she's delved too deep into the wellspring of oversculpted Americana uber-artsiness, with a slow, solemn, Gothically morose batch of tunes, the sort of densely produced, darkly poetic stuff that some folks really dig, but I find pretentious and impenetrable. There are wisps of Cowboy Junkies and various slowcore, indierock mopesters, but only a tune or two where the lyrics rose above the self-consciously artful presentation. I would have to say, in all honesty, I might not be the right person to ask about this album -- if it's the kind of thing you like, this might be a masterpiece.
Della Mae "This World Oft Can Be" (Rounder, 2013)


Kris Delmhorst "Appetite" (Signature Sounds, 1998)


Kris Delmhorst "Oddlot" (Signature Sounds, 2000)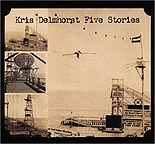 Kris Delmhorst "Five Stories" (Big Bean Music, 2001)



This Boston-area singer-songwriter drifts between folkie-confessional meanderings and more compelling melodic grace, mixing country, pop and folk sensibilities, after the manner of Dar Williams or the Be Good Tanyas. Sometimes I'd find myself drifting away from her, slightly irritated by seeming droniness, and then I'd be riveted by gemlike songs such as "Broken White Line," entranced by the mandolin and the firmly sculpted lyrics. Definitely worth checking out.

Kris Delmhorst "Songs For A Hurricane" (Signature Sounds, 2003)



Perhaps a bit more doleful than her previous album, but still bridging the gaps between folk, adult pop and twangy Americana. When she gets behind a strong beat, Delmhorst really grabs my attention -- others may find her slower, more contemplative stuff intriguing as well: fans of Be Good Tanyas, take heed!
Kris Delmhorst & Redbird "Redbird" (Signature Sounds, 2005)


Kris Delmhorst "Strange Conversation" (Signature, 2006)









Iris Dement - see artist discography


<! 12/10: posted, still needs BIO >

Brigitte DeMeyer "Nothing Comes Free" (2003)






<! Midwest born and bred, DeMeyer first sang in gospel choirs as a child, and this no doubt instilled her with the inescapable blues, gospel and soul roots that inform her music. A move to San Diego, California found her becoming a musical sponge, with rock and country styles invading her artistic jetsam. Relocating to the Bay Area after college, Brigitte met and hooked up with guitarist Chris Rossbach, and the pair performed in and around the Bay Area. They played in different bands together, while in the meantime, Brigitte trained with vocal coach Judy Davis, in Oakland, CA, and began writing her own material. Already having developed a love for bluegrass, Brigitte also eventually studied this classic form with such modern-day masters as Peter Rowan, Tim O'Brien and The Del McCoury Band, amongst others. This whirlwind of musical experience and exposure only enriched DeMeyer's already powerful talent, setting the stage for her debut album. Released in January of 2001, Another Thousand Miles proved to be an anagram of Americana, with country, rock, and bluegrass styles all coalescing into a delicious musical gumbo. In the later part of 2001, when DeMeyer was plotting Nothing Comes Free, her sophomore album, she decided to expand her musical horizons and search for a rhythm section that would solidify her swampy, Southern yearnings and ever evolving song writing style. Nothing Comes Free succeeds wildly in this context, partly due to the aformentioned, and partly due to the rhythm section of drummer Brady Blade and bassist Tony Hall, both of whom make up the core of Spy Boy, EmmyLou Harris's backing band. These two, along with slide guitarist Tony Furtado (featured on a stunning arrangement of Little Feat's "Roll 'Em Easy", among others), keyboardist Mike Emerson, and long time DeMeyer guitarist and musical sidekick Chris Rossbach,(lead guitarist for former Meters drummer Zigaboo Modeliste and his band), make up the amazing super session band that DeMeyer was able to assemble for Nothing Comes Free. In addition, the album features some sterling guest performances by Ivan Neville of The Neville Brothers, who plays piano and Hammond organ on several cuts, and also sings a heart-stopping duet with DeMeyer on "By Yer Side", and some solid performances by featured guitarist Stef Burns, lead guitarist for Huey Lewis and the News. >

Brigitte DeMeyer "Something After All" (33rd Street Records, 2006)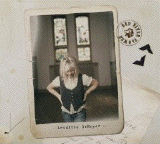 Brigitte DeMeyer "Red River Flower" (Brigitte DeMeyer Music, 2007)



(Produced by Brady Blade)
An exquisite Americana offering from this California-based, bluesy roots crooner... Where earlier albums had a rougher edge, this is a languid, mellow set, with a healthy dose of the smoky, sultry vibe made famous by Norah Jones... Indeed, this sounds sort of like the country album many wish Jones would record, filled with deep, soulful pedal steel and unhurried acoustic guitar, and excellent songwriting. Each song is a gem, as the album flows from strength to strength. Several Alt-Americana luminaries pitch in, such as Buddy Miller and Brady Blade (bandmates in Emmylou Harris' Spyboy band) as well as pedal steel legend Al Perkins, contributing some sweet licks to an album that is sure to hold up well over the years. Recommended!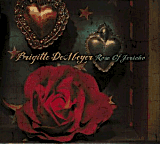 Brigitte DeMeyer "Rose Of Jericho" (Brigitte DeMeyer Music, 2011)



(Produced by Brigitte DeMeyer & Brady Blade)
On her fifth album, Ms. DeMeyer steps back from her earlier twang, and plunges into a funky, soulful gospel vibe, drawing more on the bluesy African-American gospel tradition than on the hillbilly/Southern style. Her immediacy and strong artistic presence still comes through, but the music has a much different feel from earlier records, bringing to mind those old Leon Russell albums, or the soul-tinged country-pop of Shelby Lynne... Some listeners might get turned off, others will be enraptured. Not my cup of tea, but I can hear the skill in her songcraft and the passion in her voice... Definitely worth checking out, particularly if you're into similar recent Americana-spiritual searches from Kasey Chambers, Steve Earle, Buddy Miller or Kate Campbell.
Brigette DeMeyer "Savannah Road" (Brigette DeMeyer Music, 2014)



(Produced by Brigette DeMeyer)
More soulful, sultry vocals mixed with the backwoods twang of steel guitar, mandolin and banjo, with sweet, precise arrangements and evocative, haunting lyrics... Her stylistic likeness to Shelby Lynne remains striking and strong, and as far as I'm concerned, that's a good thing, although there's also a bit of Rumours-era Fleetwood Mac in there as well, with the crisp, concise picking of multi-instrumentalists Will Kimbrough and Guthrie Trapp... Nice stuff that holds up to repeated spins.


<! at least a half-dozen albums > <! soulful >

Betty Dempsey "Walking After Midnight" (Self-Released, 2002)


Betty Dempsey "Country Favorites" (Self-Released, 2002)


Betty Dempsey "Tribute To Betty Dempsey" (Self-Released, 2007)

---
Hillbilly Fillies - More Letter "D"
---