<! MP3 05/06/10 > <! update 00/00/00 > <! outside 00/00/00 > <! pix 00/00/00 > <! icons 12/21/10 > <! DI - DZ > <! Laurelyn Dossett - old-timey >
---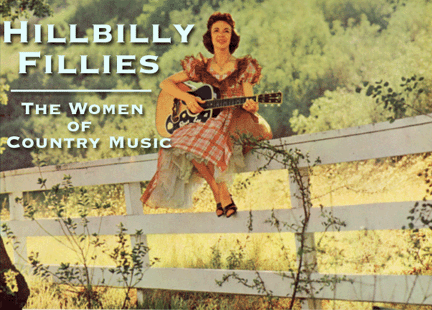 Welcome to my overview of women in country music, with reviews ranging from folk and bluegrass to honkytonk, rockabilly and Nashville pop. This is the third page covering the letter "D."
---
A | B | C | D / D-2 / D-3 | E | F | G | H | I | J | K | L | M | N | O | P | Q | R | S | T | U | V | W | X, Y & Z | Comps
---
Hazel Dickens - see artist discography
Amber Digby "Here Come The Teardrops" (Heart Of Texas, 2004)


Amber Digby "Music From The Honky Tonks" (Heart Of Texas, 2007)


Amber Digby & Justin Trevino "Keeping Up Appearances" (Heart Of Texas, 2010)
Lola Jean Dillon "Sings Songs She Wrote For Dolly Parton, Waylon Jennings, Cal Smith, Loretta Lynn..." (Cabin Records) (LP)


Not sure just when this record came out, but I sure would love to hear it... Along with her partner, L. E. White, Ms. Dillon was a very successful country songwriter in the 1960s and early '70s, and -- as this album's title makes plain -- her stuff was covered by a bunch of heavyweight country stars. Her compositions include "You're The Reason Our Kids Are Ugly..." This is probably a cool record.

The Dinning Sisters "Back In Country Style" (Jasmine, 2002)


A family act that had its roots in Oklahoma's Depression-era country music scene, the Dinnings took western swing and added the sleek, jazzy harmony vocals of the Boswell and Andrews Sisters, a cosmopolitan style which they excelled at. They became a national act and for many years were major competitors of the Andrews Sisters... It might be easy to dismiss them as mere imitators, but as this disc demonstrates, their country roots set them apart and made them distinctive... It's nice stuff, maybe a little too jazzy for some twangfans, but still quite fun. Guitarist George Barnes, whose own career also spanned country, pop and jazz, backs the Dinnings on about two-thirds of the tracks of this generously programmed set... Recommended! (Footnote: the late Jean Dinning also wrote the 1959 pop hit, "Teen Angel," which was recorded by her brother Mark and became a teenpop anthem and kicked off a fad of teen-car crash songs... Go figure!)
Dixiana "Dixiana" (Sony-Epic, 1992)



Another moderately-successful none-hit wonder, one-album band... Lead singer Cindy Murphy had a slightly rugged voice, but it's at odds with the glossy, belatedly '80s-ed-out production; hard to tell whether she bugs me because she's singing in the wrong style, or whether she just bugs me. At any rate, this is one of those bands that never manages to balance honkytonk with country-pop (they try, but their "hard" country sound is still too glossy) and I wasn't able to find anything here that appealed to me. Still, if you are a fan of, say, the Judds, or Juice Newton, you might like this as well.
Dixie Chicks - see artist discography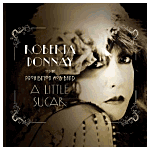 Roberta Donnay & The Prohibition Mob Band "A Little Sugar" (Motema, 2012)


(Produced by Roberta Donnay & Sam Bevan)
Sleek, sly, sexy torch songs from jazz-blues revivalist Roberta Donnay, who worked with Dick Oxtot's trad-jazz band in the early 1980s and, more recently, with roots-kook Dan Hicks in a revamped lineup of his Lickettes backup singers. Her compact, six-person band on this record has a big sound, ranging from robust New Orleans-style blues to more winsome arrangements that showcase pianist John R. Burr, a subtle accompanist who gives a sophisticated, lounge-y tone to much of the album. Nice song selection, with tasty classics from Ida Cox, Fats Waller, Irving Berlin, Hoagy Carmichael and -- a nice surprise -- a couple of tunes from pioneering African-American bandleader Clarence Williams. The album closes with one of her own songs, "Empty Bed Blues," a languid, steamy number that would make Ethel Waters or Maria Muldaur proud.
Amber Dotson "I'll Try Anything" (EP) (Capitol, 2005)

Dottsy "The Sweetest Thing" (RCA, 1976) (LP)


(Produced by Roy Dea)
A likeable minor leaguer who had a few respectable chart hits in the mid-'70s, Texas native Dottsy (nee Dorothy Brodt...) hitched a ride with Johnny Rodriguez's road show, and after a half year or so touring with him, landed a contract with RCA. She had an okay voice, nothing earthshaking, but sincere and heartfelt, perhaps a little on the demure side, as if she could easily be overwhelmed by a powerful enough arrangement. There wasn't too much risk of that, though: the band behind her was pretty much a standard-issue Nashville studio session crew, and they stuck to a mellow, lowkey tempo. The song selection was interesting, though -- in addition to some bland offerings by John Denver and Billy Joel, she also covered a few folks from the nascent "outlaw" scene, including a ballad by Kinky Friedman (!), Jessi Colter's "Storms Never Last," and a slushy version of Susannah Clark's "I'll Be Your San Antone Rose" (which she apparently got first crack at, ahead of Emmylou Harris...) Nothing all that compelling, but a nice slice of '70s style country crooning, with backing by a bunch of Nashville "usual suspect" superpickers -- Harold Bradley, Bobby Emmons, Weldon Myrick, Jerry Shook, et. al.
Dottsy "Tryin' To Satisfy You" (RCA, 1979) (LP)

Whitney Duncan "Whitney Duncan" (Self-Released, 2007)


Whitney Duncan "Right Road Now" (Warner Nashville, 2010)


Whitney Duncan "One Shot" (2013)

Holly Dunn -- see artist profile
Leah Durelle "Nine Days In Nashville" (JR Music, 2006)

---
Hillbilly Fillies - Letter "E"
---