<! FL - FZ > <! MP3 05/06/10 > <! update 06/25/10 - not sure of dates/labels for Micki Fuhrman > <! outside 06/25/10 - BB > <! pix 00/00/00 > <! icons 12/21/10 > <! SALLY FOSTER - 1930s recorded about a dozen tracks & released a handful of singles, solo and with the Hoosier Hotshots FREDA & THE FIREDOGS aka Marcia Ball? http://countrydiscography.blogspot.com/search/label/Freda%20and%20the%20Firedogs Joy Ford "Keep On Truckin'... Keep On Lovin' " (Country International) > <! Feb, 2013: Rachel Farley - first single charts >
---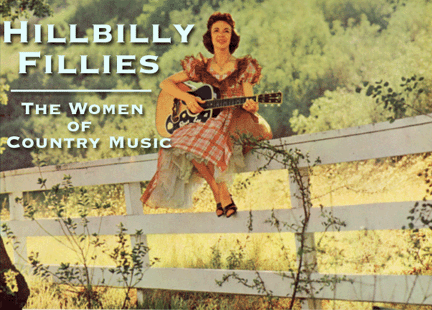 Welcome to my overview of women in country music, with reviews ranging from folk and bluegrass to honkytonk, rockabilly and Nashville pop. This is the second page covering the letter "F."
---
A | B | C | D | E | F / F-2 | G | H | I | J | K | L | M | N | O | P | Q | R | S | T | U | V | W | X, Y & Z | Comps
---




Rosie Flores - see artist discography


<! 12/10 - added, but still needs BIO >

Rosie Flores "Rosie Flores" (Reprise, 1987)



After kicking around LA's nascent alt.country, neo-traditionalist hick scene for several years, Texas-born Rosie Flores got her big break on this major-label album, which has a several excellent tunes on it. Produced by Dwight Yoakam's right-hand man, guitarist Pete Anderson, this has all the sharp clarity of Anderson's production style, along with typically punchy hard country arrangements... "God May Forgive You (But I Won't)" is one of my favorite Flores tunes; other strong performances include "Crying Over You" and "I Gotta Know..." You have to admit, Flores has never had the world's greatest voice, but she sings with feeling, and has a lot of rough-edged charm. (Note: Rounder Records re-released this album on CD -- with several extra tracks! -- as Honky Tonk Reprise...) Worth checking out!
Rosie Flores "After The Farm" (Hightone, 1992)


Rosie Flores "Once More With Feeling" (Hightone, 1993)


Rosie Flores "Rockabilly Filly" (Hightone, 1995)



Includes duets with rockabilly foremothers Wanda Jackson and Janis Martin.... Rrrrrrowwlll...!!

Rosie Flores "Dance Hall Dreams" (Rounder, 1999)



Although the album art shows Rosie striking a classic rockabilly pose, this is actually one of her more introspective and personal albums, less rooted in classic country or 'billy stylings, and more of a contemplative, folkie album. Maybe not what her rockabilly-inclined fans might have expected, but it does have some gems. "Who's Gonna Fix It Now," an ode to a father who's passed on, is a highlight... The second half of the album gets a bit bluesier and more uptempo, but the songwriting is still relatively dense... Nice record, though!

Rosie Flores "Speed Of Sound" (Eminent, 2001)


Alternating pretty evenly between upbeat, rockabilly-ish numbers and softer torch songs, this is one of Flores' most consistent, most confident albums. Flores has long been an Americana indie darling in part -- let's face it -- because her vocal talents have always been a bit modest. She doesn't have a great range, and her phrasing can be stiff, but she's never let that slow her down, and I think that accounts for much of her charm. It's kind of like hearing your neighbor or roommate at open mic night, except that Flores has made a successful career of it... Her albums have been uneven, though, and this disc marks a bit of a turning point in that, for once, she sounds more... relaxed, as if she's not worrying about the production or whether she's coming across strongly enough. She sounds more masterful... more professional, if you will. Instead of a rugged sprinkling of gems in an unevenly paced setting (like many of her other albums), this is an evenly satisfying set -- nice from beginning to end. Over the years, I've been a quiet skeptic as far as Flores has has been concerned, but I'm pretty taken with this record. Check it out!

Rosie Flores "Single Rose" (Durango Rose, 2004)



Fans will be delighted by this stripped-down live set which features Rosie at her most buoyant and upbeat...She doesn't have the most perfect voice, or always stay in tune, but she sure knows how to have fun and the gal sings and writes a lot of great songs, including several here that she's never recorded before. She starts out with an off-the-cuff recollection of when she broke into the maverick LA alt-country scene of the 1980s ("Palamino Days") and delves even deeper into her past with a particularly nice version of "Bandera Highway," which she dedicates to her father; in between is a brace of other fine songs and lively interaction between Flores and her audience. It's a really nice portrait of one of indiebilly's stalwart performers at her most charming. Worth checking out!


Rosie Flores "Christmasville" (Emergent/Thirty Tigers, 2005)

Rosie Flores "Girl Of The Century" (Bloodshot, 2009)



New stuff from everybody's favorite hillbilly filly... now one of the grand dames of the alt-country scene... Keep up the good work, Rosie!

Rosie Flores "Bandera Highway" (Hightone, 2004)



For any latecomers, this disc is a swell selection of tunes taken from Flores' three Hightone albums -- After The Farm, Once More With Feeling, and Rockabilly Filly -- and it's as compact a reading of her early '90s ouvre as you're likely to find... Fun stuff!
Sue Foley "Ten Days In November" (Shanachie, 1998)


A swell album, well worth checking out. The blues have been so miserably bad for so many years that a relatively straightforward record like this is a real breath of fresh air... This Austinite has some rough edges, which work much to her credit, but also an appealling individuality and distinctive air about her, even when paying homage to others, as on the Dylan-y, (Blonde on Blonde- era) "Highwayside," which opens the album. Mostly what makes this album great is her ability to pump up the volume and delve into electric blues, without falling into the morass of generically aggressive, muscular power chords and shrill guitar solos that have plagued the blues scene for the last few decades... Foley's still able to tap into the senuality and reflective side of the style, combining it with a scruffy alt.country sensibility... Her other albums are also appealing, but this seems to be her best, and most fresh-sounding. Give it a shot!
Frazey Ford "Obidiah" (Nettwerk, 2010)


A solo album from one of the Be Good Tanyas gals...
Joy Ford "The First Of Joy Ford" (Country International Records, 1974) (LP)
(Produced by Sherman Ford, Jr. & Fred Christie)
The young Ms. Ford was born in Alabama but raised near Poplar Bluffs, Missouri... Although there are some cover tunes on here -- "Til The End Of The World," "It Wasn't God Who Made Honky Tonk Angels," "Release Me" -- most of the songs were written by various composers signed to the Rest A While Music Company... Folks like Don Canton, Eddie Fontaine, Janice Torre and Bee Walker who remain as mysterious today as they were back then, though presumably they were all Missouri locals. Sadly, there's no info on the musicians backing her, but this was certainly a very private/indie type of album.


<! - # 1001 - date per BB - August 3, 1974 - no ASIN 11/30/16 >

Joy Ford "Keep On Truckin'... Keep On Lovin' " (Country International Records, 1977) (LP)





<! - #728 >

Joy Ford "From The Heart Of Joy" (Country International Records, 198--?) (LP)





<! Tracks: Big City Turn Me Loose, Carousel, Kentucky Serenade, #1 With A Heartache, Baby Have A Baby With Me, Can I Believe, Always In My Heart, String Around His Finger, Survivor In The Fast Lane - 1983--? >


The Forester Sisters - see artist discography




Peggy Forman "Presenting Peggy Forman" (Dimension, 1981) (LP) <! 1980-81? >
Peggy Forman "Honky Tonkin' Housewife" (Goldrhyme, 2005)


Later recordings... and pretty good, too!
Sylvia Forrest "The Nights Are Never Long Enough With You" (Door Knob, 1989) (LP)

Kelly Foxton & Hank Snow "Lovingly Yours" (RCA, 1980) (LP)

Kelly Foxton & Hank Snow "Win Some, Lose Some, Lonesome" (RCA, 1981) (LP)

Paula Frazer "Indoor Universe" (Birdman, 2001)

Paula Frazer "A Place Where I Know -- 4-Track Songs: 1994-2002" (Birdman, 2003)

Paula Frazer "Leave The Sad Things Behind" (Birdman, 2005)

Paula Frazer "Live At The Ace Of Spades" (EP) (Birdman, 2006)

Paula Frazer & Tarnation "Now It's Time" (Birdman, 2007)

Freakwater "Freakwater" (Amoeba, 1991)
This Chicago-based outfit is definitely an acquired taste, perhaps not recommended for the casual listener, but required listening for the alt-country scholar. Raspy, ragged and difficult, Freakwater draws liberally on indie-rock and twangcore traditions -- one of the female singers, Janet Beveridge Bean, is also in the revered spacerock band, Eleventh Dream Day; later on, a guy from Uncle Tupelo joined the lineup. Underneath all their abrasiveness, Freakwater hits on some convincingly old-fashioned hillbilly vibes, like a sort of booze-fueled version of the Carter Family. Album reviews to follow.
Freakwater "Dancing Under Water" (Thrill Jockey, 1991)

Freakwater "Feels Like The Third Time" (Thrill Jockey, 1994)

Freakwater "Old Paint" (Thrill Jockey, 1995)


Freakwater "Springtime" (Thrill Jockey, 1998)

Freakwater "Endtime" (Thrill Jockey, 1999)

Freakwater "Thinking Of You" (Thrill Jockey, 2005)

Janie Fricke - see artist discography
Elaine Frizzell "A Tribute to Joe Maphis & Merle Travis" (Mosrite Records)

The Front Porch String Band "The Front Porch String Band" (Rebel, 1981)


An early album by vocalist Claire Lynch, playing here with her husband Larry Lynch and a couple of their pals, including Michael McClain of the McClain Family Band... Lynch went on to a long solo career, recording under her own name... The band had been together for several years before this disc was recorded, but this is their earliest album currently available in print...
The Front Porch String Band "Lines And Traces" (Rebel, 1991)


A fine reunion album, made after a ten year hiatus...
Edith Frost "Calling Over Time" (Drag City, 1997)


I'm not sure why the indie-altie crowd keeps insisting Edith Frost is an Americana artist... It's as if no previous rock musician had ever thrown an acoustic lick into their work before, and the Chicago scenesters are so baffled by her, they just don't know what to make of it. Well, anyway, even though I'd place her pretty firmly in the nebulous confines of the "lo-fi" indierock category, Frost's love of good, old-fashioned hillbilly music does give her some cred as an alt.hick, at least by proxy... So what the heck? I'll review her here as well! Sounding an awful lot like Barbara Manning, but with less of a pop-driven edge, Frost crafts a delicate set of odd, introspective, meandering lo-fi tunes, amid arty accompaniment from numerous Chicago-scene stalwarts. It's a bit rarified, but has its allure... This probably isn't as "alt-country" as you may have been lead to believe, but Frost certainly does know her way around the byways and backwoods of American hick music... (Check out her website, for insights into her wide-ranging musical tastes -- as well as her playful sense of cyber-community activism...)
Edith Frost "Telescopic" (Drag City, 1998)


Delving simultaneously, paradoxically, more into rock and more into Americana, Frost's similarities to Barbara Manning become more pronounced, as do her differences. She's generally slower, and -- if possible -- a bit mopier (although this album opens with an uptempo, fuzz-drenched psychedelic number that suggest an afternoon or two spent listening to Tall Dwarfs albums...) The album really starts to open up on "Pony Song" and "Too Happy," with oddly catchy refrains... This is probably too subdued and micro-cultural for most rock fans, but for the thoughtful, brainy crowd (...how I envy them!) it may hold some nice surprises.
Edith Frost "Wonder Wonder" (Drag City, 2001)


Her most ornate and richly realized album to date... I really don't get why some of the indie-critical elite persist in describing her as "country," when she's so clearly coming from an alt-rock / art-rock background, especially on this disc, which is packed with shimmering keyboards and theremin-alicious wooglie tones galore... Well, whatever. If I were to recommend one of her records to anyone, I think this would be it: it's got the most interesting ear candy and the most alluring lyrics of the lot. Check it out!
Micki Fuhrman "Holding Me" (MCA) (LP) <! B003PF6B6Y >

Micki Fuhrman "Angels Watching Over Me" (MCA) (LP) <! (Dayspring? 1979?) >


Christian music...
Micki Fuhrman "I Bet You Never Thought I'd Go This Far" (MCA) (LP)

Micki Fuhrman "Look Again" (Dayspring? 1981?) (LP)

---
Hillbilly Fillies - Letter "G"
---