<! LE > <! MP3 05/08/10, 12/22/10 > <! update 06/30/10; 09/30/10: new page for Cristy Lane, broke LA and LE into separate pages > <! outside 06/30/10 - BB - still need Linda Gail Lewis, Nicolette Larsen, Brenda Lee, Cristy Lane & Judy Lynn > <! pix 00/00/00 > <! icons 12/22/10 > <! Linda Gail Lewis >
---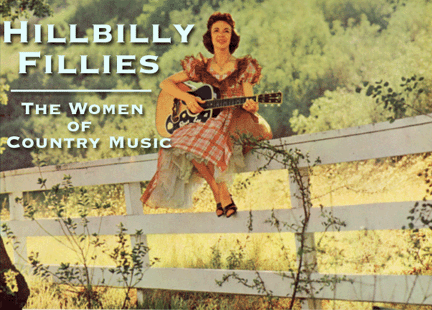 Welcome to my overview of women in country music, with reviews ranging from folk and bluegrass to honkytonk, rockabilly and Nashville pop. This is the first page covering the letter "L."
---
A | B | C | D | E | F | G | H | I | J | K | L / L-2 / L-3 | M | N | O | P | Q | R | S | T | U | V | W | X, Y & Z | Comps
---
Beth Lee & The Breakups "One More Time Again" (Self-Released, 2013)



(Produced by Ron Flynt)
A nice uber-indie twang-tune set from a Texas gal from Houston and currently living in Austin (of course!) She's got a strong set of original tunes here, exploring country-coated themes of love, loss and regret, sung with feeling in a raggedy DIY style. Her band, the marvelously-named Breakups, have the distinct feel of indie rockers-doing-honkytonk-twang, but in a good way. They're true to the music, but also embrace their rock'n'roll roots, and their unfussy, unmannered performances feel authentic and sincere. More than anything, it's the repertoire that stands out: Beth Lee writes good songs, and when you give yourself over to the indie vibe, tunes like "Thirteen Roses" and "One More Time Again" will resonate and win you over. Fans of folks like Dee Lannon, Lil' Mo And The Monicats or Rosie Flores might want to check this out.
Miss Bobbie Lee & The Rhythm Boys "Countrie Gold" (Carlson International, 1962) (LP)


I have absolutely no idea why they insisted on spelling it "countrie," but this obscuro private pressing LP certainly has its charms. Wendy Maye Hummel (aka Bobbie Lee) was a middle-aged gal from rural New York state who was born in West Stockton, and recorded this album in Kingston, NY. According to the liner notes, she was apparently encouraged to record this album by her husband and daughter and "the many thousands of fans" who made up her "sellout audiences." Lee sings like Kitty Wells -- with the same rural snap, although actually not as grating as Wells -- and though both she and the modest backing band have a fairly low energy level, it's real country music, and nice to hear a true amateur singing her heart out. The songs are probably all cover tunes, leaning heavily on hits by Kitty Wells, Hank Williams and Lefty Frizzell, although the last track, "I'm Walking In," might have been an original. There are no credits on the album for composers, backing musicians, or even the release date... I'm guessing the early 1960s, though a 1976 newspaper article (that repeats some the liner notes verbatim) says it was "brand new" in '76, but also mentions a promo record from 1962. I'm betting it really came out in '62 but was being passed off as new a decade later. Anyway, let's hear it for New York... Ms. Lee, who in the 'Seventies ran a nursing home for severely disabled adults, clearly wasn't really a player in the industry, but she did record a charming souvenir album, and probably got a lot of joy out of singing.
Brenda Lee - see artist discography
Cari Lee & The Saddle-Ites "Red Barn Baby" (El Toro, 2002)

Cari Lee & The Saddle-Ites "The Road Less Traveled" (El Toro, 2003)



Decent nouveau-retrobilly swing, along the lines of Ray Condo or Dave & Deke. Cari Lee Merritt makes all the right hiccupping nods towards Wanda Jackson and Charline Arthur, as the band plunks and pounds away. Her vocals are a little flat at times, but the band is solid and overall this is a spunky little record that reveals a diverse stylistic range, and that should get the rockabilly crowd all worked up.
Joni Lee "Joni Lee" (MCA, 1976) (LP)


The lone solo album from Conway Twitty's daughter, Joni... I think she had a some singles come out as well, but this is pretty much it for her solo career... It includes a version of the song, "Don't Cry Joni," a duet with her father that hit #4 on the charts in 1975, and was recorded when Joni was still in high school.


<! Don't Cry, Joni; It Really Doesn't Matter Anymore; I've Just Got To Know; Just Lead The Way; Playmates; I'm Sorry, Charlie; Baby Love; Run Like A Thief ; And A Little Girl Cried; Angel On My Shoulder >
Julie Lee "Stillhouse Road" (Compadre, 2004)



One of the most striking Americana albums of the decade... A lovely debut by newcomer Julie Lee, with some nice backup from folks like Rob Ickes, Alison Krauss, Tammy Rodgers and Vince Gill. The all-star cast doesn't overshadow Lee's own strengths, as she delivers a lighthearted, hook-laden, 'grass-tinged Americana set which will be sure to delight a wide variety of folks and draw in more than a new fan or two. She has a great ear for a melody, and an even better one for a catchy chorus... Some of her songs seem pretty slight thematically, but they are uniformly pretty-sounding, and her voice is very appealing, sort of a softer version of Iris Dement's rural trill, very distinctive, but also very friendly. I think you'll like this one; it's really grown on me. Highly recommended!




Millie Lee & The Leeways "The Bottle And The Microphone" (Applause, 1981)
An album by a middle-aged, regular-folks gal from central Illinois... Lee's son, Loren Lindsay, plays drums and co-wrote the title track with his brother Ted. Millie Lee wrote one song as well, "Burning Teardrops," which starts Side Two, while the other songs are mostly covers. I'm guessing at label -- the back cover says this was recorded at the Applause studios in Mattoon, IL, but there's not much other info.


<! - from central Illinois (?) - no ASIN 01/07/15 >

Robin Lee "Robin Lee" (Evergreen, 1986) <! Evergreen label? no ASIN? >





Robin Lee "This Old Flame" (Atlantic, 1988)

Robin Lee "Black Velvet" (Atlantic, 1990)

Robin Lee "Heart On A Chain" (Atlantic, 1991)

Robin Lee "The Best Of Robin Lee" (Atlantic, 2000)

Wilma Lee - see: Wilma Lee Cooper
Brennen Leigh "Lonesome, Wild And Blue" (Barking Dog, 2002)

Brennen Leigh "The Gospel According To Austin" (2003)

Brennen Leigh "Too Thin To Plow" (Down Time, 2004)

Brennen Leigh "The Devil's On My Tail" (2005)


Brennen Leigh & Jesse Dayton "Holdin' Our Own & Other Golden Country Duets" (Stag Records, 2007)



A fun, funky set of hard-country duets, done up right by twangster Jesse Dayton and Austinite hillbilly filly Brennen Leigh, a husky voiced cow-gal with an obvious love of old-school country. (In an interview, Ms. Leigh pays allegiance to Melba Montgomery, which gets her plenty of brownie points in my book...!) A couple of the songs come from the George Jones canon, including Leon Payne's "Take Me" and Bobby Braddock's "Something To Brag About," along with a slew of groovy originals co-written by Brennen and Dayton. Highlights include "Let's Run Away," "Everything Looks Good On The Outside" and "Two-Step Program," a punny country novelty song in the classic tradition. Originally a brash, twangy guitar hero, Dayton has come on a little strong on previous albums -- here, he plays with a restraint and thoughtful soulfulness that should make old-schoolers sit up and take notice. This is a nice, classy record, well worth checking out!
Danni Leigh "29 Nights" (MCA-Decca, 1998)



A couple of real slam-bang, hard country novelty tunes open this striking debut... On "Beating My Head Against The Wall" and "If The Jukebox Took Teardrops," Leigh evokes the rollicking, upbeat, take-no-prisoners attitude of West Coast honkytonkers like Buck Owens and Dwight Yoakam, with a perky, propulsive instrumental attack similar to Trick Pony. For the most part, the rest of this album lives up to the promise of this opening salvo -- midway through, there are a couple of songs that falter, the band sounds uninspired and like they weren't taking the work seriously, and Leigh also sounds like she's just walking through the material. But then the pace picks up again, and the album closes with some strong, fun songs. Her cover of the steamy, sexy ballad, "Touch Me," isn't as shocking as the George Jones version (hard act to follow), but just by picking that song to cover as one of the album's few slow numbers shows you that Leigh knows her stuff when it comes to real, old-school country stuff. This disc didn't make a very big dent in the charts, but it sure did gather a few devoted fans into her orbit... Worth checking out!
Danni Leigh "A Shot Of Whiskey And A Prayer" (Sony, 2001)



(Produced by Richard Bennett & Emory Gordy, Jr.)
This disc opens strong, with a set of twangalicious, hot-blooded honkytonk tunes worthy of Dwight Yoakam at his best... Then she kind of tilts sideways and gets into more soul'n'rock oriented material, sort of in a Sheryl Crowe-like mode. She kind of loses me on that stuff, but the country material is cool... Kind of like Tanya Tucker, with sharp, sweet guitars. A mixed bag, but definitely worth picking up.
Danni Leigh "Divide And Conquer" (Audium, 2001)



There's a little something for everyone here... Teamed up with Dwight Yoakam's main man, Pete Anderson, Leigh kicks this disc of with some alt-y, hard country material reminiscent of Rosie Flores -- charmingly un-slick and a little bit raw. Moving into slower material, she gets kinda poetic and ballad-y, then indulges in a bit of Dixie Chicks-type Top 40, and finally settles back into rawer material, sounding for all the world like a latter-day Carlene Carter. Who knows? Mainstream airplay seems possible; I'm sure the indie crowd will embrace her as well. Certainly worth keeping an eye on this gal.

Kim Lenz "Kim Lenz And Her Jaguars" (Hightone, 1998)



Modern-day retro-twang from this grrrroovy rockabilly filly... Lenz has a real knack for writing new tunes that sound like oldies from the obscuro vaults, all sung with an appropriate dose of snarly, throaty gusto, with numerous original tunes that have an authentic mid-'Fifties feel. This was her first full solo album, following an EP that came out a couple of years earlier. Some 'billy fans are fairly critical of Lenz's vocals, but if you're into the whole sideburns'n'gingham scene, you'll still probably want to check her out.
Kim Lenz "The One And Only" (Hightone, 1999)



Kim Lenz "Up To My Old Tricks Again" (Hightone, 2005)



If you missed Ms. Lenz the first time around, here's a best-of set that gathers the hottest tracks from her two albums on the Hightone label, as well as a couple of newer cover tunes on here (notably her version of "Cool Love," borrowed from Bloodshot's recent Wanda Jackson tribute album). A good summation of her career to date.

Kim Lenz & The Jaguars "It's All True!" (Riley Records, 2009)



(Produced by Kim Lenz)
A nice, solid indie set from rockabilly revivalist Kim Lenz, who sings her little heart out on a dozen new tunes, all but four of which were written my Lenz herself. It's a fine retrobilly party, with guests that include SoCal icon Big Sandy, who sings a nice duet on the Sun Records-y "He's All Mine." There are some cheerful, funny novelty numbers, particularly the Lenz original, "Zombie For Your Love," and the album closes on a sizzling note, when guitarist Nick Curran cuts loose with some super-wicked riffs on "Burning Rubber." Nice to see her still doing her thing and keeping it really 'billy.


<! He's All Mine Burning Rubber >

Penny Lew "Country With A Flair" (Penny Lew Records, 1982) (LP)


A female country artist from Washington state... She mostly sings covers of Hank and Lefty classics, along with several originals: "Have A Ball," "Washington Is Home Sweet Home To Me" and "Harry (Of Mount St. Helens)." She's accompanied by Ron Stevens on guitar and pedal steel...
Laurie Lewis -- see artist discography
Linda Gail Lewis "Boogie Woogie Country Gal" (Castle, 2004)


Back in the 1960s, Jerry Lee's little sister used to be just another beehived backup singer, but somewhere along the line she got the bug to start plunking the piano keys, just like her older sibling, and over the years she's carved out a nice niche for herself as a rockin' roots-blues pianist. She draws favorable comparisons to other gals such as Marcia Ball, Angela Strehli and Katie Webster -- while her voice isn't a dazzler, she has plenty of enthusiasm, and it can be contagious. In addition to a dozen fine songs recorded under her own name -- including a nice set of bluesy gospel tunes -- this disc includes several tracks by the "Lewis 3," a bluegrass combo that includes her daughters, Mary Jean and Anne Marie. It's be nice to hear some of her older stuff, back when she was on Sun, but it's still nice to hear her thumping away in the modern day as well.
---
Hillbilly Fillies - More Letter "L"
---