<! LIA-LZZ > <! MP3 05/08/10, 12/22/10 > <! outside 00/00/00 > <! pix 00/00/00 > <! icons 12/22/10 > <! UPDATES: 00/00/00 11/14/13 - new Claire Lynch page > <! Cara Luft "Tempting The Storm" (2001) B00005UE9N Celtic flavored... Cara Luft "The Light Fantastic" (Black Hen Music, 2008) B000MR9C1E more rock? ex-Wailin' Jennys Mary Catherine Lunsford - style? >
---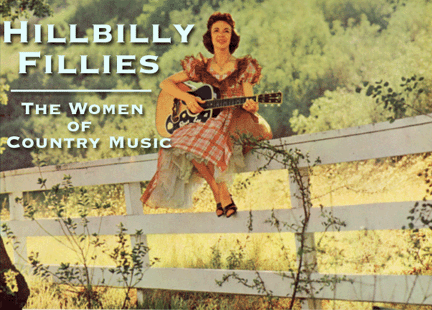 Welcome to my overview of women in country music, with reviews ranging from folk and bluegrass to honkytonk, rockabilly and Nashville pop. This is the second page covering the letter "L."
---
A | B | C | D | E | F | G | H | I | J | K | L / L-2 / L-3 | M | N | O | P | Q | R | S | T | U | V | W | X, Y & Z | Comps
---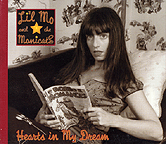 Lil' Mo And The Monicats "Hearts In My Dream" (Passin' Fancy, 1999)



For a hard country traditionalist like me, an album like this is pure heaven. Well, heck, just take the title track -- a picture perfect version of one of the best early George Jones heart songs -- and you'll know why I'm hooked. New York songstress Monica Passin (aka Lil' Mo) proves herself not just an apt pupil of old-style country, but a master of the craft as well: originals such as "It Just Doesn't Add Up" could easily have entered the hallowed ranks of first-class songwriting in the Nashville of years gone by. Along with tasteful novelty songs like that one, Lil' Mo also chirps out a few hiccupy rockabilly tunes and caps it all off with a pair of stunningly beautiful ballads in the Carter Family style ("Still Cryin'" and "I Will Give My Love"). Her band knocks out some of the best hard country riffs you're likely to hear outside of a Bear Family reissue, with classic Hank Williams-derived pedal steel and an occasional fiddle breakdown... This is the kind of record that makes the whole alt-country revival worth it: there isn't a false note on the entire album, and Passin pours her heart into every song.
Lil' Mo And The Monicats "Lil' Mo And The Monicats" (Passin' Fancy, 2003)

Lil' Mo And The Monicats "On the Moon" (Cow Island, 2009)



(Produced by Lil' Mo & Hank Bones)
A more diverse selection, with country twang augmented by rockabilly, blues and even a bit of girl group pop and Sam & Dave style R&B... It's a super-ambitious set, particularly since Monica Passin wrote all of the songs in all of the various styles... Her vocals might not do it for everyone, but this is still an impressive album... Definitely worth a spin.
LaWanda Lindsey - see artist discography
Little Big Town "Little Big Town" (Sony, 2002)


Little Big Town "The Road To Here" (Capitol Nashville, 2005)



(Produced by Little Big Town & Wayne Kirkpatrick)
Here's a band that's got a bright future, even if they've been out of the spotlight for a few years since their '02 debut. This new disc has already got 'em into the Top Twenty charts, with the single "Boondocks," and followup hits seem likely. Personally, I find a lot of their songs a bit cluttered -- those melodic hooks and swoopy key changes are proven winners, though maybe they could streamline a tune or two -- but in Nashville formula is king, and these guys've got hooks up the wazoo. They also sound a lot like Fleetwood Mac, with female solo vocals that get pretty Sheryl Crow-ish... Again, these are reference points that modern country fans are gonna respond well to... Although I wasn't totally ga-ga over LBT, I also didn't find anything overtly yucky about their sound -- I could listen to this disc without wincing the way I do while checking out, oh, say, Sugarland, who are way more over the top and phony-sounding... In contrast, there's an underlying sincere, real musical root to Little Big Town's sound that comes through despite the dense production, something that tells me they love a little twang on top of the pop. Anyway, they certainly are a band to keep your eye on, with a male-female harmony mix that helps 'em stand out, and the potential to become one of the decade's big hitmakers. They just need to S-I-M-P-L-F-Y things a little and they could rule the world.
Little Big Town "A Place To Land" (Capitol Nashville, 2008)


Little Big Town "The Reason Why" (Capitol Nashville, 2010)


Little Big Town "Tornado" (Capitol, 2012)



(Produced by Jay Joyce)
These guys are so totally a country Fleetwood Mac. Hence the popularity. And the Stevie Nicks-ish slow songs. And the purty harmonies. Hey, it worked in '76... why not now?
Peggy Little "A Little Bit Of Peggy Little" (Dot, 1969) (LP)

Peggy Little "More Than A Little" (Dot, 1970) (LP)





<! http://countrydiscography.blogspot.com/search/label/Little%20Peggy COME ON HOME-----YOU AINT WOMAN ENOUGH------SONE OF A PREACHER MAN------SWEET BABY GIRL-----TODAY I STARTED LOVIN YOU AGAIN-----MAKE THE WORLD GO AWAY-------DIVORCE------HELP ME LOVE YOU------ONE MORE NIGHTLY CRY------I'M ONLY A WOMAN-----SOFTLY AND TENDERLY-----MY HEARTS NOT IN IT ANYMORE >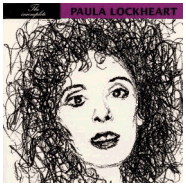 Paula Lockheart "The Incomplete Paula Lockheart" (Flying Fish, 1992)



Blues/swing pianist Paula Lockheart evoked the classic work of 1940's slick clicks such as Lil Green and Julia Lee, with sly, lusty romps through a lively mix of cover songs and original material. Mostly on the jump blues and swing-jazz tip, but with a healthy bit of old-school twang in there as well, particularly in the rollicking "Boogie Woogie Country Girl," a tune I heard a bazillion times on KFAT radio, back in the olden days. Fans of Marcia Ball, Asleep At The Wheel and the artists they admired will probably find this disc to be lots of fun as well. This is a pretty sweet collection of her work - fun, rambunctious blues boogies that'll get your toes a-tappin' every time.
Lone Justice - see artist discography
The Lonesome Sisters "The Lonesome Sisters" (Tin Halo, 2004)






<! vocal similarity to Roseanne Cash >

The Lonesome Sisters & Riley Baugus "Going Home Shoes" (Tin Halo, 2004)



A quiet, stripped-down set of old-timey spiritual songs and bluegrass ballads, sung with in an understated style that skirts both the folkie and indie-pop scenes. The Lonesome Sisters are a female duet -- Sarah Hawker and Debra Clifford -- accompanied by fiddler-banjoist Riley Baugus, with vocals that sound a lot like Rosanne Cash in a contemplative, quiet, acoustic mood. Their approach is very low-key, and very effective as a result... Some of the songs are standards and oldies, though most are originals. Both Hawker and Clifford have serious old-timey pedigrees -- Hawker is the niece of old-timey singer Ginny Hawker (who is also the wife of New Lost City Rambler Tracy Schwartz); Clifford has played in several old-timey bands, and as an accompanist for Hawker and Schwartz. Here they show that the younger generation has definitely taken up the torch, and they are gonna run with it for a long, long time. Recommended.

The Lonesome Sisters & Rayna Gellert "Follow Me Down" (Tin Halo, 2006)

Helen Long & Longshot Country "The Ponderosa Hotel Presents: Longshot Country" (Longshot, 1979) (LP)
A nice document of a hotel lounge band from Reno, Nevada featuring singer Helen Long and her musical partner, steel guitarist Lynda Buzard, who also get a credit as the band's arranger. There's no date on the album, but the liner notes say that the band was formed in 1969, and had been together for ten years before cutting this disc. The music is all cover tunes, with some interesting choices, generally on the softer side to the spectrum -- stuff like Harlan Howard's "Another Bridge To Burn," "The Green, Green Grass Of Home," "Old Dogs, Children And Watermelow Wine," along with a few more uptempo numbers, such as "Bad, Bad Leroy Brown" and "Let Me Be There." Long was not the world's greatest singer, and the band backing her often rushes the tempo, but still, this is a good snapshot of a working band, chugging away on music they love. Plus, it's kind of cool to see one of these bands being led by two women, rather than having them in the role of "backup" musicians.


<! - no ASIN 01/07/15 - no date on album, but liners say the band was formed in 1969, and had been together ten years >

Lorie Ann "Lorie Ann" (Sing Me, 1989)





<! If I'm Gonna Fall 2. I Wonder 3. Michael Would Die (If He Knew What I was Doin' Tonight) 4. Rebound 5. Weekend Resurrection 6. Say The Part About I Love you 7. Just Because You're Leavin' 8. Down On Market Street 9. One Night Song 10. Reasons A' Plenty Producer: Jean Zimmerman >

Myrna Lorrie "Child To Woman" (Unidisc, 2007)


Ten-song reissue disc of a classic-era Canadian artist... Sadly, this does not include her 1955 hit, "Are You Mine," a duet with Buddy De Val.
Myrna Lorrie "Hello Baby" (Juke Box Pearls series) (Bear Family, 2012)


A profile of Canadian country singer Myrna Lorrie, who had a Top Ten hit in America with "You Are Mine," which she recorded in 1955 when she was only fourteen. Lorrie went to Nashville and toured the US with several major country stars, but when more hits failed to come, she retreated from the limelight, retiring for several years until she reemerged as a TV host in the 1960s, becoming a fixture in the Canadian country scene for several decades. This excellent collection concentrates on her early work, much of it teen-oriented and full of vigor; this reissue has great sound quality as well as Bear Family's trademark attention to archival detail. Cool beans!


<! Canadian Country star. Mentored by greats like Hank Snow and Cowboy Copas who saw her talent, she was signed by the man who discovered Loretta Lynn, and made her first recordings for Abbott, where Jim Reeves and the Browns started, and like them she too departed for RCA. After RCA sessions in New York and Nashville produced some great music. but no breakthrough, she returned to Canada. A television star in Canada for years, Myrna Lorrie helped new singers just as she'd been helped. Among them was Shania Twain. Myrna Lorrie "Myrna Lorrie" (Harmony Records) Myrna Lorrie "Child To Woman" (Musicor Records) Myrna Lorrie "It's Countrytime" (MCA Records) Myrna Lorrie "Blue Blue Me" (Sibley Records, 1989) >
Ola Louise "Most Requested Songs By Ola Louise" (MCR, 1974) (MP3)


(Produced by Charles Thompson & Jim Spence)
This was the lone album by California singer Ola Louise, a framer rodeo pageant queen from Arizona who moved to the Golden State in the 'Fifties and married Paul Westmoreland, a Sacramento-area deejay and country music songwriter best known for the hit song, "Detour." She sings that one here, along with several other Westmoreland tunes and hits of the era such as "Behind Closed Doors," "Me And Bobbie McGee," and Leroy Van Dyke's "The Auctioneer." It's an enjoyable record, even though Ola Louise is sometimes a difficult vocalist -- she doesn't always stay in tune, though I think a lot of this has to do with the problems of low-budget, self-released, DIY recordmaking - no time for re-dos, so some flubs just got left in. But at her best she evokes gal singers such as Loretta Lynn and, more particularly, Liz Anderson, with a rootsy take on the (then)contemporary countrypolitan sound. The backing musicians were pretty good (though unfortunately they're not listed in the liner notes) and provided an adequate and reasonably twangy backing -- good examples of the regional pickers working in the Central Valley at the time. Apparently she also briefly recorded for the Kapp label in the late '60s, though I think she only recorded a couple of singles, neither of which charted. So, here's the recorded legacy of a little-known hillbilly filly who seems to have been in the thick of the California country scene… Anyone have more info about her?


<! KAPP-990 - Ola Louise "Bridge On Truckee River"/"Forecast For The Blues" (Kapp, 1969) KAPP-2046 - Ola Louise "Blues Stay Away From Me"/"Temporary Relief Of A Heartache" (Kapp, 1969) B0051EEX30 >
Lydia Loveless "The Only Man" (Peloton, 2010)

Lydia Loveless "Indestructible Machine" (Bloodshot, 2011)


Patty Loveless - see artist discography
Sally Love & Gary Ferguson "Our Old Home" (Eureka, 2002)


Maybe more of a folkie-Americana outing than a straight-up bluegrass disc, nonetheless this has some nice picking on it, particularly the banjo and dobro work... At times the vocals get a little Mighty Wind, but there are some noteworthy songs -- their rattlesome cover of Nick Lowe's "Ride Me Down Easy," and the environmentally suspect "Take It Out Back," which paints a charmingly informal picture of rural life... Not earthshaking, but kinda likeable.

Robyn Ludwick "For So Long" (Late Show, 2005)



A solo album by Texas singer Robyn Ludwick, sister of alt-country standard-bearers Bruce Robison and Charlie Robison... An admirably rough-edged, hard-hitting, robust set that might appeal to fans of Mary Gauthier and Eliza Gilkyson, with fine backing by some of alt-country's finest.
Robyn Ludwick "Too Much Desire" (Late Show, 2008)



(Produced by John Ludwick & Mike Hardwick)

Claire Lynch -- see artist discography
Dody Lynn & Bob Flower "Bob Flower And His Star Dusters" (Do-Re-Me, 1965) (LP)
Country bandleader Bob Flower had a day job as police chief of Cuba, New York, but he kept busy at nights, taking his band on the road to play gigs and even made the trek to Nashville a few times to cut singles, as well as this LP, which was his only full-length album. Flower described himself as "the poor man's Ernie Ford," and is firmly anchored in mainstream, old-school country. This album is almost all cover tunes, standards like "Cold, Cold Heart," "Four Walls," "Lonesome 7-7203" and the like. Flower sings half the songs solo, as well as a couple of duets with "girl" singer Dody Lynn who was a Cuba, NY native... Ms. Lynn also sings lead on a couple of tracks, including a version of "It Wasn't God Who made Honky Tonk Angels." Apparently Flower retired from the police force in 1966, and moved to Florida in the early '70s to retire -- Dody Lynn established herself as a solo performer, playing gigs around Cuba with a band called the Guitarmen.
Dody Lynn "You Make My Day" (B-W Records, 1973) (LP)


As far as I know, this was Dody Lynn's only solo album, released in the early '70s when she was playing local gigs with her band, the Guitarmen.


<! - native of Cuba, New York - date per News article in the Cuba, NY "Patriot" >

Gayle Lynn & The Hired Hands "Just Came Around" (JG Productions, 2008)






<! SF Bay Area artist >
Gerrie Lynn "Presenting Gerrie Lynn" (Columbia, 1968)


(Produced by Don Law & Frank Jones)
I don't think her career went very far, but, hey -- she got Don Law to let her record a whole album of cover tunes! Ms. Lynn hailed from Chicago, so students of Windy City Americana might wanna track this one down... If the liner notes are to be trusted, Lynn's husband talked her into cutting a demo and sending it to Nashville... And so, here's her record, filled with versions of country hits sung by "girl" singers such as Jody Miller, Patsy Cline and Connie Smith... It ain't bad, although it would have been more interesting if she'd recorded more original material.


<! date? some site says '66 >


Judy Lynn - see artist discography



Lera Lynn "Have You Met Lera Lynn?" (Slow Records, 2011)


(Produced by Robby Handley) <! bass, drums, guitar >
A mix of slower-tempo twangcore and eclectic, contemplative singer-songwriter pop ala Aimee Mann, with a hint of gothic, Nick Cave-ish mope-core. Solid songwriting, but a bit glum. Includes a nice cover of Leonard Cohen's scathing, doomed-romance golden oldie, "I Tried To Leave You."
Loretta Lynn - see artist discography
Rebecca Lynn "Hold Me Tight" (Elka, 1976) (LP)


(Produced by Mike Borchetta, Eddie Martinez & Warren Roche)
Singer Rebecca Lynn was an also-ran country singer from Texas who recorded a few singles on the Ranwood label before releasing her first album, which was made up of a lot of the same material... She went on to release one other LP before going back to singles-only releases, and eventually retired from the spotlight. There are plenty of A-list musicians backing her up, including guitarist James Burton, bassist Emory Gordy as well as Richard Bennett and J. D. Maness on pedal steel, though I think the songs were recorded over a period of several years and the lineup changes a lot from track to track. Who played on which songs isn't really clear. Anyway, it took me a while to warm up to this album since Lynn's vocals seem fairly flat (especially on the first side of the album) and her high-pitched tones seem better suited to "girl group" pop than to country. But a few songs stuck out on Side Two, such as "He's Too Busy Working To Cheat On Me" and "Cold Carolina Morning," and I was able to see her as working in the style of singers such as Skeeter Davis or Donna Fargo. What's most notable about this album is that it's the first country album produced by Mike Borchetta, who was married to Rebecca Lynn at the time, and his experiences working to promote Lynn led him to switch his career path from working with rock artists in LA to becoming one of the big names in Nashville. (Borchetta helped start Curb Records' Nashville office, and signed Tim McGraw while working there, and he later started several successful indie labels... and it all started here!) Not a great record, but it have a certain '70s sunshine-y charm.


<! also released on Ranwood > <! Borchetta profile: http://cclamp.radioandrecords.com/rrwebsite20/Members/PublisherProfile.aspx?ContentID=21484&ContentTypeID=107&Archive=1 >

Rebecca Lynn "Somethin' Pretty Bad" (Calliope, 1977) (LP)


(Produced by Mike Borchetta)
Like her first album, this one failed to chart nationally; oddly enough she did have a string of (low) charting singles that came out later on a different label. The highest of these was "Music, Music, Music," which grazed the Top 40 in the summer of '78, but after that everything was strictly in the back forty... Also, what an awful title for an album by a struggling artist.


<! - was she in the bar band "Buffalo Country"? >


Shelby Lynne - see artist discography



The Lynns "The Lynns" (Reprise, 1998)



(Produced by Don Cook)
Loretta's daughters, twin sisters Patsy and Peggy Lynn, don't exactly have Mom's arresting, charismatic presence, but they do sound nice enough and have a traditional bent that's pleasant to hear, although it does tend to get obscured in some fairly generic, Foster & Lloyd-ish pop-country arrangements. Their family harmony sound brings to mind the Judds (although the Lynns sound more legitimately bluesy...) but also leaves one of the sisters (not sure which one) overshadowed by the other. Not stellar, but I bet with the right producer, these gals could sound super-cool.


<! 130 x 130 >

Sharie Lynn & Her Show-Fers "Keepin' It Country" (Alpha Records, 19--?) (LP)
(Produced by Bobbie Thomas)
This one is popular with folks online who like to make fun of "bad" album art... I'm not sure where or when this was recorded, but I love the band name. Ms. Lynn had kind of a Dolly Parton thing going on with her wardrobe, and the matching lightning-bolt outfits of the boys in the band are a sight to behold as well. She sang about half the songs on the album, letting each of the band members -- John Beke, Wayne Douglas, Joe Nelson and Leon Wilson -- all sing lead on one song as well. Lynn sings in kind of a milky, Lynn Anderson-esque countrypolitan style -- from the looks of things I'd guess this came out in the early '80s, possibly the late, late '70s, but I'm not totally sure either way. Anyone out there have more info about this album?


<! - mentioned in the Milwaukee Journal, 1981 - UK eBay listing says '79, but no pix show the date >
Elizabeth Lyons "Elizabeth Lyons (EP)" (Roar Records, 2012)
(Produced by Matt Nolen)
Independently produced would-be Top 40 country, the kind of stuff that crosses so far over into mainstream pop that you have to listen kind of hard to hear the twang. Although the music is pretty generic, it's worth noting that Lyons wrote all the songs, and may have as much promise as a composer as she shows as a singer. A lot of this sounds like stuff you've heard before, though one of her uptempo numbers caught my attention, the catchy, energetic "Fighting Over Me," a girlish, poppy song about a gal who enjoys the boys making a fuss over her. So did the similarly-themed "Boys In Every Zip Code," although the second song's lyrics felt shallow rather than frisky and fun. I dunno; I guess it's possible she could make it in Nashville... Only time will tell!


<! 06/18: no ASIN > <! 08/09/14: no ASIN >

---
Hillbilly Fillies - Letter "M"
---