<! MP3 05/09/10 > <! outside 07/01/10 - BB > <! pix 00/00/00 > <! icons 12/23/10 > <! UPDATES: 11/13/14 - added Mindy McCready link >
---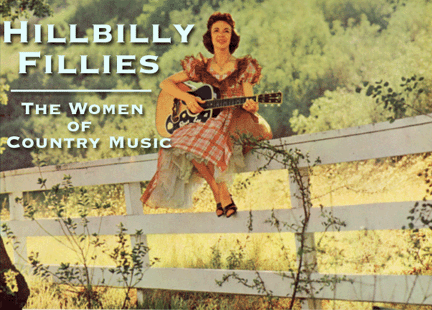 Welcome to my overview of women in country music, with reviews ranging from folk and bluegrass to honkytonk, rockabilly and Nashville pop. This is the second page covering the letter "M."
---
A | B | C | D | E | F | G | H | I | J | K | L | M / M-2 / M-3 / M-4 | N | O | P | Q | R | S | T | U | V | W | X, Y & Z | Comps
---

<! Janet McBride & Vern Stovall "Country Dozen" (LOnghorn Records, xxxxx) (LP) >
Amy McCarley "Amy McCarley" (Self-released, 2011)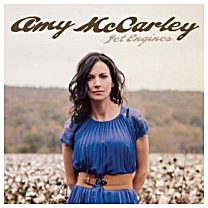 Amy McCarley "Jet Engines" (Self-released, 2014)



(Produced by Kenny Vaughn & George Bradfute)
At first, indiebilly auteur Amy McCarley might be a little hard to get into... She has a very atypical voice -- muddy, rugged, a bit brusque -- that defies conventional thinking about female singers. Also, her lyrical and melodic approach is notably downcast and depressing -- on her previous album it was hard to avoid comparisons to Lucinda Williams, both because of her rough, conversational delivery and because she seemed like another alt-country bummer-queen. That record also had an unfinished feel, very DIY production values, although here she finds much stronger framing, courtesy of producer-guitarist Kenny Vaughn, whose day job is anchoring Marty Stuart's band, the Fabulous Superlatives. The musical boost helps a lot: McCarley emerges as a powerful, laconic songwriter in the style of Guy Clark, and as a swampy Southern singer, almost in the tradition of Tony Joe White. This is a powerful, uncompromised set of hardcore country lo-fi -- difficult, rough-egged stuff that might appeal to fans of those old Freakwater albums, not easily categorized or digested, but quite rewarding if you give it the time.


<! second album >

Kimberly M'Carver "Breathe The Moonlight" (Philo-Rounder, 1989)


Kimberly M'Carver "Inherited Road" (Philo-Rounder, 1994)



Kimberly M'Carver "Cross The Danger Line" (Prime CD, 2001)



The vocal (and stylistic) similarity to Dolly Parton is the very first thing you'll notice with this Houston gal... Debts to Nanci Griffith and Rosie Flores also seem likely. At any rate, even though her material is patently derivative, she has her moments. Tunes such as "Death and Texas" and "When I Hear Trains" may point to future greatness... who knows?
Janet McBride "Honky Tonk Ballads & Classic Yodeling: 1960-1967" (Binge Disc/Bronco Buster, 2006)



<! other CDs: Janet McBride "Always Country" (cassette) B000KH69W6 >

Janet McBride "Happy Yodeling Cowgirl"

Janet McBride "Gospel Country"

Janet McBride "50 Years Of Yodeling With Janet McBride"

Janet McBride "Wyoming Country"

Janet McBride "Still Loving The Ride" (Brookhurst, 2009)


(Various Producers)
A yodeling cowgal who's been around for decades, Ms. McBride may be a bit elderly now but is still more full of life than a squad of college linebackers... On this new release she mixes classic ballads, country gospel and cowboy tunes... And she still can yodel up a storm! Those of us used to more youthful (or shall we say, less experienced?) performers might need to readjust our ears a little to appreciate this record. But country fans who have followed the careers of Wanda Jackson, Rose Maddox -- or heck, even Ernest Tubb -- will have learned the pleasures of letting an old-timer stretch out and work their way around a song. Speaking of songs, although this disc includes a bunch of golden oldies, some of the strongest numbers are originals penned by Ms. McBride, such as "I Hate To See A Grown Man Lie," "What's Missing" and "Mama (I Got Here As Fast As I Could)," a nice throwback to the sentimental songs of yore. There are several older recordings on here as well, including two bonus tracks from her first recordings session in 1959, where she was backed by none other than Bakersfield legend Wynn Stewart and his band, with steel player Jim Mooney adding some super-sweet licks. This is a nice introduction to a fascinating artist... I'm gonna have to try and track down some of her 'Sixties stuff as well! (Also check out Janet McBride's website for more information.)
Martina McBride - see artist discography
Lila McCann "Lila" (Asylum, 1997)


Lila McCann "Something In The Air" (Asylum, 1998)


Lila McCann "Complete" (Warner Nashville, 2001)


Lila McCann "Super Hits" (Warner Nashville, 2002)


Amy McCarley "Amy McCarley" (Self-released, 20141)






<! - Her husky voice is challenging; she leans heavily on the slurred, downcast delivery pioneered by Lucinda Williams... - covers Gillian Welch's "Look At Miss Ohio" >

The McCarters "The Gift" (Warner, 1988)

Jennifer McCarter & The McCarters "Better Be Home Soon" (Warner, 1990)


(Produced by Paul Worley & Ed Seay)






Mary McCaslin - see artist discography





Charly McClain - see artist discography


<! Debby McClatchy Debby McClatchy "Homemade Goodies" (Philo, 1974) w. Kenny Hall mandolin Debby McClatchy "...With The Red Clay Ramblers" (Green Linnet, 1976) Debby McClatchy "Lady Luck" (Green Linnet, 1979) Debby McClatchy "Off To California" (Wildebeest, 1981) w/ Malcolm Daglish, Grey Larsen, Bob Carlin Debby McClatchy "Apples In Winter" (Plant Life, 1983) Debby McClatchy "Someday Cafe" (Green Linnet, 1986) Debby McClatchy & Roger Watson "Radioland" (Plant Life, 1988) Debby McClatchy "Light Years Away" (Marimac, 1995) Debby McClatchy " 'Till The Good Times Come" (Trails End, 1998) Debby McClatchy "Chestnut Ridge" (Trails End, 2003) Debby McClatchy "Sweet Sunny South: The Legacy Of Charlie Poole" (Trails End, 2005) >

The McClymounts "Wrapped Up Good" (Universal/BSM, 2011)



(Produced by Adam Anders & Nathan Chapman)
This Australian trio packs a big punch, with plenty of uptempo country-pop, ranging from catchy anthems like "Kick It Up," which opens the album, to softer acoustic weepers like "He Used To Love Me" and the Fleetwood Mac-ish "Take It Back." A couple of songs seem overly formulaic, like the thudding, rock-flavored "Rock The Boat" and the glossy title track, "Wrapped Up Good," (sure to be a hit, if I don't like it...) but several others are pretty catchy. There's even a bit of swing and twang, heard on "I'm Not Done With You Just Yet" and "Cannonball," and "If You're Gonna Love Me" seems like a pretty catchy, chartable tune. I can see these gals making a dent here Stateside, particularly among fans of Gretchen Wilson and the Dixie Chicks -- we'll see what the future brings!


<! 144 x 144 >


Mindy McCready - see artist discography




Paula McCulla "You Tell Me" (Cheyenne, 1993)





<! 1988 single on Rivermark Records? >

Paula McCulla "No Stone Unturned" (Gateway, 1996)

Paula McCulla "Girl Inside The Woman" (Self-Released, 2007)





<! 1 Boy Crazy 2 Like Thelma and Louise 3 The Ride of My Life 4 You Just Do 5 Love. Love. Love. 6 What's a Girl To Do 7 Waffle House Blues 8 That Had To Hurt 9 I Ain't Wrong About This 10 Take Your Sweet Time 11 He Keeps Me in Love 12 I Know That 13 This Is Not Goodbye 14 She's Just That Way 15 Girl Inside The Woman 16 The Time That's Left 17 Gotta Get Ready 18 Fly Baby Fly POPPY >


Reba McEntire - see artist discography




The McGillicuddy Sisters "Hillbilly Hi-Jinx" (Lucky Ron, 2006)


Scrappy, old-school hillbilly music of the late-1940s variety, hearkening back to the glory days of folks like Webb Pierce, Kenny Roberts and -- more than anything else, the great Rose Maddox. The gals in this band (and not all the "sisters" are gals) clearly have a major Rose Maddox fixation, which is understandable since Maddox was one of the greatest hillbilly stars of the 20th Century, as well as one of the strongest female voices in country music history... Now, I gotta say upfront that this clattersome Ottawa-based ensemble are hardly top-flight talent, but they certainly have good taste in country music and their hearts are in the right place... If you like listening to way-off-the-radar recordings by bands with a super-indie, jes-plain-folks orientation, this might be a disc you'd like to check out. (For more information, check out the band's website at www.mcgillicuddysisters.com )
Patsy McGlamry-Dean "Heartaches" (McGlamry-Dean Records, 2005)


Patsy McGlamry-Dean "Patsy's Country Collection" (McGlamry-Dean Records, 2007)


Annie McGowan - see Rattlesnake Annie
Ellen McIlwaine - see artist discography
Beth McKee "I'm That Way" (Solo2, 2009)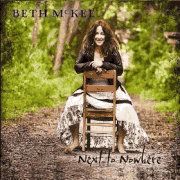 Beth McKee "Next To Nowhere" (Swampgirl, 2011)



(Produced by Mark Mason & Tony Battalgia)
Excellent! Exactly the sort of beautifully eclectic blues-Americana blend you'd expect from modern-day New Orleans... Singer-pianist Beth McKee hints at a rich variety of inspirations, with wisps of Bonnie Raitt, Tracy Nelson, Lou Ann Barton, Doug Sahm and Delbert McClinton, a loose, funky, sweetly soulful mix on an album packed with strong original material. If you're looking for the young blood that's reinvigorating American roots music, check out this album: this gal's the real deal!
Maria McKee - see artist discography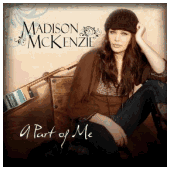 Madison McKenzie "A Part Of Me" (MadiMMusic, 2013)



(Produced by Bob Bullock)
It was inevitable that an artist as singular and as successful as Taylor Swift would breed a few imitators, and newcomer Madison McKenzie, a sweet-voiced gal from Illinois, is surely one of the top contenders in this new wave of country confessionalists. Like Swift, she pens songs that sound like a young girl's diary entries, full of half-spoken lyrics and ramblings about love, infatuation and mild recriminations, a distillation of teenage solipsism, buoyed by insistent pop-country arrangements. She also has a nice, naifish voice, the picture of plain-spoken sincerity and youthful self-assurance, sounding like Swift did on her first album, though perhaps with more of a conventional verse-chorus-verse feel. She's paired up with veteran producer Bob Bullock, an industry pro who's worked with stars such as Reba McEntire and Shania Twain, who provides McKenzie with a slick modern Nashville sound, not terribly original, but it fits in nicely with the times. I'm not sure if there's room in the charts for two Taylors, but this gal has a good voice and may find success as she finds her own individual voice. Still, if you're into the style, this could be worth checking out.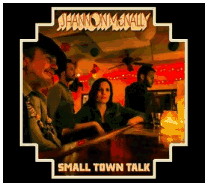 Shannon McNally "Small Town Talk: The Songs Of Bobby Charles" (Sacred Sumac, 2013)



(Produced by Shannon McNally & Mac Rebennack)
A funky, soulful tribute to Louisiana pop legend Bobby Charles, who penned classics of the early rock'n'roll era such as "See You Later, Alligator" and "Walking To New Orleans," and went on to mine the depths of various styles of roots music. Ms. McNally skips past the rock-oldies hits and taps deep into the Bobby Charles songbook, drawing particularly on his laid-back self-titled 1972 masterpiece. She has a strong patron with the album's co-producer, New Orleans luminary Mac (Dr. John) Rebennack, who was one of Charles' contemporaries and frequent collaborator. The Dr. John touch immediately roots this album in the world of New Orleans funk and soul, and McNally's raw, bluesy vocal style, reminiscent of young Bonnie Raitt, makes for an interesting counterpoint. Charles, who passed away in 2010, was also paid tribute on Beth McKee's I'm That Way, which covers more of the rock stuff, and makes a nice compliment to this album.
Alecia McRight "For Love's Sake" (2001)


(Produced by Carl Jackson)
The solo debut (released under her married name) of bluegrass powerhouse Alecia Nugent; the songs on this album were re-released on her Rounder Records debut, Alecia Nugent. Great stuff!!
---
Hillbilly Fillies - More Letter "M"
---