<! MP3 05/10/10 > <! update 07/01/10 > <! outside 07/01/10 - BB > <! pix 00/00/00 > <! icons 12/23/10 > <! ME >
---
---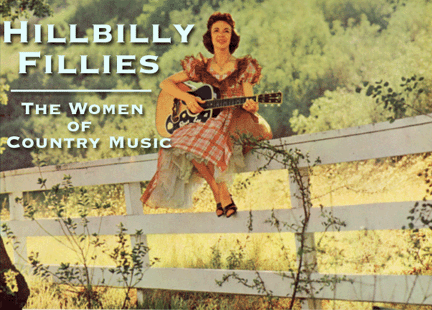 Welcome to my overview of women in country music, with reviews ranging from folk and bluegrass to honkytonk, rockabilly and Nashville pop. This is the third page covering the letter "M."
---
A | B | C | D | E | F | G | H | I | J | K | L | M / M-2 / M-3 / M-4 | N | O | P | Q | R | S | T | U | V | W | X, Y & Z | Comps
---
Donna Meade "Love's Last Stand" (Mercury, 1988)


Meat Purveyors "Sweet In The Pants" (Bloodshot, 1997)



Of all the would-be indiebillies who professed to take the punk rock DIY ethos into the alt-country realm, these scraggly Austinites are some of the best to deliver on the premise... The music is far from technically perfect, the sound mix is iffy at best, but there's plenty of pizzazz in the performances, and a nice song selection, with the band clearly opting to play music they like, rather than stuff they think sounds funny, or stereotypically "hick." This isn't the kind of album I would put on just to listen to at home, but I certainly appreciate it as a document of a lively, engaging, energetic band. Good stuff.

Meat Purveyors "More Songs About Buildings And Cows" (Bloodshot, 1999)



A nice set of scrappy acoustic urban indiebilly, with fast-paced, 'grassish breakdowns and, um, somewhat unconventional vocals. (Oh, alright -- she really can't sing that well... There, I've said it!! Are you happy now??) All in all, it's very coffeehouse-ish and open mic night-y, but in a very good, down-to-earth DIY way -- sort of like Freakwater, but with less of a "difficult listening" edge. Nice mix of original material and well chosen cover tunes... This is perhaps their strongest album... Definitely worth checking out.

The Meat Purveyors "All Relationships Are Doomed To Fail" (Bloodshot, 2002)



Hmmm, I dunno... I mean, yeah, with concerted effort I can tell that these folks have some good songwriting chops... a little too WTS-y for me, but often some clever turns of phrase. Yet the music is so clattersome and hurried, and their vocals so raggedy and uneven, that my predominant experience as a listener is one of irritation. As I've said elsewhere, the "I'm not singing in tune on purpose, because I'm so punk!" ethos doesn't translate well between the worlds of electric rock and acoustic country. I guess the raspy charm of their earlier albums didn't hold up for me through oh, so many albums.

The Meat Purveyors "Pain By Numbers" (Bloodshot, 2004)



These scrappy Austin alties are back, with another loose, lively and comparatively clunky set of original tunes and well-chosen covers. You really have to be on this band's wavelength to get into their albums; folks who want country musicians who "sound right" (ie. in tune and able to keep the beat) are probably better off avoiding this disc, while fans who like bands who are all plucky and punky and DIY and all that jazz will be heartened to hear that the Purvs have not "sold out" or anything... They're still as clattersome and shrill and full of piss'n'vinegar as ever, and they still sound like a slightly kinder, gentler Freakwater. They cover Fleetwood Mac and Johnny Paycheck with equal aplomb, and bend country conventions to their own devices; their winsome cover of the old Ronnie Milsap hit, "Daydreams About Night Things," is an album highlight. Personally, I can't imagine myself listening to this album more than once, although there are several songs on here that have involving, interesting lyrics. It's just the musical end of things that leave me a little underwhelmed; I like records that are pleasant to listen to, and pure 'tude doesn't do as much for me as it used to.
The Meat Purveyors "Someday Soon Things Will Be Much Worse!" (Bloodshot, 2006)


Penny Menze "Planes, Trains, Trucks...Lovin' & Leavin'" (Self-released, 2010)


Tift Merritt "Bramble Rose" (Lost Highway, 2002)



(See also: Two Dollar Pistols)
Tift Merritt "Tambourine" (Lost Highway, 2004)



Following the lead of Whiskeytown's Caitlin Cary, Tift Merritt, the twangy, steel-tipped shell casing fired out of the Two Dollar Pistols, has set her country roots aside and gone for a new soul diva sound. She's much better off sticking to the hillbilly stuff. Really, you gotta have great vocal chops to really sing R&B, and while her voice works okay in an alt-country context, it was slightly torturous here. Bigwig producer dude George Drakoulias (known for his work with the Jayhawks and Black Crowes) builds a sound that's simply too big for Merritt's voice, and the gap is too painfully apparent. But, judging from what I've read elsewhere, mine may be the minority opinion, so take what I say with a grain of salt. Still... I dunno...
Tift Merritt "Home Is Loud" (RCAM, 2005)






<! We love Tift Merritt so much, that we commissioned her to record a live CD for us to sell to fans of real music! Anyone that has ever heard Tifts music knows how special she is, so get this limited edition 9-song live CD (recorded June 4, 2005 in North Carolina) before its gone! Track List:1 Write My Ticket Home 2 Your Love Made a U Turn 3 Ain't Looking Closely 4 Laid A Highway 5 Supposed to Make You Happy 6 Neighborhood 7 Tambourine 8 Shadow In the Way 9 When I Crossover >

Tift Merritt "Live From Austin, TX" (DVD) (New West, 2007)

Tift Merritt "Another Country" (Fantasy, 2008)


Tift Merritt "Buckingham Solo" (Fantasy, 2009)



A stripped-down live set recorded in Buckingham, England, back in November, 2008...
Tift Merritt "See You On The Moon" (Concord/Fantasy, 2010)



(Produced by Tucker Martine)
Nice stuff. Yes, there is some twang in there, but on pop-soul songs like the album's opener, "Mixtape," it's pretty clear that Ms. Merritt has come a long way since her early days in the twangcore scene. Here we have a denser, arguably richer artistry, more of a confessional/impressionistic pop-folk vibe in line with the "adult alternative" brand, a record which should appeal to fans of Cowboy Junkies and other rock-Americana crossovers. Along for the ride are guest musicians including Bill Frisell's frequent collaborator Eyvind Kang, pedal steel player Greg Leisz and Yim Yanes, of the band My Morning Jacket, who sings harmony on the haunting "Feel Of The World." All in all, a rich, mature work that many will find compelling.
Jo Dee Messina "Jo Dee Messina" (Curb, 1996)


(Produced by Tim McGraw & Jo Dee Messina)
Can they really make for-real country singers up in Massachusetts? Sure, why not? Jo Dee Messina's debut was pretty glossy, but all things considered, it has its true country moments. She's a relatively rough singer (which, for me, is a plus), even if she's aiming for a high-tech, super-produced sound, she's able to inject a little grit into some of the songs. It's kind of like a mix between Tanya Tucker and Sheena Easton -- of course, if she follows the established Nashville pattern of starting out rootsy and winding up pop, Messina doesn't leave herself much room to work with -- this disc is flat-out pop from start to finish. What will probably change is her level of control over the sound, and the smoothing out of the weak points in her production. This disc has a couple of highly effective pop tunes, notably "Heads Carolina, Tails California," but the production on most of these tracks is pretty rickety... Her partnership with co-producer (and fellow famous person) Tim McGraw has a growing curve to climb, that's for sure... Still, all in all, not a bad debut.
Jo Dee Messina "I'm Alright" (Curb, 1998)



(Produced by Tim McGraw & Jo Dee Messina)
The good news is, Messina and McGraw definitely works the kinks out of their production approach -- this is a much stronger pop album than her first release, with only a couple of clunkers, prudently packed away at the album's end. Otherwise, they've got it nailed. Yeah, this is very glossy and high-tech, but it's also very effective -- the sound is tight and compact, there are none of the blemishes and empty spaces of the first album, yet while the sonic space is filled to the brim, it doesn't feel cluttered or forced. Also, it's interesting that in crafting a tighter pop sound, they actually got more country, not less: the pedal steel is used to smooth and complete the sound, and it's used very well on most songs. On a certain level, the cooptation of "country" instrumentation amid such a garish high-tech sound is a little insidious, but I gotta admit this disc showcases the style better than most. It's worth checking out.
Jo Dee Messina "Burn" (Curb, 2000)



(Produced by Tim McGraw & Jo Dee Messina)
Different pieces of the puzzle fall into place here... The brash pop production is a bit too aggressive and cluttered; this time around it's getting in the way, and it's much more difficult to make the case that this is in fact "country" music. But her vocals are much stronger and more fluid... That may be pulling her further from country roots, but ya still gotta give Messina her props as a singer. True country fans can pretty much write her off at this point, though: she's gone Pop, with a capital "P," all the way. Plus, all the TV-talk show psychobabble self-help, self-affirmation lyrics are fairly tiresome. The poppification was an artistic downward turn, as far as I'm concerned, even if it was her ticket into the big time. I will reluctantly admit, though, that the power ballad duet with Tim McGraw (who's still producing her albums) is a pretty effective pop song.
Jo Dee Messina "A Joyful Noise" (Curb, 2002)



A bright, glossy, strings'n'sleighbells commercial set, but at least she keeps things a little bit country, moreso than, say, Clint Black or Martina McBride on their pop-vocals Santa outings. Messina sings all the same old Christmas standards, but she really seems to throw herself into it, with a smile and a bounce in her voice that's pretty darn cheerful. Just as well that she doesn't try to add new material to the Christmas canon, since the the title track and the one other new song, "Keep The Faith," both at the end of the album, are simply dreadful... and don't seem to have a holiday-specific message. Other than that, though, this is a good album, for the style.
Jo Dee Messina "Greatest Hits" (Curb, 2003)



Not bad! This disc covers her first three albums, with a couple of new singles added at the end, and a video track with Tim McGraw. Messina's okay, at least in relation to her contemporaries, her version of half glossy/half rootsy music ain't that bad. She pretty consistently includes pedal steel and other "country" signifiers in the mix, and a relatively rural vocal style, framed by an upbeat pop sensibility. Some of the songs are a bit wordy, and take a while to get off the ground, but she's good at carrying a chorus, and these songs are fairly catchy. She also seems to like Phil Vassar as a songwriter: three of these fifteen tracks were written or co-written by him.
Jo Dee Messina "Delicious Surprise" (Curb, 2005)


Jo Dee Messina "Unmistakable Love" (Curb, 2010)






<! part of a 3-EP trilogy >

Jo Dee Messina "Me" (E-One, 2014)


Audrey Auld Mezera "Texas" (Restless Records, 2005)


Audrey Auld Mezera & Nina Gerber "In The House: Live In '05" (Restless Records, 2006)






<! A live album recorded in Sebastopol, California >

Audrey Auld Mezera "Lost Men And Angry Girls" (Restless Records, 2006)



Top-flight contemporary folk from this Australian-born singer-songwriter. Mezera, who's settled in Northern California, is a protege of guitarist Nina Gerber, although this diverse album finds her pleasantly free of the coffeehouse limitations of the earnest-folkie/open mic night crowd. She dips into topically oriented material (the antiwar "We Cry"), but she isn't bound to it, and wends her way through smoky blues (on Bonnie Parker's "Morphine"), soft-shuffle honkytonk country and even a nod towards the Irish pubs. Mezera's humorous side gives us two standout tracks, the alt-country homage, "Looking For Luckenbach" -- which name-drops Jerry Jeff and his outlaw compatriots -- and "Self-Help Helped Me," an affectionate, insiderish skewering of the self-help/New Age scene with lyrics worth of Todd Snider of John Prine. The labor songs about coal miners ring a little less true, but throughout the album, Mezera's fluid, girlish voice is consistently compelling, and the musical backing is a delight. Fans of Be Good Tanyas, Jolie Holland or early Dar Williams will probably really dig this, too. Recommended!
---
Hillbilly Fillies - More Letter "M"
---