<! MP3 05/10/10 > <! outside 07/01/10 - BB > <! pix 00/00/00 > <! icons 12/13/10 > <! updates: 05/10/10 - Anne Murray incomplete; Jody Miller 12/13/10 - Heather Myles page added > <! MI-MZ > <! Joanna Mosca - below >
---
---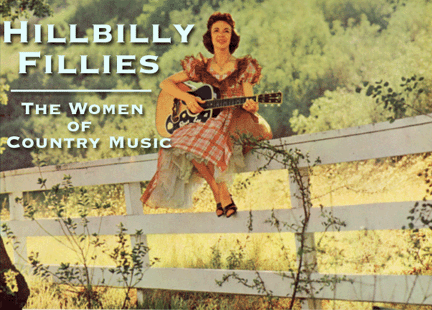 Welcome to my overview of women in country music, with reviews ranging from folk and bluegrass to honkytonk, rockabilly and Nashville pop. This is the fourth page covering the letter "M."
---
A | B | C | D | E | F | G | H | I | J | K | L | M / M-2 / M-3 / M-4 | N | O | P | Q | R | S | T | U | V | W | X, Y & Z | Comps
---
Georgia Middleman "Endless Possibilities" (Giant, 2001)


Kinda pop/confessional; more Tori Amos than Kitty Wells...?
Georgia Middleman "Unchanged" (Self-Released, 2004)

Georgia Middleman "Things I Didn't Know I Knew" (Middle Sister, 2008)


Jody Miller - see artist discography
Julie Miller - see artist discography
Mary K. Miller "Handcuffed To A Heartache" (Inergi, 1978) (LP)


(Produced by Vincent D. Kickerillo)



<! - Houston Texas Private, with James Burton and the TCB band, Buddy Emmons, Buddy Spicher, Hargus Robbins, in studio crew. A couple of covers, but mostly new material, including several songs each written by Kim Morrison, Chip Hardy, Danny Hice. She also released a bunch of singles. >

Bunnie Mills "Only A Woman" (Sagittar, 1979) (LP)
(Produced by Paul Kettar)





Bunnie Mills "...Sings Country From The Heart" (Bunjak, 1987) (LP) <! #BJ-1187 >
Occasionally I come across some weird background stories about the indie artists on old albums, and I have to wrestle with whether a drug conviction or whatever really has that much to do with the artist or, more importantly, with their art. In the case of singer-songwriter Lillian ''Bunnie'' Mills, the weird story is so overpowering, I have to say, yeah, this is a big part of her life story. Apparently Ms. Mills was a relatively well-known country singer from Bossier City, Louisiana (near Shreveport) and at some point in her 50's she met a man twenty years younger than herself who she started going out with. Tragically, this guy turned out to be a particularly sadistic serial killer, nicknamed "the Gainsville Ripper," who killed at least seven people in Lousiana and Florida before being caught. Following his arrest in 1991, Mills was called upon to testify at his trial... She had nothing to do with the murders, but had tried, along with the man's mother, to persuade him to seek help for mental health issues that became apparent in the late '80s. So, did this gruesome case have anything to do with Bunnie Mills' music? No, not really, but it is remarkable that even after her involvement in such a horrible and highly public crime, Mills was able to pick herself up and keep going with her music career. In addition to recording three albums, she also started her own label(s) -- Pot 'O' Gold and Greenback Records -- and worked as a producer of aspiring country singers. Still... yeesh. How creepy!




Bunnie Mills "A Simple Country Girl" (Bunjak, 1999)





<! - self-released the single, "Who Is Our President?" after the 2000 elections - no ASIN 02/08/15 >

Miss Leslie "Honky Tonk Revival" (Zero Label, 2005)


Miss Leslie "Honky Tonk Happy Hour: Live At The Continental Club" (Zero Label, 2006)


Miss Leslie "Between The Whiskey And The Wine" (Zero Label, 2008)



(Produced by Ricky Davis & Tommy Detamore)
God bless Texas. On her third album, Miss Leslie cranks up the volume and belts out some great hardcore boozin' tunes, the kind of stuff that would make George Jones and Johnny Paycheck proud. One hard-drinkin' honkytonk tune after another comes barreling out, with Miss Leslie's throaty vocals buoyed by a robust, rootsy country backing that includes Dave Biller on guitar and Ricky Davis playing some mighty sweet pedal steel. Leslie's husky vocal style might sound odd to some listeners, although fans of Melba Montgomery and Connie Smith may recognize a kindred spirit here. (She also claims allegiance to Merle Haggard's old pal, Leona Williams, but since I'm not that familiar with her work, I can't really make the comparison myself...) Anyway, if you like independent, old-school country -- and sassy, stompy songs about booze-soaked, tear-stained sad stories -- then this is a disc well worth checking out.
Miss Leslie "Wrong Is What I Do Best" (Zero Label, 2010)






<! Misty River -- several albums > <! Priscilla Mitchell - duets with Roy Drusky & Jerry Reed (who she was married to...) >

Priscilla Mitchell & Roy Drusky "Love's Eternal Triangle" (Mercury, 1965) (LP)

Priscilla Mitchell & Roy Drusky "We Belong Together" (Mercury, 1965) (LP)

Priscilla Mitchell & Roy Drusky "Together Again" (Mercury, 1966) (LP)

Sylvia Mobley "My Needs Are You" (Belle Meade) (LP)


(Produced by Scotty Moore & Al Gore)



<! - late '60s? - early '70s? - #1003 - year? PAUL DRAGON - GOLDEN MEMORIES - BELLE MEADE = 1977 - no info on eB - six songs written by Mobley, also by Buck Owens ("Under Your Spell Again"), Slim Willet ("Don't Let The Stars Get In Your Eyes"), Murphey Maddox ("Searching") - Villa single of "Searching"/"Don't Let The Stars Get In Your Eyes" came out in 1972 (per PF) - also recorded a bunch of singles on various labels, including Starday http://countrydiscoghraphy2.blogspot.com/2013/08/sylvia-mobley.html http://hillbillycountry.blogspot.com/2013/07/sylvia-mobley-discography.html "...A protˇgˇ of Jimmy Haggett at one time, Mobley recorded for numerous small Arkansas and Tennessee labels." >

Sylvia Mobley "Songs For Mama" (Ray's Gold) (LP)



<! NOT LISTED ON PF Producer: Scotty Moore Drums: D. J. Fontana Willie Rainsford-Piano, Pete Wade-Lead Guitar, Joe Osborn-Bass, Larry Sasser-Dobro And Steel, Hubert [Hoot] Hester-Fiddle Ma Ma / Can't You Remember / Life's Railway To Heaven / Keep On Keepin' On / Will The Circle Be Unbroken / Satisfied / One Day At A Time / His Name Is Jesus / Song Of Praise / If I Could Hear Mother Pray Again >


Katy Moffatt - see artist discography




Molly & The Heymakers "Molly & The Heymakers" (Reprise, 1992)







Molly & The Heymakers "B-Sides From The Milkhouse" (Muskie Queen, 1993)



<! no ASIN - right label name? or Mouthpiece Records? >

Molly & The Heymakers "Big Things" (Muskie Queen, 1995)

Molly & The Makers "Lucky Flame" (Media, 1998)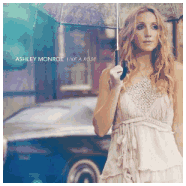 Ashley Monroe "Like A Rose" (Warner Nashville, 2013)



(Produced by Vince Gill)
This album's a neotrad dream: great stuff. Ms. Monroe is the most Dolly-licious gal to make it in the Nashville mainstream since Elizabeth Cook a few years back. This set is resolutely Parton-esque, and every bit as rich and rewarding as you'd hope it would be. There are plenty of twangy ballads, as well as a few novelty songs with surprising bite, such as "Weed Instead Of Roses" -- another gem is the Blake Shelton duet, "You Ain't Dolly (And You Ain't Porter)," which harkens back to the glory days when Porter and Dolly recorded one great record after another. Monroe comes from the alt-y side of the street, having collaborated with songsmith Guy Clark and was a member of the rollicking Pistol Annies trio. I sure hope her solo debut does well, because country radio sure needs a shot of real country soul, and this gal's got it. Fans of (old) Dolly Parton or (new) Joey + Rory will definitely want to check this out!





Patsy Montana - see artist discography





Melba Montgomery - see artist discography





Allison Moorer - see artist discography





Lorrie Morgan - see artist discography


<! MISTY MORGAN & JACK BLANCHARD > <! Miki Mori - singer from Utah with a handful o singles of several indie labels 1979-1981 - highest charting song was "Rainin In My Eyes," which hit #59 in '81. 08/2013: no ASINs, unable to find any info about her online >


Lynn Morris -- see artist discography




Kathy Morrison & Bill Wilbourn "Lovers" (United Artists) (LP)

Ann J. Morton "My Friends Call Me Annie" (Prairie Dust, 1976) (LP)

Ann J. Morton "My Friends Call Me Annie" (Prairie Dust, 1976) (LP)


Although she didn't make much headway as a chart artist, Ann J. Morton had some success as a songwriter, placing a few tunes with '70s stars, folks like Johnny Duncan, Crystal Gayle, Charly Pride and Gene Watson, as well as writing several popular hymns and an advertising jingle or two. She was married to guitarist Larry Morton, who played in Danny Davis's band, Nashville Brass, and is also the sister of singer Jim Mundy, who was also a songwriter and jingle writer. Morton also recorded this fine, commercially-leaning album using an all-star, usual-suspects Nashville studio crew -- Johnny Gimble, Dave Kirby, Weldon Myrick, Hargus Robbins, Chip Young, etc. -- with the Cates Sisters providing some fine harmony vocals, and an up-and-coming Janie Fricke singing backup... It's good stuff, if you like uptempo, mid-'70s country pop. She came within shouting distance of the Top 40, but it wasn't quite in the cards for her, I guess. At any rate, this album, and a few stray singles make a nice recorded legacy. Recommended!


<! - also wrote a tribute/novelty song about Willie Nelson - dunno the title, though - an Oklahoman Ann J. Morton "I Love A Rainbow" (Little Amber, xxxxxxxx) (children's record w/ Danny Cooper & Curtis R. King) B000T3R308 >


Jonie Mosby - see artist discography




Joanna Mosca "Joanna Mosca" (Dolce Diva, 2009)


Joanna Mosca "Keep On Going" (Dolce Diva, 2010)


Joanna Mosca "Let It All Begin" (EP) (Dolce Diva, 2012)






<! Joanna Mosca "Joanna Mosca" (Dolce Diva, 2009) B0095L34GM B005DVGW26 Joanna Mosca "Keep On Going" (Dolce Diva, 2010) B003FGX2YM B002V6E83Q Joanna Mosca "Let It All Begin" (EP) (Dolce Diva, 2012) B008RNHZ6O B008QBJMF4 >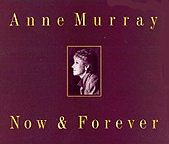 Anne Murray "Now And Forever" (Capitol, 1991)


Okay... I'm going to admit something here, but you have to promise not to tell anybody... I, um... uh... actually kind of like "Danny's Song..." A lot. What can I say? It has a great chorus, and a sweet sentiment... plus I'm a sucker for a simple pop hook like that. Other than that one song, though, I really have a hard time swallowing the whole premise of Anne Murray as a "country" singer. "Snowbird," her first chart entry back in 1970, epitomized the preposterous poeticism of the early 'Seventies countrypolitan scene... And the rest of her catalog is just gooey soft pop, numerous #1 Country hits notwithstanding. This 3-CD set is probably the best overview of her work you're likely to find.

Anne Murray "The Best... So Far" (Capitol, 1994)



This single-disc retrospective is a good alternative... In fact, probably much better for the average listener. Most of her big hit and such... But, dude, if you were actually there during the 'Seventies, this collection would send chills down your spine. It's like nails on a chalkboard for oh, so many of us. This was, literally, the reason that punk rock was created.
Diana Murrell "Diana Murrell" (Blue Hare) <! date? >


Murrell originally recorded under her first name, "Diana," and had a handful of modest hits in the back rungs of the Top Forty, circa 1979-81... I'm not sure if any of that material ever made it onto CD (or even LP...) but like many a Nashviller before her, she recorded some stuff for an indie label later on... Not sure if she has other albums than this one...


<! 1. Mama«s Cedar Chest 2. He Two-Stepped His Way (Into My Heart) 3. Open House 4. Oh, My Aching Heart 5. Chances Are 6. So Far, So Good 7. If You Leave Me (I«ll Go Crazy) 8. No One But You 9. I Slipped (But I Didn«t Fall) 10. Hearts Are Gonna Roll >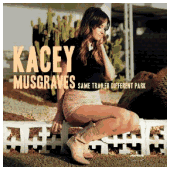 Kacey Musgraves "Same Trailer, Different Park" (In The Black, 2013)



(Produced by Kacey Musgraves, Luke Laine & Shane McAnally)
This winsome, brash Texas lassie has gotten a lot of attention for being a new Top Country bad-girl, ruffling the sensibilities of many mainstream country fans, particularly with her Top Ten single, "Merry Go Round," which is an acerbic jab at small-town life... Usually, modern-day Nashville offers a rose-colored, super-mythologized version of small-town America, where guys spend their teen years driving around the backroads in their pickups, hanging out with their buds and wooing their high-school sweethearts, but Musgraves takes a more critical, real-world approach, talking about people with sad marriages and broken dreams. It's not quite the standard formula, and some folks saw it as a direct attack on the Nashville establishment. I'm not sure I'd go that far -- maybe people are taking this stuff too seriously -- but I think it's interesting that Musgraves is being considered so mainstream and so "country" to begin with... She sounds more like a contemporary folkie to me, a topical and contemplative lyricist, roughly in the Carrie Rodriguez or Todd Snider mode, although with bigger, more ornate production. While she does turn some nice lyrical phrases, there's a precocious, high-schoolish/collegiate cleverness to her work and I have to confess that while I find the Nashville-manufactured small-town myth to be noxious, I also find her satirization of Middle America to be a little too obvious, the sort of stuff that forlorn teenagers waiting to move out of their parents' houses scribble away in notebooks or post online... I mean, Malvina Reynolds already skewered the 'burbs fifty years ago and though I still enjoy "Little Boxes" as a protest song, now that I'm all grown up I can see that the critique has its limitations; I guess I just don't like looking down on average people just for being average, especially seeing as how I am one myself. Still, Musgraves has a delightfully fresh presence, at least in the context of modern Nashville country: Music City needs some new blood and some fresh ideas, and this gal seems well poised to provide a little bit of both. Definitely worth checking out -- I'm curious to see where she goes from here.
Heather Myles - see artist discography
---
Hillbilly Fillies - Letter "N"
---