<! MP3 05/16/10 > <! outside 07/07/10 -- BB/1 > <! pix 00/00/00 > <! icons 12/25/10 > <! RHA - RIZ > <! UPDATES: 05/16/10 12/10/13 - added Kim Richey page > <! Almeda Riddle >
---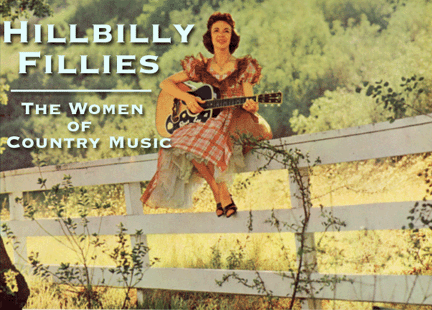 Welcome to my overview of women in country music, with reviews ranging from folk and bluegrass to honkytonk, rockabilly and Nashville pop. This is the second page covering the letter "R."
---
A | B | C | D | E | F | G | H | I | J | K | L | M | N | O | P | Q | R-1 / 2 / 3 | S | T | U | V | W | X, Y & Z | Comps
---
Kimmie Rhodes - see artist discography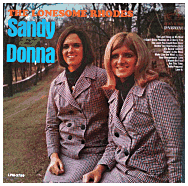 Sandy & Donna Rhodes "The Lonesome Rhodes" (RCA Victor, 1967) (LP)


(Produced by Felton Jarvis)
A completely charming folk-country outing, sort of like the Kimberlys or Gale Garnett, but better. Great backstory on this one, as well: hailing from Memphis, the Rhodes sisters were daughters of regional celebrities Dusty Rhodes and Dot Rhodes, singers who recorded for Sun Records in the old days, and who hosted a local TV show that the whole family performed on. Skeeter Davis caught wind of them and championed the gals at RCA, recording some of their original material and urging Chet Atkins to sign off on this album. It's a great record, simple, charming, with the gals singing sassy pop-country crossovers that mix light go-go stylings with a mod-country vibe that reminds me of Waylon Jennings. You can sense that the RCA studio crew weren't quite as hip or as funky as they wanted to be, but if you like the girl-group tinged '60s stuff by Skeeter Davis and Connie Smith, you'll want to check this out. Sandy and Donna went on to forge a truly remarkable career as backup singers singing with some of the best Southern soul and pop artists of the 70s, notably Al Green and O.V. Wright. They sang backup and recorded their own material as RCR, or the Rhodes Chalmers Rhodes trio, with Sandra's husband Charlie Chalmers as the third voice. In addition, both Sandra and Donna recorded their own solo albums, though more solidly in a soul and pop style. This early Nashville folk-pop album, at the beginning of their careers, is a winner... Give it a spin, if you get a chance!


<! The Last Thing On My Mind I Can't Grow Peaches On A Cherry Tree Fully Prepared Love Is Make Like The Wind Your Overpowerin' Love I Wanna Be Free Not This Time The Least You Could Have Done Nothin' But Heartaches Here It's Rainin' Anyway Blowin' In The Wind http://en.wikipedia.org/wiki/Ray_Downs http://www.sirshambling.com/articles/rhodes_chalmers_rhodes/index.php >

Debbie Rich & Dave Sear "Friends" (Steamboat, 1983) (LP)





<! also something in '88 that charted >

Sue Richards "A Girl Named Sue" (ABC-Dot, 1974) (LP)

Sue Richards "Sweet Sensuous Feeling" (ABC-Dot, 1976) (LP)

Kim Richey -- see artist profile
Amy Rigby " 'Til The Wheels Fall Off" (Signature Sounds, 2003)



A longtime fixture on the New York indie-altie/power-pop scene, songwriter Amy Rigby has given the world another little gem with this fine, episodic album. It's not an entirely cohesive work, as she shifts from somewhat dense, introspective rock songs to folkie acoustic numbers and back again... Not that I have a problem with artists who won't limit themselves to one style of music, it's just that the the transitions aren't always that smooth. Nonetheless, in this case the parts are more than the sum of the whole, and a handful of songs on here made this one of my favorite records of 2003. The blisteringly hilarious novelty song, "Are We Ever Gonna Have Sex Again?" made me laugh out loud when I first heard it: it's the all-too-familiar tale of the modern-day couple whose erotic life has been curtailed both by busy schedules and everyday routine; the tart, too-true lyrics and Rigby's dead-on delivery make this an instant classic. Other favorites include the opening track, "Why Do I," a power-pop exploration of the neurotic impulse towards self-sabotage, and "Don't Ever Change," a touching embrace of normalcy and imperfection in those we love, and in acceptance of the quirky flaws of the world at large. As with the other two songs, it's Rigby's wry, gentle, deft observations that make this tune such a winner. Overall, this album shows its greatest appeal in its sense of maturity and un-corny wisdom; it's nice to see that as Baby Boom indie-rockers age and mellow out that they can still make such great music.
Jeannie C. Riley - see artist discography
LeAnn Rimes - see artist discography

Jean Ritchie/Various Artists "Field Trip" (Greenhays, 1954)


A fascinating album in which one of America's supreme folkloric artists drew close the connections between American old-time music and its British and Celtic roots. Travelling through England, Ireland and Scotland on a Fulbright scholarship, Ritchie collected many wonderful performances from the locals, of well-known songs such as "Pretty Polly," "The Cuckoo's Nest" and "Barbara Allen," then contrasted the Old World versions to the ones she learned as a child in Appalachia. This is a great record, which still holds its charm, all these decades later. Recommended!

Jean Ritchie "Ballads From Her Appalachian Family Tradition" (Smithsonian Folkways, 1961)



The great 19th Century American scholar James Francis Child was a bit premature when he proclaimed the British and Irish ballad tradition moribund and fit for a bit of academic taxidermy. The Harvard professor's miscalculation is ably demonstrated in this set of songs that Appalachian folk phenomenon Jean Ritchie learned as a child and committed to to record during the opening days of the Kennedy administration, over a half century after Child concluded his songcatching efforts. All the songs here are versions of tunes gathered in Child's monumental, multi-volume English And Scottish Popular Ballads, but sung in the local variant forms that Ritchie learned from her Kentucky kith and kin. And, man! What great performances. Ritchie sings these old murder ballads and morbid epics with a simplicity and authoritativeness that cuts past the centuries and makes the old tales live again. This is realy storytelling and folklore at its best -- the horrific nature of these old songs, in which sisters kill sisters and jealous, cuckholded husbands hack down their rivals is made magnetic in her chillingly matter-of-fact presentation. These are some of the finest, most engrossing versions of "Little Musgrave," "The Unquiet Grave," "Barbary Allen" and other classics that you will ever hear. A riveting record -- highly recommended!


<! * Traditional Songs of Her Kentucky Mountain Home (1952) * Kentucky Mountains Songs (1954) * Field Trip (1954) * Courting Songs (1954) * Shivaree (1955) * The Singing Family of the Cumberlands (1955) * Children's Songs & Games from the Southern Mountains (1956) * Songs from Kentucky (1956) * American Folk Tales and Songs (1956) * Saturday Night and Sunday Too (1956) * The Ritchie Family of Kentucky (1958) * Riddle Me This (1959) (with Oscar Brand) * Carols for All Seasons (1959) * British Traditional Ballads, Vol 1 (1961) * British Traditional Ballads, Vol 2 (1961) * Ballads (2003; vol 1 and 2 above, issued on a single CD) * Ballads from Her Appalachian Family Tradition (1961) * Precious Memories (1962) * The Appalachian Dulcimer: An Instructional Record (1963) * Jean Ritchie and Doc Watson Live at Folk City (1963) * Time For Singing (1966) * Marching Across the Green Grass & Other American Children's Game Songs (1968) * Clear Waters Remembered (1974) * Jean Ritchie At Home (1974) * None But One (1977) * Christmas Revels. Wassail! Wassail! (1982) * O Love Is Teasin' (1985) * Kentucky Christmas, Old and New (1987) * The Most Dulcimer (1992) * Mountain Born (1995) * High Hills and Mountains (1996) * Childhood Songs (1997) * Legends Of Old time Music (2002, DVD) >

---
Hillbilly Fillies - More Letter "R"
---