<! MP3 05/17/10 > <! update 07/07/10 > <! outside 07/07/10 - BB/1 > <! pix 00/00/00 > <! icons 12/25/10 > <! Tina Rose Merrilee Rush >
---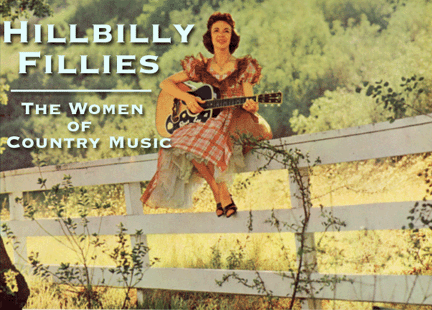 Welcome to my overview of women in country music, with reviews ranging from folk and bluegrass to honkytonk, rockabilly and Nashville pop. This is the third page covering the letter "R."
---
A | B | C | D | E | F | G | H | I | J | K | L | M | N | O | P | Q | R-1 / 2 / 3 | S | T | U | V | W | X, Y & Z | Comps
---
Julie Roberts "Break Down Here" (Mercury, 2004)



A sweet set that bridges between folkish Americana and Sheryl Crow-y commercial country. Roberts excels on romantic acoustic numbers such as "Unlove Me" and "I Can't Get Over You," although the album stretches into more upbeat country material as well. Some songs are turnoff, such as the too-perky "Just 'Cause We Can" and the drippy, confessional "The Chance," but these missteps are more than balanced by stronger, more resonant material throughout the length of the album. There are snarly wisps of Tanya Tucker and Lucinda Williams in her voice, counterbalanced with a mellowness that makes Roberts seem an unlikely candidate for the Top Country radio... Yet she has a strong, distinctive presence that may bode well for a longer career; only time will tell. In the meantime, folks who are looking for a pleasant, listenable and intelligently produced rootsy record, this disc may fill the bill. Worth checking out!
Julie Roberts "Men & Mascara" (Mercury, 2006)


Julie Roberts "Good Wine And Bad Decisions" (Tres Pescadores, 2013)



Richly textured country-soul, ala Dusty Springfield and Bobbie Gentry, with Roberts following her own muse amid a fickle music industry... It's a classy, ballad-oriented sound that doesn't succumb to the same rock'n'roll temptations as, say Shelby Lynne... Worth a spin!


<! reissued 2008 on Dualtone? >

Robinella & The CC Stringband "Robinella & The CC Stringband" (Big Gulley Records, 2000)

Robinella & The CC Stringband "No Saint, No Prize" (Big Gulley Records, 2001)


Robinella & The CC Stringband "Robinella & The CC Stringband" (Columbia, 2003)



I honestly, simply, don't get the attraction. I mean, there's nothing wrong with this set of laid-back, acoustic-based, jazz-tinged Americana crooning... But I can't figure out how it wound up being released on a major label and all... Singer Robinella Contreras is adequate, but not arresting; it's like hearing a confident, if somewhat blase, local gal singing at open mic night, working with a band that's into mixing standards in with the hillbilly stuff. Not amazing, but nice enough. My guess is, they're hoping to tap into the Norah Jones fan base... and who knows? It just might work.
Robinella "Solace For The Lonely" (Dualtone, 2006)


Robinella "FestivaLink Presents: Robinella At MerleFest -- 4/27/07" (Festivalink.net, 2007)





<! Betty Jean Robinson "God Is Good" > "When My Baby Sings His Song"

Betty Jean Robinson & Carl Belew "When My Baby Sings His Song" (Decca, 1972) (LP)


A duets album with songwriter Carl Belew and newcomer Betty Jean Robinson who, unless I'm mistaken, went on to become a major force on the Southern Gospel music scene... I haven't heard this one, but I am very curious!


<! WHEN MY BABY SINGS HIS SONGS - (Carl BELEW & Betty Jean ROBINSON) - When My Baby Sings His Song / Lucky Ol' Me / Hung Up On Loving You / Living Under Pressure / Wishful Thinking / You're The One / All Because Of You / Don't Let That Happen To Us / Funny What A Pair Of Fools Will Do / All I Need Is You > <! 06/10, 12/10: no ASIN >

Betty Jean Robinson "Songs I Grew Up On" (Decca, 1972) (LP)

Nell Robinson "In Loango" (Red Level Recordings, 2009)


Nell Robinson "On The Brooklyn Bridge" (Nell Robinson Music, 2011)



(Produced by Nell Robinson & Jim Nunally)
A city gal with country roots, Nell Robinson grew up in Alabama, but made it to the San Francisco Bay Area, where she's hooked up with a number of talented folks on the local bluegrass scene, including mandolin player John Reischman, fiddler Gregory Spatz and newgrass gal Laurie Lewis (who co-wrote one of the songs on this album...) This album pays tribute to Robinson's roots, with a mix of original songs and soulful standards as well as short spoken bits with her family members recalling the old days in the family's rural home. Worth noting is charming fact that Robinson only started singing in public recently ("I sang by myself in the car for 30 years, and ventured out to sing in public at age 45," she notes cheerfully...) and released this album at the brisk young age of fifty. She has the voice and soul of a much younger person, as heard on several bouncy, banjo-led tunes, and taps into the old-school sound of Depression-era Southern music with great authenticity and charm... If you enjoy DIY bluegrass and old-timey tunes, give this one a spin!
Nell Robinson & Jim Nunally "House And Garden" (Nell Robinson Music, 2013)

The Roches - solo, duo & trio
Judy Rodman "Judy" (MTM, 1986) (LP)


Her debut album, which includes "Until I Met You," a #1 hit in 1985
Judy Rodman "A Place Called Love" (MTM, 1987)





<! Judy Rodman "Goin' To Work" (MTM, 1988) third album was shelved when MTM folded > <! http://en.wikipedia.org/wiki/Judy_Rodman http://countrydiscography.blogspot.com/search/label/Rodman%20Judy >
Carrie Rodriguez & Chip Taylor "Let's Leave This Town" (Train Wreck, 2002)


This fine, fabulous album pairs the grizzled old-timer Taylor up with fellow singer/songwriter Carrie Rodriguez, a classically trained 20-something fiddler who he met at the South By Southwest music festival in Austin. This album marks the emergence of the pair as a full artistic partnership (Rodriguez having backed Taylor on the road, before he encouraged her to step up and share the vocal chores...) The result is nothing short of stunning, a set of lively, intelligent and remarkably catchy acoustic Americana, music that draws evenly on hard country, socially conscious folk and Texas-style western swing. In addition to revealing a remarkable new talent (Rodriguez), this album is notable for its invigorating effect on Taylor, drawing him back from the brink of humorlessness, and putting that sparkle back in his eyes. He's still world-weary and a keen observer of foolish pride and other foibles, it's just he seems to be in a better mood about it... Anyway, this was one of the best new albums I'd heard in a long, long while. Recommended!
Carrie Rodriguez & Chip Taylor "The Trouble With Humans" (Lone Star/TMG, 2003)


Less bouncy and more downcast than their first disc, but no less brilliant or soulful. A fine set of richly-written, beautifully performed songs... These two harmonize together really well!
Carrie Rodriguez & Chip Taylor "Angel Of The Morning" (EP) (Lone Star/TMG, 2003)

Carrie Rodriguez & Chip Taylor "Red Dog Tracks" (Back Porch, 2005)


Carrie Rodriguez & Chip Taylor "Live From The Ruhr Triennale" (MRI, 2007)

Carrie Rodriguez "She Ain't Me" (Manhattan, 2008)


Carrie Rodriguez "Live In Louisville" (Luz Music, 2009)

Carrie Rodriguez "Love And Circumstance" (Ninth Street Opus, 2010)


Carrie Rodriguez "Give Me All You Got" (Ninth Street Opus, 2013)



(Produced by Lee Townsend)

Jean Romaine & Al Shade "Pennsylvania Mountain People" (Aljean, 1965) (LP) <! AJ 100 > (LP)


The husband-wife duo of Al Shade and Jean Romaine led a regional band in central Pennsylvania throughout the 1960s and '70s... Shade's day job was as a country music radio DJ at station WLBR, in Lebanon, PA... while Romaine did a radio show on the weekends. The were pretty traditionally-oriented and rooted in their local community, though they attained some national cult notoriety for their 1979 album (below) which included an old-fashioned disaster-song recitation about the meltdown at the Three Mile Island nuclear power plant in nearby Harrisburg, PA. I believe Pennsylvania Mountain People was their first self-released album.


<! date per Billboard > <! from 1966 Billboard: "Al Shade, country music deejay on WHVR, Hanover, Pa., and WLBR, Lebanon, Pa., ... Shade also represents Jean Romaine and the Short Mountain Boys, and..." in 1964 they were profiled as DJ-ing on WLBR - him daily, her on Saturdays >

Jean Romaine & Al Shade "The Little Dogwood Tree" (Aljean, 1967) (LP) <! AJ 102 > (LP)





<! date per Billboard > <! an all-gospel album >

Jean Romaine & Al Shade "More Yodeling" (Aljean) (LP)





Jean Romaine/Al Shade/Debbie Ann "Potter County Was Made By The Hand Of God" (Aljean, 1973) (LP)







Jean Romaine & Al Shade "(Potter County Was Made By The Hand Of God, But The Devil Made) Three Mile Island" (Aljean, 1979) (LP) <! AJ 108 >





Jean Romaine & Al Shade "Dolly Parton, You're A Lady" (Aljean, 1982) (LP) <! AJ 109 >
Even though it doesn't say so on the album jacket, this duo from Myerstown, Pennsylvania must have gone to Nashville to record their album, because the picking is pretty good and the the production is pretty solid, with a slick-but-rootsy late '70s/early '80s Top Forty sound. No clue as to who that studio crew might have been, though, because there are no credits... Neither Al or Jean were electrifying singers, but they wrote some good songs and really pour themselves into the material. Several songs were written by and feature vocals from Faron Shade -- not sure who we was, their son, maybe? -- and again, it's good, strong amateur-hour stuff. As DIY country vanity pressings go, this one's pretty darn good.


<! In 1979 Jean Romaine wrote a song called "Three Mile Island" about the meltdown of the reactor in Harrisburg, PA >

Lulu Roman "Sings For Her Friends" (Rainbow Sound, 1979) (LP)


A mostly-secular offering from Lulu Roman, one of the original cast members of the Hee Haw TV show. After a religious awakening, she went on to become a popular Southern Gospel artist, recording nearly two dozen albums... There are a few gospel songs on here, but mostly it's a mix of country tunes such as "Walk Through This World With Me" and '70s pop songs like "You Needed Me" and "Desperado."
Lulu Roman "At Last" (Homesick Entertainment, 2013)






<! features duets with Dolly Parton, T. Graham Brown, Linda Davis, and Georgette Jones. >
Mimi Roman "I'm Ready If You're Willing" (Juke Box Pearls series) (Bear Family, 2012)


A fascinating set of obscuro country from the 1950s from a Jewish gal from Salinas, California who broke through on the Arthur Godfrey talent show and was signed to Decca Records as a pop singer, but who insisted on recording country material. Roman (nee Rothman) tackled rockabilly and uptempo honkytonk material as well as plenty of weepers, and she toured in the Philip Morris Caravan package show, along with many of the biggest stars of the era, but despite her best efforts she never broke through as a headliner or even as a national act. This is a nice selection of her country best country stuff, and a real goldmine for fans of hillbilly fillies -- she had kind of a rough voice, but in the country context, it'll win you over. There are a few more Mimi Roman songs out there to be heard... Perhaps someday Bear Family (or some other label) will issue a follow-up disc?


<! Owen Bradley, head of Decca Records in Nashville for years, would joke that he was charged with 'a country singer who wanted to go pop, and a pop singer who wanted to sing country.' The country singer was Patsy Cline. The pop singer was Mimi Roman. Changing her name from Rothman, she recorded for DECCA in New York and Nashville, but never got the all-important break. She even worked the grueling Philip Morris caravan, touring with legends like Carl Smith and Ronnie Self, and recorded right on the stage of the Ryman Auditorium, home of the Grand Ole Opry. Somehow, it didn't work out for her, although her records have become highly collectible. For the first time, here is her story and here are her finest 25 tracks, all in one place. A little untold gem of Fifties musical history. >


Linda Ronstadt - see artist discography



Caitlin Rose "The Stand-In" (ATO, 2013)






<! Kitty Rose LGBT >

Kitty Rose "Greatest Hits" (Wild Affair, 2005)






<! hiccuping vocals; perky, enthusiastic, though not great >

Kitty Rose "Live At The Ryman: 1 April, 1972" (Wild Affair, 2007)



You did notice that the date is April Fool's day, right? Not an actual Opry show (or a live album) but another heartfelt album from this indiebilly filly from the Golden State...
Maggie Rose "Cut To Impress" (RPM, 2013)



(Produced by Blake Chancey, James Stroud & Stephony Smith)
Hmmm. Sorry, but I'm not convinced. With sassy but prefab songs framed by big, chunky guitars and Southern rock slide, Maggie Rose seems to be aiming for a Gretchen Wilson/Pistol Annies tough-chick sound, and in some moments she sounds like she's pulling it off, but more often than not she sounds too pop, and too contrived, like someone who's really just posing as country. The main problem is that as a vocalist she just doesn't have the same level of chops as Wilson, and frequently sounds like a generic pop singer trying her luck in the wrong genre - -it just sounds a little bit off. Anyway, it's not my kind of country to begin with, too slick and without a real emotional core. You can skip this one.
Pam Rose "Pam Rose" (Capitol, 1977) (LP)


The debut album of songwriter Pam Rose, who is perhaps better known for her work in the bands Calamity Jane and Kennedy Rose. This album includes a couple of singles that scraped the bottom of the Top 100, but is perhaps better seen as a hint of things to come...
Pam Rose "Fly" (EP) (Grace, 2007)

Jeris Ross "Jeris Ross" (ABC-Dot, 1975) (LP)


(Produced by Ron Chancey)
A great album by an almost entirely unknown Top Forty hopeful... Originally from Illinois, singer Jeris Ross had a brief country career, spanning the 1970s, from early indie sessions produced by Scotty Moore to a promising fling on major label and then a quick slide back into the indies, with her last singles coming out in 1979. This album -- the only full length she released -- includes her biggest hit, "Pictures On Paper" (a Gary S. Paxton song which cracked into the Top 20) as well as the followup single, "Moontan," a cutesy novelty song that pretty much went nowhere. The material on this album is fairly uneven, ranging from some killer honkytonk tunes to some rather fluffy pop numbers, including a cover of the girl-group oldie, "Chapel Of Love," and the florid soft-pop of "I Know The Feelin'," which sounds like a Carpenters outtake. The strongest songs include a version of Paul Craft's "Midnight Flyer" and the deliciously provocative "I'd Rather Be Picked Up Here (Than Be Put Down At Home)" a feminist anthem that nicely fits into the early 70's country swinger genre. On "Pictures On Paper," Ross adopts a more traditional emotional-doormat role, ala Tammy Wynette, proclaiming that the unsatisfied women with husbands who flirt with other gals and stay out all night that "as long as he keeps coming home, you've got no reason to cry...") She splits the difference with "What'll I Tell The Kids," a "D-I-V-O-R-C-E"-worthy novelty number about a marriage that's all but ended. Ross toured with several major artists, notably Conway Twitty and Loretta Lynn, but she seems to have given up her solo career by the decade's end. Later, as Jeris Ford, she headlined an Oklahoma rock-pop oldies band called the Bop Cats... Judging from this album, I'd say she was an artist who could have gone much farther if she'd been given stronger material and been handled better by her label. Coulda, woulda, shoulda: it's the same old sad song from Nashville, I guess.
Bobbie Roy "I'm Your Woman" (Capitol, 1972) (LP)


Yeah... I'd never heard of her either. Turns out there's a reason: she wasn't a stellar singer, but in her way she was alright. The song "One Woman's Trash (Is Another Woman's Treasure)" eked its way into the Top 40; a couple of other singles came along aftertwards, but didn't go much further. This disc is a fairly typical early '70s soft-country outing: some cover tunes, a few emotional doormat songs, big fluffy arrangements all around and a few almost-but-not-quite tunes sprinkled on each side of the album.

Ruthie And The Wranglers "Wrangler City" (Lasso, 1996)


Romping rockabilly and rhythm-heavy honky-tonk from this CD-area band. Ruth Logsdon is in the same vocal range as Dee Lannon and Rosie Flores -- not quite a diva, but able to project enthusiasm and love of the style. She has a few other records out, although this is the only one I've heard... It's worth checking out if you can track down a copy; bar band guitar whiz Bill Kirchen pitches in on a few tunes.

Ruthie And The Wranglers "Life's Savings" (Lasso, 1998)


With plenty of Sun Records-y reverb and hiccuppy vocals, Ruthie and her pals keep the rockabilly vibe going strong, while covers of old country classics like "A Dime At A Time" and "Fist City" help balance things out in favor of the country crowd. The most notorious song on here would be Logsdon's own "He's A Honky Tonk Man," a spoof of Johnny Horton's old hit wherein, yeah, he's all man, but not for long: the cowpoke is looking for a sex change! Yee-haw, little buddy.
Ruthie And The Wranglers "Live At Chick Hall's Surf Club" (Lasso, 2000)

Ruthie And The Wranglers "Sometime" (Lasso, 2003)


Ruthie And The Wranglers "Americana Express" (Lasso, 2009)


---
Hillbilly Fillies - Letter "S"
---