<! SLA-SZZ > <! MP3 05/17/10 > <! update 00/00/00 > <! outside 00/00/00 > <! pix 00/00/00 > <! icons 12/03/10 > <! Bobbi Staff was born in NC as Barbara Grindstaff. She debuted age 10 in talent shows, travelled around the world singing, performed for queen and president (LBJ), and recorded 6 sides for RCA, of which Chicken Feed was a minor C&W-hit. The JDL-composition He Can Be Your Baby, Lyrics, a good song, was the follow up, but did not chart. > <! Patsy Storm "The Girl That Made The Harmonica Go Country" (Storm Records, xxxxxxxx) Joan Sprung & Roger Sprung "Pickin' On the Sunny Side" (Showcase Records, xxxx) (LP) #S-2 The Rainbow Valley Boys & Sweetheart "Sing And Pick Bluegrass Favorites" (Jessup, xxxxx) - 1960s? - who was "Sweetheart"? - she's pictured wiith a guitar - other named members include Bob French (banjo) and Buddy Jones(g.) - Sweetheart appears to have been Grace French - not sure if she was his wife or sister - wife seems more likely Margie Singleton "...Sings Country Music With Soul" (Ashley Records) >
---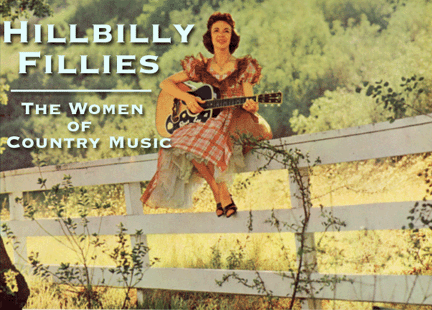 Welcome to my overview of women in country music, with reviews ranging from folk and bluegrass to honkytonk, rockabilly and Nashville pop. This is the first page covering the letter "S."
---
A | B | C | D | E | F | G | H | I | J | K | L | M | N | O | P | Q | R | S / S-2 | T | U | V | W | X, Y & Z | Comps
---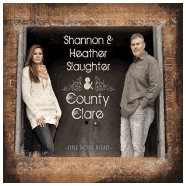 Heather & Shannon Slaughter "County Clare" (Elite Circuit, 2013)



(Produced by Wes Easter, Shannon Slaughter & Heather Slaughter)
The second "solo" album by guitarist Shannon Slaughter, joined this time by his wife Heather and their band, County Clare. Its modern bluegrass with a traditional feel and contemporary themes... Perhaps the most notable track on here is also the most controversial, the anti-abortion weeper, "They Never Got The Chance," in which the lost accomplishments of unborn babies are mourned, as are the choices of naive almost-mothers who were too quick to pull the plug. Heather Slaughter tries really hard to sound evenhanded and thoughtful on this one -- even grudgingly inserting a line about how the folks at the clinics give some, meagre advice to these women before performing the procedure -- but in its essence this is a condescending and judgmental narrative, sure to stir the emotions of right-to-life listeners, but unlikely to persuade others. There are also interesting cover tunes, such as a version of "If I Were A Carpenter" and Rodney Crowell's "Even Cowgirls Get The Blues," along with a mix of secular and gospel material, including a bunch of original tunes from the Slaughters and their band. These guys were okay, though I found the abortion song to be kind of a turn-off.

Patsy Sledd "Yours Sincerely" (Mega, 1973) (LP)


(Produced by Larry Rogers)
A fine album of traditional-sounding country, with plenty of fiddle and pedal steel guitar (and even a hint of bluegrass twang!) This was the debut disc by Missouri-born Ms. Sledd, who was a protege of George Jones and Tammy Wynette, who were then the reigning king and queen of country music. Unfortunately, their influence didn't translate into success on the country charts -- she did okay for a couple of years, then kinda faded from sight. It's a shame, really, because this is some fun, fine country music. Sledd sounded a lot like superstar Lynn Anderson, though these songs are consistently more gritty and upbeat than Anderson's flowery, opulent countrypolitan offerings, with some swell steel guitar from Lloyd Green. If you see an old copy of this album, definitely pick it up and give it a spin.

Patsy Sledd "Chip Chip" (Mega, 1974) (LP)

Connie Smith - see artist discography
Emma Smith "Memories" (Old Homestead, 1991)





<! Emma Smith & Dave Evans "Don't Let Me Cross Over" (Rutabaga, 1984) (Produced by Steve Hoffman) - with Art Stamper, fiddle Emma Smith "Hazard" (Old Homestead, xxxxxx) Emma Smith "Ship From Kings Harbor Shore" (Old Homestead, xxxxxx) Emma Smith "xxxxxxxxxxxxxxx" (xxxxxxxxxxxxxxx, xxxxxx) >

Kenny Smith "Studebaker" (Sugar Hill, 1997)


The Kenny & Amanda Smith Band "Slowly But Surely" (Farm Boy, 2001)

The Kenny & Amanda Smith Band "House Down The Block" (Rebel, 2003)



A nice, solid truegrassy set, with several original songs written by the Smiths and lots of well-chosen material from the likes of Becky Buller, Buck Owens, Tim Stafford and even a tune from western swing singer Tommy Duncan. The Smith's predilection for country songs doesn't get in the way of their pickin', though, and this is a pretty fast-paced album, with solid guitar work by Kenny Smith and banjo plunkin' by Steve Huber (along with Smith, a veteran of the Lonesome River Band...) The Smith Band's sound isn't super-flashy, but it is impressive in a not-too-perfect, not-too-slick, still-got-our-roots-intact kinda way. None of these songs really leapt out at me, but the album as a whole was quite good. Worth checking out!
The Kenny & Amanda Smith Band "Always Never Enough" (Rebel, 2005)


Kenny & Amanda Smith "Tell Someone" (Rebel, 2006)



A fine all-gospel bluegrass set with sweet vocals and soulful but understated picking; the singing takes the front seat here, and all voices are raised in praise. A couple of tunes are too intense for me, but mostly this is the kind of sweet bluegrass gospel that I really like. Nice song selection, and plenty of heartfelt emotion to back it up. If you like the genre, you'll love this album.
Kenny & Amanda Smith "Live And Learn" (Rebel, 2008)



(Produced by Kenny & Amanda Smith)
The husband-wife team of Kenny and Amanda Smith have honed their sound to perfection, presenting high-power contemporary bluegrass with strong traditional roots and an eye fixed firmly on the future. Amanda Smith's voice has never sounded sweeter, as she delves into a series of songs both old and new, from the chilling Appalachian murder ballad, "Cruel Willie" and some bluesy barnbusters to gentler, more contemplative contemporary folk-grass, such as the softly inspirational "Do The Best You Can" and "You're Gonna See Me Shine." Sound familiar? Yeah, it'll also ring a bell if you pick up this fine new album, which contains numerous glittering gems -- it's the Alison Krauss formula, with Smith's dulcet tones easily matching those of Ms. Krauss, and musicianship that's also on a par with the better-known Union Station band. If anything, when the Smiths stick to the rootsy stuff, they play in a more rugged, raucous style than the AKUSers, who sometimes sound a bit too formal and controlled. On the folk-tinged tunes, though, the similarity is quite powerful, and the songs are as well: if you like modern bluegrass leavened with thoughtful, intelligent folk overtones, then this is an album you'll want to check out. There are several on here that I've come back to time and time again, and I'm sure I'll continue to do so for years to come. Recommended!
Margo Smith - see artist discography
Sammi Smith - see artist discography
Valerie Smith "Patchwork Heart" (Rebel, 1998)


Valerie Smith "Turtle Wings" (Rebel, 2000)


Valerie Smith & Liberty Pike "No Summer Storm" (Rebel, 2002)



A yummy treat for those who wish gals like Alison Krauss could just "keep it real" a little bit more... Missouri native Valerie Smith covers some ornate, poetically written, poppish material -- along with plenty of good, old-fashioned stompy-style bluegrass -- but she does it with an untamed rural edge. Her vocals are still admirably rough-hewn, although it's clear she knows the lay of the land in modern bluegrass-landia and could easily smooth everything out and be more crossover-y... The title track is one of those slightly-overwritten grassipolitan tunes that seem to be so popular with the big-spending, big city crowd, but the picking is pretty straightforward, and doesn't get all flowery. A pretty solid album by a pretty solid band.
Valerie Smith & Liberty Pike "That's What Love Can Do" (Bell Buckle, 2005)


Valerie Smith & Liberty Pike "Wash Away Your Troubles" (Bell Buckle, 2006)


Valerie Smith & Becky Buller "FestivaLink Presents Valerie Smith & Liberty Pike At Wintergrass: 2/24/07" (FestivaLink, 2007)

Valerie Smith & Becky Buller "Here's A Little Song" (Bell Buckle, 2008)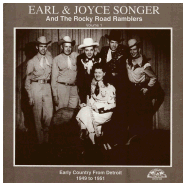 Joyce & Earl Songer "Early Country From Detroit: 1949-1951" (Old Homestead, 1993) (LP)


Raw, old-school hillbilly music from a husband-wife duo based in postwar Detroit... The material is a mix of sentimental ballads from the '30s Carter Family stringband tradition along with tougher, more worldly honky-tonk and hillbilly boogie, though even the honky-tonk songs have an old-fashioned feel, sort of a cross between the Delmore Brothers and Ernest Tubb. A little-known hillbilly filly with a Kitty Wells-ish voice, Joyce Songer mostly has a background role, singing harmony on a few songs, though Mr. Songer is clearly in the bandleader and featured performer throughout... Their band, the Rocky Road Ramblers, wasn't packed with hotshot superpickers, but their robust rough edges are a big part of their charm. I guess they must have been contemporaries of the York Brothers, in the scrappy Great Lakes country scene.


<! ROSALIE SORRELS 05/2010: MANY more records than this... Rosalie Sorrels "Moments Of Happiness" (Philo, 1977) (LP) B001V1796A Rosalie Sorrels "Then Came The Children" (Aural Tradition) B000005CQX Rosalie Sorrels "Travelin' Lady" B002F75OPW (weird import edition) (Sire, 1971) (?) (LP) B001HFAU1G Rosalie Sorrels & Friends "My Last Go-Round" (Red House, 2004) B0001JXQ38 B000S5AUHK Rosalie Sorrels "Strangers in Another Country: The Songs Of Bruce 'Utah' Phillips" (Red House, 2008) B001BJ65TE B001DXJXIS Rosalie Sorrels "Be Careful There's A Baby In The House" B000005CQY Rosalie Sorrels "If I Could Be The Rain" (Folk-Legacy, 1964) B0028ERCJS Rosalie Sorrels "Always A Lady" >

Southern Reign "Southern Reign" (Step One, 1988) (LP) <! ("Best Performance" title?) >


A mixed-vocals group featuring singer Patsy McKeehan...
Sissy Spacek/Various Artists "Coal Miner's Daughter" (MCA, 1980)

Sissy Spacek "Hangin' Up My Heart" (Atlantic, 1983)


(Produced by Rodney Crowell)



<! with guest artists Rosanne Cash and Vince Gill >


Billie Jo Spears - see artist discography



Devon Sproule "Don't Hurry Heaven" (Tin Angel, 2009)






<! other albums on Amazon >

The Stairwell Sisters "The Stairwell Sisters" (Yodel-Ay-Hee, 2003)



The Stairwell Sisters "Recording No. 2: Feet All Over The Floor" (Yodel-Ay-Hee, 2005)



The second album by this SF-Bay Area fivesome is a fine set of squeaky, raspy old-time music with plenty of fiddle, banjo and twang... The songs are a nice mix of older material from the public domain and a half dozen originals written by the band members... These gals -- Lisa Berman on guitar, Martha Hawthorne on bass, Evie Landin on banjo, Stephanie Prausnitz sawing on the fiddle and Sue Sandlin on guitar -- hail from several other local bands and have a nice, relaxed feel as a band. Their new material fits right into the classic old-timey vibe -- if you like your stringband music "crooked" and uncompromised, like, say, Jim & Jennie or the Crooked Jades, this is a fine record to check out... (Available through www.stairwellsisters.com )
The Stairwell Sisters "Get Off Your Money" (Yodel-Ay-Hee, 2008)



(Produced by Lloyd Maines)
Another fun, rollicking set from this Bay Area quintet, with a canny mix of oldies and originals, tunes like "Stay All Night" and "Silly Liza Jane" next to new compositions such as Sue Sandlin's "Shuffle And Shine," which as a pleasantly Stephen Foster-esque sentimentality to it... The SIsters continue to get the old-timey feel right without succumbing to the style's more dour side... Fun stuff!
Karen Staley "Wildest Dreams" (MCA, 1989)

Karen Staley "Fearless" (Warner, 1998)


Tammy Faye Starlite "Used Country Female" (Diesel Only, 2003)



A rock-heavy twangcore concept album about a sex-drenched country evangelical gal who likes nooky and drugs as much as she likes going down on her knees to praise the Lord. It opens with a foul-mouthed, sacreligious parody of Rick Springfield's "Surrender," and amplifies the theme with numerous songs such as "Misguided Magdalene," "Highway 69," and the menstrual-themed "Ride The Cotton Pony," as well as cover tunes like the Jules Styne showtune, "I Knew Jesus (Before He Was A Star)" that seem to fit into the album's theme. I think they're aiming for a profane, "Rocky Horror"-ish shock value, and for rebellious listeners recently in the thrall of a Christian education, the transgressive mix of religious and sexual themes may provide a great cathartic thrill. However, if you were already paying attention to the punk and Goth rock revolution of the late '70s and early '80s, you'll probably find all of this pretty old-hat: Wayne County or Diamanda Galas approached a lot of the same issues with much greater artistic impact. For those of us not caught up in Catholic or Evangelical theology, it's all one big shoulder shrug. Also: this isnŐt as "country" as one might hope; Tammy and her boys seem to have been having fun, but it doesn't mean a lot to me. I did enjoy her version of Marshall Chapman's "Don't Make Me Pregnant," the only performance that really stands on its own, outside of the context of the album.
Tammy Faye Starlite "On My Knees" (EP) (American Blonde, 1999)

Lucille Starr/The Canadian Sweethearts "Side By Side: Pop And Country/Lonely Street" (Collector's Choice, 2004)


The Canadian Sweethearts were the husband-wife duo of singer Lucille Starr and guitarist Bob Regan, who were regional faves in the 1960s, dabbling in a wide variety of pop styles, in addition to a healthy base of fairly twangy country. This CD combines two albums recorded in 1968 for Epic Records -- Side By Side: Pop And Country and Lonely Street, which was released as a Lucille Starr solo album... It's a little bit staid, but a nice time capsule, nonetheless. Also see Lucille Starr's solo albums.
Lucille Starr/The Canadian Sweethearts "Eeny Meeny Miney Moe" (Hydra, 2003)


Early rock'n'roll/rockabilly oriented material... and it's pretty fun! Interesting intersection of hick-oriented country and teenybopper pop. Also includes some of Starr's solo pop recordings ("The French Song" etc.) and lots of kooky novelty tunes, such as a surfabilly version of the Scottish bagpipe tune, "Highlands Lassie." Definitely worth checking out.
Lucille Starr "The French Song" (A&M, 1964)


A mix of pop and country (mostly pop) with a bunch of bonus tracks added to the CD reissue.
Lucille Starr "Lonely Street" (Epic, 1968) (LP)


June Stearns & Johnny Duncan "Back To Back" (Columbia, 1968)
What an odd couple! I'm not sure why these two were paired up to begin with, but it probably had something to do with the label figuring, what the heck -- nobody's heard of either of these two, why not throw 'em both in and see if they can swim. Since Johnny Duncan's career was the one that really took off, and because he had a certain "outlaw" sheen during much of the 1970s, most folks would probably assume that the beehived young Ms. Stearns was the one holding him back, and making this disc more mellow. Think again! Check out her followup album (her only other record), and you'll find that she was anything but wimpy or demure! On this disc, though, nothing ever really catches fire -- both singers seems to be playing by the rules, and the arrangements are pretty rinky-dink. Not cloying, but not great.

June Stearns "River Of Regret" (Columbia, 1968) (LP)


(Produced by Frank Jones)
A fairly robust, husky-voiced singer who reminds me in equal parts of Melba Montgomery and "Walkin' After Midnight"-style Patsy Cline, Stearns is a forgotten member of Nashville's late '60s generation... Despite the lackluster cover art (which shows a nervous-looking, stiff Stearns sitting by a flowing river bank, guitar in hand...) this is actually a pretty fun album. Studio producer Frank Jones provided her with a solid, bluesy backup, and she took it and ran. There are a few awkward passages, but for the most part this is a remarkably rootsy record. Includes an appropriately raunchy version of "Plastic Saddle," and similarly steamy tunes such as "Habit Not Desire" and "The Future Ex-Mrs. Jones," which is a pretty awesome cheatin' song. She really had it going on... wonder what ever happened to this gal...!


<! stray singles on Starday, Mercury, Decca > <! duets: LEFTY FRIZZELL: (If you've Got the Money, I've Got the Time) & (Only in My Mind Have I Ever Been Untrue) JOHNNY DUNCAN: (Jackson ain't a Very Big Town, We had all the Good Things Going, What Locks the Door, We'll Get Married or Nothing, Blue Eyes Crying in the Rain, The Wild Side of Life, Back to Back, Sweet Thang, Now I Lay me down to Dream, Can you Match That Kind of Love, The True and Lasting Kind) RED SOVINE: ( A Dear John Letter) >

June Stearns "Many Sounds Of Country Music" (Whiteway) <! date? >
(Produced by Earl White)





Steel Magnolia "Steel Magnolia" (EP) (Big Machine, 2010)



Slightly twangy soul duets from Meghan Linsey and Joshua Scott Jones, aka Steel Magnolia, the winners of a CMT cable talent show... The band's perky single, "Keep On Lovin' You," hit the Top 10 before a physical (CD) version was available for sale. Their soul-infused pop sound isn't quite my style (reminds me of Hall and Oates...) but they must have struck a chord with contemporary country fans, 'cuz these kids have hit the big time. The introductory EP also includes a couple of live tracks, including a rollicking, twangy version of Dwight Yoakam's "Fast As You."
Wendy Burch Steel "Open Wings" (Dragonfly Bridge, 2012)


(Produced by Laurie Lewis)
Bluegrass-tinged, country-flavored folk music from Berkeley, CA. This album features several original songs by Ms. Steel (great name for an Americana singer!) as well as traditional material and bluegrass oldies from the catalogs of the Dillards and Bill Monroe. The backing band features Laurie Lewis and some of her pals (such as Todd Phillips, Tom Rozum and John Schott... a talented crew, for sure!) Lewis also sings harmony, as does Nell Robinson, another addition to the Bay Area bluegrass scene. This is a little more "folkie" than I go for, but a nice, local, DIY album nonetheless. If you're a Laurie Lewis/Kathy Kallick fan, you'll appreciate this as well.
Lisa Stewart "Lisa Stewart" (BNA, 1993)



(Produced by Richard Landis)
A fairly unremarkable album by a gal who went on to be a TV show host on CNN. Slower-paced stock arrangements surround a modest voice; Stewart goes out of her way to sound like Patsy Cline on several tracks, and sort of Reba-esque on others... None of it to particularly moving effect.

The Stoneman Family "28 Big Ones" (King, 2000)


One of the most generously programmed of the recent King/Gusto releases, with over two dozen tracks included (as opposed to their usual skimpy eight or ten songs...) The Stonemans were an old-timey family act with deep, deep country roots ("Pop" Stoneman was an early country star, way back in the 1920s...!!) During the 1960s folk boom, they found a new resurgence of interest in their music, and tried to hit the bigtime, mixing their old-fashioned mountain rambling with the glitzy modern show-biz style of the new Nashville. It wasn't always an easy balance to make, particularly as the venerated but aging vocalist, Pop Stoneman, slowed them down quite a bit. His two daughters, Donna and Roni, (mandolin and banjo) were dazzling instrumentalists, and you can hear them tearing it up on a few of the instrumental tunes on this disc, but the vocal numbers are a little clunky, and the rest of the band rarely seemed to be able to keep pace with the gals. Still, it's a great assortment of material, ranging from gospel and novelty numbers to topical ballads like "The Sinking Of The Titanic" and "Heroes Of Bataan," written about the conflict in WWII. I'm not sure of the vintage of these recordings, but it's pretty recent, to be sure -- early 1970s, perhaps?

Strange Creek Singers "Strange Creek Singers" (Arhoolie, 1972)



An old-timey classic, joining Hazel & Alice later with Mike Seeger and Tracy Schwartz of the New Lost City Ramblers. They open the album with a shape-note song ("When I Can Read My Titles Clear"), just to let us know that they've got the real low-down on this mountain music... Then they gradually ease into more melodic, bluegrassy terrain. It's great stuff from start to finish, originally recorded between 1968-70.

Sugarland "Twice The Speed Of Life" (Mercury Nashville, 2004)



(Produced by Garth Fundis)
Three struggling contemporary-folkish singer-songwriters from Atlanta turn their hands towards blatantly super-commercial Top Country Nashville fare, with decidedly iffy results. I kind of liked the single, "Baby Girl," even though it shamelessly lifts its catchiest hook from Terri Clark's "Three Mississippi," and even though the concept's a bit simplistic (a gal who's set off for Nashville sings to the folks back home, asking them to send some money; by the end of the song, she's sending cash to them, 'cuz she's made it in the big time). When I got the full album, though, I was less than thrilled. Lead singer Jennifer Nettle's phony, exaggerated twang ("Deeeeeeeeerre mom and dad...") plays poorly through the length of the album; she's trying to pull a Martina McBride, but sounds like a complete poseur. Plus, her vocal tone isn't just piercing and distinctive, it gets to be downright irritating. Likewise, the band overplays its hand on the lyrics and the hook-heavy production; even amid the elaborate formulae of the Nashville music factory, this album sounds overly prefab and contrived. I just don't buy it; they don't have real country soul, and they also don't have the sense of control it takes to really pull something like this off. Frankly, this record is so aggressively hit-oriented that it's kind of exhausting to listen to... (That being said, they'll probably wind up being the act of the century, since I pooh-poohed 'em straight out the gate.) (Postscript: Sure enough, after about a full year of aggressive promotion, they went Top 10. "Deeeeeeeeerre mom and dad..." "Deeeeeeeeerre mom and dad..." "Deeeeeeeeerre mom and dad..." "Deeeeeeeeerre mom and dad..." "Deeeeeeeeerre mom and dad..." Guess the egg's on my face!)

Sugarland "Enjoy The Ride" (Mercury-Nashville, 2006)



(Produced by Byron Gallimore, Kristian Bush & Jennifer Nettles)
The opening tracks on Sugarland's second album come as a pleasant surprise -- "Settlin' " and "County Line" both have a relatively simple sound, at least compared to the band's forceful, uber-jangly, overbaked (and wildly successful) commercial debut. Ah, at last! I sighed, they've learned how to keep it simple! Well, the slick, thick Nashville sound kicks in soon after that, but they still don't lay it on as thick as they did before. It turns out the reason is that the group has shed one of its principal members, songwriter-singer Kristen Hall, and now tailors its sound entirely towards the vocals of Jennifer Nettles, who acquits herself nicely. The record is, understandably, formulaic -- you don't hit the top of the Country charts without going over-the-top, musically speaking -- but it's a calmer, more easily digestible affair, and has moments of understatement that give me hope that they might tap into something closer to old-school country... Wouldn't that be nice? Doubtless some fans will feel cheated -- where's Kristen?? -- but I prefer this less hyperactive mix. The band itself seems a little conflicted about its future: on one hand, the album title seems to hint at an uneasiness about the impermanence of fame, though on the other hand, they close the record with a belated theme song, "Sugarland," which might come in handy if they stay together for a while. I dunno, I hadn't expected myself to be so amenable to this record... So I guess you can count me among the folks who are curious to see where it goes from here.
Sugarland "Love On The Inside" (Mercury-Nashville, 2006)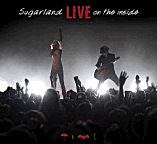 Sugarland "Live On The Inside" (Mercury-Nashville, 2009)


(Produced by Kristian Bush & Jennifer Nettles)
A few years ago, Sugarland started out with a big bang, topping the charts, filling the airwaves, becoming stars. As this live album, a combination CD and concert DVD shows, though, since then they've gone to another level. You can hear it in the reverent murmur of the audience, and in the self-aware superstar purr of lead singer Jennifer Nettles: Sugarland has become the kind of "you changed my life, I worship you" band that gets a special kind of super-fan. Their songs have become more poetical and profound, as well (although with dips into poppy raunch that are meant to keep them in the just-plain-folks category...) Wynonna Judd comes to mind right away, with the modern pop-meets-tailored twang style, seasoned with constant bluesy soul-mama intonations. I suspect that there's some overlap in the fan base as well; it's a formula that works. I still think Nettles is overdoing it with the exaggerated twang, but hey -- who am I to argue with success? The big attraction for many fans will be the high-definition live footage from a concert in Lexington, where you can not only hear, but see the connection between Sugarland and their fans. One thing that's really cool: there's no overlap between the songs on the audio and video discs, a nice bonus for consumers in these troubled times.
Sugarland "The Incredible Machine" (Mercury, 2010)


Sunshine Ruby "Sweetheart Of The Big D Jamboree" (Binge Discs, 2005)


A fascinating, though flawed, set of rarities from a child star of the early 1950s regional country circuit. When she was just barely in her teens, Texas-born Ruby Jewell Bateman landed a slot in the Dallas-based Big "D" Jamboree, a Lone Star answer to the Grand Ole Opry radio and stage show. Like other regional shows, the Jamboree served as a farm team for the national stage, and talent scouts from RCA Records signed Ruby up early in 1953. Not much came of it -- she had a couple of (pardon the pun) minor hits, but the sixteen tracks on this album pretty much cover her recording career. There are riotously funny hillbilly gems, such as the risque "That Ain't In Any Catalog," and the jaunty "Too Young To Tango," which had more of a pop flair to it. These early tracks were, paradoxically, Ruby's best -- later that year her voice deepened and became quite husky. Instead of sounding like a little boy, she suddenly sounded like a fey lumberjack, and her songs lost a little bit of their sparkle and charm. The studio crew seemed not to take these sessions too seriously, with guitarist George Barnes, in particular, taking the opportunity to drift off on jazzy improvs, rather than stick to the hillbilly twang that best suited the young girl's voice. While she was game for some unusual, inventive phrasing, it mostly didn't work, and Ruby seemed to have been cast adrift in the studio system, doing a Brenda Lee act a couple of years before Lee came along... A few duets with teen idol Tommy Sands fell flat as well, and while there's still an undeniable charm to this disc, the standout tracks are the exception, not the rule. Still known only on a regional level, Sunshine Ruby apparently quit show business in 1955, marrying and "settling down," as they called it back then... And that was that. Folks who are delving into the history of women in country music will definitely want to check this out -- a few tracks are a real hoot and when the music clicks, it really clicks. (Available through the Binge Discs label.)
Sunshine Ruby "Western Swing In Its Prime " (Binge Discs, 2006)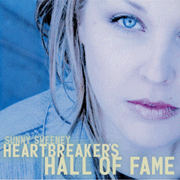 Sunny Sweeney "Heartbreaker's Hall Of Fame" (Self-Released, 2006)



God bless Texas! That little state has got more real country music in its little finger than the rest of the country has in its collective craw. Newcomer Sunny Sweeney is the latest example of the Lone Star State's amazing ability to produce the sort of super-twangy, super-indie honkytonk that makes folks like me look forward to tapping our toes and drinking our beers for year to come. Possessed of a squeaky little rasp that seems equal parts Tanya Tucker and Iris Dement, Sweeney sings with true conviction and pure delight, infusing each song with sincere emotion and a swinging sense of fun. Her band twangs along at a rapid-fire clip, slathering on sweet fiddle, pedal steel and bouncy guitar -- all pure catnip for the hard-country crowd. The song selection can't be beat, either, ranging from several great Sweeney originals to a pair of Jim Lauderdale tunes, a cover of Lacy J. Dalton's ode to Nashville, "16th Avenue," and a version of Iris Dement's "Mama's Opry" that's so achingly sincere, you'll find it hard to believe Sweeney didn't write it herself. Lauderdale makes an appearance himself, singing a fine duet on Keith Sykes' "Lavender Blue," while fiddler Bobby Flores -- a longtime indie-Texas stalwart -- helps anchor the band. All in all, a really nice record and a kickass debut that should set Sweeney on the path to win a much wider audience. Recommended! (See her website for more info: www.sunnysweeney.com )
Sunny Sweeney "Concrete" (Republic Nashville, 2011)



(Produced by Brett Beavers)

Sunny Sweeney "Provoked" (Aunt Daddy Records, 2014)


Sweethearts Of The Rodeo - see artist discography
Taylor Swift - see artist discography
Jesse Sykes & The Sweet Hereafter "Reckess Burning" (Self-Released, 2002)

Jesse Sykes & The Sweet Hereafter "Oh, My Sweet Girl" (Barsuk, 2004)


On her debut album, Seattle's Jesse Sykes proved herself an able reinterpreter of the folk-country tradition, crafting unusual, alluring acoustic-based numbers that nodded towards an indie-rock background, but held their own on the playing field of acousto-crossover music. On her second record, Sykes delves more explicitly into rock music, with leisurely, deliberate electric guitar lines that snake through her allusive lyrics, and some of the most beautiful vocals and baffling lyrics you're likely to hear for some time. Sykes has set herself squarely in the firmament of mature, mysterious artists such as Beth Orton and Elliott Smith, singers whose melodies and songwriting will echo seductively in your mind, even if their allusive interior monologues prove impentrable to the outside world. This is an album filled with one gorgeous song after another. The meandering words draw you in, even if their meaning slips away faster than your apprehension, and Sykes herself has taken on a new gravitas as a singer, echoing the soulful depth of England's June Tabor or the incandescence of Sinead O'Connor. Sorry if I'm being too effusive, but this is a record that will stick with you for years to come, a disc you have to live with and love, an album that will change its appearance each time you listen to it, like a plain-looking river rock that becomes opalescent when wet. And, yes, the country elements are still in there -- seems like everybody in indieland loves the pedal steel these days; albums like this represent the highwater mark of its appropriation. This is a really nice record, well worth checking out.
Jesse Sykes & The Sweet Hereafter "Like, Love, Lust & the Open Halls Of The Soul" (Barsuk, 2007)

Sylvia - see artist discography
---
Hillbilly Fillies - Letter "T"
---