<! MP3 05/19/10 > <! update 06/27/10 - NEED TO ADD Trinity Lane > <! outside 06/27/10 > <! pix 00/00/00 > <! icons 12/26/10 > <! Mary Lou Turner "Mary Lou Turner" (Jamboree, 1973) (LP) (Produced by Ray Pennington) >
---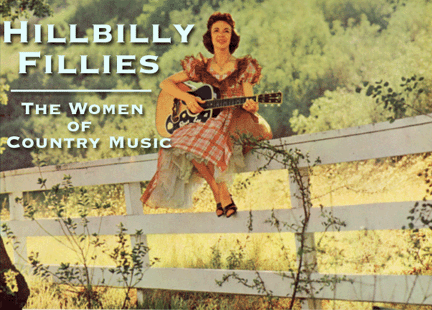 Welcome to my overview of women in country music, with reviews ranging from folk and bluegrass to honkytonk, rockabilly and Nashville pop. This is the first page covering the letter "T."
---
A | B | C | D | E | F | G | H | I | J | K | L | M | N | O | P | Q | R | S | T / T-2 | U | V | W | X, Y & Z | Comps
---
Pam Tillis - see artist profile
Sally Timms "To The Land Of Milk And Honey" (1995)

Sally Timms "Cowboy Sally" (EP) (Bloodshot, 1997)



Sally Timms "Cowboy Sally's Twilight Laments... For Lost Buckaroos" (Bloodshot, 1999)



Mekons frontlady Sally Timms follows her British bandmate Jon Langford into the world of Chicago "insurgent country," with this mellow set of artful neo-billy ballads. I give her credit for not falling into the trap of "keep it sloppy" cowpunk that typifies many Bloodshot releases, and for trying to elevate alt.country into a higher, more literate style, closer to the feel of the best British traditional folk music. Backing Timms up on this full-length outing are Bloodshot stalwarts such as guitarist Jon Rauhouse, Robbie Fulks and, of course, Jon Langford on a couple of cuts. Overall, though, this is a pretty mannered and reserved album -- sleepy, even -- doubtless exactly at the energy level that Timms intended, but not something that really grabs my emotions. Doesn't make you want to sing along (which I think great country music should), but it does make great background music, for those so inclined.
Sally Timms & Jon Langford "Songs Of False Hope And High Values" (Bloodshot, 2000)


Sally Timms "In The World Of Him" (Touch & Go, 2004)






<! * 1980 - Hangahar * 1988 - Somebody's Rockin' My Dreamboat * 1995 - It Says Here * 1995 - To the Land of Milk and Honey * 1997 - "Cowboy Sally" * 1999 - Cowboy Sally's Twilight Laments for Lost Buckaroos * 2000 - Songs of False Hope and High Values (with Jon Langford) * 2004 - In the World of Him >
Tom, Brad & Alice "Been There Still" (Copper Creek, 1998)



Tom, Brad & Alice "Holly Ding" (Copper Creek, 2000)



That's Tom Sauber, Brad Leftwich and Alice Gerrard, as venerable a group of old-timey revivalists as you're ever likely to hear. This is the trio's second album (I still haven't tracked down the first), and it's a nice, gangly set of oddly-arranged proto-bluegrass tunes, arranged and performed in a style that takes the music back to its unruly back-woods roots, when song measures and lyrics veered about with wild unpredictability. This album starts out with an unusual version of a familiar folk tune ("The Cuckoo"), forcing you right off the bat to meet these guys on their own terms. But once you settle in on their wavelength, it's a really fun little record. Recommended!
Tom, Brad & Alice "We'll Die in the Pig Pen Fighting" (Copper Creek, 2002)


Tom, Brad & Alice "Carve That Possum" (Copper Creek, 2005)



Rhonda Towns "I Wanna Be Loved By You" (Dawn, 2005)



(Produced by Norro Wilson & Jim Cotton)
It's a little disconcerting that the album art for this disc is little more than a blank slate -- I guess the label thought it would be better to mask the fact that Towns is an African-American from the eyes of potential country music buyers... Regardless, this is good-enough pop-country material, performed in the slick modern style. Towns, who emerged from the Star Search TV show and caught the attention of veteran producer Norro Wilson, is an adequate singer, performing roughly in the Trisha Yearwood tradition. When the music provides enough oompff to buoy her up, she sounds okay. On some numbers, such as her a capella rendition of "The Lord's Prayer," she flounders without backing tracks. Still, she could make it in Nashville: these days, it's all about what gets done in the studios anyway... She's got enough twang and commitment to the style to have a hit or two. Nothing earthshaking here, but there are a few nice new songs; Wilson's production always tends to sound nice and relatively traditional, so that's a plus.
Diana Trask "Miss Country Soul" (Dot, 1969) (LP)

Diana Trask "From The Heart" (Dot, 1969) (LP)

Diana Trask "Diana's Country" (Dot, 1971) (LP)

Diana Trask "Sings About Loving" (Dot, 1972) (LP)

Diana Trask "It's A Man's World" (Dot, 1973) (LP)


(Produced by Norris Wilson)
Yeesh. This Aussie-born filly did some passably twangy material before this (wish I still had those early albums as reference), but this mix of overbaked countrypolitan and outright showtunes-y vocals is really cluttered and clunky. I mean, it has it's moments, but there's nothing I'd go back to to listen to for fun... It's just a little too mannered and densely constructed. Nothing special.
Diana Trask "Lean It All On Me" (ABC/Dot, 1974) (LP)

Diana Trask "Greatest Hits" (ABC/Dot, 1974) (LP)

Diana Trask "The Mood I'm In" (ABC/Dot, 1975) (LP)

Diana Trask "Believe Me Now Or Believe Me Later" (ABC/Dot, 1976) (LP)





<! Diana Trask "Diana Trask" (Columbia, 1961) B003BLK7US (CD!) Diana Trask "Diana Trask On TV" (Columbia, 1961) (LP) B000S0YTVI POP albums >

Tres Chicas "Sweetwater" (Yep Rock, 2004)



An alt-gal supergroup of sorts, featuring Hazeldine's Tonya Lamm, Lynn Blakey (Glory Fountain), and Caitlin Cary, of Whiskeytown fame, singin' a lot of three-part harmony and presenting some interesting material, with Chris Stamey producing and playing guitar... Signalling their influences, they cover an old George Jones tune and Lucinda Williams's "Am I Too Blue," a song which may carry too much history with it for others to tackle in a way that can add much to the mournful wallop Lucinda already infused into it. The overall vibe of this album is pretty folkie and soft; I kept expecting it to catch fire at some point, but it never really did... The three collaborators seemed to cede ground to one another, opting for a CSN-ish collective sound, rather than doing a round-robin your song, her song, now mine kind of thing. Which is fine; I'm sure there are plenty of Americana fans who will appreciate the change of pace and overall mellowness, although for me, personally, this disc never really gels.
Tres Chicas "Bloom, Red & The Ordinary Girl" (Yep Rock, 2006)


Trick Pony "Trick Pony" (Warner Brothers, 2001)


Trick Pony "On A Mission" (Warner Brothers, 2003)


Trick Pony "R.I.D.E." (Asylum-Curb, 2005)


Trick Pony "The Best Of Trick Pony" (Warner Brothers, 2009)






<! TRINITY LANE - TWO different artists? One a band, the other a singer? Or are they the same? Need to research. >


LaCosta Tucker - see artist discography





Tanya Tucker - see artist discography




Mary Lou Turner & Bill Anderson "Sometimes" (MCA, 1976) (LP) <! also: B003F7L4VY >


One of two albums singer Mary Lou Turner recorded with songwriter Bill Anderson... This includes their duet, "Sometimes," which was #1 hit single...
Mary Lou Turner & Bill Anderson "Billy Boy And Mary Lou" (MCA, 1977) (LP)

Shania Twain - see artist discography

Twister Alley "Twister Alley" (Mercury, 1993)


(Produced by Mike Lawler & Harold Shedd)
An iffy outing from this one-hit outfit from Arkansas... Vocalist Shellee Morris is enthusiastic and gives it all she's got, but when all is said and done, turns out that really isn't that much -- she's just a smidge flat most of the time, and it doesn't always come off as "twang." The production's pretty generic, too, and the highly compressed sound mix smudges out a lot of the contributions of various bandmembers, though, really, there's nothing overly memorable on this disc. Mostly this seems to have been an outlet for the songwriting ambitions of co-producer Mike Lawler, who claims songwriting co-credit on almost all the songs the band recorded. The single was "Dance," a linedance-y novelty tune that featured the pop of a bullwhip each time Morris barks out the song title... Not something you need to try too hard to track down.


<! Two Dollar Pistols & Tift Merritt "On Down The Track" (Scrimshaw, 1997) not sure which of their albums she is actually on. needs more research; meanwhile delete from Fillies list... > <! Two Hearts - sisters Jama & Cathy Bowen - singles in '85, '86 >

Bonnie Tyler "From The Heart: Greatest Hits" (2007)


As far as country fans go, rocker Bonnie Tyler's irresistible proto-synth power ballad, "It's A Heartache" pretty much encompasses her career. Of course, she had a lot of rock/pop/AOR hits as well, but that Top Ten hit was the track that briefly pointed the raspy-voiced Welsh gal towards Nashville. This is a pretty good best-of set, but it's mostly pop stuff.
Bonnie Tyler "Natural Force/It's A Heartache" (RCA, 1978)


This is a reissue of her second album, which included her crossover pop-country breakthrough, "It's A Heartache." There are also some other reasonably rough-edged, rootsy tunes, including a surprisingly rugged remake of Stevie Wonder's "Living For The City," along with plenty of more straightahead pop stuff. If you're strictly a twang fan, you could probably download "Heartache" and skip almost everything else.
Kris Tyler "What a Woman Knows" (Rising Tide, 1998)


A pretty rootsy set, with lots of fiddle and pedal steel, and a nice, loping twangy vibe. Tyler tilted towards the Top Forty, too, although she didn't quite manage to break into the country charts. This appears to be her only album...
Lynne Tyndall "Out Of The Blue" (Evergreen, 1987)

---
Hillbilly Fillies - Letter "U"
---