<! MP3 00/00/00 > <! update 00/00/00 > <! outside 00/00/00 > <! pix 00/00/00 > <! icons 03/01/11, 02/19/13 > <! Cowboy lore [Hardcover] Jules Verne Allen 0811103587 Waddie Mitchell >
---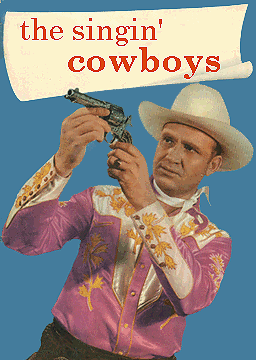 I admit, for many years, as a dutiful hard country snob, I was never that into the whole singing cowboy thing... at least not the records. The "authentic" cowboy music is pretty raw, compared to country music proper, and the Hollywood stuff always seemed so corny. But after a few years delving into "sweet" big band music and early Tin Pan Alley, the charm of the Hollywood cowpokes became more apparent -- it was the same style of sentimental, prefab pop -- often written by the same composers! The old-timey cowboy stuff still doesn't do that much for me, but boy, am I into the Roy Rogers and Gene Autry material!
Sure, you might not want to rush off to the video store to rent some corny old B-movie "oater" (though many of them have their charms...) but the music itself is pretty fun. You just have to pick and choose carefully, so as not to get turned off too quickly. In that spirit, here are a few recommendations...
---
Recommended Records
---

The 101 Ranch Boys "Melody Roundup With The 101 Ranch Boys" (Binge Disc, 2004)


A nice set by a little-known western outfit that originally hailed from Kansas City, Kansas. Led by guitarist George Long, the Ranch Boys plugged away in the 1930s, moving from station to station, and eventually fell into the orbit of Gene Autry (who they backed on tour) and other cowboy singers such as Smiley Burnette and Johnny Bond. They weren't big stars, but their fiddle-and-steel-tinged sound was quite pleasant, with genial vocals to match. A nice set of rare recordings, definitely worth checking out, if you're into the style.
Jules Verne Allen "Texas Cowboy" (Bear Family, 1975) (LP) <! date? >

Jules Allen "The Singing Cowboy: Complete Recordings 1928-1929" (BACM, 2009)

Rex Allen "The Last Of The Great Singing Cowboys" (Bloodshot/Soundies, 1999)



As with most of the best-known cowboy movie stars, Rex Allen had a whole bunch of Tin Pan Alley smoothie to him, and that's what makes these recordings so fun to begin with. It's hard not to compare his cornball crooning with Bing Crosby: Allen had a similarly appealling warmth and natural ease. Right after he made these late-'40s recordings, he landed a Hollywood film contract -- one of the last actors to make it in before tastes changed, and the cowboy movies took a back seat for a decade or two. One of the more unique discs in this series, and certainly worth checking out.


<! Old lead-in: "The whole singing cowboy thing is kinda funny... I mean, when did the roundup-ridin' folk tradition end and the Hollywood myth-making begin? " >
Rex Allen "The Voice Of The West" (Bear Family, 1986)


Fine retro-delic cowboy song sessions, originally released in 1973 as Rex Allen Sings, on the independent JMI label. It's mostly old cowboy standards, although the CD reissue also includes a few songs of newer vintage (by Merle Haggard, and Bob McDill, for example...) A pretty stripped-down acoustic set... even includes a spot of western swing, with Johnny Gimble playing the fiddle. This set isn't electrifying, but it's fun.


<! The complete sessions for Jack Clement's JMI label, done in March, 1972. Bear Family released this on LP as "Boney Kneed, Hairy Legged Cowboy Songs" (BFX 15024), which was originally issued as "Rex Allen Sings" (JMI 4003 from 1973). However, this contains the complete sessions including four previously unissued songs including Merle Haggard's Today I Started Loving You Again & Bob McDill's Catfish John . 16 great cowboy songs in all with minimal backing including a beautiful Streets Of Loredo with just accoustic guitar backing, + fiddle medley featuring Johnny Gimble, + Braggin' Drunk From Wilcox/ Little Joe The Wrangler/ Moonshine Steer , etc. Excellent sound. (GM) >
Rex Allen "Riding All Day -- The Life Of A Cowboy" (Jasmine, 2000)

Rex Allen "Cowboy Under The Western Sky" (Jasmine, 2009)


This disc gathers songs from two albums, Under Western Skies, an orchestral outing recorded with bandleader Victor Young, and Mister Cowboy, which offers a more stripped-down, acoustic version of Allen's style. There are earthier offerings from Allen's catalog, but this is a nice collection for singing cowboy completists.


<! 2009 collection. The First twelve tracks are taken from the classic Under Western Skies album, a small anthology of western melodies with enriched orchestration by the late Victor Young and his Orchestra. The remaining fourteen tracks are from Mister Cowboy, an album of Americas greatest western songs without which no musical library is complete. >
Rex Allen "The Arizona Cowboy" (BACM, 2005)


(Available through the British Archive of Country Music website.)


<! CD D 013 > <! also a Madacy CD by the same name B000A4T8TK >
Rex Allen "Song Of The Hills" (BACM, 2005)





<! CD D 051 HootinÕ And HowlinÕ/ Afraid/ As Long As The River Flows On/ Cottage In The Clouds/ Jambalaya/ Song Of The Hills/ No One Will Ever Know/ Miranda Doaks/ Ragtime Melody/ Tennessee Tears/ Who Shot The Hole In My Sombrero/ Chime Bells/ Broken Down Merry Go Round/ Loaded Pistol/ Always You/ Till The Well Goes Dry/ Tuck Me To Sleep In My Old Tucky Home/ Two Faced Clock/ Waltz Of The Roses/ Rack Up The Balls Boy/ Further Along/ Tag Along >
Rex Allen "The Voice Of The West" (BACM, 2005)





<! CD D 083 Little Old Sod Shanty/ Lonely World/ Tears On My Old Guitar/ WastinÕ Time/ When ItÕs Prayer Meeting Time/ When The Bloom Is On The Sage/ When The Roses Bloom Again/ Rock Me To Sleep In My Rocky Mnt Home/ Way Out West In Texas/ My Music Mountain Home/ Little Ranch House On The Old Circle B/ I Left My Heart In Texas/ Red River Valley/ Me And My Burro/ The Range In The Sky/ Melody Of The Plains/ CowboyÕs Heaven/ Buffalo Gals/ RidinÕ Towards The Red Setting Sun/ Dreaming Of My Texas Home/ Pop Goes The Weasel (Instr.)/ CowboyÕs Lullaby/ Low RollinÕ Hills/ Covered Wagon Trail/ Happy Yodeling Man/ Mellow Mountain Moon >
Rex Allen "Sky Boss" (BACM, 2005)





<! CD D 217 Wringle Wrangle/ The Ballad Of John Colter/ I'm Lonely My Darlin' (Green Grow The Lilacs)/ Westward Ho The Wagons/ Drango/ Little White Horse/ Blue Dream/ Blue Light Waltz/ The Last Frontier/ Sky Boss/ In The Chapel In The Moonlight/ Chapel Of Memories/ Hawaiian Cowboy/ Put Your Arms Around Me/ Softly And Tenderly/ Flower Of San Antone/ Money Marbles And Chalk/ Tomorrow Is Another Day To Cry/ Bringing Home The Bacon/ True Blue Lue Lu Lu/ The Last Carouse/ Lonely Little Robin/ The Roving Kind/ Crying In The Chapel >
Rex Allen "Rex Allen " (Scimitar, 1998)

Rex Allen "16 Golden Favorites" (Disney, 1961)

Rex Allen, Sr. & Rex Allen, Jr. "The Singing Cowboys" (Warner Brothers, 1995)

Rex Allen & Don Edwards "A Pair To Draw To" (Garrett-Deutz, 1999)

Rosalie Allen "The Hillbilly Yodel Star Of The 1940s" (Cattle Compact)


A great reissue record that fills in a major blank in the history of women in country music. Allen was a powerful, appealing singer whose material split between novelty numbers ("Take It Back And Change It For A Boy" being a highlight...) and sentimental weepers. She's a bit like a softer version of Rose Maddox - rural but heartfelt, and a compelling performer. She hung out with Elton Britt and Zeke Manners (which may explain the upbeat nature of many of these tunes...) and while she was billed as a yodeller, this collection only has a couple of yodelling tunes. Apparently, Allen gave up recording around 1955, but this disc collects a fabulous sweep of material made from 1944-1949. Although her unvaried vocal style gets a little monotonous if you listen to the disc repeatedly, this is great in small doses, and highly recommended.
Rosalie Allen "Jealous Heart" (BACM, 2005)


A great set of classic country and yodeling/western material, drawing on two main sources. The first half of the disc is a reissue of a 1955 LP recorded with a fella named Shorty Warren, whose band, The Western Rangers, was largely a bit sluggish, but also featured amplified guitar work that show debts to Chet Atkins and Merle Travis. Allen rolls through a set of old country standards -- "Jealous Heart," "Tennessee Waltz," "Have I Told You Lately That I Love You," etc. -- and on the uptempo numbers shows the confidence and power to front a band with a big sound. Some of the arrangements get a bit trite, but others are quite robust... and of course Allen cuts loose with some fine yodeling, notably on a new version of "He Taught Me How To Yodel." The second half of the set gathers together about a dozen singles that Allen recorded for RCA between 1945-53, and also balances elements of pop vocals and straightahead country stuff, and even a stab at punchy big-band R&B, on "I Gotta Have You." One thing that came through on this set that I hadn't heard before: Allen's vocal similarities to '60s siren Skeeter Davis. Hmmmmm. Very interesting. Anyway, this is a cool collection -- for anyone looking into the history of women in country music, this is a clear must-have. (Available through the British Archive of Country Music website.)


<! 25 sides by this fine singer and top class yodeler who was known as "Queen Of the Yodelers" though only a couple of tracks here feature yodeling. The first 12 tracks are from a rare 1955 LP recorded with Shorty Warren's Western Rangers doing hits of the 40s and early 50s like he Taught Me How To Yodel/ Have You Ever Been Lonely/ When My Blue Moon Turns To Gold Again/ Your Cheatin' Heart/ I'll Keep On Loving You, etc. The remaining tracks are from singles recorded between 1945 and 1953 featuring fine vocals and varied arrangements ranging from Western to straight country to pop. Includes Castaway/ I Gotta Have You/ I'd rather Be A Cowgirl/ He Lived In Texas, She Lived In Arkansas (a duet with Billy Williams)/ I Wanna Sit, etc. Only one track duplicates Cattle 226 >
Rosalie Allen "The Queen Of The Yodellers" (Flare, 2009)

Rosalie Allen "The Versatile Rosalie Allen" (Jasmine, 2010)


Drawn from a variety of sources, this 2-CD set is a fine collection of her work -- novelty songs, weepers, yodeling and polkas, all with the bouncy flair of the West Coast country scene.
Rosalie Allen & Elton Britt "Side By Side: The Duets" (Jasmine, 2010)


A whole album's worth of duets by these cowboy/girl western stars? Who knew? Allen worked with a wide variety of artists over her long career, but these two enjoyed a particularly long run together. Some of it's great, but unfortunately, a lot of it is really, really schmaltzy - spare arrangements built around a roller-rink organ, lingering, gooey melodies, etc. There are some fun songs, though, including one or two that have some actual twang to them, though mostly these are sentimental songs with a few attempts at novelty numbers... Oh! And a bunch of yodeling and polkas! Can't forget that. Anyway, I was surprised at how disappointing much of this was... This is a great archival set, but the disc itself was a bit of a chore to get through, although there are about dozen songs -- less than half the album -- that I'd say are worth listening to again. Worth checking out if you like either of these artists, but it might not really ring your bells.





Gene Autry -- see artist discography


<! "The Original Beverly Hillbillies" >

Smilin' Billy Blinkhorn "Bushland Yodel" (Binge Disc/Cattle Records)





<! SMILIN' BILLY BLINKHORN "Bushland Yodel" (Binge Disc/Cattle Records) 18 songs recorded between 1940 and '47 by Canadian singer, yodeler & guitarist who relocated to Australia where these recordings were made. Mostly just vocal and guitar plus a few with a small band - Back To the Old Cariboo/ My Curly Headed Buckaroo/ Hilltop Yodel/ Sunny Queensland/ Blue Mountain Blues/ Can't You Take It Back And Change It For A Boy?/ There's A Hole In The Old Oaken Bucket, etc. > <! Johnny Bond ? >
Elton Britt "The RCA Years" (Collector's Choice, 1997)


One of those improbably sissy-voiced singers who became country stars back in the early days, Britt started off doing novelty songs and yodeling tunes, but shifted to the sentimental side when he had a big wartime hit in 1942 with the patriotic weeper, "There's A Star Spangled Banner Waving Somewhere." After that, he kept his hillbilly sensibility, but his work was much smoother and sedate, keeping an eye on the Bing Crosby-dominated pop market. In a sense, Britt could be seen as an early prototype for Porter Wagoner, rural and cornball, but also showbiz slick. This is a great collection of his early work, and a nice compliment to the recent set of radio transcriptions released on the Bloodshot Records "Soundies" series.

Elton Britt "Ridin With Elton" (Soundies, 2000)



A spirited set of western-flavored tunes recorded for Britt's late-'40s radio shows... Since his biggest hit was the anthemic "Star Spangled Banner Waving Somewhere," this set is packed full of patriotic and military-themed songs, but also some nice weepers and cowboy tunes. Mostly, though, what's notable here are his heartfelt performances... This is easily one of the best albums in this series, thus far. Great stuff -- highly recommended!
Elton Britt "Country Music's Yodelling Cowboy Crooner, v.1" (Jasmine, 2005)

Elton Britt "Country Music's Yodelling Cowboy Crooner, v.2" (Jasmine, 2007)





<! 2-CD set >
Elton Britt "Sings Jackass Blues And Other Country Songs" (BACM, 2005)


Also with Rosalie Allen...
Elton Britt "Early Recordings: 1933-1937" (BACM, 2005)


Elton Britt "The Wandering Cowboy" (ABC, 1959) (LP)


(Produced by Creed Taylor)
Sure, Britt's career was pretty much in the past tense when this disc came out, but it's still a semi-cool record. I dunno... He just seems so sincere and direct, and although there are some mild attempts to spruce up and modernize his sound (mainly the presence of a doot-dootling little organ on a few tracks), this is a pretty down-to-earth album. The thing that really caught my attention was that the old-school hillbilly bandleader Zeke Manners is backing Britt up here... And he covers a Manners song or two (including several old western songs that they decided to throw their brands on, copyrighting "arrangements" of chestnuts such as "Roving Gambler" and "Red River Valley." Anyway, it's cool to see some late vintage Zeke Manners material, whatever the circumstances may have been. Also, check out who was twiddling the dials: future jazz-fusion luminary Creed Taylor is listed as the album's producer... Now there's a guy who was paying his dues!
Elton Britt "Beyond The Sunset" (ABC) (LP)

Elton Britt "The Singing Hills" (ABC, 1965) (LP)





<! Bronco Bob >
Hoyt 'Slim' Bryant "...And His Wildcats" (BACM, 2006)


Mellow, jovial cowpoke oldies, heartsongs and sentimental tunes, and swell novleties such as "Nag Oh Nag Oh Nag" and "I'm A Lonely Little Petunia In An Onion Patch..." Bryant was a Southern boy who built up his base in Pittsburgh and became a regional star in and around Pennsylvania, although he never quite cracked into the national market. Nonetheless, he was an influential performer, particularly as a guitarist -- his single-note lead guitar riffs (and accompanying fills during the rest of the song) were said to be a big influence on a young Les Paul, and were a big break from the normal rhythm-oriented role that guitars traditionally held in country music. These radio transcription recordings, made for NBC's Thesaurus imprint, showcase Bryant's guitar playing as well as his warm personality and notably relaxed, relaxing vibe. The sound quality's good, and the musicianship is tops. Definitely worth checking out!


<! CD D 178 Where The Mountains Meet The Sky/ Back To Old Smokey Mountain/ My Little Texas Gal/ Winter Fell On The Range/ Someday You'll Want Me To Want You/ I Ain't Gonna Worry No More/ First Rose/ Tweedle O Twill/ Sioux City Sue/ New San Antonio Rose/ Lone Star Moon/ Answer To Rainbow At Midnight/ Slow Train Through Arkansas/ I'll Never Make The Same Mistake Again/ Oklahoma City/ Got A Gal In A Town Way Out West/ Thunder Storm/ I Hate To See You Go/ Penny Ante Polka (instr.)/ My Saddle My Bronco And You/ That's How Much I Love You/ The Letter I Forgot To Mail/ Nag Oh Nag Oh Nag/ I'm A Lonely Little Petunia In An Onion Patch/ Whistle/ Barnyard Band/ Ten To One/ Train Whistle Boogie/ He Holds The Lantern/ Deep Water/ Walking The Pup (Instr.) >
Hoyt 'Slim' Bryant "...And His Wildcats, v.2" (BACM, 2005)





<! A cowboy-flavored ensemble that evolved from Clayton McMichen's Louisville-based Georgia Wildcats, Slim Bryant and His Wildcats were staples on Pittsburgh radio and television during the '40s and early '50s. Taking its vocal cues from California's close-harmony Western trios, the Wildcats were particularly notable for their hot take-off guitar, fiddle and accordion solos. The group made precious few recordings, but a healthy sampling of its music survived via 16" NBC Radio Thesaurus transcriptions cut around 1946-47. Slim Bryant was - and at age 98, still is - one of the country and jazz guitar's unsung heroes. His leads are smart and dazzling; his fills are a primer in how to accompany a vocalist. Sharp-eared listeners will recognize some familiar licks; Les Paul was a Bryant fan. Of the two instrumentals on this disc, Walking the Pup best showcases Bryant's skill. Fiddler Ken Newton, accordionist Al Azzaro and bassist Loppy Bryant all could swing, as does an unidentified rhythm guitarist. The trio harmonies compare to early Sons of the Pioneers; Newton and Bryant's brother Loppy share vocal leads. Though recommended listening to anyone who appreciates Pee Wee King/ Whippoorwills-styled music, this disc is a must for serious country guitar aficionados. Sound is better than usual for B.A.C.M.; Bryan Chalker penned a brief appreciation. >
Hoyt 'Slim' Bryant "...And His Wildcats, v.3" (BACM, 2005)

Big Bill Campbell "Rocky Mountain Rhythm" (BACM, 2005)

Big Bill Campbell "Rocky Mountain Rhythm, v.2: Mighty Fine" (BACM, 2005)

Carolina Cotton "Yodel, Yodel, Yodel" (Binge Discs, 2003)
Outstanding! This disc collects the work of Helen Hagstrom, aka Carolina Cotton, a little-remembered, post-WWII yodeler who worked extensively with Spade Cooley, Bob Wills, Merle Travis, and many of the West Coast honkytonk-swing scene elite. There's lots of accordion on here, as well as Cotton's winsome vocals -- and she was one heck of a singer! Her signature tune was "Three Miles South Of Cash (In Arkansas)," a reference to her hometown, where she was born just before the Great Depresssion... There are three versions of the song on here, two from live transcription recordings, and one from a 1952 MGM single; the material on this disc comes from a variety of sources, mostly from "Soundies" transcriptions and other radio shows, but also from various movie appearances and a handful of singles, scattered over several labels. It's all pretty good, with some stuff that's surprisingly electrified and other material that's straight out of the West Coast playbook... This disc was one of my big new discoveries of the year -- a great country gal singer, with a big, friendly voice and plenty of great songs. The only weak spot on the album is a live 1946 recording of a great novelty song, "I'd Like To Be A Cowgirl (But I'm Afraid Of Cows)," which has the hilarious chorus, "Moo! Moo! Moo! How they scare me..." A wonderful tune, but unfortunately the source material is very poor, and while you can easily enjoy the song at home, I wasn't able to play it on the radio. The rest of the album sounds fine, though... All in all, this disc is a real find. Highly recommended!
Carolina Cotton "Yodeling Blonde Bombshell, v.1" (Self-Released, 2006)



This is a real gem, a lively, long-overdue collection of prime material from one of the West Coast's most vivacious postwar country gals... Helen Hagstrom, aka Carolina Cotton, was a consummate country performer, belting out lively western swing novelty tunes, heartsongs, yodels and Western ballads, singing alongside folks like Bob Wills, Ernest Tubb, Spade Cooley, Joe Maphis, Deuce Spriggins, and Hank Penny... She easily kept up with all these high-power bandleaders, singing with as much gusto and guts as the style required. It's amazing, really, that she isn't more well-known -- she certainly must have cut quite a figure in California's booming country scene, and there weren't many women out there in the forefront at the time. Anyway, this is great record, self-released by Carolina Cotton's daughter, and available through her website, www.carolinacotton.org It has great sound quality, tons of fun songs and great performances... Her high energy and good cheer will win you over every time... If you're into discovering the hidden history of women in country music, this disc is a must-have! (Also check out the Carolina Cotton website, which has tons of historical info and archival photos...)
Carolina Cotton "Yodeling Blonde Bombshell, v.2" (Self-Released, 2010)
As in the first volume, this second disc of archival recordings is uniformly magnificent and full of fun. It's packed with tons of zesty songs and great performances, including several singles on the MGM label and old airchecks for the Armed Forces Radio Service and even an extended sample of her own radio show, "Carolina Cotton Calls," where she's backed by Joe Maphis and others. The sound quality is great, as are the songs, which include a great version of "I'd Love To Be A Cowgirl (But I'm Afraid Of Cows)" which is one of my all-time favorite cowpunchin' novelty songs. Carolina's high energy and gutsy good cheer will win you over every time... If anything, this volume is even better than the first -- and that one was a gem! Highly recommended.
Jenny Lou Carson "The Chin-Up Girl" (BACM, 2007)


One of the most successful songwriters of the WWII era hillbilly scene, Jenny Lou Carson (nee Virginia Lucille Overstake) was also one of the first female country stars. Carson started out in a family trio with two of her sisters, billed as the Overstake Sisters, and as "The Little Country Girls"; she also recorded under the pseudonym of Lucile Lee, and finally as Jenny Lou Carson, the name where she found her greatest fame. Carson wrote numerous hits, including "You Two-Timed Me Once Too Often," "Let Me Go, Lover," and "Don't Rob Another Man's Castle." This disc gathers her recordings as a solo performer, mostly with sentimental songs like "I L-O-V-E You" and "I Feel Like Crying Over You," but also with spicier novelty songs such as "I Married A Mouse Of A Man..." Rare recordings from an artist best remembered as a composer... Nice nostalgic material!


<! tribute album B000CA2T20 >
The Cass County Boys "Beautiful Texas" (BACM, 2005)


Late-vintage cowboy material from Gene Autry's late-1940s, early '50s band... Sweet stuff!




The Cass County Boys "Ride, Ranger, Ride" (Cattle)



<! 24 tracks from 1949 and '50 from this popular Western trio who are perhaps best known for their accompaniments to Gene Autry in the 40s and 50s. They perform in a smooth Western style in the same vein as the Sons Of The Pioneers and accompany themselves on guitar, bass and accordion with some tracks also featuring steel guitarist Noel Boggs. THE CASS COUNTY BOYS: 'long About Sundown/ A Gay Ranchero (inst.)/ Along The Navajo Trail/ Careless Love/ Cherokee Strip/ Going Back To Texas/ Goofus (inst.)/ Heading For The Rio Grande/ Hidden Valley/ Hold That Critter Down/ It Won't Be Texas To You/ Little Big Dry/ My Texas Home/ Pass The Biscuts Mirandy/ Ride, Ranger, Ride/ Ridin' Down The Canyon/ Steel Guitar Rag (inst.)/ Sunny Side Of The Rockies/ The Big Corral/ Trail To Mexico/ Twilight On The Trail./ Wanderers Of The Wasteland/ When It's Night Time In Nevada/ You Don't Know What Lonesome Is (when You Get To Herding Cows) >
The Chuck Wagon Gang "Secular And Sacred Songs" (BACM, 2005)





<! CD D 239 >

The Country Gentlemen "Songs Of The Pioneers" (Cimarron, 1962) (LP)


Not to be confused with the progressive bluegrass outfit of the same name, this wester-oriented trio featured the great Hugh Farr on fiddle, breezing through a set of cowboy classics...


<! (Kenny Baker [rh gt], Jimmy Widener [el gt], Pat Patterson [bass], Hugh Farr [fiddle]) >
Slim Critchlow "Cowboy Songs - The Crooked Trail To Holbrook" (Arhoolie, 1970/1999)



A pretty good example of the archaic charm of the cowboy song, and its often too-static nature. When this record originally came out in 1970, it was a throwback to a far less complex musical past, and had a strong folkloric quality. It's not the sort of album I would put on to listen to recreationally, or listen to in its entirety, but it is full of fascinating (and authentic) cowboy story-songs. This is the real deal.
Denver Darling "Silver Dew On The Bluegrass Tonight" (BACM, 2005)

Denver Darling "Singing On The Range" (BACM, 2005)

Denver Darling "Volume Three: Cowboy Jack" (BACM, 2005)

Denver Darling "Volume Four: Out In The Great Alone" (BACM, 2009)

Stu Davis "Canada's Cowboy Troubadour" (BACM, 2005)

Smoky Dawson "Great Australian Singer/Songwriter" (BACM, 2005)





<! The Range In The Western Sky/ I'm A Happy Go Lucky Cowhand/ Texas Lil/ The Old Log Cabin On The Mountain Trail/ The Sound Effects Cowboy/ Will I Meet Old Faithful Up Yonder/ The Old Cockatoorali/ You Left Me And Now I Feel Blue/ The Stockman's Story/ The Cowboy's Roundup Song/ My Little Old Log Cabin/ Yearning For Over The Range/ Riding Down The Dream Trail/ Cob The Corn/ On The Old Singing Trail/ The Kookaburra Yodel/ New Wabash Cannon Ball/ Hills Of The Golden West/ Starlight Rides Again/ The Wild Colonial Boy/ Green Mountains/ Tie Me To Your Apron Strings Again/ On The Murray Valley >
Eddie Dean "The Late And Great Eddie Dean" (Binge Discs, 2000)


Another historically impressive set of Western oldies. This disc features two dozen tracks taken from old Standard Radio transcription discs, circa 1944-45... There are a couple of gems on here -- "Boogie Woogie Cowboy" and the perky, optimistic "Try Smilin'," but the omnipresent West Coast-style chugga-chugging accordion makes this collection a bit monotonous... Perhaps best taken in small doses.
Eddie Dean "The Golden Age Of Eddie Dean" (Binge Discs, 2000)
Fun, rare singles from country crooner Eddie Dean, who's remembered as a "singing cowboy," but who obviously dipped into harder-edged hillbilly and honkytonk material from time to time. A Texan who cut his teeth performing in the Midwest, Dean headed for Hollywood in the late 1930s, and wound up singing with actress Judy Canova, and later with an edition of the fabled Sons Of The Pioneers. Dean wrote a lot of his own material, and had two big hits to hang his hat one. "One Has My Name, The Other Has My Heart" is a marvelous heartsong standard from 1948 -- a few years later, he recorded the original version of "I Dreamed Of A Hillbilly Heaven," a novelty classic that, sadly, is not included on this disc. Still, fans of the sentimental old stuff will enjoy this album... Dean's dusty baritone can get a little corny at times... But this is fine, old-fashioned country, recorded on a variety of independent labels, mostly back in the late '40s... Definitely worth checking out!
Eddie Dean "On The Banks Of The Sunny San Juan" (Soundies, 2000)



Stylistically, these transcription recordings are as close to crooners like Bing Crosby as they are to rougher, tougher country singers. It's mostly pretty corny material; Dean later had a bit more bite to his tunes, with a heavier dose of honkytonk style thrown in on top. Some of the later tracks on here, when he gets deep into the singing cowboy stuff, is pretty sweet.
Eddie Dean "The Very Best Of Eddie Dean: The Shasta Masters" (Varese Sarabande, 2000)


Iffy, or at least mediocre, later recordings made in the 1970s for Jimmy Wakely's independent Shasta label. Kinda perfunctory, but okay for the genre. Dean had a little more gas in his tank at this point than some of the other old-time singing cowboys, so this disc has its moments.
Eddie Dean "1501 Miles of Heaven" (Roots Of Country, 2001)

Eddie Dean "Dusty Old Saddle" (BACM, 2005)

Sheriff Johnny Denis & The Ranchers "Copper Canyon" (BACM, 2005)

Art Dickson "Singin' On The Range" (BACM, 2005)

The Down Homers "Uncle Noah's Ark" (BACM, 2005)

Slim Dusty "The Dusty Trail Rider" (BACM, 2005)

Don Edwards "Saddle Songs" (Shanachie/Western Jubilee, 1997)



A little on the smooth side, sure, but Edwards has a simplicity and sincerity that makes his records very compelling. This 2-CD set is one of his best records. If you want to give a contemporary cowpoke a listen, try this out.
Wayne Erbsen "Cowboy Songs Of The Wild Frontier" (Native Ground, 2004)

Dale Evans "The Rage Of The Sage" (BACM, 2005)

Ezra & His Beverly Hillbillies "Ezra & His Beverly Hillbillies" (BACM, 2005)





<! CD D 147 >
Hugh & Karl Farr "Hot 'N' Bluesy Fiddle/Guitar And Twin Guitar Duets: 1934-1940"


Wow. The Farr Brothers were the backup pickers who added the musical punch to many of the best old recordings of the Sons Of The Pioneers, and of Pioneers alumnus Gene Autry. Left to their own devices, they knocked out a slew of great instrumentals, like the ones on this disc. The surprising thing is how completely jazzy these tracks are. If you like old recordings from the likes of Django Rinehardt, or Eddie Lang and Joe Venuti's duets, then you owe it to yourself to check this disc out. It's hot and sweet, and very listenable.
Shug Fisher & His Ranchmen "Cowboy Jubilee" (BACM, 2005)

Tex Fletcher "The Lonely Cowboy" (BACM, 2005)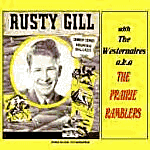 Rusty Gill & The Westernaires "Cowboy Songs Mountain Ballads" (BACM, 2002)


A delightful set of cowboy and western songs by Midwesterner Rusty Gill, an affable crooner and regional star who was based in Chicago. Gill's relaxed vocal style was clearly modeled on the smooth style of big city stars such as Bing Crosby and Dick Haymes, but unlike Crosby, Gill's cowboy tunes weren't bogged down by corny pop orchestrations; there's plenty of sweet-sounding twang on here, provided by Gill's band, the Westernaires (a pseudonym for the Prairie Ramblers). This disc gathers together a bunch of high-quality radio transcription performances -- although the liner notes don't include information about the back-up musicians, there is a phot of Gill with a line-up of the Westernaires that included Wade Ray, so he may be on here as well. This is a great album -- Gill is a very robust, likable vocalist and the songs are all classics, played in a straightforward folk-country style, without as much of a jazzy influence as, say, Gene Autry's work of the same era. Highly recommended!
The Girls Of The Golden West "Home Sweet Home In Texas" (BACM, 2002)


One of the finest western music acts ever, the Good Sisters -- Dolly and Millie Good -- got their start in border radio and on regional radio in the Midwest. Then in the early 1930s, they became early stars on Chicago powerhouse WLS's "National Barn Dance" program, which made them national celebrities. This disc collects about two dozen prime tracks from their tenure on the Bluebird label -- it's all great stuff! The Girls are said to have been the first country music act to feature double yodeling melodies -- the rest of their harmonies are gorgeous as well.


<! CD D 009 >
The Girls Of The Golden West "Roll Along Prairie Moon" (BACM, 2004)

Otto Gray & His Oklahoma Cowboys "Early Cowboy Band" (BACM, 2005)


Rough-edged material from a band that is widely regarded as the first professional "western" country band... These recordings date back to 1926-31, with most of the tracks recorded for major labels like Victor and Okeh. The strengths of this disc are largely historical, with nods towards the old minstrel-show traditions -- Gray and his family (including his wife, "Mommie" Gray and son Owen) were all fairly crude singers, and the pacing on most tracks is a bit sluggish and slow. Still, it's pretty cool stuff... The material is bluesy, with covers of Leadbelly songs, Jimmie Rodgers-ish country yodels, and a lot of comedic material sung to a plunky, loping accompaniment; fans of the Cheap Suit Serenaders, Emmett Miller or the Hoosier Hotshots might really dig this. Highlights include a nice, gangly rendition of "I Had But Fifty Cents" and "The Terrible Marriage," which you'd think would be about flying rolling pins and lipstick on the collar, but is actually a clunky, longwinded early version of "I'm My Own Grandpa." There's also what was apparently the first-ever recording of the folk classic, "Midnight Special"(!) and a lively recording of "Who Broke The Lock On The Henhouse Door," complete with chicken squawks and a jovial chorus. Also some mild, casual racism, which was sadly indicative of the times. All in all, a nice snapshot of the primordial roots of country music. (Available through the British Archive of Country Music website.)


<! CD D 139 > <! 21 tracks recorded between 1926 and 1931 by this group who are generally acknowledged to be the first professional western band and very influential in the spread of western music. Gray was the leader and guitarist with the group and also took a number of the vocals. The group also usually included a second guitar, banjo and fiddle and, on one track, steel guitar. The repertoire is dominated by novelty songs as well as other material including including two fine versions of Midnight Special. Includes Cowboy's Dream/ Coon Hunt/ Tom Cat Blues/ Plant A watermelon On My Grave/ Down Where The Swannee River Flows/ Cat Came Back/ 4,000 Years Old, etc. >
Monte Hale "The Full Monte: Complete Recordings" (BACM, 2005)





<! CD D 070 >

Stuart Hamblen "I Gotta Feeling" (Allegro, 2001)


Smoky voiced country crooner and Hollywood cowpoke Stuart Hamblen was a likeable lesser light -- he's best known for his 1954 hit version of "This Old House," and for the religious anthem, "It Is No Secret," which he wrote while part of Billy Graham's evengelical organization. This budget-line 2-CD set includes neither of those classics, delving instead into his lesser-known early work on the Decca and Columbia labels. The Decca recordings, which date back to the 1930s are striking for their saucy, raunchy content -- like Louisiana Governor Jimmie Davis, Hamblen was a born-again Christian with a rowdy past, in specific, an early devotion to the off-color, yodelling blues style popularized by Jimmie Rodgers. This set is packed with fine examples of the genre, as well as some later, more staid, western-themed folk material and a few solid late-'40s honkytonk tunes, such as "I Won't Go Huntin' With You Jake," which was his first big hit, back in 1949. The packaging and liner notes are a bit disappointing, and occassionaly the sound is a bit rough, but overall most of the music is pretty fun. It'd be nice if there were another Hamblen release that would include more of his honkytonk-style material, but this disc is still quite welcome.
Stuart Hamblen "Old Glory" (BACM, 2005)

Stuart Hamblen "Volume Two: Prettiest Girl In Town" (BACM, 2005)

Happy Al "Featuring Al & Hank, The Dakota Ramblers" (BACM, 2005)





<! CD D 196 >


Joni Harms - see artist discography



Charlie Herald & His Roundup Rangers "Pioneering Canadian Country Group" (BACM, 2005)

Earl Heywood "Canada's No. 1 Singing Cowboy" (BACM, 2005)

The Hill Billies "Trail Of The Lonesome Pine" (BACM, 2005)


The first of several collections documenting the career of this prolific British cowboy outfit...
The Hill Billies "Volume 2: It's Heaven To Me" (BACM, 2005)

The Hill Billies "Volume 3: Ole Faithful" (BACM, 2005)

The Hill Billies "Volume 4: Hilly Billy Band" (BACM, 2005)

The Hill Billies "Volume 5: The Last Of The Hill Billies" (BACM, 2005)





<! CD D 235 >

Horse Sense "Songs Of The Western Soil" (Kicking Mule) (LP)


A stripped-down set of cowboy oldies by the duo of Justin Bishop and John Nielson...


<! is label correct? >
Kenneth Houchins "The Yodeling Drifter" (BACM, 2005)





<! CD D 247 >
Skeeter Hubbert "Give Me A Horse And A Saddle" (BACM, 2005)





<! CD D 218 Give Me A Horse And A Saddle/ Arizona Home/ Come On My Pony/ Corinna/ Rhythm Of The Range/ How I Love Those Saddle Songs/ Open Country/ Oh For The Life Of A Cowboy/ The Strawberry Roan/ I'll Follow The Trail That I Love/ In The Year Of Jubilo/ Stars Of The Western Sky/ Over The Garden Wall/ Susan Jane/ Is It True/ Sing Me A Cowboy Song/ Sing Me A Song Of The Saddle/ Wagon Train/ Golden Portals/ Uncle Noah's Ark/ Song Of The Moving Herd/ I'm Ridin' Saddle For A Dollar A Day/ Buffalo Days/ Nancy Till/ Let Me Ride On The Range >

Walter Hurdt "...And The Singing Cowboys" (BACM, 2008)


An interesting historical footnote from an unusual North Carolina band... Singer-guitarist Walter Hurdt started his recording career in 1937, with a bluesy 78 that showed him among the many hillbilly artists still in the sway of the great Jimmie Rodgers... But while singing solo, there was a cleaner melodic tone that hinted at a more modern approach than Rodgers' highly stylized, chunky backwoods blues. Sure enough, when Hurdt formed his own band, it included several hot pickers who pushed the music into a more improvisational, virtuosic direction. Particularly noteworthy is fiddler Lawrence Wiseman, who had zinged his way through a couple of hot duets ("Fiddle And Guitar Runnin' Wild" and "Playing Around") with guitarist Leroy Johnson, really zippy stuff that owed as much to Eddie Lang and Joe Venuti as to Bob Wills and his crew. Hurdt wrote a bunch of ersatz cowboy tunes, but played 'em with a wild jazz undertone; likewise he and the band played a lot of Delmore Brothers-style hillbilly blues, but they used the formula's simple sound as a platform for soloists to improvise. Sometimes they soared, but just as often they strained against the style's limitations, and occasionally the instrumental fills overshadow the songs themselves. On tunes like "Rhythm In E" and the dazzling "Guitar Rag" the guitar work is amazing for the time; Wiseman's often-impatient fiddling takes over on "Blue Skies Above" and "The Old Gulf Coast," as well as the album's most historic track, "Train Special," which was actually the first commercially released version of the fabled "Orange Blossom Special," a tune that Wiseman learned from its composer. The performances are uneven but forward-thinking, with stabs at the virtuosic sizzle of bluegrass and cow-boogie that would be all the rage a decade or so later. Hurdt and his pals got kinda clunky at times, but they were definitely pushing ahead of the pack.


<! CD D 232 >
Bob King "Songs That Tell A Story" (Bear Family, 1999)


A collection of songs from Canadian cowboy yodeler Bob King, who recorded for RCA's Canadian imprint... It's pretty straightforward, uncomplicated stuff, perhaps best appreciated by fans of singing cowboy music..


<! On the day in 1953 that my idol, Hank Williams died, I was 11- years-old and listening to a country music program on Radio Station CFRA in Ottawa, Ontario, Canada and for the first time, heard Bob King singing his first hit record, "Lauralee". Bob went on to record for RCA Victor for 10 years and had a dozen hits on that label before signing with Rodeo Records of Canada recording at least 10 albums on the label. Prior to his death in 1969, Bob and his wife, Marie arranged with Bear Family Records in Germany to record 60 of his songs from his Rodeo albums on 2 CD's. Unfortunately, RCA Victor, in Montreal, Quebec, Canada, destroyed the Bob King Master Tapes for his RCA Victor recordings, so those recordings are lost forever and these LP albums are now collector items. I became friends with Bob King in my teen years and for awhile was Quebec Representative for his fan club. Bob King sang traditional country and western songs of the 50's and 60's and I know you will treasure both of his Bear Family CD's if you enjoy country music. On this particular album, you will hear 2 complete albums of just Bob and his guitar. These were two of his most popular albums in the U.S.A. and Canada. Bob was a regular Member of the World's Original WWVA Jamboree in Wheeling, WV for awhile but mostly remained in the Ottawa area. Included with this CD and with "Bob King And The Country Kings" CD, is a booklet that covers his entire career. Do buy this CD as it is great and on the other CD is many of his hit recordings. Bob called his band "The Country Kings" and was a part the CFRA Happy Wanderers from 1955 to 1965 and played dates all over Canada and in the eastern USA and had daily radio programs also. Let me know if you enjoy this recording... >
Fred Kirby "That Good Old Utah Trail" (BACM, 2005)





<! CD D 179 > <! Complementing Cattle's earlier Fred Kirby collection, this B.A.C.M anthology focuses on the North Carolina singer's earliest recordings. The six tracks from Kirby's first February 1936 session reveals a pleasant, if undistinguished Jimmie Rodgers clone. Four duets recorded with Bob Phillips the following day are more interesting; Roll On, Roll On could have inspired Woody Guthrie's enduring Columbia River song. A June 1936 yielded more Rodgersesque solos plus duets with Don White and Cliff Carlisle. Another session four months later shows that Kirby evolved into a pleasant, if undistinguished western crooner, backed by the requisite cowboy string band. The disc's most engaging interesting track is a 1937 duet with Cliff Carlisle, Cowboy's Dying Dream. By 1938 Kirby was recording hillbilly fare for Decca, which was pleasant, if . okay, you get the picture. The sound is generally good; Brian Chalker offers brief notes. (DS) >


Chris LeDoux - see: see artist profile


<! Texas Jim Lewis? >
Reg Lindsay "When The Wagon Was New" (BACM, 2005)

Jimmy Long "Silver Haired Daddy Of Mine" (BACM, 2005)

---
Singing Cowboys: A-L | M-Z | Compilation Albums & Links

---