<! MP3 01/28/09 > <! update 01/28/09 > <! outside 00/00/00 > <! pix 00/00/00 > <! icons 11/06/10 >
---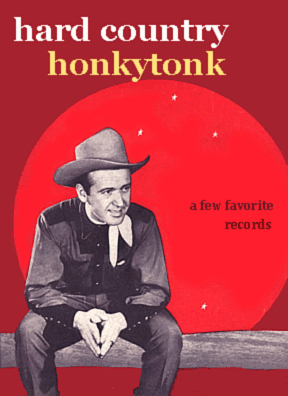 Hillbilly boogie and honkytonk music were two blues-influenced country styles that took off after the Second World War. Although hillbilly boogie was more obviously a temporary fad than honkytonk, both had tremendous influence on the growth of both country and popular music. Hillbilly boogie -- a driving, sometimes manic, guitar-based style -- was a clear precursor to the rockabilly and rock-and-roll sounds of the 1950s, particularly the enduring influence exerted by artists such as the Delmore Brothers, Hank Penny and The Maddox Brothers and Rose. Honkytonk, exemplified by early pioneers such as Ernest Tubb and Lefty Frizzell, was less stylistically confined and soon became the basis for modern country music. During the late 1950s, facing intense sales competition from legions of greasy-haired Elvis clones, Nashville watered down the honkytonk, and offered the poppy compromise known as "The Nashville Sound".
Here's a look at some of the major players and best records from the classic years of hard country and hillbilly boogie. It's not meant to be definitive by a longshot, but it should be helpful and doubtless will be expanded greatly as time permits.
---
---
A | B | C | D | E | F | G | H | I | J | K | L | M | N | O | P | Q | R | S | T | U | V | W | X, Y & Z | Comps | Hick Music Styles
---

Various Artists "HAPPY BIRTHDAY BUCK: A TEXAS SALUTE TO BUCK OWENS" (Texas Round-Up, 2002)



An all-star twagadelic tribute to the late Buck Owens, with musicians such as David Ball, Libbi Bosworth, Rodney Crowell, Cornell Hurd, Jim Lauderdale, The South Austin Jug Band and the Derailers (who backed Owens in his later years at his ginormous Bakersfield nightclub, the Crystal Palace...) About as rootsy and Buckalicious a compilation as you're likely to find!

Various Artists "HEADING BACK TO HOUSTON - TEXAS C&W: 1950-1951"


Loping, slower Texas honkytonk made in the long, thin shadow of Hank Williams. These tracks were originally made for the Houston, Texas independent label, Freedom Records. Plenty of obscure singers, but all topnotch material. Only a few tracks are overt Hank imitations; other tracks include hip, jazzy Hank Penny-ish bounces, maudlin drink-a-beer weepers and Bob Wills-y blues tunes, and a brace of cheerful novelty songs. The most tantalizing glimpses include one track by Tex Owens daughter, Laura Lee, and a couple by the adenoidal Little Tommy Sands, who went on to become a teen singer on RCA and Capitol. This album includes great liner notes, with a slightly more readable layout than other Interstate releases. Highly recommended!
Various Artists "HILLBILLY BOP, BOOGIE, AND THE HONKY TONK BLUES, v.4: 1956-57" (Jasmine, 2011)


Another groovy entry in this fine series of raspy, unruly hillbilly oldies, packed with little-known tracks by obscure country artists working in the rowdy rock'n'roll era. If you're like me, this'll be high-grade collector catnip!
Various Artists "HILLBILLY BOP, BOOGIE AND THE HONKYTONK BLUES: V.5" (Jasmine, 2012)



Various Artists "HILLBILLY HOT ROD AND AUTOMOBILE SONGS" (Jasmine, 2006)


Start your engines...! This is a mighty fine set of obscure old country novelty songs... Sure, there are about a half dozen too many "answer songs" based on Arkie Sibley's epochal "Hot Rod Race," but with other far-fetched oddities with titles like "The Battery To My Heart," "No Parking Here," "Service Station Blues," "I'm Trading You In On A Later Model" and "She Won't Turn Over For Me," this disc has more than enough to offer devoted fans of real, live postwar hillbilly music. Lots of fun!




Various Artists "HISTORICAL JEWELS BY VARIOUS FEMALE COUNTRY ARTISTS" (Binge Disc/Bronco Buster)
A great collection, although many of these gal-singer rarities are more interesting as cultural kitsch than as musical treasures. Many of these artists were legitimate second-stringers, although of course we have to take into account the limited role of women as solo artists in the pre-Kitty Wells days. But even the most vocally challenged, such as Chickie Williams or Joan Brooks, have their charms. And Bonnie Lou, captured in an early performance around 1949, has a rural brusqueness to rival Melba Montgomery's -- the sort of Oakie curl that Nashville has spent decades trying to expunge from country music... it's nice to be able to hear country's hick roots preserved so well. Plus, this is a pretty convenient place to find the great classic "girl singer" cowboy song, the vaguely fetishistic "I Wanna Be A Real Cowboy Girl," recorded in 1935 by the Girls of The Golden West, along with some Patsy Montana cowgirl stuff, easily some of the cutest music ever recorded. There are also some unexpected, unknown gems like the peppy "The Moon Shines Still On The Moonshine Still," by Judy Perkins... Minnie Pearl's "joke" singing I can live without, but for anyone curious about women in country music history, this disc is a must.


<! Bronco Buster CD 9055 >

Various Artists "JITTERBUG JIVE - HOT TEXAS SWING: 1940-1941" (Krazy Kat)

More great stuff-- obscuro western swing with a heavy dose of Cab Calloway-ish bounce. Taken from pre-war sessions on RCA's Bluebird subsidiary, this disc features a slew of famous Texas country players, such as Leon Payne, Moon Mullican and Cliff Bruner. On these sessions, though, they were recording in anonymous, now-forgotten bands, such as the Modern Mountaineers, the Village Boys, etc. Highly recommended -- another kickass Krazy Kat collection!
Various Artists "KICKIN' THE HILLBILLY" (Collector Records, 2003) <! date? >


Great set of hardcore hillbilly rarities, with a few obscure singles by well-known artists such as Dave Dudley and Riley Crabtree, but mostly these are super-obscuro artists, and the material is golden. Some fun uptempo songs and a few self-pitying weepers that are nice, too. This particular volume includes a lot of songs with financial themes -- "Checkbook Baby," "Money In Your Eyes," "The High Cost Of Living," etc. -- Fun stuff, great sound quality... Highly recommended!

Various Artists "KINDRED SPIRITS" (Sony-Columbia, 2002)



Well, here's the big surprise of 2002: with two competing Johnny Cash tributes coming out within a week of each other (this and the DRESSED IN BLACK album above...), it turns out that the major-label, packed-with-commercial-stars tribute is by far the better of the two. The reason why is that finally, for once, someone pays homage to Cash without simply aping his style and sound to a "T." Almost all of the songs on here take a markedly new approach to all the same old songs. Cash's trademark slap bass is left behind in favor of languid, drifting rhythms, and instrumental touches that Cash himself would rarely (if ever) approach, such as slide guitars and keyboards, dominate the album, creating entirely original takes on a dozen+ Cash classics. The album opens up with Dwight Yoakam's expansive reinterpretation of "Understand Your Man," followed by a mournful version of "I Still Miss Someone," by Johnny's daughter, Rosanne Cash. Other surprises include neo-Southern rocker Travis Tritt's authoritative reading of "I Walk The Line," here taken as a mellow, super-slow ballad, and blues picker Keb Mo's haunting and similarly slow version of "Folson Prison Blues." Bob Dylan sings "Train Of Love," one of his own songs that Cash covered back in the politically polarized '60s, acknowledges Cash's open-minded approach to music making in a brief but heartfelt introduction. A couple of artists, like Hank Williams Jr. and Steve Earle, fail to surprise us, and an Emmylou Harris/Mary Chapin Carpenter/Sheryl Crow team-up on "Flesh and Blood" sounds perky and bland on a song that is deeply, smoulderingly erotic. On balance, though, this is the Cash tribute album we've all been waiting years for -- respectful, but adventuresome, giving Cash's work new resonance and depth, teasing out nuances that were easy to miss in Cash's rollicking original performances. Check it out!
Various Artists "KSTP SUNSET VALLEY BARNDANCE" (BACM, 2005)
This collection features the work of three acts heard on radio station KSTP's "Sunset Valley Barndance," the duos of Al & Hank and Frank & Esther, and Chuck Mulkern...


<! CD D 223 >

Various Artists "THE LIFE OF JIMMIE RODGERS" (Binge Disc/Bronco Buster)



<! Bronco Buster CD 9045 >

Various Artists "LYNN RUSSWURM'S CANADIAN COUNTRY, v.1" (BACM, 2005)





<! CD D 199 >

Various Artists "LYNN RUSSWURM'S CANADIAN COUNTRY, v.2" (BACM, 2005)



<! CD D 273 >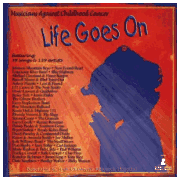 Various Artists "MEET THE PEARLS" (Bear Family, 2012)


A sampler of Bear Family's fab "Juke Box Pearls" series, which focusses on female country artists... Several of these gals have been the subject of earlier Bear Family reissues, like Charline Arthur, Anita Carter, the Davis Sisters, Rose Maddox and Janis Martin, while others are just now getting their day in the spotlight, such as Myrna Lorrie, Laura Lee Perkins and Mimi Roman. I'm psyched to see Margie Singleton on here as well, although so far no solo CD for her work yet. And still no Melba Montgomery collection? Come on, Bear Family: I'm counting on you! The world needs more Melba!
Various Artists "MEMORIES OF RENFRO VALLEY" (BACM, 2005)





<! CD D 041 >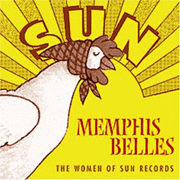 Various Artists "MEMPHIS BELLES: THE WOMEN OF SUN RECORDS" (Bear Family, 2002)


This is an amazing and historically significant 6-CD set that gathers together all the songs ever recorded by female artists on the legendary Sun Records label during its brief and glorious reign in the early years of rock'n'roll. To be honest, these are mostly marginal performances, demo-y sessions from a flock of gals of variable talent, with material ranging from triplet-heavy pop vocals and proto-girl group weepers to awkward hillbilly numbers and a surprisingly solid cache of little-known blues sides. There was very little of the raw rockabilly that the label's male artists made so famous -- if you're looking for some obscure, unremembered Janis Martin or Wanda Jackson type, this set will come as a bit of a letdown. But as a glimpse into the creative process at Sun, hearing their house bands back up the gals is a pretty fascinating exercise -- and there are certainly several gems scattered throughout the collection. (These tunes could probably be condensed down to a single-disc set that would still have a mediocre air about it, but would give more bang for the buck. But then the authoritative, archival quality of the collection would be lost, and that would be a shame.) There are tantalizing glimpses of lost opportunities: some of the most promising rockers never really got a fair shot, gals like Gloria Brady, who apparently only got to record a handful of demos, but never waxed a proper single. Jerry Lee Lewis's little sister, Linda Gail Lewis emerges clearly ahead of the pack with a couple of ripsnorters, but really it's the forlorn, amateur-hour quality that makes many of these tracks so charming, and the clear emulation of other artists, particularly the heavy presence of Dinah Washington hovering over the robust vocals on the fourth disc, "Blues," and the taunting awareness of how much more vibrant --and more successful -- the sides recorded by the boys had been. The packaging of this set should also be noted... What the box set lacks in musical punch, it more than makes up for in scholarship and presentation -- the enclosed squarebound booklet is an impressive coffeetable collection, with copious liner notes and archival photos and extensive biographical entries for each of the artists. These gals might not have shaken up the world with their chart action, but they still occupy a unique and significant place in the heart of American popular culture, and this box set certainly does their legacy up right. If you're a 'Fifties rock or pop music fan, it's certainly worth checking this set out.
Various Artists "MIRTH, MUSIC & MOONSHINE: OLD TIME COMEDY, TUNES AND SONGS"" (BACM, 2005)





<! CD D 141 >
Various Artists "NASHVILLE, 1928" (Document, 1998)



Nashville, Tennessee wasn't always "Music City," the national center of American country music -- that reputation was cemented in the 1940s -- but there was always plenty of hick music to be heard there, as this feisty collection shows. These pre-Depression recordings capture a nice variety of hillbilly music, from the craggy old-timey songs of the Binkley Brothers Dixie Clodhoppers to the spry fiddle instrumentals of Theron Hale & Daughters and the squeaky harmonica-banjo tunes of the Crook Brothers String Band... A nice selection of idiosyncratic mountain music from the pre-bluegrass, pre-honkytonk era.
Various Artists "THE OKEH LABEL: CLASSIC OLD TIME MUSIC" (BACM, 2005)





<! CD D 050 >
Various Artists "OLD-TIME MOUNTAIN BLUES: RURAL CLASSICS: 1927-1937" (County, 2003)



An outstanding set of hillbilly blues from the Depression era, including relatively well-known figures such as Dock Boggs, Sam McGee and Cliff Carlisle, as well as a slew of more obscure (but no less fantastic) rural pickers. The spirit of Jimmie Rodgers looms large over this collection; folks who dig the Delmore Brothers will appreciate this compilation, as it digs deeper into the tradition that they came out of... Great song selection and sound quality... This disc is a class act!

Various Artists "OLD-TIME TEXAS STRING BANDS, v.1: TEXAS FAREWELL" (County, 2001)



If you like squeaky fiddles -- and I mean really like really squeaky fiddles, then this collection is for you. Dunno what it was about them Lone Star fellers, but they did seem to love super-squeaky fiddlin', or at least they did back in 1928-29, when these old recordings were first waxed. The best-known player on here is the venerable Eck Robertson, but you may find yourself entranced by less well-known artists such as the Red Headed Fiddlers band, whose version of "Cheat 'Em" is an album standout, along with the "Three-In-One Two Step," by the East Texas Serenaders. The performances on here are uniformly archaic and perhaps a bit inaccessible for folks who are not already deeply into the old-time fiddle traditions... But for folks who are into it, this is a treasure trove.
Various Artists "OLD-TIME TEXAS STRING BANDS -- v.2: DALLAS BOUND" (County, 2001)


Various Artists "OPRY VIDEO CLASSICS" (DVD) (Time-Life, 2007)


Wow. What can I say? If you're into old-school country, real country, cool country, the best that Nashville had to offer in the 1950s and '60s, then this 7-disc DVD collection was made for you. It's a class act from start to finish, gathering 105 vintage video clips culled from a series of TV shows related to the Grand Ole Opry (with different corporate sponsors from year to year...) Although the smoothies and crooners of the Nashville Sound are well-represented, this collection digs amazingly deep into country's real past, bringing back vibrant images of craggy, rough-hewn hillbilly artists who wouldn't stand a chance in today's well-groomed, image-obsessed entertainment industry. Stars such as Jean Shepard, Hank Snow, Porter Wagoner and Kitty Wells -- heck, even icons like Johnny Cash and Loretta Lynn -- they all have that weather-bitten look of folks who have real country roots and have seen their fair share of hard times. The songs are great, the musicianship and showmanship are stellar, and the glimpses into the changing tides of the country scene are fascinating. Although it's all below the surface, you can sense how many artists, particularly in the mid-'60s segments, were already relics, which makes their performances even sweeter and more precious. Big stars like Eddy Arnold, Patsy Cline, George Jones, Ray Price, Marty Robbins, Tammy Wynette and Faron Young sing some of their biggest hits, exuding professionalism and confidence, while some of the then-newcomers show surprising flashes of humanity: Porter Wagoner's goofy exuberance in an early TV appearance (contrasted by his masterful command of the medium a few years later), Donna Fargo rushing through the sexually suggestive parts of "Happiest Girl," Jeannie Seely's discomfort with an awkward sexist joke from an oily emcee, Bill Anderson's desperate eagerness to please, Willie Nelson in 1965, chafing at a flat, hurried arrangement that crushes his jazzy phrasing, Loretta Lynn's explosive power in '68 and all of Dolly Parton's electrifying performances. Then there are the dazzling moments: Johnny Cash's impassioned version of the gospel oldie, "Were You There"; Grandpa Jones's live-wire attack during his fifty-zillionth performance of "Good Old Mountain Dew"; and fans of the Louvin Brother's will delight at seeing them in 1956, singing their hearts out on "I Don't Believe You've Met My Baby." There are a lot of show-stoppers in this collection, and the sheer force of the collective charisma is stunning. Folks in the know will get a kick out of all the supporting players, as well -- Weldon Myrick, Floyd Cramer, every sideman you can think of filling out the studio bands, old-timers like Bashful Brother Oswald (backing Roy Acuff) and future newgrassers Richard Greene and Peter Rowan lurking in Bill Monroe's band... This set really is a historical treasure trove, with high-quality prints and beautiful sound quality... Again -- what can I say? This is an awesome archival collection, a must-have for historically-minded country fans! (Available directly through Time-Life.com; also available as individually-packaged single-disc sets...)
Various Artists "THE OTHER SIDE OF BAKERSFIELD, v.1" (Bear Family, 2014)



This swell two-volume set explores the rockabilly and "hillbilly bop" side of the Bakersfield/West Coast country sound, with tracks by well-known country artists such as Tommy Collins, Buck Owens and Tommy Duncan rubbing shoulders with little-known and dimly remembered locals such as Cliff Crofford, Alvadean Coker and Bill Woods. (Who?? Yeah: exactly!!) Curated by Bakersfield buff Scott Bomar, these discs are an obscuraholic's dream, digging deep into the Oakie/Arkie rural roots of the Central Valley's country scene; the beer-soaked honkytonk style of the 'Forties giving way to a raunchier, sweatier rock vibe. There are some great guitar riffs backed by thumping backbeats, giving fans a fuller picture of the sizzling musical stew that spawned Buck Owens' own Fender-friendly musical vision. Hillbilly and rockabilly fans alike will wanna pick these discs up, and not just for those old "Corky Jones" singles.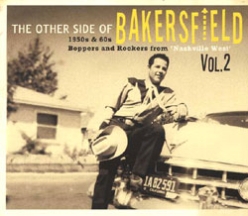 Various Artists "THE OTHER SIDE OF BAKERSFIELD, v.2" (Bear Family, 2014)



Although there are still a bunch of random unknowns on here -- folks like Al Hendrix, Lynn Billingsly, Larry Bryant and Lawton Jiles -- this second set seems more front-loaded with established artists trying their hands at this newfangled, greasy kids' stuff called rock'n'roll. Even future super-squares like Ferlin Husky were able to let their hair down on funky, uptempo early singles like "I Feel Better All Over," while honky-tonk veteran Johnny Bond sizzles through an amazingly robust rocker called "Three Or Four Nights." There was no shortage of hot rock'n'roll pickers available to back up country singers who wanted to plug in and go electric -- take for example Larry Thornton backing the suave western swing vocalist Tommy Duncan on the jazzy "I'll Be There Next Sunday," which is another album highlight. All told, this is particularly potent, generously programmed reissue disc, backed up with all the authoritative weight of Bear Family's fabled archival info... Highly recommended.
Various Artists "THE PANACHORD LABEL: EARLY COUNTRY MUSIC ON PANACHORD" (BACM, 2005)





<! CD D 030 >

Various Artists "PLAYBOY BOOGIE" (Krazy Kat, 2001)


Another one of the Krazy Kat gems, this time drawn from the catalog of Star-Talent Records, a teeny-tiny Dallas, Texas label that floated around the peripheries of the vibrant Big D Jamboree radio show in the late '40s and early '50s. The sound quality on most of these ancient recordings is fairly rough, but the material is priceless, capturing the rough-hewn, jovial mood of the early 'Fifties honkytonk crowd. As implied by the title, there's a bluesy streak throughout this disc, as well as a strong (but effective) penchant for novelty tunes. Most of the artists are real nonentities (which makes discovering them even more enjoyable) but the Talent label also had a few hits, notably by Riley Crabtree and Hoyle Nix. What marks this disc, though, is the sheer goofy fun of the songs -- it's well-programmed and very listenable. Recommended!
Various Artists "ROCK AND ROLL -- COUNTRY STYLE" (Collector Records, 2010)


A rock-solid, super-zingy obscuro-billy set with kooky stuff from the 1950s (...and '60s?) by a host of artists that nobody has ever heard of... I love this kind of stuff, and this particular album is a real standout. There are only a smattering of artists I knew of beforehand... Rose Maddox, Autry Inman, Jess Willard, Boots Faye... and the rest are all glorious nobodies, lively also-rans from the indie era of the early rock'n'roll era. The album title is misleading, since there's very little on here that could be characterized as "rock" music, but there sure is a lot of energy and a bunch of delightfully nutty, unusual songs. Another coup for the Boppin' Hillbilly series... definitely worth picking up!

Various Artists "THE ROSE AND THE BRIAR: DEATH, LOVE AND LIBERTY IN THE AMERICAN BALLAD" (Columbia Legacy, 2004)



Music critic (and fellow Berkeleyan) Greil Marcus delves into the history of the American ballad, tracing the roots of Anglo-Celtic murder ballads and all-American disaster songs such as the "Omie Wise," "Barbara Allen," "Wreck Of The Old 97," etc. This album is a companion disc to a new set of essays by the same title, illuminating the use of story-songs in American popular culture. Although the album does have the overall feel of a college radio theme set that's gone on a little too long, it's still amazing how potent and immediate these old songs still seem. Marcus's selections are for the most part superior choices, particularly tracks by the Coon Creek Girls, Jean Ritchie, Mississippi John Hurt and a particularly haunting tune by Jelly Roll Morton ("Buddy Bolden's Blues"). The "through-line," as they say, is that these are all songs that tell a story, including many historical narratives and others that were tales floating around in the more general folk aether... There are also several songs that are interesting updates or recontexualizations of old themes, and many of these leap out with surprising immediacy inside Marcus's intellectual framework. Among these newer songs are Jan & Dean's "Dead Man's Curve," a surf-teen tune that takes the disaster-accident theme and moves it into modern-day LA, Bruce Springsteen's "Nebraska," Marty Robbins's still-compelling "El Paso," and -- most masterfully -- Bob Dylan's "Lily, Rosemary And The Jack Of Hearts," a song that was explicitly crafted as a reworking of old folk themes. Some of the selections seem a bit forced -- Bobby Patterson's soul version of "Trial Of Mary McGuire," a Duke Ellington opus -- but perhaps if I pick up the book, the reasoning behind their inclusion will become much clearer. At any rate, this is mostly a pretty cool collection.

Various Artists "SHOULD HAVE BEEN HITS" (Koch/Little Darlin', 2005)



A fun, funky set of obscuro recordings, drawn from the bottom drawers of the dusty file cabinets at Aubrey Mayhew's long-defunct indie label, Little Darlin'. These artists are all super-nobodies -- Dugg Collins, The Herbert Brothers, Joe Pain, Eddie Reday? Yeah, right. Of course, that's the attraction here: this is stuff that's way off the Nashville radar, and while some of it's pretty weak, a lot of it is great. There's some rough and rugged hillbilly boogie (on the 1953 cut "Hot Rod Race, Navy Style," which features a young Roy Clark on guitar), plenty of mopey, boozy jukebox honkytonk from the '60s and '70s, some great novelty songs (notably "Problem Solving Doctor" by Roy Weldon and the fabulous, Tommy Collins-styled "Too Light To Fight, Too Thin To Win," by Lee Howell. There's also some lame stuff, like Merv Shiner's belated attempt to imitate Marty Robbins, alongside truly surprising material like Larry Steele's civil rights anthem, "Why Don't They Want Me..." Chances are you are never going to hear any of this stuff on the radio or Internet any time soon, and that this disc won't be around all that long, either... So if you dig oddball, obscure material, snap this one up. It's a country keeper.
Various Artists "SOPPIN' UP THE GRAVY, v.1: A TASTE OF KING" (BACM, 2005)





<! CD D 093 >

Various Artists "SOPPIN' UP THE GRAVY, v.2: 4 STAR ROUNDUP" (BACM, 2005)





<! CD D 110 > <! or ASIN (or B002QHK14K) >
Various Artists "SOUTHEASTERN SWING BANDS: COMPLETE RECORDINGS" (BACM, 2005)
This set features rare singles from three little-known bands: the Swing Billies, the Hi Neighbor Boys, and Herald Goodman & his Tennessee Valley Boys (about half of whose recordings were gospel songs...) Haven't heard it yet, but I look forward to checking it out someday!


<! CD D 261 >
Various Artists "SOUTH OF THE BORDER" (BACM, 2005)


A slew of Mexican and Spanish-themed oldies from folks like Johnny Bond, Jim Reeves, Hank Snow, Bob Wills and a bunch of less well-known cowpunchers. If you like tunes like "El Paso" and "Rhumba Boogie," you're gonna love this collection.


<! CD D 221 >
Various Artists "STEELIN' IT: THE STEEL GUITAR STORY" (Proper, 2008)



A 4-CD box set exploring the wonders of the steel guitar, in country, blues, and Hawaiian music. The discs are arranged more or less inside each of these genres with some well-known songs and artists as well as some rarer cuts. A good overview of a great, old instrument, all at a bargain basement price.
Various Artists "STICKBUDDY JAMBOREE" (Bear Family, 2011)


I do like me some obscuro-country, and this collection of 1950s-'60s rarities from the independent Delta label sure qualifies as obscuro. It's pretty rugged, often sluggish material, and you can see why this Mississippi-based label didn't have many hits, or why there are hardly any artists on here that you've ever heard from. There are a couple of recognizable names: hillbilly twangster Jimmy Swan recorded one of his last singles for Delta, and smoothie Warner Mack made his debut here (a bouncy rockabilly zinger, "I Wanna Play House With You"). There are a few female voices here, always of interest to me, and a handful of novelty gems, such as "Don't Flirt With Me In Public (I'm A Married Man)" by Mac McQuinn and "Black Horse And A Blonde Headed Woman" by Rick Richardson. For the most part, though, this is a little too funky and ultra-obscuro, even for me.
Various Artists "THE STUFF THAT DREAMS ARE MADE OF" (Shanachie/Yazoo, 2006)



A cool set of blues, gospel, and proto-country rarities from the early days of the record industry, harvested from the 78 RPM libraries of several of the world's old-school uber-collectors, folks who spent their youth in the 1950s and '60s canvassing the South, going door to door asking people if they had any old 78s they'd care to part with... This 2-CD set includes rare material that went unreleased over seventy years ago, and several songs that only exist today in one or two known copies, Holy Grail material found only on precious, whispered-about, highly prized solitary shellac and vinyl copies. Oh, I admit, I was suckered into buying this just because of the R. Crumb cover art -- that, plus the tagline about how this is "The Rosetta Stone Of Record Collecting" made me think this might be like the keeno Crumb-curated That's What I Call Sweet Music jazz collection from a couple of years ago... Other than the artwork, though, I'm not sure how much involvement Crumb has with this project... The provenance of this collection is a little fuzzy, but the dozen or so ubercollectors that contributed include folks like Dave Freeman, Dick Spottswood and Joe Brussard, who have been at this kind of thing for a while. And, boy, do they have some fun stuff! If you like old-timey music and rugged country blues, then this collection will definitely float your boat. It's great stuff. The liner notes are a hoot, too, full of plenty of knowing, self-deprecating jibes at the world of obsesso collector nerds, including a scary article about the Collyer Brothers, a pair of New York nutjob packrats who filled every cubic centimeter of their sprawling, four-story house with tons and tons of crap, bric-a-brac and junk, and actually died inside the labyrinth... That could never happen to me, say all the collector nerds who'll pick this set up... Oh, no. Of course not.
Various Artists "THE SUN COUNTRY BOX: COUNTRY MUSIC RECORDED BY SAM PHILLIPS: 1950-1959" (Bear Family, 2013)

Various Artists "THE SUN ROCK BOX: ROCK'N'ROLL RECORDED BY SAM PHILLIPS: 1950-1959" (Bear Family, 2013)

Various Artists "SWINGBILLIES: HILLBILLY AND WESTERN SWING ON MODERN/COLONIAL/FLAIR - 1947-52" (Ace, 2003)


A fine collection of old-school hillbilly tunes released on the LA-based Modern label (and its affiliate labels, Colonial and Flair). Interesting story here: Modern was a blues and R&B label run by the Bihari brothers -- Saul, Jules, Lester and Joe -- that made a few postwar forays into the country field and, finding it profitable, delved deeper just as the West Coast country scene was beginning to gel in the late 1940s. Included in this raspy, unruly set are the earliest known recordings of steel guitar whiz Jimmy Bryant, Louisiana crooner Jimmy C. Newman, and two tracks by Bakersfield bandleader Bill Woods, whose band acted as the cradle for West Coast bigshots Billy Mize and Buck Owens. Like many of these old-time hillbilly boogie/western swing compilations, this is definitely an acquired taste -- but for connoisseurs, this is a real treat.
---



Various Artists "SWING WEST! v.1: BAKERSFIELD" (Razor & Tie, 1999)


Various Artists "SWING WEST! v.2: GUITAR SLINGERS" (Razor & Tie, 1999)


Various Artists "SWING WEST! v.3: WESTERN SWING" (Razor & Tie, 1999)


This series is bound to surprise a lot of folks... These CDs look as generic as can be, but each disc contains a trove of lesser-known tracks by big-name stars and forgotten artists alike. Curated by Bear Family head Rich Kienzle, the SWING WEST series delicately picks its way through the Capitol Records back catalog, and by and large skips over the big hits you'd expect to hear, opting instead for lesser-known and unusual tracks. In some cases, this means recordings taken from sketchy albums made by artists well past their glory years -- Jimmy Bryant recording on the Imperial label in 1967, for example, or Leon McAuliffe in 1964. Yet, these are good later tracks... the sort of songs you'd have to dig pretty deep to find on vinyl, though afterwards you might wonder afterwards if it was worth keeping the whole album for just that one song ("...gee, if only someone would put out an album of this stuff...!") On the other end of the spectrum are the cool rarities, such as Merle Haggard's first recordings on an indie label, or enduring classics like Tex Williams' "Smoke That Cigarette." Kienzle, of course, knows what he's doing. He's one of the greatest reissue producers on the planet, and few people could do a better job poking around the Capitol vaults -- as a result, these discs are hella fun! So, if you want to encourage the major labels to put out more good old stuff, here's an excellent chance to put your money where your mouth is. Yes, yes, yes!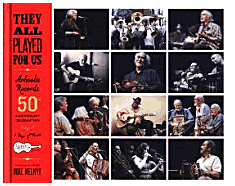 Various Artists "THEY ALL PLAYED FOR US: ARHOOLIE RECORDS 50th ANNIVERSARY CELEBRATION" (Arhoolie, 2013)



A couple of years ago, the venerable Arhoolie label, one of the finest folkloric/roots-music labels next to Smithsonian-Folkways, celebrated its 50th anniversary with a series of in-store concerts held at its sister-company, Down Home Music. Now, two years later, they've put out a groovy 4-CD box set that includes vive hours of music from artist such as Ry Cooder, Taj Mahal, Peter Rowan, Santiago Jimenez, Jr., Country Joe McDonald and the Savoy-Doucet Cajun Band, as well as reformed editions of long-lost legendary bands such as the Any Old-Time String Band and the Goodtime Washboard Band. It's a lively, diverse selection that reflects the breadth of Arhoolie's mission and the roster of artists who owe a debt to a label and a record store that for decades have spread the roots music gospel to the San Francisco Bay Area and beyond. This collection is a benefit for the Arhoolie Foundation, a nonprofit that was set up to continue the legacy of Arhoolie's founder, folklorist Chris Strachwitz... And if you want, you could buy it through the Down Home Music website and throw some action their way as well.
Various Artists "TRADITIONAL COUNTRY MUSIC MAKERS v.2: HILLBILLY HOTSHOTS" (Magnet Publishing, 2002)
Let's hear it for copyright expirations! And for crazy British uber-collectors with lots of time on their hands. This Traditional Country series has soared up into the teens, but I picked up Volume 2 because the goofy song titles and high proportion of unfamiliar musicians made it look right up my alley. A handful of these artists have made it into the orbit of Bear Family and other ground-level labels -- Buddy Jones, Jess Willard, Texas Jim Lewis -- but others, such as Bob Eaton, Graham Bailey, Allen Flatt, etc. are a bit more of the beaten track. This is a nice set of oldies, burned (onto CDR, sorry) off of old 78s with good sound quality, and some of the sonic rough edges intentionally left intact -- no real skips or pops, but a nice, pleasant hiss that makes you feel like you've got the old Victrola cranked up on a Saturday night. This disc may be a little pricey for a CDR, but obscuro-country fans will be mighty happy to hear these odd old tunes. I'm not sure if the mailing address on the disc is accurate, but I bought this volume at Down Home Music and I think you can get other volumes in the series there as well. Recommended!

Various Artists "TREATING HER WRONG: SWEETHEART AND HEARTBREAK SONGS" (Jasmine, 2006)


For those of us interested in super-obscure hillbilly singers, and gal singers in particular, this disc is a real goldmine. The Beaver Valley Sweethearts? Betsy Gay? Jenny & Jill? Jeanie Peason? Never heard of 'em. Now, Melisa Monroe was the daughter of bluegrass patriarch Bill Monroe and Margie Collie was Floyd Tillman's wife, but I'd never heard of them before, either. Charline Arthur and Helen Carter (of the Carter Family) are the most recognizable names... This isn't an earthshaking set, but it's genuine hillbilly music and the rediscovery of a slew of long-forgotten country gals is always a welcome thing, as far as I'm concerned... Good heartsongs and a few surprisingly rough honkytonk numbers as well... Worth checking out!
Various Artists "THE VICTOR LABEL: CLASSIC OLD TIME MUSIC" (BACM, 2005)





<! CD D 129 > <! also ASIN B002QJZDQ4 >

Various Artists "THE VOCALION LABEL: CLASSIC OLD TIME MUSIC" (BACM, 2005)





<! CD D 129 >

Various Artists "WANDERER'S SWING - TEXAS DANCE HALL MUSIC" (Krazy Kat, 1994)


Another awesome entry in this fab western swing/honkytonk series. If you're lucky, you've already heard of Jerry Irby and Eddie Miller... but Rip Ramsey, Dub Adams or Grouchy & The Texas Pioneers?? Forget it! Don't even try to tell me you've heard of these guys before! Sure, these old singles from the late '40s and early '50s, on labels like Groovy and Humming Bird, are an obscurophiles wet dream... but they also rock! Great old country music from also rans, would-bes and never-weres that still has as much wallop now as it did back then. Highly recommended!
Various Artists "WESTERN SWING, HONKY TONK & BLUES HIGHLIGHTS" (Binge Disc/Bronco Buster)


Various Artists "WILL SING FOR FOOD: THE SONGS OF DWIGHT YOAKAM" (Mercury/Little Dog, 1998)



Pete Anderson, guitar player (and production wizard) for Dwight Yoakam's best efforts, organized this charity tribute album, with proceeds going to benefit the homeless (although I'm not sure which organizations were included; the CD doesn't say...) It's a nice album, though -- among the artists donating their time and talent are alt.hick and Top Country luminaries such as Kim Richey, Tim O'Brien, Sara Evans, David Ball, The Lonesome Strangers, The Blazers. Rhonda Vincent, and Bonnie Bramlett. Generally speaking, no one can do these songs as well as Dwight did the first time around, but these folks sure give it a go! Highlights include bluegrass neotraditionalist Rhonda Vincent pounding out "I Sang Dixie," and a typically sublime Gillian Welch/David Rawlings duet on "Miner's Prayer." Good stuff.


<! 130 x 130 >
Various Artists "WIZARDS OF COUNTRY GUITAR -- SELECTED SIDES: 1935-1955" (Bear Family, 2011)


Various Artists "THE WORLD IS A MONSTER: COLUMBIA HILLBILLY: 1948-1958" (Omni, 2011)


A great set of post-WWII hillbilly oldies, culled from the Columbia Records archives, with tons of great obscurities, including little-known gems from big-name artists like Johnny Bond, Freddie Hart, Rose Maddox, Ray Price and Carl Story. There are raunchy songs, drinking tunes, cheerful cheating ballads and some really bizarre numbers as well, such as Chuck Wells' magnificent, over-the-top recitation, "The Barroom Girl" and Jack Rhodes clunky gospel-boogie sermon, "Eternity." The producers did a swell job avoiding well-known novelty numbers in favor of off-the-radar oddities with surprising bite, such as Carl Smith's "There's A Bottle Where She Used To Be," and the bluntly raunchy "A Shot In The Dark" by the normally-genteel George Morgan. Plus, there are a bunch of unknown artists and also-rans: fans of classic country and hillbilly novelty songs will find a lot to cheer about in this kooky, entertaining collection. Highly recommended!
Various Artists "YOU OUGHT TO SEE MY FANNY DANCE" (Bear Family, 2011)

---

For More Real Hick Music -- start at the letter "A"


---