<! MP3 07/19/09, 05/18/14 > <! outside 00/00/00 > <! pix 07/19/09 - some; 05/18/14 - made 208s > <! UPDATES: 07/19/09 - partial. also, several artists who could be broken out - cowboy copas, wilma lee, etc. 10/24/13 - fixed links, some 180s, added Alvin Crow page 05/18/14 - checked ASINs, fixed some (not all) pix >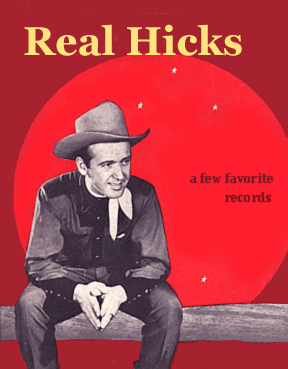 ---
Hi, there! This page is part of an opinionated guide to what I call "hard country" music -- the real stuff -- with a bunch of record reviews and recommendations by lil' ol' me, DJ Joe Sixpack. Naturally, it's a work in progress, and will be expanded on quite a bit, as time allows.
This is the second page covering the letter "C"
---
A | B | C | C-2 | D | E | F | G | H | I | J | K | L | M | N | O | P | Q | R | S | T | U | V | W | X, Y & Z | Comps | Hick Music Styles
---
Guy Clark - see artist discography
Sanford Clark "The Fool" (Bear Family, 1993)


Sanford Clark "Shades" (Bear Family, 1993)


Singer Sanford Clark was a prototypical one-hit wonder... The vocal talent for producer Lee Hazelwood's first commercial success, 1956's "The Fool," Clark never came close to matching the success of that runaway Top Ten pop hit. He started out as a sorta-billy singer, his plain, half-spoken vocals bringing in a folk-ish feel atop a slick production style. When the chips were down, this slowly settled into a more country feel, although the overall sound of his work never changed that much. I picked up the Shades album a while ago, and was actually pretty surprised at how much I liked it... The are the recordings Sanford did late in his career, when the possibility of another big hit was years behind him, and he was struggling just to get labels that would record him. In 1960, he cut a single for Jamie Records; several years later he cut a few tunes for Ramco, and then he was basically out of the studios until the early 1980s, when he self-produced an album's worth of material, most of which went unreleased until this Bear Family set came out. When possible, Clark worked with Hazelwood, but in the late 'Sixties, Waylon Jennings was one of his producers (Waylon also played guitar on these tracks) and it's this period that gave us some of Sanford's best material, oddball songs like "The Big Lie" and "Where's The Door," where the soft-voiced Clark sang of drunken stupors and barroom brawls. One of his cult classics is Leon Payne's "It's Nothing To Me," in which a sociopathic drunk threatens, then kills the listener, and expresses no remorse when he faces the death penalty. It's an extremist novelty song along the lines of Porter Wagoner's "Rubber Room," and there are several songs of equal calibre on this album, including "Black Jack County Chain," which goes to similar extremes. The thing of it is, Clark is a perfect vessel for this kind of material, and the songs are just kooky enough and just country enough that it's really pretty charming. I liked it... it was listenable and the kind of thing I'd hang onto to play on the radio someday...
Yodeling Slim Clark "Cowboy And Yodel Songs" (Jasmine, 2005)


Yodeling Slim Clark "Singin', Yodelin', Guitar Pickin' Cowboy Songs" (Jasmine, 2012)


The second volume of Jasmine's admirably extensive overview of Slim Clark's career, coming hot on the heels of their Cowboy & Yodel Songs collection. Good, authentic, old-fashioned yodeling music, sure to please fans of the style.


<! the long awaited follow up for the release of 'Cowboy & Yodel Songs' - JASMCD 3567! This is the result of researching around the world to locate all original copies of these very rare recordings from the '40s and '50s. Renowned for his unique yodelling: from the simple but effective Jimmie Rodgers style to his own inimitable, intricate double-time yodels. This is a mix of authentic and later country and cowboy songs - all but a few performed in traditional singing cowboy style of voice and guitar. Two CDs covering a total of 53 tracks >
Al Clauser & His Oklahoma Playboys "The Golden Age Of..." (Binge Disc/Cattle Records, 2005)

Zeke Clements "Early Star Of The Grand Ole Opry" (Binge Disc/Cattle Records, 2005)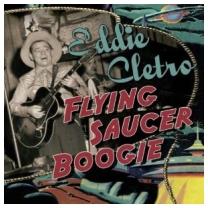 Eddie Cletro "Flying Saucer Boogie" (Bear Family, 2006)


An unknown from the West Coast country scene, LA's Eddie Cletro was an early 'Fifties proto-rockabilly twangster who speacialized in rollicking novelty songs like "Stallin' For Time," "The Old Brown Jug (She Threw At Me)," and the title track of this collection, "Flying Saucer Boogie." He recorded only a few singles under his own name, so this tasty set also includes a few tracks where his band backs other stars of the era such as cowboy singer Eddie Dean and rockabilly pioneer Rose Maddox, as well as a bunch backing Canadian singer Donn Reynolds. Retroholics will like this one, which gathers a bunch of rare stuff from various small '50s labels.


<! Eddie Cletro had one of the most unusual careers in western music. Based in Los Angeles, he had no hit records, but he did have a great voice and a great band - the Roundup Boys - and several of his recordings have long been highly sought after among collectors, particularly the great, rocking double-sider from 1952, First Class, Second Hand Woman b/w Flying Saucer Boogie. Cletro achieved his greatest popularity in the early to mid-1950s, at a point when western music and western swing bands were generally out of favor, but he and the Roundup Boys went from strength to strength in this transitional era. Flying Saucer Boogie gathers all of Eddie Cletro's recordings for Lariat, Imperial, Sage and Sand, including the classic, First Class, Second Hand Woman, Daniel Boone and others. In addition, the set contains Cletro and the Roundup Boys ably supporting western star Eddie Dean on his 1956 Rock 'n' Roll Cowboy and several amazing tracks the band made backing California scene legend Rose Maddox, including the rocking classics Wild, Wild Young Men and Hey Little Dreamboat. Also heard is Cletro's 1952 session in support of the King Of Yodelers, Canadian Donn Reynolds, and even the Christmas disc that Cletro made with his daughter Diane in 1955, Santa Claus, Jr. >


Patsy Cline - see artist discography





Hank Cochran - see artist discography



David Allan Coe "For The Record: The First Ten Years" (Columbia, 1984)



To be honest, David Allan Coe wouldn't be my first pick as a champion of the country "outlaw" scene... I always read him as a failed Top Forty dude who rode in on the coattails of Waylon and Willie and the boys... One sure sign is the high proportion of name-dropping songs he recorded (i.e. "Willie and Waylon and Me"... yeah, right.) That being said, though, he still made a bunch of catchy, fun, faux-rowdy redneck novelty tunes, and this collection is chock full of the best. "Jack Daniels, If You Please" is irresistible, and his version of Steve Goodman's "You Never Even Called Me By My Name" is a high water mark for country music -- any kind of country! Once he had a smash hit with "Take This Job And Shove It" in 1978, though, the writing was on the wall. As soon as he became a star in his own right, his music took a real nosedive. Muy mal. But hey, even with the later stuff, this collection is definitely worth having. There are about a half-dozen super-awesome songs on here -- total classics.
Mark Collie - see artist discography
The Collins Kids - see artist discography
Tommy Collins - see artist discography
Commander Cody - see artist discography
Ry Cooder - see artist discography
Elizabeth Cook - see artist discography
Spade Cooley - see artist discography
The Coonhunters "...Featuring Merle Travis" (BACM, 2005)


(Available through the British Archive of Country Music website.)


<! CD D 042 >


Wilma Lee & Stoney Cooper - see artist discography





Cowboy Copas - see artist discography



Paul Craft "Brother Jukebox" (Strictly Country, 1998)



His name may not roll right off your tounge when asked to name some great country songwriters, but when you give this disc a listen, you'll be amazed at how many of these tunes you'll recognize - and what a high calibre they all are! There is, of course, the original 1976 demo version of title track, covered most famously by Mark Chesnutt and Keith Whitley, and most effectively by Don Everly on his late-'70s album of the same title. Then, there's "Midnight Flyer" (The Osborne Brothers, Eagles), or "Hank Williams, You Wrote My Life," "Ancient History," and a slew of others that are perhaps less well known, but no less well-crafted. This is a nice, relaxed set, with subtle backing by a slew of talented well-wishers (including Rob Ickes, John Starling, Scott Vestal, Charlie Sizemore, and others from the Nashville/bluegrass axis...) Some of the songs may suffer in comparison to the punchier, bigger-sounding hit versions, but there's a lot to be said for Craft's low-key, unpretentious approach. This disc's a real gem.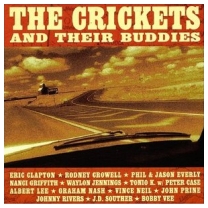 The Crickets/Various Artists "...And Their Buddies" (Sovereign, 2004)


Hey, everybody loves Buddy Holly, right? What's not to like? So when Holly's old bandmates -- who've still been playing together off and on for years since his untimely death -- asked various rootsy types to guest star on their record, you can bet a bunch of them leapt at the chance. Thus country dudes like Rodney Crowell and dino-rock guitar god Eric Clapton rub shoulders with indie-altie types such as Nanci Griffith and John Prine, as well as many names from the past, such as Peter Case, Johnny Rivers, J.D. Souther and Bobby Vee... Albert Lee delivers a gemlike version of "Learning The Game" and the late Waylon Jennings (who was also briefly in Buddy Holly's employ) rasps out an earthy rendition of "Well... All Right." (And isn't that Lucinda Williams, singing uncredited on a fine version of "Love You More Than I Can Say"?) All in all, this is a pretty nice, heartfelt, almost DIY-ish tribute album that also highlights the undiminished talen of some 'Fifties pickers who never stopped rocking. Worth checking out!
Howard Crockett "Out Of Bounds: The Johnny Horton Connection" (Bear Family, 2007)


Songwriter Howard Hausey is best known as the guy who gave Johnny Horton some of his biggest hits -- I'm A Honky-Tonk Man," "Ole Slew Foot," "Whispering Pines," and several others. He took the stage name Howard Crockett and tried to make it himself as performer, but his legacy was mostly one of obscure singles and a few "soundalike" recordings (when an otherwise anonymous singer tries to cash in on the success of a more famous artist by copping their sound; Hausey specialized in Johnny Cash-ish numbers...) Naturally, he's got a cult following in Europe, and they've finally given their hero his due, with this generously-programmed set of demos, one-offs and oddities. There's lots of material here in the cornball "historical" and folk-country vein that was popular during the Kennedy era, and some catchy honky-tonk as well. I wouldn't say Hausey was a great singer, but on some of the straight-ahead country tunes he does sound pretty rugged and nice. This is a fairly ephemeral release, mainly of interest because of the Johnny Horton connection, but for folks who groove on the obscure, it certainly has its charms. As with all Bear Family releases, it's got the best sound quality and copious archival documentation.... Certainly worth checking out.
J.D. Crowe And The New South "My Home Ain't In The Hall Of Fame" (Rounder, 1979)



An alumnus of one of the early '60s top bluegrass bands, banjo player J.D. Crowe set out in the '70s as a newgrass traditionalist, skirting the border between bluegrass and country in much the same way as his mentor, bandleader Jimmy Martin. This is my favorite of the New South albums (though the rest are all good, too)... It features a gorgeous version of the title track, Jonathan Edward's classic alterna-country anthem, as well as upbeat versions of "Gone, Gone, Gone" and "My Window Faces The South." The band also included fiddler Bobby Sloane, bluegrass whizkid, Jimmy Gaudreau, and the late Keith Whitley (who went on to briefly become a Nashville Top 40 guy). Lots of fun, and highly recommended.
Alvin Crow -- see artist profile
Rodney Crowell -- see artist profile
Dick Curless - see artist discography
---

Real Hick Music -- Letter "D"

---