<! MP3 08/01/09, 10/10/13 > <! outside 00/00/00 > <! pix 10/10/13 > <! icons 10/10/13 > <! UPDATES: 08/01/09 - 10/10/10 - Roger Miller discography added 10/10/13 - Patsy Montana discography added > <! LATTIE MOORE "You Can't Make Hay Pickin' Cotton" (Derby Town Records, xxxxxx) CLYDE MOODY & TOMMY SCOTT "We've Played Every Place More Than Once" (Starday, xxxx) >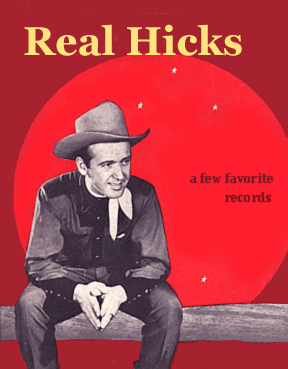 ---
Hi, there! This page is part of an opinionated guide to what I call "hard country" music -- the real stuff -- with a bunch of record reviews and recommendations by me, Joe Sixpack. Naturally, it's a work in progress, and will hopefully be expanded on quite a bit, as time allows.
This is the second page covering the letter "M"
---
A | B | C | D | E | F | G | H | I | J | K | L | M / M-2 | N | O | P | Q | R | S | T | U | V | W | X, Y & Z | Comps | Hick Music Styles
---




Leon McAuliffe "World Masters: 1953" (Binge Disc/Bronco Buster)



<! Leon McAuliffe "The Dancin'est Band Around" (Capitol) (LP) B004ENAJ6O >

Leon McAuliffe "Take It Away The Leon Way!" (Jasmine, 2001)


Leon McAuliffe "Take It Away, Leon!" (Harlequin, 2004)


Live recordings, and studio sessions from the late 1940s...
Leon McAuliffe "Everybody Dance! Everybody Swing!" (Vivid Sound, 2005)


A CD reissue of a 1960's album on the Capitol label...
Leon McAuliffe "Take Off & More" (Bear Family, 2007)

Leon McAuliffe "Tulsa Straight Ahead" (Bear Family, 2009)

Dale McBride - see artist discography
Dickie McBride "I Still Care For You" (BACM, 2005)


Rare solo recordings from one of western swing's best-respected vocalists... McBride sang with Cliff Bruner's powerhouse Texas Wanderers band, but after the band split apart in 1939, he got his own contract with Decca and set out as a solo artist. This disc also includes a few later tunes made with his wife, Texas fiddler Laura Lee. Generally speaking, these are softer hillbilly swing tunes, with McBride often in a Bing Crosby-ish crooner mode. But there a lot of stylistic variety here as well, also including some mildly thumping hillbilly boogie and a few sweet, sparse acoustic demos. Might not immediately knock your socks off, but there's a good chance it'll grown on you with repeat listens. (Available through the British Archive of Country Music website.)


<! Darrell McCall >


Delbert McClinton - see artist discography



Skeets McDonald "Don't Let The Stars Get In Your Eyes" (The Hound, 1995)
An Arkie who moved out West in the early '50s to become part of the vibrant California country scene, McDonald is well known to aficianados in the retrobilly scene, mainly for his numerous uptempo hillbilly boogie/proto rockabilly numbers, especially kooky tunes such as "You Oughtta See Grandma Rock" and "I've Got A New Field To Plow." Like many of the hillbilly boogie artists, McDonald was ahead of his time, and by the time Elvis and his crowd gave Nashville a little kick in the fanny. McDonald had already been written off by the label bigwigs as yesterday's news. This is a fine disc (albeit one of dubious provenance) that collects his best Capitol recordings, a set that spans the 'Fifties, and still sounds as electrifying and rowdy today as it did way back then. Recommended!
Skeets McDonald "Don't Let The Stars Get In Your Eyes" (Bear Family, 1999)


This massive, 5-CD box set is probably too much McDonald for anyone to handle in one sitting, but for the diehard fan on West Coast country, it's a treasure trove of fun, hickalicious, blues-laced, hard country fun. I haven't heard it myself, but I'm willing to wager it's worth every penny.
Skeets McDonald "Heart Breakin' Mama: Gonna Shake This Shack Tonight" (Bear Family, 2008)


One of the most plangent and nasal of the old-time hillbilly stars, Skeets McDonald flourished in the rough'n'rugged era of the early 1950s, recording innumerable twang tune and novelty songs... His voice is something of an acquired taste, but his band was always pretty hot, and the songs were fun, if not always immortal classics. This single-disc set is a great distillation of his work, concentrating on the peppier, more upbeat material... Bear Family also put out a massive, all-encompassing box set a few years back, but most listeners will find this more modest retrospective to be more satisfying and more to the point. It's McDonald's legacy, boiled down to its essence, and there are plenty of funny, freewheelin' old country gems here. Definitely worth checking out.
Skeets McDonald "Wheel Of Fortune" (BACM, 2005)





<! CD D 072 Scoot Git And Begone/ Bless Your Little Old Heart YouÕre Mine/ The Love That Hurts Me So/ Wheel Of Fortune/ Please Come Back/ Curtain Of Tears/ IÕm HurtinÕ/ RidinÕ With The Blues/ Big Family Trouble/ Be My LifeÕs Companion/ IÕm Sorry To Say IÕm Sorry/ Let Me Know/ I CanÕt Last Long/ IÕve Got To Win Your Love Again/ I Need Your Love/ LookinÕ At The Moon And Wishing On A Star/ DonÕt Let The Stars Get In Your Eyes/ Baby IÕm CountinÕ/ ItÕs Your Life/ Worried Mind / Hi Diddle Diddle (My My)/ Tattooed Lady/ Today IÕm MovinÕ Out/ Baby IÕm Lost Without You >
Skeets McDonald "Volume 2: You Gotta Be My Baby" (BACM, 2005)





<! CD D 228 Don't Push Me Too Far/ But I Do/ Fallen Angel/ Fingertips/ Blues Is Bad News/ You Ought To See Grandma Rock/ Heart Breakin' Mama/ I Am Music / I Can't Stand It Any Longer/ I Love You Mama Mia/ It'll Take Me A long Long Time/ Got A New Field To Plow/ You Gotta Be My Baby/ Keep Her Off Your Mind/ Look Who's Cryin' Now/ You Better Not Go/ Love Wind/ Number One In Your Heart/ You Turned Me Down/ Remember You're Mine/ Smoke Comes Out My Chimney Just The Same/ Somebody/ Your Sweet Love Is Gone/ Strollin'/ Tell Me Why/ Welcome Home >
Eddie Miller & His Oklahomans "Release Me" (BACM, 2005)





<! CD D 219 I Love You Honey/ Bus Station Stomp (instr.)/ Please Don't Laugh/ Nothin' To Lose But The Blues/ Slow Down Baby/ Don't Break My Heart Anymore/ Cab Driver's Blues/ No Stars In My Heaven/ Baby Boy's Prayer/ Knowin' You Don't Care/ Unwanted/ Nothing But Troubles/ Release Me (And Let Me Love Again)/ Motel Time/ Those Tantalising Blues/ Annie, The She Buckaroo/ Lo And Behold/ I Like What You've Got/ Pull Down The Night Shades/ Hidin' Out/ Married Man's Lies/ Behind Closed Doors/ You Walked Away/ Patty Cake Man/ Nothin' (instr.)/ Honey Baby (I Was Wrong)/ Ghost Town >
Frankie Miller "Sugar Coated Baby" (Bear Family, 1996)


There was no shortage of shameless Hank Williams imitators in the early 1950s, but few had the arresting originality of Frankie Miller. This CD brings together material from two old Bear Family LPs, and it is some of the best "unknown" country music you could ever hope to find. Yes, Miller apes Hank's tone and style, but his own songwriting flair and heartfelt delivery are stunning. One of the best single-disc Bear Family releases in recent memory. Recommended!
Frankie Miller "Blackland Farmer - The Complete Starday Recordings & More" (Bear Family, 2008)


A 3-CD set of rare stuff from one of the finest post-Hank Williams hillbilly singers of the 1950s, a fella who is also a favorite of rockabilly fans and other musical retroholics... This box set makes a nice companion to Bear Family's earlier single-disc set of Miller's earlier work (which was Grade-A killer country!)
Ned Miller "From A Jack To A King" (Bear Family, 1996)





<! Ned Miller was responsible for the composition of "Dark Moon" recorded by the underappreciated Bonnie Guitar and also Gale Storm. Not much later Ferlin Husky (most notably) had a hit with "A Fallen Star". Ned finally got his recognition from the rerelease of "From A Jack to A King" that he had recorded during the same period as when the others had hits with the songs he had penned. Here you get to hear his version of "Dark Moon". His "Invisible Tears" is a cleverly-written, well-performed song also done up instrumentally by Ray Conniff and studio singers the same year. A heart-tugging "One Among the Many" went unappreciated but Ned still would occasionally have a song hit the charts. He did not like public performances however and reportedly was not well-promoted by record companies when he refused to tour. Born in 1925, Ned finally left the public arena and was last known to be living in Las Vegas. This package is well worth having and transcends being simply "country music". >


Roger Miller - see artist discography



The Milo Twins "Swamp Woman Blues" (BACM, 2005)





<! CD D 272 >


Bill Monroe - see artist discography





Patsy Montana - see artist discography





Melba Montgomery - see artist discography



Clyde Moody "The Immortal" (Bronco Buster, 1996)
AWESOME. Late '40s/early '50s singles by a former member of Bill Monroe's Bluegrass Boys gone honkytonk. Moody's songs were covered by Hank Williams, among others, but his solo career never really took off. What a shame -- these old singles from the Decca, King and Bullet labels are really stellar. Bluesy, soulful, believable classic country that fans of Floyd Tillman, Ernest Tubb, Wynn Stewart, etc. should go ga-ga over. Highly recommended -- one of the best CDs in this series.
Clyde Moody "White House Blues" (Rebel, 1960)





<! A TRIBUTE TO CLYDE MOODY by CHARLIE MOORE AND THE DIXIE PARTNERS >

Clyde Moody "Songs That Made Him Famous" (Starday, 1964) (LP)

Clyde Moody "A Country Tribute To Fred Rose" (Old Homestead, 1976) (LP)


A nice mellow set of songs from the catalog of Fred Rose, the guy who backed Hank Williams and one of he most powerful movers and shakers of the early Nashville scene. Moody's an older, middle-aged performer, less explosive and mellower than in his hillbilly heyday, but this is still a pleasant record. The backup band's rhythm section is kind of going through the motions, but the steel player and fiddles are pretty sweet.


<! Side 1 There's a Big Rock in the Road Foggy River Blue Eyes Crying in the Rain We Live in Two Different Worlds Blues in My Mind Mansion on the Hill Side 2 No One Will Ever Know I Talk to Myself About You Home in San Antone There's no Room in My Heart Waltz of the Wind Somebody Else's Troubles >

Clyde Moody & Tommy Scott "We've Played Every Place More Than Once" (Starday-Gusto, 1978) (LP)

Clyde Moody "Six White Horses" (BACM, 2005)

Clyde Moody "Volume 2: If You Need Me I'll Be Around" (BACM, 2005)





<! Clyde Moody "The Genial Gentleman Of Country Songs" (Audiolab, 1959) Clyde Moody "White House Blues" (Wango, 1962) Clyde Moody "The Best Of Clyde Moody" (King, 1964) Clyde Moody "Songs That Made Him Famous" (Starday, 1964) Clyde Moody "Moody's Blues" (Old Homestead, 1972) Clyde Moody "A Country Tribute To Fred Rose" (Old Homestead, 1976) Clyde Moody "We've Played Every Place More Than Once" (Starday-Gusto, 1978) Clyde Moody "Early Country Favorites" (Old Homestead, 1979) Clyde Moody "All Time Country & Western Waltzes" (Longhorn, 1985) Clyde Moody "A Sacred Collection" (Old Homestead, 1989) Clyde Moody "The Immortal" (Bronco Buster, 1996) Clyde Moody "Six White Horses" (BACM, 2005) Clyde Moody "Volume 2: If You Need Me I'll Be Around" (BACM, 2005) Clyde Moody "Good Old Days" (Righteous, 2010) Clyde Moody "xxxxxxxxxxxxxxxxx" (xxxxxxxxx, xxxxxxxxxx) Clyde Moody "xxxxxxxxxxxxxxxxx" (xxxxxxxxx, xxxxxxxxxx) Clyde Moody "xxxxxxxxxxxxxxxxx" (xxxxxxxxx, xxxxxxxxxx) Clyde Moody "xxxxxxxxxxxxxxxxx" (xxxxxxxxx, xxxxxxxxxx) >
Lattie Moore "I Ain't Broke But I'm Badly Bent" (Demon/West Side, 2000)


AWE. SOME. Although he's best known to rockabilly collectors, Kentucky-born Lattie Moore was a real-deal, hardcore honkytonker. This disc collects twenty-nine songs recorded by Moore for the King and Starday labels, between 1953-1963, and there isn't a track on here that won't make a real country fan drool with delight. It doesn't include his 1952 proto-rockabilly classic, "Juke Joint Johnny," which was recorded before he was signed to King, but the tunes that are on here are all top-notch. For the most part, Moore bypasses novelty material, or at least novelty delivery: whenever possible, he digs as deep into the pathos and heartbreak as he can, eking out the sheer humanity of pain and sorrow. The music's pretty good, too -- these were the same kind of songs George Jones sang early in his career (probably a lot of the same backing musicians as well...) So if you like Jones classics like "Cup Of Loneliness" and "Hearts In My Dreams," you're gonna love Lattie Moore. Just take my word for it: do whatever you need to, but track this record down!
Merrill Moore "Boogie My Blues Away" (Bear Family, 1990)


A piano-pounding plunker along the lines of Moon Mullican, Merrill Moore had a bit of a Jerry Lee Lewis rockin' edge to him. This 2-CD set of old Capitol recordings captures Moore in his prime, from 1955-1958. At first, it seems a bit repetitious (plenty of songs with "boogie" in the title...) but it's hard not to get won over by all the shameless novelty tunes, and by Moore's musical chops, as well. They don't make 'em like this anymore!
George Morgan - see artist discography
Rod Morris "Bimbo" (Bear Family, 2000)


An amiable Midwesterner who is best remembered as the author of the old Jim Reeves hit, "Bimbo," songwriter led a sharp-sounding band based out of Grand Rapids, North Dakota -- of all places -- and recorded a couple of dozen tracks while under contract to Capitol Records in the early 1950s. This CD collects all of those tracks, and while none of it made a dent in the country charts at the time, it sure is nice to listen to now! Straightforward, uncomplicated hillbilly honkytonk, with a healthy hint of western swing, these are jovial songs about drinking and cattin' around, and paying for it in the morning, either with hangovers or court dates to come. There's a little bit of the expected Hank Williams-ish howling, but Morris also emerges as a distinctive performer, and he certainly had a knack for writing fun, catchy tunes... (All the songs on here are songs that he wrote, including the original version of "Bimbo.") It's fun stuff, filled with energetic steel guitar and cheerful vocal work, definitely an album you'll want to track down if you enjoy old, early 'Fifties hillbilly tunes!
Johnny & Jonie Mosby - see artist discography
Moon Mullican "The EP Collection" (See For Miles, 2000)


Piano plunker Aubrey "Moon" Mullican played in a variety of western swing bands through the 1930s, and inherited Cliff Bruner's band at the end of WWII, shifting direction in a bluesier, boog-woogie style... This is a collection of tunes drawn from several EPs made for King Records from 1947-56, some of the material is pretty rough and raw -- ricketty, even -- but all of it is distictively Mullican. His western swing roots are evident throughout, although Mullican didn't seem to pay as much attention to tight musicianship as many of his peers. Some of his best material came when he fully embraced R&B styles, as on "Cherokee Boogie," or his cover of Tiny Bradshaw's "Well Oh Well..." Also included here is his hit "New Jole Blon," a dopey parody version of the old cajun favorite -- personally I find the wordplay (and the music) a bit lame, but apparently it slayed them in the honkytonks back then... This is a nice collection that includes a lot of rare, seldom-reissued material. Not all of it is great, but it's certainly worth checking out.


<! 109 x 108 >

Moon Mullican "Showboy Special" (Westside, 2000)


This collection highlights Mullican's earliest work on King, straight reissues of his 1946 and '47 sessions, digging even deeper into material that time has forgotten. As ever, this is craggy but curious music, with more than a couple of gems embedded within.
Moon Mullican "I Left My Heart In Texas" (Binge Disc/Bronco Buster)

Jimmy Murphy "Electricity" (Sugar Hill, 1978)



I really, really love this album -- it's a real gem. Guitarist Jimmy Murphy was always one of hick music's biggest square pegs... He was signed to RCA in the early '50s when hillbilly boogie was all the rage; later he recorded for Columbia, which was looking for new blood to match the fire of the rockabilly rebels on the Sun label -- Johnny Cash, Carl Perkins and, of course, Elvis Presley. What they got in Murphy was an unreconstructed Jimmie Rodgers worshipper, a hillbilly-boogie tinged hick whose choppy style would have fit right in, about five years earlier, in, say, 1951 or '52. His "rockabilly" material sank like bricks in molasses, and Murphy mostly gave up music after that. That is, he did until the head of Sugar Hill Records "rediscovered" him, and sat him down with Ricky Skaggs, Jerry Douglas and other hotshot newgrass pickers to record this gorgeous, blues-drenched album. Pairing Murphy up with the bluegrass crowd made a lot of sense -- nobody else was really going to "get" his old-school vibe, and yet they also brought out a melodic sweetness that was lacking from his original '50s recordings. This album includes a dazzling remake of Murphy's hit song, "Electricity," as well as several heartfelt gospel numbers, a Hank williams tribute that was more moving than most, and of course, the goofy, audacious "We Live A Long, Long Time To Get Old" (later covered by alt.country icon Robbie Fulks. This album has never sold well, but we should all be thankful that it made it back into print in the CD era, because it's really, really great. Murphy's 12-string lead runs should make your jaw drop to the floor, and the songs are all top-notch. Run, don't walk, to find this one. It's highly recommended.
Jimmy Murphy "16 Tons Rock & Roll" (Bear Family, 1989)


This disc collects Murphy's older recordings, from 1951-56, back when he was a high-power whippersnapper. These tracks have their charms, but to be honest they don't wow me the same way as his later recordings on the Electricity album, reviewed above. He just wasn't as rich or relaxed or as accomplished a performer as he became in his later years. Rockabilly and '50s rock fans might wanna check this one out, but strange as it may sound, the re-recorded versions are way, way better.
Jimmy Murphy "The Legendary Starday-Rem Sessions" (Ace, 1999)


Almost all gospel material.. But considering how great a gospel song "Electricity" is (and that the original version is included here), maybe that ain't such a bad thing. If you like hillbilly gospel music, you might wanna check this out.
Red Murrell "Sittin' On Top Of The World" (Jasmine, 2004)



Hey, don't feel bad about it: I'd never heard of this guy before, either... But if you like that old-fashioned, West Coast, 'Forties-style honkytonk swing, then this guy'll rock your world. A member of both Cliffie Stone's and Jim Lewis's bands in the mid-'40s, Missouri native Joyce "Red" Murrell went it alone when he formed the Ozark Playboys, one of the many fine bands in the postwar California country scene. This disc collects his work on the Capitol, Acme, Atlas and Signature labels (and several other tiny indies), all of it fine, fine, for-real hick music with sarcastic lyrics and a peppy, swinging beat. If it sounds kinda familiar, you might not be surprised to find out that both Merle Travis and Cliffie Stone backed Murrell on various sessions... It's fun stuff; definitely recommended!
Heather Myles - see artist discography
---

Real Hick Music -- The Letter "N"


---