<! MP3 08/17/09 > <! outside 00/00/00 > <! pix 00/00/00 > <! icons 12/03/10 > <! UPDATES: 00/00/00 - not complete, few artist updates; several to give own discography - Hank Snow, Carl Smith, Red Sovine, Red Steagall 12/03/10 - still working on Red Sovine 10/12/13 - 180s & links tested > <! Terry Sumison "Our Lovin' Place" (xxxxxxxx, 1984) also in the band Stagecoach >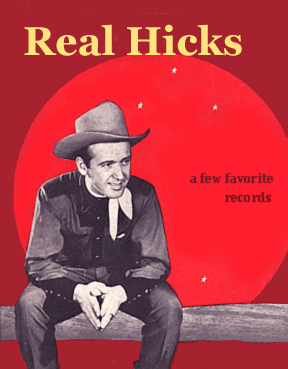 ---
Hi, there! This page is part of an opinionated guide to what I call "hard country" music -- the real stuff -- with a bunch of record reviews and recommendations by me, Joe Sixpack. Naturally, it's a work in progress, and will hopefully be expanded on quite a bit, as time allows.
This is the second page covering the letter "S"
---
A | B | C | D | E | F | G | H | I | J | K | L | M | N | O | P | Q | R | S / S-2 | T | U | V | W | X, Y & Z | Comps | Hick Music Styles
---
Billy Joe Shaver - see artist discography
Merv Shiner "In The Ghetto" (Little Darling, 1969) (LP)


(Produced by Jack Clement)
Mervin Shiner emerged as a teenage hillbilly singer in the 1930s, originally in a duo with his mother, and later as a solo performer. Because he was so young, he was sometimes typecast as a kid-oriented novelty singer, a situation that persisted well into his twenties, with Shiner cutting cutesy tunes of the "I Saw Mommy Kissing Santa Claus" variety. Even though this was a little galling to Shiner, it paid off bigtime in 1950 when he had a million-selling hit single, "Here Comes Peter Cottontail." That kept his career going through the 'Fifties and beyond, although he gradually moved out of the spotlight and concentrated more on songwriting in later years. This album has a bunch of socially-conscious stuff on it, I guess a bid to be seen as a "serious artist," though there's also some plain old country twang as well.


<! - #SLD-8017 - Shiner previously recorded for Decca and MGM, including a million-selling single, "Here Comes Peter Cottontail" >
Merv Shiner "Life Is Lovin' What You're Made For" (Certron, 1970) (LP)

Merv Shiner "Greatest Christmas Kiddie Hits" (Certron, 1970) (LP)

Fiddlin' Arthur Smith "...And His Dixieliners" (County, 2002)


Arthur "Guitar Boogie" Smith "The Golden Age Of Arthur 'Guitar Boogie' Smith" (Binge Disc, 2006)

Arthur Smith "Original Guitar Boogie" (Binge Disc/Bronco Buster, 2006)

Arthur "Guitar Boogie" Smith "Here Comes The Boogie Man" (Jasmine, 2000)



Groovy guitar instrumentals from the late '40s and early '50s. A veteran radio performer before the War, hick picker Arthur Smith landed a sweet gig as one of the first artists signed to the fledgling MGM label, and enjoyed a fair amount of popularity over the decades. This disc collects the original versions of several songs that wound up getting re-recorded on a series of labels -- and it's worth it to check out the first recordings, which crackle with Smith's vitality and sense of playfulness. Kinda jazzy, like a hillbilly boogie crossover between Merle Travis and Django Rinehardt... fun stuff!
Arthur "Guitar Boogie" Smith "One Good Boogie Deserves Another" (Jasmine, 2000)



More "boogies" and "bops," rags and glides from this country-jazz trailblazer... Twangeddy, twangeddy-twang!
Arthur "Guitar Boogie" Smith "Have A Little Fun" (Jasmine, 2004)


Arthur "Guitar Boogie" Smith "Guitar Boogie" (Magic, 2007)





<! The complete original album and 12 bonus tracks including 1 rare track from the first EP, 10 rare tracks album unreleased in Europe with the second Guitar Boogie version and the EP version. > <! Discography - Top 25 selling albums 1. Jumpin' Guitar (MGM) 2. Guitars Galore (CBS/Monument) 3. Smith & Son (CBS/Monument) 4. Battling Banjos (CBS/Monument) 5. Arthur Smith (MGM) 6. Guitar Boogie (MGM) 7. The Guitar of Arthur Smith (Starday) 8. A Tribute to Jim Reeves (Dot) 9. Great Country and Western Hits (Dot) 10. Singing on the Mountain (Starday) 11. The Arthur Smith Show (Dot) 12. Down Home (Starday) 13. Old Timers of the Grand Ol' Opry (MGM) 14. Original Guitar Boogie (Starday) 15. Arthur Smith and Voices (ABC Paramount) 16. Goes to Town (Starday) 17. Arthur Smith: In Person (Starday) 18. Arthur Smith and the Crossroads Quartet (RCA) 19. Mister Guitar (Starday) 20. Old Time Fiddle Tunes (Starday) 21. Fingers on Fire (MGM) 22. Specials (Polydor) 23. Arthur Smith, Vol. 1 (Polydor) 24. The Original Dueling Banjos (CBS/Monument) 25. Plays Bach, Bacharach, Bluegrass & Boogie (CBS/Monument) >


Carl Smith - see artist discography





Connie Smith - see artist discography




John Smith "Classics Of The Purple Sage" (Binge Disc/Bronco Buster)

Ray Smith "Hell's Fire" (Binge Disc, 2002)
This California-born country crooner was a major also-ran in the postwar hillbilly scene, first recording for indie labels in 1946, then moving up to the Columbia Records roster for a few years in the early 'Fifties. After negligible success on the charts, he dropped off the radar entirely, apparently retiring altogether around 1954. What a shame. This disc collects the bulk of Smith's recorded work, and I gotta say, he was a mighty fine singer, with pleasantly rounded tones and smooth, confident delivery. He stared out on a fairly rugged note, covering "Born To Lose" and the cheerfully vindictive "When My Day Rolls Around" (written by his steel player, Vaughn Horton), then progressively went for a softer, croonier style, edging towards the country Crosby mode. It's all pretty good stuff; another impressive archeological gem from the Binge Disc label.
Warren Smith "Call Of The Wild" (Bear Family, 1990)


Warren Smith "Classic Recordings" (Bear Family, 1992)


A super-rural '50s rocker who is best known for the rockabilly classic, "Ubangi Stomp," Smith went on to do country records, but it never really went anywhere. The oddest thing about these discs is how the label discounts Smith's early '60s recordings in the "Call of the Wild" liner notes -- basically, they say his country stuff sucked. I couldn't disagree more: there's a fun, loping Texas shuffle backbeat on here that you've just got to love. If anything, his earlier recordings when he was a rocker (the other disc) are a bit thinner, and he wasn't really a rocker for long. One thing about Warren Smith, though -- he didn't sound like one of those skinny, greasy-haired rockabilly teens. Hardly. Sounds more like someone who would wrap a tire iron upside your head in a truck stop parking lot, if you looked at him funny at the counter. These discs aren't top-flight material, but they're certainly worth checking out.


<! 144 x 144 >
Warren Smith "The First Country Collection Of..." (Liberty, 1961) (LP)


(Produced by Joe Allison)
A much tamer Warren Smith tries his hand at mainstream country, with a distinctly honkytonk vibe throughout... Half the songs are Harlan Howard tunes, including standards such as "I Fall To Pieces" and "Pick Me Up On Your Way Down," with the rest of the songs coming from folks like Johnny Cash, Don Gibson, Fuzzy Owen and Wayne Walker... The no-frills, hard-country playlist suits Smith's style well, as he eases into a comfortably masculine, pleasantly robust style that recalls kings of the genre such as Carl Smith and Faron Young. The record isn't very original, but it does sound great. Perhaps the most interesting (and least well-known) song is "Take Good Care Of Her," a forlorn, you-can-have-her lost-love weeper. Two of the singles hit the Top Ten in '60 and '61, but continued success eluded him, and he slid off the charts within a few years. Too bad: with more originals sent his way, he could have done really well. (Note: the songs on this album were reissued as part of Bear Family's Call Of The Wild CD, listed above.)
Warren Smith "The Legendary Warren Smith" (Lake Country, 1977) (LP)

Hank Snow - see artist discography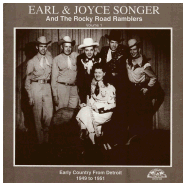 Earl & Joyce Songer "Early Country From Detroit: 1949-1951" (Old Homestead, 1993) (LP)


Raw, old-school hillbilly music from a husband-wife duo based in postwar Detroit... The material is a mix of sentimental ballads from the '30s Carter Family stringband tradition along with tougher, more worldly honky-tonk and hillbilly boogie, though even the honky-tonk songs have an old-fashioned feel, sort of a cross between the Delmore Brothers and Ernest Tubb. A little-known hillbilly filly with a Kitty Wells-ish voice, Joyce Songer mostly has a background role, singing harmony on a few songs, though Mr. Songer is clearly in the bandleader and featured performer throughout... Their band, the Rocky Road Ramblers, wasn't packed with hotshot superpickers, but their robust rough edges are a big part of their charm. I guess they must have been contemporaries of the York Brothers, in the scrappy Great Lakes country scene.
Sons Of The Pioneers - see artist profile

Tommy Sosebee "The Voice Of The Hills" (Binge Disc, 1998)


Straight out of Tennessee Ernie Ford/Red Foley tradition of bluesy, jovial hillbilly cornballs, complete with novelty songs and soulful gospel numbers. An alumnus of Peewee King's band, Sosebee went solo in the late '40s and landed a contract with Coral in 1949, and the bulk of these recordings come from singles on that label. The liner notes speculate that crackerjack session players such as Jerry Byrd, Grady Martin and Bud Isaacs may have backed Sosebee up. Whoever it was, they did good. Fun, old-fashioned country with solid performances all around.
Red Sovine - see artist discography
Red Sovine "How Do You Think I Feel" (BACM, 2005)


(Available through the British Archive of Country Music website.)


<! CD D 207 >

Jimmy Spellman "Doggonit" (Bear Family, 2011)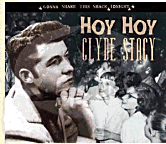 Clyde Stacy "Hoy Hoy" (Bear Family, 2011)


Sub-par rockabilly... The title track is a cover of a classic R&B song; this collection also includes versions of songs such as Johnny Horton's "Honky Tonk Hardwood Floor" and Eddie Cochran's "Summertime Blues," and a few proto-surf instrumentals. Stacy was never much of a "player", but he had a colorful career, including a stint in Lubbock, Texas -- hometown of Buddy Holly -- and many years up north in Scranton, PA, where he performed as a regional star. Rockabilly enthusiasts will want to check this out, though country fans may find a little less to delve into than on similar Bear Family discs. Includes about a dozen previously unreleased tracks, along with a bunch of rockabilly rarities on several microscopic '50s/'60s indie labels.
The Stanley Brothers - see artist discography
Dr. Ralph Stanley - see artist discography
Frankie Starr "Elevator Baby" (Bear Family, 1996)


A regional star in Phoenix, Starr's hard-luck history is intimately intertwined with that of Marty Robbins, a singer he discovered and helped promote in late 1940s. Starr began his career in Los Angeles, but moved to Arizona after World War Two and was reasonably successful as a radio singer and bar band leader. He hired Robbins around 1948, then watched helplessly as his protege quickly eclipsed him and made the leap into Nashville superstardom... To hear Starr tell the story (which he does in the liner notes), Robbins pretty much bailed on Starr as soon as Music City beckoned, and did little to help Starr out when he later to make a go of things in Tennessee. A lot of folks apparently liked Starr, and a few covered his songs, but he was destined to be an also-ran, and this collection represents his entire recorded legacy -- a few 1950s singles on Decca, some more on his own independent Star-Win label, and some 'Sixties recordings made with Autry Inman. Starr had a good voice, and though he wasn't an electrifying performer, his Hank Snow-ish crooning has a definite charm to it... Marty Robbins fans will find this disc of interest since it also includes his earliest demo recordings, four tracks cut in 1948, in a session Starr said he helped set up and pay for... The sound quality on these tracks ain't great, but the historical value is immense. Really, what you want to hear on this album is Starr himself -- he might not have made it big in showbiz, but he left behind some fine hillbilly music for folks to listen to in decades to come.
Red Steagall - see artist discography
Gary Stewart - see artist discography
Wynn Stewart - see artist discography
Cliffie Stone/Various Artists "Radio Transcriptions: 1945-49" (Country Routes, 1996)


Here's Stone working live on the air with folks like Tex Atchison, Harold Hensley, Red Murrell, Jimmy Wakely and, of course, Tennessee Ernie Ford, whose career Stone managed early on, after he discovered him and brought him on board over at Capitol Records... It's all very scrappy and West Coast, and features a few dimly-remembered hillbilly stars of the late 'Forties... Nice stuff if you're into that time period!


<! Cliffie Stone "Dancing With A Memory" (Showdown, 1992) B0016BOUAI >
Cliffie Stone "Sings The Grunt Song And Other Country Classics" (Jasmine, 2003)



Hillbilly bandleader Cliffie Stone was one of the Capitol label's most influential West Coast country talent scouts, and helped shape the label's maverick, non-Nashville tendencies. To many longtime vinyl hounds, Stone is best known for his series of squaredancing albums, which featured hotshot pickers playing some fairly hokey music. Stone also recorded plenty of straight country stuff, including more than his fair share of novelty songs, as this disc amply demonstrates. It kicks off with the grotesque, over-the-top cult classic, "The Grunt Song," which is one of the loudest examples of bathroom humor know to mankind. Plenty of other weird themes are put to a plunky, twangy beat, and Stone and his crew plow through one oddball tune after another, including some of the dance music he was later known for, such as a 'billied-up version of the Hokey Pokey(!) Stone came from a showbiz background -- his father was a radio star, the hobo-clothed, banjo plunkin' country comedian known as Herman The Hermit -- and he passed that legacy on to his son, Curtis Stone, who was one of the principal members of Highway 101. Here's a chance to hear Stone at his country best, in a series of rare late '40s/early '50s singles that showcase his rowdy, pre-rockabilly kookiness. It's not as emotionally rich as the best country music from the era, but it's still pretty interesting. A nice slice of country music history.
Texas Bill Strength "When Love Comes Knockin' " (BACM, 2005)


(Available through the British Archive of Country Music website.)


<! CD D 186 >


Stringbean - see artist discography




Dave Stuckey & The Rhythm Gang "Get A Load Of This" (Hightone, 2000)



I always suspected that Dave was the brains behind the Dave & Deke Combo, and Deke just had the looks... Now, with the release of Dave's first solo album, my fears are confirmed. This is a flat-out awesome ton of fun -- Dave Stuckey playing upbeat western swingabilly along with a passel of hot-shot pickers from Austin and surrounding environs. Among the musicians pitching in on here are the picker's pickers, Biller & Wakefield, Whit Smith and Elana Fremerman of the Hot Club of Cowtown, and several other Gang members of equal note. The best part, though, is Dave himself. Half the songs on here are his originals, but they're so true to the style that you'd easily believe they were written back in the '40s and '50s, along with the oldies by Boudeleux Bryant, Benny Goodman and Harold Hensley. Stuckey is a for-real scholar of authentic, old-time, smirk-while-you're-singin' countrybilly music, and he stands heads above many other would-be retro-novelty singers, in his depth of knowledge, his excellent comic timing and feel for the material. (Plus, as a big Decca Records fan, I really dig the album art!) If you dug the Combo, you gotta check this out.
The Sundowners "Chicago Country Legends" (Bloodshot, 2003)



A uniquely alluring, informal set, documenting the work of these good-natured elder statesmen of Chicago's country music scene. The Sundowners, comprised of guitarists Bob Boyd and Don Walls, along with bassist Curt Delaney, were a hard-working ensemble that performed together almost continuously from 1959 to 1989, playing at dives and local taverns throughout the Windy City. They all originally hailed from the South, but after meeting up north, they plugged away for many a year and became legendary figures on Chicago's urban country scene. This disc, drawn from three decades of live performances, is both a heartwarming momento of these long-off-the-radar hillbilly singers, and a really fun record in and of itself. The material is a mix of western cowboy tunes, old-fashioned heartsongs, countrified pop and rock standards and even a song written by Robbie Fulks, back in 1988. The Sundowners also recorded several albums on various local micro-labels (good luck finding them!), but the ambiance of their live shows has a special appeal. I thought this was a really charming record, more authentic and genuinely heartfelt than a truckload of Number One hits from modern-day Nashville. Recommended!
Sunshine Ruby "Sweetheart Of The Big D Jamboree" (Binge Discs, 2005)


A fascinating, though flawed, set of rarities from a child star from the early 1950s regional country circuit. When she was just barely in her teens, Texas-born Ruby Jewell Bateman landed a slot in the Dallas-based Big "D" Jamboree, a Lone Star answer to the Grand Ole Opry radio and stage show. Like other regional shows, the Jamboree served as a farm team for the national stage, and talent scouts from RCA Records signed Ruby up early in 1953. Not much came of it -- she had a couple of (pardon the pun) minor hits, but the sixteen tracks on this album pretty much cover her recording career. There are riotously funny hillbilly gems, such as the risque "That Ain't In Any Catalog," and the jaunty "Too Young To Tango," which had more of a pop flair to it. These early tracks were, paradoxically, Ruby's best -- later that year her voice deepened and became quite husky. Instead of sounding like a little boy, she suddenly sounded like a fey lumberjack, and her songs lost a little bit of their sparkle and charm. The studio crew seemed not to take these sessions too seriously, with guitarist George Barnes, in particular, taking the opportunity to drift off on jazzy improvs, rather than stick to the hillbilly twang that best suited the young girl's voice. While she was game for some unusual, inventive phrasing, it mostly didn't work, and Ruby seemed to have been cast adrift in the studio system, doing a Brenda Lee act a couple of years before Lee came along... A few duets with teen idol Tommy Sands fell flat as well, and while there's still an undeniable charm to this disc, the standout tracks are the exception, not the rule. Still known only on a regional level, Sunshine Ruby apparently quit show business in 1955, marrying and "settling down," as they called it back then... And that was that. Folks who are delving into the history of women in country music will definitely want to check this out -- a few tracks are a real hoot and when the music clicks, it really clicks. (Available through the Binge Discs label.)

<! SAME RECORD?? >
Sunshine Ruby "Western Swing In Its Prime" (Binge Discs, 2006)

Sweet Violet Boys "Jim's Windy Mule" (BACM, 2012)


Apparently this is actually the Prairie Ramblers, working under another name...
---

Real Hick Music -- The Letter "T"


---