<! MP3 12/01/10, 10/13/13 > <! outside 00/00/00 > <! pix 00/00/00 > <! icons 12/01/10 > <! UPDATES: 12/01/10 - added Tex Williams page - also need Slim Whitman, Sheb Wooley 05/30/13 - added Lois Williams, checked links, added pix - need Cody Widner, Smokey Woods pix >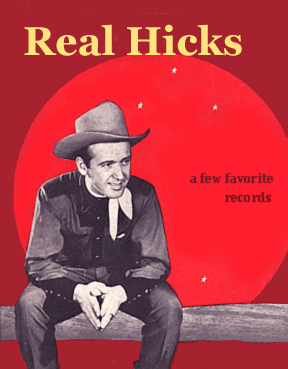 ---
Hi, there! This page is part of an opinionated guide to what I call "hard country" music -- the real stuff -- with a bunch of record reviews and recommendations by me, Joe Sixpack. Naturally, it's a work in progress, and will hopefully be expanded on quite a bit, as time allows.
This is the second page covering the letter "W"
---
A | B | C | D | E | F | G | H | I | J | K | L | M | N | O | P | Q | R | S | T | U | V | W / W-2 | X, Y & Z | Comps | Hick Music Styles
---
Onie Wheeler "Onie's Bop" (Bear Family, 1991)


Although this disc is not as rowdy as the title would imply, it's still pretty tasty... Wheeler was one of those unreconstructable hick artists, who sounded more back-woods country than seems humanly possible, with debts to Lefty Frizzell early in his career, and broad swipes of the Ernest Tubb sound later on... When he started out in the early '50s, he was actually more polished than his mid-'50s material. Wheeler couldn't quite rock out the way some '50s honkytonkers tried to during the rockabilly era, although he did briefly wind up on the Sun label after a short stint on Columbia failed to produce any real hits... Specializing in light novelty songs, Wheeler wasn't a particularly dazzling lyricist, but his vocals are compelling. Junior Brown fans, in particular, might enjoy Wheeler's ET-like growls.... This is yet another Bear Family disc that no one else would put out, or produce with such loving care. Worth checking out!
Onie Wheeler "John's Been Shuckin' My Corn" (LP)

Onie Wheeler "Something New And Something Old" (Brylen, 1982)





<! Track listing--- She`s Layin` Down The Lovin` Lunch Box Hero Wreck Of The Ole Ninety-Seven Lucian`s Song John`s Been Shuckin` My Corn Layin` Around With Susie Living Without You Onie`s Bop I`d Rather Scratch With The Chickens Shuckin` My Way To The Hall Of Fame > <! Whiskeytown a href= "../../countryartists/whiskeytown.html" see alt.country guide > <! dropped this link 04/13 >


The Whites - see artist discography





Keith Whitley - see artist discography





Slim Whitman - see artist discography



Cody Widner "Right Where I Belong" (CW Records, 2003)


Hill-country Texas honkytonker Cody Widner has a smoky, smooth voice, and plenty of great original material, packed with no-nonsense fiddle-and-steel arrangements and a bright-eyed enthusiasm that recalls the glory years of George Strait, a Lone Star legend who flew the coop for the bright lights of Nashville, just as Widner might, if he plays his cards right. For now, though, let's be thankful he's keepin' it country and that the spirit of independent twang is alive and well in Texas. The opening song on this album is a real doozy: "He's Right Where I Belong" is as fine and as catchy a hard country shuffle as you're ever gonna hear; anyone who can record a country song that good deserves our full attention. Other tracks sound a little less confident and convincing, but overall this is a pretty strong album, consistently engaging and charmingly sincere. Widner's guitarist, Benny MacArthur, contributes a couple of tunes, but most of the songs were penned by Widner. This isn't as well-produced as his next album, but it's still pretty nice. If you're into tracking down independently released country artists, this is an album you won't want to miss. (For more info on this album, check out Widner's website: www.codywidnercountry.com )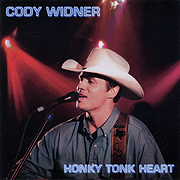 Cody Widner "Honky Tonk Heart" (Dreamkeeper, 2005)


Another fine, fine, independently released "red dirt" honkytonk album. Rhythm guitarist Benny McArthur emerges as a powerful songwriter, a fella who seems to be yet another undiscovered major talent, tucked away in the lil' ol' Lone Star State. The album opens with a song they wrote together, "Drinkin' Doubles (Every Single Night)" that sets the tone for the entire album, a traditional-sounding honkytonk tune with understated fiddle-and-steel arrangements and well-chiseled lyrics. From there on out, it's smooth sailing, one great song after another, with Widner recalling the glory years of George Strait, Merle Haggard and any other hard-country hero you'd care to remember... There are several great songs on here, including "When The Smoke Clears" and the title track, "Honky Tonk Heart," written by Russell Smith... The album closes with the humorous McArthur-penned "What Time Does The Band Start," which is probably the best song about about singing tough gigs in tiny dives since Robb Strandlund's "Just Another Country Song": you can practically taste the beer-soaked cigarette butts at the foot of the bar and hear the whoo-hoooos from here. Whoo-hoo, indeed. Check this guy out while you get a chance; although you can easily imagine him making the bump up to mainstream Top 40 success, Widner's still keepin' it real and keepin' it country, giving us hope for the future of honkytonk music.
The Wilburn Brothers - see artist profile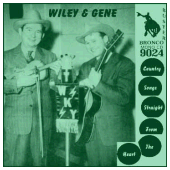 Wiley & Gene "Country Songs Straight From The Heart" (Binge Disc/Bronco Buster)
A pleasant mix of western swing, cowboy harmonies and honkytonk heartsongs from this popular WWII-era songwriting team -- half Tex Ritter, half Bob Wills. Straightforward, sentimental material with occasional bursts of hot pickin' and fiddlin'. These old Columbia 78s rarely see the light of day anymore, so this 20-song collection is well worth tracking down.


<! 10/13/13: still no ASIN >

Wiley & Gene "...On The Air" (2005)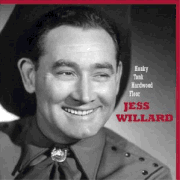 Jess Willard "Honky Tonk Hardwood Floor" (Bear Family, 2000)


Willard is one of those inexplicably attractive figures in hard country history - so craggy and odd that his authenticity is undeniable, so boisterous and upbeat that his songs are irresistible. This is real hillbilly stuff -- Willard was an unruly and unrestrained singer, but a guy whose every bark and yowlp projected immense enthusiasm. These beer-drenched Capitol recordings from the early 'Fifties are certainly material you're not likely to hear anywhere else any time soon... So take my advice: track this one down and check it out.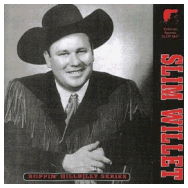 Slim Willet "Boppin' Hillbilly Series" (Collector Records, 2003) <! date? >



Texan honkytonker Slim Willet made his mark with one great song, "Don't Let The Stars Get In Your Eyes," which was often recorded, notably by Skeets McDonald (and replied to by Goldie Hill, in her hit answer song, "I Let The Stars Get In My Eyes...") but Willet himself was hardly what you'd call a star performer. For one thing, he wasn't much of a singer, with a weak, reedy voice and a tenuous grasp of meter, his songs are almost like stream-of-consciousness hillbilly yelps... And yet, they are oddly riveting, and undeniably authentic, an undiluted blast of early '50s Lone Star roughneck twang. I'm not sure if Willet was a roughneck himself, but growing up near Abilene, he certainly understood the oilmen, and specialized (after a couple of early hits) in oil-related novelty numbers, with titles like "Drill Bit Honky Tonk," "Rig Moving Man" and "Off Shore Drilling Rig." Some had risque sexual themes (on "Tool Pusher," Willet opens with the raunchy couplet, "I've got a gal in Snyder/She's just like the town/She's bigger than she was a year ago/She's had her ups and downs..." and briskly moves into drilling metaphors that would make Bull Moose Jackson blush) though most are straightforward work-related songs. There's also some standard-issue honkytonk, and plenty of hot picking: say what you will about the vocals, Willet had good, solid bands behind him. Worth checking out.
Curley Williams & His Georgia Peach Pickers "Just A-Pickin' And A-Singin' " (Bear Family, 2004)


Georgia-born Curley Williams joined the Opry in 1942 when he was still in his late twenties, and after a couple of years as a regular on the show, he pulled up stakes and headed for Hollywood, where he joined the rollicking West Coast honkytonk swing scene. By decade's end, he'd wound up in Louisiana, sharing top billing with the ill-starred honkytonk martyr, Hank Williams, with whom he played quite a bit and wrote a few songs. Williams had a sharp, professional band, and a smooth yet solid sound that was just a shade sweeter than Tommy Duncan and Bob Wills, yet not as goofy and popped-up as Spade Cooley... This is the first of two albums collecting all his sides recorded for the Columbia label between 1945-52, and brothers, sisters... let me tell you: it's pretty darn fine. If you like good-natured western swing and the smoother side of the postwar sound, then this disc is for you. Highly recommended!
Curley Williams & His Georgia Peach Pickers "Half As Much" (Bear Family, 2004)


Although many of the songs on here pale in comparison to his earlier work, this is still a swell set of postwar honkytonk swing from an artist whose legacy deserves the attention of al us true country fans. My initial response to this disc was that many of the performances seemed lackluster and perfunctory, but somehow it wound up spinning in my CD player for several days straight, and after a while I really got into it. Another gem from Bear Family: and more power to 'em!
Curley Williams & His Georgia Peach Pickers "Swing And Boogie Time With..." (Binge Disc, 2002)


This single-disc collection has a lot of overlap with the Bear Family discs above, gathering all of the Peach Pickers' best known songs, with over two dozen tracks total... There are two tracks on here that don't appear on either of the BF sets, "Oh, Monah" and "Puttin' On The Style," as well as alternate versions of several songs, lifted from old live TV performances. If you're looking to slim down your record collection, you might not need both this and the Bear collections, but if you just can't help yourself and gotta dig as deep into the Curley Williams ouvre as possible, then this is a must-have.
Hank Williams - see artist profile
Leona Williams - see artist discography
Lois Williams "A Girl Named Sam" (Starday, 1969) (LP)


(Produced by Louie Innis)
Nice hard-country record by this little-known hillbilly filly... The novelty number of the title track is a bit strained: it's an answer to Johnny Cash's "Boy Named Sue," but the humor is elusive... The rest of the record picks up steam, though, and honkytonk/hillbilly fans will want to check this out. Williams' vocals are pretty rough-cut and sometimes uneven, but she exudes pure country, with a deeply rural voice and lively personality. If you like Melba Montgomery, you'll probably love this, too. Red Sovine sings two duets, and they're okay although really he just kind of gets in the way... Songwise this is notable for a couple of early Whitey Shafer songs, as well as a drinking song written by Williams ("Bottles Of Wine") and some nice novelty numbers, particularly "I'm Looking For A Man, Boy" and "From Miss To Mistake," which close out the album. This album tanked when it came out, but it's certainly ripe for reissue now, especially if they add on her singles-only releases on King and Starday.
Lucinda Williams - see artist discography
Tex Williams - see artist discography
Bobby Williamson "Sh-Boom! (Life Could Be A Dream)" (Bear Family, 2007)


Here's another hillbilly who-dat, rescued from the abyss of time by the good people at Bear Family... Best remembered for his twanged-up cover of the doo-wop classic, "Sh-Boom," "Texas" Bobby Williamson was a regionally successful country cat and veteran of the Dallas-based Big "D" Jamboree radio show who recorded for a few years in the early 1950s, then faded from sight. This disc collects all his recordings for RCA from 1951-54... It's generally marginal material, mainly because Williamson was (to be honest) a marginal singer. There are some charming songs, though, especially original material written by Williamson himself, notably "Just Skip It" and "A Little Bit Of This (A Little Bit Of That)." The funny thing is, while the vocals are a bit iffy, Williamson's band was pretty sharp -- indeed, if they'd been a little more ragged and rough-hewn this disc might be more fun, in that way that the best old hillbilly music can be, but with a slew of Nashville studio cats backing him up, Williamson's vocals sound a bit out of place. This is actually one of the few Bear Family sets that I've purchased but not kept in my collection... Don't let that dissuade you, though: fans of old obscuro-country tunes should still check it out for themselves.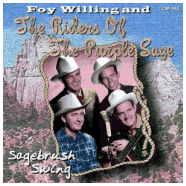 Foy Willing & The Riders Of The Purple Sage "Sagebrush Swing" (Collector's Choice, 2004)


A sweet, swinging set of western-themed oldies from the 1940s edition of the fabled Riders Of The Purple Sage. The harmonies are sublime, the musicianship is first rate, and the songs are all a lot of fun... The liner notes don't say exactly when these radio performances were made, but the late 'Forties seem like a safe bet, perhaps when the band was on the All-Star Western Theatre program... Anyway, it's great stuff, with bandleader Foy Willing at the peak of his powers. This is a generously programmed, 20-song collection, well-paced and with great sound quality. Recommended!





The Willis Brothers - see artist discography





Kelly Willis - see artist discography





Bob Wills - see artist discography


<! Lee Ann Womack?? womack_leeann_01.html >
Smokey Wood "The Houston Hipster" (Rambler, 1991)
A classic country ne'er-do-well and legendary screw-up, western swingster Smokey Wood had the distinction of singing about his pastimes -- having sex and smoking pot -- and making a living at it, too... Well, kind of. Apparently Wood had a hard time holding it together financially, although he was fun to hang out with, even when he was down and out. This eternally out-of-print LP appears to still be the only Smokey Wood album around. What a shame, 'cause this is really great stuff, and deserves a wider audience! If you see this album, don't hesitate to snap it up.
Sheb Wooley - see artist discography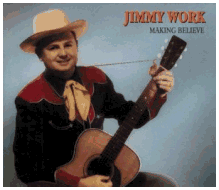 Jimmy Work "Making Believe" (Bear Family, 1993)


Like many Southerners, songwriter Jimmy Work headed up to Detroit looking for work during the Second World War, and was lucky enough to land a gig singing on a local radio station. A prolific compser, Work made his mark both as a hillbilly singer and as a songsmith, eventually racking up a couple of Top Ten hits and penning several songs that became some of the biggest hits of a generation. His biggest success was "Making Believe," which was recorded by Kitty Wells at the height of her fame (and revived by Emmylou Harris in the 1970s); he also wrote "That's What Makes The Jukebox Play" (a hit for himself, and later for Jimmie Skinner) and "Tennessee Border," which was recorded by several top stars in the early '50s. This 2-CD set, which reprises two LPs that came out in the '80s, gathers nearly fifty of his recordings from 1945-59, nearly all of them songs written by Work himself. Compared to the rollicking honkytonk and hillbilly boogie artists of the time, Work's style is smooth and subdued, but it's undeniably real hillbilly music (not countrypolitan) and the softer approach fits his modest vocal talents. If you're on the right wavelength, this is pretty sweet stuff, and a rare chance to hear the entire career of a country craftsman, pretty much from start to finish. Recommended!
Ginny Wright & Tom Tall "Are You Mine" (Bear Family, 2005)


Kooky, clunky, delightfully innocent, for-real hillbilly music from the early 1950s. Two teenagers, Tom Tall and Ginny Wright, were paired up for a duet on the independent Fabor label, where they were both signed... The disc, "Are You Mine," shot to Number Two on the country charts in 1955, but just when they were poised to reap the benefits of their success, Wright decided to pack in in and quit show biz - she got married, had kids and settled down. Tall, who was just a few years younger than her, was left in the lurch -- fresh out of high school and eager for success, his career lurched along for several years afterwards, but he never came as close to hitting the jackpot as he did when he was a kid. This disc includes almost all the singles that Tall and Wright recorded in the 1950s (although, sadly, it omits her earlier duet with Jim Reeves, which was also a big hit...) His solo work and hers are included, side by side, and it's wonderously unpolished music, mainly sub-par novelty material and heartsongs, sung with boundless enthusiasm and an utter lack of finesse. This disc speaks to a day when country singers weren't all blowdried TV models who "fixed" every little bit of their vocals in the studio before their records came out... This disc is full of awkward, chaotic, sometimes embarassing performances... and it's an album I find fairly irresistible. It's the kind of record you just won't find anywhere else... God bless Bear Family!
John Lincoln Wright - see artist discography
---

Real Hick Music -- X, Y & Z


---