<! MP3 03/20/09, 10/21/11 > <! pix 00/00/00 > <! archived 03/20/09 > <! * >

---
Country Review Archive: 1999
Wow... You're pretty hardcore. Well, here you go: even more of my ever-so-opinionated opinions about all that stuff they call "country music" these days. Just remember... you asked for it!
---
Recent Releases (circa 1999)
---
Mandy Barnett "I've Got A Right To Cry" (Sire, 1999)



An absurdly derivative recreation of Patsy Cline's smooth, pioneering proto-countrypolitan sound. Legendary Decca arranger Owen Bradley -- who produced many of Cline's biggest hits -- helps sculpt this album, and studio veterans such as pianist Pig Robbins and guitarist Harold Bradley refabricate the feel of the old Decca sessions. Nonetheless, this dose of old-timer authenticity doesn't compensate for Barnett lack of Cline's slick, bluesy bite and sweet, soulful delivery... When not simply mimicking Patsy's intonations, Barnett slips perilously close to approximating Linda Ronstadt's lesser efforts. Sure, the song selection is cool (not a Cline cover among the lot), but neither Barnett nor her band are speaking with an original voice, and this homage founders in comparison to the real thing. Pleasant, and easy on the ears, but kind of self-defeating.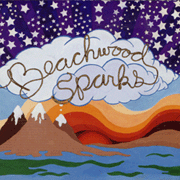 Beachwood Sparks "Beachwood Sparks" (SubPop, 2000)



Great record!! Comparisons are rife between these guys and Gram Parsons... A more apt parallel might be to non-Parsons Byrds, say, around the time of the Notorious Byrd Brothers album. They've got a lot of the same elements: their off-kilter vocal harmonies strike the right balance between folksy and flawed, then there's the same herky-jerky rhythmic approach to the pedal steel (not unlike hippie-billy icon, Sneaky Pete)... Of course the Beachwoods do this with a nod and a wink -- earlier countrybilly pioneers like the Byrds and the New Riders already made the real mistakes, oh, those many years ago -- these guys are merely looking back with affection. The occasional Stereolabby bleep-bloop or Pink Floyd-y shooting-star keyboard riff remind us that a lot of water has gone under the rocknroll bridge since the days when Gram strode the earth, and this album proves itself a perfect extension of the psychedelic country music made way back when. It may seem erratic and sketchy, but actually the band put a lot of cunning and craft into this album, and the payoff is pretty nice. If you're like me, you'll find yourself pleasantly surprised to be humming a tune or two of theirs at unexpected times during the day. Check it out!

Big Sandy & The Fly-Rite Boys "Night Tide" (Hightone, 2000)



Yahoo! Both Sandy and the band are flexing their creative sides, and building on the stylistic inroads of their recent "solo" records... They're broadening their base beyond the peppy rockabilly and western swing of their early work, weaving in softer, more subtle pop/standards sensibility, and a more low-key, unhurried style. Big Sandy in particular is becoming a markedly relaxed, gracious singer, while the band's musical chops are becoming ever more impressive. The guitar and steel work on here is probably the best they've ever done, but it's not flashy or desperate for your attention, just more mature and confident in its ability to please; more Chet Atkins slick than Joaquin Murphy raucous. Nice stuff, and very, very listenable. It's another goodie.
Norman Blake "Far Away, Down On A Georgia Farm" (Shanachie, 1999)



A super-sweet album by one of the great masters of the '70s acoustic music scene. Blake has exactly the right balance of passion and understatement, immediacy and detachment. This is just him and his guitar, and an impressive mix of oldies and tradional-sounding originals, all built around the idea and feel of the quiet rural life. This is acoustic Americana in the truest sense of the word. Highly recommended!

The Derailers "Full Western Dress" (Sire, 1999)



A surprisingly fluffy offering from these kings of the West Coast Country revival... they seem to have made the natural(?) progression from Buck Owens worshippers into a band that might have appeared as Buck's guest on Hee Haw, circa 1974... Which isn't to say that this album is bad, just that it's much poppier and less hard country than their old stuff, and maybe a bit gimmickier in the songwriting department. Lots of numbers about The Working Man, and novelty songs with simple, paradoxical turns of phrase... the are even some light, Beatles-y vocals on songs such as "Whatever Made You Change Your Mind", which sounds as if it could have been an old Mitch Easter song. I suppose this album means they're aiming for the same audience as the Mavericks; this "new" sound will take a little getting used to, but good luck to them, anyway. If anyone deserves a crack at the Top Forty, it's these fellas.

Stacey Earle "Dancin' With Them That Brought Me" (Gearle Records, 2000)



Steve's little sister Stacey currently looms on the horizon as a big star in the acoustic folk scene. She's an endearing performer who's been pegged as having a more than slight vocal resemblance to Nanci Griffith, yet on her latest self-released record we find Earle moving steadily away from the Nanci-soundalike style of her previous album, into broader musical territory. Her voice still registers as chirpy, but with warmer and more confident phrasing. Likewise, her arrangements have expanded to include the sort of compelling pop-folk melodicism that lures listeners towards artists such as Slaid Cleaves and Dar Williams. Most importantly, Earle's a great songwriter, with a knack for a bouncy melody and a memorable chorus (particularly on the album's centerpiece, "Is It Enough?"). Like her well-known older brother, Stacey Earle's lyrics have an elusive, almost mystifying, quality -- along with a faint whiff of an autumn breeze on a back porch swing. Keep an eye on this gal.

Robbie Fulks "The Very Best Of Robbie Fulks" (Bloodshot, 1999)



Retrenching a bit after a brief fling on a major label, Fulks self-released this odds-and-ends collection; a few months later, Bloodshot had the good grace to pick it up. Several strong, catchy honkytonkers, and lots of lighthearted goofy material as well. The album's highlight, without doubt, is "Parallel Bars," a super-fab duet with Kelly Willis that's worth the price of entry all by itself. His ode to Suzanna Hoffs ("That Bangle Girl") is also quite charming, and shows that Robbie is not a boxed-in-by-genre kinda guy. If you're a Fulks fan, this is well worth checking out!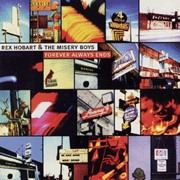 Rex Hobart & The Misery Boys "Forever Always Ends" (Bloodshot, 1999)



I have been known to get excited from time to time by a new country album, but it's always a happy day when I get this excited. Now, I'll admit that this Hobart fellow might not be for everyone, but he sure did get my attention... The simple, bright production and Hobart's adenoidal voice bring to mind numerous freewheeling, laissez faire hippie-billy bands from the '70s, particularly folks who were well off the radar, such as Greezy Wheels, Robb Strandlund, or Deadly Earnest. However, Hobart's output is far more consistent than any of those one-hit wonders -- if the truth be told, there isn't a bad song on this album. Thematically it's a little repetitive (one big, tounge-in-cheek, overstated "I can't win, and boy do I know it..." country self-parody, sort of like Dwight Yoakam's last album...), but don't let that stop you... the music is solid and so are his normal-guy, nebbish vocals, and the lyrics are uniformly hilarious and witty. If you're among the ranks of those disappointed by Robbie Fulks' last album, give this guy a try -- he's not as bluesy, but he's just as brash.

George Jones "Cold Hard Truth" (Asylum, 1999)



George Jones is, without doubt, one of the great all-American fuck-ups... as well as one of our all-time greatest singers. A relentless, legendary drunk and a once-flaky performer with the nickname of "No-Show Jones," his career has been a blurry series of burning bridges and frustrated record labels. Yet, Jones is also a unlikely survivor born under a remarkably lucky star. Over the last decade, his cleaner, more sober lifestyle has led to a string of excellent albums, but has also made him the country music poster child for substance abuse/recovery & reflection. Rueful ballads about alcoholics and hard-bitten losers have become his trademark, which is fine, since when a guy like George Jones sings one of those songs, you're forced to pay attention. Still, when he smashed his SUV into a highway railing earlier this year -- demolishing several yards of concrete, puncturing a lung, and slipping into a two-week coma -- it looked as if George had finally run out of luck. Although he's in better health now, this album is cloaked with an aura of reverence and remembrance that's a little worrisome. The booklet contains dozens of scrapbook photos from throughout his life, and the liner notes use hushed tones which border on an epitaph. The ten new tracks, which were all that Jones was able to record for his new label before his accident, are all excellent -- better, even, than the material on his recent top-notch albums for MCA. Whereas in the '60s and '70s he was famous for brilliantly sleepwalking his way through his albums, here it's clear that George Jones is putting his all into the music, and this is another fine album full of heartbreak and misery which will not disappoint the hard country fan.

Jimmy Nations Combo "Tarheel Boogie" (Rubric, 2000)



Pleasant contemporary country boogie from New York City. Fellow travellers of Wayne Hancock or Dave and Deke will recognize the terrain, though in this case the journey is more on a garden path than a backwoods gravel road. Strikes me as amiable, but overly restrained -- these guys sound so concerned about not goofing up that they never quite cut loose and have fun. The repertoire is fine, and the picking is good, but the tone of performances could be a little looser and more forceful.
Dolly Parton "The Grass Is Blue" (Sugar Hill, 1999)



Gosh, I think the last the time Dolly recorded for an independent record company must have been back when she was twelve, cutting those iffy old demos for the Goldband label. So what's the special occasion? Nothing less than Dolly's full embrace of her country roots, with an all-bluegrass album that features hotshot pickers and plunkers such as Jerry Douglas and Sam Bush, and a nice set of songs coming from folks as diverse as Lester Flatt, the Louvin Brothers, Johnny Cash and Billy Joel. The best part is hearing Dolly's voice, plain as day, unfettered by the dense countrypolitan production of the last few decades. Trust me, the gal has still got it. Occasionally she dips into modern chord progressions that don't exactly hold true to the old-timey spirit of the album (especially on her version of the traditional murder ballad, "Silver Dagger," which is way more complex than it ought to be...) But for the most part, this album holds up. It's nice to see that -- if she wants to -- Dolly can still let that country girl inside her come out and play on the back porch.
John Prine/Various Artists "In Spite Of Ourselves" (Oh Boy, 1999)



The craggy-voice Prine has been known to sing a duet or two in his time -- but who would have imagined that a whole album's worth would be SO WONDERFUL? Joined by the likes of Emmylou Harris, Lucinda Williams, Patty Loveless and Connie Smith, Prine has just put out what may be my favorite country album of the year... The song selection is flawless, ranging from straight-ahead weepers like Don Everley's "So Sad" or Felice Bryant's "We Could," to goofy oldies like "The Jet Set" and "Milwaukee Here I Come". The arrangements -- particularly the pedal steel by Dan Dugmore -- are picture perfect; understated and expressive but wholly in service of the lyrics. Prine proves a point he's made many times over the years, that sometimes the secret to good singing is just keeping thing simple. In his unpretentious manner, Prine's ability to connect with the nine women co-starring on here is phenomenal. The three numbers with Iris DeMent are standouts: I had kind of let DeMent drift off my radar the last few years, but it was a real treat hearing the simplicity and sincerity of her vocals again -- and her delivery on the goofy, nudge-nudge wink-wink of the title track (the only Prine original on the album...) is absolutely adorable. Another eyebrow-raiser is the inclusion of two tracks with Melba Montgomery, an awesome old-timer who I've been wondering "whatever happened to her?" about for a while... The only sour notes on here are with Celtic diva, Dolores Keane, who has become inexplicably stuffy in the last few years... But really, I have no complaints -- in fact, I can't get this disc out of my stereo! And why would I want to?
Suzzy Roche "Songs From An Unmarried Housewife And Mother, Greenwich Village, USA" (Red House, 2000)



A new album by Suzzy Roche is usually a cause for celebration, and this one's no exception. Back in the late '70s, the Roches (Maggie and Terry, and Suzzy) almost singlehandedly saved adult folk music from the dreary pop-crossover hegemony of James Taylor, Harry Chapin and their demon familiars. Belly-flopping into the deep end along with the pioneers of new wave and punk rock, the Roches injected playfulness and big city sass into the acoustic music scene, offering some of the most original and outright oddball songs the genre has ever heard. Decades later, Suzzy keeps the faith on a bluegrass-tinged album that explores middle-aged spirituality and childlike frivolity with equal abandon. The album's most obvious highlight is the hilarious "G Chord Song," which sums up the anguish so many beginning artists feel: "Everybody writes a war song/Everybody writes a G chord song/Everybody wants to record some day.../What can you say?" The trick, of course, is to make that same old song yours, and to have a good time singing it. No problem for Suz!
Josh Rouse "Home" (Rykodisc, 2000)



Not that I have anything against this sort of drifty-dreamy, lightly orchestral folk-pop mellowness, but honestly, this album doesn't do much for me. You'd be better off listening to some old Freedy Johnston, or looking around for one of those out-of-print Vulgar Boatmen LPs... Freedy's a far better lyricist, and the Boatmen were a lot dreamier and more direct. Still, this is not without its charms, and I can see why Rouse is currently an "Americana" darling... If nothing else, it's easy on the ears, though equally unchallenging to the brain.
Savoy-Doucet Band "Sam's Big Rooster" (Arhoolie, 2000)



Showing again why they are the world's premiere cajun band, Savoy-Doucet toss out another perfect little fiddle-accordion-guitar album, full of instrumentals and compelling French patois songs. These guys tend to take the edge off the swamp sound which, if you ask me, is one of the things that makes them so great. As ever, Michael Doucet's fiddle playing is melodic and sweet -- fans of the style will not be disappointed!

Various Artists "RETURN OF THE GRIEVOUS ANGEL" (Almo, 1999)



(Produced by Emmylou Harris)
This new Gram Parsons tribute compilation has the distinction of having been produced by Emmylou Harris herself, making it the closest thing to an "official" tribute we're ever likely to see. For the most part, it's pretty solid: highlights include Lucinda Williams' cover of "Return Of The Grievous Angel," and Emmylou and Sheryl Crow are about as perfect a vocal matchup as you could desire. Evan Dando and Juliana Hatfield may surprise a lot of folks with their resonant version of "$1,000 Wedding", while postmod-pop icon Beck plays it surprisingly straight on a pedal steel-drenched rendition of "Sin City". There are, of course, disappointments, such as a lackluster Pretenders track, and a predictably insufferable performance by Wilco. Cowboy Junkies squander the inherent hillbilly bounciness of the original "Ooh Las Vegas" in favor of generic indierock/mopecore moodiness -- they score points for originality, though the results are melodically denuded, and lamentable. Several other tracks produce similarly indifferent results. Elvis Costello, on the other hand, is in his own special league, elevating Parsons' "Sleepless Nights" into the pop ballad stratosphere, one of several bright gems which make this collection worth your full attention.
---
Reissues!
---

Various Artists "EXPOSED ROOTS: THE BEST ALT.COUNTRY" (K-Tel, 1999)


Hey, laugh all you want, but lowly old K-Tel, the king of the "as seen on TV" labels really kicks some booty on these collections. Assembled with the help of the folks at No Depression magazine, the 2-CD "alt.country" set gathers some of the best material by some of the best '90s twangster outsiders. Heck, if it starts out with Lucinda Williams ("Passionate Kisses"), you know this record is going to be on the right track. Also included are Gillian Welch, The Gourds, Freakwater and Steve Earle, as well as some great selections by bands I was never that wowed by, such as Blue Mountain and Golden Smog, and nods to oldtimers like Johnny Cash and Gram Parsons. A couple of artists on here I will never be reconciled to, such as BR5-49 (who I think are utter hacks) and Alejandro Escovedo (whose appeal I just don't get), but when all is said and done, this is an impressive document of the times. The single CD companion COUNTRY LEGENDS collection, with a smattering of stuff by country greats including George Jones, Lefty Frizzell and Willie Nelson, isn't as compelling, but it's certainly no disservice to the style. One interesting entry is the inclusion of a track by Emmett Miller, a blackface minstrel performer from the Depression era who did smutty blues numbers similar to those done by Jimmie Davis and Jimmie Rodgers, early in their careers. Miller's work isn't exactly aimed at a P.C. audience, but its inclusion here shows a nice sense of country history... blemishes and all. Say what you will, but I say K-Tel is on a roll.
---





Various Artists "SWING WEST! v.1: BAKERSFIELD" (Razor & Tie, 1999)
Various Artists "SWING WEST! v.2: GUITAR SLINGERS" (Razor & Tie, 1999)
Various Artists "SWING WEST! v.3: WESTERN SWING" (Razor & Tie, 1999)
This series is bound to surprise a lot of folks... These CDs look as generic as can be, but each disc contains a trove of lesser-known tracks by big-name stars and forgotten artists alike. Curated by Bear Family head Rich Kienzle, the SWING WEST series delicately picks its way through the Capitol Records back catalog, and by and large skips over the big hits you'd expect to hear, opting instead for lesser-known and unusual tracks. In some cases, this means recordings taken from sketchy albums made by artists well past their glory years -- Jimmy Bryant recording on the Imperial label in 1967, for example, or Leon McAuliffe in 1964. Yet, these are good later tracks... the sort of songs you'd have to dig pretty deep to find on vinyl, though afterwards you might wonder afterwards if it was worth keeping the whole album for just that one song ("...gee, if only someone would put out an album of this stuff...!") On the other end of the spectrum are the cool rarities, such as Merle Haggard's first recordings on an indie label, or enduring classics like Tex Williams' "Smoke That Cigarette." Kienzle, of course, knows what he's doing. He's one of the greatest reissue producers on the planet, and few people could do a better job poking around the Capitol vaults -- as a result, these discs are hella fun! So, if you want to encourage the major labels to put out more good old stuff, here's an excellent chance to put your money where your mouth is. Yes, yes, yes!

---



Country Artists
Hick Music Index
---