<! * > <! MP3 10/20/11 > <! pix 10/20/11 > <! archived 10/20/11 >

---
Howdy, neighbors!
Here are some reviews of the new country, bluegrass and Americana records that I had the good fortune to listen to in February, 2005. This month: Big 'N' Rich, Shawn Camp, Deana Carter, John Conlee, Phil Leadbetter, Heather Myles, Special Consensus, Travis Tritt, Wayne Warner, Chely Wright... and more!
...It's not everything I heard, but it's a nice sample of stuff that either tickled my fancy or ticked me off... Many records that aren't included here are reviewed elsewhere in my full Guide To Hick Music. Enjoy!
---
New Stuff: February, 2005
---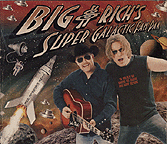 Big 'N' Rich "Big 'N' Rich's Big Galactic Fan Pak" (Warner Brothers, 2004)



Oh. My. Gawd. This is soooooooooo lame! I imagine the inward shuddering of countless commercial country DJs and station managers who secretly loathe these guys but are too scared to say so, lest they buck the trend... I mean, sure, I can halfway understand how younger Top 40 country fans who are bored by actually listening to country music could've thought that BNR's cow-rap novelty hit, "Save A Horse, Ride A Cowboy" was a real hoot... But how could anyone seriously be expected to enjoy a slipshod, self-indulgent, masturbatory toss-off like this? The audio disc features a monotonous, shoddily-produced "dance mix" of "Save A Horse," in which the duo's thin vocals are laid bare, followed by a couple of unplugged versions of other, equally unworthy tunes, and some truly tedious stream-of-consciousness ramblings by a jet-lagged, fame-besotted Big & Rich. It's an homage, I suppose, to the rambling, drugged-out Christmas singles that the Beatles used to put out in the late 1960s, with the key difference being that the Beatles actually were witty and clever (and they were the Beatles!) while Big & Rich are just two loudmouthed mooks who just can't gobble up their fifteen minutes of fame fast enough. This is what passes for celebrity in Nashville these days?? Sigh. It's almost enough to make you nostalgic for Doodles Weaver. Oh, yeah, I almost forgot... then there's the second disc, which has some sort-of videos on it (they lip-synch to a few tunes, but talk over the music to explain why and when they wrote them, etc.), and a bunch of scrapbook photos, too... I guess that's the real reason anyone would buy this, but it also didn't win me over... Anyway, I'm sure the folks who thought "Save A Horse" was a total laugh riot will feel they got their money's worth with this memento... For the rest of us, though, by all means steer clear of this dog. Don't say I didn't warn you.
Shawn Camp "Live At The Station Inn" (Oh Boy, 2003)



I was late tracking this one down, but it sure is worth the wait... A mighty fine live set drawn from two shows at a popular Music City watering hole... Nashville songwriter Shawn Camp is well known and highly respected for the many songs he's freckled across the face of the contemporary "top country" charts, but he also has connections in and a deep appreciation for the bluegrass scene, as evidenced on this disc. Fiddler Stuart Duncan, banjo plunker Dave Talbot and mandolin picker Mike Compton provide some of the flash, but Camp lights the fire, singing 'grassed-up versions of a dozen of his best songs. The transition from popped-up "country" to down-home truegrass simply makes the songs sound more natural and compelling... and what great songs they are! This includes three tunes cowritten with Guy Clark, a couple with Jim Lauderdale, and one written with Paul Craft... With pen-pals like that, how can the guy go wrong? This is a nice album -- informal, yet authoritative, smooth but still really rootsy, and packed with some of the most finely crafted songs out there. Recommended!
Deana Carter "The Story Of My Life" (Vanguard, 2005)



(Produced by Deana Carter)
I like Deana Carter, and I was happy for her last year when her I'm Just A Girl album got her back into the top country charts... Still, Carter's relationship with Nashville is always a little tenuous, since she likes to tilt towards a bright pop-rock sound that Music City tastemakers don't seem to appreciate, and this time around she's indulged that pop sweet-tooth to its fullest. Even I have to confess I was left a bit adrift by the brash twanglessness of this album's opener, "The Girl You Left Me For," which sounds just like the perky, sugary pop of teen singers such as Britney Spears, Hillary Duff and Lindsey Lohan. Carter wrote and produced this entire album, and its overt pop leanings couldn't be more purposeful... Still, one can't help but wonder if she hasn't simply squandered her newfound capital as a credible Nashville chart artist in a questionable pursuit of a less-charitable Pop god. In the past, I thought her balancing of pop and country was somewhat admirable and at times effective -- she seems to have a fresher take on rock music than many of the by-the-numbers Music Row songsmiths who tend to make everything sound like a bad soul ballad -- but she might have gone a little overboard on this one. Still, if you like the sound of contemporary Pop music, but wish it had deeper, more mature lyrics, this album might be an eye opener...
John Conlee "Turn Your Eyes Upon Jesus" (RCR, 2004)


(Produced by Bud Logan)
This is one kick-ass country gospel album! No foolin'... '80s legend John Conlee is still a powerhouse performer, with a rich, robust voice that's every bit as strong today as it was twenty years ago when he was at his peak at a Top Ten hitmaker. Conlee is still in top form -- if anything, he's singing better now than most of today's current crop of "top country" stars. The music is also quite strong: where many contemporary gospel albums tilt towards cheesy, synthy, low-budget arrangements with tinkly keyboards, etc., Conlee keeps it country with a no-nonsense cosmopolitan twang that's the perfect frame for his deep, booming voice. In addition to numerous religious standards, it includes a new tune, "They Also Serve," Conlee's contribution to the current crop of patriotic country songs, which sings the praise of military families in a time of war. This album seems very heartfelt and purposeful... one of the best country gospel releases you're likely to hear for some time to come!

Phil Leadbetter "Slide Effects" (Pinecastle, 2005)



With a killer opening track -- a sizzling version of the old Dallas Frazier tune, "California Cottonfields," with Shenandoah's Marty Raybon singing the lead vocals -- dobro player Phil Leadbetter lets the world know that he's still a potent force on the progressive bluegrass scene... This album is kind of an invitational guest-fest extravaganza, with Raybon and Ronnie Bowman singing on a couple of tunes, fiddler Stuart Duncan, mandolin picker Andy Leftwich and Scott Vestal on banjo, as well as a slew of newer, less-famous pickers as well... There are some fine vocal numbers, and even more swell instrumental tracks that highlight Leadbetter's bluesy, rootsy slide playing. This is a top-flight album, with a refreshing variety and a strong, heartfelt sense of purpose... Nice stuff for bluegrass fans looking for a more personal touch in their records. Recommended!

Heather Myles "Rum 'N' Rodeo" (HighTone, 2005)



Of the recent spate of best-of collections coming out on the HighTone label, few could be more welcome than this set looking back at the early work of West Coast honkytonker Heather Myles. A California native heavily under the spell of Buck and Merle, Myles hit the SoCal country scene in the wake of Dwight Yoakam's back-to-basics breakthroughs, and recorded two fine albums for Hightone, 1992's Just Like Old Times and Untamed, in 1995. This disc features a baker's dozen of her best songs, along with a previously unreleased version of "Read You All Wrong," with plenty of good, old-fashioned hard-country shuffles and heartsongs that stand right up there with the best of the old stuff. There's also a bit of her more jangly '60s rock-tinged material, and a brief dip into roadhouse blues, but it's the hard country stuff that makes this disc worth the price of admission. Both of her original albums are also worth tracking down, but this best-of set sure does a good job boiling 'em down into one swell little package, sure to please the old-school country lover in us all.

Special Consensus "Everything's Alright" (Pinecastle, 2005)



Another top-flight set of melodic, propulsive, 100% heartfelt heartsong-y truegrass. This Chicago-based bluegrass band, anchored by its longtime leader, banjoist Greg Cahill, has been pickin' its heart out since the late 1970s, but only recently have they really started to get their props in the bluegrass world. The picking on this disc is particularly hot... Cahill's banjo and the zippy mandolin work by Ron Spears particularly stand out, although Justin Carbone's Tony Rice-tinged flatpicking is also nice, and the bass playing by Tres Nugent helps anchor a pretty solid sound. Their harmony numbers are vocal standouts, and while there are a few tracks where the solo vocals sound a little ragged, they also have an earnest, real-people charm to 'em... Frankly, I'd rather hear someone sing it "wrong" and have it feel right than hear someone playing all perfect, but sound all stuff and overly-professional. I think you scrappy truegrass fans out there will agree: this is a fine, fun album, well worth checking out!

Travis Tritt "My Honky Tonk History" (Columbia, 2004)



(Produced by Billy Joe Walker, Jr. & Travis Tritt)
He used to be kinda cool, but these days Tritt is mostly kinda pompous and overblown... The music is overcooked and pretentious, and that seems to suit Travis just fine; he's pretty full of himself anyway. There are a couple of okay songs -- his cover of Philip Claypool's "Circus Leaving Town" is pretty good right up until the end, when the production starts to get a little bit lush. "I See Me" is okay, too, though it ain't great. He also tries, a little late in the game, to get in on the 9/11 patriotic song bandwagon, with "What Say You," an almost-catchy duet with John Mellencamp. It's a weird song, though, where Tritt tries to have it both ways -- it's a macho patriotic song that preaches tolerance and brotherhood on one hand, and then gets in your face and decries welfare bums and cowards and demands to know where you stand. Are you tough enough to love your country?? Overall, I'd say that with all the strained musicianship and endless chest-puffing, this isn't Tritt's greatest record, although it did get him back on the charts for a while, and considering how old-news he is these days, that's no small accomplishment. Diehard fans probably liked it, but it's really pretty mediocre. I'll pass.

Wayne Warner "Doing Something Right" (B-Venturous, 2004)



(Produced by Troy Lancaster & Wayne Warner)
Even though he's a major fashion victim -- with a mascara-heavy sorta-boy-band look, matched with fake-ratty designer ripped jeans -- New Englander Wayne Warner has a refreshingly down-to-earth spin on the current commercial country sound. He's on the slick side, but doesn't delve into torturously overwritten psychological epics, ala Kenny Chesney or Tim McGraw, but prefers to keep it simple and melodic, with uptempo country-rock tunes, songs about broken hearts and an optimistic search for love. In many ways he reminds me of old Eddie Rabbitt and Eddy Raven (indeed, before I looked him up online, I thought from the sound of his voice and his phrasing that Warner was from Louisiana...) This is probably too slick for the indiebilly crowd and too plain for the new Nashville scene, but for country fans looking for something nice in between the two, this disc might fit the bill. Worth checking out if you're a commercial country fan with an adventurous streak.
(POSTSCRIPT: Good Sport Of The Year Award: Not only that, but the guy also knows how to take a joke! Wayne Warner got wind of my review above, where I crack on his looks, and wrote to say this: "Hey Bud, I confess that I rarely read reviews done on "me" but yours was passed along to me. and I am glad it was. I love your style of writing and I thank you for the kind words. Additionally, We can consider my make up artist fired BUT - the very jeans for which you speak, have kept my Vermont butt warm since I was a teenager LOL. Your web-site is kool as well - you fill a great void - keep up the good work..." Now THAT'S a class act... (And don't I feel like a jerk now? Thanks for taking it on the chin Wayne, and best of luck! :-)
Chely Wright "Metropolitan Hotel" (Dualtone, 2005)



(Produced by Jeff Huskins, Stephony Smith & Chely Wright)
With somewhat of a hit-or-miss relationship with the Nashville charts, Chely Wright has the luxury of going in just about any musical direction she wants to... She kicks this disc off with Katrina Elam's "It's The Song," a relatively rootsy ode to the road in which she pledges allegiance to the spirit of Patsy Cline and Dolly Parton, with pedal steel and banjo galore. But right after that, Wright forsakes her twangitude in favor of more conventional, piano-heavy pop-country ballads. The album's first single, the self-penned "Bumper Of My SUV," is an Iraq War-related patriotic number which is remarkable in several ways... First off, there's the super-minimal arrangements, with Wright halfway reciting the lyrics over a simple, sparse backdrop of piano and mandolin... Other than the timeliness, it's almost amazing that it was released as a single! The lyrical content is also striking, but in a more subtle way: even though she's sticking up for the Marine Corps, Wright also leaves some room in there for us to still question authority ("And yes, I do have questions/I get to ask them because I'm free..." she sings, leaving a little more political wiggle room than on your average chest-thumping, flag-waver anthem.) In general, I like the songwriting on this album, but the production doesn't always seem like a perfect match. "I Got Him Ready For You," for example, is an outstanding subject for a chick-centric power ballad -- a woman laments all the work she put in to transform her ex-lover into an emotionally mature adult -- but structurally the song itself seems to drag on a bit; a more concise, pointed rendition of this song would have made it absolutely devastating. Probably the best song on here is "What If I Can't Say No Again," in which late-night phone calls and a knock on the door make a woman question her ability to rebuff her ex, who has since hooked up with someone else... If I was still programming a commercial country station, that'd be the song I'd pick as a dark horse favorite. Once again, Wright doesn't totally live up to her potential, but she says what she wants to and has a distinctive presence. It's worth checking out if your a commercial country listener.

Various Artists "CLAWHAMMER BANJO, v.1" (County, 2004)



Various Artists "CLAWHAMMER BANJO, v.2" (County, 2004)



Various Artists "CLAWHAMMER BANJO, v.3" (County, 2004)



Yahoo!! These are some of the most welcomed reissue records in all of bluegrass-land, extended versions of the original three-volume series of vinyl LPs from the 1960s and '70s, that feature some of the sweetest, simplest examples of the downpicking, or clawhammer, style of banjo playing... These tracks were all gathered by folklorist Charlie Faurot, who recorded informal sessions by Tommy Jarrell, George Stoneman, Wade Ward, and many other, less well-known clawhammer pickers. Most of the tracks, but not all, are instrumentals, and while you might think that three albums worth of the same style of music on the same instrument might wear thin after a while, I actually found these to be some of the most enjoyable records I've listened to recently. You can just kick back and let the music flow, washing you in waves of a bygone time... As the liner notes point out, since these records were originally issued, all of the artists featured on them have passed away, and with them went the direct connection to the older, backwoods world they came from. Sure, there are folks today who can play in the same style and who know all the old songs, but somehow there's nothing that quite matches the feel of music made by people who really grew up in rural communities without electricity or many of the other amenities of modern life, folks who have felt the sweet side of hard times, players from another time and another world altogether. Anyway, these discs all sound special to me, and I think you'll like 'em, too... And for present-day students of clawhammer banjo, you couldn't ask for a better guide to the style... Highly recommended!
---



Hick Music Index
Shop Amazon, Support Slipcue



---


<! February, 2005>