<! MP3 10/20/11 > <! pix 10/20/11 > <! archived 10/20/11 > <! * >

---
Howdy, neighbors!
Here are some reviews of the new country, bluegrass and Americana records that I had the good fortune to listen to in March, 2005. This month: The Chapmans, Clifton Chenier, Kenny Chesney, Crooked Jades, Jonathan Edwards, Sarah Lee Guthrie & Johnny Irion, Louise Hoffsten, Ryan Holladay, Christy Lane, Blaine Larsen, Terry Melcher, Morrison-Edwards, Jamie O'Neal, Rank & File, The South Austin Jug Band, Suzy Thompson, Aaron Watson, Dulcie Younger... and more!
...It's not everything I heard, but it's a nice sample of stuff that either tickled my fancy or ticked me off... Many records that aren't included here are reviewed elsewhere in my full Guide To Hick Music. Enjoy!
---
New Stuff: March, 2005
---

The Chapmans "Simple Man" (Pinecastle, 2005)



A beautiful bluegrass album that grows on me a little bit more every time I listen to it. The picking is solid throughout, but it's really singer John Chapman who makes this album live and breathe: his sweet, plaintive style reminds me of the young Ricky Skaggs, both in vocal tenor and in the heartfelt way he approaches each song.

Clifton Chenier "Louisiana Blues And Zydeco" (Arhoolie, 2005)


A bonus-filled reissue of zydeco legend Clifton Chenier's first album for the California-based Arhoolie Records label, which helped bring Louisiana swamp music into the blues and folk mainstream. Chenier became the undisputed king of the genre, churning out supercharged, accordion-led dance grooves; these bluesy early 'Sixties recordings aren't quite as sweaty and funky as his later hits in the 1970s, but fans will still be thrilled to have 'em back in print, especially with added material from the ever-mysterious Arhoolie vaults. Ayyyyy-eeeeeeeeee!!!!
Kenny Chesney "Be As You Are" (BNA, 2005)



Chesney's been in the forefront of contemporary country singers who like to take dips into tropical waters... He's made a big deal out of how he owns a place in the Virgin Islands, and he has had a tune or two laced with steel drums and rum. Here, though, he goes whole-hog and gets all Jimmy Buffet on us, singing an entire album's worth of tunes about having fun in the sun... Nice work if you can get it, I guess, but he sure seems to be miles and miles away from the red dirt roots of Country's original fan base. Personally, it kinda ticks me off to hear some rich guy singing about how swell it is to play around on some beach-bound island resort all year long -- I'll be lucky if I ever go there once -- but maybe country music has just become way, way, wa-a-a-a-ayy less working class than I'd ever believe, and maybe I'm the only one who really cares. At least Kenny's having fun... So have a fruity drink with an umbrella on it for me, pal... you've earned it!
The Crooked Jades "The Crooked Jades" (EP) (Self-Released, 2005)
With a new lineup and increasing ease behind the mics, San Francisco's Crooked Jades have produced possibly their best record to date. This five-song EP features two originals and three traditional tunes, each of which are delivered with a solid, confident elegance... While their earlier old-timey albums have had a choppiness and self-conscious air at times, this is a smooth, self-assured set, with nary a forced note to be heard... Can't wait to hear the band's next full-length album!
Jonathan Edwards "Have A Good Time For Me" (Atco, 1973/Collector's Choice, 2005)



Back in 1971, Jonathan Edwards broke through with the breezy Top-40 hit, "Sunshine," and helped define the early-'70s singer-songwriter roots revival. His early work combined country and country-rock with wimpy (but pleasant) folkie love songs; gradually, Edwards drifted more solidly towards the coffeehouse folk circuit and left the harder stuff behind. This one of his best records -- a stonerbilly gem with a solid country feel, and very rich, satisfying arrangements, with fiddles, twang and pedal steel galore. It's a longtime favorite of mine -- an album that I am very, very happy to see in print on CD. The title track is as savagely bitter and sarcastic a song about a dead love affair as ever was made... from there it drifts into some sappy, spacy, hippie-folkie tunes (which I actually like, but can't really recommend) until Edwards hits the country vibe again with a great cover version of Jimmie Rodgers' "Travellin' Blues." The album's true gem, though, is a Joe Dolce song called "My Home Ain't In The Hall Of Fame," which was a perfect statement of purpose for a guy whose debut album had put him in the Billboard chart's Top Five, but whose subsequent releases were about as anti-commerical as you could get... It went on to become an alt-country anthem, both through Edwards's excellent version, and a fine cover by bluegrasser J. D. Crowe... That song alone is worth the price of admission for this fine old hippie album. Recommended!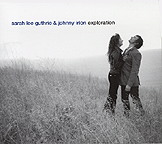 Sarah Lee Guthrie & Johnny Irion "Exploration" (New West, 2005)



This earnest folkie duo cranks up the volume on a surprisingly sizzling, electrified album, with some for-real, heavy, funky rock grooves capturing center stage on most tracks. This disc is an amazing leap from their previous work, which I had classed in the I'm-rootin'-for-ya, even-though-this-is-kinda-choppy department... The lulls and gaps they showed before are almost entirely absent here, and most of these songs will really pull you in. They do go overboard on the loud lead guitar riffs and banging drums, but for the most part, this is a very solid record. If you like Buddy & Julie Miller, Gillian Welch, or the revamped Flatlanders, you might want to check this out! (And, yes, she is Arlo's daughter... If I was her daddy, I'd be pretty proud...)

Louise Hoffsten "Knackebrod Blues" (Memphis International, 2002)


For decades, the blues have become so tame and tradition-bound that hearing a new artist come along and make the style sound rough and dirty again is almost like a divine revelation: Oh, so you mean modern blues don't have to be so goddamn boring?? Wow!! So let's welcome Louise Hoffsten, a slight, plain-featured blonde whose tiny voice expands to fill in the spaces left by her a remarkably muscular electric combo. Knackebrod Blues may be the most dynamic, energizing blues album of the last ten years. More remarkable still is that Hoffsten is actually from Sweden, and that her previous albums were more in a quiet, offkilter indierock-ish mode... Here she brings a sexy, slightly trashy, jagged-edged Joan Jett-like feel to these songs that is at once electrifying and alluring. Highly recommended. (And, yeah, the release date was in 2002, but I don't think this got US distribution until '04... So, close enough, right?)

Ryan Holladay "New Kid In Town" (Magic Valley/Skaggs Family Records, 2005)



This is the third solo album by pre-teen bluegrass prodigy Ryan Holladay, who first played on the Grand Ole Opry seven years ago at the tender age of five years old. He's got a lot of powerful patrons, pals and fans in Nashville, including Carl Jackson and (of course) Skaggs Family label head, Ricky Skaggs. It's easy to see why: this kid has talent to burn, as proven by his smoking yet sensitive leads and riffs on a variety of instruments. He's particularly adept on the banjo and mandolin, and some of his runs oughtta make your jaw drop. He gets sympathetic accompaniment from members of the Holladay family, along with fiddler Jason Carter, though this record is clearly young Ryan's show. Now I know this is one of those "golly-gee! he's just a kid!" albums, but I still have to point out that his vocals don't match the high calibre of the rest of the album: Holladay should wait a while until he's more seasoned to make his mark as a singer. But man, as a picker, this guy is a force to be reckoned with!
Cristy Lane "Greatest Country Hits" (Collector's Choice, 2005)


Singer Cristy Lane came pretty late to the countrypolitan party, having worked on the periphery of the country mainstream for the better part of a decade before she cracked into the lower rungs of the charts in 1977... Fans will be thrilled by this generously-programmed collection with her main chart hits from the late-'70s and early-'80s... It starts off with her first entry, "Tryin' To Forget About You," a song with a simple, Loretta Lynn-like sound that showed the promise Lane held out to fans of plain old, rootsy country-pop. Like so many country singers before her (and after), however, she got bit by the Pop bug, and poured on the strings and prefab arrangements... Eventually, buoyed by the success of inspirational hits such as "One Day At A Time" (her lone #1 hit) and "Footprints In The Sand" (her last chart big entry, back in '83), Lane went born-again and recorded religious albums for numerous small labels. She dropped off Nashville's radar, with her country hits falling out of print for over a decade before this best-of came along. That's just one reason listeners should be happy to see this set come out: Lane's demure, down-to-earth sincerity is another -- even when the songs were kind of iffy, she still had a pretty appealing vocal presence. Worth checking out, particularly if you're curious about what happened with the latter-day countrypolitan sound.

Blaine Larsen "Off To Join The World" (BNA, 2005)



The first time I heard Blaine Larsen sing, I thought, Dang! This kid's got the goods! That was about a year ago, when his name came up as a customer recommendation on Amazon... I was still working as the Country MD at Spinner.com so I got ahold of Larsen's independently-released debut album and was pretty blown away... I mean, there is a whole substrata of country music that practically nobody ever hears, of commercially-inclined, indie-label folks who are nowhere near the Nashville power structure, but who are also not aligned with the twangier-than-thou, alt-country scene... These are people who want to make it big, but probably never will, and usually their demo tape-y releases fall pretty short of the mark. Blaine Larsen was the first of these would-be chart stars who simply blew me away, and the only one who I knew from the instant I heard him sing that he was gonna be a star. To begin with, he's got an amazing voice, more rich, confident and resonant than any eighteen year old has got a right to sound. Then, there's his material, and his allegiance to rootsy-sounding, rumbling country. Oh, sure, he's very commercial sounding, but he's got real roots, too, sort of like Alan Jackson or Randy Travis... I played several songs off the album in a variety of radio formats and they all did really well... So, here it is a year later and sure enough, Larsen is blowing through the roof and sailing up the charts. This album is mostly a reprise of the original record, In My High School, with one new tune ("That's All I've Got To Say About That," which unfortunately is the weakest tune in the set...) and a fresh coat of paint on that fine batch of tunes (including an added-on cameo by Mr. Haggard himself on the end of the tribute tune, "If Merle Would Sing My Song...") And it's still a damn fine album. If you want to hear some Top 40 country that's heartfelt and doesn't suck, then pick this album up. You won't be disappointed.

Terry Melcher "Terry Melcher" (Reprise/Collector's Choice, 1974/2005)


Okay, this isn't exactly what you'd call a "roots" or "Americana" album, but since revered superpickers like David Bromberg, Ry Cooder and Jay Dee Maness were part of the studio crew, and since the music itself has an odd, obliquely hinted-at twangitude, I figure it'll do. What this is, actually, is a fascinating and unique pop album from a remarkable show-biz insider. To begin with, Terry Melcher -- who passed away in November, '04 -- was Doris Day's son (and bore a striking resemblance to her...) which couldn't have hurt when he threaded his way through the thickets of the L.A. music machine... Melcher had his first hits as a surf music songwriter, then landed a staff job as a producer at Columbia, where he helped mould the early sounds of the Byrds, among others. This is one of only two albums he recorded under his own name, and it's pretty interesting. Melcher's attentuated, half-whiny vocals bring to mind the likes of Jonathan Edwards and Jesse Colin Young, but his musical approach is much denser and more orchestral, making full use of the studio magic at his disposal. His warped reworking of roots music oldies like "Roll In My Sweet Baby's Arms" and "Stagger Lee," not to mention his bleak, opiated version of Jackson Browne's "These Days" all make this an album well worth tracking down. Recommended.
Morrison-Williams "Morrison-Williams" (Palo Duro, 2005)



That's not Jim and Hank, but rather Shayne Morrison and Clint Williams, two Texas fellas who were previously in the band Perfect Stranger, which had a Top Ten hit with "You Have The Right To Remain Silent," back in 1995... Morrison was a founding member of that band, while Williams joined a few years later, and their creative partnership has continued over the years. I always kinda liked Perfect Stranger -- the band never seemed too stuffy or pretentious -- but I have to admit I found this album to be a little grating. Too much reliance on tin-toned, heroic electric guitar leads, and too much of a rock'n'roll feel for me... Then again, maybe it's just 'cause I was listening to the record before I'd had my morning cup of coffee... Anyway, even though this disc didn't wow me, I think that longtime fans of Perfect Stranger will not be disappointed... It's got the same classic country-rock sound as their albums, just a bit less of a twangy country feel, which is proabably just fine for some of y'all... Worth checking out if you liked these guys the first time around.
Jamie O'Neal "Brave" (Capitol, 2005)



(Produced by Keith Stegall, Rivers Rutherford & Jamie O'Neal)
I guess I'm with George Jones: country just ain't country anymore, and O'Neal is as good an artist as any to pick on to prove the point. Oh, sure, she sort of hits an old-fashioned novelty groove on songs such as "Tryin' To Find Atlantis," and she can hit a Crystal Gayle-ish pop ballad groove (on sappy slow songs like "When Did You Know?") but her records are dominated by glitzy, overblown rock-soul arrangements, and precious little twang. The overly-obvious lyrical gestures towards an audience of presumably harried, perpetually frazzled and looking-for-love working gals are a little tiresome as well: does this sort of stuff really attract a widespread audience? I dunno. I guess as a latter-day practitioner of Judds-style country-pop, O'Neal is alright, but what's with this whole rocker wannabee thing? Can't these Nashville folks just play real country music anymore? Either that, or stop looking for airplay on the Country charts? I guess O'Neal's label ultimately agreed, since this album wasn't released commercially when she was on Mercury, and then they released her from her contract. So, she took her marbles and moved over to Capitol... and took some of her songs with her, too. I don't still have my copy of the unreleased On My Way To You album, so I can't really remember if the mixes of "Atlantis" and the other songs are still the same or not, but I guess it doesn't really matter, since this album isn't really my cup of tea, anyway. The songs are generally high-concept pop-soul with countryish affectations -- a fiddle here, and banjo plunk there -- and lots of drums, samples and synth riffs in support of O'Neal's flat, thin, half-recited vocals. She's trying to pull a Sara Evans or a Shelby Lynne, but it really isn't working. I can see how she'd have her fans, and they must be ecstatic that her record did finally come out, but I find it rather dreary and robotic. The would-be working girl anthem, "Girlfriends," is particularly blunt and ineffective. I'll pass.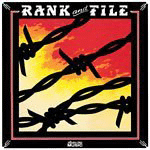 Rank And File "Sundown" (Slash, 1982)


Rank And File "Long Gone Dead" (Slash,1984)


Rank And File "Rank & File" (Rhino, 1987)


Back in the mid-1980s, Rank & File were a real big deal for folks in the punk/post-punk/college rock scene... They were one of the original cowpunk bands, with a West Coast punk lineage that few could contest... The Kinman brothers, Chip and Tony, hailed from the Dils, one of the most kickass, take-no-prisoners, better-than-average sorta-hardcore bands while Alejandro Escovedo (who was on board for the first album only) and some of his buddies from The Nuns rounded out the lineup. While bands like the Vandals took "country" music as a joke, Rand And File were reasonably sincere about it, and helped open up the alterna world to twangier possibilities. Their first two albums have been in limbo for years, another victim of the disintegration of the fabled Slash record label... Now, thanks to the folks at Collector's Choice, we can once again hear these old albums in their full fury, without the tics, pops and scratches of our beat-up old vinyl...

Doug Sahm "Groover's Paradise" (Warner Brothers, 1974/Collector's Choice, 2005)



It's not very country, but the "Austin-tatious" Doug Sahm and his crew have a pretty good time playing funky blues-soul grooves and mixing a little roots and twang in around the edges. He's joined here by fiddler Link Davis. Jr., as well as drummer-producer Doug Clifford and bassist Stu Cook, both of the late, great swamp-garage band, Creedence Clearwater Revival, who help tap into Sahm's latent affinities for blues and roadhouse jazz, and channel his relentless eclecticism into a tighter, slicker rock sound. This disc leans on the heavy blues groove that pops up from time to time on other albums, and sticks with it through the length of an entire album; the results, while not as twangy as one might like, are still pretty solid. Good, funky, boogie-rock blues from the early '70s... a fine record for its times!
The South Austin Jug Band "The South Austin Jug Band" (2004)



A fine set of funky, raggedy, jam-oriented blues-&-twang from some young'uns on the Austin scene... An enjoyable set filled with original material and heartfelt performances, lively acoustic music with real drive to it, and more earthiness and substance than many likeminded contemporary bands such as the Old Crow Medicine Show, et. al. Songwriter James Hyland, who put out a couple of fine albums on his own a few years back, is a guiding force in this band, but they definitely have the feel of a group of equals, each adding their enthusiasm and skill... If you like folks like Doug Sahm or the Yonder Mountain String Band, you might wanna check this disc out... It's tasty!

Suzy Thompson "Stop & Listen" (Arhoolie, 2005)



Following up on her previous solo album from 2004, veteran Bay Area fiddler Suzy Thompson cuts loose on this fine live set, with pickin' that leans towards the blues... It's an open-ended love letter to the folkie/blues in-crowd... Thompson has worn many musical hats over the years, but this disc highlights her at her bluesiest, in sort of a Maria Muldaur mode, backed by longtime partner Eric Thompson and the Thompson String Ticklers... Nice rapport with her hometown crowd, too, down at Berkeley, California's fabled folk club, the Freight & Salvage Coffeehouse.
Aaron Watson "The Honky Tonk Kid" (Sonnet, 2004)



One of the best of the current crop of Texas indiebilly, "red dirt" artists, Aaron Watson has got it all going in the right direction: strong songwriting, a kickass band, a great sound and all the right friends. Watson wrote or co-wrote all of the songs on this fine, fast-paced album, and with pals like Asleep At The Wheel, Willie Nelson and Dale Watson to help out, you know he's not messing around. The opening tracks are staunchly twanged-out hard country honkytonkers, with Watson wearing his rootsiness on his sleeve... He can be forgiven for trying his hand at more commercial-sounding fare on the album's third track, "Wild And Reckless," particularly since he does the Nashville-ish stuff well enough that I could see him breaking through (if the stars were properly aligned, etc...) After that tune, however, it's back to the real deal, with twangy tunes and punchy performances that echo old-timers like Alvin Crow, Red Steagall and -- at times -- good ol' Moe Bandy. It's an impresive set, one of the most enjoyable hard-country albums I've heard in a while!
Dulcie Younger & The Silencers "Kitty, Kitty... Growl" (Golly Gee, 2004)


I'm as much a sucker as any other old-style country fan for a fiesty gal what wants to snarl out a few fast-paced rockabilly tunes... Add guitar god Deke Dickerson into the mix, and I'm on board. Now sure, Ms. Younger is hardly half as super-cool as, say, Wanda Jackson was... But then again, who is? All in all, this is a pretty nice offering from the modern-day California indiebilly scene... The production quality and guitars are as fine a frame for her voice as Younger's ever gonna find, and she throws herself into these songs (most of them originals) with all her heart... This record might not change your life, but if it doesn't at least make you tap your toes and smile a little -- if not, then, Jack, you're dead!
---


Hick Music Index
Shop Amazon, Support Slipcue



---


March, 2005