<! MP3 10/20/11 > <! pix 10/20/11 > <! archived 04/04/13 > <! * >

---
Howdy, neighbors!
Here are some reviews of the new country, bluegrass and Americana records that I had the good fortune to listen to in May, 2005. This month: Keith Anderson, Dierks Bentley, The Bills, The Everly Brothers, Corey Harris, Jim & Jennie And The Pinetops, Alan Laney, Doyle Lawson & Quicksilver, Jimmy Martin, Charlie Poole, Red Stick Ramblers, Greg Trooper, Patricia Vonne, Loudon Wainwright III, Cody Widner... Various Artists: THE APPALACHIANS, COUNTRY COMES TO CARNEGIE HALL
...It's not everything I heard, but it's a nice sample of stuff that either tickled my fancy or ticked me off... Many records that aren't included here are reviewed elsewhere in my full Guide To Hick Music.
---
New Stuff: May, 2005
---
Keith Anderson "Three Chord Country And American Rock & Roll" (Arista, 2005)



(Produced by John Rich)
One of the lesser entries in the Big & Rich postmillennial "Muzik Mafia" ouvre. The B&R formula tends to wear thin easily to start with -- how many fake-rowdy, phony-sounding, would-be roughneck anthems with hook-laden, squeaky-clean, alt-metal rock riffs do we really need to hear, anyway? -- but Anderson's modest vocal talent only serves to underscore the poverty of the style. It's just too friggin' slick and cynically conceived for me, and the songs are so baldly prefab and desperate to lay claim to the Southern rock audience while still sounding as safe and antiseptic as an old REO Speedwagon album. To his credit, Anderson does manage to sound a little more organic and legitmately grounded in country tradition than Big & Rich do, but then, once you're willing to give the guy the benefit of the doubt on the production end of things, you run up agains his so-so voice. He may have written a hit for Gretchen Wilson ("The Bed"), but he'll have to come up with something a little stronger than this to get me on board.

Dierks Bentley "Modern Day Drifter" (Capitol, 2005)



If you want some modern-day commercial country that's still got some kick to it, newcomer Dierks Bentley is your guy. This is his second album, and he's still a very appealing performer with deep country roots and a good-humored, rugged musical appeal. This time around you can hear him straining for a hit, but he hasn't yet given in to the pressure to overdo everything and gush out some gooey, too-slick power ballad or whatever; plus, his honkytonk side hasn't gotten all watered down with wimpy, secondhand Southern rock riffs. Nope, Bentley's keeping it real with lots of twang and a jaunty fiddle that provides a running commentary alongside his humorous lyrics He also still adds bluegrass picking into the mix, a sound that helps make his work stand out amid all the other modern Nashville albums... There's no song on here that leaps out at you the way his breakout single, "What Was I Thinkin'," did in '03, but no doubt the hits will be there, and the back-to-basics beer drinkin' anthem, "Anything Domestic" shows he's still got his sense of humor. This album's a winner, as far as I'm concerned.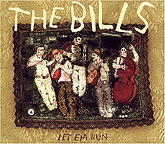 The Bills "Let 'Em Run" (Red House, 2005)



This Canadian quintet gives eclectic music a good name, spinning off from a basic bluegrassy sound into more modern terrain as well as French-Canadian and classical-tinged material. The clunky classical-inspired stuff that opens the album and bookends a few passages is the only weak spot -- it sounds like it was just plunked down in the middle of an otherwise winsome album -- but I guess you can't fault such a talented ensemble for trying to tell us that they are "classy" players, too. Overall, this is a very lively, playful set -- more than anything, it reminds me of old, early New Grass Revival records, which is fairly high praise in my book! Worth checking out.
---
Coolsville! Most of The Everly Brothers 1960-68 Warner Brothers catalog has recently been re-released on the Collector's Choice label. Yay!! I'll be reviewing these albums on a new Everly Brothers discography page as time allows...
---
Corey Harris "Daily Bread" (Rounder, 2005)



Acoustic bluesman Corey Harris delves deeper into pop, reggae and other musical styles, including African music and a dose of off-kilter jazz, courtesy of avant trumpter Olu Dara, who plays on several tracks. Some songs recall the softer approach of his earlier work, but for the most part this is a fairly challenging, eclectic album, and pushes at the boundaries of our expectations... It didn't really work for me, but at least he's not just another folkie doing the same stuff over and over. Those of us who favor artistic growth for its own sake will applaud Harris's efforts here...
Jim & Jennie And The Pinetops "Rivers Roll On By" (Bloodshot, 2005)



It was definitely worth the wait of the last three years for us to get this new Jim & Jennie album... Already high on my list of contemporary twangtune innovators, Jim & Jennie have rosined up the bow and spun another enchanting set of bluegrass and old-timey stringband music. Oddly enough, even though they've moved from the artsy Overcoat label onto the ostentatiously altie Bloodshot, the Pinetops have actually inched away from the clattersome anarchy of their previous albums towards something closer to straight-up bluegrass and folk. The softer, more professional approach gives their work a more authoritative feel, yet just as they seem to be settling into a more mainstream bluegrass mode, they gently drift into space-rockish terrain on a couple of tunes towards the end of the album, which helps keep things a little freaky. There's something compelling about this band -- the group has a singular presence, exuding a freshness and enthusiasm unlike that of many mainstream bluegrass crews -- Jim & Jennie take respectful advantage of the mountain music style without subsuming themselves to tradition and, as always, they dazzle us with a remarkable blend of naifish simplicity and canny innovation. Recommended!
Alan Laney "Livin' On The Edge" (Music Mill, 2004)



A fine set of traditional-sounding bluegrass tunes featuring the work of songwriter Alan Laney, who has had considerable success in Nashville over the years, penning several songs that have percolated around in both the bluegrass and Top Country scenes, most notably with Shania Twain and Joe Diffie recording his song, "There Goes The Neighborhood." Here, he teams up with producer Carl Jackson to record a sweet, simple set of bluegrass songs, most of which are Laney's own compositions. It's mainly a secular album, but there are some nice gospel tunes as well; Laney plays the mandolin throughout with assist from Jackson and a band that includes Jon Randall on rhythm guitar... Not earthshaking, but still pretty durn good.

Doyle Lawson & Quicksilver "You Gotta Dig A Little Deeper" (Sugarhill, 2005)



For the last two-plus decades or more, bandleader Doyle Lawson has made his reputation as one of the finest exponents of bluegrass gospel music, leading one of the finest harmony vocal ensembles on the face of the planet. Of course, he had a strong secular bluegrass background, and is no stranger to the rugged "drag race" aspects and romantic heartsong traditions as well, but since the 1980s he's devoted himself almost exclusively to religious material. Over the years, he's dipped back into secular material from time to time and since the turn of the millennium has released some full-on secular albums. This latest disc, his first for the Rounder label, suggests that Lawson may be dedicating himself to non-religious music, at least for the time being, and it's also one of the scrappiest, most "high lonesome" sounding records he's ever done. I have to admit, after years of reveling in his group's exquisite, velvet harmonies, hearing him sing in a more rugged, backwoods style is a little disconcerting, and it also seems to undercut some of the qualities that make Quicksilver such a unique band. Still, it can't be denied that this is a fine, top-flight truegrass album, with dips into country material such as the classic Jim Reeves hit, "Four Walls" and a goofy old Porter Wagoner tune as well. Probably the most striking song on here is the medically-themed "Saving Grace," about a husband who hangs on to the hope that his brain-dead wife will make a miraculous recovery, depite the admonitions of countless doctors who say it's a lost cause. That this album came out at the height of the Terri Schaivo debacle is an odd stroke of fate; who knows? Perhaps it will become an anthem of sorts.
Jimmy Martin "This World Is Not My Home" (Decca/Music Mill, 1963/2005)


Bluegrass gospel simply doesn't get better than this -- this is bandleader Jimmy Martin at the peak of his powers, with a band that included Bill Emerson on banjo and Paul M. Williams on tenor vocals and mandolin. Williams, of course, has gone on to become one of the finest gospel singers in the truegrass scene, and still leads a band of his own. Here, in recordings made between 1958-62, he stepped out of a supporting role in Martin's Sunny Mountain Boys to emerge as a powerful songwriter -- all but four of these songs were co-written by Williams, and he indelibly stamps them all with his fervor and conviction. Martin and all the high-powered pickers on these sessions were no slouches, either, and the musical end of this album is all first rate. This is the kind of gospel music that even secular truegrass fans can get into, since it's performed with such feeling and soulfulness. Recommended! (By the way, anyone know if the Paul Craft listed as playing the banjo on two tracks is the same guy who wrote all those great country songs in the 1970s?)
Jimmy Martin "Singing All Day And Dinner On The Ground" (Decca/Music Mill, 1963/2005)


More fine bluegrass gospel from Jimmy Martin and his crew. About half these tracks were recorded in the early 'Sixties with Paul Williams in the band, playing mandolin and penning original spiritual material. The other half of the record is from a 1970 session that featured talented "progressive" bluegrassers such as banjoist Alan Munde and Doyle Lawson on mandolin, filling the same role as Williams did, but with a much softer approach. Like Williams, Lawson would go on to specialize in gospel material, and it's nice to hear him here, early in his career, taking the tenor vocals in a fine group harmony sound. Recommended!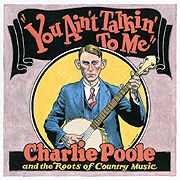 Charlie Poole/Various Artists "You Ain't Talkin' To Me" (Sony Legacy, 2005)


This fascinating 3-CD set sheds light on the career of country music pioneer Charlie Poole, whose Depression-era recordings helped set the standard for the energy level and professionalism of the new musical style, and who recorded many songs that became hillbilly standards for decades to some. This set is unusual, however, in that it spotlights not only Poole's work, but the recordings of several of his contemporaries, rivals and imitators in the 1920s and '30s, artists such as Arthur Collins, Kelly Harrell, Uncle Dave Macon, Ford Van Eps, and numerous craggy old-time stringbands from the pre-bluegrass, pre-swing, pre-honkytonk era. There's plenty of homespun humor, salty raunchiness, bluesy twang and several dazzling tracks, including whizbang instrumentals like Dave Macon's amazing "Uncle Dave's Beloved Solo." Poole emerges as an immensely charismatic figure, and hearing him in the full context of his times is a treat. If you just want to hear Poole by himself, the old anthologies on the County label will do ya right, but this is a fun, well-thought out collection... Recommended!

Red Stick Ramblers "Right Key, Wrong Keyhole" (Memphis International, 2005)


Recommended! A swell set of acoustic swing drawing on diverse styles, with a lively sense of playfulness and zest that is strongly reminiscent of retro trickster Dan Hicks. This is the Louisana-based band's third album and shows them making a strong transition from a scrappy, enthusiastic amateur outfit into a tight, seasoned combo that should give well-established acts like the Hot Club Of Cowtown or the Asylum Street Spankers a good run for their money. Blues, jazz and various stripes of country, bluegrass and western swing co-mingle in a parade of compelling performances, and the song selection is first-rate: the songs range from old standards by Larry Clinton, Andy Razaf and Harry Warren to classic blues by the great Clarence Williams, and a smidge of Louisiana swamp music from Clifton Chenier and from the Ramblers' own Linzay Young, whose cajun-flavored "La Valse De Chaoui" is an album highlight. This is a fun record; if you like old-time jazz, swing and stringband tunes, then you really ought to check this out!


<! no MP3, but other albums do >

Greg Trooper "Make It Through This World" (Vanguard, 2005)



Sweet, slick modern folk-Americana, which mixes twang and pop with sincere, emotive, precisely crafted lyrics. Trooper is paired up here with legendary Muscle Shoals writer-producer Dann Penn, who infuses this album with a loping, soulful feel... I'm not that big on the whole coffeehouse folk scene, but I guess that Trooper, like Greg Brown and many others, has pushed the genre outside of its old boundaries, and it's up to folks like me to catch up. Nice record; very listenable and mature.

Patricia Vonne "Guitars And Castanets" (Bandolera, 2005)



Normally, I try to avoid reflexively comparing female artists to other female artists... But in the case of Austin-based songwriter/actress Patricia Vonne, her stylistic and vocal similarity to Lone Justice-era Maria McKee is so noticible, I feel I'd be somewhat negligent if I didn't point it out. It's the early '80s cow-rock sound all over again -- hints of Carlene Carter and Rosanne Cash are in there as well, and maybe even a wisp of Chrissie Hynde in the snarlier moments. Vonne adds a bilingual Tex-Mex twist that sets her apart, but the basic sound is much the same... It's a little too hard-edged and roots-rocky for me, but for fans of the impassioned, sometimes torturously wordy McKee ouvre, this disc may be a godsend. By the way, Vonne's also related to director Robert Rodriguez, and can be seen (and heard) in some of his films... This is her second album.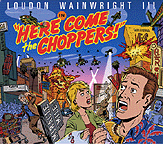 Loudon Wainwright III "Here Come The Choppers" (Sovereign Artists, 2005)


Goofy ol' Loudon backed by the sleek, dreamy guitars of Bill Frisell? Yup. That's right, he's hooked up with Frisell and a buncha high-powered fellas like Jim Keltner, Greg Leisz and David Pilch, and they provide a pretty backdrop for the decidedly mature musings of this album... Wainwright's trademark bite is subsumed by a softer sound; the opening track, "My Biggest Fan," although apparently based on a real person, skewers all us Loudon-aholics on the same spit, whiel the title track chaotically evokes the paranoia and permanently apocalyptic state of mind that is Los Angeles. The rest of the album largely eschews the "novelty song" style Wainwright is known for, and these denser, more poetic new songs may throw some fans for a loop. His vocals also seem slightly muffled or blended deeper in the mix than usual, so this is an album you'll have to work at to really "get." But hey, after all these years of spoonfeeding us his wit and wisdom, Loudon deserves the chance to shift gears and get a little artsy. This also includes a full-band version of his elegy to the September 11th bombings, "No Sure Way." Personally, I prefer the sparser acoustic version heard, lo, those many years ago on NPR, but it's still a great song, either way.
Aaron Watson "Live At The Texas Music Hall Of Fame" (Sonnet, 2005)



As a recent convert to Aaron Watson's work, I was kind of disappointed by this loud live set, where his strengths as a superior honktonk singer are pretty much buried under an avalanche of piercing, overly aggressive guitars and tough-guy poses. I mean, I'm sure there are plenty of folks who'll dig the whoo-hoo rowdiness of this set, but it just seemed kind of shrill and bombastic to me, and nowhere near as great as his last couple of studio albums. Still, Watson's got talent to burn, and if he makes it into the bigtime and moves to Nashville (which certainly could happen), then this'll be his "Live At Billy Bob's" disc, a chunky, roughneck record that'll prove that he was a real live badass back in the day. It's kind of like getting hit in the head with a hammer... but that's probably the idea anyway. So if you like hardcore barband country, ya might want to check this album out.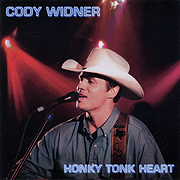 Cody Widner "Honky Tonk Heart" (Dreamkeeper, 2005)


Another fine, fine, independently released "red dirt" honkytonk album. Hill-country Texan Cody Widner has a smoky, smooth voice, and plenty of great original material, much of it written by his rhythm guitarist, Benny McArthur, who seems to be yet another undiscovered major talent, tucked away in the lil' ol' Lone Star State. The album opens with a song they wrote together, "Drinkin' Doubles (Every Single Night)" that sets the tone for the entire album, a traditional-sounding honkytonk tune with understated fiddle-and-steel arrangements and well-chiseled lyrics. From there on out, it's smooth sailing, one great song after another, with Widner recalling the glory years of George Strait, Merle Haggard and any other hard-country hero you'd care to remember... There are several great songs on here, including "When The Smoke Clears" and the title track, "Honky Tonk Heart," written by Russell Smith... The album closes with the humorous McArthur-penned "What Time Does The Band Start," which is probably the best song about about singing tough gigs in tiny dives since Robb Strandlund's "Just Another Country Song": you can practically taste the beer-soaked cigarette butts at the foot of the bar and hear the whoo-hoooos from here. Whoo-hoo, indeed. Check this guy out while you get a chance; although you can easily imagine him making the bump up to mainstream Top 40 success, Widner's still keepin' it real and keepin' it country, giving us hope for the future of honkytonk music.
(For more info, check out Widner's website: www.codywidnercountry.com )

Various Artists "THE APPALACHIANS" (Dualtone, 2005)



The exemplary companion album to a PBS television series, this features a wide range of Appalachian folk music, from stark, spooky "shape note" gospel singing to plunky old-time tunes and greased lightning bluegrass, with story songs and spirituals, murder ballads and laments for lost love -- all the styles and sentiments that make American mountain music so weird and wonderful and emotionally resonant. Many of the major players are on here: Jimmie Rodgers and the Carter Family (and June Carter Cash, keeping the tradition alive); bluegrassers like Mac Wiseman, David Grisman and the Osborne Brothers; old-school folkies like Jean Ritchie and Depression-era balladeers such as the Blue Sky Boys and Blind Alfred Reed, and even a few young'uns like Jeff Black and Jason Ringenberg to round things out... It's a nice set that spans the 20th Century and gives a well-rounded view of the rich musical heritage of a region that helped shape American popular culture. Recommended!

Various Artists "COUNTRY COMES TO CARNEGIE HALL" (ABC-Dot, 1977)


Four old-timers, each at different phases in their careers, share the stage at New York City's prestigious Carnegie Hall, providing a fascinating glimpse at live country musc during the peak of the countrypolitan scene. Honkytonk-swing legend Hank Thompson opens the show, moving through his seasoned stage routine -- boisterous, professional and full of pep, Thompson's star had long since fallen, yet like a true road warrior, he shows no signs of slowing down, and even if he's just going through the motions, he's still better that most. Between songs, he delivers an interesting aside about how his song "Wild Side Of Life" helped spark the career of Kitty Wells and, by extension, the careers of dozens of female country stars to follow. Ironically, he still refers to these woman as "girls," and takes the opportunity to make a crack about how "big" a star Dolly Parton is... Ah, me... how boys will be boys! Then there's Freddy Fender from Texas, whose career had kicked into high gear in '75 after longs years laboring in obscurity, and who was riding high at the top of the charts with hits like "Wasted Days And Wasted Nights" and "I'll Be There Before The Next Teardrop Falls." His career was about to level off soon after this concert, but here he's still at the top of his game, singing the hits as well as unapologetically dipping into his deep reservoir of Spanish-language Tex-Mex tunes. Hee-Haw host Roy Clark comes next, and lets loose with some dazzling, aggressive guitar work before sidling into a few gooey soft-pop countrypolitan vocals, and then wows the rubes with a fast, flurried version of the flamenco chestnut, "Malaguena." The superstar of the evening was crooner Don Williams, who was in the middle of a long, solid string of #1 hits and who gets the crowd singing along to his soulful, sentimental ballads, and laughing at his self-deprecating humor... One gets the sense that ABC Records might have done well to have included his full performance here, but hearing the other artists is nice from an historical perspective, and this is quite a nice album, when all is said and done. Recommended!
---



Hick Music Index
Shop Amazon, Support Slipcue



---


<! May, 2005>