<! MP3 10/19/11 > <! pix 10/19/11 > <! archived 10/19/11 > <! * >

---
Howdy, neighbors!
Here are some reviews of the new country, bluegrass and Americana records that I had the good fortune to listen to in July, 2005. This month: Jeff Black, Brian Capps, Ry Cooder, The Greencards, Donal Hinely, Rex Hobart & The Misery Boys, Toby Keith, The Morells, Michelle Nixon, Old School Freight Train, Johnny Paycheck, Darrell Scott, Ralph Stanley, Troublesome Creek String Band, Two Tons Of Steel, Tom Tall & Ginny Wright, Dwight Yoakam, "The Dukes Of Hazzard" (TV Soundtrack)...
...It's not everything I heard, but it's a nice sample of stuff that either tickled my fancy or ticked me off... Many records that aren't included here are reviewed elsewhere in my full Guide To Hick Music.
---
New Stuff: July, 2005
---
Jeff Black "Tin Lily" (Dualtone, 2005)



The fine line between roots music and alternative/adult pop/rock keeps getting harder to pinpoint... On his latest album, Nashville songwriter Jeff Black tilts more towards the pop end of the spectrum, with a dancing, Bruce Hornsby-ish piano plinking along, and broader, poppier melodic hooks on several songs. There's a little fiddle and twang in there as well, though I'd guess this would appeal more to Springsteen fans than to the Hank & Hank crowd.

Brian Capps "Walk Through Walls" (HighTone, 2005)



Nice, understated roots'n'rock in the style of Dave Alvin and the Blasters... Strong original material and a few well-chosen covers, most notably a funky version of the Merle Travis oldie, "Dark As A Dungeon," which sounds like the song is being covered by Marc Bolan and T.Rex... Capps comes from the Midwestern roots band the Domino Kings, and does a nice job here on his first solo outing... Worth checking out!
Ry Cooder "Chavez Ravine" (Nonesuch, 2005)



A densely-packed, musically eclectic concept album exploring the cultural losses and economic conflicts brought about when the Dodgers baseball team moved to Los Angeles and plowed over a vibrant Latino neighborhood in order to build their new stadium. Cooder tackles the topic from a variety of perspectives, and even ties the postwar push for gentrification and whitening-up of LA with political topics like the postwar "red scare" that led the Congressional House Un-American Activities Committee to subpoena local civic activists and community leaders. The album pays homage to various musical figures of the era, such as pachuco boogie and LA's vibrant bop and post-bopjazz scene, and features contributions from numerous guest artists, including David Hildago of Los Lobos, pachuco elders Lalo Guererro and Don Tosti, Little Willie G, jazz pianist Jacky Terrason and Ry's old pal, Flaco Jimenez, who adds a little ranchera swing alongside the latino blues... His son, Joaquim, plays percussion and drums throughout, and seems to be stepping up to take over the family business... I'm not sure Cooder always hits the right balance between politics and art, and parts of this album may be a little thick for the average listener, and lacks some of the elegance we've come to expect in his work... But at least it does have substance, and Ry should be applauded for trying to say something meaningful and for giving an audience to some of our country's forgotten voices and musical styles... The old barrios come alive in this sometimes swinging, sometimes spooky album, which should rank as one of the more notable Americana releases of the year. Worth checking out.

The Greencards "Weather And Water" (Dualtone, 2005)



This scrappy, eclectic band seems tailormade to horn in on a bit of Alison Krauss's territory, offering a similarly mellow, accessible mixture of Americana-folk and bluegrass picking... But instead of Krauss's increasing tilt towards mainstream pop, the Greencards have a noteworthy streak of Celtic trad, with a bounce and a lilt that keeps things lively. Their musicmaking still seems too effortful -- you always feel them working their way from Point-A to Point-B to Point-C, and they seldom hint at those magic leaps to X ,Y, Z and beyond that make the best musicians so special. But despite the workmanlike feel to their work, they are clearly a band that's on the way up and that will find a loyal audience whose energy and enthusiasm match that of the band. Worth checking out, particularly if you are a fan of Alison Krauss, Bela Fleck, and the slicker side of the contemporary bluegrass scene.

Donal Hinely "Giants" (Scuffletown, 2005)



Singer-songwriter Donal Hinely has a refreshingly naive faith in simple, satisfying melodic hooks, lyrics that rhyme and close up nicely, and words that mean what they say. The album opens with the title track, "Giants," a catchy, heartfelt elegy to the cultural titans of the 'Sixties -- Kennedy, Martin Luther King, Phil Ochs -- and bemoans the vacuum left in today's America, a gap that is filled by small-minded and venal strivers. It's just the kind of subject matter that anti-folkies would love to latch onto and sneer at as stuck-in-the-'Sixties navelgazinf, except that the song is just so damn effective, and the contrast between that era and ours really is so stark and disheartening... It's a great opening to a good album; on the next track, Hinely laments a mythic time "Before Music Was A Product," while on "Shock And Awe" he joins the ranks of modern folkies who condemn the war in Iraq. He also sculpts some nice slice-of-life scenarios, singing of new parents adjusting to an amped-up level of adulthood, and the nostalgia of lost true love ("Adelaide," also one of the album's catchier tunes). Fans of Freedy Johnston will find a similar spirit here, with Hinely's open embrace of soft, melodic electric guitars and clean, catchy couplets. A few songs go adrift, but overall this is a really nice record!

Rex Hobart & The Misery Boys "Empty House" (Bloodshot, 2005)



Man, the Misery Boys have sure been working overtime to live up to their name... It's been a few years since their last record came out, and I guess Rex Hobart has spent the time plumbing the depths of bitterness and abject desolation. This disc opens with four songs that document with painful clarity the death of a romance, each tune ratcheting upwards from bickering and recrimination to outright hatred and hostility. (Hobart's cover of Johnny Paycheck's "It Won't Be Long (And I'll Be Hating You)" is an album highlight...) It's a pretty gruelling progression, and if you're like me, by the time you get through that introduction, you'll want to call Hobart and ask if you can buy him a beer. From there, the lovers go splitsville and our hero -- still addressing all the lyrics to his ex -- bottoms out, singing of barside binges and late-night self-loathing -- Lefty Frizzell's "I Never Go Around Mirrors," writ large. The album's real payoff comes on "The Tear I Left Behind," where he suggests they try maybe just a little bit of fooling around, just for old time's sake. Ouch. Some people never learn. Musically, this album isn't as catchy or melodic as his past two, but the picking is pretty solid, even if the lyrics hijack the show. If you enjoy those old, exaggerated, gloom'n'doom tunes by Johnny Paycheck sang in the 1960s, you might find a kindred spirit here with Hobart & Co... But seriously, Rex... You okay, dude? Can I buy a beer or something?
Toby Keith "Honkytonk University" (Dreamworks, 2005)



I almost hate to say it, but Toby Keith really has emerged as one of the best real-deal country singers of the 21st Century... After building his rep with several obnoxiously jingoistic pro-war, post-9/11 chartoppers, Keith entered the upper stratosphere not only of the top country scene, but of American pop culture as well. Paradoxically, though, instead of getting cheesier and more watered down, he used his superstar fame to to shrug off the high-tech approach that had been killing Nashville country, and helped lead the return to that good old fiddle'n'steel-based twang. Although this album doesn't quite have the wild feel of his previous album, it's a more cohesive country set, with catchy songs, wall-to-wall pedal steel and plenty of solid singing. Merle Haggard joins him on a fine duet -- "She Ain't Hooked On Me No More" -- that can stand up there with practically any country classic you can think of, as does the album's other hard country gem, "She Left Me." Keith still spends a fair amount of time braggin' on himself (although it sounds great musically, the self-referential lyrics of the autobiographical title track are a snooze...) but it's becoming clear now that he's actually got some legitmate bragging rights. Having gone through the mill with the Nashville fame machine, Keith has, amazingly enough, arrived at some of the same nonchalance and classy cool that outlaw icons Waylon and Willie discovered after they dropped out of the same scene. I sure hope he can keep it up, because it sure is nice hearing Nashville records that sound this good.
Toby Keith "Chronicles" (Universal-Mercury, 2005)


If you want to check out Keith's early years, this box set will pretty much settle it... It's kind of an odd package, though -- it's a straight reissue, more or less, of his first three albums, Toby Keith, Boomtown and Blue Moon, just instead of regular jewel boxes they're sandwiched inside a book-style box, with the original CD liner notes floating around loose inside... No added info, no new liner notes or booklet, nothing fancy, really, other than the hardshell cardboard case. You can still purchase these records individually, so I'm not sure what this box adds, other than its physical solidity and gathering them all together in one place at one time. Either way, it's a chance to check Keith out in his early years, including his first Top Ten chart hits (three #1's and a slew of #2's...) The roots of a future superstar....
The Morells "Think About It" (HighTone, 2005)



A good-natured mix of '50s/'60s retro-rock and twang. The album opens with a couple of covers (of Chuck Berry's "Nadine" and "Girls Don't Worry My Mind," from the Delmore Brothers catalog) and moves into some nice original tunes... This band has been together in one form or another for over twenty years, and have a loose, easygoing vibe that feels similar to old NRBQ albums... They aren't the most high-power ensemble, but they've got a nice little groove that y'all Americana fans might like!

Michelle Nixon & Drive "What More Can I Say?" (Pinecastle, 2005)



Rock-solid, straightahead, melodically driven, irresistible bluegrass, with good pickin' and great singing. As the record asks, what more can I say? Michelle Nixon's got it, with a capital "I," capital "T." Along with the high level of musicianship and enthusiasm, this disc also boasts excellent song selection, with several sharp original tunes (two each written by Nixon and guitarist Patrick Robertson), a couple of old songs previously revived by Emmylou Harris ("Roses In The Snow" and "Blue Kentucky Girl"), Merle Haggard's "Ramblin' Fever," and the one that really got my attention, a cover of the old Melba Montgomery duet, "We Must Have Been Out Of Our Minds," sung here with no less a talent than "Whispering" Bill Anderson. All in all, these guys are a real class act!

Old School Freight Train "Run" (Acoustic Disc, 2005)



This Virginia-based band are new, youthful proteges of newgrass demigod David Grisman (this album is out on his label, he guests on one track here, and recently toured with them as his backing band...) Grisman's blessing is well-deserved: OSFT blend tangy, twangy virtuousity with a fresh-sounding modernity. Their eclectic approach, blending bluegrass with light, breezy pop and jam-band jazziness, is roughly in the same camp as artists such as Nickel Creek or Bela Fleck, but where I generally find those guys to sound cloying and contrived, there's something sweetly charming and sincere about these guys... They write catchy, mellow, subtle tunes and they aren't phoning it in, either. The "funky" acoustic cover of Stevie Wonder's "Superstitious" is the album's one false, predictable note... Other than that, this is a surprisingly seductive album -- the melody to "Drama Queen," for example, is likely to echo in your head for quite some time after you first hear it. This disc drifts a bit into newgrass cliches, but it's one of the strongest records of its kind to come out in recent years, and if you like the style, you won't want to miss this one...

Johnny Paycheck "The Gospel Truth: The Complete Gospel Sessions" (Koch, 2005)



Wow... this is a really good record. This CD gathers together all of the gospel material recorded by country roughneck Johnny Paycheck during his tenure at the Little Darlin' record label. When he recorded his first gospel album in the late 1960s, Gospeltime In My Fashion, Paycheck was notorious for his goofy, over-the-top, morbidly-themed novelty songs; after he hit the bigtime with hits like "Take This Job And Shove It," he became known as one of country's biggest party-animal wildmen, and the quality of his work plunged in direct proportion to the amount of intoxicants he indulged in... But when it came to religious material, Paycheck really delivered. The 'Sixties stuff is quite lively and heartfelt, and even his later sessions in 1979 were pretty vigorous and convincing (even though this was arguably at the creative nadir of his commercial career...) This is a very strong and generously programmed collection, gathering material that has been out of print for decades... Well worth checking out!
Darrell Scott, Danny Thompson & Kenny Malone "Live In NC" (Full Light, 2005)



Nashville songwriter Darrell Scott gets funky and jam-bandish on this live set, cut with the once-ubiquitous Brit-folk bassist Danny Thompson. The bluesiness and groove-orientation is somewhat unlike Scott's earlier, more acoustic Americana outings. There are whiffs of emotive troubadours such as Loudon Wainwright and Greg Brown as well as jamsters like Dave Matthews... It's a bit too effort-ful for me, but I imagine many another roots music fan will like this just fine. Keep in mind there's a lot of stylistic variety here, so if a tune or two doesn't grab you, keep listening, since other songs further down the line might hit you the right way.
Ralph Stanley "Shine On" (Rebel, 2005)



Edging his way up towards eighty years of age, Ralph Stanley remains remarkably undiminished as a performer, as this sterling set of gospel tunes will attest. This is a strong, soulful collection that showcases Stanley's band at its best, including guitarist James Alan Shelton and Stanley's son, Ralph Stanley II, who continues to grow as a superior country-folk vocalist. Dr. Ralph himself is in fine form as well, delivering one of his most powerful assured performances in recent years. Folks who get turned off by the gospel message will want to sit this one out, but for fans of the style -- or just fans of great bluegrass -- this one's a gem.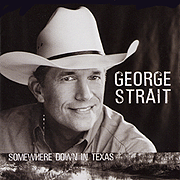 George Strait "Somewhere Down In Texas" (MCA-Nashville, 2005)



Go, George, go!! Is it really any surprise that one of the finest top country albums of the year is yet another winner from Lone Star legend, George Strait? Naw, not at all. Once again, the traditional numbers are rich and resonant, and even the weepers and more modern-sounding songs have real emotional heft... Strait's a guy who can sing from the heart, and hot a bullseye every time he tries... The religiously-themed hit single, "You'll Be There," is pretty mellow, but it isn't too sappy... There are a couple of straight-up honkytonk tunes as well, like the jolly "If The Whole World Was A Honky Tonk," though mostly the album is on the softer side. With Strait, though, this doesn't mean that it goes all gooey, but rather that there's some really classy crooning going on... "Ready For The End Of The World" is a true-blue, soul-rending sad song, and even lighter material like "She Let Herself Go" is quite nice in Strait's capable hands... Not a bad song on here; definitely worth checking out.
George Strait "Chronicles" (Universal-MCA, 2005)


If you want proof that Strait has always been a first-class performer, here it is... It's kind of an odd package, though -- it's a straight reissue, more or less, of three early albums, Right Or Wrong from 1983, 1984's Does Fort Worth Ever Cross Your Mind and Something Special, from 1985. There are no added goodies -- it's just one album, one disc, with the original CD liner notes floating around loose inside the box... No extra info, no new liner notes or booklet, nothing fancy, really, other than the hardshell cardboard case. You can still purchase these records individually, so I'm not sure what this box adds, other than its physical solidity and gathering them all together in one place at one time. Either way, it's nice stuff, some of the finest, sweetest popped-up honkytonk to ever make it outside of Texas. He gets too slick or too perfect at times, but it's still all pretty nice.
Tom Tall & Ginny Wright "Are You Mine" (Bear Family, 2005)


Kooky, clunky, delightfully innocent, for-real hillbilly music from the early 1950s. Two teenagers, Tom Tall and Ginny Wright, were paired up for a duet on the independent Fabor label, where they were both signed... The disc, "Are You Mine," shot to Number Two on the country charts in 1955, but just when they were poised to reap the benefits of their success, Wright decided to pack in in and quit show biz - she got married, had kids and settled down. Tall, who was just a few years younger than her, was left in the lurch -- fresh out of high school and eager for success, his career lurched along for several years afterwards, but he never came as close to hitting the jackpot as he did when he was a kid. This disc includes almost all the singles that Tall and Wright recorded in the 1950s (although, sadly, it omits her earlier duet with Jim Reeves, which was also a big hit...) His solo work and hers are included, side by side, and it's wonderously unpolished music, mainly sub-par novelty material and heartsongs, sung with boundless enthusiasm and an utter lack of finesse. This disc speaks to a day when country singers weren't all blowdried TV models who "fixed" every little bit of their vocals in the studio before their records came out... This disc is full of awkward, chaotic, sometimes embarassing performances... and it's an album I find fairly irresistible. It's the kind of record you just won't find anywhere else... God bless Bear Family!
Troublesome Creek String Band "Fast As Time Can Take Me" (County/Rebel, 2005)



Flat out, no questions, no doubt about it, this is a one-hundred-percent perfect old-timey stringband album. The picking is understated and delightful, the vocals have just the right mix of antiquity and good humor, the song selection tilts towards the traditional and the pacing of the set is flawless; I could listen to this record for days on end and never grow tired... If I sound effusive, that's because I am. These folks -- banjoist Steve Arkin, fiddler Rick Martin, guitarist Dick Harrington and bassist Lorie Lichtenwalner -- don't make a big deal out of being one of the best damn bands you'll ever hear; they just play with an obvious love of the music and let the tunes take care of everything else. They tip their hats towards eminent old time-rs like Brad Leftwich and Dirk Powell (Martin studied fiddling with guidance from Leftwich) and they do their mentors proud. Some purists might find these performances too smooth and not "bent" enough, but I think it all sounds really fine. An entertaining, accessible album, drenched in tradition, but very much vibrant and alive in the here and now. Highly recommended.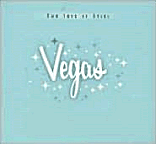 Two Tons Of Steel "Vegas" (Palo Duro, 2005)



Amiable, accessible, soft-edged retro-billy mixing lanky, aw-gosh indie-country and slappy rockabilly... These Texas crowd-pleasers sound upbeat and likeable, but even with a lot of note-heavy picking, they often sound a little too controlled and squeaky-clean on this disc; one suspects that their 'billied-up cover versions of tunes like the Ramones classic, "I Wanna Be Sedated" and the skeezy old R&B sizzler, "Red Hot," sound a lot more raucous in concert, and that some of the sizzle of their live shows is lost in this too-perfect studio setting. Still, if you like smooth-but-retrorific bands like BR5-49, Blue Rodeo, the Derailers, the Mavericks, et al., then this disc might knock your socks off.
Dwight Yoakam "Blame The Vain" (New West, 2005)



(Produced by Dwight Yoakam)
This is Yoakam's first album that he, himself, produced since ending his long, epochal partnership with guitarist-producer Pete Anderson. Not surprisingly, there's a lot of stylistic carryover from his earlier albums into this one, a lot of the same mix of pure twang and tweaky, soulful pop, and a few lamentable moments of needless self-indulgence... So here's the report: sounds pretty good to me. A lot of fun, uptempo songs that are rootsy and wild, and a couple of numbers that nearly bring things to a grinding halt (including one where Dwight pointlessly intones a recitation over a pretentious, Prince-ish keyboard swell that intros a so-so song...) Overall, though, this is one of Dwight's finer albums, melodically solid with a nice, strong, toe-tapping beat... His lyrics have become impossibly convoluted and self-involved, to the point where I have no idea, really, what the heck he's talking about. But that's okay -- the music sounds great! This is definitely worth checking out!

Various Artists "THE DUKES OF HAZZARD" (Soundtrack) (Sony Legacy, 1981/2005)



I'll confess, without any shame, that I have never seen the Dukes Of Hazzard TV show -- I was living off the grid, out in a cabin in the woods when it was originally being broadcast... (No, seriously, I was...) And yet, I don't think I really missed that much. I love the theme song, though, at least the hit single by Waylon Jennings, and one nice feature of this reissue disc is that as a bonus it includes that version, along with the Jerry Reed-ish original, recorded by the cast. The album is mostly made of lowbrow comedy skits, knitted together by purposefully bad "hick" music, with a couple of serious attempts to sing for real by actors John Schneider and Tom Wopat, who both pursued modestly successful careers as legitmate commercial country singers. Cajun fiddler Doug Kershaw also quickly cashed a paycheck after contributing several songs to this disc... Still, outside of some marginal nostalgic camp value, I'm not sure what this album has to offer country fans. The added Waylon & Willie tracks are nice, but you can get those elsewhere, with other music of comparable quality. Apparently there's a new soundtrack album from the new movie out as well, though I can't vouch for that one, either.
---



Hick Music Index
Shop Amazon, Support Slipcue



---


<! July, 2005>