<! MP3 10/19/11 > <! pix 10/19/11 > <! archived 10/19/11 > <! * >

---
Howdy, neighbors!
Here are some reviews of the new country, bluegrass and Americana records that I had the good fortune to listen to in August, 2005. This month: Carl Butler & Pearl, June Carter Cash, Ray Charles, Hank Cochran, Tommy Collins, Elizabeth Cook, Robert Gordon, Jenny Kerr, Loretta Lynn, Taj Mahal, Maria McKee, Jim Mills, Allison Moorer, Nickel Creek (PAGE 2:) Greg Parker, Jeannie C. Riley, Slipstream, Son Volt, Carl Story, Van Zandt, Billy Walker, Gene Watson, Dallas Wayne, The Wrights, Adrienne Young, Various Artists: "Greetings From Alabama"; "Greetings From Oklahoma," "Old Time Mountain Banjo"...
...It's not everything I heard, but it's a nice sample of stuff that either tickled my fancy or ticked me off... Many records that aren't included here are reviewed elsewhere in my full Guide To Hick Music.
---
New Stuff: August, 2005
---
Greg Parker "On The Break" (Whitewall, 2004)



This 5-song EP is basically a self-produced, self-released demo, but it sure has some damn fine country songs on it. With all-new, original gems like "Disaster Waiting To Happen" and "A Heart Is A Terrible Thing To Waste" (stuff that George Jones might have sung back when he was a hillbilly whippersnapper) as his calling cards, Mr. Parker's definitely got my attention. Can't wait to hear what he does next. (For more info, check out his website, itsgregparker.com)
Jeannie C. Riley "The Songs Of Jeannie C. Riley" (Little Darlin', 1969)



Nice early work by one of the biggest female country singers of the late 1960s and early '70s... After Riley became a top-selling artist iwith "Harper Valley PTA" topping both the Pop and Country charts, these recordings were leased to Capitol and found wide distribution. This CD is a straight reissue of that record, and it's mighty fine stuff, with Riley cast in a Loretta Lynn mould -- straight country heartsongs, and very little of the youth-culture rock tinge that would color her later work. It's a style that suits her well, and though a couple of ttracks on here are sub-par, most are really good. If you enjoy early Loretta, or Dolly, or Jean Shepard, youowe it to yourself to check this out. This disc is also notable for the inclusion of a couple of Riley's original compositions, a few by Johnny paycheck, and even an early one from Ed Bruce, too... All in all, a fine, pleasantly unpretentious hard country set. Recommended.



Slipstream "Waterbound" (2004)
Pleasant-sounding progressive bluegrass from the Colorado trio of Brad Murphey (guitar), Paul Waitinas (bass) and Rich Zimmerman (mandolin & vocals), an easygoing group with echoes of New Grass Revival, Tony Rice and Norman Blake... The band's name is kind of misleading (guess no one told them about the Spacemen 3 psychedelic rock spinoff by the same name...) and the album art also doesn't immediately telegraph "roots music"... But if you look closely, you'll see that the guest musicians include Rushad Eggleston, Norm Pikelny, Ben Winship and other up-and-coming newgrass young'uns, so if you're in the know, that'll tip you off to the twangy nature of this release. This was pretty enjoyable... Worth checking out if you're in a 'grassy state of mind... Doubtless to be seen at a few festivals as well...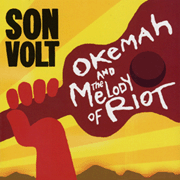 Son Volt "Okemah And The Melody Of Riot" (Sony-BMG, 2005)



For many in the alt-country community, a new album from Jay Farrar is cause for wild, riotous celebration... That's particularly true when it comes under the banner of his long-dormant, legendary band, Son Volt. Here, Farrar pays tribute to the great folk forefather, Woody Guthrie, by naming an album after Guthrie's childhood home of Okemah, Oklahoma, and by exploring newfound political preoccupations -- fretting about environmental decay, far-flung global warfare and the ongoing social dissolution of the good old U.S. of A. You might be hard-pressed to figure that all out by simply listening to the album; the intellectual content is masked by sweet melodies and jangly guitars, as well as by the oblique, artsy poetic lyrical style of the indie/lo-fi scene, which additionally comes draped in the lazy vocal elisions that Farrar seems to favor (along with oh, so many others...) It's as if sincerity and earnest concern for the state of the world is too uncool for indie rockers to openly embrace, so in order to not chase the hipoisie away, he has to make it all sound mysterious and ironic, and hope that some of his message will seep in through the margins. Farrar himself seems conscious of the problems using the pop medium to address the thorny problems of harsh reality: on "Gramophone," he laments the ability of "vinyl discs with power to hypnotize" to reinforce our worst, most solipsistic tendencies, in effect letting us dope ourselves up with comfortable, disposable, emphemeral popular culture. And yet, here he is, apparently enveloped in detachment and irony, half-pretending not to care, or at least not to believe that there's any hope for a solution. Obviously, it's a hard row to hoe when you're a pop musician trying to grapple with serious issues and real philosophical dilemmas -- what rock star would want to be seen as a dull grind? But these are times when the real world -- and I do mean the real world -- is about to catch us by the collar and make us all do some serious reevaluation of what we've been up to for the last century or so, and much to his credit Farrar seems to realize it, and wants to explore what this means. So, three cheers for Jay: his new album sounds nice and it's a sincere effort to puncture the complacency that shrouds us from our future... And, with the imprecision of his lyrics, there's a fill-in-the-blanks Rorschach-iness to it, where listeners can decide on their own just how glum the days to come might be... Who knows, maybe things aren't as bad as we think!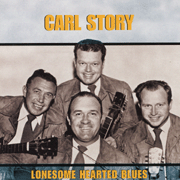 Carl Story "Lonesome Hearted Blues" (Bear Family, 2005)


Bandleader Carl Story is best known as one of the giants of bluegrass gospel; what's nice about this collection is its emphasis on his secular side, which is often neglected on reissue records. This disc is modestly programmed in comparison to many other Bear Family releases -- only sixteen songs as opposed to their usual thirty or so... That's because it focusses on Story's short 1954-55 stint on Columbia Records, when for whatever reasons he briefly bolted from the Mercury label, and did a few sessions with Columbia's Don Law, with Chet Atkins sitting in on one session, and mandolinist Red Rector anchoring the band throughout. There's some gospel material here, to be sure, but it's also nice to hear Story croaking out some good old-fashioned heartsongs, tunes like "Lonesome Hearted Blues," "Actions Speak Louder Than Words" and "Love Me Like You Used To Do..." Story was apparently considered part of the "Knoxville Sound," a rugged, down-home regional alternative to the increasing slickness of the Nashville studio system. There's a hint of the Delmore Brothers and the country boogie style that was popular a couple of years earlier (especially on the proto-billy "What A Line")... The gospel numbers are nice as well; the vocal harmonies are much sweeter and the songs have a sweeter feel, though the styles compliment each other quite nicely, and give a nice snapshot of Story's early repertoire. For those of us who've mostly heard his old Mercury/Starday material, this disc is a nice missing piece of the story... Nice stuff!
Van Zandt "Get Right With The Man" (Columbia/Sony-BMG, 2005)



(Produced by Mark Wright & Joe Scaife)
Well, with all the top-country hat-act dudes who've been tipping their hats towards that good ol' Southern rock sound these days, from Montgomery Gentry and Toby Keith on down, it sure makes sense for Johnny and Donnie Van Zandt (veterans of Lynyrd Skynyrd and .38 Special, respectively...) to drop their hat in the ring as well... And here's the thing: they're pretty damn damn good, better in many ways than the young'uns who have been copping their licks recently... That is, they're good on the bombastic, Southern-tinged country tunes; when they cut loose and really start rockin', though, the record gets too loose and wanky, with frazzled, endless guitar solos and a lot more noise than structure... It might be fun in concert after you've passed the Jack around, but even then you'd be better off going to see the Black Crowes. Still, I'm impressed by their country stuff, formulaic though it may be. There's plenty of posturing and talking about what tough, road-weary party dudes they are, but it rings a lot truer when these grizzled old rockers say it than when it's coming from pretty boys like, oh, say, Tim McGraw or Kenny Chesney. Don't tell anyone I said so, but I actually think this is a pretty good record, for the genre. Worth checking out, at least if you're not scared of actual, real-life longhaired rednecks.
Billy Walker "Columbia Hits" (Koch/Sony-BMG, 2005)


Although he was a Texas native, country crooner Billy Walker cut his teeth working throughout the Southwest and -- like so many others -- playing on the fabled Louisiana Hayride. He started recording in the late 1940s, but found little success chartwise until nearly a decade later. Walker specialized in smoothed-out, mellow ballads, and this set of Columbia recordings shows him so nakedly imitative of Marty Robbins that it's almost shocking... Things finally started to click for Walker in the early '60s, when he latched onto the historical/western fad that Robbins pioneered, along with Johnny Horton and Claude King. Walker's contributions in this field -- notably "Cross The Brazos At Waco" and "Matamoros" were par for the course; also included here are a couple of early Willie Nelson tunes (he recorded the first version of "Funny How The Time Slips Away") and Walker's biggest hit, "Charlie's Shoes," which was his sole #1 hit. This is the first American-released disc to cover Walker's complete Columbia recordings, and while the music might not be vigorous enough to suit many twangfans, folks who are poking around checking out vintage countrypolitan might find this album illuminating. Either way, it's nice to have the old stuff in print again, and will surely make his old fans happy as clams.
Gene Watson "Then And Now" (Koch, 2005)



(Produced by Gene Watson)
It's a sad fact that, for the most part, country old-timers don't mean jack in the new, glammed-up Nashville. Take Gene Watson, for example. The guy's been around since the early 1970s, and just about every record he's made totally kicks ass -- he's one of the great heartsong balladeers of modern country history. For the last few years he's been quietly releasing one, great, unnoticed gem after another -- soulful, finely-crafted records that are cherished by a handful of fans, but outright ignored by radio chains and programming powerbrokers and poo-bahs. This new album follows that pattern... It's a great collection of newly-recorded versions of some of Watson's old hits... Normally that formula is a recipe for disappointment, but in this case, it's just a damn fine record, with a rich, full country sound, packed with plenty of pedal steel and some of the finest vocals this side of George Jones. Watson's voice has changed over the years, but it's undiminished in its ability to convey emotion and bring these songs to life -- it sounds lighter in timbre, but no less expressive or compelling that it ever was. In short, if you like the good stuff, this record is highly, highly recommended... And if you don't already know Watson's classic, old stuff, then this might be a good opportunity to check into that as well...
Dallas Wayne "I'm Your Biggest Fan" (Koch, 2004)


Honkytonk songwriter Dallas Wayne definitely falls into the too-country-for-country category; he may even be too country for alt-country. Wayne's previous albums were full-on blasts of novelty-oriented barroom novelty songs, the kinda stuff that makes you want to toss an empty at a chickenwire cage in order to show your approval... I loved 'em, but they sank like stones, even when I played 'em on my Alt-Country channels. Here, Wayne hasn't exactly mellowed, but he has branched out, with more musical variety and some novelty themes that aren't quite as fixated on heavy drinking and head-in-hands heartbreak. It's less cohesive, though possibly more accessible, placing him squarely alongside Junior Brown as a gruff, lovable honkytonk nut... The title track, an offbeat tune about a nerdy, socially-challenged cele-britney cyberstalker, doesn't fit that well with the other songs, but it's a minor blip in an otherwise tough, twang-heavy treasure trove. I wasn't as wowed by this disc as by his earlier albums, but it's still a welcome addition to the indie-country canon. Worth checking out!

The Wrights "Down This Road" (RCA/Sony-BMG, 2005)



(Produced by Keith Stegall & John Kelton)
A memorable debut album of sweet, well-crafted country duets by this husband-wife songwriting team, Adam and Shannon Wright. The Wrights were introduced to country fans earlier in the year when they sang on Alan Jackson's What I Do album, where they contributed musical backup as well as two new songs... Adam Wright does just happen to be Jackson's nephew, and Uncle Alan does just happen to make an appearance on this album as well, but one listen to this disc and you'll know that they got here based on their talent, not anything else. This is a really striking record for a modern commercial country release -- it's got a softness and sincerity that's really quite refreshing. The Wright's never sound like they're straining to find a hit, or trying out whatever styles or gimmicks they can think of to see what might stick. They have a nice, simple sound and they stay with it, giving them a distinctive presence amid all the pop-soul crossovers of recent years. Also, the production is smooth and assured, and pleasantly restrained, given how over-the-top the Nashville studio cats have gotten. This is a classy record, a well-measured piece of craftsmanship that never blunders into by-the-numbers commercial formulae... If you enjoy Barry and Holly Tashian's records or the mellower stuff by Buddy and Julie Miller, then you may find kindred spirits here... Check it out!
Adrienne Young & Little Sadie "The Art Of Virtue" (Addie Belle, 2005)



Consider yourself put on notice: Adrienne Young is a contender for the throne. Which throne? You name it. The opening track, "Art Of Virtue," has a sleek, velvetlike feel and a vocal performance of such warmth and self-assurance that makes it clear that Young could easily slide into the upper tiers of the pop-bluegrass scene, if she were so inclined... (Alison Krauss might wanna check and make sure her 401Ks are all in order...) But the rest of the album has plenty of rasp and twang to it, keeping Young & Co. well within the bounds of the indie/old-timey camp as well. The pickin' is solid but not overly flashy and the band encompasses an admirable variety of musical styles and tones. Plus, basing some of the material on a pamphlet by founding father Ben Franklin (and including an abridged fascimile of the pamphlet in the pamplet inside the album...) Well, how much more "Americana" can you get?? I'm not sure if this album has as much freshness or immediacy as Young's debut, but it's still pretty damn good... It's certainly one of the best newgrass/alt-Americana albums you're going to come across this season... Recommended!
Various Artists "GREETINGS FROM ALABAMA, THE HEART OF DIXIE" (Bear Family, 2004)


Bear Family's loopy series of travelogue compilations continues with this entry from the home state of Hank Williams... It's actually not the strongest disc in this series, but it still has some gems, and gathers classics such as "Alabama" by the Louvin Brothers alongside rockabilly, hillbilly and country-folk rarities, all singing the praise of "the Heart of Dixie." The inclusion of two tunes by jump blues bandleader Louis Jordan seems a little incongrous (although there is also a strong strain of Dixieland and minstrel-show blues in many songs, a hangover, no doubt, from the Depression-era success of "Alabamy Bound...") One big disappointment is that they don't include the Lynyrd Skynyrd original of "Sweet Home Alabama," opting instead for a gooier version by... you guessed it... Alabama. It's also too bad they didn't include "Boulder To Birmingham," by native Alabamian Emmylou Harris... I imagine those two songs were a little too expensive to get the rights for, but it still woulda been nice to hear them hear. Anyway, this set is okay, but others in this same series are much stronger.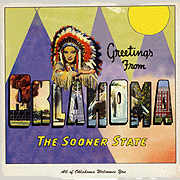 Various Artists "GREETINGS FROM OKLAHOMA, THE SOONER STATE" (Bear Family, 2004)


This collection is a real humdinger, packed with fun, rollicking songs (and several oddball entries) in praise of that great American oilslick known as Oklahoma. Now, to be honest, Oklahoma is hardly the most glamourous state in the union... I grew up nearby, in Kansas, and I know how much other folks make fun of ol' Oklahoma... So, if you live there and you're gonna be all proud about it, chances are you're gonna be really proud, and if anyone tells you that your state is a total dump, you're likely to haul off and pop 'em one in the snoot. And sure enough, that same defiant, unreasonably patriotic Panhandle pride comes through loud and clear. It helps that western swing partly started in Oklahoma, and that some really great country classics have been written about the Sooner State, tunes like Jack Guthrie's "Oklahoma Hills" and "Okie Boogie," "Take Me Back To Tulsa" by Bob Wills and -- of course -- Merle Haggard's "Okie From Muskogee." But what makes this disc a real must-have are the weird, rare songs, such as "Oklahoma's OK," by Bobby Barnett and Charlie Walker's "Moffet, Oklahoma," which are so kooky and so obviously an expression of pure provincial pride that they're bound to bring a smile to your face, whether you grew up there or not. This is one of the strongest entries in this series so far... Definitely worth tracking down!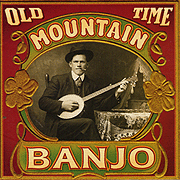 Various Artists "OLD TIME MOUNTAIN BANJO" (County, 1969/2005)



When this album originally came out, it was one of the first collections of its kind, a deep exploration of pre-WWII banjo music that included some of the finest plunkers of the 1920s and '30s. Buell Kazee, Dave Macon, Charlie Poole and the Coon Creek Girls are among the more well-known artists on here, although it's the more idiosyncratic choices that make this such a charming set. There's plenty of the weirdness, spookiness, the authenticity and immediacy that makes these type of vintage recordings so fascinating... This is a great collection, the kind of music I could leave playing on the stereo for days on end, and be both satisfied and surprised anew each and every time I hear it. Great job on the sound remastering, too, by the way. Highly recommended, especially if you enjoyed the old Harry Smith collections.
---



Hick Music Index
Shop Amazon, Support Slipcue



---


<! August, 2005 (*)>