<! MP3 10/18/11 > <! pix 00/00/00 > <! archived 10/18/11 > <! * >

---
Howdy, neighbors!
Here are some reviews of the new country, bluegrass and Americana records that I had the good fortune to listen to in October, 2005. This month: Bill Carlisle, Bruce Cockburn, Cowboy Troy, Jerry Douglas, Eric Heatherly, Robert Earl Keen, Joe Nichols, Dolly Parton, Jon Randall, The Road Hammers, Connie Smith/Sharon White/Barbara Fairchild, Marty Stuart, Joy Lynn White, Wildfire; Various Artists: "Good For What Ails You," "Should Have Been Hits"
...It's not everything I heard, but it's a nice sample of stuff that either tickled my fancy or ticked me off... Many records that aren't included here are reviewed elsewhere in my full Guide To Hick Music. And, just because I'm feeling impish, I thought I'd add a link to my Holiday section too, because it's never too early to check out some cheesy holiday music!
---
New Stuff: October, 2005
---
Bill Carlisle "Gonna Shake This Shack Tonight (Busy Body Boogie)" (Bear Family, 2005)


I've always loved Bill Carlisle's best-known hits, the irresistible "No Help Wanted" and "Too Old To Cut The Mustard," and I've ferreted out old LPs and random 45s over the years, based on their appeal... But for some reason I was leery of delving into a full-on 30+ track Bear Family deluxe retrospective... I mean, how many of these manic novelty songs can you really listen to, one after the other, and how many can you play on the radio...? Silly me. This is a great collection, and I thoroughly enjoyed it from start to finish. Of course it helps that Chet Atkins provided the bouncy, melodically innovative lead guitar on pretty much all the classic Carlisles hits (and most of the tracks on this album) and somehow even though the formula never changes, all these kooky novelty tunes are fun to listen to... It's such exhuberant, upbeat, shamelessly dopey (and often quite saucy) hillbilly material, an interesting crossover between the old, Depression-era hokum blues of Bill Carlisle's youth and the new, streamlined country that was coming down the pike in the mid-1950s... but still with plenty of bite and sass to keep our toes tapping... Anyway, it's great stuff... highly recommended!!

Bruce Cockburn "Speechless" (Rounder, 2005)



This all-instrumental album is a real treat, especially for those of us who have treasured the musical side of Canadian folk-pop poet Bruce Cockburn's as much as his lyrical strengths... Gathering instrumental tracks from numerous albums (including one from a Japan-only release that came out a while ago), this disc is emminently listenable, and surprisingly shies away from the occasionally florid aspects of Cockburn's music... I was particularly pleased to hear "Train In The Rain" and "Sunrise On The Mississippi," two bright gems that were highlights of his 1994 Dart To The Heart album... They also serve as centerpieces here, with chiming, sprightly warmth and a crystalline tone. Although there is some experimentation, Cockburn's approach on most of these tracks is acoustic and direct, hewing to simple melodies that reflect the same life-affirming warmth as the rest of his work. Recommended!

Cowboy Troy "Loco Motive" (Warner Brothers, 2005)



(Produced by John Rich, Big Kenny & Paul Worley)
Yes, this country-rap "hick hop" album is a genre buster, and it was also a big chart hit... What it isn't, though, is any good. Troy is a protege of the Big & Rich production duo, and shares much in common with them. In particular there's the kranging, crunchy, metal-ish guitar chords, which are compressed into discreet, inoffensive pop nuggets, the thumping, mechanical drums, a few obligatory country touches (steel guitar, a bit of fiddle), and above all the relentless pop hooks, which are augmented on the tracks that Big & Rich guest on with gleeful, in-your-face novelty vocals. B&R are clever producers -- loud, brash, shameless and quite successful at what they set out to do. The trouble is, though, that this is an incredibly vapid record, and an artistic failure on every level -- the songs are empty, hook-laden novelties, tedious musical goofs with lyrics that are about nothing; the production is sterile and contrived, and Troy Coleman is, without question, one of the most untalented rappers ever to enter a recording studio. Even allowing for his trying to "hick" up his delivery, he just isn't very good, either as a lyricist or a rapper. He's got no flow. I understand why people get into this -- the contemporary country fan base is changing, and the artists and fans alike are a younger crowd who are as used to listening to commerical rap music as they are to the latest Tim McGraw or Shania Twain albums. So it's natural that a there's an urge to see the two styles cross over -- the trend may be lamentable from the perspective of those of us who still like real country music, but it is understandable. What's a shame, though, is that the powers that be see fit to offer these fans such palpably weak material. Troy may have fans now, but unless somebody gives him a massive transfusion of depth and talent, he's doomed to be this era's version of Cletus Maggard. Shame on all the DJs, program directors and journalists who have jumped on this lame-ass bandwagon. You know it's wrong, right?
Jerry Douglas "The Best Kept Secret" (Koch, 2005)



(Produced by Jerry Douglas)
The world's most ubiquitous dobro player, Jerry Douglas rose up from the ranks of the '70s newgrass scene to becomes one of the hottest session players in Nashville, while still keeping his 'grassy cred. Those who think of him as a known quantity may be surprised by the muscular electric blues number that kicks this album off, a duet with hotshot guitarist Derek Trucks that almost sounds like a ZZ Top outtake. Then it's on to more familiar territory, with a zippy breakdown featuring Bela Fleck on banjo, Sam Bush on mandolin and some tasty fiddling by Gabe Witcher. Indeed, this disc is packed with guest stars -- John Fogerty yodels and Bill Frisell jams on a couple of tunes while Alison Krauss gets in touch with her inner funky soul sister on a Bonnie Raitt-ish cover of LTD's old soul-funk hit, "Back In Love Again." Depending where you land on the twang spectrum, this album may either sound way too controlled, or like a little slice of heaven... One thing's for sure: Douglas is certainly stretching out, and folks who are already fans, whether from his spacegrass days or though his work with Union Station, will probably really dig the results.
Eric Heatherly "Lower East Side Of Life" (Koch, 2005)



(Produced by Eric Heatherly)
Well, Heatherly seems to have pretty much given up on the country thing, in favor of a more mature, low-key, easygoing (yet world-weary) acoustic-based soft rock sound... Too bad: I kinda liked his remake of "Flowers On The Wall." But for those looking for sensitive songer-songwriter types, this disc might fill a certain void. Not catchy or rowdy enough for me, but don't let my personal limitations hold you back. A certain swath of Top Country fans will probably love this disc, for its soft, sensitive presentation.

Robert Earl Keen "What I Really Mean" (Koch, 2005)



(Produced by Rich Brotherton)
As wordy and Jerry Jeffish as ever, good ole REK is looking back on wild times and youthful love of music's romance, with a solid backing band that helps him get a little funky and loose, as well as back to a more "country" sound, anchored to twang in a way his last couple of records were not... Ex-Bad Liver leader Danny Barnes is there, pitching in on banjo, and bandmember Marty Muse adds some solid steel licks that sweeten many a song... Standout tracks include absurdist ditties like "Mr. Wolf And Mamabear," which paraphrases urban grit into storybook language, and "The Great Hank," which pictures a phantasmic, cross-dressing ghost of Hank Williams as a spirit of country dreams gone by, and "A Border Tragedy," yet another tale of Tex-Mex alcoholic adventuring, with a cameo vocal by the great Ray Price... I still can't really get on Keen's wavelength, but this new disc will provide grist for his fans and adds a few new good singalong tunes for his live shows... Folks who were turned off by the pop leanings of Gravitational Forces and Farm Fresh Onions will be cheered by the twangier inclinations of this new album.
Joe Nichols "III" (Universal South, 2005)



(Produced by Buddy Cannon, Byron Gallimore & Brent Rowan)
His debut album showed a rollicking edge, wisely tempered with slicker Nashville leanings -- and he sold a bazillion copies... Then, Nichols slipped into a more mainstream, pop-oriented style, going for the ballad-lovin' market. Here's the twist, though: on his third album, Nichols gets back in touch with his rowdy side, delivering one of the best twang-laden, Top 40 honkytonk albums of the year. With echoes of Merle Haggard, John Anderson and Lefty Frizzell, Nichols plows through winners like "Should I Come Home" and "As Country As She Gets," a swell version of Steve Earle's "My Old Friend The Blues," and the surprisingly risque "Tequila Makes Her Clothes Fall Off" (which is already proving a strong hit single). "Size Matters," which is doubtless also slated to become a hit, is a more standard-issue Nashville sensitive guy song, with a catchy melody and a sly, aw-shucks, it's-only-love-that-matters message... "Talk Me Out Of Tampa," which eerily references both New Orleans and impending hurricanes, is likely to strike a strong emotional chord with folks througout the South -- one wonders whether his label will risk floating it as a single or not... (It's a nice song, though; I think it'd be a big hit if they did...) All in all, this is a mighty fine album, which rekindles the excitement many true country fans felt when Nichols first hit the scene... Recommended!
Dolly Parton "Those Were The Days" (Sugar Hill, 2005)



(Produced by Dolly Parton)
Here, Dolly covers pop tunes dating back to the hippie era of the late 'Sixties and early 'Seventies, stuff like Cat Stevens' "Where Do The Children Play," Joni Mitchell's "Both Sides Now," a couple of Dylan tunes, "Crimson And Clover," "Me And Bobby McGee," John Lennon's "Imagine," and the like... A few of the original artists are on board for this nostalgia trip, including Judy Collins, Mary Hopkin, Roger McGuinn, Kris Kristofferson... even Tommy James(!), as well as a slew of new kids, such as Norah Jones, Joe Nichols, Mindy Smith and some other Nashvillers and bluegrass regulars... It's intersting to note after last year's patriotic flag-waver, God And Country, that Dolly has done a 180 and recorded a bunch of hippie-era peace songs... Guess she's just an even-handed kinda gal. Still this is kind of a goofy album... Dolly's heart is clearly in it, but you have to be in the right frame of mind to get onto her wavelength... It's not entirely cloying (and some songs are surprisingly effective) but it's also not exactly the grittiest country record ever made... Ifyaknowwhatimean. Probably for diehard Dolly fans only.
Jon Randall "Walking Among The Living" (Epic-Nashville, 2005)


(Produced by George Massenburg & Jon Randall)
A beautiful, wonderfully crafted album that recalls the best work of Linda Ronstadt and Peter Asher's LA-based country-rock crowd of the 1970s... and I mean that as a high compliment. In particular, this sounds a lot like J.D. Souther's flowery, folky country-pop albums, but as an album it's stronger and more consistent than any of Souther's solo works. Vocally, there's also a strong resemblance to Lyle Lovett, although Randall avoids the clowning and theatrics which color many of Lovett's best performances... Riding high on his recent success as the composer of Brad Paisley's 2004 hit, "Whiskey Lullaby," Randall makes the most of his latest moment in the spotlight, delivering one of the best country albums of the year. He includes a reprise of "Lullaby," as well as solid gems such as the album's opener, the heartrending "Baby Won't You Come Home." Without chart success of his own, Randall may remain a back-bencher, but for his fans (and anyone lucky enough to stumble onto this album, or some of his older ones), this is a fine album that will hold up to -- and invite -- many happy listenings. Recommended!

The Road Hammers "The Road Hammers" (Airstrip, 2005)


(Produced by Jason McCoy & Scott Baggett)
These gnarly Canadian gearjammers show a lot of promise, at least from the will-they-make-it-in-Nashville? point of view... This loud, live-wire set of modern-day trucker songs (with some well-chosen cover tunes) has a rough, muscular, rockin' edge to it that may appeal to fans of Confederate Railroad or Travis Tritt's early work; they also prove themselves unafraid to try out a few cheesy ballads, and to submerge themselves into pure formula, the kind of formula that can spell big commercial success. This current album has some liabilities and it probably won't take them to the top, but it might get the band's foot in the door -- the drawbacks are mostly, I think, due to the production, which is a little too edgy and jarring (although Southern rock/blues-rock-oriented fans may be drawn to it...) Even though this isn't my kind of country, I think these guys are a band worth keeping your eyes on... They're almost a "red dirt" band, and twangy enough that some altie/Americana types might be drawn to them, and definitely commercial enough that a major label will probably pick them up soon. In the meantime, cover tunes like "Girl On The Billboard," "East Bound And Down" and even Lowell George's "Willin' " are pretty enjoyable, and also tell us a lot about this band's roots. Worth checking out.
Connie Smith/Sharon White/Barbara Fairchild "Love Never Fails" (Daywind, 2003)



(Produced by Ricky Skaggs)
A noteworthy Christian country-pop set, with three highly regarded country gals, and strong production assistance from Sharon White's hubby, Ricky Skaggs, who gives this disc a lot more rhythmic ooompf than most albums on this popular Southern Gospel label. I'm a big fan of Connie Smith (her discography was one of the first artist profiles on the Slipcue website), and it's always nice to hear her doing something new... She's in fine form, as is Barbara Fairchild, another former Top Forty country singer from the countrypolitan era who dropped out of the Nashville rat-race after she got born again and decided to record only religious material. Fairchild's voice sounds better than ever, and still has that Dolly Parton-esque timbre to it; it sure would be nice to hear her tackle some nice traditionally-oriented secular material sometime, as long as she could round up a backup band at least as strong as this one (which includes Nash-grass stalwarts such as Stuart Duncan and Bryan Sutton, among others...) This album is probably too rowdy for most Southern Gospel fans (who really like tinkly pianos and less-twangy vocals), and while it probably won't wow many country listeners, for folks who are fans any of these three singers, this is kind of a treat. Plus, it's certainly a heartfelt performance, with a nice harmony sound among the trio... Very Jesus-y, but the emphasis is on inspiration and self-affirmation, rather than the evangelical side of things, so it may be more accessible to secular listeners. Worth checking out.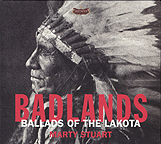 Marty Stuart "Badlands" (Sony Nashville, 2005)



(Produced by Marty Stuart)
Borrowing a page from Johnny Cash's book, Marty Stuart takes up the Native American cause, picking up where Cash's Bitter Tears concept album left off, and delivering a scathing set, laced with spoken word bits and searing criticism of the genocide against the Lakota Sioux Indians (and Native Americans in general...) Like 1998's The Pilgrim, this is a grandiose, thematic album, although it is more tightly focussed and has greater emotional heft... The Cash connection is strong: Johnny's son, John Carter Cash, co-produced the album and Stuart (who used to play in Cash's band) includes a cover of "Big Foot," a rather pointed historical song about the fallout from the battle of Little Big Horn. Some might find this album preachy or hokey, but it is undoubtedly sincere and has some strong musical moments... Along with the previously released Soul's Chapel gospel album, this marks a period of renewed vitality for the long-sidelined Stuart. Worth checking out, particularly if you're of a folkie-political bent.
Joy Lynn White "One More Time" (Thortch Recordings, 2005)



(Produced by Kyle Lehning & Joy Lynn White)
It took me a while to warm up to this record... White's tactical retreat from would-be Top 40 success has left her sounding pretty snarly and rugged... So if you still groove out on old Lone Justice albums or early solo work by Maria McKee, this album's really gonna stir and excite you. White also has a surprising amount of Patti Smith in her and after a while that's what drew my attention, getting me past the roots-rock power chords and crunchy, bluesy guitar riffs (which, frankly, don't appeal to me that much...) and into the songs themselves. There's at least one real masterpiece on here, Phil Lee's soul-searing "Just Some Girl," which explores the "no humans involved" phenomenon, where anonymous young women wind up dead and unmourned, their deaths uninvestigated because the cops figure they were "just" prostitutes or whatever, and nobody's going to care that they're dead. Well, the song has a bit lighter touch than what I just wrote, but it touches on the same subject matter, and it packs a real wallop... It's also one of the most musically subtle songs, and as such highlights White's strengths much better than the louder, brasher songs that surround it. Similarly, "Girls With Apartments In Nashville" is a softer meditation on tough times trying to make it big in Music City... White also has fun with a chunky cover of Allan Toussaint's "A Certain Boy" (delivered with gusto with vocal assist from fellow alterna-chick Amy Rigby...) Even though this album is a little too abrasive for me, I'm sure many Americana lovers will dig it. Definitely worth checking out!

Wildfire "Rattle Of The Chains" (Pinecastle, 2005)



Lively, heartfelt, slick yet soulful modern bluegrass, featuring fine lively vocals and some fine slide guitar and dobro pickin' from Phil Ledbetter. This set is more straightforwardly 'grassy and less blues-tinged than Ledbetter's solo albums, though it shares a lot of his heartfelt, earnest enthusiasm... Nice stuff...! If you like traditionally oriented super-professional super-groups like Blue Highway and Kentucky Thunder, you might want to check this disc out.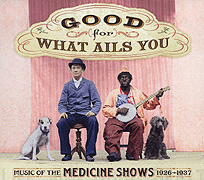 Various Artists "GOOD FOR WHAT AILS YOU -- MUSIC OF THE MEDICINE SHOWS: 1926-1937" (Old Hat, 2005)


This one's a real doozy -- in fact, it's probably the single most impressive, historically important Americana/old-timey albums to come out in the last few years. This 2-CD set, complete with lavish, cogent liner notes and a handsomely booklet packed with archival images, features some truly amazing material, the novelty songs, oddball ramblimgs and outright showstoppers that made up the repertoire of the traveling patent medicine shows of the late 1800s and early 20th Century. The medicine shows served as a major entertainment venues in the rural South and Midwest, with countless artists doing everything they could to hold audiences in their thrall just long enough to get the rubes to buy some of the dubious elixirs presented for sale. Thus, the songs that they played were endlessly entertaining and diverting, and the instrumental approaches they used were as unorthodox as they were delightful. This colelction features dozens of rare vintage recordings made in the 1920s and '30s, when the medicine shows were in their last gasps... The material is way off the beaten track -- even diehard fans of the "old-time" music scene or old-fashioned acoustic blues will be delighted to find so many songs they'd never heard before, like Walter Smith's "Bald Headed End Of The Broom," Chris Bouchillon's "Born In Hard Luck," "Beans," by Beans Hambone and El Marrow, "The Cat's Got The Measles, The Dog's Got The Whooping Cough" (also by Walter Smith), or "Shout You Cats," by Hezekiah Jenkins. To be sure, there are numerous tracks by relatively well-known artists -- Charlie Poole, Gid Tanner, Pink Anderson, et al., but this set places these odd old songs in their proper context, as vibrant remnants of the old traveling "med shows" and the minstrel shows that preceded them... The material is often ribald and politically incorrect, as well as musically and thematically riveting, and endlessly surprising. The pacing of each disc is flawless, the sound quality's great, the liner notes are cogent and very informative... So what are you waiting for? This is one of the best records of the year, by far.

Various Artists "SHOULD HAVE BEEN HITS" (Koch/Little Darlin', 2005)



A fun, funky set of obscuro recordings, drawn from the bottom drawers of the dusty file cabinets at Aubrey Mayhew's long-defunct indie label, Little Darlin'. These artists are all super-nobodies -- Dugg Collins, The Herbert Brothers, Joe Pain, Eddie Reday? Yeah, right. Of course, that's the attraction here: this is stuff that's way off the Nashville radar, and while some of it's pretty weak, a lot of it is great. There's some rough and rugged hillbilly boogie (on the 1953 cut "Hot Rod Race, Navy Style," which features a young Roy Clark on guitar), plenty of mopey, boozy jukebox honkytonk from the '60s and '70s, some great novelty songs (notably "Problem Solving Doctor" by Roy Weldon and the fabulous, Tommy Collins-styled "Too Light To Fight, Too Thin To Win," by Lee Howell. There's also some lame stuff, like Merv Shiner's belated attempt to imitate Marty Robbins, alongside truly surprising material like Larry Steele's civil rights anthem, "Why Don't They Want Me..." Chances are you are never going to hear any of this stuff on the radio or Internet any time soon, and that this disc won't be around all that long, either... So if you dig oddball, obscure material, snap this one up. It's a country keeper.
---



Hick Music Index
Shop Amazon, Support Slipcue



---


<! October, 2005 (*)>