<! MP3 10/18/11 > <! pix 10/18/11 > <! archived 10/18/11 > <! * >

---
Howdy, neighbors!
Here are some reviews of the new country, bluegrass and Americana records that I had the good fortune to listen to in November, 2005. This month: Banjo & Sullivan, Clint Black, Ronnie Bowman, Junior Brown, Cherryholmes, Billy Currington, Jimmie Dale Gilmore, The Highwaymen, Hot Club Of Cowtown/Whit Smith's Hot Jazz Caravan, Tommy Jarrell/Oscar Jenkins/Fred Cockerham, Little Big Town, Neal McCoy, Nitty Gritty Dirt Band, Psychograss, Collin Raye, 3 Fox Drive, Uncle Earl, Various Artists: "Rockabilly Lives"

...It's not everything I heard, but it's a nice sample of stuff that either tickled my fancy or ticked me off... Many records that aren't included here are reviewed elsewhere in my full Guide To Hick Music. And, just because I'm feeling impish, I thought I'd add a link to my Holiday section too, because it's never too early to check out some cheesy holiday music!
---
New Stuff: November, 2005
---
Banjo & Sullivan "The Ultimate Collection: 1972-1978" (Universal/Hip-O, 2005)



This "best-of" collection is a clever forgery, one of the most entertaining biographical hoaxes since my profile of psychedelic barbershop bandleader Norm Wooster... It's also one of the best vulgar hillbilly porn-parody sets since Chiga Chavin and/or Billy C. Wirtz laid down some wax... In this case, the gimmick is that Adam Banjo and Roy Sullivan were (supposedly) a marginal country act from the mid-'70s that met with a grisly, unfortunate end when a killer cult did them in (a tie-in with some Rob Zombie slasher flick, which is where the mythical B&S really come from...) Alt-country stalwart Jesse Dayton provides the musical talent, writing, producing and performing the bulk of the album... and it's a pretty good set, with song titles that mimick the overly-complicated, pun-laden novelty formulae of 'Seventies country ("I'm At Home Getting Hammered (While She's Out Getting Nailed)," "I Don't Give A Truck," "I'm Trying To Quit, But I Quit Trying," etc.) The actual music doesn't sound that '70s-ish, but some songs are pretty fun... The Universal mega-label gets credit for going along with the gag and releasing this disc with a straight face as one of their "Ultimate" titles... (If they'd also released it with the same generic artwork as, say, their "Millenium" series, that would have truly hilarious...) Anyway, if you like mildly raunchy alt-country novelty material, this is a good record to check out. Heck, I may even rent the movie someday...!
Clint Black "Drinkin' Songs And Other Logic" (Equity, 2005)



(Produced by Clint Black)
This is kind of a mixed bag -- Clint does seem to be getting twangier, to match the back-to-basics mood of the times, but he reins in the production in order to keep the focus on the wordplay and his vocals, so some songs that should have had a more thumping, propulsive feel wind up sounding too delicate and deliberate. The title track, in particular, could have been a lot rowdier, devolving into dense wordiness when it should've just gone for the gusto. Later on in the album, though, he scores a run with "A Big One," which is a pretty swell barroom ballad. Most of the songs on here will make Clint's fans happy (even if he lays an egg or two, like on "Undercover Cowboy," which is an embarassingly weak novelty song...) The standard Clint Black balance is in place: there are flowery ballads and western swing tunes, a plaintive, religious-themed song ("Back Home In Heaven") and some welcome nods to his honkytonk roots... This album's not as wild as the title promises, but you could still hoist a brew or two while humming along... It's worth checking out, though it's not quite as rollicking as the old stuff.
Ronnie Bowman "It's Getting Better All The Time" (Koch, 2005)



Sweet, slick, professional-yet-soulful bluegrass that strongly recalls similar work from Ricky Skaggs and J.D. Crowe. Bowman is a fine singer, but really makes his mark here as a songwriter, penning all but three of the album's tunes, notably"Build A Little Playhouse," one of the album's catchiiest numbers, which sounds like a long-lost collaboration between Buck Owens and Bill Monroe... Maybe it's not the most distinctive set, but it's solidly rooted in tradition, with a modern, lightly poppish "progressive" touch, and plenty of fine picking. It's well-performed and easy on the ears, and not as "too perfect" as many contemporary albums seem to be... Certainly worth checking out!
Junior Brown "The Austin Experience: Recorded Live At The Continental Club" (Telarc, 2005)


Gravel-voiced guitar whiz Junior Brown, with a live album? Dang! What took 'em so long?? If you ask me, this may be Brown's strongest album to date, capturing the live-wire intensity that so many of his fans talk about. Playing to a rollicking, participatory crowd at one of his regular stomping grounds -- Austin's Continental Club -- Brown plows through his "hits" with conviction and gusto. Yeah, there's a slight air of by-rote professionalism, but far less so than on his studio albums... Overall, this is a pretty captivating record, with a wide variety of styles and moods, and through it all bubbles Brown's deep, hearty growl and his chunky, twanged-out guitar. It's a good show: Brown puts himself into it whole-hog, and his enthusiasm is contagious. If you wanna hear Brown at his best, check this album out!

Cherryholmes "Cherryholmes" (Skaggs Family, 2004)



This is, flat out, one of the best true-blue, dyed-in-the-wool, traditionally oriented bluegrass groups this side of Del McCoury's band... This album is a real sizzler, with plenty of sweet pickin' and soulful vocals that are aglow with sincerity, emotion and depth... The Cherryholmes family, who hail from Southern California, sound like they really enjoy playing this music, and the feeling beams through to the listeners as well... This is, above all, a really fun record. This is their fourth album and, honestly, there isn't a weak track on it... Speaking of which, the song selection is also first-rate, from numerous crackling originals to some well-chosen oldies such as
Billy Currington "Doin' Something Right" (Mercury, 2005)



(Produced by Carson Chamberlain)
I like Billy Currington's voice, and if he wants to jump on the new neotraditional Top 40 bandwagon, well, more power to him... The propulsive "I Wanna Be A Hillbilly," which opens this album, is a great prefab honkytonk pop/novelty song, and Currington's own "Why Why Why" is okay as well, kind of a bid to refashion himself into a Dierks Bently kinda youth-oriented maverick... Still, Currington covers his bases with a bunch of soft songs, like the dreary "Must Be Doing Somethin' Right," the reggae-tinged "Little Bit Lonely," and "That Changes Everything," which is a hook-laden midtempo winner that Kenny Chesney would be proud to record, one of those songs you gotta listen to all the way through in spite of yourself. Also, it takes some guts (or maybe just nerve) to cover that old Kenny Rogers chestnut, "Lucille," but makes up for it with the soft-centered "Here I Am," which is one of the strongest, most understated tracks on the album. All in all, this is a pretty strong album, one that should help Currington solidify his standing as a second-tier mainstream country star, and may help him find his own independent voice. He's got more fiddle and less drum machine on this new album, and that's definitely a step in the right direction: I'm curious to hear where he goes from here.
Jimmie Dale Gilmore "Come On Back" (Rounder, 2005)



Jimmie Dale doing a set of classic country covers? I am so in!! Although this album has a light, easygoing, simple feel, there is a sad story behind it -- this is a tribute to Gilmore's father, Brian, a regional country player who played guitar in various West Texas venues in the early 'Fifties, and who succumbed to Lou Gehrig's Disease in the late 1990s... His love of good, true country music was, obviously, handed down to his son, and no doubt Jimmie Dale has played many of these oldies onstage and after hours for many years... Some are well-known chestnuts that still bring a smile, others are a bit more obscure... There's the obvious nod to Lefty Frizzell (a fine rendition of "Saginaw, Michigan"), Hank Snow's "Moving On," Charlie Walker's "Pick Me Up On Your Way Down," and several fine tunes originally recorded by Jimmie Rodgers, Marty Robbins, Ernest Tubb, Hank Williams and Johnny Cash. Throughout, Gilmore's delivery is loving and light -- he hits just the right tone on each and every song, with an acoustic-based band that is perfectly in synch, playing the songs like they love 'em, like the tunes are alive and not just museum pieces. This is one of the catchiest, most heartfelt Americana albums I've heard in a while... Highly recommended!

The Highwaymen "The Road Goes On Forever (Tenth Year Anniversary)" (Capitol/Liberty, 1995/2005)



The Highwaymen "The Road Goes On Forever (Tenth Year Anniversary)" (CD & DVD) (Capitol/Liberty, 1995/2005)


The third album by this country-elders supergroup, featuring Johnny Cash, Waylon Jennings, Kris Kristofferson and Willie Nelson. Even though Don Was sat behind the console to produce this one, I gotta admit it's pretty darn good, and a punchier, more compelling work than the first two Highwaymen albums on Columbia. This kicks off with a good version of Steve Earle's "The Devil's Right Hand," then cruises into songs by Billy Joe Shaver, Dallas Frazier and a few tunes by the various fellers in the band. It's a pretty strong record, certainly worth checking out, even with a few clunky nods towards modern, Top-40 country production. The expanded 10th Anniversary edition includes a half-dozen outtakes from the original sessions. Most of these bonus tracks are, frankly, a little sketchy, but the first -- an acoustic demo of Cash singing "Live Forever" -- is positively electrifying, and Waylon's "I Ain't Song" is a fun shaggy-dog story about life behind-the-scenes in Nashville, a rollicking campfire song, complete with chortles and guffaws from his appreciative Highwaymen pals... While the other extras are kind of marginal, they also give a good sense of the cheerful, behind-the-scenes informality and collegiality the foursome shared... The expanded version also includes a new DVD that shows more of the making-of process, which will be thrilling to fans of any of these alt-country old-timers.

Hot Club Of Cowtown/Whit Smith's Hot Jazz Caravan "Four Dead Batteries" (Soundtrack) (HighTone, 2005)



I don't know anything about the movie this soundtrack is from, but the music sure is sweet! An album full of music from one of the finest western swing/stringband revival bands, the now-defunct Hot Club Of Cowtown, with five new tracks from HCCT co-founder Whit Smith's new group. It's fine stuff from start to finish, a very listenable, very pleasant set, roaming through various acoustic jazz, blues and country styles, with a healthy dose of classic western swing tunes. This is a well-programmed album, and a fine testament to the Hot Club's freewheeling, joyful style. Recommended!

Tommy Jarrell, Oscar Jenkins & Fred Cockerham "Down To The Cider Mill" (County, 2004)



Tommy Jarrell, Oscar Jenkins & Fred Cockerham "Stay All Night And Don't Go Home" (County, 2004)



As scrappy and deliciously raspy an old-timey set as ever you will hear. All three men -- banjoist Fred Cockerham, fiddler Tommy Jarrell and fiddler Oscar Jenkins -- come from North Carolina families with long musical lineages, including elders who played with old-timey legends such as Ernest Stoneman, back in the 1920s and '30s... The flame was definitely still bright in 1967 when County Records founder Dave Freeman corralled all three of these old coots together for a few marathon sessions, capturing their mountain music in its purest and most gleeful form. This Stay All Night disc showcases vocal number: Jarrell barks out the lyrics to crowd-pleasers like "Old 97" and "Sally Ann," as well as a slew of more obscure songs, and he takes plain delight at making the songs sound as raw, rowdy and difficult as possible. If you're a city slicker, you're gonna have to work to like this style... But once you "get" it, this is one of the most rewarding albums of its kind you'll come across. The companion album, Down To The Cider Mill, is also a real doozy, although it centers in ont he instrumental side a bit more. Both are fine, fine records. Recommended!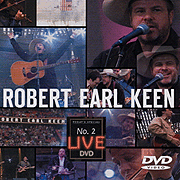 Robert Earl Keen "No.2 - Live" (DVD) (Koch/Rosetta, 2005)


Mr. Keen plugs away during an intermission show at a Texas rodeo... The repertoire features some tried and true oldies and some newer tunes... The filming is professional and solid, though also willing to embrace the unglamorousness of the setting, catching glimpses of detached audience members (and even a small boy who had fallen asleep), all of which adds to the just-normal-folks vibe that this Americana icon has embodied for years. A good, solid performance from under the Nashville radar.
Little Big Town "The Road To Here" (Equity, 2005)



(Produced by Little Big Town & Wayne Kirkpatrick)
Here's a band that's got a bright future, even if they've been out of the spotlight for a few years since their '02 debut. This new disc has already got 'em into the Top Twenty charts, with the single "Boondocks," and followup hits seem likely. Personally, I find a lot of their songs a bit cluttered -- those melodic hooks and swoopy key changes are proven winners, though maybe they could streamline a tune or two -- but in Nashville formula is king, and these guys've got hooks up the wazoo. They also sound a lot like Fleetwood Mac, with female solo vocals that get pretty Sheryl Crow-ish... Again, these are reference points that modern country fans are gonna respond well to... Although I wasn't totally ga-ga over LBT, I also didn't find anything overtly yucky about their sound -- I could listen to this disc without wincing the way I do while checking out, oh, say, Sugarland, who are way more over the top and phony-sounding... In contrast, there's an underlying sincere, real musical root to Little Big Town's sound that comes through despite the dense production, something that tells me they love a little twang on top of the pop. Anyway, they certainly are a band to keep your eye on, with a male-female harmony mix that helps 'em stand out, and the potential to become one of the decade's big hitmakers. They just need to S-I-M-P-L-F-Y things a little and they could rule the world.
Neal McCoy "That's Life" (903 Music/Navarre, 2005)



(Produced by Eric Silver)
I dunno.. the longer I'm exposed to Neal McCoy, the more i gotta admire him, for his consistency, if nothing else. Country radio may have forgotten about him, but his fans won;t, at least as long as he keeps putting out discs like this one. McCoy has an utter faith in the simplest and most obvious pop-country formulae -- he'll throw himself into a dopey, goofball redneck novelty song with as much conviction as he applies to the super-drippy ballads that populate the other end of his albums. On one hand there are no-brainer party anthems like "Got Mud," "Tailgate" and "Billy's Got His Beer Goggles On"; on the other hand there are the sappy songs, which are as gooey as ever, but hey, a lot of people love that stuff. Charley Pride, who gave McCoy his first big break, years and years ago, sings on a nice, warm, boozy duet, and while it's a little embarassing that McCoy is still recycling material like his "Hillbilly Rap" (a thumping medley of the "Beverly Hillbillies" theme and Harry Belafonte's "Day-O"), the rest of this record is pretty solid. In fact, it's probably the best record of his career. Worth checking out, at least if you like unapologetically super-commercial stuff.
The Nitty Gritty Dirt Band "Acoustic" (Liberty-Capitol Nashville, 1994/2005)



(Produced by The Nitty Gritty Dirt Band)
NGDB's short stint on Liberty Records in the 1990s didn't yield much in the way of chart hits, but it did afford them the chance to roll out a few more peaceful, easy albums, including this understated outing... For the most part, it's pretty nice and pretty hummable, even with a couple of cloying would-be hits that gum things up (such as the gimmicky "Hello, This Is Your Heart"). But for a nice, mellow country-rock outing that has little of the musical desperation of other harmony-oriented bands such as, oh say, Shenandoah or Restless Heart, this is a pretty nice option. What matters is the music, and this record holds up well. Definitely worth checking out.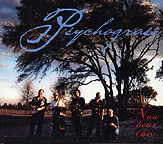 Psychograss "Now Hear This" (Adventure Music, 2005)



No surprises here, but plenty of solid jazz-grass virtuosic superpicking from mandolin whiz Mike Marshall, guitarist David Grier, Tony Trischka on banjo, Darol Anger sawing the violin and Todd Phillips holding down the bass... These guys have been playing together for years and they get some nice grooves going both on the slower, more down-home stuff that starts the album, and the more jagged, chops-heavy jazz that comes towards the end. It's not totally my cup of tea, but if you're a fan of the whole spacegrass sound, this album definitely will not disappoint. Worth checking out.

Collin Raye "Twenty Years And Change" (Aspiron, 2005)



(Produced by Collin Raye, Various)
A chart-topper about a decade ago, Collin Raye has -- like many '90s stars -- fallen off the Nashville radar in recent years. True, he's getting kinda long in the tooth, but it'd be hard to tell from his voice, which is still youthful and thin, evoking old Eagles records just as much as his poppy rock-country arrangements do. Raye's middle-agedness comes out more in his phrasing, which isn't as supple and loose as it once was, although this is a pretty high-energy record, all things considered. Although this set doesn't offer much that's likely to get him back on the charts, longtime fans should be pleased -- Raye sounds earnest and impassioned, and though this is obviously a near-indie-level production, it's a solid offering for the style. He probably regrets the bad timing of "Hurricane Jane," a light novelty song about a tempestuous girlfriend that might not go over so well now that global warming has really kicked into high gear out on the Gulf Of Mexico. Raye's inexplicably lethargic cover of "Let Your Love Flow" also seems pretty unnecessary, but other songs proceed on a steadier course... If you're one of those folks who still has a copy of Raye's greatest hits laying around somewhere, you might wanna pick this new disc up as well.

Three Fox Drive "Listen To The Music" (Koch, 2005)


Well, yes, the title track actually is a cover of the old 1970s Doobie Brothers hit... But let's not hold that against them. (It coulda been worse: they could have done "China Grove"! ) Anyhoo, 3 Fox Drive are a swell progressive bluegrass outfit from upstae New York, bulit around the vocal and instrumental work of Kim, Barb and Joel Fox (on guitar, vocals and banjo, respectively...) These Foxes are continuing the legacy of their earlier band, the Fox Family bluegrass band, which put out a couple of albums in the '90s... This is fine music, with strong picking and innovative, yet solidly rootsy, arrangements... I think most contemporary 'grass fans will enjoy this album quite a bit.. There is an occasional sluggishness to their tempo and meter, but overall, this is pretty nice stuff. Folks who like Alison Krauss, Laurie Lewis and even Dolly Parton's recent acoustic outings will probably want to check this out.

Uncle Earl "She Waits For Night" (Rounder, 2005)



Cool stuff. There's some overlap between this all-gal bluegrass/old-timey band and other eclectic modernists such as Be-Good Tanyas, et al., but the Earlies also dig deep into the spookier, darker, more inaccessible side of mountain music -- not so much the craggy, "bent" rhythms of the old-time crowd as the eerie, mournful, pre-bluegrass melodies that were channelled directly from the Celtic isles into the Appalachian tradition. Mostly, I'm thinking here of the fiddle work of Rayna Gellert, who lingers where other players might have the urge to gallop, and whose rich-toned, graceful bow work is one of the most striking elements of this noteworthy album. The song selection is also great, including a few nice original songs and a slew of traditional tunes, and the vocal harmonies add a nice, joyful quality as well. The soulful/bluesy vocals bring the Tanyas to mind, which a lot of people is a good reason to run out and track this record down... What caught my attention, though, was the glowing praise from Dirk Powell, one of the finest traditional musicians in America... If he's on board, so am I! Check this one out.

Various Artists "ROCKABILLY LIVES" (HighTone, 2005)



Yet another trip to the vaults for the folks at HighTone, this time throwing out some chum for the sideburns-and-gingham crowd. In addition to hard-drivin' rave-ups by erstwhile Hightoners such as Dave Alvin, Big Sandy, Rosie Flores, Kim Lenz, et al, there are also some vintage tracks from the Rollin' Rock label, which helped shape the rockabilly revival of the early 1970s. Ray Campi, Mac Curtis, Billy Lee Riley and Gene Vincent are among the big names in that lineup, as well as a couple of brothers who formed the Blasters -- Dave and Phil Alvin -- whose sizzling "Marie Marie" is an album highlight. Nice stuff, even though there's nothing new here.
---



Hick Music Index
Shop Amazon, Support Slipcue



---


<! November, 2005 (*)>