<! MP3 10/18/11 > <! pix 10/18/11 > <! archived 10/18/11 > <! * >

---
Howdy, neighbors!
Here are some reviews of the new country, bluegrass and Americana records that I had the good fortune to listen to in December, 2005. This month: Bobby Bare, Paulette Carlson, Terri Clark, Cross Canadian Ragweed, Shawn King, Bill Malone & Rod Moag, Marty Robbins, Gretchen Wilson

...It's not everything I heard, but it's a nice sample of stuff that either tickled my fancy or ticked me off... Many records that aren't included here are reviewed elsewhere in my full Guide To Hick Music. And, because it's the season, I've added a link to my Hillbilly Holiday section too, because it's never too late to check out some cheesy holiday music!
---
New Stuff: December, 2005
---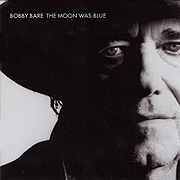 Bobby Bare "The Moon Was Blue" (Dualtone, 2005)



(Produced by Bobby Bare, Jr. & Mark Nevers)
Although he's best remembered as an outlaw-styled rowdy, an irascible purveyor of drinkin'an'druggin' novelty songs, hearing Bobby Bare croon oldies and standards like "Love Letters In The Sand," "It's All In The Game" and "Am I That Easy To Forget" should come as little surprise to longtime fans whose memory goes back to the early, pre-outlaw days, when Bare was still being cast as a cleancut pop-country artist. Remarkably, this is his first album in more than twenty years, and from all indications, it's been time well-spent. With slightly tweaked musical backing courtesy of Lambchop's Mark Nevers, Bare re-emerges as a grand old man on the country scene, infusing the doleful lyrics af every song with a sense of hard-won wisdom and world-weariness. Much like Ray Price on his recent comeback records, Bare knows how to inhabit the lyrics and he sings with a quiet, solid sense of conviction and an undeniable artistic authenticity. If you're expecting the old coot to go through the motions of telling us how he's still a wild party animal, well, forget it. This isn't that kind of a record. But if you're willing to slow down for a minute and let him bring chestnuts like "Shine On Harvest Moon," "Are You Sincere" and even "Yesterday When I Was Young" back to life, then this disc is a gem. This is a masterful, oddly moving performance, one that oughtta show all them whippersnappers a thing or two about how to really sing a song.

Paulette Carlson "It's About Time" (Polly Girl, 2005)


(Produced by Paulette Carlson)
The former lead singer from Highway 101 soldiers on... in more ways than one. Draping herself in the flag, Carlson pays tribute to Vietnam-era veterans, on "Thank You Vets," and sings a couple of other patriotic songs... The stars-and-stripes imagery may be a little misleading, though, since most of the songs on this album are straightforward heartsongs, which she carries pretty well. Regardless, Carlson's fans should be thrilled to hear this self-produced effort... All but two of the songs are Carlson originals, and she shows herself to be a capable performer, even with her voice thinning a bit with age. It's been a while since she was in the charts, but she's still a solid, sincere singer, and this is a good independently-released effort, soulful and understated. Worth checking out! (Available through Carlson's website, www.paulettecarlsonmusic.com
Terri Clark "Life Goes On" (Mercury-Nashville, 2005)



(Produced by Bryan Gallimore & James Stroud)
Her timing may be a little off, but this is still a pretty solid album... What with Nashville's latest flirtation with hard-edged, honkytonkin' material, you'd think this would be Clark's moment to shine, and give ol' Gretchen Wilson a run for her money... But Clark must have had this album already in the can for a while; it's a little slicker than I would have thought, even though she still has plenty of grit in the right places. A well-produced record that's a little heavy on the poppish ballads, but certainly no disappointment to either newcomers or fans. (I sure hope the new neo-trad fad lasts long enough for Clark to get her licks in, though... She's been keeping it twangy for years now, and it'd be nice to hear what she can do if she really cuts loose...!) Anyway, with winners like the gut-grinding "I Wish He'd Been Drinking Whiskey" and "Everybody's Gotta Go Sometime" on it, this is a pretty nice option for those of us still willing to give modern-day Nashville a chance. Worth checking out!
Cross Canadian Ragweed "Garage" (Universal South, 2005)



(Produced by Mike McClure & Cross Canadian Ragweed)
These guys are just so gosh-darned rock'n'roll, it's really hard for me to take them seriously as "country" artists... But I guess the Country charts have more room on them for guys with a little bit of twang in their voices and a lot of reverb on their guitars: they've been doing pretty well chartwise for some time now... Still, those monster "modern rock" riffs sure aren't waht I think of when I hear all the buzz about the Texas "red dirt" scene. Anyway, this disc is their latest; fans of Steve Earle might dig it... Also comes with a bonus DVD disc, so you can see the boys in action.
Shawn King "In My Own Backyard" (Lofton Creek, 2005)



(Produced by Keith Folesse, Carl Jackson, & Steve Tyrell)
Hey, the words "trophy wife" never left my lips, I swear... But, yeah, this is Larry King's wife, and she is awfully well-sculpted and blonde enough to blind a Swede. Still, she can also sing, and has been doing so professionally for most of her life -- as a child, as a teen and as an adult -- albeit mostly in anonymous studio efforts. So, here's her bid to make it as a solo artist, a slick bit of modern Nashville pop, with lots of tinkly piano and confessional/topical lyrics, with songs from several modern songwriters such as Leslie Satcher, Jamie O'Neal and Rebecca Lynn Howard, as well as a few from co-producer Carl Jackson, who also plays guitar throughout. Vocally, there's a hint of Rosanne Cash in her voice and a heavy stylistic debt to Wynonna Judd, Trisha Yearwood and any number of 'Nineties Nashville divas. It's not my cup of tea musically, but King does it pretty well, particularly on the title track, which is one of the album's stronger tunes. There's not a lot of variety here, though -- King seems to love slow songs where she can linger on the lyrics and let her voice crack with emotion -- a few more uptempo tunes might've helped break things up a bit. But if you like the slow, sappy stuff, this disc'll do it for ya...
Bill Malone & Rod Moag "Remember Me: The Music Of The Bailes Brothers" (Hillbilly Dreams, 2005)


Turning the old adage that "those who can, do, and those who can't teach" on its head, retired college profs Bill C. Malone and Rod Moag indulge their shared passion for the music of the Bailes Brothers, delivering this exquisite set of sentimental old-time ballads and proto-honkytonk heartsongs. The Bailes Brothers were a family act that eventually boiled down to more-or-less a brother-act duo, backed with some of the finest country and bluegrass pickers of the 1940s... Their repertoire, as heard here, was outstanding, one great song after another, spanning sweet heartsongs and sincere, moving gospel material. If you like old-fashioned country music that's sentimental without being corny, then this disc (and the original Bailes recordings.. if you can find 'em) is for you. (Louvin Brothers fans should take heed as well...!) Malone is, of course, a well-known country music scholar and author of several fine books; Moag is an Austin-based country enthusiast who has recorded several other records. They are joined here by several high-power guest musicians, including the likes of Cindy Cashdollar, Bobby Flores, pedal steel whiz Lloyd Maines, Tim O'Brien and even Homer Bailes, the last remaining member of the original family act, who sings on a couple of fine gospel numbers. All in all, this is a truly lovely record... well worth tracking down! Highly recommended.
Marty Robbins "The Essential Marty Robbins" (Sony Legacy, 2005)



This is a mighty tasty 2-CD set that paints a fine portrait of one of Nashville's greatest smoothie crooners... Even a grumpy old honkytonk fan like myself -- who has long lamented Robbins' defection to the world of cornball pop -- can be won over after repeated listenings to this set. It starts out with some fine early selections, from back when Robbins still sang country, and moves swiftly into his rock-tinged country-pop hits of the late 1950s and early '60s, as well as delicious epic ballads like "El Paso" and "Big Iron," which made Robbins the king of the latter-day singing cowboys. After a while, even the corniest pop numbers start to sound nice, even with the perky whitebread choruses, the goofy orchestrations and Marty's melodramatic lead vocals... This is a well-programmed set which pulls you inexorably from groovy twang to gauzy schmaltz, and once you get on the right wavelength, you'll love every minute of it. An excellent introduction to this giant of a bygone era... Recommended!
Gretchen Wilson "All Jacked Up" (Sony-Epic, 2005)


Gretchen Wilson "All Jacked Up" (Dualdisc) (Sony-Epic, 2005)


(Produced by John Rich, Gretchen Wilson & Mark Wright)
Well, the title track is disappointing, but the rest of the album kicks ass. What's wrong with "All Jacked Up," you ask? Well, the song's just too damn obvious, and the video really sucks, although Wilson's willingness to cast her allegiance with raspy old-timers like Hank, Jr. and Merle is quite admirable. Once she gets into the real nitty gritty, though, this gal shreds the competition. Really, hands down, this is pretty much the best "real" country album to come out of Nashville this year -- Wilson can belt out novelty songs like nobody's business, but when she sings a ballad, dancing around the sweetest pedal steel licks I've heard in years. Folks who like good, dumb novelty songs and heartwrenching, twang-filled weepers will find plenty to cheer about here. Plus, she's got a great, great voice. Wilson sings with more conviction and genuine feeling than just about anyone else in the Top 40 these days. Her redneck posturing may be kind of a marketing schtick, but frankly she does it way better than Toby Keith -- or, for that matter, Moe Bandy -- and I say more power to her. Wilson's gonna be around for years, and I plan to be there, too, cranking her records up loud and singing along. Definitely recommended! (Note: the dual disc option includes the "All Jacked Up" video, which is pretty lame, along with a few other extras, but nothing super-amazing. Some folks seem to have a hard time playing it in their computers, so unless you're sure it's compatible with your system, you might wanna stick with the regular CD version.)

Various Artists "HANDS ACROSS THE WATER" (Compass, 2006)



This disc is a benefit album for the children in countries affected by the December 26, 2004 tsunami... It unites numerous A-list country and Americana artists with their counterparts in the Celtic trad and folk scene, with pairings such as Mindy Smith & Solas, Altan & Vince Gill, Paul Brady & Rodney Crowell, or Jim Lauderdale & Maura O'Connell. American fiddler Andrea Zonn, whose work straddles both genres, helped organize this album and performs along with the band Flook on one track, popping up on a tune or two elsewhere throughout the album... SHe's certainly assembled an impressive cast, with other luminaries such as Jackson Browne, John Prine, Bonnie Raitt, the Irish band Danu, Sharon Shannon and Lunasa also on board. However, the tone of much of the album is kind of same-y, opting for a super-mellow contemporary folk feel, ala Maura O'Connell or Beth Nielsen Chapman, while omitting much of the twang or lilt of country or Celtic music. Still, if you like mellow pop-folk, this might be a winner for you-- it's certainly for a good cause. For more info about the particular charity involved, check out the Hands Across The Water website...
---



Hick Music Index
Shop Amazon, Support Slipcue



---


<! December, 2005>