<! MP3 10/18/11 > <! pix 10/18/11 > <! icons 10/18/11 > <! archived 00/00/00 >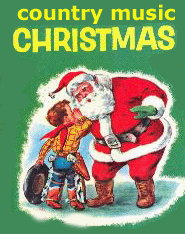 ---
Howdy, neighbors!
Here are some reviews of the new country, bluegrass and Americana holiday records that came out in 2005. This month: John Denver, Bobby Helms/Johnny Paycheck, Rev. Horton Heat, Loretta Lynn, Ricky Skaggs & Family, "TO: KATE"
...It's not everything I heard, but it's a nice sample of stuff that either tickled my fancy or ticked me off... Many records that aren't included here are reviewed elsewhere in my full Guide To Hick Music. And, just because I'm feeling impish, I thought I'd add a link to my Holiday section too, because it's never too early to check out some cheesy holiday music!
---
New Holiday Records: 2005
---
John Denver "Rocky Mountain Christmas" (RCA, 1975)


Fans will be thrilled to see this one back in print... with added bonus tracks, no less! This is a very conventional Christmas set, with Denver singing his heart out on numerous standards such as "Silver Bells," "Rudolph The Red-Nosed Reindeer" and "Away In A Manger," as well as a couple of country-specific offerings such as a cover of "Please Daddy, Don't Get Drunk For Christmas" and "Christmas For Cowboys," written by a member of Denver's backing band. Denver himself adds "Aspenglow" to the holiday canon, a flowery folk-pop offering typical of his albums of the time. He also delves deep into some older, fairly obscure English carols, including some that date back as far as the 1500s. If you're one of those folks who couldn't stand John Denver when he was riding high in the charts, this album will not win you over or change your opinion of his work... But if you're a fan, or just someone looking for a soft, elegant, super-mellow holiday set, this just might fill the bill.
Rosie Flores "Christmasville" (Emergent, 2005)


I haven't heard this one yet... but figured it was worth mentioning... If I get a chance to check it out, I'll let you know!
Bobby Helms/Johnny Paycheck "A Little Darlin' Christmas" (Koch/Little Darlin', 2005)



A modestly talented singer who hit it big in the teenpop market with his 1957 holiday hit, "Jinglebell Rock," Bobby Helms soon coasted into near-obscurity, remembered only in oldies hell. This disc reissues a 1967 Christmas album that Helms cut years later, for the scrappy Little Darlin' label, and while it's clear his glory years were well behind him, there's actually something quite compelling about this holiday set, where the now-grizzled crooner sings with greater resonance and grit than he did when he was a kid. It includes one of several remakes of "Jinglebell Rock," as well as a number of yuletide standards -- "Silver Bells," "Jingle Bells," "Here Comes Santa Claus," etc. Dunno why, but I kinda liked it. This CD reissue also includes a couple of Christmas singles that labelmate Johnny Paycheck -- one of Little Darlin's premiere artists -- recorded around the same time. These songs are kinda randomly tacked on, though if you were inclined to like Helms' album, you'll be glad thePaycheck tunes are on there as well. Worth checking out, if you like Christmas tunes.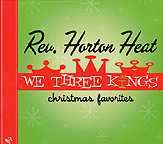 The Rev. Horton Heat "We Three Kings: Christmas Favorites" (Yep Roc, 2005)



The righteous, rowdy Rev and his trio are well-known for their barn-busting, rip-snorting wild live antics, which is one of the things that makes this Christmas album so surprising... While, yes, it is a solid rockabilly set, the song selection is pretty conservative, ranging from old standards such as "We Three Kings" "What Child Is This" and "Winter Wonderland" to beloved pop hits such as "Frosty The Snowman," "Jingle Bells" and "Santa Looked A Lot Like Daddy." Heat & Co. play these songs completely straight, and with a refreshing simplicity -- whereas many retrobilly/rawk acts tend to ham it up, these fellas really seem to have an earnest affection for the songs, and don't feel obliged to make ironic gestures or undercut their own sincerity. Yeah, they're playing it loud... but not too loud... and though some fans may wish they'd gotten rowdier, others may find this disc to be a new seasonal favorite.
Loretta Lynn "The Christmas Collection" (MCA Nashville/Universal Chronicles, 2005)



She's long been the gold standard of hillbilly pop authenticity, and Loretta Lynn's 1966 Country Christmas album, a perrennial favorite reissued here in its entirety, is one mighty fine yuletide offering... Loretta sings country classics like "Blue Christmas," "Christmas Without Daddy" and "To Heck With Old Santa Claus," alongside pop standards such as "Silver Bells," "White Christmas" and "Frosty The Snowman." Although the whole album is good -- and I mean really good -- surprisingly enough it's on the non-hick tunes where she really shines -- even thhough she keeps her twang intact, you really get a good sense of just how strong a singer she really is. Lynn also penned several of these songs, including the album's opener, "Country Christmas," a bouncy tune that is definitely an album highlight. Great country music with just the right kind of Christmas cheer -- not too syrupy while completely sincere. Recommended!
Kate & Anna McGarrigle "The McGarrigle Christmas Hour" (Nonesuch, 2005)



Ooohh... this one sounds good...! I'll have to track it down, too.
The Skaggs Family "A Skaggs Family Christmas, Volume 1" (Skaggs Family, 2005)



Bluegrass patriarch Ricky Skaggs and his family, including wife Sharon White and her father Buck, along with Ricky and Sharon's daughter and son, Molly and Luke, who are each given several featured numbers. Unfortunately, there's not a lot of twang here -- this is an album that'll probably appeal more to the "contemporary Christian" crowd, with a softer pop vibe that often recalls LeAnn Rimes' yuletide offerings... Buck White steals the show, though, with his gravelly recitation of "Christmas Guest," a corny old spoken number that is just so darned earnest and pleasantly moralistic that you just gotta love it. Bluegrass traditionalists probably won't get much out of this disc, but those drawn to the softer side of things might like it.

Various Artists "COMING HOME FOR CHRISTMAS" (Sony-BMG, 2005)


The newly-conglomerated Sony-BMG goliath is making the most of its combined archives to produce cross-label collections like this one, which digs into the vaults (back as far as 1975, for John Denver's version of "The Christmas Song") and also includes several songs of more recent vintage. Not a whole lot of country stuff on here, though -- this is mostly a super-mainstream pop outing, with some orchestral numbers thrown in for good measure -- but Lonestar chime in for their version of "Little Drummer Boy," and Vince Gill sings some surprisingly sweet harmonies with Olivia Newton-John, of all people, so in theory there's a bit of twang for us as well. Mostly it's very slick holiday pop, though, with a hefty slathering of string arrangements on most songs.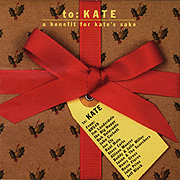 Various Artists "TO: KATE -- A BENEFIT FOR KATE'S SAKE" (Western Beat, 2005)


A mighty fine Christmas offering, with a humanitarian twist... Kate Kirk is a 3-year old Nashviller with a rare genetic disorder called Niemann-Pick Disease, Type A/B; her older sister Caroline also has the disease and doctors say it is too late to treat the 6-year old, but believe that a marrow transplant may help in Kate's case. Hence, this tribute album, which seeks to raise the money to pay for the operation. You may quibble about the person-by-person band-aid approach that a lack of a national health care plan has brought to so many lives (I have a friend here in the Bay Area that has a similar album out in his honor...), but it's hard to argue with the artistic successes of this disc... A lot of high-powered Americana types have pitched in on this one, including Joe Ely, John Prine, Buddy & Julie Miller, Jim Lauderdale, Raul Malo and Rosie Flores, and the tone of the album is surprisingly upbeat and life-affirming, considering the downbeat nature of the album's origin. Highlights include a duet between Steve Earle and Allison Moorer on his "Nothing But A Child," Jim Lauderdale's "Holly And Her Mistletoe" and a Guy Clark song covered by actor John Corbett, who has a promisingly gruff "old man" voice (and an album coming out soon...) This is a really nice record, with only a couple of songs that seem out of place (like a jarring rock song from Jason & The Scorchers... A welcome addition to the country Christmas canon, and a nice choice a holiday stocking stuffer. Recommended!
---
Other Great Stuff
---

Savae "La Noche Buena: Christmas Music Of Colonial Latin America" (World Library Publications, 2005)


The San Antonio Vocal Arts Ensemble, or SAVAE, is known for its ferreting out of obscure material, but they have really outdone themselves on this outstanding holiday offering, which gathers together sixteen exquisite, antique compositions from the Christmas music of colonial Latin America. The composers date back to the 1500s, 1600s and 1700s; most are from Mexico, but Bolivia, Guatemala and Peru are also represented, and while the predominant influence is liturgical, traces of the indigenous musical cultures also are present, particularly in the strong rhythms on several tracks. The texts are often fascinating as well, addressing the colonial experience of Africans and slaves... often heady subject matter that comes draped in gorgeous chant-like harmonies. If you are a fan of the various "chant" revivalists, or on the prowl for some exciting "new" music to add to your holiday repertoire, then this disc will be the best present you can get yourself this year. Elegant, lovely and soulful... highly recommended!
---



Hick Music Index
Shop Amazon, Support Slipcue



---


<! Christmas, 2005>